11 Reasons Why You Need an eCommerce Mobile App
The sky's the limit for eCommerce businesses. People are shopping online, today, more than ever before. This statement holds true across all industries worldwide. The power of the Internet has made it possible for you to reach consumers anytime, anywhere, from any device. But the type of devices you're targeting them on will have a major impact on your success.
It's no secret that mobile consumption has taken over our lives. According to a recent study, 96% of adults in the United States own a mobile phone. 81% of the population owns a smartphone. Look around. Everyone has these devices glued to their hands nearly 24/7. 
As a business owner, you need to recognize this and adapt. How can you take this information and leverage it to increase eCommerce sales? The answer is simple—your eCommerce shop needs a mobile app.
Your eCommerce store will never reach its full potential with a website alone. If you review the most recent eCommerce trends, you'll quickly realize that everything is heading in a mobile direction. 
But do you really need a mobile app? 100% YES!
All too often I consult with business owners who are content with the growth, sales, and revenue of their eCommerce site. So they don't see a reason why a mobile app is necessary.
That was my inspiration for writing this guide. If you want your brand and website to be relevant in the coming years, you absolutely need to build a mobile eCommerce app. Here's why:
1. Mobile Commerce is Trending Up
Sales from mobile devices have completely taken over the eCommerce industry. 
Take a look at your sales metrics and see what devices your customers are shopping from. There's a good chance that a large chunk of those people are browsing and buying using smartphones and tablets. 
In fact, 67% of all eCommerce sales worldwide come from mobile devices.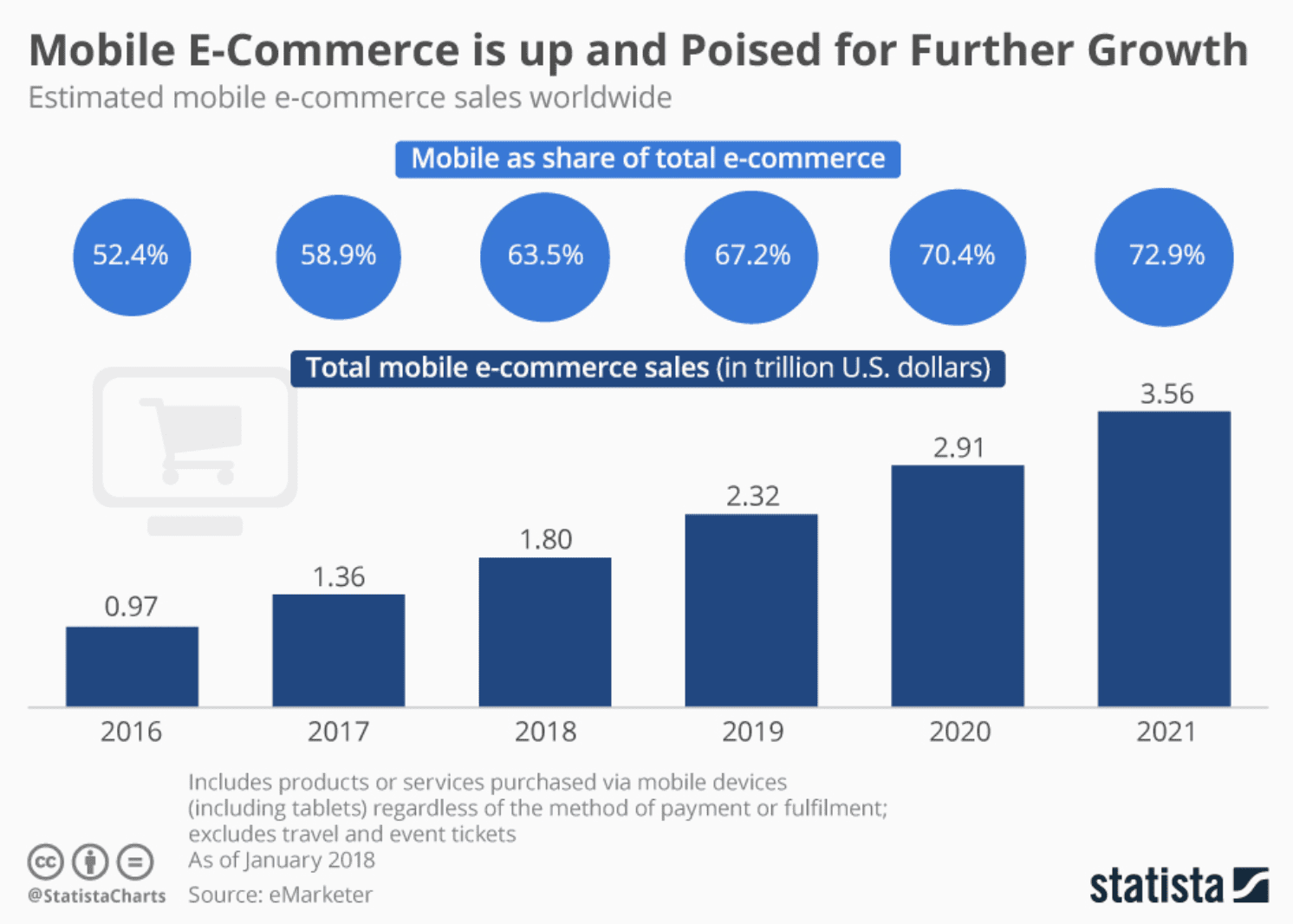 Within the next two years, mobile commerce will control 73% of all eCommerce sales across the globe. 
People are already used to shopping from mobile devices. It's just so much more convenient than waiting to get on a computer. Our phones are always just an arm's reach away, which isn't always the case with a laptop or desktop computer.
Consumers are buying from everywhere. Mobile commerce makes it possible for people to buy on the bus, train, or Uber. They shop online during their lunch break or while they're having a coffee walking down the street. It's just too easy.
As mobile sales continue to trend upward in the coming years, the best way for your eCommerce site to get its share of the pie is with mobile app development. 
Why?
Well, shopping mobile apps are growing at a rate of 54% year-over-year. That's the highest rate compared to any other app category.
Let me put that into perspective for you. The average year-over-year growth rate of mobile app usage across all industries is 6%. So shopping is a whopping 48% higher than the average.
Sometimes making a decision like this is as simple as reading in between the lines. 
Mobile sales are dominating the eCommerce world. The usage of shopping apps is growing faster than every other type of app on the market. So by default, you'll know that eCommerce applications will contribute to mobile commerce sales. 
2. Consumers Prefer Mobile Applications
Are you currently generating eCommerce sales from mobile devices without a mobile app? I'm going to assume the answer is yes.
Some of you may look at that data and be satisfied knowing that you're reaching a smartphone and tablet users with your mobile site. But you're just barely scratching the surface. 
Don't get me wrong. Whether you have an app or not, a mobile-friendly website is absolutely necessary. In fact, 85% of people say that a website should look as good or look even better than its desktop version. 
Furthermore, 88% of consumers are less likely to return to a mobile site after a bad experience. 47% of people expect a mobile site to load in 2 seconds or less.
So having a user-friendly mobile site is definitely the first step toward generating eCommerce sales from mobile users. But at the end of the day, the following statistic is what matters most:
78% of consumers would rather use an app to buy from an eCommerce shop than a mobile website. That's right—78%.
Let that sink in. This means that if you're currently getting 100 mobile transactions per week, roughly 80 of those people would rather buy from your native app. And those are your existing customers. Imagine how many people you're neglecting because you don't have an app. 
Here are the top reasons why people prefer mobile apps over mobile websites.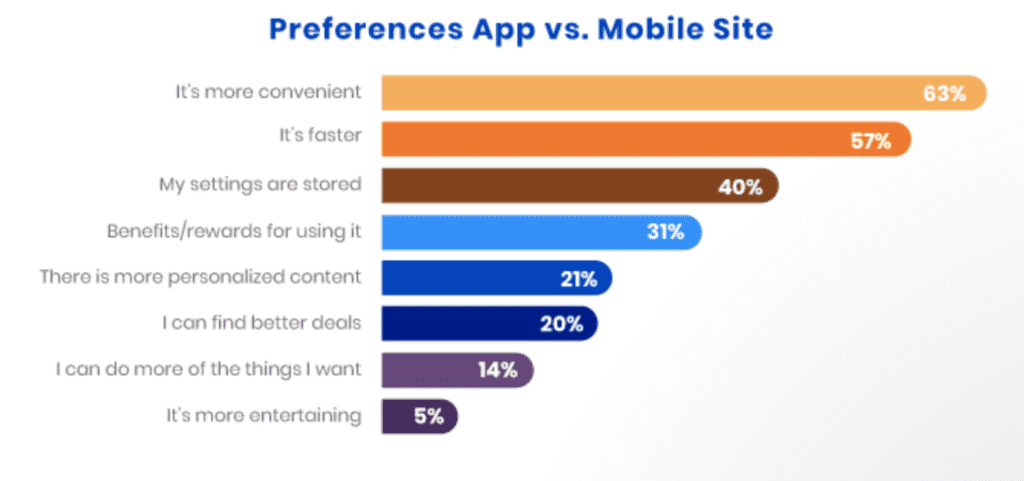 Convenience and speed are the top two reasons. Overall, mobile apps just offer a better shopping experience. 
Look at the habits in your own life. When you go to buy something for yourself online, would you rather buy from a website or from an app?
No matter how fast or responsive a mobile website might be, an app's functionality will always provide a more optimized user experience. 
So if you're eCommerce site doesn't have a mobile app, you're neglecting the majority of the market while providing a less than optimal experience for your existing customers. This holds true even if you're using a reputable ecommerce platform like Shopify or Magento. An app builder will take your online store to the next level.
3. Gain a Competitive Advantage
This piggybacks off of my last point. Right now, without a mobile app, your eCommerce website is at a disadvantage. 
Customers would rather shop from mobile apps, so it's only a matter of time before they stop buying from your mobile site altogether. The fact that you're still getting any mobile sales right now is fortunate, but it won't last forever. 
On the flip side, being an early mover and building an eCommerce mobile app will give you an advantage over other websites without one. 
If a consumer is torn between your site and a competitor site, the app will give them a reason to lean towards buying from you. 
I know what some of you are thinking because I've heard it before from other business owners. You don't think that your biggest competitors have a mobile app, so there's no reason for you to rush into getting one. You'll just focus on making a better website than your competition for now.
Unfortunately, that's the wrong mentality. 
I don't mean to be blunt, but you're crazy if you don't think your competition has a mobile app. 
Right now, every eCommerce retailer on the planet is competing with Amazon. You can basically buy everything under the sun from them. In the United States alone, 95 million people have an Amazon Prime membership. 
Sure—Amazon might not carry your branded products. But how unique are you? Can a customer get something similar from another brand on Amazon's app? Probably.
So anytime someone visits your site, they'll always have the "Amazon experience" in mind. If you're unable to meet those standards, then the customer won't have a reason to buy from you.
The only way to truly replicate this shopping experience is with a mobile commerce app.
Here's something else to keep in mind. A mobile app will give you a competitive advantage today, but that won't be the case forever. In the coming years, everyone will have a mobile commerce app. So it's in your best interest to create one now, that way you'll have a head start on everyone else who was late to the party. 
4. Higher Conversion Rates
Let's get back to the numbers. At the end of the day, everything you do needs to boost your KPIs, and ultimately benefit your bottom line.
Tracking conversions is a great place to start. Let's take a look at the difference between mobile app conversions and mobile website conversions.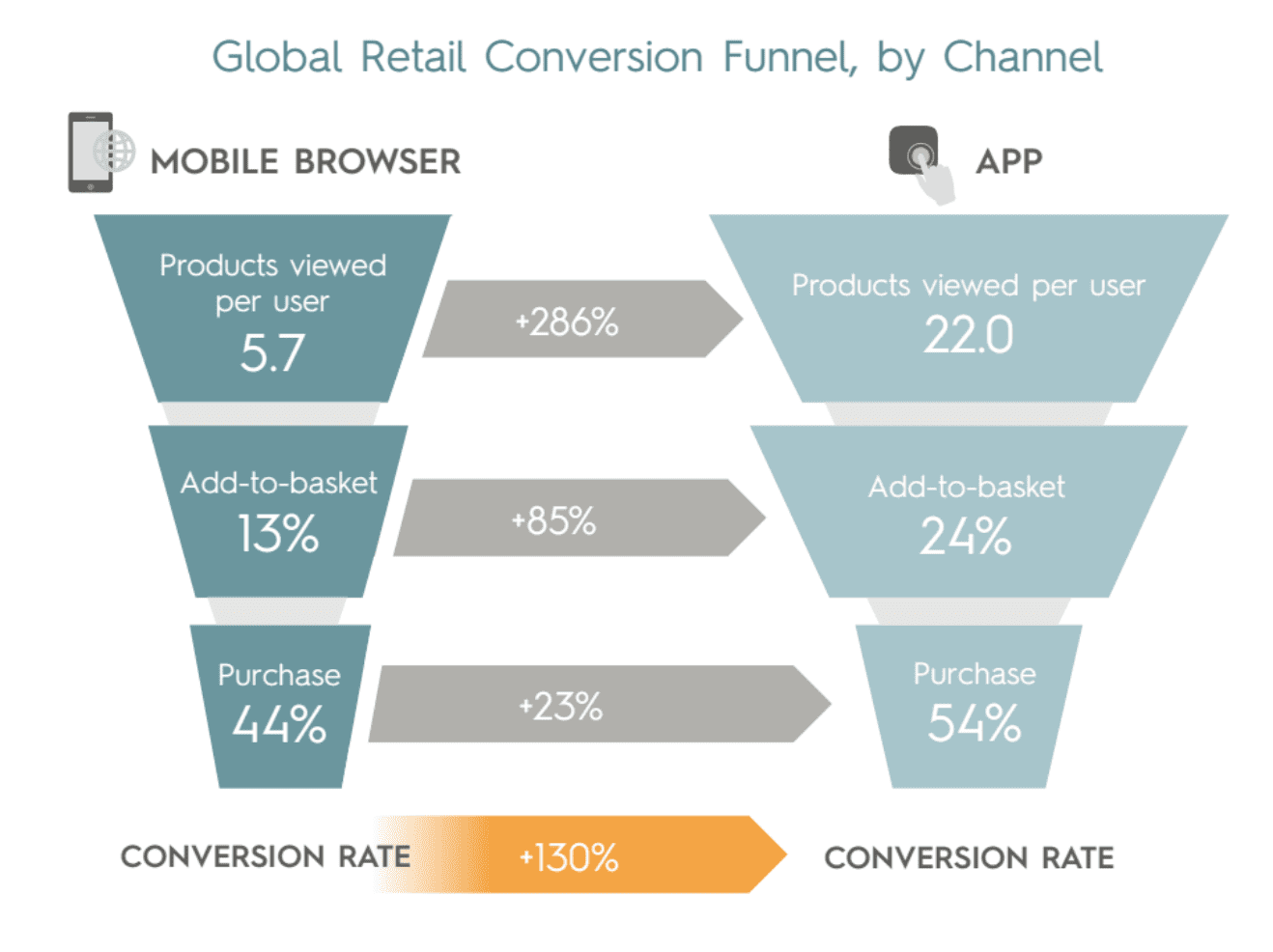 When you look at these numbers side-by-side, the app is obviously the clear winner.
Consumers view 286% more products and add items to their shopping cart at an 85% higher rate when they're shopping from an app as opposed to a mobile browser. 
This is great because it translates to better exposure for your brand and products. A customer may decide that they want more than they initially came for, but we'll talk about that in greater detail later on.
Products viewed per session and add-to-cart rates are awesome, but the only thing that really matters is conversions.
Well, as you can see from the graphic, mobile apps convert at a 130% higher rate than mobile websites. 
Imagine how much more money you can make by instantly increasing conversion rates by 130%. That doesn't even include how many more customers you'll have once your app is live.
The bottom line is simple. More conversions translate to more dollars, and mobile apps drive higher conversion rates. 
5. Improve Marketing Communication
When you're considering a big decision for your business, it's easy to let the sales metrics get you excited. While a mobile app for your eCommerce shop definitely won't disappoint when it comes to sales, this platform goes far and beyond that.
Mobile apps are a dream for marketers. By improving your marketing campaigns, you'll ultimately be able to generate even more profits from your current and prospective customers.
Without a mobile app, you need to rely on your customers navigating directly to your website in order to have any chance of driving conversions. 
But how often does the same person really need to come back to your website? Even your best customers won't need to buy something every day or even every week. 
So you spend marketing dollars on email communication and social media campaigns to try and reach your customer base on other channels. But with a mobile app, you'll have a better way to communicate with your customers—push notifications.  
Take a look at the engagement rates of push notifications compared to traditional email marketing. 

60% of users open a push notification, compared to just 20% of emails. Once the message is opened, 40% of people click or have an interaction with a push notification compared to just 5.4% of emails.
Clearly, push notifications are a better way to connect with your customers. That's because the user doesn't have to do anything. 
To reach a customer via social media, you need to rely on them using that social platform, seeing your post or advertisement, navigating to your website, and then get them to convert from there. It's just too many steps.
The same goes for email communication. A person must sign up to receive emails from you, then open your message, consume the content and click a link just to get to your website. 
With push notification, a message will appear directly on a user's home screen, just like a text. When that message gets opened, the user will be directed straight to the app, so it's much easier for them to buy. 
6. Increase Average Order Value
We've already established that a mobile app improves the user experience and increases conversion rates as well. But those aren't the only monetary benefits of building an app for your eCommerce site.
A mobile app will also boost your average order value (AOV).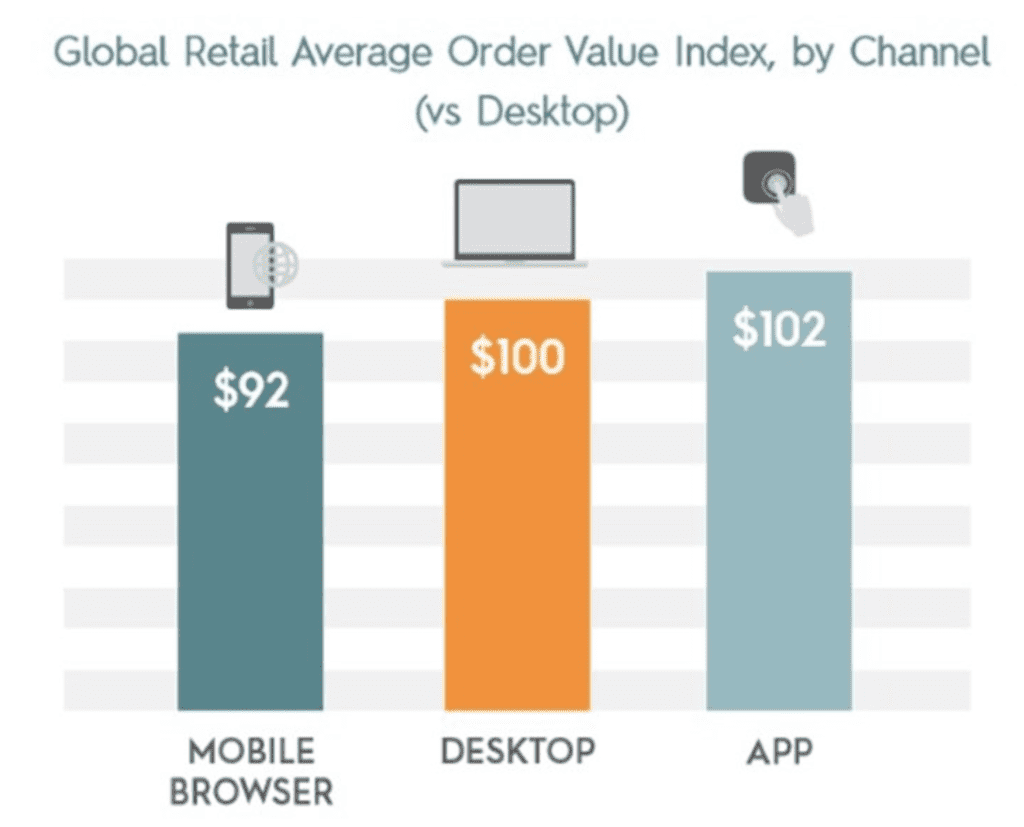 Considering we've previously talked about how more products are viewed per session on mobile apps, this makes sense. 
It's easier for people to browse when they are shopping from a mobile app. This gives them more of an opportunity to see what you're offering. 
Mobile apps have a higher average order value than both mobile browsers and desktop screens.
Increasing your AOV by $10 is huge. To keep things simple, let's just say you currently have 1,000 mobile transactions per month.
Increasing your AOV by $10 would translate to an additional $10,000 per month and $120,000 per year. That's without factoring in the increased number of transactions you'll get from a mobile app. So in reality, that number should be even higher. 
7. Create a Personalized Shopping Experience
Personalization is a crucial component of eCommerce success. Some of you might already be using personalized tactics to drive eCommerce sales. 
For example, when a customer signs up to receive emails from your business, you might segment them into a category based on factors like their age, gender, or location. Then you can send them targeted emails to improve their experience.
Or when a user visits your website, you can personalize the homepage based on their location. If you sell clothing, a customer shopping from New York City in December shouldn't be seeing bathing suits, but a customer in Miami could.
These are some basic tactics that are used by the majority of eCommerce websites.
An eCommerce mobile app takes personalization to the next level. With an app, you'll be able to track the user's browsing and purchase history to offer custom recommendations. 
This is possible from a website as well, but it's reliant on the customer always being logged in, so it's much easier to accomplish from an app. 
63% of consumers want a personalized experience when they're shopping online. This figure is up from 57% just two years ago. So overall, this is another upward trend. 
You can combine this personalization strategy with your push notification campaigns, which we talked about earlier. Rather than sending the same push notification to everyone with your mcommerce app, you can send targeted notifications based on a user's preferences.
An app makes it easy for a customer to have access to their entire purchase history, which makes it possible for them to quickly reorder repeat purchases. These customer profiles can also be used to track customer rewards, which I'll talk about in greater detail next.
9. Increase Customer Loyalty
A great way to get your customers to spend more money is by implementing a customer loyalty program. By having an eCommerce mobile app, it increases the chances that your customers will participate in this type of program.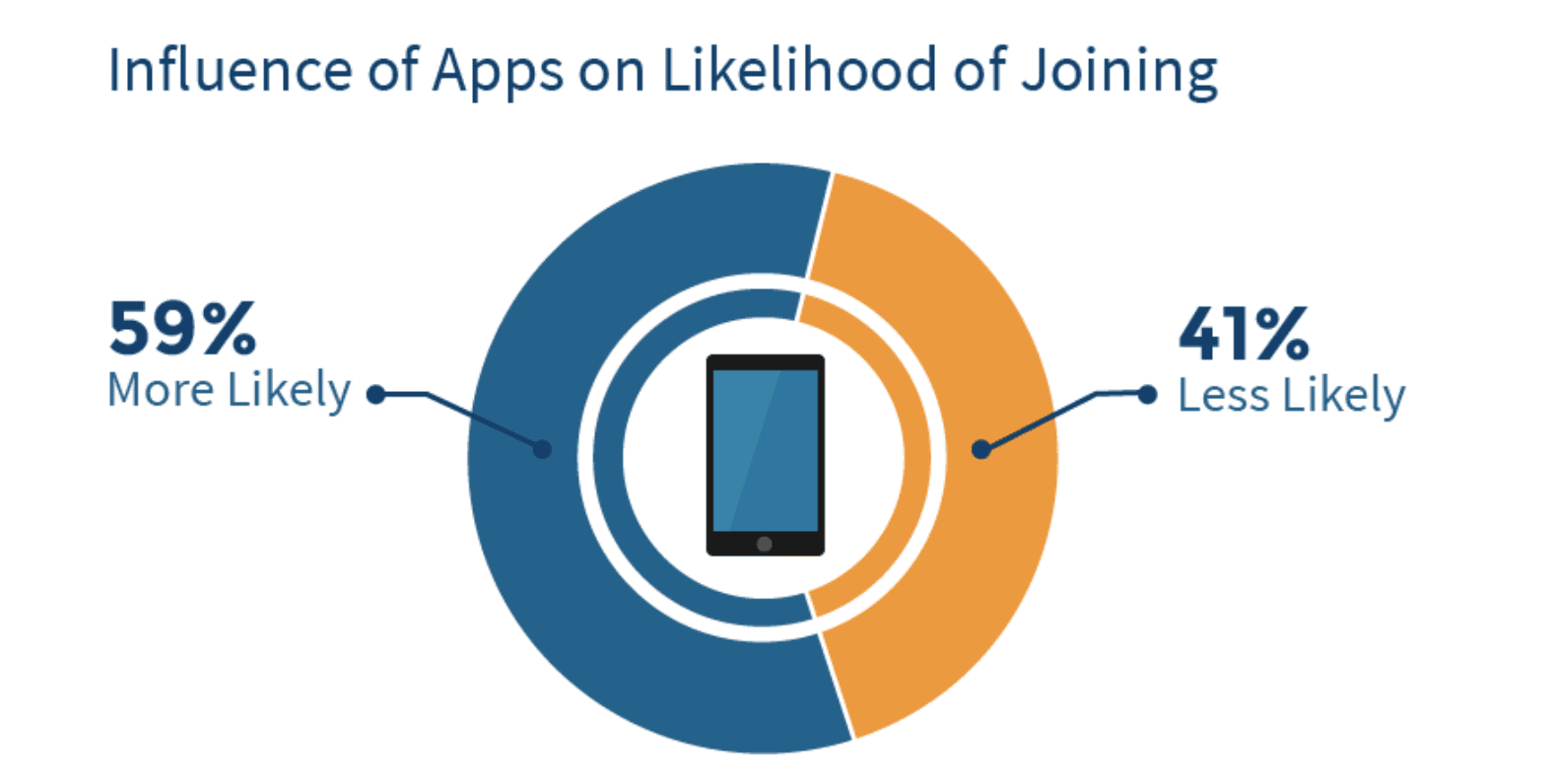 Furthermore, consumers are 82% more likely to shop from sites that offer loyalty programs.
This is something that you should definitely take advantage of. An app allows customers to see their status within a program in real-time, which relates back to our previous point about personalization. 
A loyalty program gives your customers an incentive to spend more money to reach their next reward. Here are a couple of examples to show you what I mean.
One way to set up your loyalty program is based on transactions. You can think of it as a virtual punch card. Order something from the app 5 times, and get a discount on your 6th purchase.
Another way to implement a loyalty program is to reward customers based on how much they spend in a given time period. Customers who spend $500 in a year will get some type of reward or benefit. Customers who spend $1,000 in a year will get even more rewards.
Psychologically, this encourages people to increase their average order value as well as their purchase frequency in order to reach the next spending tier. 
Some of you might already have a loyalty program on your website. But running the same promotion through a mobile app will be even more effective. 
8. Reduce Cart Abandonment Rates
Shopping cart abandonment is a major problem for eCommerce businesses. It's one of the most important KPIs that you should be tracking. 
The reason why cart abandonment is so frustrating is because the customer is usually just one or two clicks away from finalizing the purchase. So what went wrong?
These are some of the top reasons for shopping cart abandonment.
Extra costs like shipping and taxes — 60%

Being forced to create an account — 37%

Long and complicated checkout process — 28%

Couldn't see or calculate the total cost — 23%

Website crashed or had errors — 20%

Didn't trust site with credit card information — 19%
Aside from money, the most common reasons for cart abandonment are related to user experience. But mobile apps eliminate those problems.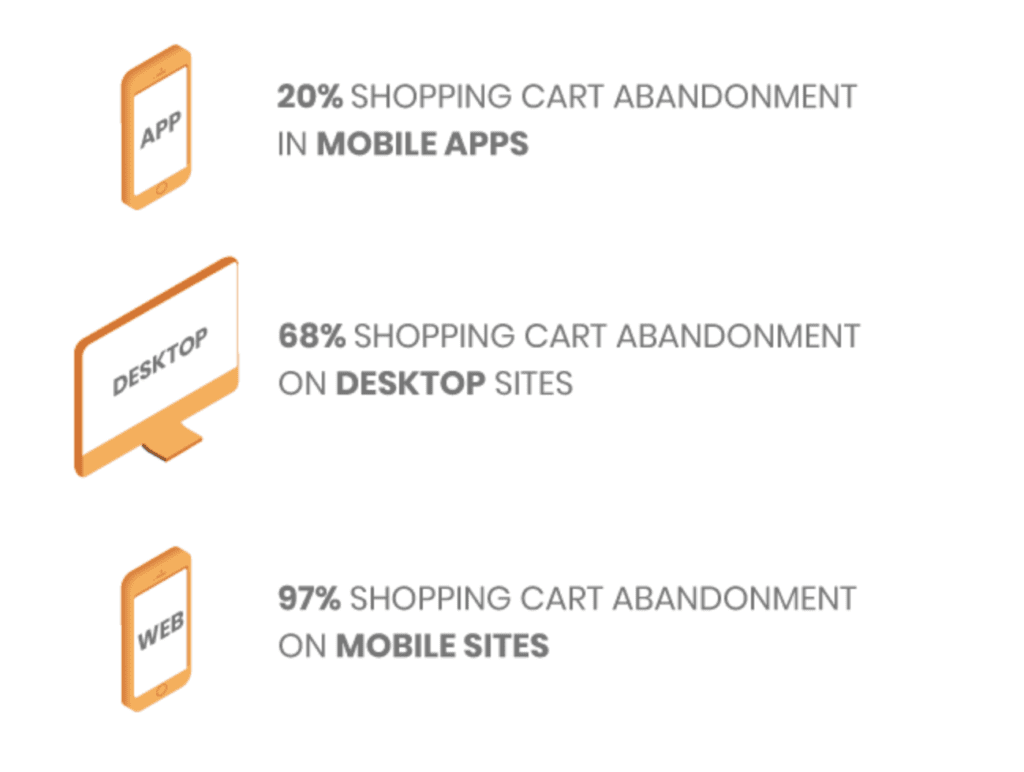 As you can see, mobile apps have the lowest cart abandonment rate compared to mobile websites and desktop sites.
Ecommerce mobile apps reduce friction in the checkout process. Once a customer buys something, all of their preferences are saved in the settings of the app.
So when it comes time to buy something again, they won't have to manually type in their name, shipping address, and billing information. The entire purchase process can be completed in just a couple of clicks. 
Mobile apps make it easier for you to accept alternative payment methods as well. Examples of popular mobile payment options include Apple Pay, Google Pay, or PayPal. If you integrate these methods into your checkout page, a user can buy something just by scanning their fingerprint. 
Each additional step in the checkout process gives the customer a chance to abandon their cart. By reducing the number of steps with a mobile app, you'll keep abandonment rates low.
This payment gateway technology is available in iOS and Android apps alike, so people can access your app from both app stores. 
10. Offer Enhanced Customer Service
People will spend more money on better customer service. In fact, 73% of retail consumers say they are encouraged to shop longer and spend more money after a good customer service experience.
So this is something that you should address when you're designing your mcommerce mobile app.
Make it easy for customers to find your contact information. Rather than forcing them to navigate to your website or search for you on Google, offer a simple "call us" button directly in the app. 
You can even implement live chat support directly through the app as well. 
Allow your customers to track their orders, from the moment something is purchased until the second it's delivered to their front door. 
While this is also possible from a mobile website, the UX will be significantly better if it's facilitated in an app. A mobile site won't be as responsive to something this resource-intensive. 
11. Increase Retention Rates
Any time you're able to generate eCommerce sales you should be very happy. But with that said, sales don't tell the whole story.
How many of your sales come from repeat customers? 
Studies show that attracting new customers can be up to 25 times more expensive than selling to an existing one. But increasing customer retention rates by just 5% can increase profits by 25% to 95%. 
Take a look at the average eCommerce mobile app retention rates.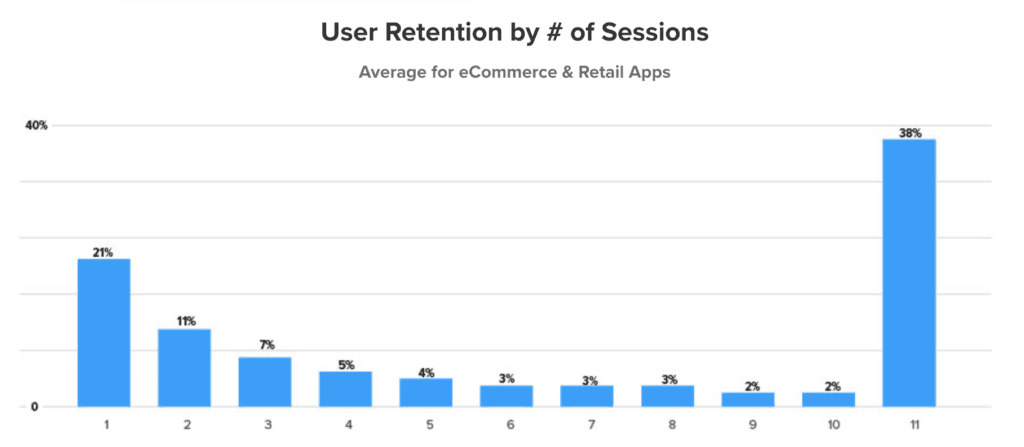 38% of users return to an eCommerce app 11 times or more after they download it. There's a good chance that they'll be buying on multiple occasions during those 11+ visits. 
Mobile users return to the app frequently as well.
In fact, there is a 50% chance that a mobile user will return to an eCommerce mobile app within 30 days of buying something. 
Even if a user isn't coming back to the app as much as you'd like to see, you can always use push notifications to bring them back. Offer a flash sale or exclusive deal to encourage users to buy from your app. You won't have these same opportunities from a desktop site or mobile site. 
Conclusion
Your eCommerce store needs a mobile app. 
The numbers speak for themselves. I've given you 11 data-driven reasons why this needs to be a priority for all eCommerce shops. Here's a recap of some of the most important KPIs.
Increased conversions

Higher average order value

Reduced abandonment rates

Higher retention rates
I don't know one eCommerce store owner that doesn't want to improve these metrics. 
Furthermore, consumers prefer mobile apps. This is a reality that can no longer be ignored. 
Now that you understand why an app is so important for your eCommerce business, it's time to take action. If you've never built an app before, this might sound a little intimidating.
But building an app is easier than you think. You can create an eCommerce mobile app using BuildFire without writing any code. Our platform makes it easy for anyone to build an app, regardless of their technical skill level. 
If you need some help or want us to build it for you, just reach out and let us know. We'll be happy to offer you as much assistance as you need.