How to Build an App Without Coding
In the past, mobile app development required coding skills and programming knowledge. Learning to code is far from easy, and it's a time-consuming process. Plus, the first time you build native mobile apps with code probably won't be the highest quality final product.
Fortunately, modern technology has made it possible for anyone to take an app idea and turn it into reality—without writing a single line of code.
If you know how to navigate the internet, you can use an app maker as an alternative option to traditional development.
This is the ultimate guide to create a mobile application without writing code. It covers everything you need to know about this process, including step-by-step instructions for creating and launching an app. Let's dive in!
Everything You Need to Know About Making an App Without Coding
Here's a quick summary of what this extensive guide will cover:
What to Expect Building Your Own App
Before we proceed, I just want to quickly set some expectations, so you know exactly what you're getting into here.
Creating a mobile app without code is easy. If you have experience using website builders like Wix or Squarespace, the app development process using app builders will be very similar.
You'll be using a web-based app maker to design and develop your app from scratch. Usually, these platforms let you begin with some type of template or starting point. This makes it much less intimidating than starting from a blank screen.
From there, it's just a matter of customizing the app with your color scheme, branding materials, and unique content. You'll use a drag-and-drop interface or plug-and-play marketplaces to add different types of functionality to your app. For example, let's say you wanted to incorporate videos into the app. You might look for a YouTube or Vimeo plugin. Then the platform can just pull those videos directly from your YouTube account.
It's worth noting that not every app creator offers the same features and functions. Some are undoubtedly better than others.
So you might run into some limitations or restrictions, depending on the no-code platform you're using.
I strongly recommend reading our Buyer's Guide to Mobile App Development Platforms. This free ebook explains exactly what you should be looking for when you're evaluating different options and comparing them side-by-side. It has a solution for every app type, budget, and development goal.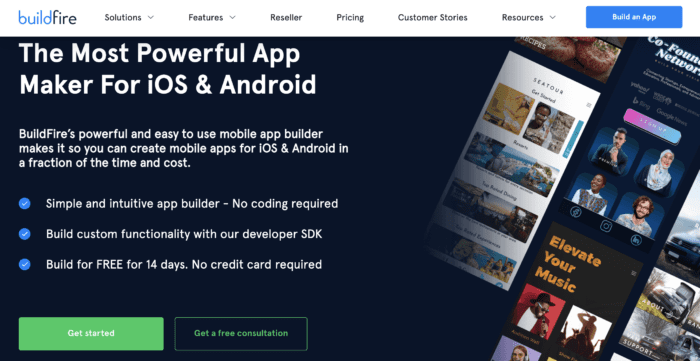 Who Can Create Mobile Apps With a Mobile App Builder?
Anyone can use an app maker to turn their app ideas into reality. You don't need any experience or prior coding knowledge to make this happen.
The great part about using an app maker is that these platforms aren't just for beginners. Even experienced app makers and business users take advantage of no-code solutions. That's because it's cheaper and faster to build an app without code compared to traditional development.
I know plenty of developers who used to write code from scratch, but now they use an app maker just because it's so much easier.
The potential use cases of app development platforms are seemingly endless. But here are some common examples:
Small business owners who want an app for their business
DIY entrepreneurs who want to create a new business with an app
Ecommerce stores that want to improve mobile commerce sales
Restaurants that need mobile menus, mobile ordering, delivery, and customer loyalty
Businesses that want a mobile solution for HR and employee communication
Schools and universities that need a mobile solution for faculty and students
Gyms, personal trainers, fitness instructors, and health professionals
Churches and religious organizations that want to engage with their congratulations
Musicians, bands, and entertainers that want to improve events
Content creators and podcast hosts that want to expand their reach
Agencies and white label resellers that want to create apps for their clients
The list goes on and on. Here at BuildFire, over 10,000+ apps have been built on our platform. Check out our customer stories and case studies to see some real-life examples of the possibilities of our no-code solution.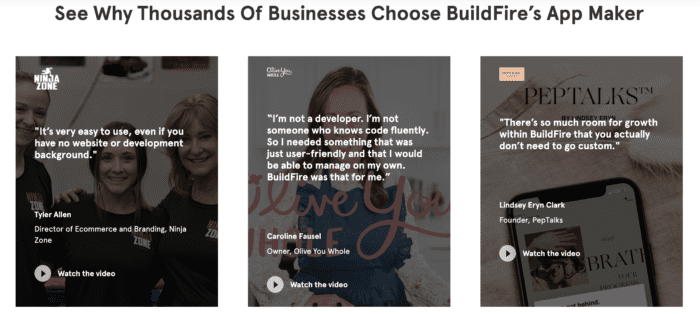 These case studies really showcase the platform's versatility. You'll quickly learn that anyone can use it regardless of age, background, or technical expertise.
Cost to Build Mobile Apps Without Code
Price is obviously an important factor when you're evaluating different options. Compared to hiring a developer or app development agency, app builders will always be less expensive.
That's because an app builder just charges you a fixed monthly, quarterly, or annual plan.
The exact cost of the plan will vary based on the platform you choose and your needs. For example, plans that come with advanced features will obviously cost more than a bare-bones package. Some solutions charge you extra for things like push notifications.
Traditional development requires an iOS developer, Android developer, web developer, project manager, app designers, quality assurance agent, testers, and other members of a team. For example, you may need an extra developer who is familiar with both iOS and Android code to step in if one of your other developers quits, gets sick, or takes a vacation.
But you won't have to worry about any of this with an app builder.
Additionally, the best app makers come with everything you need to manage your app on the backend. This includes user authentication servers, push notification servers, backend maintenance, and more.
No-code platforms can start as low as $150 per month. Compare this to the average cost to make an app, and you'll quickly see there's no comparison.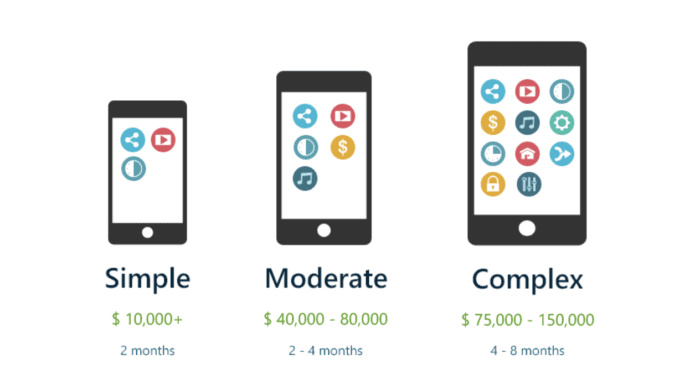 BuildFire's entry-level app builder starts at just $159 per month. That's less than $2,000 for the entire year. You wouldn't be able to hire a single developer to create a fraction of your app for that price if you went with traditional development.
Benefits of Building Mobile Apps With a No-Code App Builder vs. Traditional Mobile App Development
Using an app builder to create an app is usually the best option for most people.
But there are definitely some use-case-specific scenarios where custom mobile app development with coding from scratch will be better. For example, let's say you wanted to create a mobile gaming app, a virtual reality app, or an augmented reality application. In these highly specific categories where the graphics and responsiveness are extremely sensitive, a no-code app builder may not be able to get the job done. It's still possible to build native apps in these categories using an app creator, but that's generally not what these platforms are made for.
Here are some of the top benefits of using a no-code app maker:
Simultaneously create an iOS app and Android app with a single build
Create custom apps with no technical experience
Build and maintain the app on your own without hiring an agency or development team
Significantly lower cost compared to traditional development
It's faster to create an app using an app builder, so you can decrease your time to market and get the app on real Android and iOS devices ASAP
Easier to maintain the app post-launch
No surprise fees or unexpected costs during the development process
Easy to update and make changes
No-code app development is the future. So it's definitely in your best interest to leverage this technology now. It's only going to become more and more accessible to the masses in the coming years. So getting your app built now will give you a first-mover advantage over other people who will be competing with you for the same users.
How to Create an App Without Code in 6 Simple Steps
Ready to create apps without writing even a single line of code? Just follow the step-by-step process explained below. This is ideal for beginners and non-technical users alike—no coding required.
Step #1: Select a No-Code App Builder
The first thing you need to do is choose an app maker. Don't rush through this process. Not all no-code platforms are created equally, so you can't just pick one randomly and expect it to work out.
Here are some tips to help you with the evaluation process:
Budget — An easy way to narrow down your options is by price. If you see that an app builder is way out of your price range, you can quickly eliminate it from your list. You should have a clear budget in mind before you begin this process.
Interface — Take advantage of any free trials offered by the app creator. This is one of the best ways to see if you're comfortable using the interface before you commit to a subscription. Like any piece of software, there will always be a slight learning curve. But some platforms are definitely easier to use than others.
Reputation — Lookup customer reviews and see if the platform has case studies you can see. Take a look at the other apps created using the platform. Do those apps fall into the same category as yours? If yes, that's always a good sign. In some cases, you can even download other apps that have been built using the platform as a way to test the app performance. If those apps are constantly crashing or having issues, it could be a red flag.
Customization — No-code app development shouldn't mean you're limited with what you can build. Some cookie-cutter app builders have limited functions. But the best options offer limitless customization.
For example, let's say you're using BuildFire to create your app. But you have a highly specific function in mind that doesn't currently exist within the BuildFire app marketplace.
You reach out to BuildFire and have their team create that custom function for you. Alternatively, you can hire your own programmer, and they can take advantage of the BuildFire developer SDK build option.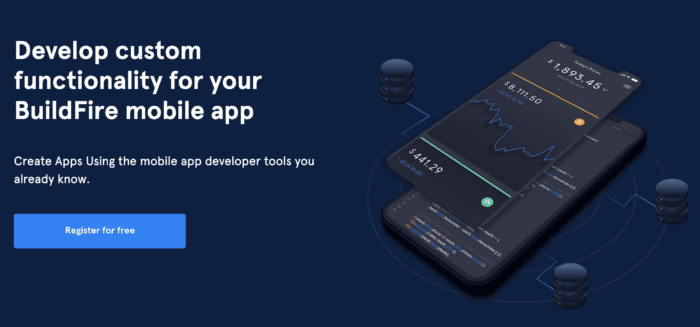 Not every app builder offers this type of functionality.
This won't be a concern if you're creating a really simple app. But for those of you who don't want to be locked in and limited, it's important to evaluate how flexible the solution is.
Step #2: Choose a Plan That Best Fits Your Needs
Once you select a platform, you'll likely have different plan options to consider as well. Again, take your time here and look at exactly what features come at each price point.
For example, if you want to create multiple apps, you'd likely need a more expensive plan than if you were to just build a single app.
Do you want the app to be available on every mobile device, including tablets? Or do you just want it to be compatible with smartphones? These are the types of questions you need to ask yourself when you're evaluating plans.
Let's take a closer look at BuildFire's packages so you can see what I'm talking about here.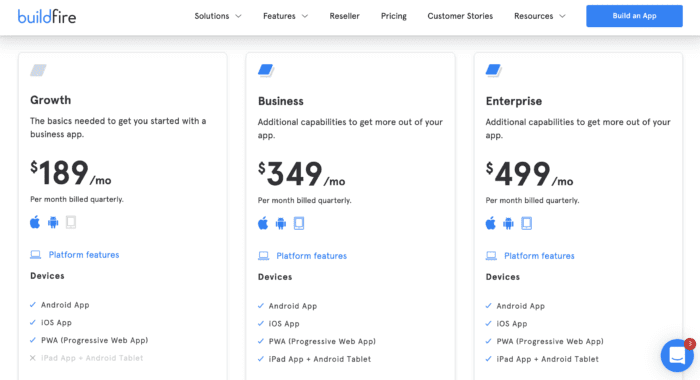 As you can see, the entry-level Growth plan supports Android app, iOS app, and PWA. But it doesn't offer iPad or Android tablet compatibility. You'd need to sign up for the business plan for this feature.
Now let's continue looking at the different features at each plan tier: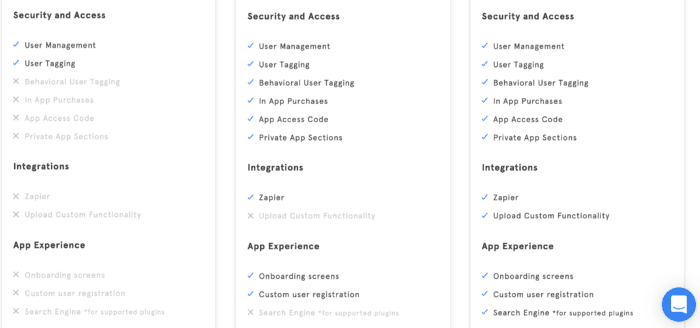 Narrowing down your options here all depends on your short-term and long-term goals for the app.
As you can see, the entry-level plan supports user management and user tagging. But if you want to tag users based on behavior, offer in-app purchases, app access codes, and private app sections, you'd need a Business or Enterprise package.
Integrations are another important consideration here as well. Zapier is one of the most versatile solutions in existence, as it's essentially the middleman of the internet.
So if you want to set up custom workflows using Zapier and other integrations, a Growth plan won't be enough for you.
BuildFire is just one example here. But every other app maker will have similar pricing pages that you'll need to evaluate. If you're unsure, I'd recommend reaching out to a sales rep and discussing your specific needs with that agent. They can steer you in the right direction and let you know which plan makes the most sense for your needs.
The cool part about using BuildFire is there's no extensive onboarding process. Once you've chosen a plan and signed up, you can start to create your app in just a few clicks.
Step #3: Pick a Template
Building apps is easier when you can start with a template. That's another significant benefit of using an app maker as opposed to coding from scratch. An app builder should give you a starting point with a template that matches the type of app you want to create.
Here's a quick look at some of the templates that we have here at BuildFire: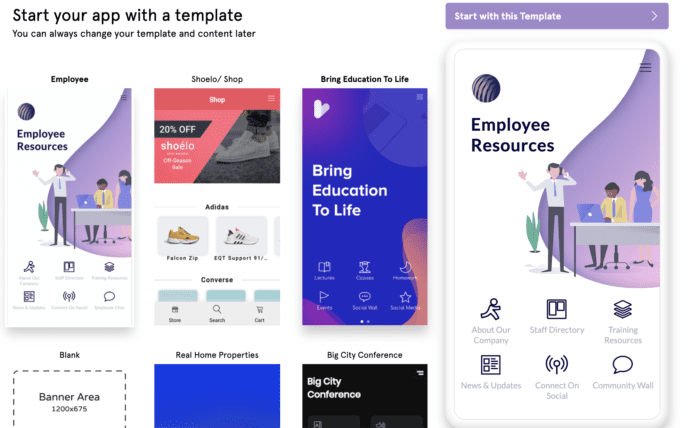 All of the templates are fully interactive. So you can click around and see different types of features, screens, and functions that are already built into the template.
For example, here's a look at our Zen Yoga Template: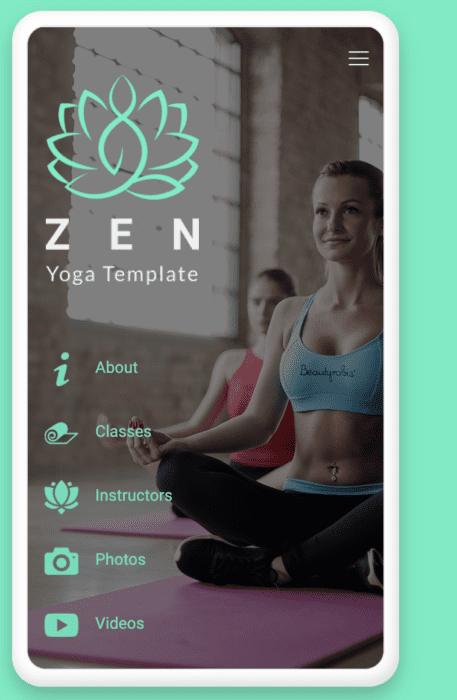 If you click "Instructors" on the home screen, it will bring you to this page with a photo, name, and brief description of each instructor.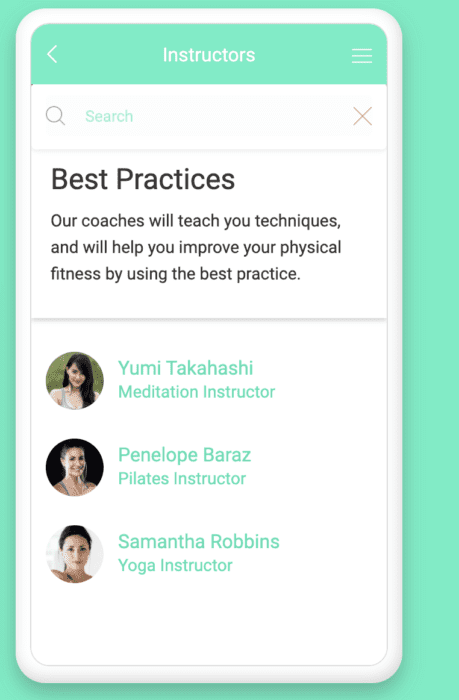 Now if you click on an instructor's name or picture here, you'll be brought to another screen that shows their contact information.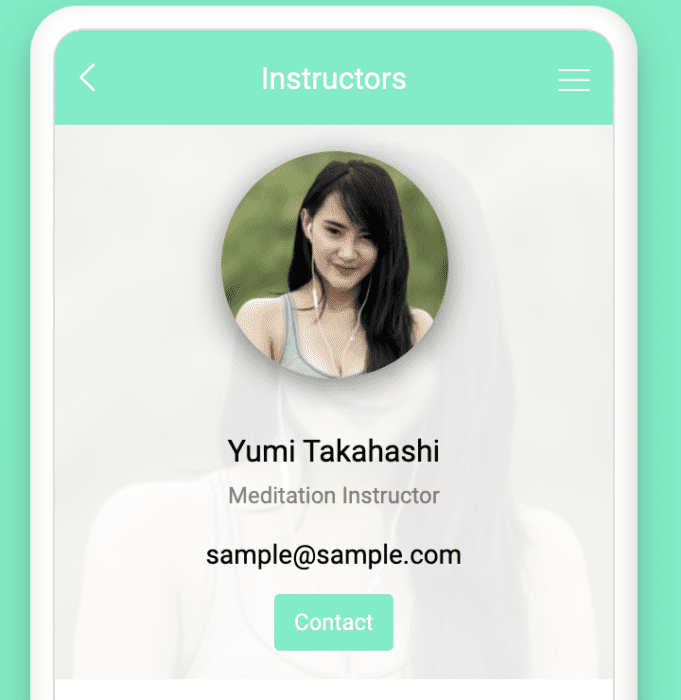 So if you were in the fitness space and you liked this template, all you'd need to do is change the names, descriptions, and contact information to match the instructors in your gym.
Additional template categories offered by BuildFire include:
Ecommerce
Employee
Content and News
Small Business
Church and Nonprofit
Public Figures
Education
Real Estate
Music and Media
Restaurant
Sports and Fitness
Social
So no matter what type of app you want to create, BuildFire's app maker has a template for you.
Step #4: Design Your App With Custom Branding
As mentioned above, the template is just the first step towards your design. While all of the major design components are already done for you, now you just need to change the colors and logos to match your brand.
BuildFire has a WYSIWYG (what you see is what you get) editor. So everything that you see and change on your editor will automatically be adjusted in real-time to the interactive app on the screen.
Here's what I mean.
Navigate to the left side of your admin dashboard and select "Branding" from the "Design" menu.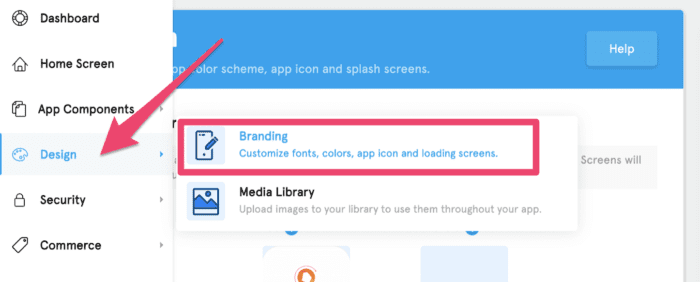 Anything you change on the left side of your dashboard you can preview in the app on the right side of the page.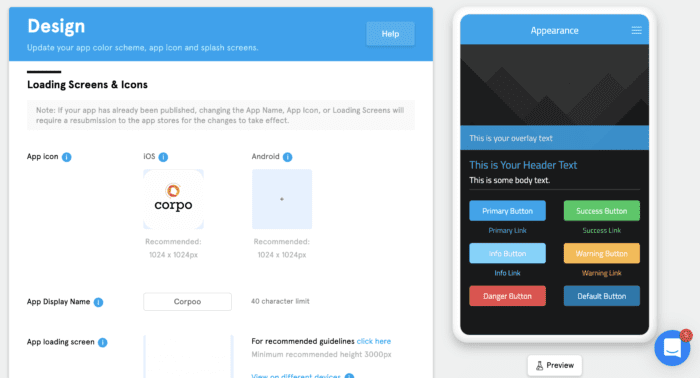 In the design section of the app creator, you'll have the ability to customize and change things like:
App icon
App display name
Loading screens
Font
Color scheme
Preset themes
Title bar and text icons
Header text
The preset themes can really make your life easier. Rather than customizing each component of the app design, these themes come with colors that complement each other really well. But you're still in total control of everything if you want to make custom design changes.
Step #5: Add All the Features
One of the reasons why BuildFire is considered the best app maker on the market is because of our extensive feature marketplace.
To add functionality to your app, just head over to our feature marketplace. From your admin dashboard, click on "Marketplace" within the "App Components" menu.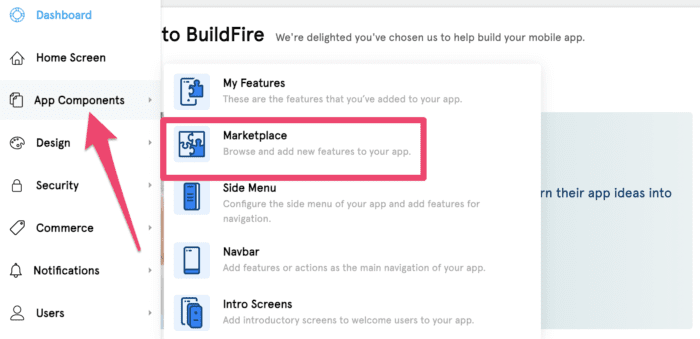 This will bring you directly to the app marketplace, where you can browse for features or search for specific functionality.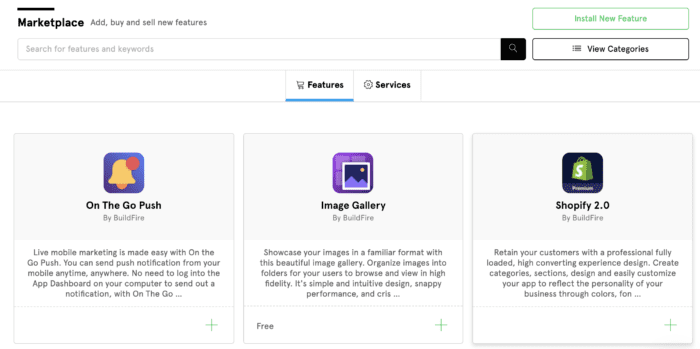 To install a new feature, simply click on the "+" icon in the bottom right corner of the description.
When you're ready to customize the features, you can manage everything from the "My Features" page, which can also be located within the "App Components" menu.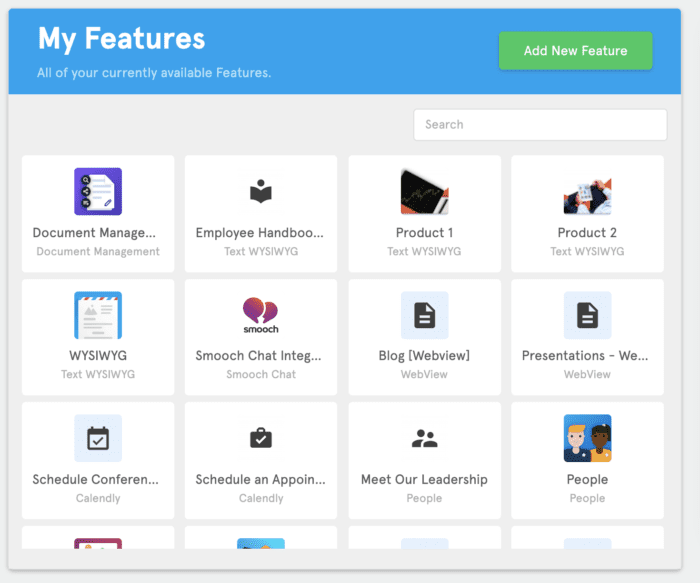 Step #6: Publish Your App (Apple App Store and Google Play Store)
After you've customized your app with branding and features, it's time to get it live on the app stores.
With BuildFire, our team can push your app into the Apple App Store and Google Play store with just a single click on your end. You just need to create a developer account on each platform.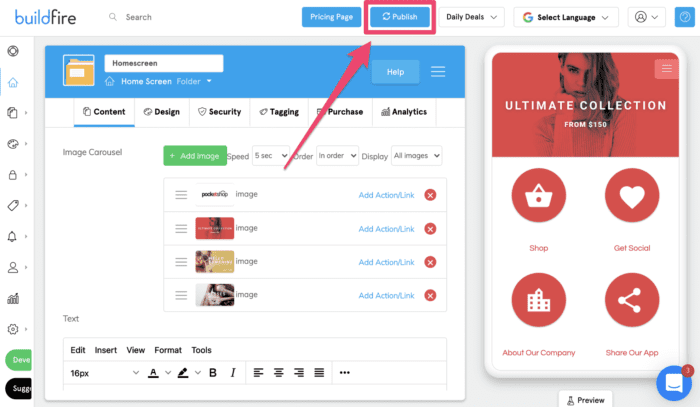 Just click the "Publish" button at the top of the screen, and our team will take care of the rest.
For a more in-depth explanation of our publishing process, check out this knowledge base tutorial on how to publish an app with BuildFire.
Final Thoughts
Learning to code isn't necessary for app development. Anyone can build an app without coding.
All you need to do is find the right app builder to accommodate your needs. Then it's just a matter of learning to use that platform, adding your features, and customizing the look and feel of the app with your own branding.
One of the coolest parts of BuildFire compared to other no-code platforms is our limitless functionality. If there's a feature you need that isn't currently available, you're not restricted to the app marketplace alone.
No-code app builders are affordable, easy to use, and offer the fastest path to development.
So what are you waiting for? Sign up for your free trial, and you can start building your app today.