The Comprehensive Guide To Business Growth Through Mobile Apps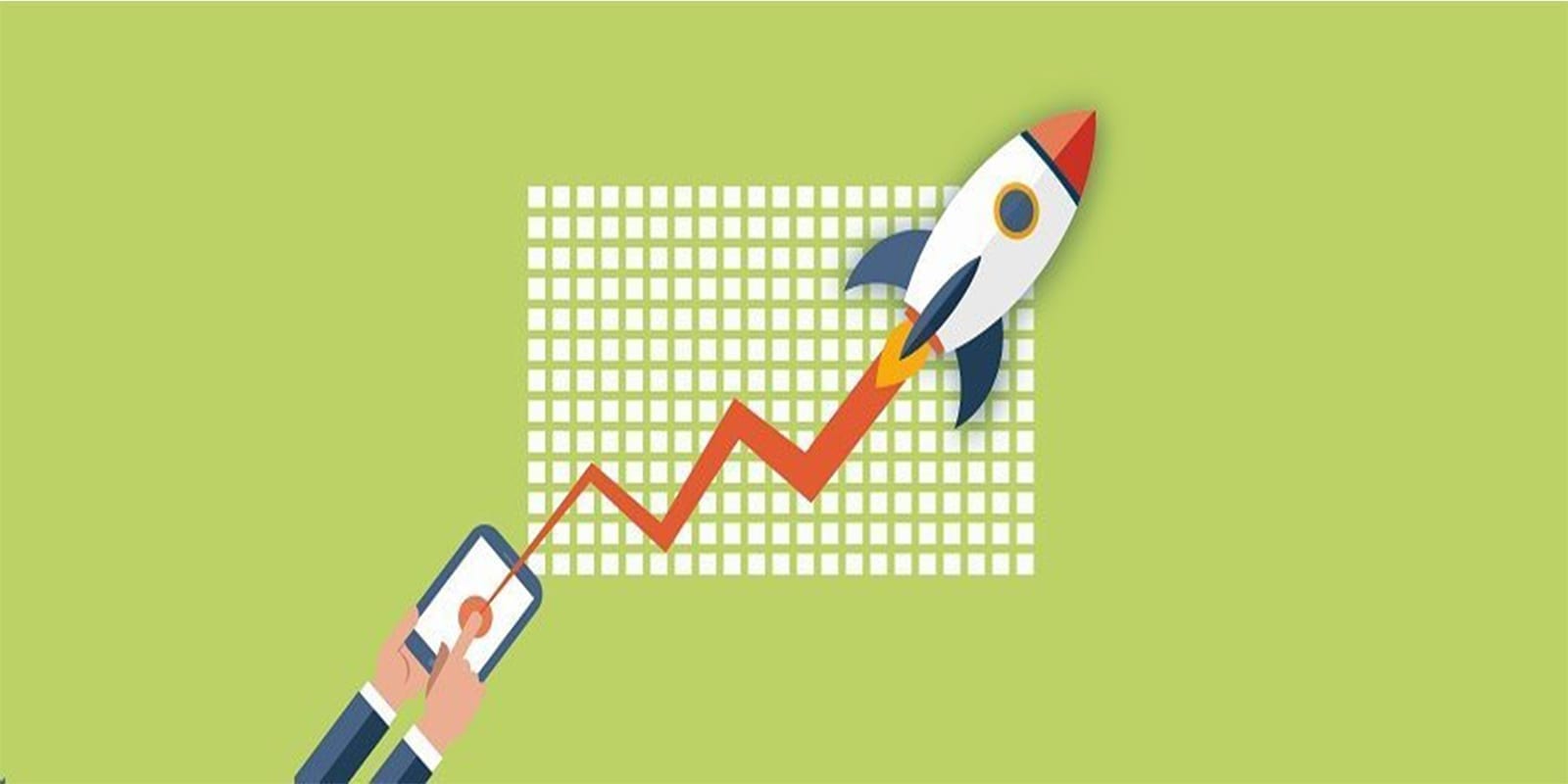 There used to be a time when building a mobile app was only feasible for big players and industry giants. Those days are over.
Today, it's become much easier and accessible for smaller companies to build an app for their business.
Mobile usage has seemingly taken over our lives. People in the United States spend 5 hours per day on their mobile devices.
92% of those hours are spent on mobile apps, while just 8% is on web browsers.
This means that it will take more than just a mobile-friendly website for your company to have an effective mobile strategy. Businesses are realizing this, and acting accordingly.
In fact, 42% of small businesses already have a mobile app. An additional 30% of small business owners plan to build an app in the future.
There are more than 1.9 billion websites compared to 3.4 million unique mobile apps. By successfully launching an app for your business, you can still have an advantage over your competitors as an early adapter.
Mobile Apps Drive Growth
Mobile apps can help your business grow. I'm sure you've recognized this by now, which is probably why you've navigated to this guide.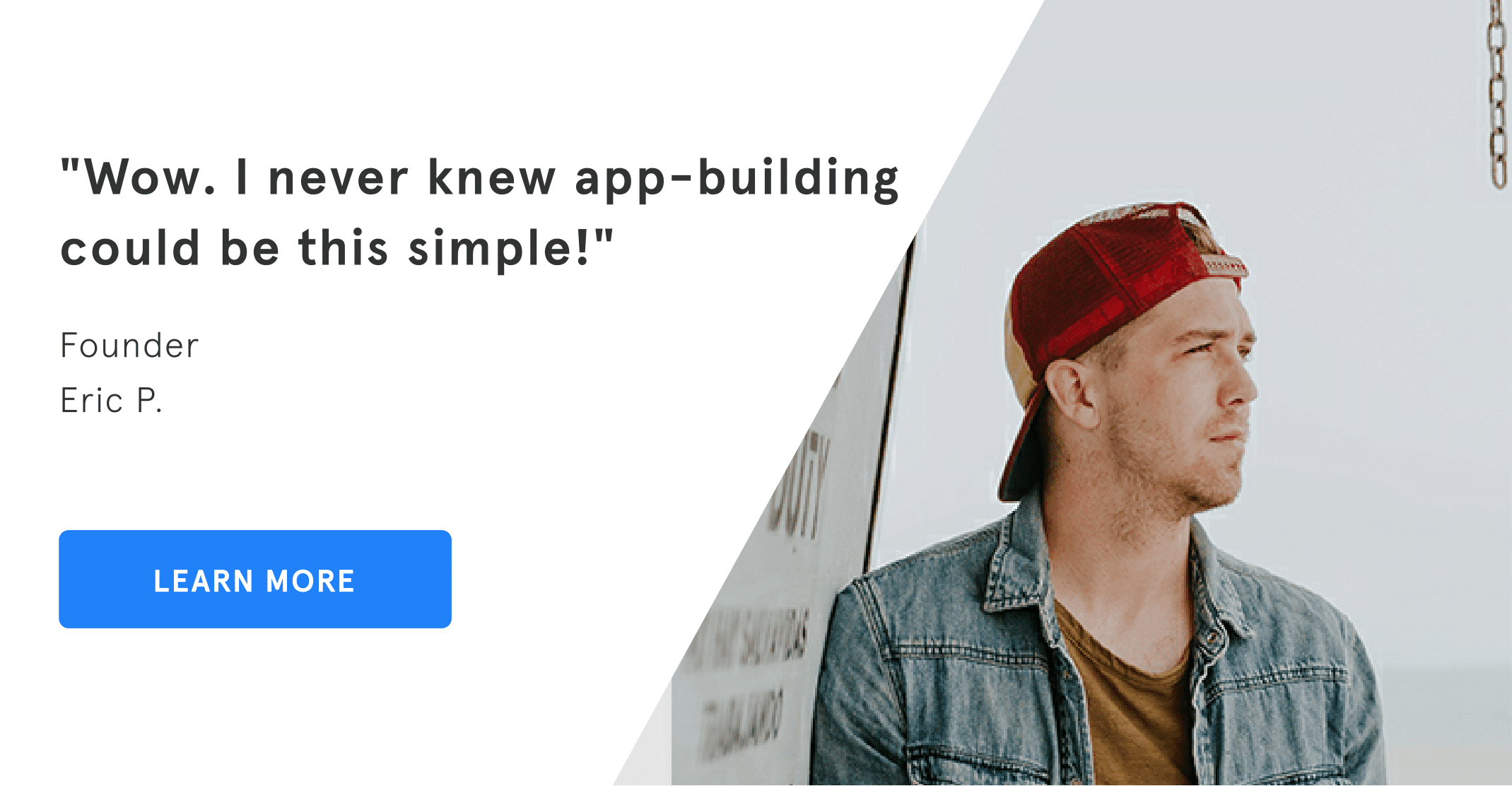 But it's possible that you're not quite sure exactly how to stimulate that growth. This is something that I encounter all of the time when I'm consulting with business owners, which is what inspired me to write this guide.
In business, you don't always need to reinvent the wheel. Take advice from others who have succeeded before you.
I'll show you eight different examples of how real companies used their mobile app to drive growth for their business. You can use these case studies as inspiration for your app development.
1. Generate new sales like Touch of Modern
Touch of Modern started as an ecommerce website.
When their website first launched back in 2012, it was the only way for their customers to purchase products. But the founders quickly decided to pivot their strategy and target mobile users.
That's when they decided to build and launch their mobile commerce app. The year after the app launched they saw a massive growth from 30,600 orders to 131,000 orders.
Let's put that into perspective for a minute here. Hypothetically speaking, we'll say the average order value is $100 to keep it simple. That's a $10 million increase in sales.
Today, 70% of total sales from Touch of Modern come from mobile devices. Two-thirds of those mobile sales come from their app.
57% of purchases come from repeat customers. Their customer retention strategy is clearly working. But that's not stopping them from acquiring new users.
They still get about 150,000 – 200,000 new app downloads each month.
With their download numbers continuing to rise, and such a large percentage of sales coming from the mobile app, Touch of Modern will continue growing in the future.
You can apply this same growth strategy to your ecommerce business. Use your app to sell products.
Having a mobile-friendly website is necessary, but you're just barely scratching the surface with those sales. Just look at the difference between mobile browsers and mobile apps.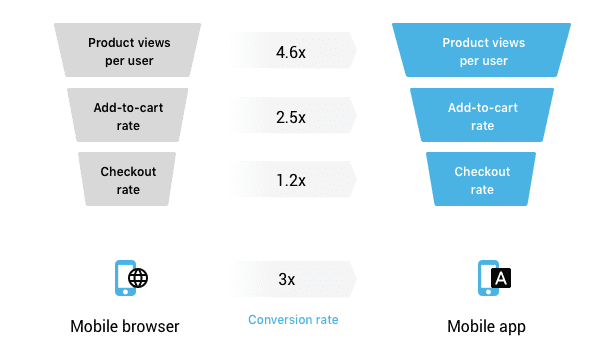 Apps clearly outperform mobile browsers in every category.
Furthermore, the average retail order is $10 higher on mobile apps compared to mobile browsers. This means your customers will spend more money, and convert at a higher rate once your app launches, which posies your company for growth.
The reason why this strategy works is that mobile apps eliminate friction in the checkout process.
Customers can store their payment methods and shipping information, which allows them to check out in just a few clicks.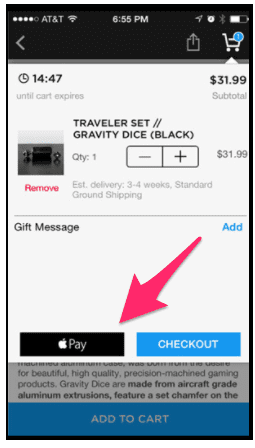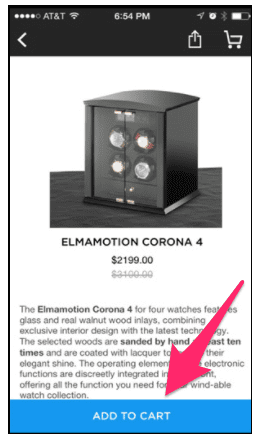 Touch of Modern also runs daily deals. Other ecommerce businesses with a similar strategy would highly benefit from launching a mobile app.
So if your business sells products online, you can build an app to drive additional sales.
2. Increase customer retention like Starbucks
Developing a mobile app will instantly enhance the customer experience. As a result, it will be much easier for you to improve your customer retention rates.
Starbucks uses their app to increase retention and drive sales at the same time.
The reason why they are so successful in doing this is because every element of the app focuses on the customer experience.
One of the best features is their mobile payment option through the app. Users can store their payment information, so when they make an in-store purchase, they don't have to physically take out cash or any credit cards.
This checkout process is fast and convenient for their customers.
Furthermore, the app allows users to place to-go orders from their mobile devices. Then their stored payment method will be charged automatically.
These orders are waiting for the customer when they arrive, so they don't have to stand in line and don't even have to take out their phones to pick up their coffee.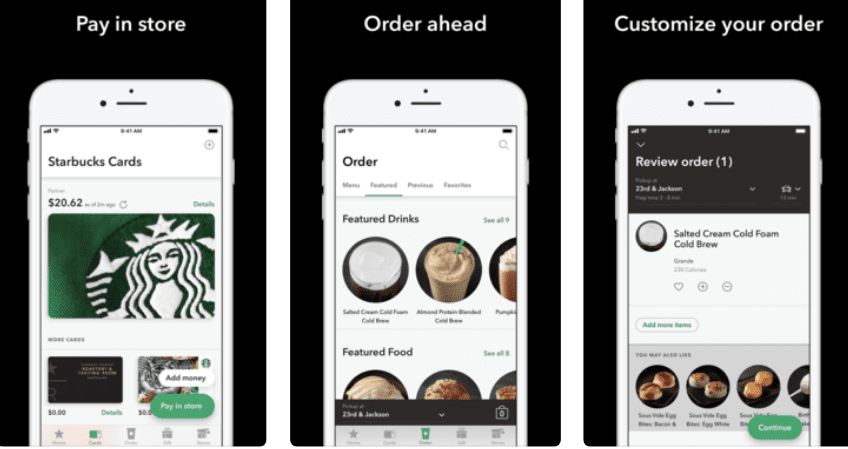 30% of transactions made at Starbucks come from mobile payments. 11% of orders get placed in advance through the app.
In Q1 2018, Starbucks generated $6.1 billion in revenue. With 30% of those transactions coming from mobile payments, they're on track to generate $7.32 billion from their app annually.
Check out this graph that illustrates their company growth with the mobile app.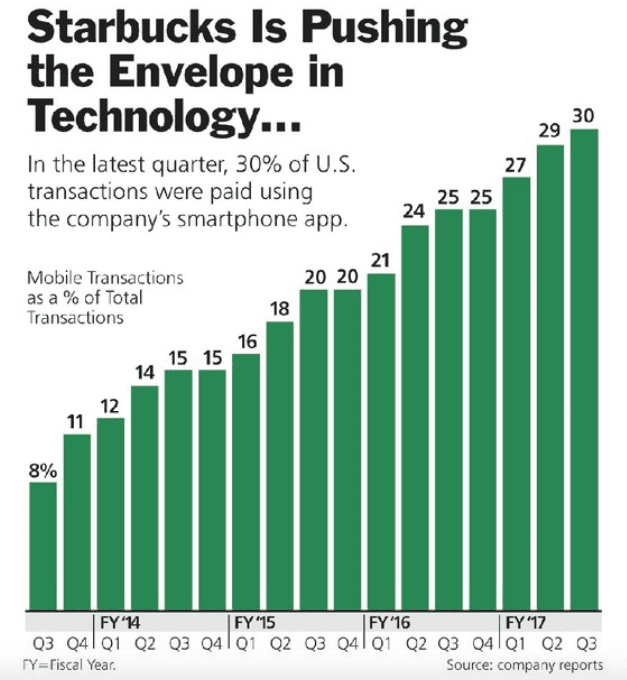 These figures show more than just proof of concept.
Customers have accepted this technology and want to use their mobile phones to pay for orders. This gives them a reason to keep coming back to Starbucks instead of going elsewhere for their coffee.
But it doesn't stop there. Their app users spend more money than the rest of their customers.
The average Starbucks mobile order is roughly 3x higher than a traditional purchase.
Customers who use the app to make purchases get rewards for their spending based on a star-rating system. They get perks like free drinks, free refills, and drink upgrades.
App users also get the benefit of complete customization. Their platform makes it easy for customers to customize their drinks exactly how they want them.
People with the Starbucks app have the ability to send gifts to other app users, view previous purchases, and manage their account balances as well.
All of this is tracked in the app.
Starbucks loyalty rewards customers accounted for 36% of their total sales in 2017.
Your mobile app is a great way for you to implement a new loyalty rewards program for your customers to improve retention rates.
3. Improve operational efficiency like Preferred Materials
Mobile apps aren't just used for targeting customers.
You can use an app to help your business with in-house operations, communication, and help reduce costs.
The Preferred Materials case study is a great example that you can potentially apply to your own business.
This company had an operational issue that was solved with an app. Only 20% of their employees are office-based and have an employee email address. Everyone else works remotely in the field.
Without a company email address, the field employees were unable to receive information about things like their personal benefits and other important notices from human resources.
Before developing a mobile app, the HR department was overwhelmed by calls from employes, which is not an efficient method of communication. Furthermore, it's expensive to pay HR representatives to manage these tasks.
BuildFire created an app for Preferred Materials that focused on employee communication.
After launching the app, Preferred Materials was able to reach 81% of their employees, compared to just 20% before the app.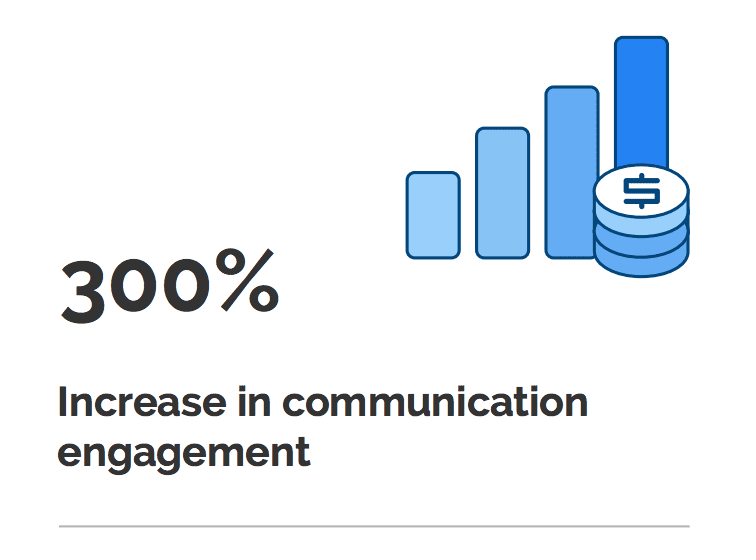 This is much more efficient. The app makes things easier for their employees and allowed the HR department to spend time and resources on other tasks to make the business better.
Low employee engagement can be costly. Let's put this concept into numbers to show you what I mean.
Hypothetically speaking, let's say an average worker at your company makes $4,000 per month.
But they aren't engaged 30% of the time. That one person is costing you $14,400 annually. If you have 100 employees, this operational efficiency is costing you $1.44 million each year.
On the flip side, engaged employees yield a high ROI.
Research shows that businesses with highly engaged employees have double the net income compared to companies with low engagement rates.
That's right. You can potentially double your revenue by fixing these types of inefficiencies.
Furthermore, brands with high employee engagement grow profits up to three times faster than their competition. This makes sense, considering these employees are 87% less likely to leave the company.
The Preferred Materials HR team won 1st place for the 2017 Innovation Award for this concept.
As a result of their successful app launch, they plan to scale this growth with their parent company, CRH. CRH has 89,000 employees and 1,300 locations across the globe.
They are committed to improving their operational efficiency with 10 additional mobile apps. You can follow their lead and apply the same strategy to your company.
If your business currently has some operational inefficiencies, a mobile app can solve those problems and set you up for growth.
4. Reduce operational costs like Cumberland Farms
Here's another example of how a mobile app can stimulate growth without targeting customers.
Cumberland Farms has more than 500 gas stations and retail store locations. They have over 6,000 employees.
This company generates more than $16 billion in revenue each year. But even a giant like Cumberland Farms has room to improve their operations.
This was their problem. All of their records from each location were kept on paper, which seems kind of crazy for this day and age.
I'm referring to things like:
Work orders

Timesheets

Inventory

Inspection records
The list goes on and on. Paper records are hard to keep track of and have slow processing times. As the company grew, the processing slowed.
By launching a mobile app, they were able to save money. Cumberland Farms started by building mobile forms within the app for things like parts requests, inventory, and guest reports.
Today, they have more than 20 different mobile forms within the app in efforts to go paperless and improve their internal operations while saving money at the same time.
This decision reduced their paper costs by more than $11,000 annually. It also saved them 845 employee productivity hours each year.
Overall, they are benefiting from a $400,000+ return on their investment.
Depending on the size of your company, you probably aren't spending as much money on paper each year like Cumberland Farms was. But with that said, I know that a mobile app can help lower your operational costs to make things more efficient.
First, you just need to identify which aspects of your operation are the most expensive and inefficient. Then we can build an app based on that information.
5. Make money in the app store like Spotify
Let me start off right away by saying I wouldn't expect your company to be the next Spotify.
That's probably unrealistic for most of you. But with that said, their business model is proven and can work for tons of different businesses across any industry.
Build an app to drive conversions for your subscription business model.
Subscription apps offer premium content. You can charge different rates based on the type of content you're offering at each level.
Your most basic tier can even be offered for free. Allow your app users to try out your premium services with a free trial. Ultimately, this will help you drive more conversions.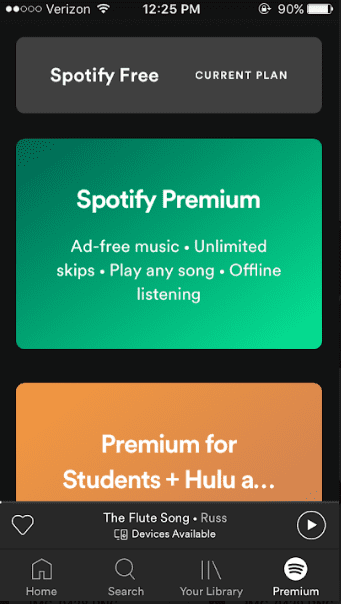 An average, 60% of free trial users will convert.
Once you set up your app for subscriptions, it's an easy way to increase revenue streams and grow exponentially. With a user credit card that gets charged on file each month automatically, your conversions and retention rates will be high.
You can learn more about how to set up an auto-renewable subscription in iOS by reading this detailed guide that I previously wrote.
Spotify used this model to grow their business to 170 million monthly active users.
It's a common misconception that you need to charge users to download your app to make money in the app store, but that's simply not the case. Spotify is proof of this.
Users can download their app for free, and upgrade to a paid subscription based on the type of personalized content they want.
Spotify converts 27% of their free trial customers. Their retention rates are high as well.
That's why have had so much growth in paying customers over time.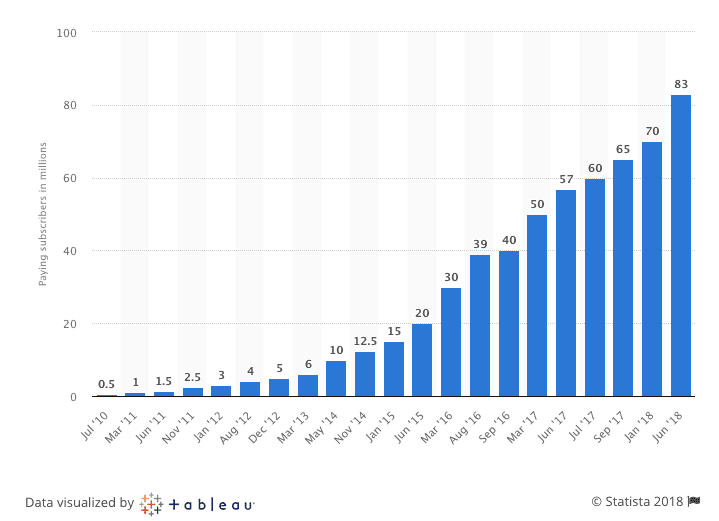 As you can see from this graph, you don't need to charge for downloads to make money in the app store.
While you may not become the next Spotify, it's not unreasonable for you to apply their business model to your company. It works even on a smaller scale.
6. Create an on-demand marketplace like Rover
On-demand marketplaces are increasing in popularity. Mobile apps are making this possible.
Uber

Lyft

Airbnb

Postmates

Grubhub
These are all examples of newer companies that are thriving with this business model. But with that said, you don't need to launch a completely new business to create an on-demand marketplace mobile app.
Just use an app to improve your current company. Rover did this with their mobile app.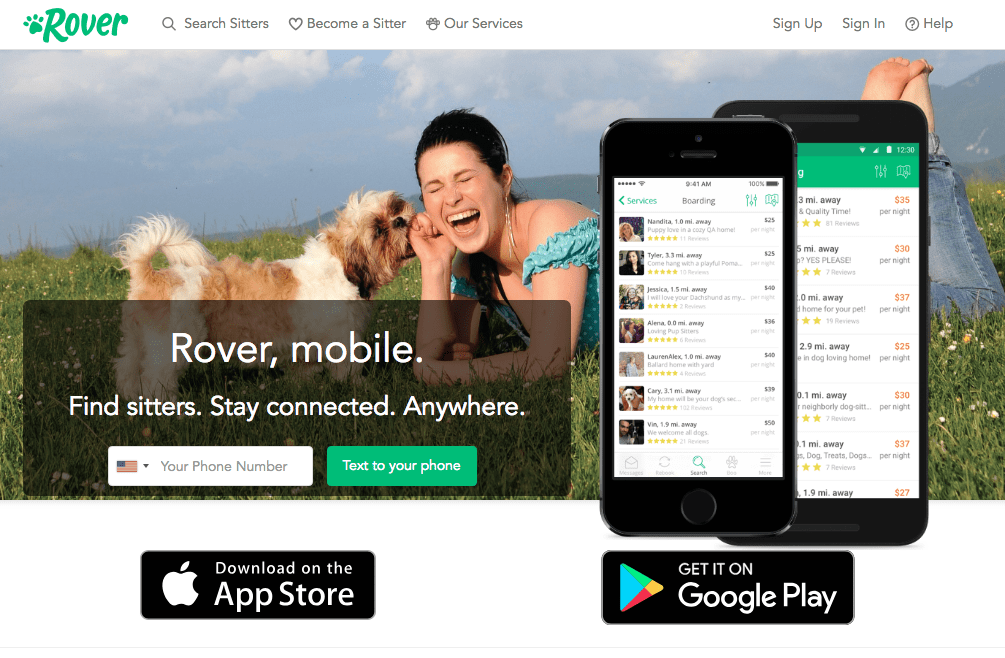 They have services for dog walking, dog boarding, doggy daycare, dog visits, and even house sitting.
Their company started as a website but wanted to improve their existing infrastructure.
After launching the app, Rover expanded and became available in more than 11,000 cities. They also saw a 200% increase in registrations.
At the app's peak, 10,000 people were joining rover each week.
90% of people who have booked a service through the Rover app are still active on the platform today. An additional 90% of users recommend the Rover app to their friends and family.
This company is continuing to grow.
Between 2016 and 2017, Rover tripled its net revenue. This revenue increase is allowing them to reach new markets.
Now, Rover is expanding to Europe. 30% of global pet spending comes from Europe, where more than 80 million households own a pet.
The company keeps 20% of all gross bookings on their platform, which is roughly $375 million annually. That translates $75 million in revenue for Rover.
In 2018, the company is valued at roughly $970 million thanks to their surge in mobile app downloads and usage.
Their mobile app allowed them to implement new features that weren't available on the website.
Rover recognized a need and used the app as a solution. They learned that 83% of pet owners had concerns that their dog walker cuts corners.
So they added a feature to the app that allows owners to track the walkers via GPS. This helps ensure that people are walking the proper distance for the agreed amount of time with the dogs.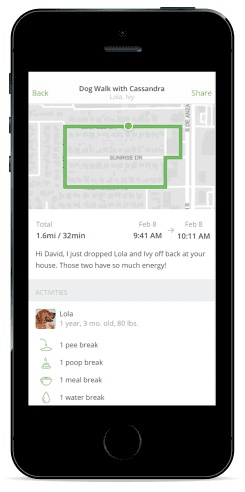 This feature works perfect for their growth strategy and expanding to Europe. It makes pet owners feel more comfortable about the service that they're paying for, which is a huge added value.
Rover didn't start a new business with their mobile app. They simply improved their existing model, which gave them such a great opportunity to grow.
You can do the same thing. Find a way to take your business and create an on-demand marketplace with a mobile app.
7. Make content easily accessible like Marriott
The whole idea behind this strategy is finding new ways to make your content more readily available to app users.
Marriott hotels have more than 4,000 5-star properties in 80+ countries.
In 2012, they opened Gillray's Steakhouse & Bar at the Marriott County Hall in London, which is one of those 5-star locations. It's a high-end steakhouse, so they wanted to separate themselves from all the other steakhouses in London.
By making their content more easily accessible to prospective customers in the area with a mobile app, this location grew quickly in popularity.

The Gillray's Steak & Gin app allows users to do things like:
Book a reservation

See daily and weekly specials

View a timer for cooking the perfect steak at home

Instructional cooking videos that work offline
60% of app users return multiple times. The average user views 11 screens per session, which are great numbers in terms of engagement metrics.
I like this example because it shows that a business with one physical location, that doesn't sell any products online, can grow and benefit from developing a mobile app.

Another example of making content more easily accessible comes from Sprinkle of Jesus.
This started as a Christian blog with lots of visitors, but they grew exponentially after launching a mobile app. Sprinkle of Jesus has more than 5 million downloads to date.
All of this happened because they were able to improve the accessibility of their content.
Most people aren't going to walk around with a Bible and papers with inspirational quotes everywhere they go. But what does everyone always have with them? Their mobile phone.
Allowing app users to access this type of content through their mobile devices is what makes this app so successful.
At one point, they were one of the highest ranked lifestyle apps in the app store. These ratings fluctuate, but at times, they ranked above Zillow, Bumble, and Tinder.
So, how long does it take to build an app with such a large following? Consider this, the founders of Sprinkle of Jesus faced similar struggles that you might be facing today.
They didn't have much time to build the app, and they had no technical experience.
But that didn't stop Sprinkle of Jesus from developing their app in just 14 days.
Here's something else to consider. 5 million downloads are great, but how can that be monetized?
Let's just say that each user donates $1 per year. That's $5 million in revenue annually!
Some of you may be thinking that this sounds high, but it's actually a modest estimate. The average adult who attends church in the United States donates $17 per week, which translates to $884 per year. So estimating $1 per user each year is on the low end.
Based on these two examples above, it's clear that you can use your mobile app to drive indirect revenue, by simply just making your content more accessible.
8. Increase customer shopping frequency like Asda
Asda is a British supermarket.
They are the second largest chain in the UK by market share, with more than 500 store locations.
Asda's goal was to make the shopping experience more convenient for their customers. Plus, they wanted to start getting more online grocery orders.
After conducting customer research, they discovered that their current customers wanted a mobile app that featured things like:
Store locator

Barcode scanner

Recipe finder
So they gave their customers what they asked for. Their app now has over 2 million downloads.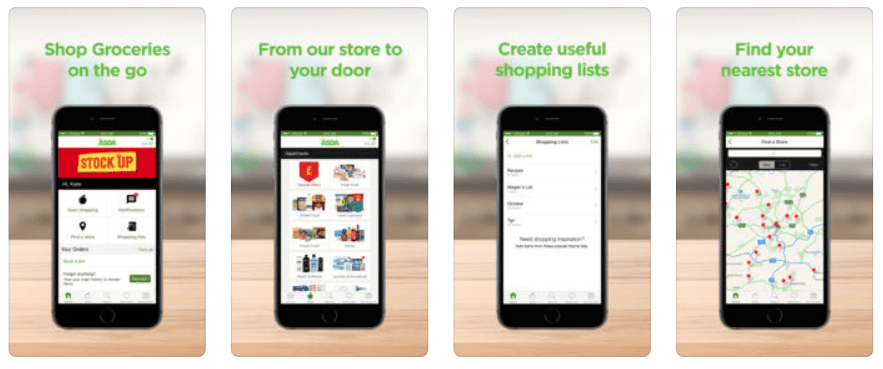 That's because consumers prefer mobile apps over mobile websites. These are the reasons why.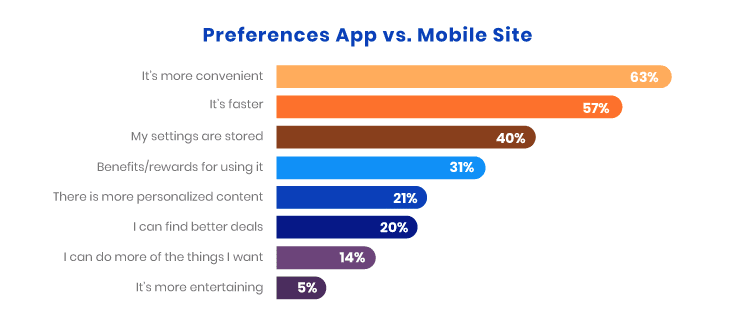 Furthermore, 90% of grocery orders come from the app. So Asda was able to achieve their initial goal of increasing online orders.
Actually, they surpassed their goals. They were hoping for mobile sales to be 10% of their total revenue. Asda nearly doubled that benchmark, with mobile sales contributing to 18% of their annual revenue.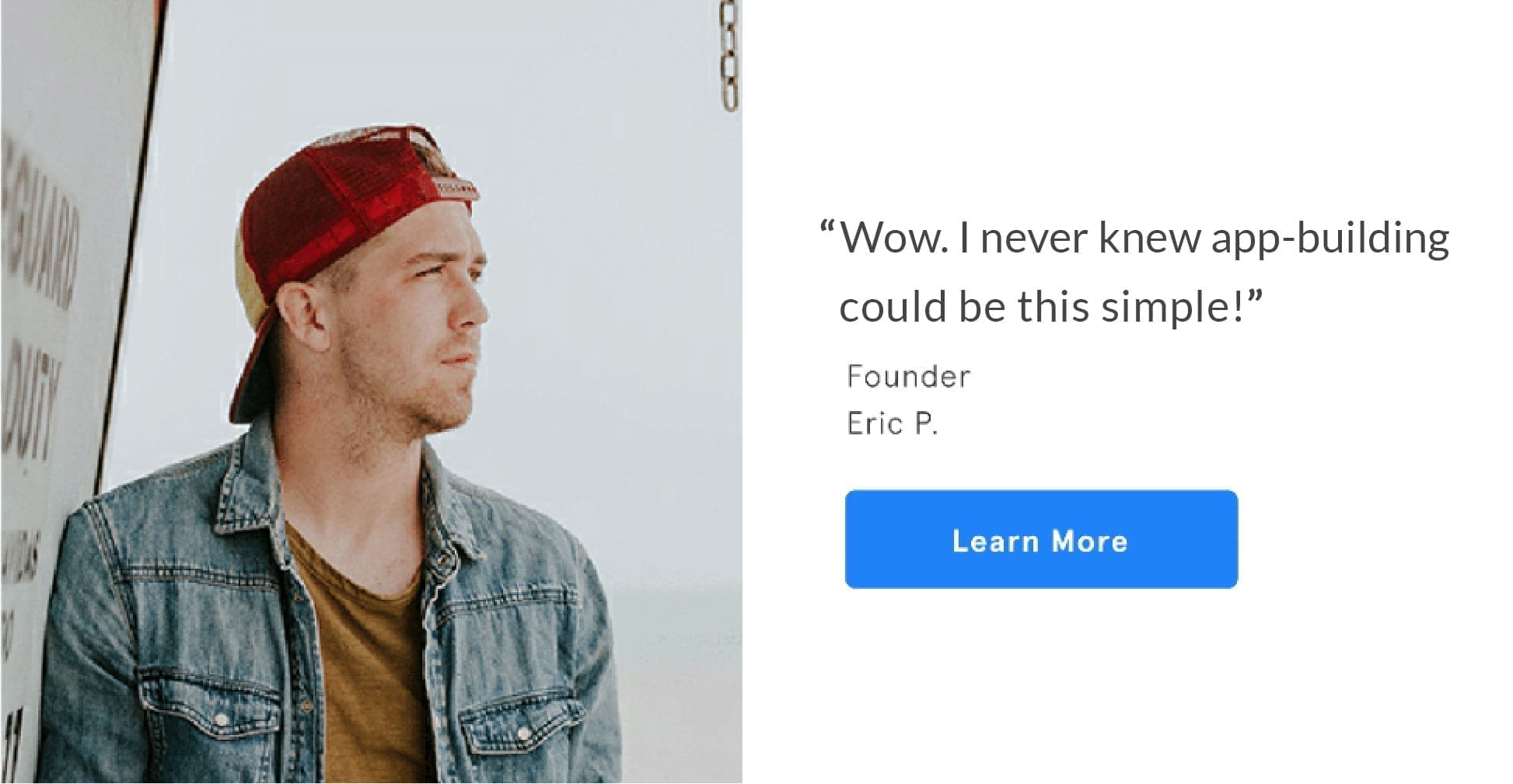 Mobile shopping frequency is 1.8 times higher than their desktop shoppers. Customers shopping from the app do so at almost double the frequency of the mobile site.
If your company is selling anything online, or even in physical store locations, you can launch an app to increase customer shopping frequency, which ultimately results in added revenue.
Timeline and Cost to Build an App

Some common misconception about mobile app development is that they take too long to build and they are very expensive. That's not always true.
Traditional development isn't always the best option. With this method, you'll have to build two separate apps; one for iOS users and another for Android users.
Paying someone a high hourly rate to develop two separate apps is a long and expensive process.
But the BuildFire rapid app development framework allows you to build an app in just a fraction of the time compared to traditional development.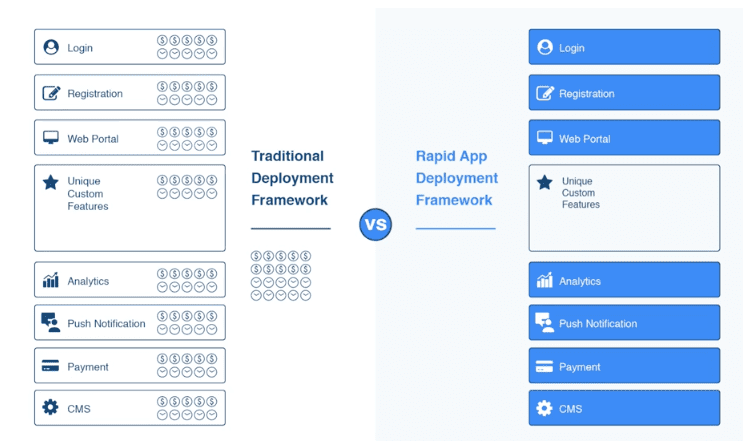 With the rapid app development framework, all of the features on the right side of this graphic that are highlighted in blue are readily available. They have been developed and maintained by our engineers.
This simplifies the app building process.
Conclusion
There are lots of different ways to drive growth with an app. Just look at the examples above.
All of these businesses and apps are very different. Companies built these apps for different reasons, but ultimately, they were all able to grow as a result.
I think it's definitely safe to say that it's worth it to build a mobile app for your business.
You don't need to spend a year of your time or an outrageous amount of money to make this happen. As you've learned from this guide, it's possible to build an app that gets over 5 million downloads in just two weeks.
But you're going to need some help. You don't need to hire an expensive developer that's going to be forced to build two versions of your app for each platform.
In addition to the cost, this is just too time-consuming. You're better off looking for an alternative app development strategy.
BuildFire has launched over 10,000 mobile apps for businesses. These apps range everywhere from Fortune 500 companies to entrepreneurs with startup companies.
Cumulatively, we've saved our clients over $250 million in development costs.
We've built apps for industry-leading brands like Paypal, Cisco, PepsiCo, Aon, Wienerschnitzel just to name a few.
Obviously, I know that I'm a bit biased, but our rapid app deployment framework works.
It doesn't matter what industry you're in, how big or small your company is, or what you're trying to achieve from your app. Launching a mobile app will help your company grow.
Just follow the lead of the companies and case studies that I've outlined above in this guide.
You can start building your own custom mobile app today.
How are you planning to leverage your mobile app to drive growth for your business?