How to Choose the Right App Reseller Program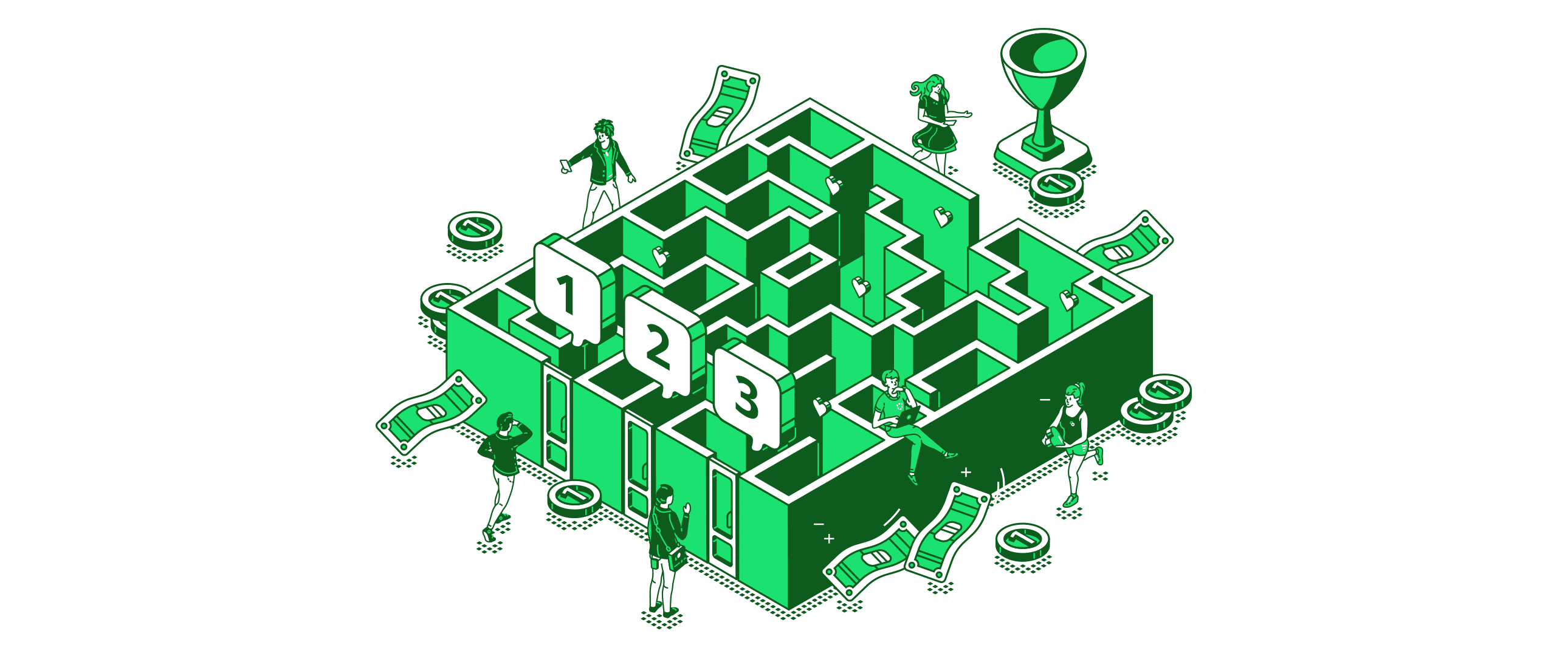 Mobile apple reseller programs can be extremely lucrative. But success in this space is tied directly to the platform you're reselling. 
Any app reseller program you're considering must be evaluated with a two-fold approach. First, you need to consider how the platform addresses your needs as a reseller. Next, determine how the app builder will accommodate your customers.
The best mobile app reseller programs give you the opportunity to go out there and land some serious clients. This skyrockets your profitability potential.
Finding the best app building platform for your reseller program can be challenging if you don't know where to start, which is why we created this guide.
Whether you're an agency, entrepreneur, app maker, or starting a mobile app business from scratch, you can use this resource as an app reseller buying guide. You'll learn exactly what to look for as you're comparing different platforms side-by-side. Let's dive in.
Onboarding and Initial Setup
First impressions can be telling. If you're dealing with headaches during the sign-up process, it's usually a bad sign for the future of your reseller business. 
Obviously, every piece of software has a bit of a learning curve. But if you're having trouble setting up your account and getting the program started, just imagine how difficult it will be for you to start onboarding your own clients. 
Only consider white labeling platforms with legitimate reseller programs. Some companies offer white label services on the side or as an afterthought but don't really have experience in the space. If you can't find much information about the program directly on the website, look elsewhere. 
Take advantage of any free trials or demos to get a feel for the software. Your initial interactions with the reseller sales team should give you a "gut feeling" on whether or not the platform is right for you.
Ease of Use
As previously mentioned, the platform you're reselling must be easy to use on two levels—easy for you and easy for your clients. 
Some of you might be building apps for your clients, while others might just be white labeling app development software. The rest of you might fall into both of these categories. 
Regardless of your situation, you don't need to have coding or development skills to become a reseller. The best app makers offer no-code development solutions. You and your clients can create custom apps from a web-based interface. Start with a template, and start adding functionality with a single click.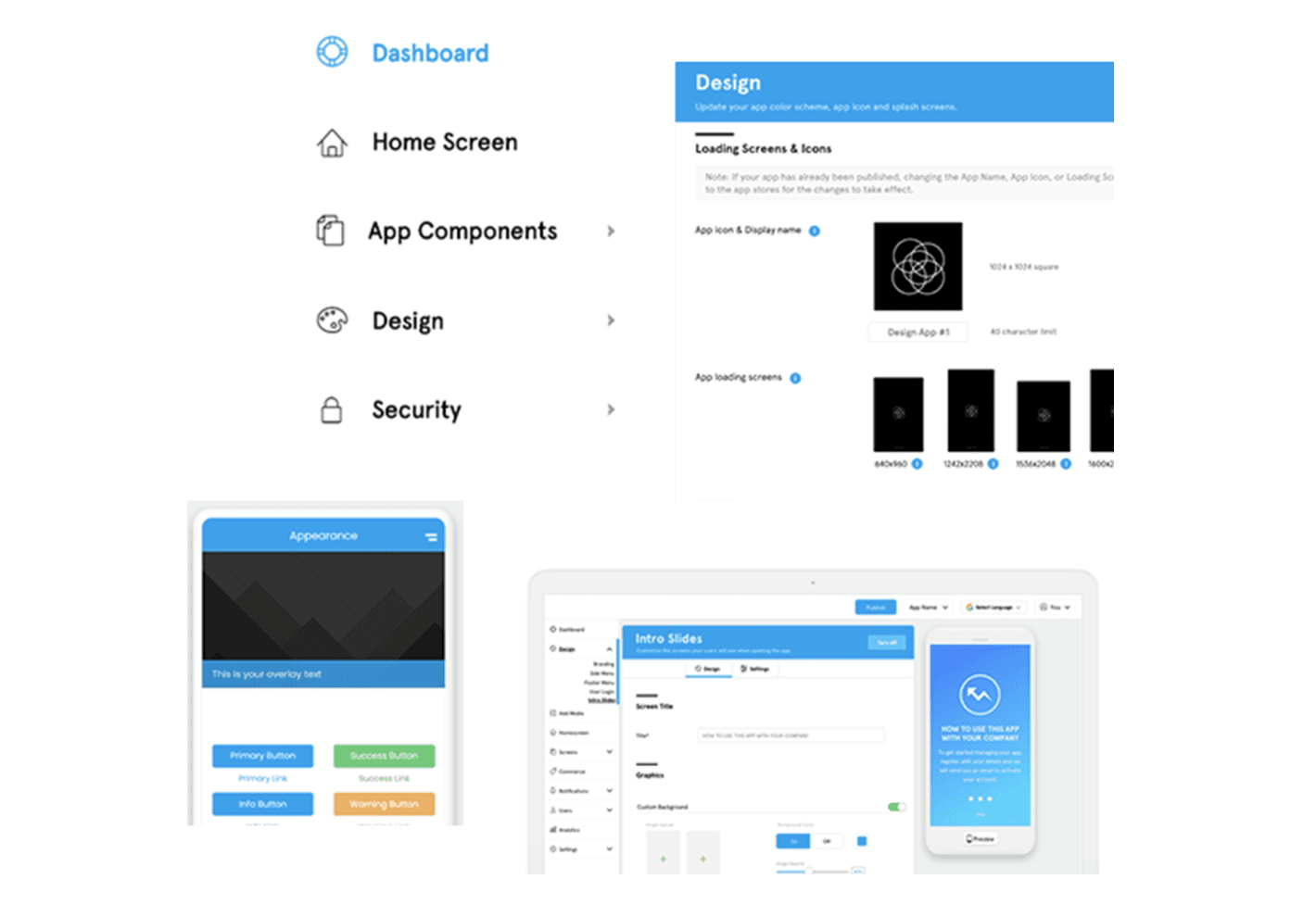 Some of you might have experience using website builders like Wix, Squarespace, or similar alternatives. Look for an app development platform that offers the same type of building functionality. 
For most of your clients, this will be their first time creating their own app. So look for a platform offering a seamless user experience.
If you're going to build the apps for your clients, choose a platform that makes it easy to clone apps. This will save you a ton of time if you're making apps for clients in similar industries. 
Functionality and Features
Lots of no-code app development platforms on the market fall into the "cookie-cutter" category. While these might be easy to use, they will really limit your ability to add functionality to your apps.
This might be fine for some resellers that plan on offering bare-bone apps to one type of client. But you won't be able to scale your reseller program with a cookie-cutter app maker. 
Choose a reseller solution that's highly flexible, and avoid platforms that are rigid and full of restrictions. 
The best platforms have a feature marketplace with plug-and-play functionality. Want to add videos to an app? Look for a YouTube or Vimeo plugin. Do you want to add reservations to a restaurant app? Add an OpenTable plugin. The platform should have plugins for social media integrations, time-release content, customer loyalty programs, maps, image galleries, and dozens more. 
Do you want to target ecommerce clients? Make sure the platform you're evaluating has a Shopify integration.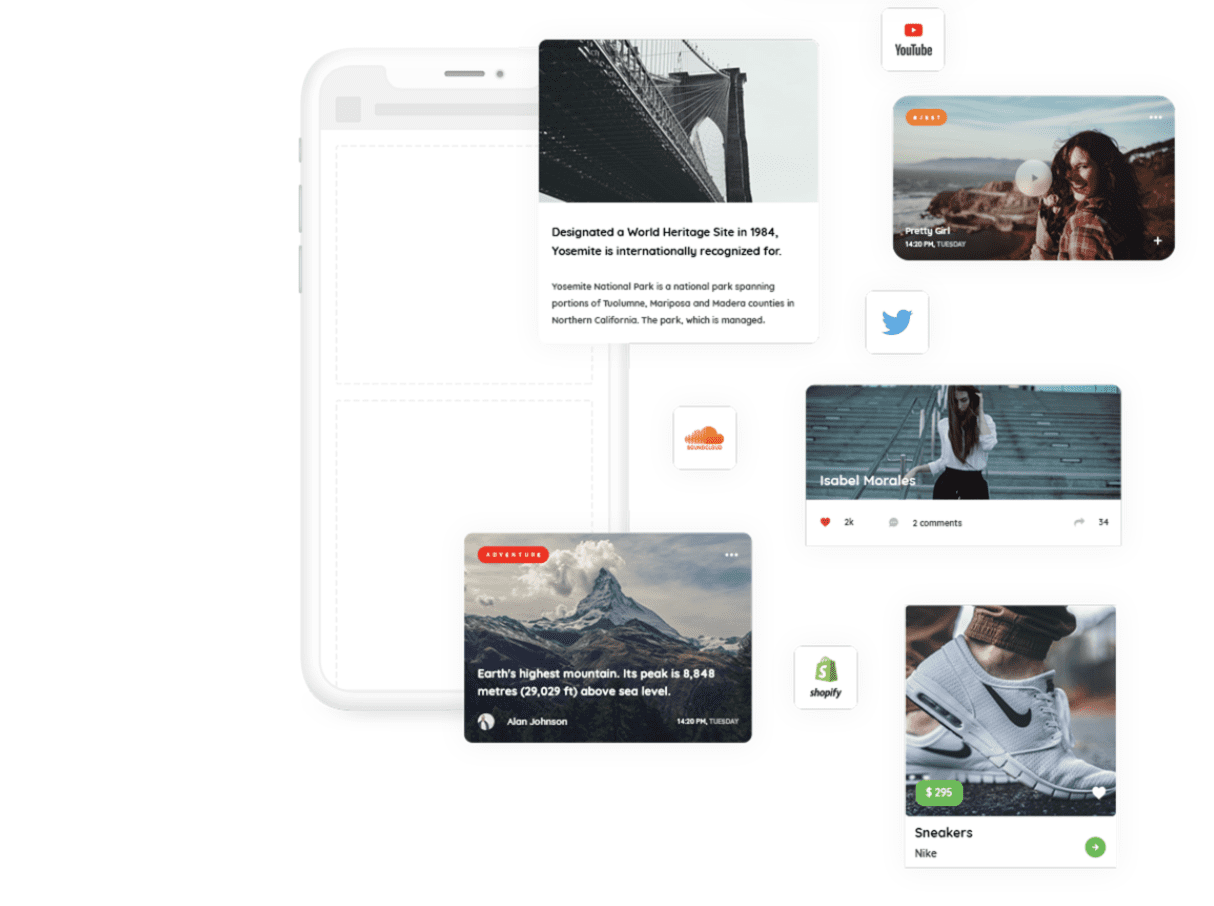 Your app development services will only be as good as the platform you're reselling. If it doesn't have limitless functionality, then you won't be able to land big clients. 
Imagine this scenario. A prospect has a six-figure app budget and comes to you for help. But you're unable to address their needs because you're using a cookie-cutter solution. You just lost out on a big payday and suffered a blow to your brand reputation.  
That's why app functionality is arguably the most important factor to consider as you're evaluating different reseller programs. 
Developer Friendly Tools
Let's continue talking about functionality. While the best reseller platforms will have a feature marketplace with plugins and modules, they probably won't have every feature under the sun. 
What happens if a client needs a customized feature? 
The best reseller programs offer a developer-friendly SDK. This gives you the ability to provide truly limitless development options to your clients.
Creating a custom feature with an SDK obviously requires coding knowledge. So if you're not a developer and don't want to hire your own, make sure the program you're using offers this type of support.
BuildFire's mobile app reseller program offers this exact advantage. If a client needs custom functionality that's not available in the app marketplace, the team of developers at BuildFire can create this for you. The client never has to know where that custom functionality is coming from. For all they know, you created it for them in-house. 
With years of experience building 10,000+ apps across every possible category, the BuildFire team has seen it all. The ability to create custom functionality really separates this program from similar solutions on the market today.
You won't get this advantage with a cookie-cutter reseller program. 
White Label Custom Branding
Custom branding needs to be a top priority if you're going to white-label apps. When a client logs in to build or edit the app, they should see your logos and business name. The app builder that you're reselling shouldn't be listed anywhere. 
As far as the client is concerned, you created this software from scratch. They never have to know where you got it from. So make sure that the licensing details offer this type of arrangement. 
Existing and prospective clients alike should be able to access the platform directly from your website. 
The best reseller programs allow you to white label the software that they offer to their own clients. So if you can find a robust and feature-rich platform, make sure it has white label capabilities. 
It's bad for your brand image if other logos and branding appear on the platform you're using. 
But white labeling makes it easier for you to establish a brand reputation, create marketing materials, and scale your mobile app business. 
Client Management Tools
Whether you're building apps for clients or just white labeling software for them to build on their own, your reseller program must have an intuitive dashboard for client management.
Look for platforms with an admin or account manager page for total control.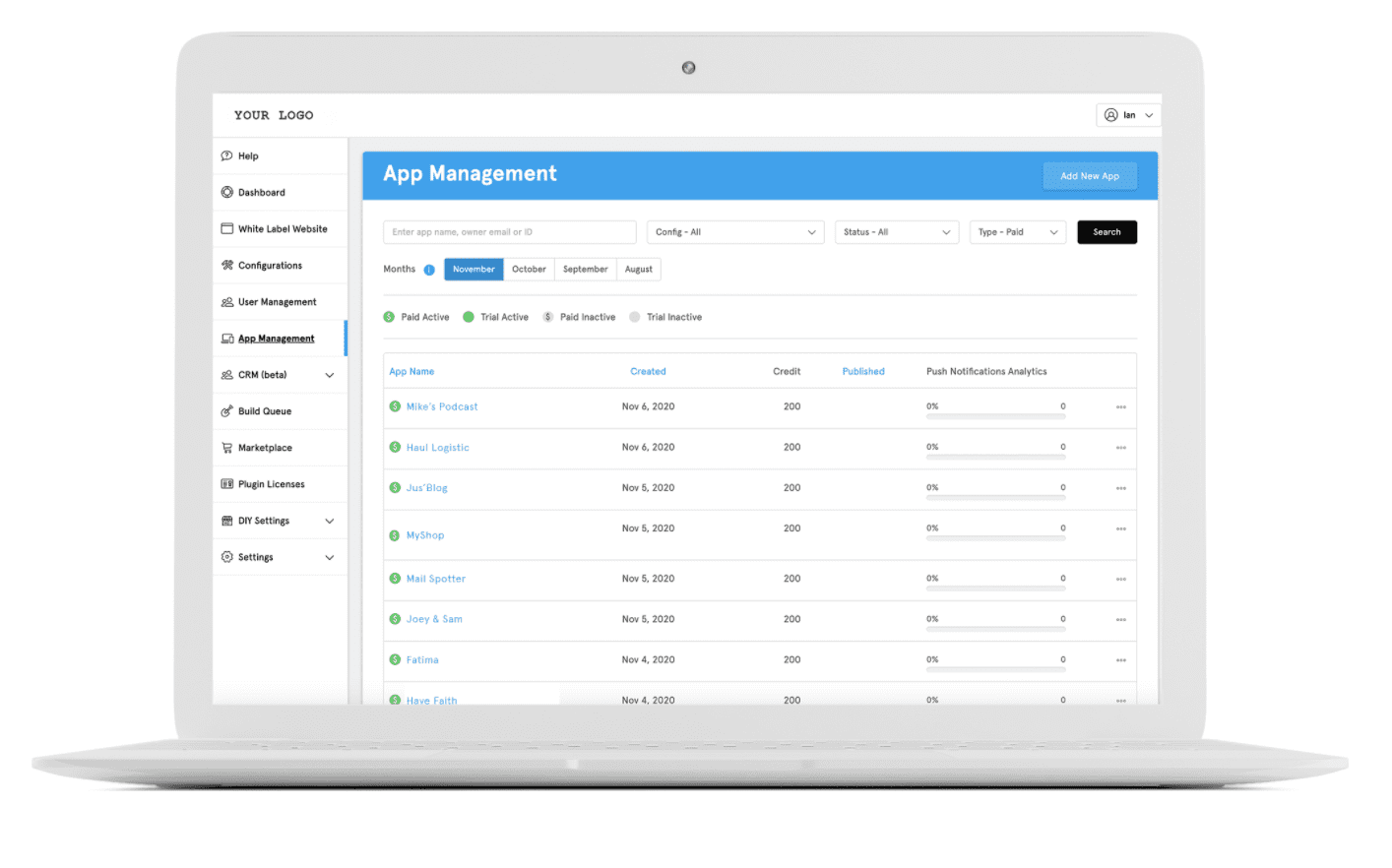 The platform should include features for things like cloning apps, managing apps, managing custom configurations, changing access levels, and creating new apps with a single click. All of this should be accessible from a web-based interface. This gives you the ability to manage your reseller program from anywhere, without any software or hardware requirements. 
If the platform doesn't have user-friendly client management tools, you'll have problems scaling your reseller program. 
At first, managing one or two clients is fairly easy. But what happens when that number jumps up to 10, 20, or 100? This feature is crucial at scale. Otherwise, your service will suffer. Clients will get lost in the shuffle, and their needs will go overlooked. 
You should be able to manage client billing and support from this screen as well. For example, let's say you have a client that's currently using a free trial. Don't let that trial expire without following up with them and closing the deal. 
Training and Support
Beyond the initial onboarding and setup, look for a white label program that has your back. The best reseller platforms offer training, resources, and dedicated white label support. 
As previously mentioned, there's always going to be a slight learning curve when you're using new software—this should be expected. But that learning curve is far less steep if someone teaches you how to use the software. 
Now think about your customers. How can you possibly give them support if you're still learning how to use the platform? That's why this consideration is so important. 
The day might come when a customer asks a question that you don't know the answer to. If you have priority white label support from the software you're reselling, this will be a non-issue. Just reach out to a customer support rep via phone or email to get the answer and pass the information along to your clients. 
The best app reseller programs go above and beyond to make sure your app business is successful. Here at BuildFire, we consider ourselves to be a partner with agencies using our reseller platform.
Not only will you benefit from a team of developers for custom functionality (previously discussed), but we also offer strategic app consulting. This helps ensure that your business objectives are met and surpassed. 
Custom Plans and Configurations
From a pricing standpoint, resellers generally pay a fixed monthly, quarterly, or annual rate to license the software that they're reselling. You'll have a certain number of apps included in that plan (usually in the 20-30 range), and you can scale from there. 
You're free to charge whatever you'd like to your clients for app development. This allows for limitless profitability. In some cases, you only need to onboard two or three new clients to break even. 
The best reseller programs give you total control over your plans and pricing. You can turn certain features of the platform on or off and create different pricing tiers based on functionality.
So you'll have the option to create a pricing page that looks something like this: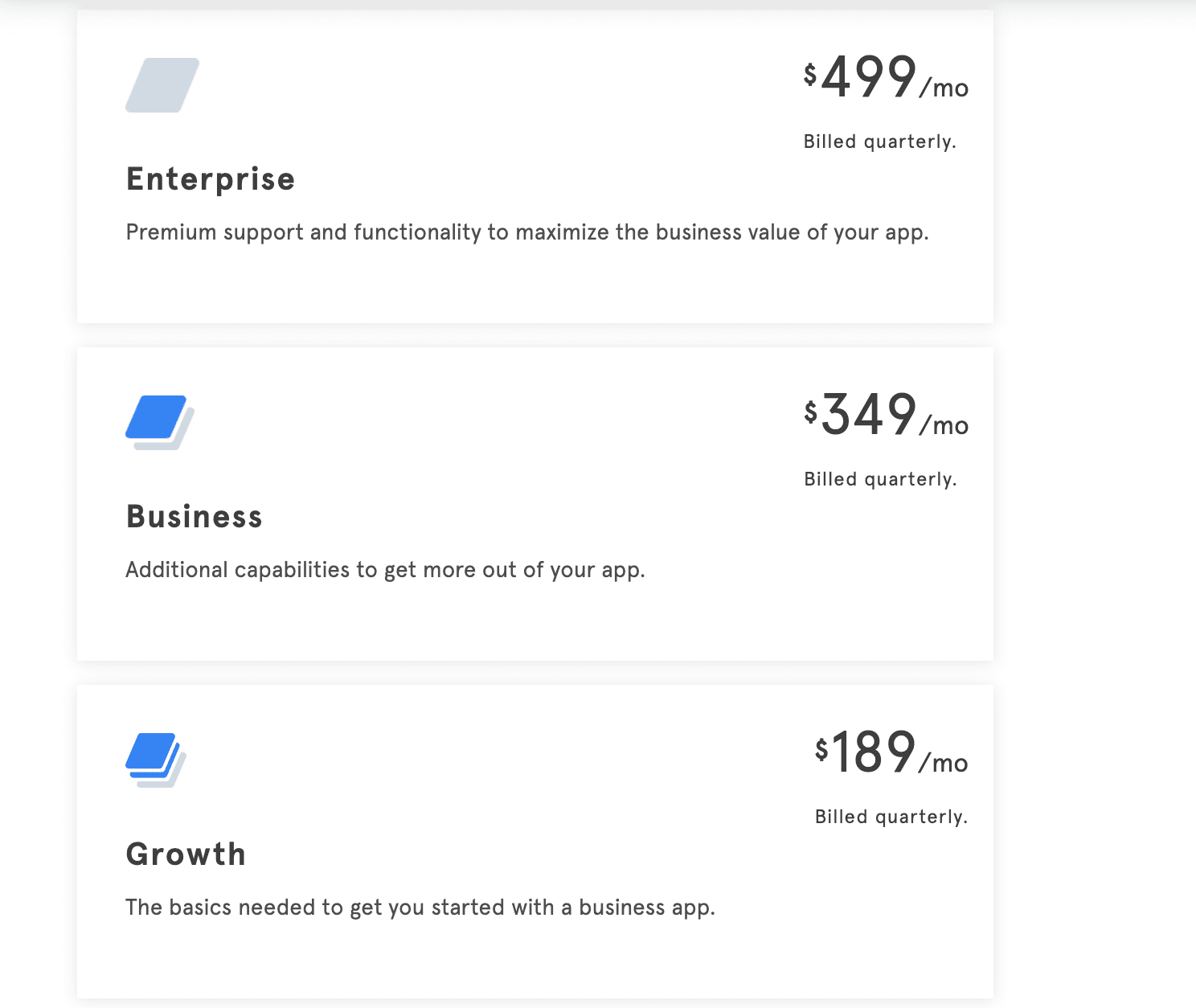 Look for an app reseller program that allows for full self-provisioning. This gives the opportunity to create customized sign up pages and free trials for customers. 
Clients can upgrade their service and pay directly from your white label dashboard. 
The best app reseller programs offer a wide range of native platforms for things like customer chat, business analytics, and more. All of this should be available directly from your custom white label domain. 
App Publishing and Backend Maintenance
This echoes our emphasis on choosing a reseller program with exceptional service. The best platforms allow you and your clients to create apps for iOS and Android simultaneously. But the Apple App Store and Google Play Store each have their own unique publishing rules and requirements. 
Building apps is just one component of development. Getting those apps published and maintaining them is an entirely different story. 
Beyond creating an Apple or Google developer account, look for a reseller platform that handles all of your publishing needs. Whether you're building apps or your clients are building them on their own, the best reseller programs will get those apps to market. This is just one less thing that you'll have to worry about. 
They'll also maintain the backend infrastructure required to maintain the apps. Look for a reseller program that handles hosting, servers, bug fixes, upgrades, enhancements, and more.
What happens when there's a new Apple or Android update? Will the app maintain compatibility and compliance? This is something you shouldn't have to worry about as a reseller. 
So choose a program that allows you to focus on the apps and customers while they manage everything on the backend for you.
Platform Reputation
App reseller programs should be evaluated like any other major purchase. Do some quick research on the platform you're considering. 
How long have they been in business? How many apps have been built using their platform? What types of apps have been built using that particular software?
Remember, the program you choose will be a direct reflection of you and your business. 
If a reputable app development platform has created thousands of apps across a wide range of categories, it's usually a safe bet for resellers to consider. Read through online reviews. If their existing customers are having problems with the platform, your customers could face those same issues. 
Look for case studies and customer testimonials. See if you can find any customer stories from resellers who had success using that platform. 
These are all good signs that can help you make a decision.
Conclusion
I can't over-emphasize the importance of choosing the right reseller program for your app business. The platform you select will ultimately decide your fate and success in this space. 
But you can't make an informed decision without knowing what to evaluate. So refer to the factors listed above as you're shopping around. 
For more information on how to have success as a reseller, check out our ebook—The Ultimate Guide For Mobile App Resellers: Getting Started and Boosting Profits.  
BuildFire is arguably the most powerful no-code app development platform on the market today. It's been used to create 10,000+ apps used by 25+ million people worldwide. By joining our reseller program, you'll be able to provide this exact same platform to your customers.
This software makes it easy for you to go out and start landing major clients. 
Click here to learn more about our reseller program. You can book a demo and reach out to our dedicated white label support team to get started.