How to Value a Mobile App?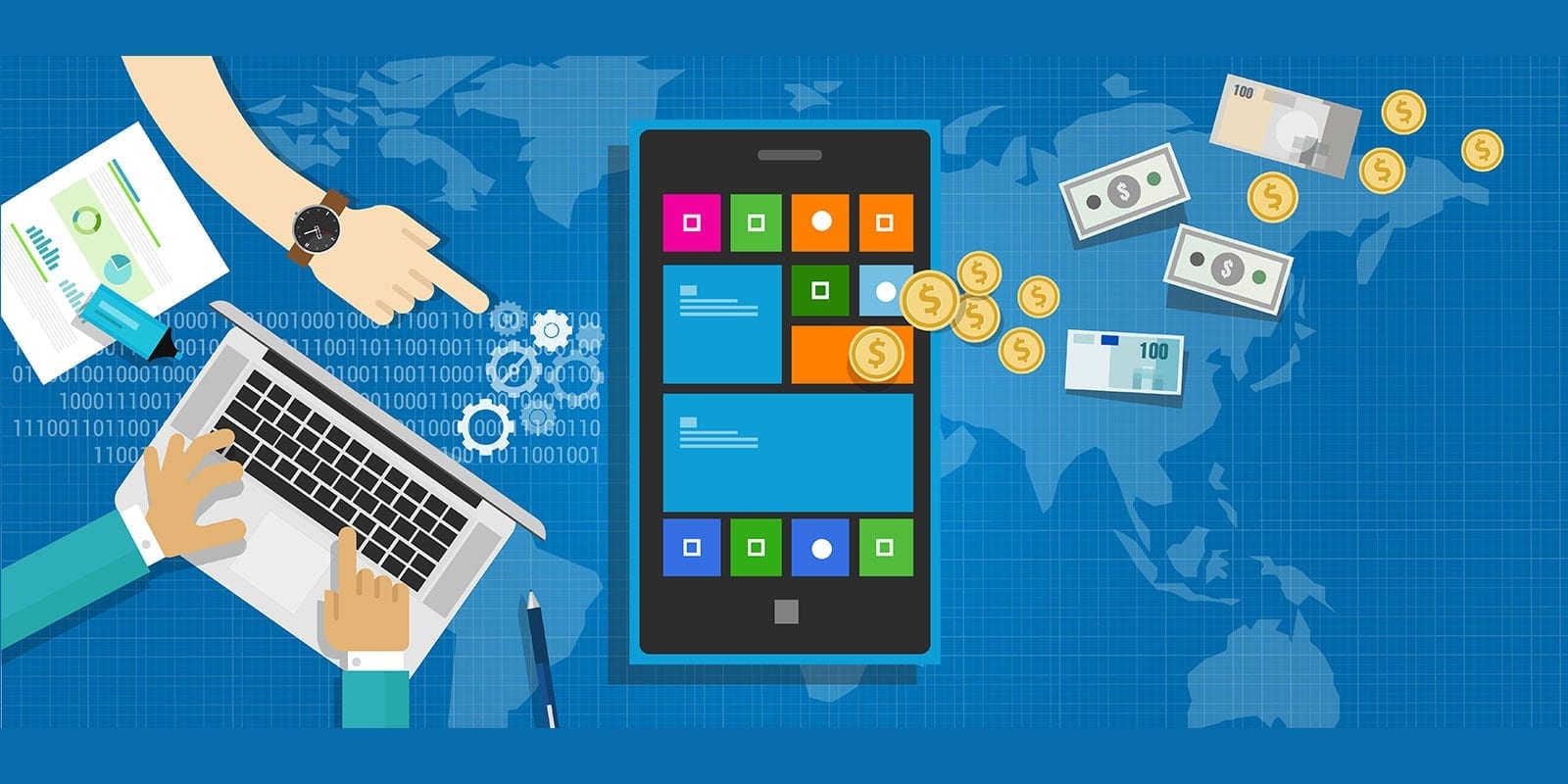 Today, thanks in no small measure to platforms like BuildFire, there are more successful mobile, SaaS and marketplace apps in the market than ever before.
While there are numerous different kinds of monetizable applications that can be sold—for instance, marketplace apps like those for Shopify and Magento which are often third-party "add-ons" and SaaS apps which are typically hosted in the cloud and accessed through a browser or proprietary client—mobile apps tend to be more universal in nature and refers to any application deployed locally on a laptop, desktop or mobile device.
Here, we will refer to these universal apps as we focus on how to value an app.
If you're the owner of a profitable app with a proven track record of success, chances are you've wondered how much your app is worth. It's a difficult question to answer, as each app business requires a detailed understanding of its unique complexities.
Certain valuation drivers are industry or macro-related, so exit planning should be a consideration from day one to ensure that when you are ready to sell, your app is in the best possible position.
Some crucial factors, such as the age of the business and niche cannot be improved after the fact. In this article, we will focus primarily on the drivers that influence an app's value while also improving the operations and profitability of the business in the meantime.
Many variables go in to accurately valuing app businesses and you can explore them in a greater detail here. Typically, some of the most important tend to be: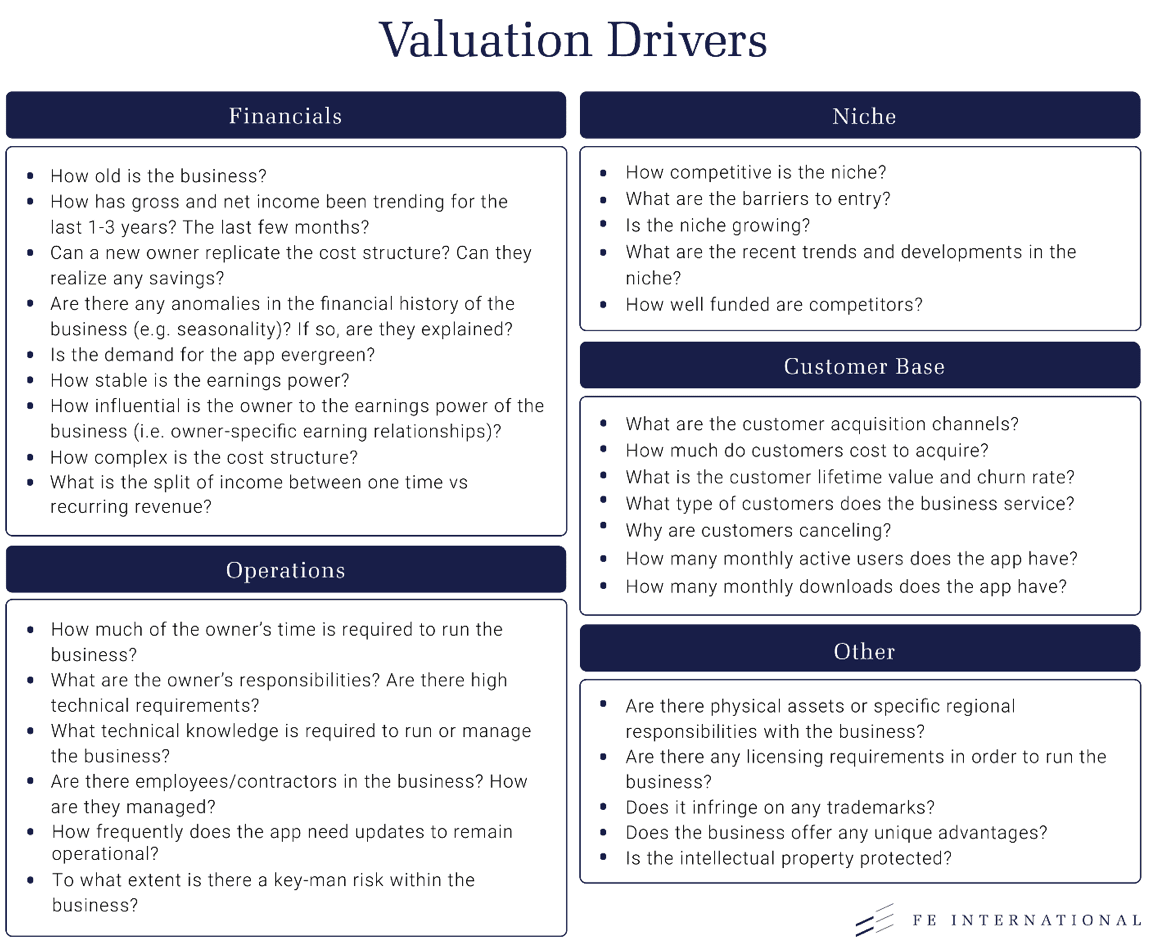 While you may not yet be considering selling your business, understanding what makes an app attractive to potential buyers can help you build value—not only at the time of sale but during the time you're operating the business.
No matter which stage of your business journey you are in, taking action wherever possible to positively impact the valuation drivers we outline in this article can substantially increase the value of your app.
Establishing Baseline Earnings
The first step to determining the value of a mobile app is to evaluate earnings. Earnings will be the baseline to which other valuation drivers will be applied.
Depending on the amount of gross revenue and overall structure of a business, we apply two different methods to establish baseline earnings: SDE and EBITDA.
Let's take a quick look at both:

Seller's Discretionary Earnings, or SDE, is typically applied to apps with an estimated valuation of under $5 million with an owner-operator model. With the owner leading the business, it is common practice to charge personal expenses to the business entity for tax purposes. Additionally, an owner will often pay themselves a salary.
The combined amount of salary and personal expenses may comprise a significant amount of gross revenue. When using SDE, this gets "added back" to the final earnings determination. This helps determine the true underlying profit potential of the business, which might be obscured without the "add-backs."

Earnings determinations of apps whose estimated value exceeds $5 million and are typically not owner-operated are calculated using the more complex Earnings Before Interest, Taxes, Depreciation, and Amortization (EBITDA) formula. EBITDA is an industry-standard method of analyzing the operational performance of larger companies.
By discounting expenses like interest and taxes, EBITDA provides an accurate snapshot of the operational efficiency and earnings of an app business.
Larger, more strategic acquisitions often use revenue multiples for high-growth businesses in order to account for one-time investments and provide an accurate picture of the earning potential of the business.
Once a clear picture of earnings is established using either SDE or EBITDA or a combination of both, the following valuation drivers help determine the true value of an app business.
Mobile App Valuation Drivers
Abandonment
Related to the number of downloads, and of similar importance, abandonment refers to customers failing to use your app after downloading it. Abandonment is a significant challenge for app developers and marketers. It is estimated that, on average, one in four mobile apps are abandoned after a single use and lose 77% of Daily Active Users (DAU) within three days of installation.
If your abandonment rate is high, conduct a thorough examination of your onboarding process. Look at drop-off points and use them to determine ways you can optimize the process to entice downloaders to use your app. 
Elasticode can help you optimize your user onboarding experience. Clevertap gives you powerful insight into how users are utilizing your app and aids in developing drip email campaigns to keep your app's users engaged.
Financials
It should go without saying that having complete and verifiable financial records is a requirement when valuing any app. Despite this fact, many owners neglect to follow accounting best practices, especially in the early stages.
Accounting packages like Intuit's Quickbooks eliminate virtually all the friction involved in keeping your books up-to-date. Quickbooks syncs with your bank accounts in real time and offers instant access to valuable reporting such as cash flow forecasts and profit-and-loss statements.
Using Quickbooks, or similar software, and following accounting best practices from the start is one of the best investments you can make in the long-term value of your business.
Growth
One of the critical factors any potential buyer will look at is growth. It is virtually a given that an app with growth figures that are trending upwards will be a more attractive target for acquisition than one with stagnant or declining growth.
Growth is another area where documentation is imperative. From as early a stage as feasible, your business should utilize industry standard tools like Google Analytics for Mobile Apps to measure your app's growth, as well as go beyond basic Google Analytics functionality.
The more detail you have when measuring your app's performance, the better. Look into building custom reports that will help you get the most out of your analytics.
There are various tools to help you get even more granular with your analytics. App Annie for iOS and AppsFlyer for Android are two of the most popular and powerful.
Owner Involvement
As an owner, are you spending more than 20 hours a week operating your app business? Limiting owner involvement in favor of outsourced assistance (or employees) is one of the best ways to increase the value of your business as most buyers are looking for passive income.
With few exceptions, buyers are typically not seeking to acquire a business that requires their full-time involvement, preferring that there be some help in place, even if this reduces the baseline earnings (note: this can lead to higher multiples to more than offset the decrease in earnings).
Quality of Code and Documentation
Code is the backbone of any app. Any potential buyer will insist on doing a thorough analysis of an app's code, data architecture, and supporting documentation as part of their due diligence process.
Building your app using industry-agreed coding best practices from the ground up is one of the best investments in value you can make.
Any compromises could lead to considerable expense in future if the code or documentation needs to be substantially rewritten to comply with a buyer's requirements.
Concentration of Earnings and Platform Risk
Concentration of earnings can be explained as having "too many of your eggs in one basket." While this a concern for most businesses, it is of particular concern to owners of apps.
Many apps are dependent on a single product, monetization method or niche, making them particularly vulnerable to unforeseen change.
Apps are also unusually susceptible to platform risk. The vast majority of mobile apps are reliant on two platforms: the Apple App Store and the Google Play Store. This dependence makes app owners highly vulnerable to change in either platform's policies and technology.
At a minimum, this reliance on third-party platforms means apps will require frequent updates to remain viable. Of less likelihood is the concern that changes to either one or both of the platforms will render an app redundant or unsellable.
This is a risk to which developers of cloud-based apps, for example, are less susceptible.
Active Users
With apps, a user's level of activity and engagement should be measurable on a very granular level. For many apps, this metric is even more important than the number of downloads as it gives a more accurate picture of how the target market is using the app.
Not only will this information lead to a more accurate valuation, but it should also prove invaluable when it comes to updating and improving the design and performance of your mobile app.
Age
While this is a driver that can't be artificially improved, the age of an app is nonetheless an important factor in determining its value. Buyers value stability and sustainability, and verifiable financials reflecting consistent profitability over time speak for themselves.
This is especially true where platform risk is a concern. With this in mind, it typically follows that the younger the app business, the higher the likely risk profile required, and therefore, the smaller the pool of buyers.
The effect of age as a valuation driver changes after the one-year mark, but most sellers choose to wait until the two-year mark before selling, using the period between the first and second year to exit plan. After three years, the age of the business becomes an asset and can lead to a premium valuation.
App businesses with longer track records of success may fetch a higher multiple, particularly if the growth of the business is still trending upwards after three years or longer.
CAC and CLTV
Your app's customer acquisition cost (CAC) plays a vital role in establishing the value of your app, particularly as it relates to customer lifetime value (CLTV). CAC refers to the amount of money you spend in acquiring a new customer.
CLTV refers to the amount of revenue a customer provides over the lifetime of their use of your app. If your CAC markedly exceeds your CLTV, it will be difficult for your app to enjoy long-term success.The general rule of thumb is that a CLTV/CAC ratio of 3 is ideal for most app businesses.

Streamlining sales and marketing processes is one of the best ways to improve your ratio of CAC to CLTV.
Regularity of Revenue
Again, related to a potential buyer's desire for sustainability and stability, is the importance of regularity of revenue.
Have there been periods of anomaly where the earnings of your app business have spiked or dipped significantly? Have you identified the reason for this and taken steps to help ensure it won't happen again?
If it can't be prevented is there at least a trend, such as seasonality, that makes the regularity of your app's revenue easier to predict?
Number of Downloads
The primary metric most universally used for evaluating the performance of an app is the number of downloads it has from the relevant app stores.
If your app is not experiencing sufficient traction with consumers based on the number of downloads, it will be difficult for it to succeed.
Be proactive in addressing this vital concern. Start by examining the volume of traffic to your app's webpage on the relevant app stores. If you're receiving an acceptable volume of visitors but they aren't converting into customers, your traffic acquisition is likely not at fault.
The average app store page conversion rate varies widely by industry. One study of over 10M app users found an overall average conversion rate of 26.4%. The study further revealed that the most telling factor of app store conversion rate was traffic source; more than 50% of app users found the app via app store search.
There are three likely factors responsible for a visitor's failure to convert:
Your app doesn't appear to solve a big enough problem for its audience or doesn't appear to solve the problem well;
The content on your app store page isn't compelling enough to convince visitors to convert; and/or
Negative reviews and ratings are having a harmful impact on consumer perception.
You should always be working to improve the performance of your app and your sales funnel. Proactively address any legitimate concerns from negative feedback by responding to reviewers and making the necessary revisions to your app's functionality.
Another step you can take to address a low app store page conversion rate is A/B testing the various elements of your app store page, such as app screenshots, descriptions, icons, and videos. Splitmetrics is designed to help you do just that.
Reviews and Ratings
One of the best and most cost-effective methods to boost adoption of your mobile app is to build social proof through positive ratings and reviews. Encourage your active users to leave ratings and reviews on the relevant app store by incorporating reminders into your app.
Be sure to keep them unobtrusive—the last thing you want to do is frustrate users with endless requests to rate and review the app. If a user is actively using and enjoying your app, they are unlikely to hold an occasional reminder to rate the app against you and are more likely to leave a positive review.
Positive reviews can have a dramatic effect on your conversion rate. Recent changes to the Apple App Store's search engine algorithm take user reviews into account and affect an app's discoverability on the platform.
Google Play also utilizes user reviews to determine app quality which will also impact your app's search ranking.
Standard Operating Procedures (SOPs)
Even if your app business runs like a well-oiled machine, it's important to thoroughly document every single operational activity and process using industry standard methods.
SOPs will render the transfer of operational responsibilities to a new owner much more feasible and reduce the amount of time you may spend training a new owner.
It also has the additional benefit of helping you to streamline and standardize your processes, which is a must when delegating responsibilities to others and scaling your business.
SweetProcess is a SaaS app designed to help you systemize your processes and greatly facilitates the creation of thorough SOPs.
Traffic
Traffic is the lifeblood of any online business—the same is true for most apps. You need to drive traffic to your site and/or the relevant app stores, convert visitors into leads, and convert leads into customers.
Whether you do this primarily through organic or paid search, it is important to document where your traffic comes from. At a bare minimum, utilize Google Analytics to track and document your traffic, right from the start.
Your traffic data is vital not only for an accurate valuation but will prove invaluable for monitoring and improving performance.
Final Thoughts
Some app startups strive to be the next Angry Birds. Other mobile startups use app development for rapid growth to make hundreds of millions of dollars.
Thanks to plug-and-play platforms like BuildFire, creating a successful mobile app is easier than ever. Having an understanding of the factors that go into valuing an app can help you build your app business with value in mind right from the start.
Selling an app is similar to selling websites. So if you have experience there, you could have success here if you create the right app. Other factors impact the total value when you calculate the price. But it's still a good comparison.
Many of the processes outlined above, from keeping accurate records of financials, traffic, and growth, to developing your app using coding and documentation best practices, are much easier to implement in the early stages of your app business.
Not only will these measures help prepare you for a successful exit from your app business in the future, but they also provide a solid framework for making crucial decisions throughout your business journey.
Looking for further information? FE International, a leading M&A advisory for online businesses, offers an in-depth of exploration of how to value a mobile app.
About the Author: Since founding FE International, the leading M&A advisory for online businesses, in 2010, Thomas Smale has consulted hundreds of digital entrepreneurs on exit strategy, growth, and business development. He is a highly sought after speaker at digital conferences worldwide. Thomas knows what it takes to bootstrap a business, growing FE International from nothing into a global concern with offices in New York, London, Boston, and Singapore while consistently doubling annual revenue and average deal size.  He writes a weekly column for Entrepreneur, and is a regular contributor to the FE International blog as well as many other prestigious online outlets.