The Value of Mobile App Development Services vs. App Builders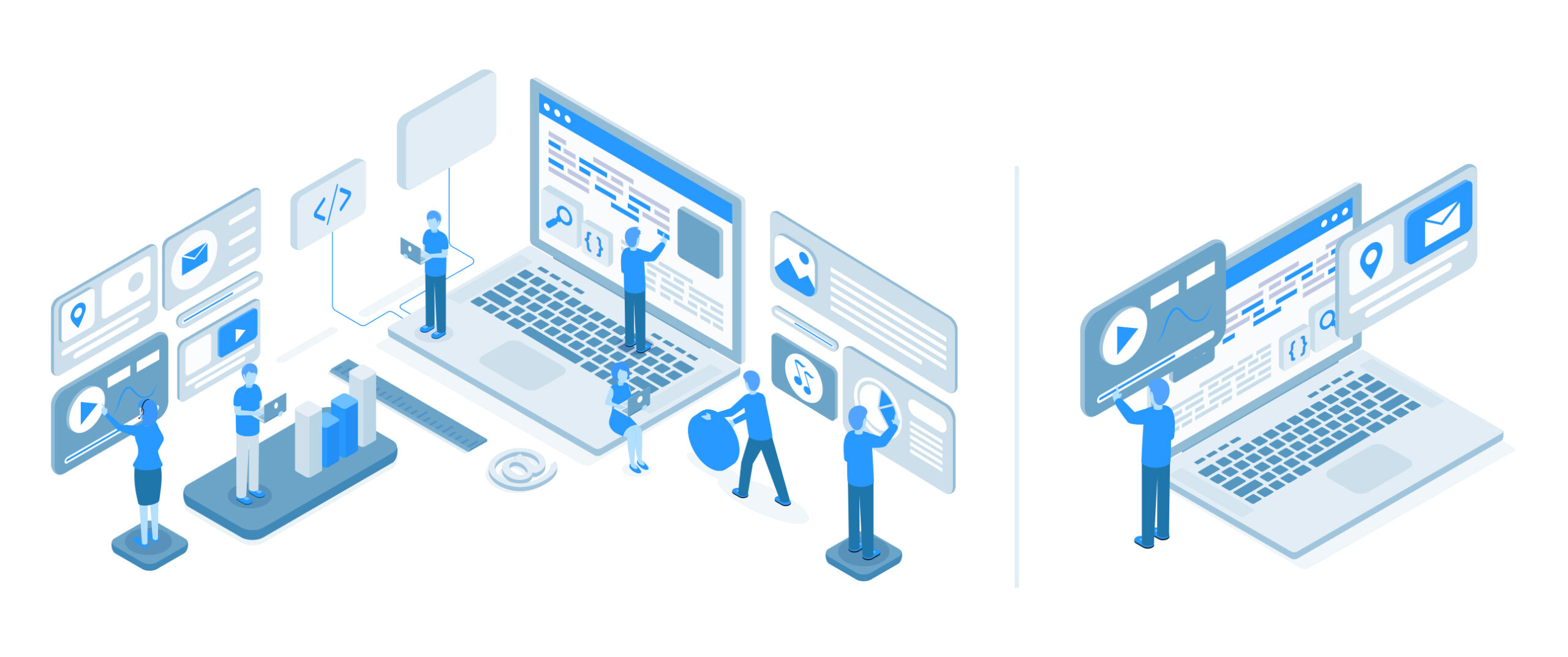 There are lots of different ways to create mobile apps.
Most businesses and entrepreneurs are torn between two options—using an app builder or leveraging mobile app development services.
But what if I told you that you didn't have to choose? The vast majority of people building mobile apps fall somewhere between these two paths. An app builder alone isn't flexible enough to accommodate their needs, but they don't quite want to outsource the entire project.
This guide is a must-read for anyone that wants to develop a mobile app. You'll learn the advantages of each method and discover an alternative option that's the best of both worlds.
Comparing Mobile App Development Services and App Builders
First, let's make sure you have a clear understanding of these two options for mobile application development. Side-by-side, app development services and app builders are very different.
Mobile App Development Services
Traditionally, these services come from a mobile app development company or agency. You're essentially outsourcing the entire mobile app design and development process.
The exact services vary slightly from company to company, but most offer some version of a total package to build native apps. These agencies have a team of in-house mobile app developers that can create a custom mobile application based on your specific requests.
Depending on the company, iOS app development and Android app development might be two different services. So if you want an app built for multiple platforms, it's usually in your best interest to work with an agency that offers both in a single solution.
The best mobile application development services focus strictly on mobile apps. You'll find some agencies on the market that offer app development alongside other agency services like web design, SEO, social media marketing, PPC, and more. It's generally in your best interest to avoid these. App development shouldn't be a side project or an afterthought—it should be the company's core service.
It's also worth noting that not every app development service falls into the same category.
Some agencies simply build what you ask them, and that's the end of it. But if you're using a service like BuildFire Plus, you'll benefit from services that go above and beyond basic app development.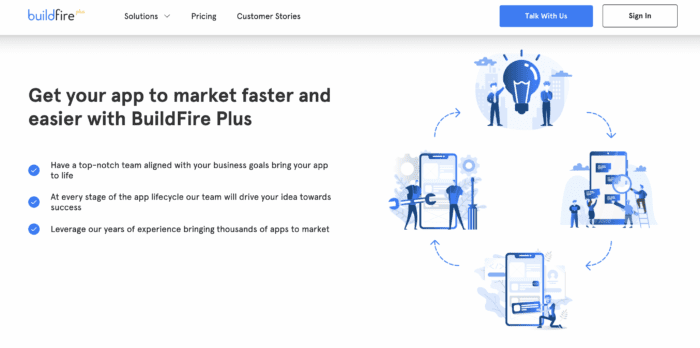 For example, BuildFire offers more consultancy and assistance during the pre-development stages to align your business goals with your app vision. We'll also handle wireframes, prototyping, designs, a competitive analysis, and everything else to ensure your app is a success.
Our team continues to be a partner in your success even after your app launches. We'll run reports on user engagement and app store performance to ensure your app is optimized for growth.
If you have ideas for new features down the road, we'll handle that too.
Not every app development service on the market offers this level of white-glove support. So it's definitely something to consider as you're shopping around and comparing different options.
App Builders
App builders are designed for non-technical users that want to create a mobile app. Anyone can use an app builder to make an app without hiring a mobile app developer or learning programming languages.
Some of you might have some experience with website builders like Wix or Squarespace. Most app builders fall into this same category. All of the backend technology and infrastructure are built for you—all you need to do is add your content and customize the app based on your needs.
App builders are great for DIY users with lower budgets. But like most software on the market, there are significant differences when you're comparing platforms.
We have a complete Buyer's Guide to Mobile App Development Platforms that can help you narrow down the best option based on your needs.
In short, some app builders are more flexible than others. Many plug-and-play app builders are fairly rigid and not scalable. You're bound by the restrictions of the platform, and customization is limited. Basically, if the app builder doesn't have a feature or function you want, then you're out of luck.
That's where BuildFire stands out from the crowd, and it's really in a league of its own when you look at this category as a whole.
First and foremost, BuildFire's app maker is really easy to use. It's a web-based platform that gives you full control over your app design, features, and content. Just start with a template and start customizing everything from there.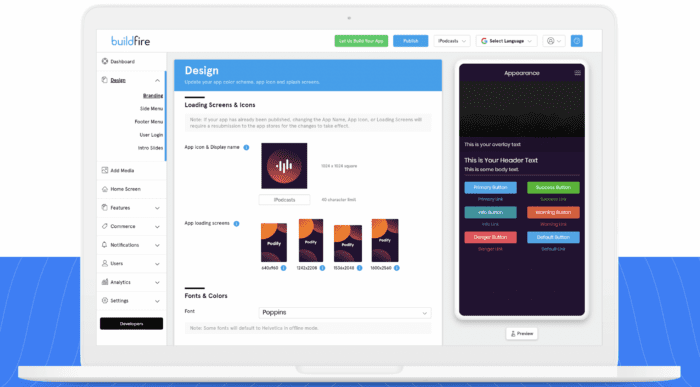 BuildFire also offers limitless functionality. You can take advantage of the 150+ pre-built plugins in our feature marketplace. But if there's a feature you want that doesn't currently exist as a plugin, we can build it for you.
You can create an app for iOS and Android without writing a single line of code and for a fraction of the price compared to traditional development.
But you're not completely on your own during this process. If you need some help or have a custom feature request, BuildFire's team of experts is just a click or call away.
Pros and Cons of Mobile App Development Services
Let's take a closer look at the advantages and potential drawbacks of working with an app development company. This can help you determine whether or not this path makes sense for your mobile app development projects.
Benefits of Mobile Development Services
You don't have to hire an in-house team or freelance mobile app developers.
The best companies offer more than high-quality native apps. You'll also get a project manager, quality assurance agent, management services, and other related services that focus on business growth.
App development services can create iOS apps, Android apps, and sometimes build a web app for your business.
You'll be working with a team of experts that know what it takes to create a successful mobile app. So you're not alone during the process and always have someone that can answer your questions and guide you through each step.
The best app development companies offer everything from strategic consulting to UX/UI design, app development, and post-launch support.
Potential Drawbacks
Not every agency that creates mobile apps specializes in development. Some offer services that are unrelated to app development (SEO, PPC, etc.) that often take away from the quality of your final product.
Compared side-by-side with an app builder alone, development services are a bit more expensive. 

Pros and Cons of App Builders
Not all app makers are created equally. But generally speaking, these are some of the pros and cons to consider if you want to build mobile apps using this method.
Benefits of App Makers
App builders make it possible to create cross-platform apps without hiring mobile app developers.
They use mobile technology that bridges the gap between software development and non-technical users. This makes mobile app development more accessible to the masses.
Using an app maker simplifies the mobile app development process. It shortens the development timeline and gets apps to market quicker than traditional cross-platform app development.
You can use a template to get started, build momentum, and get inspired with your design and ideas.
App makers save time and money when you're building cross-platform mobile applications.
All of the backend infrastructure is handled for you. You won't have to worry about servers, databases, backups, push notifications, and everything else your app needs to be successful.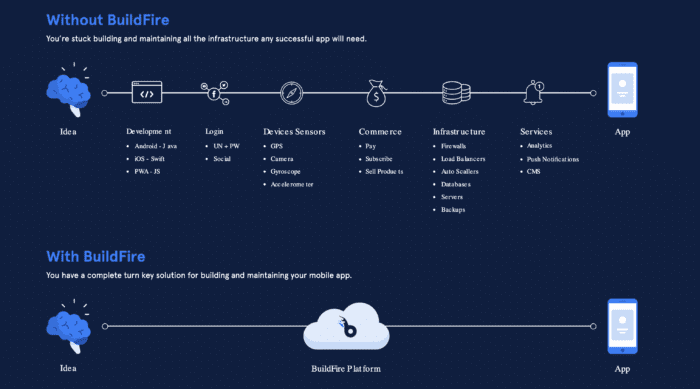 Potential Drawbacks
Some app makers use development frameworks that create hybrid mobile apps. These aren't ideal for certain types of apps, like gaming apps, augmented reality apps, or graphics-intensive mobile apps.
Many app builders are rigid and can't be customized beyond the plug-and-play features (although this is not the case for all of them).
The Best of Both Worlds — Mobile App Development Services and App Platform Under One Roof
BuildFire is the ultimate solution for cross-platform app development. Between our robust platform and pro services, we've created over 10,000+ mobile apps in every category that you can imagine.
Whether you're a solo user that prefers the DIY approach to mobile app development or an enterprise organization that wants a full-service solution, BuildFire has you covered.
That's what makes our software and service so unique compared to other players in this industry. BuildFire is truly in a league of its own.
Our app development platform and custom development services are both industry leaders.
First, we have the only app maker on the market that offers truly limitless functionality. For most DIY users, there's a good chance you can find whatever feature you need in our plugin marketplace. If not, no problem—we'll create that feature for you.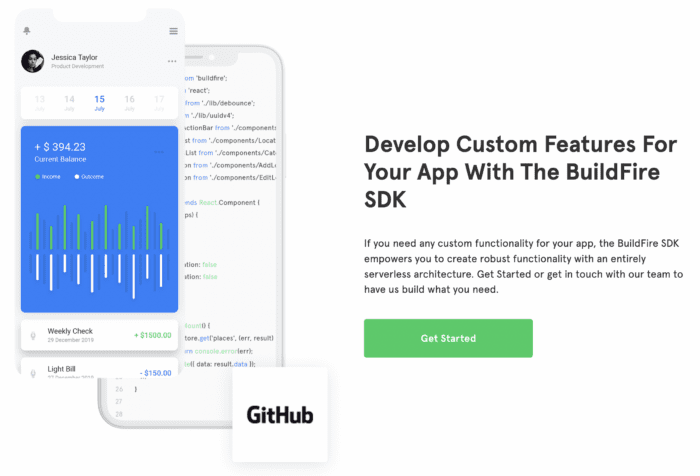 Most app development solutions offer just one solution—app builders or development services. But BuildFire has both.
Even when you compare BuildFire side-by-side with other development services, our offerings blow the competition out of the water. That's because BuildFire is a dedicated partner in your success. BuildFire Plus offers:
Competitive analysis
System architecture
App strategy sessions and planning
Wireframes
UX/UI app design
Prototyping
User engagement reports
App store performance reports
Content updates
Post-launch maintenance and support
The list goes on and on. Most app development services end the engagement when the app is complete. But with BuildFire, we'll be there for the lifetime of your app.
App Platform + Development Services vs. Standalone App Builders
Not everyone needs or wants full development service. That's ok.
If you're a smaller business or operating on a tighter budget, an app builder might be fine to accommodate your needs. But if you fall into this category, it's crucial that you find an app development platform that can truly support your needs and growth.
That's why it's so important to find a robust app platform that also offers custom development services—and this is where BuildFire shines.
With standalone app builders, you'll eventually run into growth restrictions. It may not be today or tomorrow, but at some point you'll want something that the platform doesn't offer. Now what? You can't just move your app to another platform. You'd have to start the project over from scratch, which would likely crush your initial budget.
BuildFire is different. DIY users can take full advantage of the app development platform and use it to create 90% of the app. But if you run into that small 10% that requires some white-glove support, we can handle this for you in-house.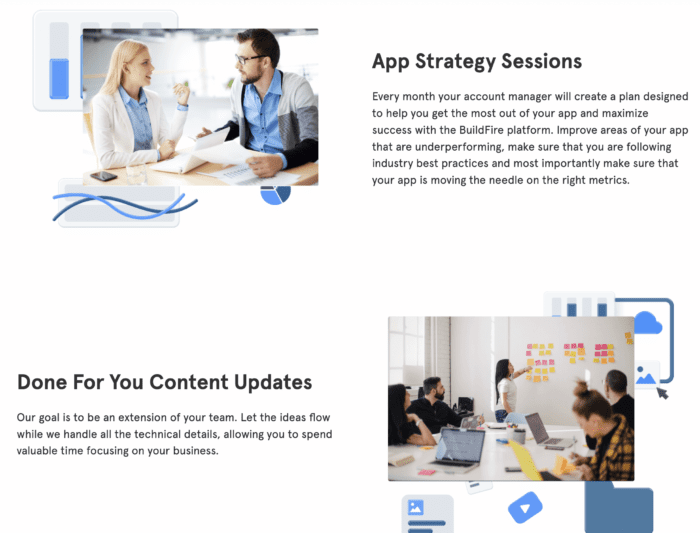 You'll still be able to build your app for a fraction of the cost and at a fraction of the time compared to traditional development. But you'll also benefit from having development services at your disposal.
Even if you can build 100% of the app using the platform alone, BuildFire still shines over other mobile application development companies for several reasons.
Once you finish building the app, we'll get it published on the Apple App Store and Google Play Store for you. As new Apple and Android mobile devices get released and OS changes over time, we'll make sure your app is compatible by handling all of the updates on your behalf.
If you want to add new features down the road, we can take care of that as well—even custom features that aren't offered in the plugin marketplace.
BuildFire is a dedicated partner in your success, even if you're not using the full-service development option. We'll survey your users, provide you with in-depth analytics, and be there every step of the way as your app scales and evolves over time. 
Other mobile app platforms on the market might seem cheaper at first glance. But they don't offer these additional services. So the end product is more rigid and less creative.
Final Thoughts — Which One is Right For You?
Now that you've seen the difference between mobile app development services and mobile app development platforms, it's time to figure out what's best for you and your unique needs.
If you're on a tighter budget and just need a basic mobile app, an app builder will likely be fine for you.
For midsize businesses and other business use cases, app development services can really help take your idea to the next level. It's still easier and most cost-effective than assembling a team on your own or hiring in-house developers to create a mobile app.
Fortunately, you don't have to choose between these options. With BuildFire, you have a robust mobile app platform with all the benefits of a full-service solution.
Schedule a free consultation today to get started and see how BuildFire can be a partner in your success.