Mobile App Marketing Costs: How to Plan Your App Marketing Budget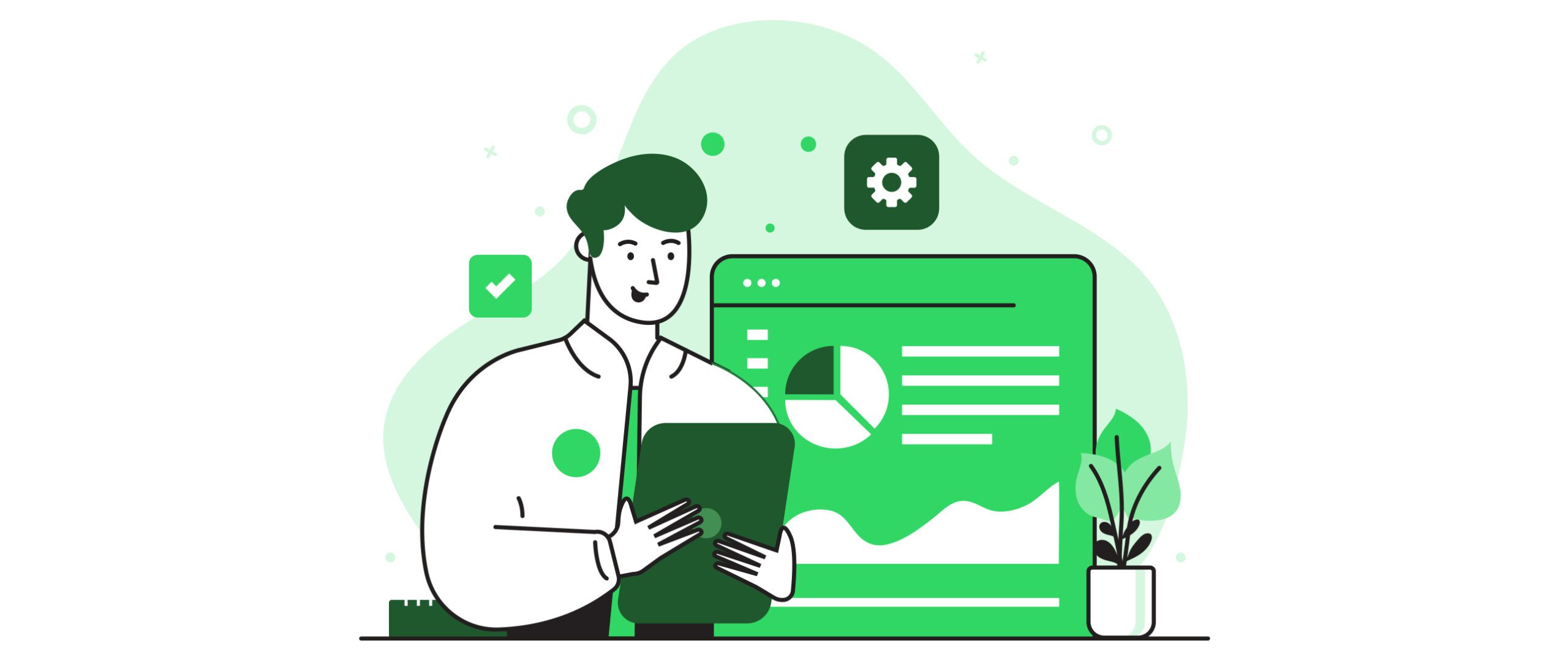 When it comes to mobile app development, there are lots of costs you need to keep in mind. Many of those costs go beyond app development itself.
If you don't allocate funds to your marketing strategy, then nobody will know your app exists. That's obviously a big problem.
This guide contains everything you need to know about marketing costs for mobile apps. Whether you're an app developer, white label reseller, launching an app as an extension of your business, or creating a completely new app from scratch, we've got you covered.
How Much Does it Cost to Market an App?
This is one of the most common questions our sales team gets when we're consulting with new clients. But unfortunately, there's really no single dollar amount that's an acceptable answer.
Some app marketers can only afford to spend $1,000 or $5,000 to promote the app. Others spend in the tens of millions. Everyone else tends to fall somewhere in the middle of these two extremes.
One thing is for certain—spending more money on app marketing isn't always better. You can't just pour money into marketing campaigns and expect to see exceptional results. As long as your strategies are effective, you can get away with an affordable marketing strategy for your mobile app.
At the end of the day, you need to focus on your cost per install, better known as CPI. This key app marketing metric helps you measure exactly how much each installation is costing you. Here's the formula: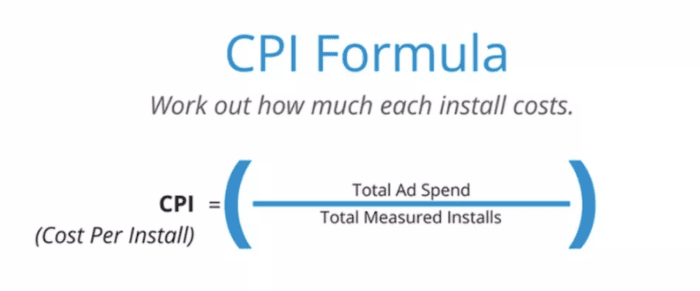 Tracking this KPI forces you to be smart about your marketing costs and helps you identify whether or not specific campaigns are working.
Why is it So Important to Set an App Marketing Budget?
Setting an appropriate marketing budget is crucial for app marketers. If it's your first time going through this process, you might be asking yourself why.
Is this really necessary? What if you're not working with a lot of capital?
Regardless of your situation, you ALWAYS need to create a marketing budget.
Setting a budget for your app helps you allocate funds appropriately. Otherwise, you might put too much funding into a particular campaign or strategy, only to find out that it's not working. But by setting a budget ahead of time and allocating funds for each campaign, you can make adjustments and switch your strategy based on what's yielding a positive ROI.
Marketing budgets also keep you on track for managing your goals. How many installations are you expecting per $100 or $1,000 spent on marketing? How many app users are you expecting in the next three months? What about the next year?
Budgets also help with long-term planning, which is why you need to create one ASAP. First, you need to assess the total app cost—including development and maintenance. Then allocate a part of that budget specifically for marketing.
How long will that budget last you? When will you have more funds ready to invest in app marketing?
Many experts recommend spending 12-20% of your gross revenue on marketing. As your app becomes more established, you can lower this percentage to 6-12%.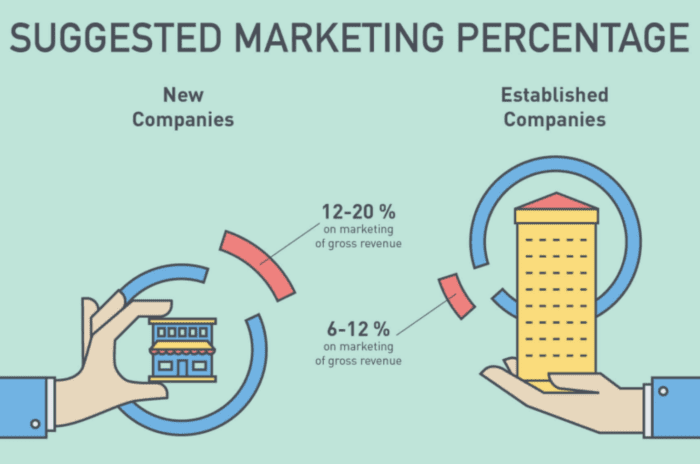 This is obviously a bit more challenging if your app is still in the pre-revenue stages. If you fall into that category, I'd recommend setting a fixed dollar amount aside that's specifically for your marketing costs.
Set a budget that's something you can work with over time. Look ahead to the next 12-18 months at a minimum when you're doing this.
General financial responsibility is another important aspect of setting an app marketing budget. In every component of business, spending with no clear plan is a recipe for disaster. So it's in your best interest to build these healthy financial habits from day one, as they'll stick with you for the complete mobile app life cycle.
How to Create a Mobile App Marketing Budget
Before we dive into the specifics of your app budget, let's quickly go through the steps required to create your budget from scratch.
Step #1 — Assess Your Marketing Funnel
The first thing you need to do is look at your marketing funnel. This refers to the entire journey a user takes before they finally install your mobile app. If you haven't officially tracked users going through the marketing funnel before, it's still important to assess the process and see what this journey looks like.
Here's a generic marketing funnel: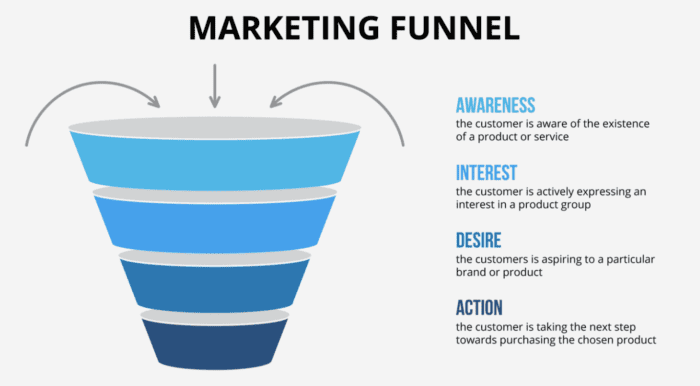 In terms of app marketing, the awareness phase happens when a potential user first realizes that your app exists. They eventually think about getting an app or similar tool in your category to solve a pain point or address a need—that's the interest stage.
When they reach the desired stage of the funnel, they've started leaning towards a particular option or brand.
The action stage is when they finally decide to download the app and install it on their mobile devices.
Why is this important for app marketing purposes?
Your marketing funnel will show you a clear picture of the journey people take from awareness to action. You'll learn which channels are moving people through the funnel and driving the best results. Then you can allocate funds accordingly based on your findings.
What was the trigger that moved a user from a desire to download? Where are users leaking through the funnel? These are areas that you'd want to prioritize.
Step #2 — Define Your Goals
Many of us assume that the app install is the goal of every marketing campaign. While this is true in many cases, it's not the only goal you should be focusing on.
For example, some mobile apps want to sign up users for monthly or annual subscriptions. Others want the app to be an extension of an ecommerce site and drive purchases of physical goods.
Both of these scenarios would have very different marketing strategies, and therefore would have different budget priorities.
When defining your app marketing goals, it's in your best interest to set SMART goals.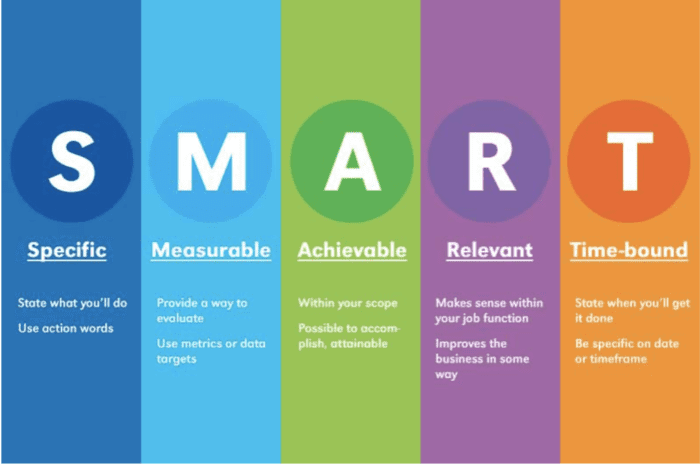 This forces you to look beyond "we want people to download our app," which will set you up for long-term success.
Step #3 — Account For Other Operating Costs
As previously mentioned, marketing is just one portion of the big picture. You still have an entire app to develop and maintain after launch.
These operations come at an expense.
You need to think about paying developers, design costs, servers, utilities, subscriptions, and all of the other backend costs associated with app development. Are you renting an office or physical space for your business? Do you have to pay someone to maintain your website or create content?
Some of you may even hire an app marketing agency to help you here, which is another added cost to consider.
Everyone's operating costs will look a bit different. But it's important for you to understand that all of the money in your bank account can't be allocated towards marketing. There are other costs to keep in mind.
Step #4 — Identify Your Most Profitable Marketing Channels
Which platforms or campaigns on those specific platforms are driving the best results? How are these channels addressing your previously defined goals?
You'll need to experiment with different marketing strategies and channels in the beginning. But eventually, you'll want to weed out the ones that aren't profitable. You may start with email ads, search ads, or paid social media ads. Then you may expand into long-term strategies, like organic search through content creation.
Within these profitable marketing channels, you'll want to test small variations of campaigns as well. For example, you could run A/B tests on your search ads, email promotions, or app landing pages.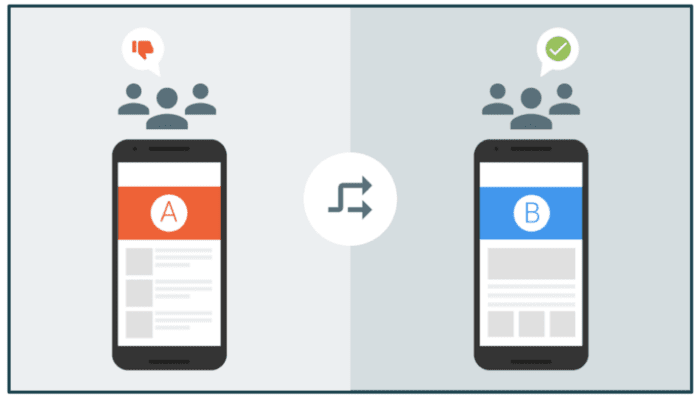 Start by keeping your tests small, and don't exhaust your entire marketing budget in the beginning. You want to make sure there are plenty of funds left over for you to use in the campaigns driving the best results.
Here's a simple example to explain what I mean. Let's say you have $24,000 allocated to app marketing in the next 12 months.
Rather than distributing an even $2,000 per month for the entire year, you could start smaller in the first three months to identify your most profitable channels. To keep the numbers simple, let's say you decide to spend $1,000 per month for three months split between four campaigns. This comes to $250 per month per paid ad campaign.
Based on the results over those three months, you might learn that two of your four campaigns were useless. Then you can eliminate those and move forward with the remaining $21,000 split between your two most profitable campaigns for the next nine months.
Step #5 — Compare Your Marketing Budget With Other Mobile App KPIs
Your marketing campaigns don't live in a vacuum. So aside from the results and metrics coming straight from each campaign, you should also look at other KPIs that will tell you the full story.
This will also help you find anomalies or events that could contribute to your goal's performance.
Check out this post on the top app KPIs and metrics you need to track. All of this will make a lot more sense once you can narrow down the metrics that can impact your marketing plans.
Components of a Mobile App Marketing Budget
How much does it cost to market an app? Your app marketing cost will depend on where you want to spend your money. To help you figure this out, I've narrowed down some of the key categories that you'll need to account for.
Market Research
Lots of mobile app marketing starts in the pre-launch phase. Arguably the most important pre-launch marketing components is market research.
This isn't the same as trying to identify whether or not potential users think there's a need for your app. That's part of the app development process. In this case, market research involves assessing the marketing funnel and preferred online channels where you can reach potential app users.
Here's a really basic and obvious example to showcase what I mean by this. Let's say you have a health app designed to help people over the age of 55+ years old with weight loss. You probably aren't going to be marketing your app on platforms like Snapchat.
Instead, you'd need to find online channels, websites, forums, or places on the web where your target audience hangs out. This process would fall into your market research segment.
Beta Testing
Beta testing is an often overlooked aspect of app marketing. But it's crucial to the long-term success of your app and its functionality.
You'd want to see how real app users feel about your iOS app and Android app when they're actually using it.
Platforms like User Testing make it easy for marketers to test mobile apps.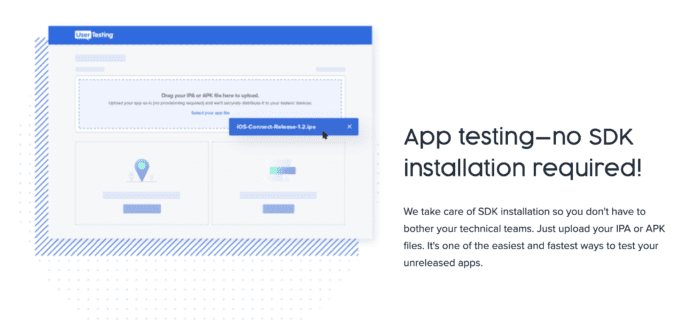 This marketing expense will depend on how many users you want to test your app. It will also depend on the platform you use and how long you want this testing to go on for.
App Promotion Assets Costs
No matter what type of app you have, you need to create digital app marketing assets. Visuals used for your marketing campaigns would fall into this category.
For example, who is going to create the custom visuals for your app landing page? How are you going to create promotional videos for YouTube or Facebook?
What about the visuals and marketing resources for your app store page?
Unless you're a designer and content creator, all of these things cost money. The exact prices will vary based on what you're getting and who you're hiring. If you have an existing business in place, you might already have an in-house team dedicated to these digital assets. But you'll still need to budget for the time it takes for those people to create digital assets for the app. Don't forget to include those costs in your marketing budget.
Viral Marketing
The concept of "going viral" can be a really cost-effective way to draw attention to your app. This isn't always easy or guaranteed to happen. But when it does, viral marketing costs money.
By definition, this normally wouldn't have a dollar amount attached to it. However, you need to think about the costs associated with the campaigns that have the potential to go viral.
Let's say you're creating an edgy promotional video that has the opportunity to be shared by thousands of people on the web. How are you going to create that video? Are you going to pay for ads to get it in front of more eyes to increase its chances of getting shared?
These types of questions are usually answered with dollar signs.
Social Media Marketing
Establishing your presence on social media channels is a key part of app marketing. While it's free to create social media accounts, keeping those accounts active will ultimately cost you some money.
Even if you're on a bare-bones budget and don't plan on spending any money on social media ads. Someone has to be responsible for writing posts, sharing content, engaging with your audience, and replying to messages.
You might be able to handle this stuff on your own in the very beginning. But that's not a scalable plan for the long-term. So you'll eventually have to pay someone to manage your social media profiles.
Push Notifications
Targeting mobile users with a push notification after they've downloaded your app is one of my favorite marketing strategies. It's a great way to drive in-app purchases or other actions related to your goal.
But depending on how you've built your app, you may need to pay for push notification services to facilitate these messages. Push notifications platforms cost money, which needs to be accounted for in your budget.
This is an important part of your marketing strategy because it's intended to reach existing users. So you have a much higher chance of getting these people to convert, as opposed to targeting perceptive users who don't have the app downloaded just yet.
Different types of push notifications can impact your costs as well. For example, sending a generalized push notification to all of your users is fine, but sending a push notification based on their location drives more opens and conversions.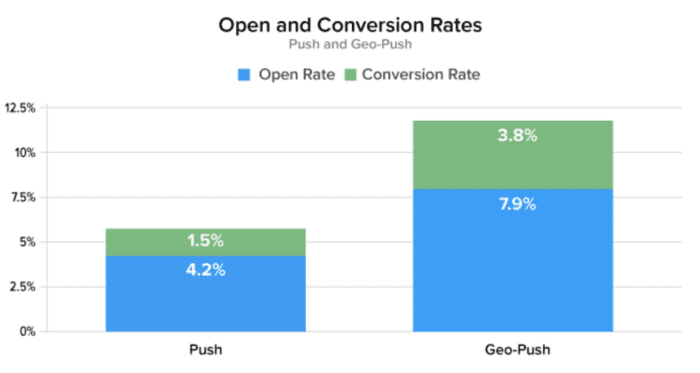 For the latter, you'd need a way to track your user's location and send them geo-push messages based on that location. These types of services will likely cost you extra.
Influencer Marketing
This is a marketing strategy that has exploded in popularity in recent years. You can pay influencers on social media to market your app using their platform.
It could be something as simple as an Instagram post or a Facebook Live promotion that features your app. You could use this as a one-time strategy or develop ongoing relationships with different influencers.
If you're having trouble finding the right influencers to fit your niche and budget, you could always look for assistance from a PR agency. But just be aware that app PR outreach costs will need to be factored into your budget as well, in addition to the influencer marketing costs.
Website
You need to have an online presence and a promotional website for your app.
If you already have a business and you're creating an app as an extension of your business, this should be fairly simple. I'm assuming your business already has a website, so you'd just need to have a dedicated landing page on your site to promote your app.
For new apps being launched as a completely new business, you can just use an online website builder like Wix or Squarespace to get started here. Create the site ASAP to start building hype for your app, even while you're in the pre-launch stages.
App Store Optimization (ASO)
Getting organic downloads from your app on the app stores requires you to invest some money into ASO. This will help you stand out from other options within your app category when someone searches the Google Play Store or Apple's App Store for a relevant keyword.
It's important for you to understand that your ASO strategy will look a bit different for your Android App vs. your iPhone App.
That's because each platform has a slightly different algorithm and formula used for ranking apps.
Check out our complete guide to app store optimization for more information on nailing this crucial marketing strategy.
Final Thoughts on App Marketing Costs
Before you launch an app marketing campaign, you need to take the time and plan for your app marketing expenses.
Creating a budget is truly the only way to have success with your big-picture app marketing strategy. Otherwise, you'll likely waste a lot of time and money on campaigns that aren't getting you anywhere.
Even worse, you could blow money on marketing that really needed to be used for development, testing, or app maintenance.
I hope you found this guide useful and good look with your app marketing costs!