The Complete Guide to App Store Optimization (ASO)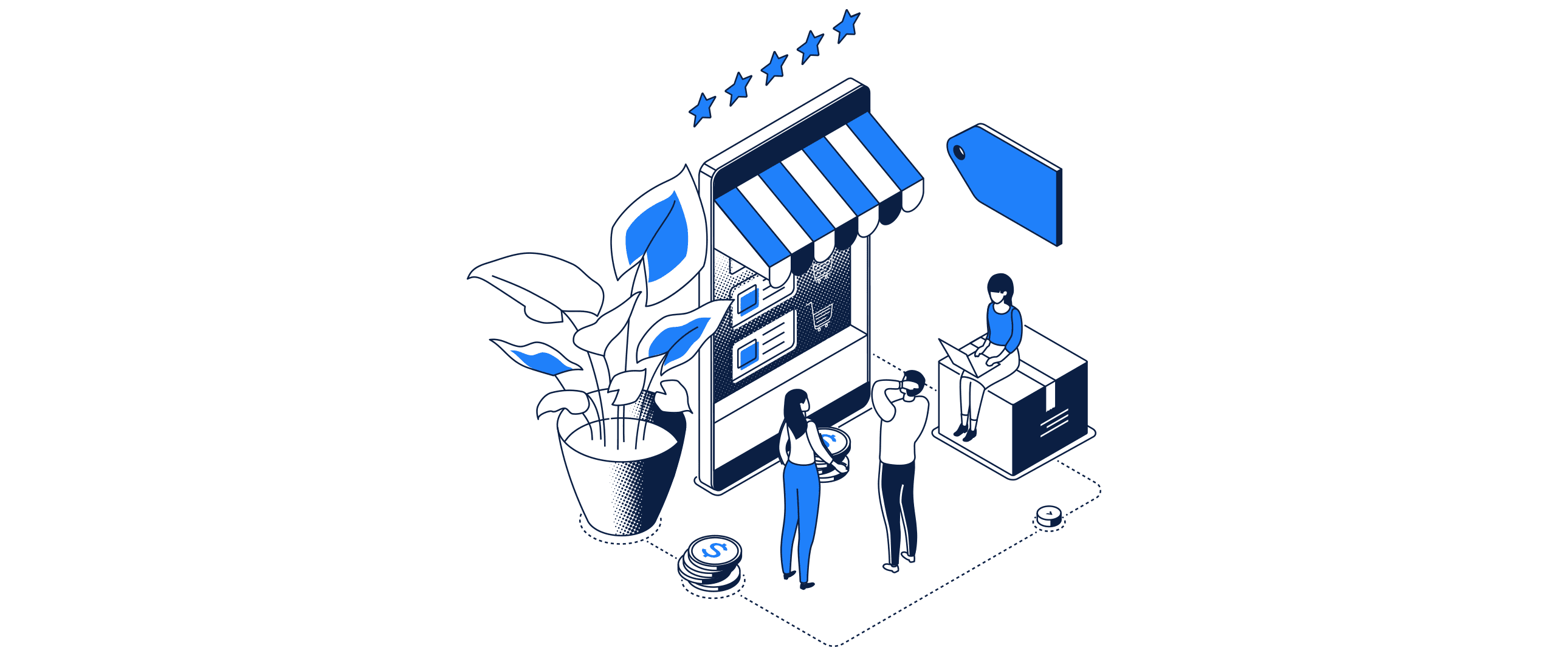 The app store is one of the top places for potential users to find your app. In fact, 48% of new mobile app discovery comes from browsing app stores. An additional 34% of new app downloads are the result of app store recommendations.
So when it comes to mobile app marketing, the app store is your most powerful channel.
There are more than 1.96 million apps Apple App Store and a whopping 2.87+ million apps on the Google Play Store. How can you possibly make your app stand out in an ocean of countless alternatives?
The answer is simple—app store optimization.
But what exactly is ASO? And how does it differ from search engine optimization (SEO)? This complete guide will answer these questions and provide actionable ASO techniques for maximum impact on app store rankings and organic downloads. Let's dive in.
What is ASO (App Store Optimization)?
ASO is an acronym that stands for "app store optimization."
App store optimization is the process of ensuring that an app appears in the top search results for relevant keywords in the app store. It's a great way to boost downloads and increase revenue for any app.
Most of you are likely familiar with SEO (search engine optimization) for websites. ASO can best be described as the cousin of SEO. Instead of competing with other websites, you're competing with other apps for organic search terms. The higher your app ranks in a search result, the greater its visibility to potential users. This increased visibility typically translates to more downloads.
ASO Metadata
Each app store has its own algorithm to determine how apps rank for any given search. So you may need to slightly tweak your approach to get downloads from Android users compared to iPhone users. These algorithms are based on several factors, and many of those ranking factors are unknown. But what we do know is that the app stores index keywords used in your app's metadata.
The best way to approach ASO is by conditioning your app by using relevant search terms or keywords in your metadata.
What exactly is metadata? It's the following five elements of your app:
Title

Subtitle

Keystring

Promo Text

Description
Not every component of metadata is indexed by search algorithms. Here's a visual example to show you the differences:

App store metadata is important because it helps you gain more exposure. As you can see, each metadata element has a character restriction. To get the most out of your ASO strategy, we strongly recommend using as many characters as possible with your metadata.
Avoid using terms like "and" or "the," as these will be ignored by the algorithm. Instead of wasting characters on those types of words, you'll want to maximize your metadata characters with highly relevant keywords.
Everything surrounding ASO starts with your metadata. You want to make sure that the information you include will help your app stand out and encourage people to download your mobile application.
Keyword Research: How to Select Keywords For App Store Optimization
Keyword research is the most crucial component of optimizing your app for searches.
App store algorithms pick up the keyword combinations across your app title, subtitle, and keystring. Most people don't realize this, but the title of your app is the keyword field that has the most significant influence on search rankings. So your keyword strategy should always start with the app name. Subtitles also play a large role in ASO visibility.
Include your brand name in the title, followed by the most relevant terms that best describe the core components, functions, and features of your app. Think about search terms consumers may use when searching for your app on the app store. With so many different combinations available, don't be afraid to try variants and test them over time.
Pro Tip: Do NOT repeat keywords across your title, subtitle, and keystring.
Since the app store algorithms pick up keywords throughout your metadata, repeating a keyword is just wasting character space. Instead, use that as an opportunity to include other relevant keywords. Here's a great example from Mint:

As you can see, Mint uses all 30 characters in the title. It starts with the brand name, then continues with the most relevant terms to describe the app's functionality—"personal finance & money."
The subtitle shows even more relevant keywords, without repeating anything within the title. You'll also notice that the subtitle uses 28/30 potential characters, trying to squeeze every last potential keyword in there.
One of the best ways to decide what keywords to use is by creating a list of your app's key features. Then create another list of search terms that people would use to search for an app similar to yours. Test the terms on both lists to see which types of results they produce.
ASO Keystrings
Keystrings are not customer-facing. So they won't be seen anywhere in your app store listing. This is specifically made for search algorithms in the app store.
Make sure that you use the best keywords in your app name title and subtitle. Any remaining keywords on your list can be included in your keystrings. You can update your keystring within your App Store Connect account. If you can't access this account, speak to your development team.
According to Apple, avoid using the following in your keywords:
Plural words that have already been used in the singular form

The word "app"

Names of categories

Duplicate words

Special characters like @ or # (unless they are part of your brand name)
Consider whether you want to rank for highly competitive keywords or less popular terms. Competitive keywords like "job" or "social" tend to get a ton of traffic, but they're much harder to rank for. So you might be better off going for the low hanging fruit—or less popular search terms and keyword rankings that you have a higher chance of ranking for.
App Store Description
Your app's description can be up to 4,000 characters. This is an opportunity to sell your app to consumers.
Descriptions are not directly indexed by the search algorithms. However, Apple Search Ads and search engines like Google will index these keywords. So it's still important to have a keyword strategy in your description. Include relevant keywords from your title, subtitle, keystring, and other relevant keywords in the description at least 4x.
For example, let's say someone searches Google for "personal finance app." Mint is one of the top organic search results:

Where exactly did those keywords come up from? Let's at a snippet of Mint's app description in the app store:

So even though the app store algorithms technically don't use the description for rankings, search engines do, which can lead to more visibility and potential downloads for your app. This is known as app store SEO.
How to Optimize Screenshots For ASO
App screenshots are always a hot topic when it comes to app store optimization. Technically speaking, the screenshots aren't used as an algorithm factor for ASO.
However, high-quality screenshots are arguably the most important way to catch people's attention and entice downloads for new users. It's widely accepted that downloads play a role in search rankings. So if you're getting more people to download your app, it will move you up in the app store search results. That's why your screenshots matter for ASO.
Here are a few quick tips to keep in mind when optimizing your screenshots:
Don't clutter the images with information

Use graphics to clearly show the app's key features

Don't use too much text

Avoid giving users too much information to read and consume

Try different variants of screenshots with A/B testing
Check out this amazing app store screenshot case study from ClearScore. Here's what the app store screenshots looked like originally:
After analyzing elements like the copy, graphics, in-app visuals, colors, background, and layout, it was determined that there was a ton of room for improvement for the app preview on the app store page.
This became the new and improved version of the app store screenshots: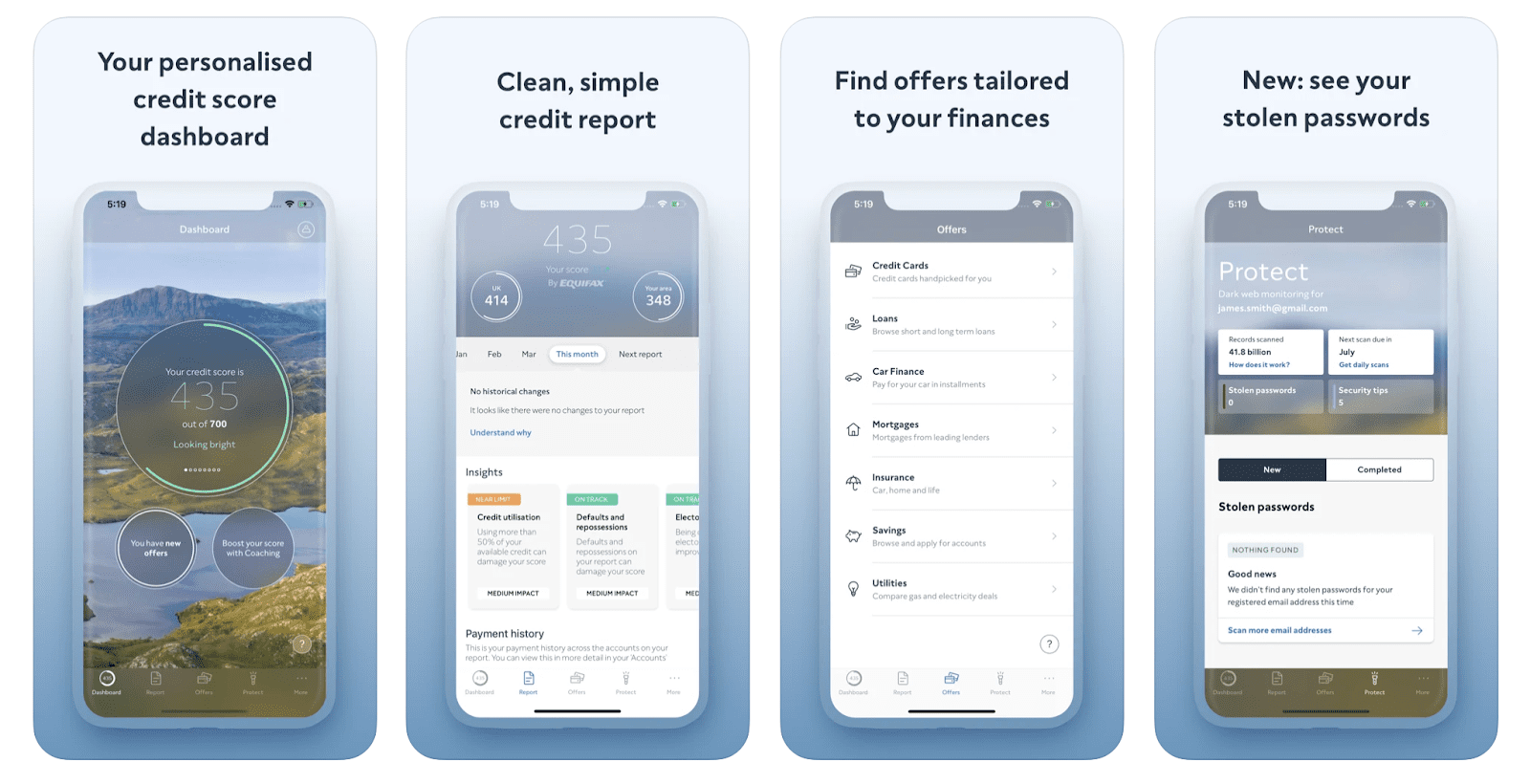 As you can see, there's a significant difference between these before and after shots. But did the changes actually make a difference? Absolutely.
In the 50 days prior to the new screenshots being implemented, the conversion rate of impressions to app installs was an average of 7%. In the 50 days after the new screenshots were added, the average conversion rate jumped up to 13%, nearly doubling.
Organic vs. Paid App Discovery
Organic vs. paid discovery will always be part of the app store optimization discussion. This is similar to the paid vs. organic search conversation for websites and SEO.
Here's the simplest way to explain these two components:
Organic — App Store Optimization (ASO)

Paid — Search Advertisements (like Apple Search Ads)
So which one is better? Which is more important?
The two work best when used side-by-side. Paid discovery is a faster way to get your app in front of potential users. But once you pull the ads down, your app's visibility will drop. That's why it's equally as important to focus on ASO. App store optimization is more of a long-term game. It gets your app in front of users even when you're not running advertisements for certain keywords.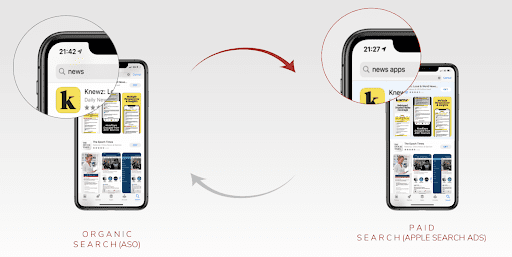 As previously mentioned, downloads impact organic search rankings—regardless of where those downloads are coming from. So if you're driving downloads from your search ads, it will help boost your position in the organic search results.
What is Apple Search Ads?
Apple Search Ads is the quickest way to boost the visibility of your app in the Apple App Store. That's why it's such a popular tool for new mobile apps.
At the top of search results, the advertised app will appear with a light blue background. You've probably seen this in your personal life, even if you haven't run any ads for your own app.
Here's an example of what those ads look like in the App Store search: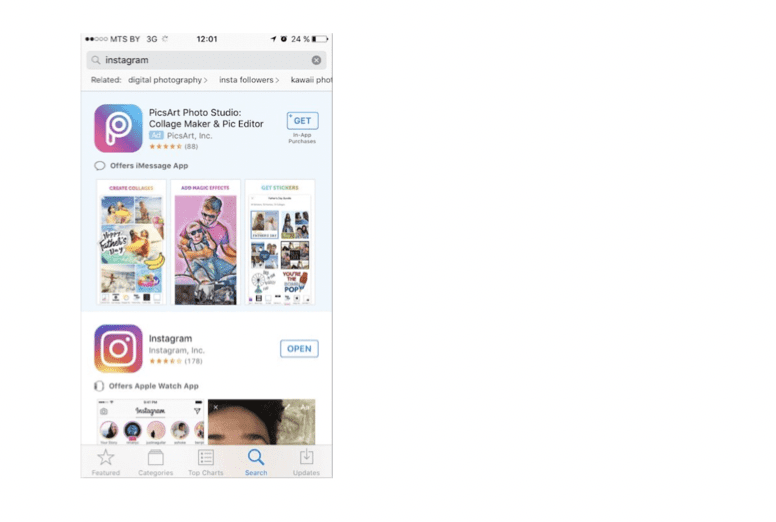 Even though you and I both know that Instagram is the name of an app, it's not the top option that appears in this search for "Instagram." Instead, the Apple Search Ad is at the top of the listing. It can be identified with the light blue background and the small "AD" icon.
The actual Instagram app is the first organic search result.
Only one app is advertised at a time for any given search. Apple decides which advertisement is shown based on the app's relevance, the search, and how much the app owner has said they're willing to pay for exposure. The relationship between Apple Search Ads and organic search is bi-directional, meaning they both impact each other. Any marketing strategy used for one, the other must be taken into consideration.
The optimization of your app's product page is important for two reasons when it comes to successful ASO:
Unlike some advertising networks, Apple Search Ads create ads solely from assets on your product page. The screenshots and even the app's description could be used. That's why Apple recommends reviewing your metadata before you start an Apple search campaign. Screenshots, descriptions, and other components must clearly show what your app offers, or the ads won't be successful.

Apple search matches functionality. When used correctly, this can be a way for you to find new keywords for your app. Apple uses keywords from your metadata for search ads. So if you have a relevant title, description, and more, it can really impact the performance of your ad campaigns through the discovery of new keywords.
Apple Search Ads create more downloads, and in turn, boost organic visibility.
The Best App Store Optimization Tools
Tackling ASO on your own can be tough if it's your first time creating a strategy. Even app developers and marketers who have previously been through this process still need assistance.
That's why finding the right ASO tools and resources can significantly improve your strategy.
Here at BuildFire, we always want you to be successful long after your app has been developed and launched. As a partner in your success, it's our job to constantly research and test different ASO tools. After testing and using dozens of options on the market today, Redbox Mobile has become our new favorite.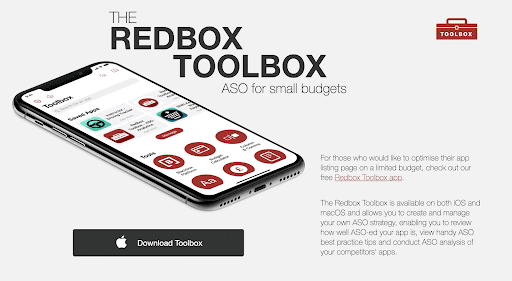 The Redbox Toolbox is available on iOS and macOS. The software allows you to review your ASO score for your own app as well as your competition.
It's perfect for testing new metadata for your title subtitle, description, promotional text, and keystrings. You'll even have the ability to review your ratings score and the content associated with your reviews. The tool has at-a-glance looks for how your app ranks across all of your categories. Use it to see the top charts for any app category in and app localization.
The platform is a great way to review screenshots, especially if you want to assess your competitors. You'll also get a full ASO guide with best practices for ASO creation and strategy implementation.
Best of all? The Redbox Toolbox from Redbox Mobile is free to download and use.
ASO Tips and Best Practices: How to Optimize Like a Pro
If you're in a rush and just want to quickly refer to some of the top highlights mentioned throughout this guide, the following points identify the key takeaways:
Use as many characters as possible for your metadata (within the limits)

Avoid using terms like "and" or "the" (the algorithm ignores these)

Include brand in title, followed by most relevant terms describing app's core functions

Do NOT repeat keywords across title, subtitle, and keystring

Use your best keywords in the title and subtitle

Use relevant keywords in your description at least 4x each (for search engines)

Avoid using lots of text in your screenshots

A/B test variants of screenshots

Use a mix of organic and paid search strategies for app discovery

Try ASO tools like Redbox Mobile to gain a competitive advantage
ASO is an ongoing strategy. It's not something you do once and forget about. You need to constantly come up with new ways to improve ASO and get more app downloads.
Conclusion
It's impossible to have a successful app without having an ASO strategy. You're competing with millions of other apps available for download. For iOS apps and Android apps alike, the only way to stand a fighting chance is by leveraging app store optimization.
Don't get overwhelmed. I know this guide contains a ton of information. Trying to implement everything at once is unrealistic. So start with a few points, like optimizing your title and subtitle, then go from there.
Using a mix of organic and paid strategies will be the best way to drive downloads in the short-term and long-term alike. Good luck!