How to Market an App: 30 Creative App Promotion Strategies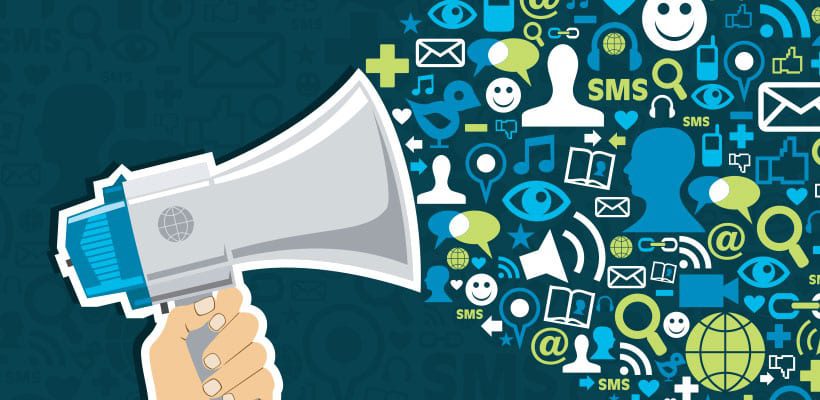 A general rule of thumb is to spend about as much time promoting your product as you do creating it. If you spent two days writing a blog post, then spend the next two days distributing your blog post in as many outlets as possible.
The same concept can be applied to your mobile app. Months on developing phone apps should translate to months of promotion.
The more you promote your app, the easier and faster the process becomes. We know small businesses do not have a large budget to dedicate to marketing or promotional events. Even those that do have the money may find themselves only having a few channels to promote their content.
This in-depth guide will show your how to market an app and take your app marketing strategy to the next level.
Let's dive in.
1. Customer Research
Mobile app marketing starts long before you ever bring it to market. Before you start telling your development team to start building out your app with a million different things, reach out to your customers and talk to them.
After all, you want to make sure that whatever you are building, is going to be just right for them.
You can start your market research by first creating a list of every single person you have ever sold to and even those who have only signed up to your newsletter. Send them an email and ask them for 5 or 10 minutes of their time.
Incentivize your customers by offering them a special discount, or some form of educational content. After you have their attention, ask them a few questions to get an idea of what they might be searching for in an app.
You want to understand the expectations your current and potential customers have with your app. In going through this process you will begin to uncover gaps you may have never seen before and you will have successfully built a bridge between yourself and your customers.
By including your customers in the app creation process not only are you subtly promoting your app, but you are making sure that the app you make fits the people you are catering to.
Retain your customers by letting them know about your idea and ask them what they would really like to see in it. How can you make the product more savvy and beneficial for them? Remember, your use base has their own audience (word of mouth) and if you're able to convince them, you'll be hitting all the right notes to bolster your success and staying power.
All of your marketing campaigns need to start with effective research. This ensures that you deliver a seamless user experience.
2. Influencer Marketing
Developing honest, authentic, and mutually beneficial relationships with influencers will go a long way in helping to promote your app.
The key to this strategy is finding influencers who align with your user base and target audience. Most social media platforms give influencers data on follower demographics. Installations coming from an influencer campaign are less likely to churn. In addition to social, you should also look for bloggers to partner with and promote your app before its launch.
Leveraging the power of influencers can drive mass amounts of traffic to your mobile. To do this you simply have to go to a website like buzzsumo.com to find a list of relevant influencers in your mobile app's space.
3. Leverage Your Website
If you have an existing website that is fully functional and mobile-friendly, then your site can be one of the greatest assets to promoting your app. At one point or another, all of your customers or anyone interested in your company will find their way to your website. When they do, it is important they all know you have an app.
Including your app in your site could mean sectioning off a part of your site exclusively for the app. Such as the corner of the screen or towards the middle of the web page. You can even use web push notifications for app promotion.
In addition to including your app on your website, including it in your regularly scheduled blog post is one of the best mobile app promotion strategies you can leverage. You may do so by creating a complete blog post solely about your app or including a call to action at the end of every blog post to invite your viewers to download the app.
When writing the blog post solely about the app, write a complete story about your app and let your target audience know the purpose behind it. Tell them how this app can facilitate and make things easy for them. Include your app links, screenshots and videos to help them get a good understanding.
As mentioned previously in the influencer section of this guide, you can also get bloggers on other websites to build hype for your blog.
4. Email Marketing
Your new app needs to be engraved into every aspect of your marketing, which includes all of your emails. As a business, you will send out countless emails and not including your app in each of those is a missed opportunity.
Any email that is sent out, whether it be from your tech support, your newsletter or even the payment confirmation email should include a footer with one line advertising your app. Include details such as what can be accomplished through the app and a link redirecting towards the download page.
Emails still have their charm provided they're used under the right circumstances. According to a study by Exact Target, "91% people check their email daily". Capitalize by incorporating your app links into newsletters, customer service emails and also make it a habit to use it in email signatures.
Example Template:
Our new app, (Insert app name here), helps you (insert what the app does). Click here (include hyperlink) to check it out!
5. Create a Teaser Video
Videos are an easy way for you to showcase everything your beautiful and well-built app has to offer. For your demo video, create a simple 30 second commercial with the principles of Simon Sinek's Golden Circle: Why, How, and What.
Once you are finishing creating your demo video, be sure to leverage your social media channels and other platforms to promote your app. Your demo video can be included in your blog post, Instagram, and Youtube channels.
We have included a link to Feicobol's app demo video we think you would enjoy. May it inspire you to create exceptional demo videos for your customers:
6. Consider Alternative App Stores
Do not rely only on Google Play and the App Store; there are various other app stores on the online market where you can upload your app.
According to One Platform Foundation, if an app is submitted on other relatively less popular stores, it will increase the expected downloads 200% more compared to Google Play.
These are some very good app stores that you should consider, and they're growing in the mobile app market.
Remember, the app market is bigger than those two popular stores. Expanding your reach can make it easier for you to drive in-app purchases as well.
7. Apply for Awards
Participating in app awards can give you tons of press, exposure, reviews and plenty of downloads. Although the chances of winning very much depend on your pitch and app idea, however, if you manage to get things right the first time, you can expect to enjoy a little stardom.
These are some of the most famous app awards sites:
8. SEO Matters Here
Yes, I'm talking about SEO not ASO… what happens is your app URL shows up in search results when users key-in related queries; for example when they look up music apps, you want your app to start popping up among the first 5 entries or so, before users hit Enter.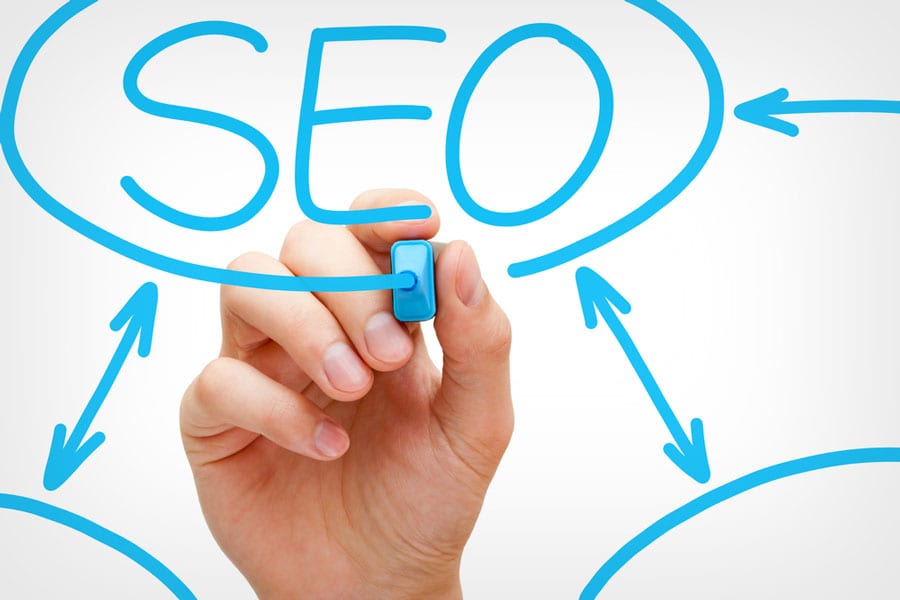 All you need to do is identify "best-targeted" and most relevant keywords that you want to rank for. Also analyze which keywords your app is currently ranking for, build some quality links accordingly to boost rankings.
For this purpose, try these two awesome tools.
This is obviously an overly simplified explanation of SEO. You can refer to Google's SEO Starter Guide for more depth.
9. Reach Out Like Mr. Fantastic
Don't rely on App Stores alone. Explore Google's search engine and believe me it can do wonders for your app.
Let's say your app is related to music; Google the term "best music android apps" and see what results you get.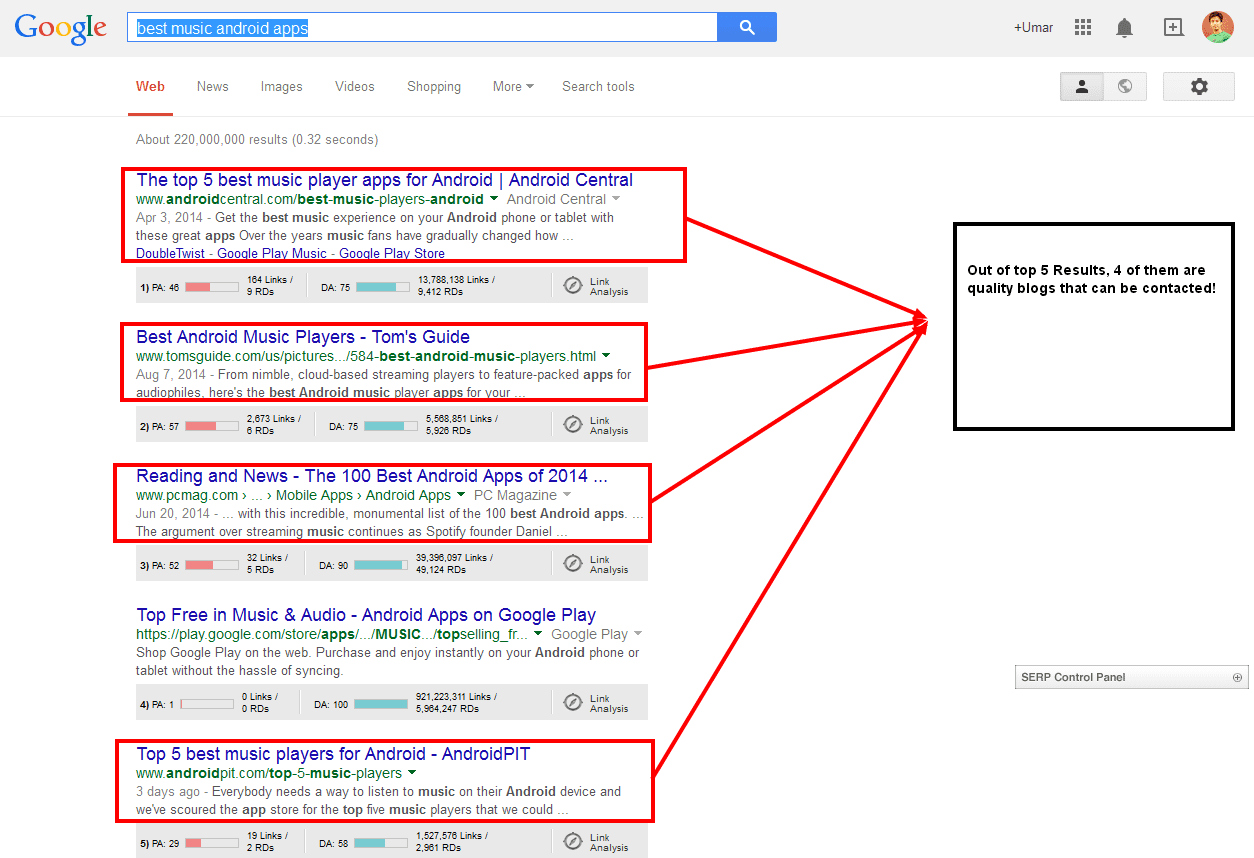 Out of these 5 top results, at least 4 of them are high authority blogs that can be contacted to your app featured. If you get this shot, you can kill more than a few birds with one stone. Getting your app featured offers long-term benefits such as:
Exposure
Targeted Traffic
Powerful Link-building
Rating & Reviews
10. Choose the Right Social Media Platforms
Increase your visibility on social media groups and communities, especially Linkedin, and Facebook, to become better known among entrepreneurs and app developers.
Ask for their feedback on your app and give them free promo codes to try it out. Discuss current features, bug fixes, future updates and value their opinion.
You can build great relationships with them which might present the opportunity to cross-promote each other's apps without spending a cent.
11. Create An Eye-Catching App Icon
With over 1.6 million apps in the Google Play Store and 1.5 million in the App Store, there's a lot of noise in any category you choose you to have your app in. Due to that noise, many people choose to take interest in apps, only when the app icon entices them.
To make your app icon stand out, it should:
Have a unique shape that stands out
Have a limited pallet of colors – 2 is enough to create contrast
Avoid using a photo – it blends in too much!
Avoid a lot of text, it's barely readable anyways
Be creative!
Testing your app icon out on a dozen different wallpapers also doesn't hurt.
Here are some great examples of great app icons
You'll notice Squarewallet really stands out by using a simple design but a great use of color to almost make it look like a hologram.

In this image you can see how some top apps make use of a simple pallet of colors to make their icons stand out and build a recognizable brand.

Finally, some of the most popular mobile apps with a great take on the idea of leveraging a logo icon over text.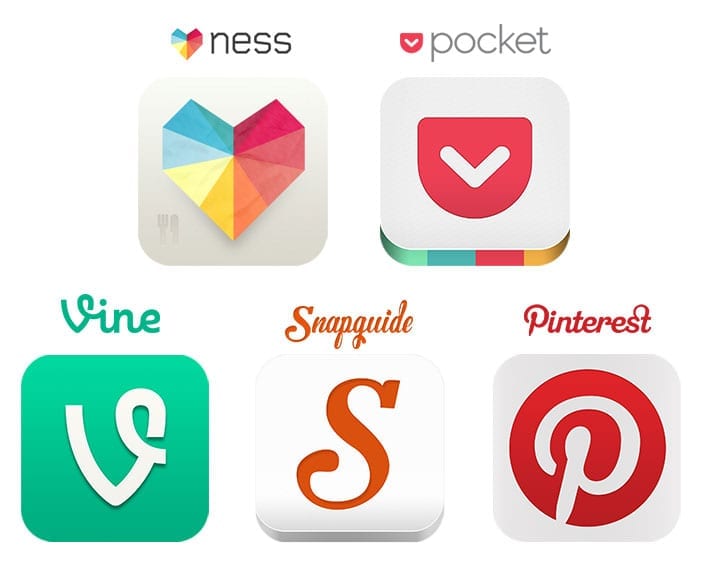 12. Take Great Screenshots
Just taking a screenshot of your app and dropping it in the app store, while simple, does a really poor job of getting across what you're trying to show that potential user.
Adding captions and adding more visual elements to your screenshots is the best way to turn a boring app, into a high download winner.
Take Uber for example: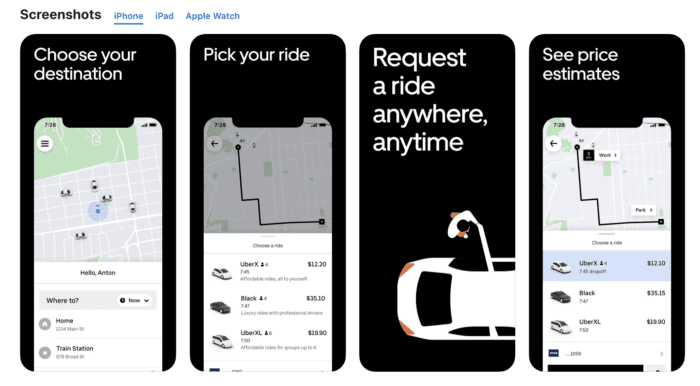 Uber's app page is able to put you in a scenario where just by looking at the screenshots, you can fully understand the features offered within that app. It makes it a simple choice to download or not to download.
13. App Store Optimization (ASO)
App store optimization (ASO) is, at its core, search engine optimization (SEO) for the Google Play and App Store. Just like search engine optimization, app store optimization focuses on keyword relevance, search relevance and the keyword density in your description.
With almost half of iPhone users in the US finding apps through search, your app description is one of the most important things you can focus on in your mobile app marketing efforts.
It's also really easy to get started with competitor research through platforms like App Annie where you can search something like "healthy recipes for women" and see what apps show up and their ranking.
We wrote an entire article just about how app store optimization works. In it we run through why it's important and how to get your app listing optimized.
14. Build A Great App Landing Page
A great landing page is must-have for any business, even if you don't have a mobile app. Having a great landing page is like always having a great business card, just in case you ever need it, it's good to have with you.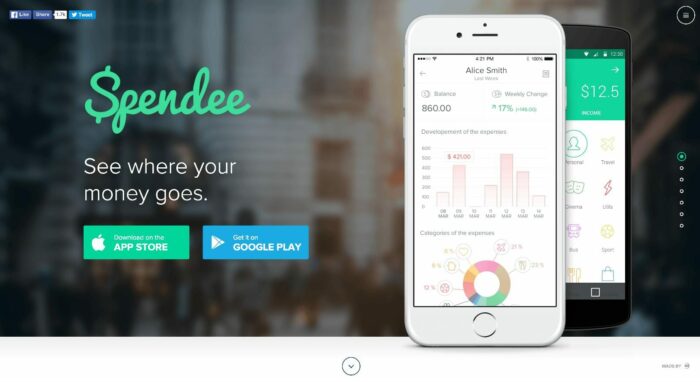 Spendee is a great example of a great mobile app landing page that has all the elements needed for user acquisition and engagement.
Breaking it down, while the page has multiple links out, the two most noticeable links are the App Store and Google Play Store buttons. They're bigger than the social sharing buttons, great to have for helping visitors to the site share the app, and they stand out just as much as the images to the right of them.
As you scroll down, each panel has a single call to action, which leads directly back to the main call to action – to download the app.
The second last panel even has social proof from news outlets as well as actual users of the apps.
If you're stuck on building your own app landing page, here's a great template that has all the elements you'll need. If you need more to choose from, here's another 20.
15. Include App Download Links On Your Website
Having an app landing page is great, but chances are you have traffic going to your business's website already. Leverage those existing customers and visitors to get more of them to download your app.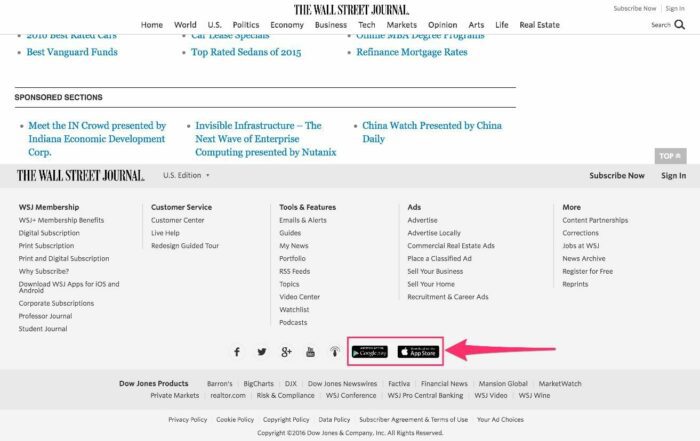 Existing Website Banner
Make a small banner for your website that pops up somewhere non-intrusive. I find HelloBar is a great way to do this: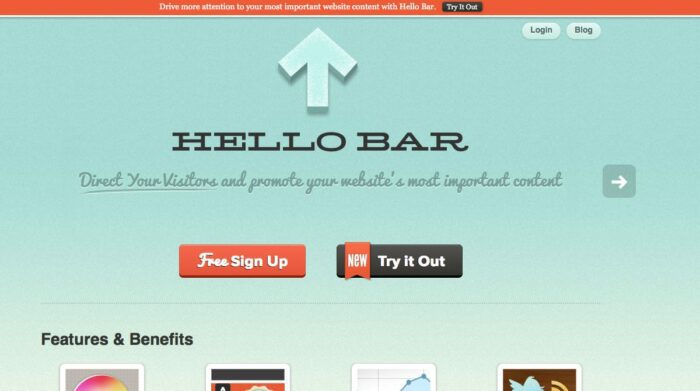 It's simple, stays at the top of all your pages and you can just get the most essential information across with a link to your app landing page or directly to the App Store.
Social Media Marketing
If you're already in the social media promotion game and have a Twitter profile, Facebook page or Linkedin page, make use of that space to promote your app.
A simple banner with the name of your app and where to find it is all you need: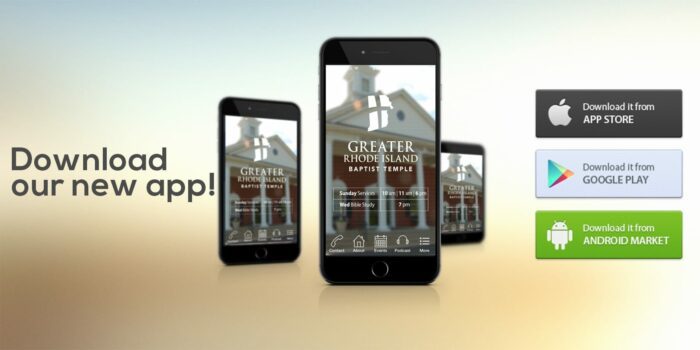 16. Get Featured On Mobile App Review Sites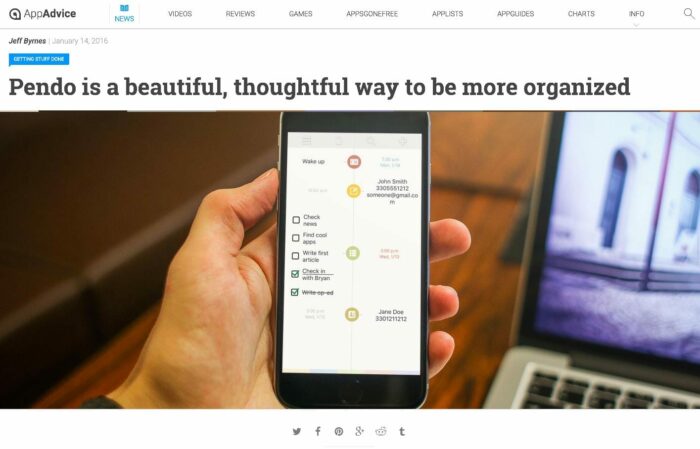 Getting on an App Review Site means you are going to have to send them a pitch. Meaning you have to convince the website that your app is good enough to be reviewed by them and therefore featured on their site. Many of these app review sites are looking for things such as:
Beautiful graphical designs in high quality
Original and unique content, mechanics, themes, and art
Stable apps with no glitches, crashes, overwhelming loading times or poorly pieced together content
When you reach out, you will most likely have to provide support material for your app. This is usually done in the form of a document containing the following items:
A link to your app in the app store
A summary paragraph describing your app and what makes your app stand out
Screenshots of your app logo, title screen, and in-app content
Links to videos of your app from YouTube or Vimeo
A promo code which are key giving anyone who has the access to download the app for free. If your app is free, you do not need to worry about this.
Getting press and reviews about your app is an easy way to capitalize on another site's traffic.
We've compiled a list of 113 of the BEST places for you to submit your app for review and to get press. With a cumulative total of over 11 million Twitter followers, over 6 million Facebook fans and tens of millions of unique visitors per month, features on any of these websites can mean lots and lots of downloads for your app.
Here's the full list of 113 places to submit your app
Be sure to read the next promotion method below to get your app promotion materials in order!
17. Public Relations
Most journalists are pressured by deadlines to have new content out and because of that, they don't have time to spend following up leads or trying to find more information on stories that are sent in.
To make sure you have the best chance of getting your story published, you'll want to make sure you have everything a journalist will need in your PR kit.
A good mobile app PR kit consists of:
An App Summary Guide
Your app summary guide is a walkthrough of what the app is, how it's used, target audience, the problems it solves and any other information surrounding why the app was created as well as why it matters.
Your Press Release
The press release is the main story behind why you're reaching out for press. It should cover the problem your app solves, why it's being released now and any other stats or facts surrounding the benefits of using the app. This is where you make the sale to the journalist to publish the story.
Screenshots (App & Lifestyle)
You'll need both app screenshots (like you would have in your app store listing) as well as lifestyle pictures in your PR kit. Be sure to include lots of screenshots, more than you think reasonable. If you're sending this PR kit to a few dozen news outlets, you want to ensure they'll have the option of not choosing images other news outlets have already used.
Design Collateral (Icons, Logos, Banners, etc)
Give the news outlet all the icon sizes, logo sizes and other design collateral they'll need so they can keep your branding in the article clean. The last thing you want is to be featured on TechCrunch with a blurry logo because you only sent them one image size.
Changes to those articles can often take weeks to get through because they're taken as the lowest of priorities.
Videos (Walkthroughs, Intro Video, etc)
A good promo video can do wonders for helping people understand what your app is all about. By seeing it in action, they can make a very conscious decision about their choice to test out your app.
Founder Bios & Pictures
Often you'll see quotes from the founders about their decision to build an app or about their decision on the market they're after. These types of quotes help set a message about the company behind the app and build a strong brand for the company behind the app.
When you have your press kit and press release ready to go, here are 20 free press release distribution sites to get you started thanks to Mashable.
19. Promote Your App Through A Promo Video
Having a good promo video is a staple of any mobile app. It's a quick and easy way for someone to understand the most common use case behind the app and how they could use it too.
Clear for iPhone – Available Now! from Realmac Software on Vimeo.
Clear's promo video is a great example of how simple it should be to get across just enough information to entice a download. While this video may seem simple compared to other app promo videos, the video generated over 1.2 million views.
The additional benefit of a promo video is that you can take advantage of video SEO.
A great example is if you search "hello" in Google. Despite it returning over 800 million results, the first thing it displays is Adele's song Hello.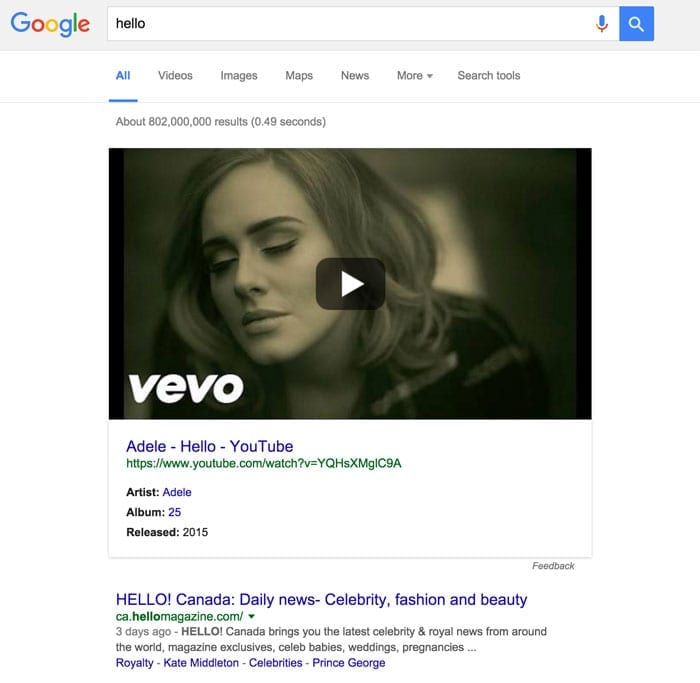 19. Use Your Social Network
Social media, despite the heavy focus by most businesses, is still a very under utilized channel of promotion. Sending the message once is good, but sending it multiple times over a month or two is even better.
The typical Facebook page post reaches 16% of the page's fan base. Now if you were to take the same message, re-write it 4 or 5 times and send it out once a week for 5 weeks, you're theoretically reaching 80% of your Facebook page audience.
See how that makes a big difference.
When you launch something like a mobile app, it's a big achievement for the company and it can mean any number of things for your customers. Make sure they're getting the message by re-posting the same content but with a different message.
20. Link To Your App In Your Email Signature
It can often take weeks if not months for all of your existing customers to know that you've finally launched a mobile app. But those same customers that don't know, likely get emails from you weekly or maybe even daily.
Add your app download links or a link to your app landing page to your email signature as a really easy way to drive downloads over time simply by sending the emails you normally send.
If you have a few people in your business, make sure they do the same.
For example, if you had 4 people in your business each sending out an average of 20 emails a day (that's a really low estimate), that's 80 people that you're able to inform per day about your mobile app. That's 560 a week or over 2,400 a month!
The simplest things can be the most effective in the long run.

21. Promote Your App In-Store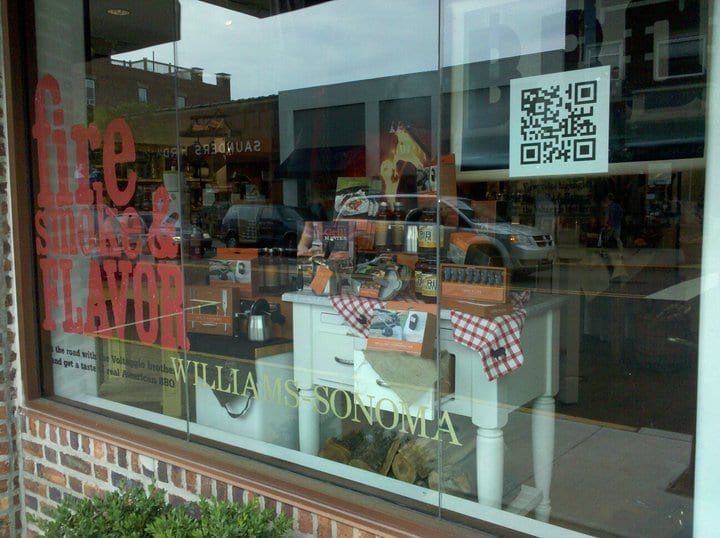 If you run a brick and mortar business, the best way to drive ongoing app downloads is to leverage your foot traffic.
By placing a QR code, or even just a sticker for the Google Play Store and App Store in your window, you're informing your customers that you have a mobile app. Something they may not know at the time.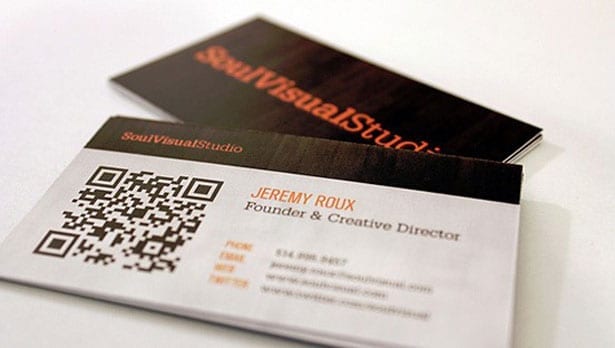 Similarly, by having a QR code on your business cards, everyone that gets a card can have a direct link to download your app in their pocket.
22. Join LinkedIn & Facebook Groups
LinkedIn is a massive social network with 400 million business professionals and Facebook has over 1 billion users. They represent many markets, many industries and has groups for just about everything you can think of.
Find groups that are made up of people that closely resemble your existing customers or your ideal customers and share the app with them. Explain the benefit of using the app and why they should use the app.
If you find a big group, contact the admin of the group and ask them to partner with you to promote the app. It could be in exchange for money as a paid promotion or it could be a referral partnership where you pay for each download or each new customer.
23. Recruit Customers Locally
Meetups, events and conferences can be a great place to recruit new mobile app users. Simply bring along a stack of business cards with your app download link on them and give them out to everyone you speak to.
Some larger meetups can involve hundreds of people while a decent size conference can attract thousands. Have a brief initial conversation with the people at the event and then hand them the business card. Suggest that they check out the app and get in touch with you to give feedback. It's a great way to get lots of new users on the app and also get feedback for improvement.
24. Do The Unexpected
In the world of digital, it's highly unexpected to do anything fully offline and see results. The guys over at Dojo have had amazing success in doing the unexpected and just appealing to people on an offline and one to one medium.
They needed to get an initial base of customers for a localized app fast. They decided to take to the streets with a simple and super effective letter to appeal to the interest and curiosity of people. They handed out 19,000 of these letters and during prime commute hours, hand them out to commuters.
The result was over 3,000 downloads (a ~15% conversion rate) and amazing social media exposure.
Be unexpected and amazing results can come of it.
25. Post On Pinterest
Pinterest is a social network in which users are able to share and discover through pinning images and videos on their own boards and on others' boards. Users are able to have their own board, search for content to place on their board, and search through the content others have on their board.
Pinterest is made to hold on to the best of what you can find on the internet into neatly categorized boards. Having your product on someone's board means they have chosen to hold on to you and that anyone who views their board will be exposed to you.
Pinterest has released a new feature that allows people to download IOS apps directly from Pinterest known as App Pin. Meaning you can have pictures of your beautiful app and right next to the red "Pin it" button there is a blue "Install" button. More information on how to app pin can be found on Pinterest's official blog here.
26. Run a Contest
Promoting your app does not always mean having to distribute it yourself across every channel, it can also mean lighting a small spark and letting your customers run towards the finish line. Creating a contest within your app will incentivize your users to download the app and keep it for the remainder of the contest.
Your app can have a live leaderboard so customers are always aware of where they stand in the rankings. Set up your contest so customers have various ways to climb up the ranks either by engaging with your company, sharing the app, or having their friends sign up. Customers should also know when they should tune in for updates.
These types of creative promotions can also help your business thrive during a recession.
27. Sincerely Respond To All Your Reviews
If your customers take the time to write out a review, no matter how long, you should take the time to answer back to them.
So many companies make the mistake of simply leaving an automated message to all their customers.
Not only will this turn away customers but your ranking score will also drop significantly with customers who feel their concerns are not being taken care of.
Regardless of what your customers say, let them know you are trying to resolve the problem by listing out what steps you are taking to improve their experience. Respond to all reviews, both positive and negative.
28. Integrate Social Share Within The App
Take app promotion one step deeper by having your own app promote itself. Your customers will make endless discoveries as they explore your app and nothing is more satisfying than sharing those discoveries with the world.
By including the option within your app to share their screens and share in-app content, you broaden your app's visibility and create a platform by which your users can express themselves.
29. Roll Out New Updates Regularly
Your customers need to know you are always making the app better for them. Apps that are not being cared for will be thrown away. Users will feel betrayed if you are not doing all you can to make the experience better for them.
This is especially true of you still have not addressed many of the issues that customers rage about in the review sections. Keep your app content fresh and let your customers know that you are always planning something more for them to enjoy.
30. Industry Forums and Podcasts
Forums are a free and easy way to promote your app and startup. Similar to Facebook (and other social platforms), it's all about engaging with the community. Just don't join these networks with the sole intention of promoting your app.
For free mobile app promotion, use platforms like:
Quora
Reddit
Industry-specific forums
Hackermoon
You can even connect directly with your target user base on these forums.
I also recommend industry-specific podcasts as a way to elevate your content marketing strategy. This is a quick way to expose your app to thousands of listeners. Many podcast hosts are looking for new guests. So it shouldn't be too difficult to get spots on several shows.
Finding relevant podcasts is easy. Just browse through Spotify, Apple Podcasts, or wherever you listen to podcasts in your personal life. All of these let you browse by category.
Conclusion
You don't need to spend a ton of money to promote your mobile app. Smartphone apps that rely on mobile app promotion strategies like Apple search ads alone won't prosper long-term. You need a way to get organic downloads without paying for ads.
Feel I missed any note-worthy points in this post? What is your secret app promotion weapon? Let's discuss that at length in the comments section.