How to Get The First 1000 REAL Apple App Store Downloads [FAST]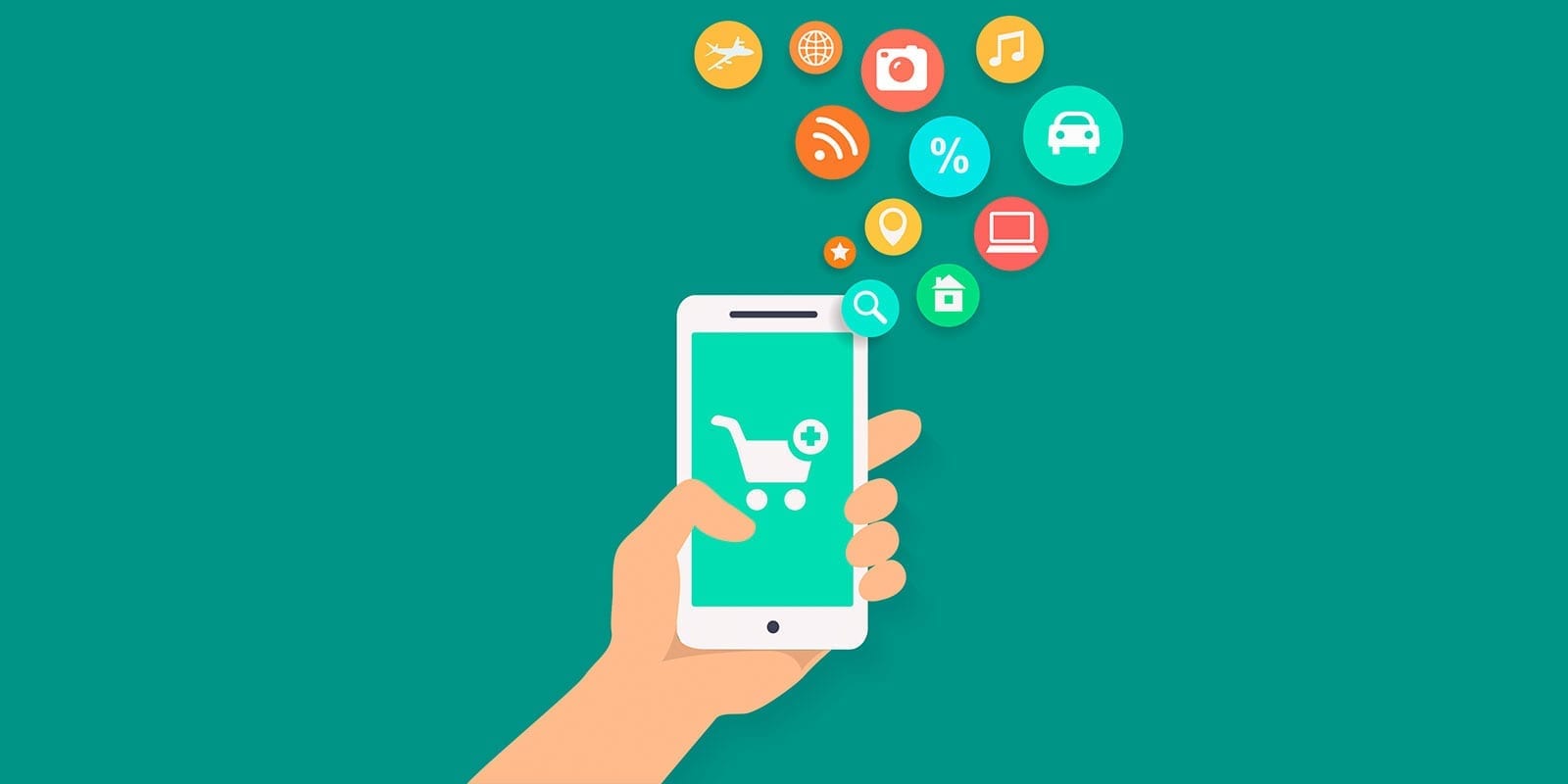 Congratulations!
You've successfully built your first mobile application.
After long months of testing, coding, trial, and error, it's finally complete.
Now what?
You need users to start downloading your app.
Unfortunately, apps don't always promote themselves.
You'll need to come up with a launch strategy.
So if you just released your app and came to the realization that nobody is downloading it, don't worry – all hope isn't lost.
I can show you some powerful strategies to boost mobile app downloads.
Here are some of the most popular apps available on the market today.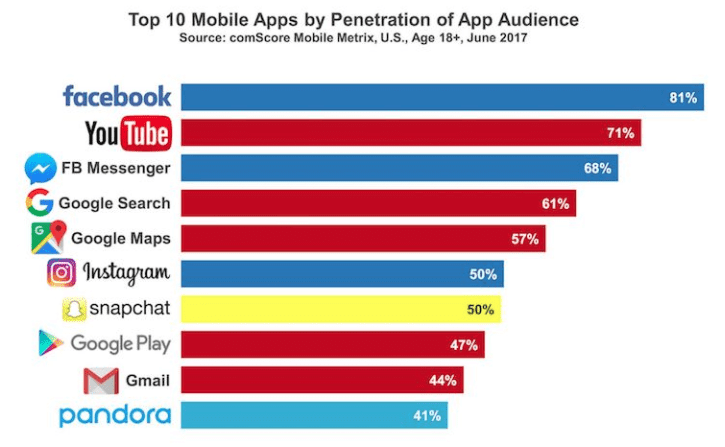 Don't get me wrong.
I'm not saying you need to try and compete with Facebook or YouTube to have a successful promotion strategy.
The graph can just give you an idea of which kinds of apps people like to download the most.
It's never a bad idea to model your approach after companies with proven success stories and track records.
There is lots of misleading information out there on the Internet.
I've seen so many "helpful guides" on this same topic that don't provide any actual techniques.
It's just a bunch of generic suggestions.
As an industry expert, I'll show you proven methods and data to back it all up.
If your new app is struggling, here are the best ways to get REAL downloads – fast.
First, figure out exactly why you even want build an app
Let's backtrack for a second here.
Not everyone has already completed the app building process.
Some of you are still coming up with ideas and designs.
Why are you building an app?
Here are some potential scenarios.
Because it's cool
You need an app to make your business more efficient
It's a new way to monetize your business
You're trying to build the next unicorn (like Tinder, Instagram, Snapchat, etc.)
Except for the first bullet point, the rest of these scenarios are valid reasons.
OK – so "being cool" may be your initial motivation for wanting to get involved in the mobile application industry, but it's not enough to get started.
If you need some inspiration to get the ball rolling, take a look at which kinds of apps people spend the most time using.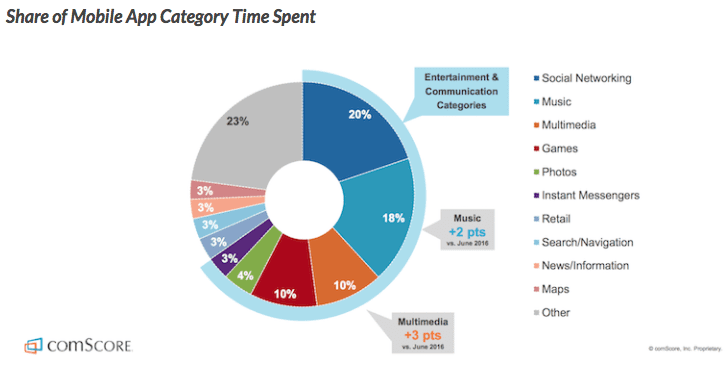 This is useful information to those of you who want to build the next unicorn as well.
The top categories that encompass the most time spent on mobile apps are:
Music
Multimedia
There may be a lot of big name competition in this space, but it could be a home run if you're successful.
If you already have an existing business, mobile applications can be a great way to improve your current concept.
You can also incorporate a monetization strategy into your app.
What's monetization?
It's a process that converts existing traffic to revenue.
Websites do this by implementing advertising strategies such as:
Pay per click (PPC)
Cost per impression (CPI/CPM)
Banner advertisements
Affiliate programs
Data monetization
You can apply some of these concepts to your app as well.
But let's take a look at some of the most successful driving forces for in-app revenue.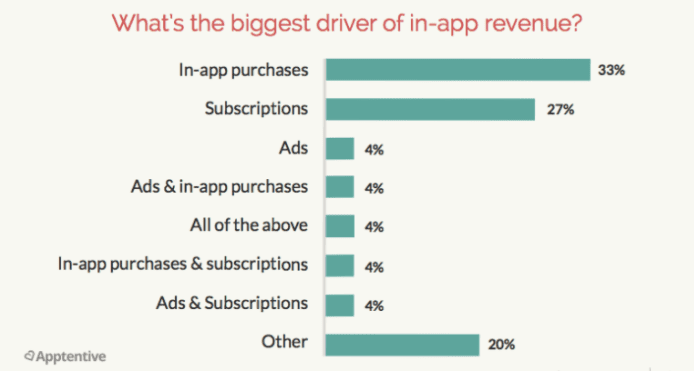 Take this into consideration when you're determining why you want to build an app.
Regardless of your reason, you need to get this straightened out before you start worrying about downloads.
Once that's done, you can proceed with your launch strategy.
Understanding the iPhone App Store algorithm
To get lots of downloads, you'll need to familiarize yourself with the Apple App Store algorithm.
Here's a comparison you can probably relate to.
If you have a website, you're always trying to optimize your page to get a high ranking on Google's search engine.
That's pretty much the same concept here.
We want to make sure your app is a top hit on iOS platforms.
Similar to Google, Apple doesn't release an exact blueprint that describes specifically what you need to do in order to get a high ranking.
You've got to read between the lines to figure it out.
It's an imperfect formula, but the Apple developers share some pointers.
Here's what you need to know.
It all starts with the name.
Make sure the name of your app:
Has less than 30 characters
Is easy to spell
Indicates what the app does
Doesn't have a similar name of an existing app
Focus on the features and functionality when you're coming up with a subtitle and description.
Your description shouldn't say "The best app on the planet."
Instead, write about some of your top features and make sure users fully understand the purpose of its functions.
Here's an example from TypeShift.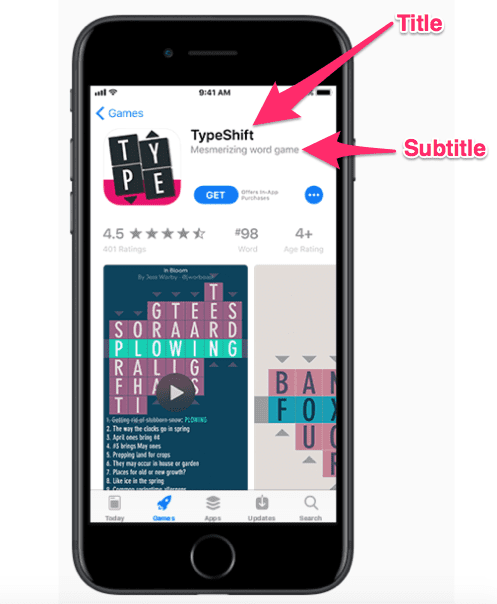 The title and subtitle both describe what the app does.
Make sure you assign an accurate primary category for your app.
The category is the best way for users to find you based on what they're looking for.
Examples of categories include:
Games
News
Music
Social Networking
Travel
Photo & Video
Health & Fitness
Entertainment
Medical
Education
Here's something else to consider, if you select a primary category that's irrelevant to your app's functions, Apple will reject you from the App Store.
Let's say you have an educational app.
But you know (based on the statistics we saw earlier) that social networks are more popular.
You might think you're being slick if you choose to assign social networking as the primary category.
Big mistake.
Apple sees this as grounds for removal.
Obviously, you can't get downloads if your app isn't available.
Another way to get ranked high in the App Store is by promoting your in-app purchases.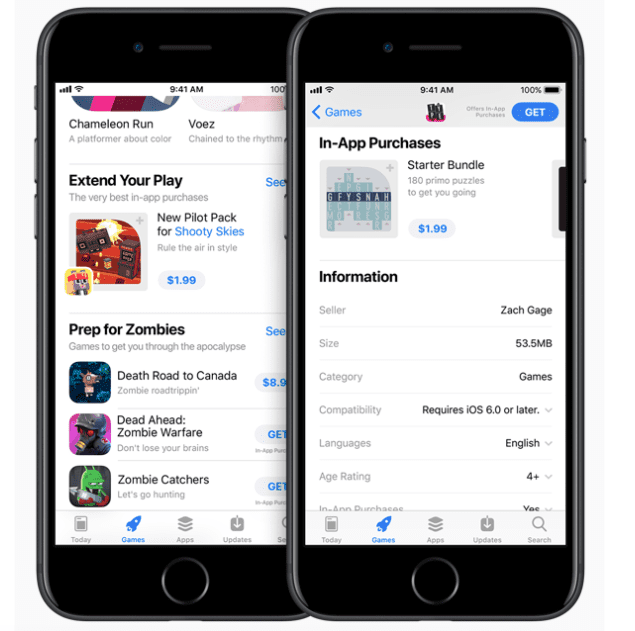 Here's how TypeShift promotes those upgrade options.
For $1.99 users can get started with 180 primo puzzles.
Apple encourages developers to include in-app purchases in their design.
If you're not sure how to do this, take a look at this guide for setting up in-app purchases on BuildFire's control panel.
It's really easy to do, so don't exclude it from your app.
Apple allows you to promote up to 20 total items on your in-app purchases page of the description.
Ratings are important as well.
First off, users may be discouraged from downloading your app if it's got negative reviews.
But furthermore, the Apple App Store algorithm factors these ratings and reviews into your search ranking.
Your app must create a positive experience for the user.
Once they have time to get used to your platform, send them a notification asking for a review.
Take the user feedback into consideration whenever you're updating your app.
Understanding the basic concepts behind Apple's algorithm will make it easier for users to find you in the App Store.
Ultimately, this will help you get more downloads.
Figure out exactly what it takes to get to 1000 downloads(or whatever target you are aiming for)
So how many downloads do you want?
Sure, 1,000 would be great. But 10,000 is better.
You can use the concept of quant-based marketing to predict this execution.
Here's how it works.
Think backward.
Don't look at it as an uphill climb from zero.
Instead, start with the number of downloads you're aiming for and work in reverse.
So the first step of this process involves coming up with your goal.
Just makes sure it's legitimate and realistic. Set a reasonable time frame.
Think about your target market as well.
What audience are you going to focus your launch strategy around?
Based on this data, people between the ages of 18 and 24 are the only group that spends over 3 hours a day using mobile digital media.
Users aged 25 to 34 have the second highest daily usage.
With that in mind, it's a smart idea to target these groups.
What's your customer acquisition strategy?
Here are some suggestions you may want to consider.
Search engine marketing (SEM)
Search engine optimization (SEO)
Social media marketing (Facebook, Twitter, etc.)
Public relations
Content marketing
Influencer marketing
Direct sales
Blogs
It's totally acceptable to choose more than one of these options.
In fact, I highly recommend that you use a combination of these methods.
Don't put all your eggs in one basket.
Diversifying your launch strategy through different marketing channels will increase the chances of getting more downloads.
That's exactly what we want to accomplish.
Continue reading, and I'll give you some more details about the strategies that have high success rates.
Get influencers and big blogs to mention your app (even with no money)
If you've maxed out your budget during the development stages of this app, you might be worried about finding the funds for advertising.
Fortunately, you can try and get big blogs and other influencers to pitch your app without giving them any money.
But before you can do that, you need to look for the most relevant results.
Use a website like Buzzsumo.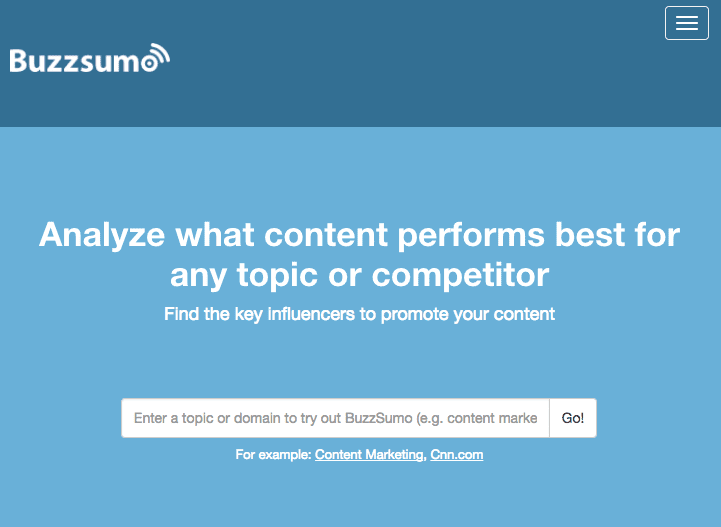 Their platform can help you search for the top blogs that are related to your app.
Earlier we talked about the importance of finding the right primary category for your app on the Apple App Store.
Search for that same category on Buzzsumo and see what kind of results you get.
For example, let's say your app is in the health and fitness category.
If you search for "health blogs" the results will look like this.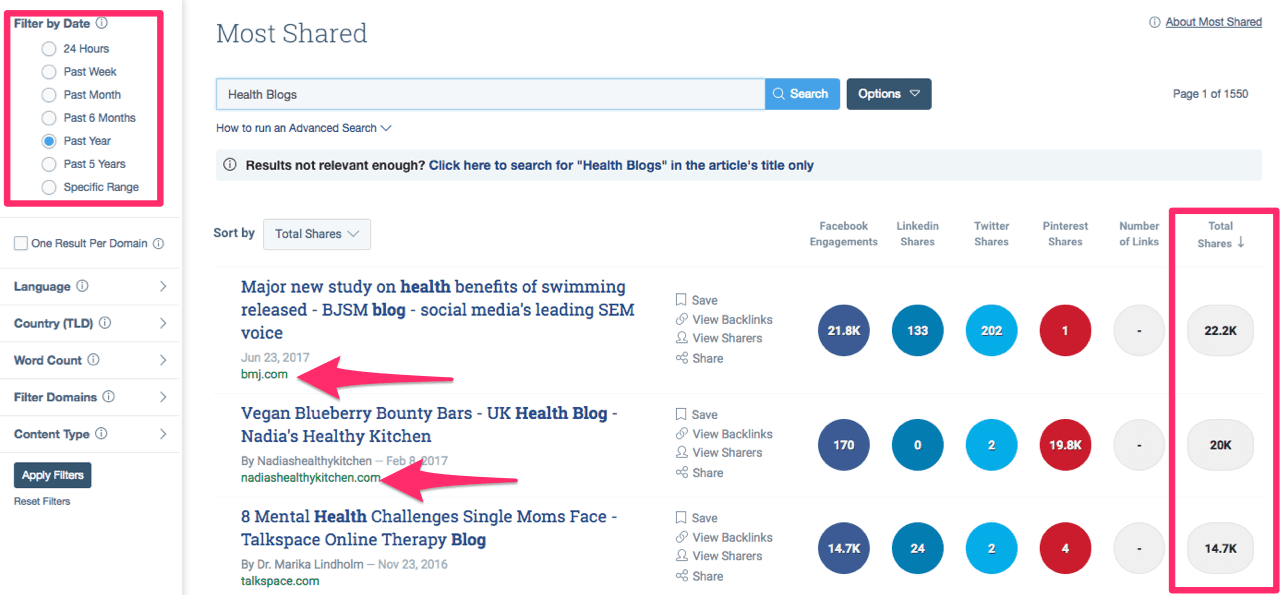 This is a great place to start.
You've got the top 2 most shared links in the last year about this topic.
Play around with the filters to narrow the results.
You can sort this data by the shared source (LinkedIn, Facebook, Twitter, Pinterest) or by date.
Now you've got to reach out to these sources directly.
Don't be intimidated.
Sure, they're going to be helping you out if they feature your app on their blog, but you're doing them a favor as well.
These sites are always looking to provide their readers with fresh information about the industry.
That's what keeps people coming back.
So send an email.
Email is the preferred method of communication for 81% of writers.
Keep it short and be direct.
Here's some information you should include in the message:
You're full name
The name of your company
The name of your app (if it's different than your company's name)
A link to your website
Short description of the app's functionality
Why you're better than competitors in this space
The status of your app (have you launched yet?)
Contact as many relative blogs and influencers as possible.
You don't have to offer any money or incentive other than the relevancy to the category they cover.
Don't be discouraged if not everyone jumps on board.
But keep sending out these messages, and I'm sure you'll get featured in several legitimate publications.
It's a great source for downloads.
The blog readers will take the advice of the authors if they faithfully read and trust the websites.
Run pay per install campaigns
If you're willing to spend some money, you may want to consider a pay per install strategy.
The publisher gets charged based on the number of downloads for the app.
This strategy increases your exposure in the App Store, which can lead to more downloads.
Here's the average CPI based on your country.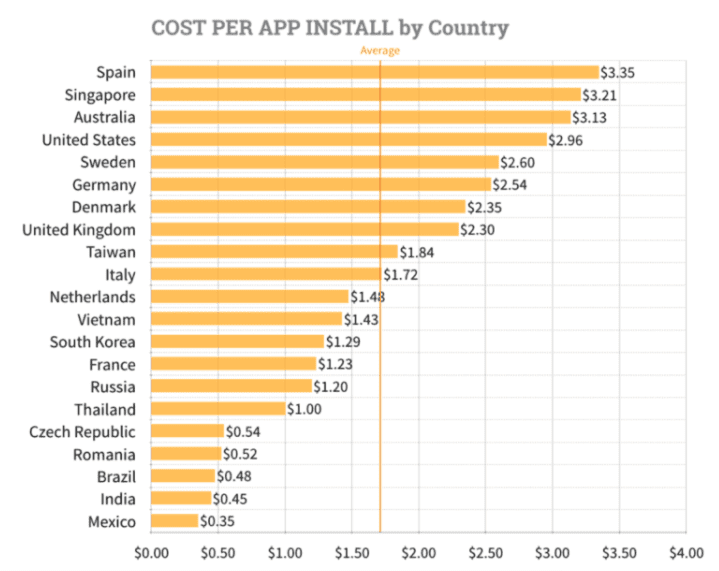 Let's break this information down a little bit further.
We'll focus on the United States.
For our purposes, we only want to look at the Apple App Store.
Here's what it looks like.
This may not be the most cost-efficient way to get downloads, but it could be one of the most effective.
So run the numbers and see if this customer acquisition cost can still be profitable for your app.
If you combine this method with other strategies, like contacting influencers and big blogs, your marketing budget can still be reasonable.
Here are some places to look at as a promotional channels for your pay per install strategy.
Check out some of these platforms and see which ones you think would be the most beneficial for your company.
Keep your target audience in mind when you're choosing an advertisement platform.
Use email marketing tactics
Not all mobile applications are for a completely new business.
As we discussed earlier, you may be building an app to monetize your business or make it more efficient.
Take advantage of your existing resources.
You don't have to start from scratch.
If your business has a current customer base, contact these people.
Send them an email about your new app and let them know how it will improve their customer experience.
Here's a great example of this approach from Walgreens.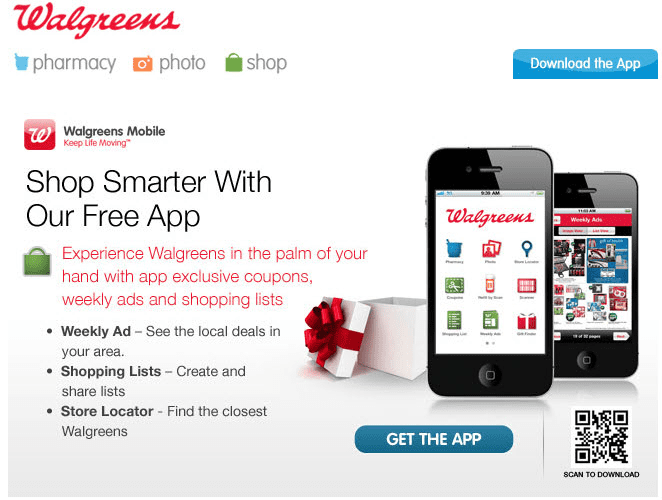 So come up with an effective email campaign and reach out to your current list of subscribers.
Since these people are already familiar with you and your company, they will be more apt to download your mobile application.
That's especially true if you give them an incentive and it enhances the user experience.
SMS marketing
Instead of just sending an email, try sending a text message to your customers as well.
If you have their phone numbers in an existing database, you can send them information if they're signed up to receive alerts.
Include a promotion in the text message.
"Receive 20% off your next purchase if you download our app."
Something to that effect should do the trick.
Find an SMS marketing company like Slicktext to get started.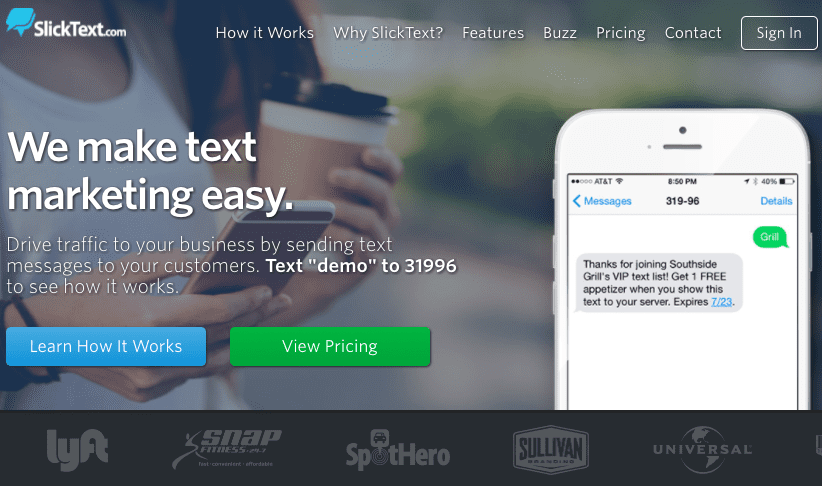 Platforms like this make it super easy to contact your customers via mass messaging.
It's an effective way to get more downloads.
Conclusion
Now that you've built your first mobile application, it's time to start getting people to download it.
Unfortunately, this won't happen if you just sit back, launch the app, and do nothing.
You'll need to come up with an effective launch strategy.
You should keep this strategy in mind from day one when you're figuring out why you want to build an app in the first place.
Whether you want to be the next big hit like Instagram, or you're trying to monetize your current business, you've got to get downloads in order to be successful.
Make sure you put lots of emphasis on the Apple App Store algorithm when you're trying to get downloads.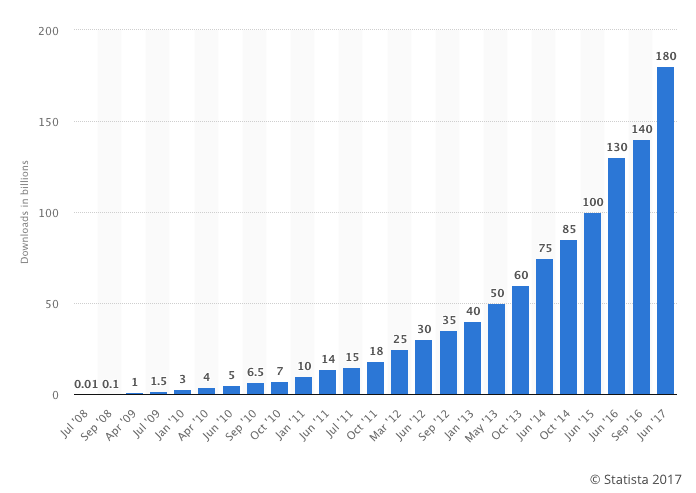 The graphic shows how many billions of downloads happen on Apple's App Store each month.
That number continues to grow, so there's a huge opportunity for you here.
Focus on:
The name of your app
Subtitle
Description
Primary category
Reviews
In-app purchases
Use the quant-based marketing strategy to come up with a plan.
Start with your goal.
How many downloads are you trying to get?
What's the time frame you're going to get these downloads in?
Who is your target audience?
Once you answer these questions, you can proceed with your marketing strategies.
If you're on a tight budget, reach out to big blogs and other influencers.
Contact them directly and ask if they will feature your app in a blog.
You can also run a pay per install campaign on various platforms.
If you're an existing business with a database of customer email addresses and phone numbers, take advantage of these resources.
Use email marketing and SMS marketing techniques to promote your app and get more downloads.
If you follow these tactics, you'll be on your way to 1,000 or even 10,000 real downloads in no time at all.
What kind of in-app purchases will you offer to increase your ranking based on the Apple App Store algorithm?