Top Mobile Ad Networks (2023)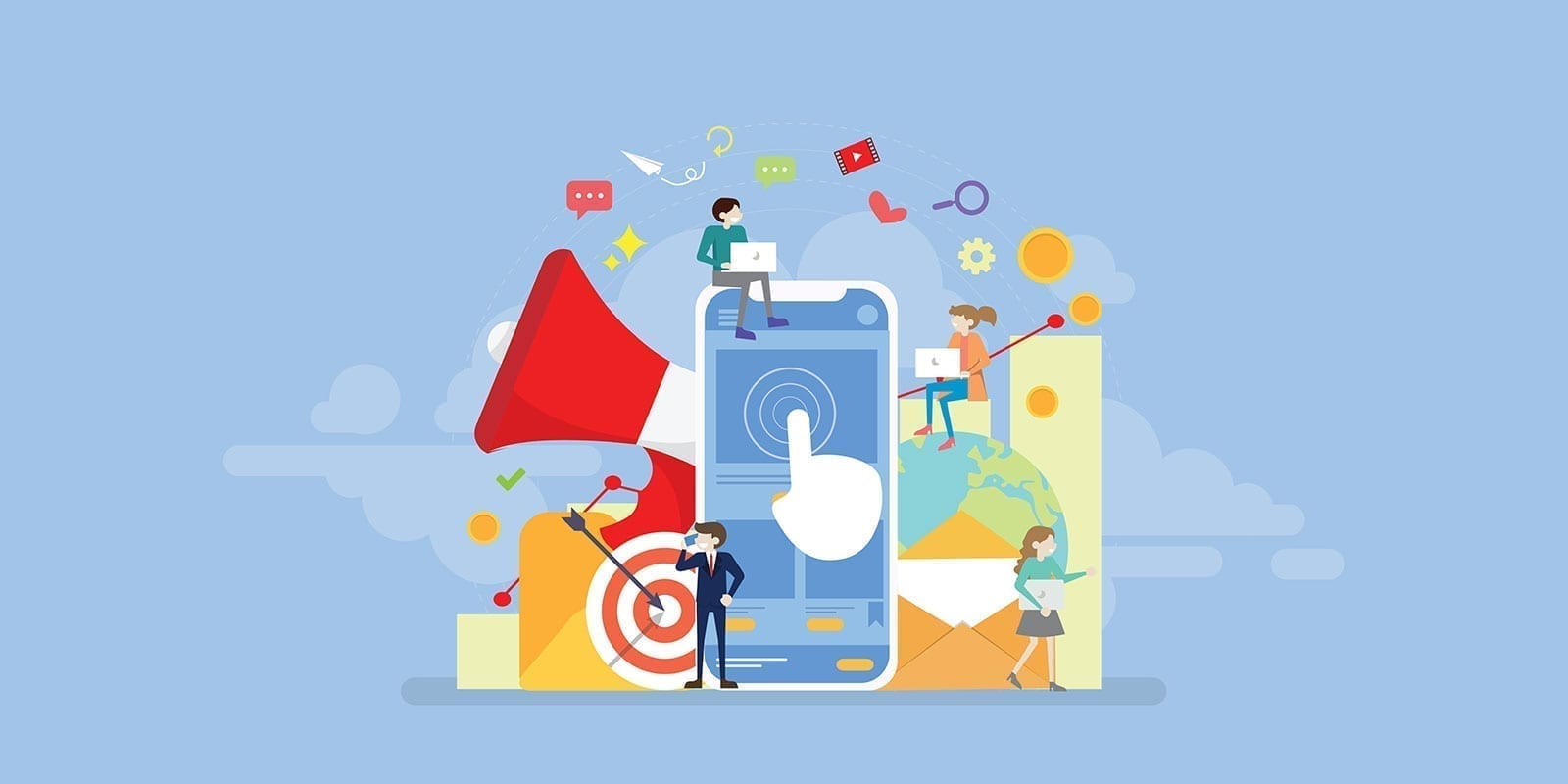 It's no secret that we're living in a mobile world. Everything seems to be trending in a mobile direction in 2023.
In fact, over 52% of all Internet traffic worldwide comes from mobile devices. That's more than double the percentage of traffic from just five years ago.
As these figures continue to trend upward, mobile advertising is following suit and growing accordingly.
Marketers and publishers have recognized that they need to target consumers with platforms and devices that they are using the most. Consumers in the US spend 35 hours per week using mobile devices. 92% of mobile time is spent on apps.
But with mobile app usage on the rise, advertisers aren't just using mobile browsers to advertise anymore.
Last year, the gross expenditure of in-app advertising reach $201 billion in the US alone.
If you combine that number with mobile app store advertising, that's an anticipated $340 billion spent on mobile ads. We're just two years away from those figures. That's more than 2.5x higher than five years ago.
These advertisements are facilitated through mobile ad networks.
But there are so many networks out there. It's overwhelming, to say the least, and difficult to choose which one is the best.
There are two ways to approach this. You can take advantage of these networks to purchase ads and promote your product, service, app, brand, etc. Or you can sell advertising space on your platforms. Maybe you're interested in a combination of both options.
Regardless of your unique situation, you'll definitely benefit from this extensive guide on mobile app networks.
Types of Mobile Ads
So you've decided that you want to run some ads. That's great.
But not all mobile ads are the same. These are the major mobile advertising formats that you can buy or sell through ad networks.
Banner advertisements
Banner ads on mobile devices are similar to banners you've seen when you're browsing the Internet. The only difference is that these banners are displayed within the interface of an app. Banners typically promote products, services, or even upsells for in-app purchases.
Native advertisements
Native ads match the interface of an app. The whole idea behind this format is for the advertisement to feel natural and less intrusive, as opposed to something like a pop-up.
Interstitial advertisements
Interstitial ads cover the entire screen. They appear when users navigate from one screen to another. Here's an example of what this would look like.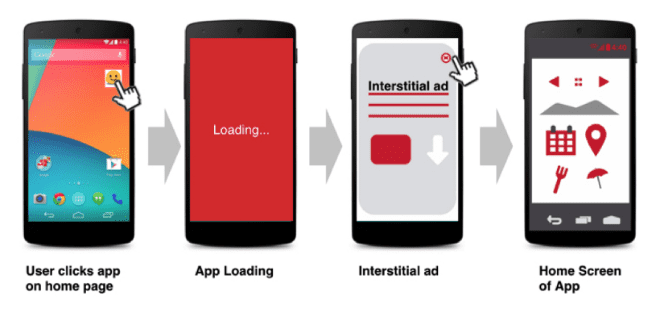 The most important thing to remember with this ad format is that you only display the advertisement after a user has completed an action or task. You don't want to interrupt them while they're in the middle of something.
For example, a gaming app could have an interstitial ad appear in between levels, as opposed to during actual gameplay.
Video advertisements
This is pretty self-explanatory. Video ads are usually fairly short, and typically not longer than 60 seconds. There are two main types of video as.
In-stream videos — streamed in an app and played within video content.

Out-stream videos — played on a web page that gets displayed within an app.
According to eMarketer, $16 billion was be spent on mobile video ads in the US two years ago. They predict that number to reach $25 billion by 2023.
OfferWall advertisements
As the name implies, OfferWall advertising provides offers. These offers are meant to drive engagement. For example, a mobile gaming app could have OfferWall ads that promotes other games from the same developer.
Mobile Ad Revenue Models
In addition to the types of ads available, there are different business models for buying and selling mobile ads. I'll explain the top five models.
Cost-per-click (CPC)
With CPC ads, the advertiser gets charged each time someone clicks on their ad. This model is better for advertisers because they only get charged when a consumer is interested enough to make a click.
From a seller's perspective, CPC can be a bit risky. Publishers are potentially giving away impressions for free with this model.
Cost-per-install (CPI)
Advertisers are only charged when clicks turn into an app install with the CPI model. This is one of the most important metrics for marketers to track. App installs can translate to customer acquisition costs, and ultimately determine the ROI for these ads.
Cost-per-action (CPA)
CPA is similar to CPI, but it's a bit more advanced. Advertisers are charged for certain actions, such as signing up for something, submitting a form, subscribing, or making an in-app purchase.
Cost-per-mile (CPM)
CPM is based on how many times the ad is shown. This model is best for publishers because they get paid even if the user doesn't click or perform an action. Typically, the charge is per 1,000 times an ad is shown.
While this a safe revenue for someone selling ads if they have lots of traffic, it limits their opportunity to make more money. If that ad sparks lots of interest and leads to clicks and installs, the publisher won't be rewarded for those additional actions.
Cost-per-view (CPV)
CPV is for video ad campaigns. The cost is based on how many times a video ad is viewed. This advertising model is becoming increasingly popular. As we previously mentioned, the US is expecting to see a 64% increase ($16 billion to $25 billion) in mobile video ad spending over the next three years.
Mobile Ads Targeting
There are several different ways for advertisers and publishers to display mobile ad campaigns designed to reach a specific audience. Failure to reach the right audience will obviously impact the results of your ad. These are some of the most popular ways to segment mobile ads.
Gender

— Narrow down mobile users based on their sex.

Device

— Target users with specific hardware requirements and screen sizes (such as smartphones vs. tablets).

Geographic

— Reach mobile users in a specific region that's relevant to the ad.

Operating System

— Run ads on devices with a specific OS.

Carrier

— Target mobile users on a specific carrier plan (Verizon, ATT, Sprint, etc.).

Connection Type

— Target devices based on connections such as 3G, 4G, LTE, or WiFi.

Interests

— Advertising networks collect data about mobile users. You can use that data to target users who have specific interests related to your brand or campaigns.
Targeting mobile ad consumers properly is crucial to the success of your campaigns.
You can use one or more of these targeting types when it you run ads. Being able to reach mobile users based on their interests is extremely popular, which is why platforms like Facebook have been able to sell so much mobile advertising space.
If you're running CPM or CPV ads, but they are being shown to an irrelevant audience, then you're just wasting money. If you're running CPI, CPA, or CPC ads to the wrong audience, you won't generate any results. Even if it's not costing you money, it's still a wasted effort.
Mobile Advertising Rankings
So, which advertising networks are the best? It's difficult to say definitively since there is so much data out there to take into consideration.
Here's a look at North America's top ad networks for reaching app customers, according to TUNE.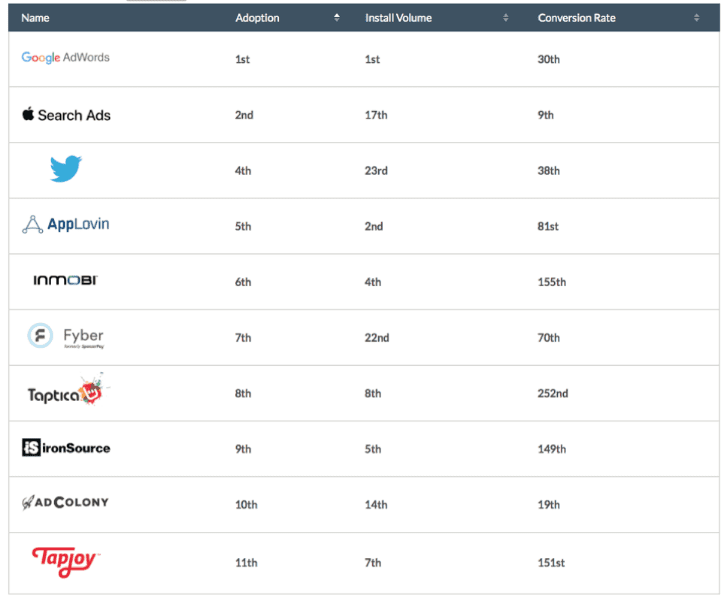 TUNE analyzed more than 1,000 networks and publishers. The data from their customers concluded that the ad networks shown on this table were the most widely used in terms of customer reach.
As you can see, popularity doesn't necessarily translate to results. Only one of the top three networks by adaption ranked within the top ten for conversion rates.
But that information needs to be taken with a grain of salt. As we've already discussed from the different revenue models, conversions aren't always applicable. You could run CPM and CPV ads successfully without any conversions.
What works well for one company may not necessarily work for another. It all depends on the type of ad you're running and the goal of your mobile ad campaign. The same concept can be applied to publishers as well. You might make more money with one format over another.
Top Mobile Ad Networks
Now that you understand the types of mobile ads, different revenue models, and ways to target customers, it's time to look at the top networks.
As I just said, the best ad network depends on what metric you're tracking. Some of you may generate better results with one of these over another. So these networks aren't ranked in any particular order. Use this list as a reference to learn more about each option and decide which one is the best for you.
Google Ads

Formally known as AdMob, Google's mobile ad platform is facilitated through Google Ads. Some of you may have experience using this network to promote your website.
Google Ads lets you run CPC, CPI, and CPM campaigns. Native ads, interstitial ads, and video ads are all supported on this platform as well.
Four mobile platforms are available with Google Ads:
If you use Google Ads, you'll have the option to target users based on location, mobile platform, operating system, interests, connection type, and device. The global reach of this advertising platform makes it one of the most popular choices to consider.
Facebook Ads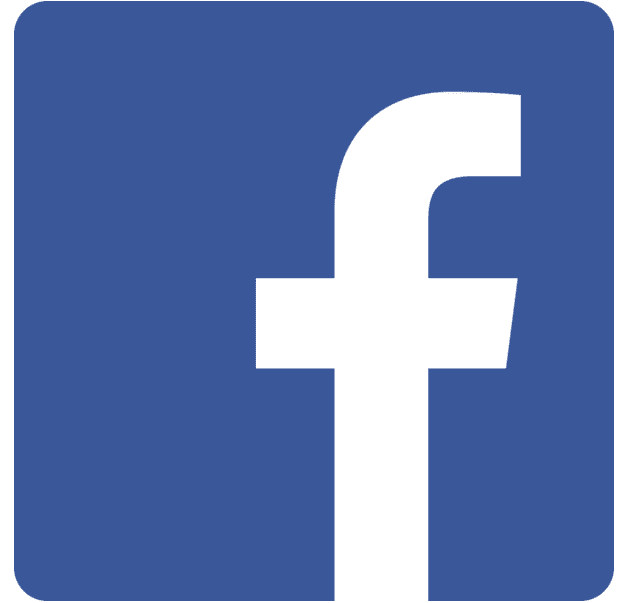 Facebook is another giant in the digital advertising industry. One of the reasons why Facebook Ads stand apart from the field is because of the targeting options.
Location

Gender

Age

Device

Operating system

Operating system version

Language

Interests
When it comes to the detail of these target options, Facebook is second to none, which is why it ranks so high on our list of mobile ad networks.
You can target mobile users on Android, iOS, and web platforms. Facebook offers video ads, banners, carousel banners, and slideshow formats. The ads are run through the Facebook app, Messenger, Instagram, and Audience Network, which extends to the mobile web.
Marketers can run CPI and CPM campaigns with Facebook Ads.
AdColony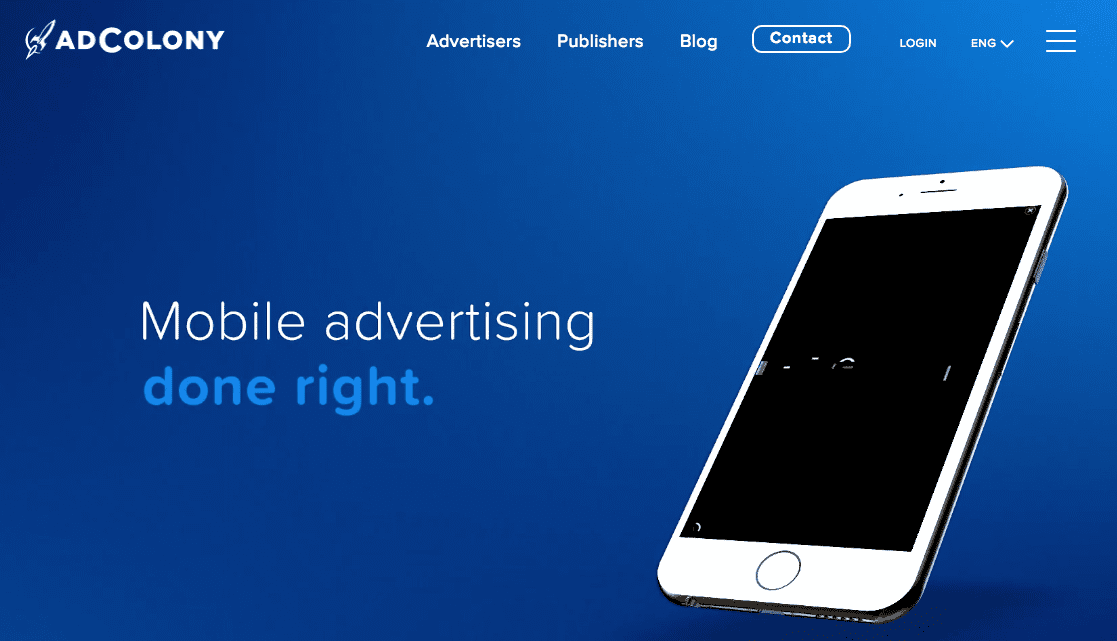 AdColony specializes in mobile video advertisements. It's supported by both iOS and Android platforms and employs the CPM business model.
The quality of video ads is what separates AdColony from other networks. By offering HD videos and rich media formats, AdColony has become a popular choice for both advertisers and publishers alike.
They have more than 65 designers and developers working to make video advertisements stand out from the crowd. That's why AdColony has won over 20 awards based on their performance.
Mobile users can be targeted based on demographics through this network. AdColony reaches more than 1.4 billion mobile users.
Apple Search Ads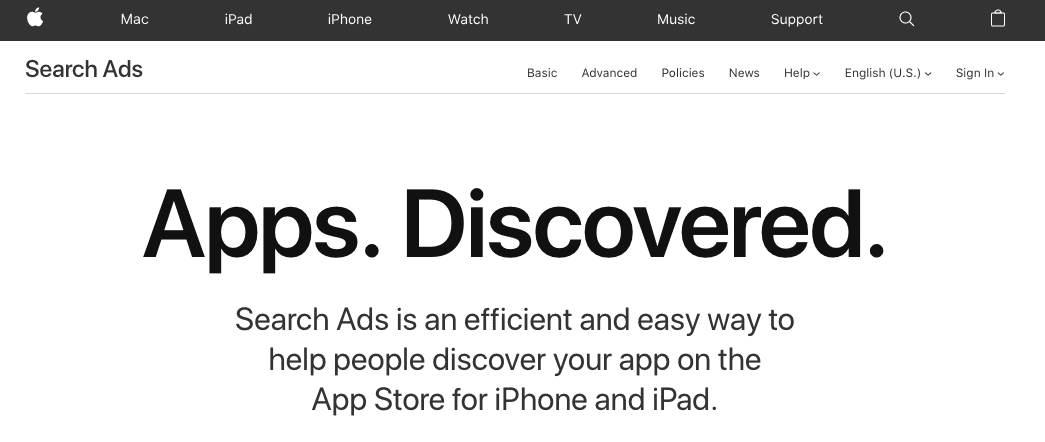 As you may have guessed, Apple Search Ads are designed specifically for the iOS mobile platform. This network provides developers with an opportunity to get more traffic to their apps through searches.
The basic version of this user acquisition platform is only available in the US. Developers can automatically run CPI campaigns by setting a monthly minimum budget of $5,000 per app.
With the advanced plan, developers are responsible for setting up additional parameters such as their audience, keywords, budgets, and bids. This plan is designed for CPC campaigns.
Apple Search Ads let you target different iOS versions, devices, genders, ages, and locations. You can even target new or current customers. The supported advertising formats are auto-generated using the information provided for the app on the Apple App Store.
YouAppi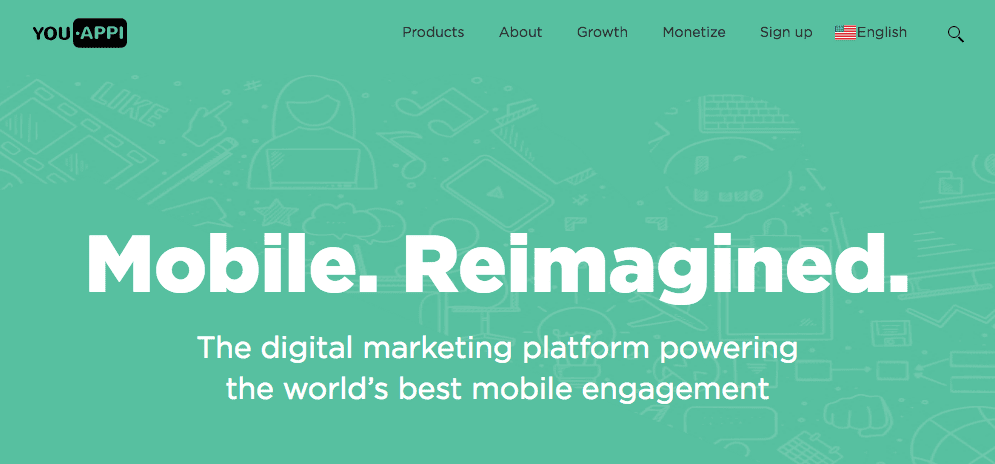 YouAppi helps brands scale their mobile user acquisition and retention strategies. The entire network is based on machine learning, which gives advertisers custom targeting options.
Once users are presented with an advertisement for acquisition, they'll also be sent subsequent ads aimed for re-engagement. So you can run CPI and CPA campaigns through YouAppi.
Video ads and native ads are both supported through this advertising network. Android and iOS platforms are both supported as well.
Snapchat Ads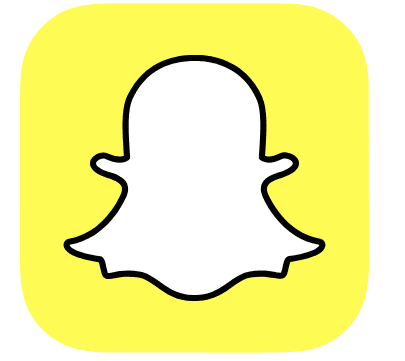 The Snapchat Ads network is for iOS platforms, CPI and CPC campaigns. Snapchat offers a couple of other unique formats such as filters and lenses, which are exclusive to this user acquisition platform.
186 million people send 3 billion snaps on a daily basis.
So if you're interested in targeting younger generations with engaging video ads and other ad formats, this could be a good network for you to consider. You can choose from 300 audiences based on data from user demographics, lookalike audiences, as well as interests derived from what they watch, post, and buy via Snapchat.
Twitter Ads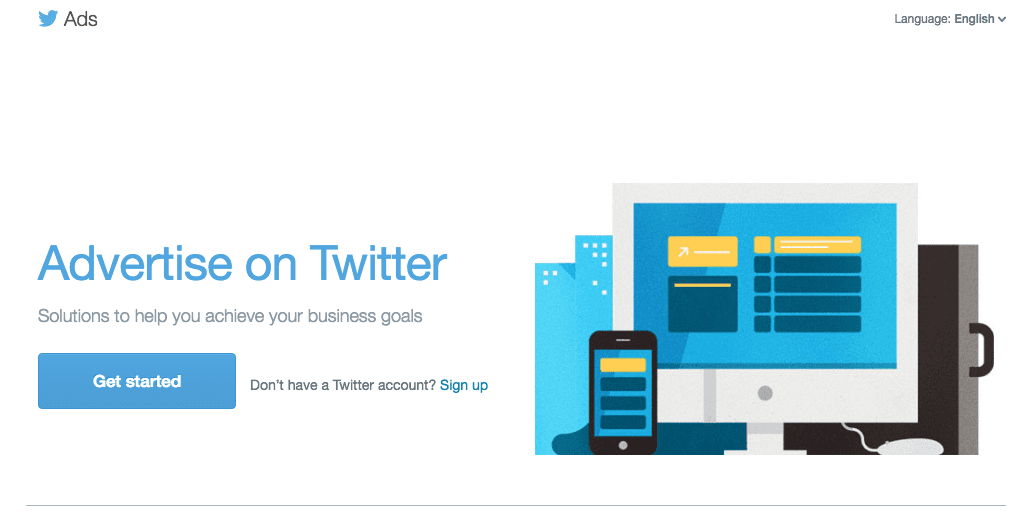 With Twitter Ads, advertisers can get traffic to their app on Twitter, and off Twitter channels as well. Twitter Ads offer deep linking technology, which means ads can be linked to a specific section of content from an app.
Both Android and iOS platforms are supported on this network. You can target users by age, gender, device, OS, OS version, device, location, and connection type with CPI, CPM, and CPC ads. All of the ad formats are auto-generated.
Applovin

Applovin prioritizes the quality of users in their network. They analyze the results of every campaign in order to show ads to the people who will be most likely to engage inside of the app, and ultimately make transactions.
Based on this strategy, Applovin supports CPC campaigns, CPA campaigns, and offers custom targeting as well as re-targeting options. This network also supports custom ad formats.
Android, iOS, and mobile web platforms are all supported through Applovin. This network is primarily aimed at users in the United States.
Taptica

Taptica reaches over 200 million mobile users across the globe. In addition to the United States, Latin America is another key market for this mobile ad network.
The publishers on Taptica support CPA and CPC campaigns. You'll also have several options for your ad formats.
Videos

Banners

Interstitial

Text
Taptica has custom targeting options, so you'll be able to reach the right audience based on your campaigns. This network is known for helping advertisers acquire new users while benefiting from a high return on their investment.
AppLike

AppLike is Germany's fastest growing ad tech company, although they target global networks. This advertising network specializes in video ads.
All of the mobile advertising gets displayed in the AppLike app, which is supported by iOS and Android platforms. You can run CPC campaigns through their platform.
Mobile users are segmented by age, gender, and app usage.
The AppLike app ad network is a great option to consider because they offer A/B testing for your video ad campaigns. So you can change your audience preferences to see which works best for each campaign. It's also nice that they factor in the app usage for targeting as well, which makes the ads even more relevant.
GOWIDE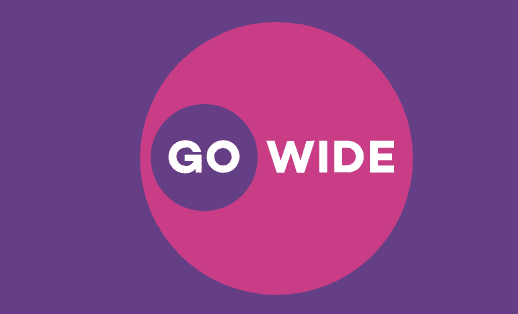 GOWIDE generates results. This mobile ad network drives over 500,000 in-app events each month. These engagements include things like registrations, purchases, and app installs.
This network supports a wide range of ad formats.
Interstitial

Native

Video

Banners

Rewarded videos

Social
You can run CPI, CPC, CPA, and CPE campaigns with GOWIDE. If you're looking to target users in Asia, Europe, and North America with mobile advertising, GOWIDE is definitely worth your consideration.
Smaato

Smaato is a global advertising network for both app developers and mobile marketers alike. The network supports iOS, Android, Windows Phone, and mobile Internet.
Smaato specializes in banner ads and CPC campaigns.
Users can be targeted based on country, device, connection type, and ad format. Although you can reach users across the world with Smaato, their key markets are in Germany.
Mobvista

Mobvista offers acquisition, analytics solutions, and monetization services for mobile app developers all over the world. They've targeted over 200 regions through 950 million devices each day.
This app ad network uses AI technology and innovative efforts to provide exceptional results for mobile advertising. It's available for Android and iOS platforms.
These are the mobile ad campaign types available from Mobvista:
CPI

CPA

CPS (cost-per-scale)

CPL (cost-per-lead)
In addition to these business models, Mobvista also offers a wide range of supported advertising formats.
Playable ads

Native

Interactive end cards

Panoramic 3D videos
As you can see, these formats aren't necessarily the standard options offered by the majority of networks on our list, which makes Mobvista unique. It's a great option if you're targeting users in China.
Headway

Headway is a mobile ad platform based in Spain. They focus on CPI campaigns in the following key markets:
Europe

Middle East

Latin America

United States

South-East Asia

Africa
This network is known for its advanced fraud prevention system that's designed to make sure advertisers don't get scammed with fraudulent installs.
Headway offers custom targeting options with native, video, banner, and interstitial advertising formats.
ArmorAds

ArmorAds focuses on data-driven advertising campaigns for iOS and Android platforms. They support banners, native ads, and rich media ads.
They use advanced analytics to help brands predict their ROI for each campaign.
Users can be targeted by:
Language

Location

Platform

Time

Carrier

Device
ArmorAds covers global markets with CPA, CPM, CPS, and CPL campaigns. This advertising network is also known for its fraud prevention technology to protect advertisers.
Youmi

The Youmi advertising network is based in China.
12,000 advertisers have reached more than 3 billion mobile devices with more than 5 billion daily bids on this network.
Youmi supports banners, text, and rich media ads with CPC, CPM, and CPA campaigns. If you are looking to target users in China using Android, iOS, and the mobile web, you should consider joining the Youmi ad network.
Mobidea

Mobidea specializes in CPA campaigns. They also support a wider range of mobile platforms compared to most networks that you'll come across.
Android

iOS

Feature phone

Windows phone

Mobile web
Advertisers can efficiently calculate and track the ROI of each campaign they run with Mobidea, making it a top option to consider. If you advertise through this network, you'll get notifications with data covering topics like churn rates, unqualified leads, and most effective traffic sources.
This mobile advertising company supports banners, overlay ads, pop-ups, redirects, and banner advertisements. All of the targeting options are customized and reach global markets.
Epom

Epom is a top ad network choice for both publishers and app advertisers. These are the ad formats supported by Epom:
Video

Banner

Native

Background

Interstitial
This ad network specializes in CPC, CPA, and CPM campaigns on iOS and Android devices. Users can be targeted based on their browsers, behavior, demographics, location, and language.
Some of their key markets include:
Europe

Canada

UK

United States

Ukraine
Although we're focusing on mobile advertisements in this guide, it's worth noting that Epom also offers desktop advertising solutions.
AdTiming

AdTiming is a mobile ad platform known for analyzing extensive amounts of data. This data helps advertisers get the results that they're looking for.
This mobile ad network reaches over 200 countries worldwide and allows advertisers to select 20,000 tags to focus their campaigns on a specific target audience.
You can run CPI and CPA campaigns with AdTiming in the form of:
Although AdTiming is a global network, Japan, India, Europe, and the Middle East are their key markets.
Mpire

Mpire helps advertisers maximize their ROI with mobile user acquisition campaigns. They reach Android, iOS, and Windows Phone mobile platforms.
In addition to CPA, CPI, and CPL campaign types, Mpire also offers pay-per-call campaigns.
Mpire differentiates itself from other ad networks by their ability to scale mobile advertising campaigns faster than the competition using data-driven results. This network is great for both advertisers and publishers alike.
Propeller Ads

Propeller Ads has one of the largest mobile advertising networks on the market. They have over 1 billion daily impressions worldwide. More than 150,000 publishers are registered on the Propeller Ad network.
All of these publishers available increases the chances that you'll be able to reach a custom audience. This network lets you target users based on things like device, carrier, connection type, operation system, and language. They even have an option for targeting people based on user activity and time of the day.
Propeller Ads supports interstitial, native, and push notification ads through the following models:
If you're targeting iOS and Android users on a global scale, this network is definitely a top option for you to consider.
TAB

The TAB mobile advertising network is based in Germany, but it reaches markets worldwide. With TAB, you can run custom advertising formats with multiple campaign models:
Users are targeted based on their device, IP, operating system, age, demographics, and network carriers. TAB is available on Android and iOS platforms.
myAppFree

Just a few years old, myAppFree launched in 2015. The platform specializes in connecting advertisers with the right publishers to promote their app.
Their app discovery network is something that makes this network unique. It's designed to hand-pick apps for users based on their profile.
myAppFree supports banner ads, interstitial ads, native ads, and notifications with CPI, CPA, and CPC campaigns. Android, iOS, and Windows Phone options are all available as well.
You can target users in Asia, Europe, United States, and Latin America with myAppFree.
Billy Mobile

Billy Mobile connects advertisers with more than 16,000 publishers. This mobile advertising network has fraud prevention technology, which is a great feature for advertisers.
You can run banners, videos, and direct link ads on Android, iOS, and mobile web platforms.
These are the campaign types you can run with Billy Mobile:
The 900+ advertisers using Billy Mobile benefit from a total of 27 billion clicks per month and 11 million conversions per month.
It's a top option to consider if you want custom targeting options for global markets.
Chartboost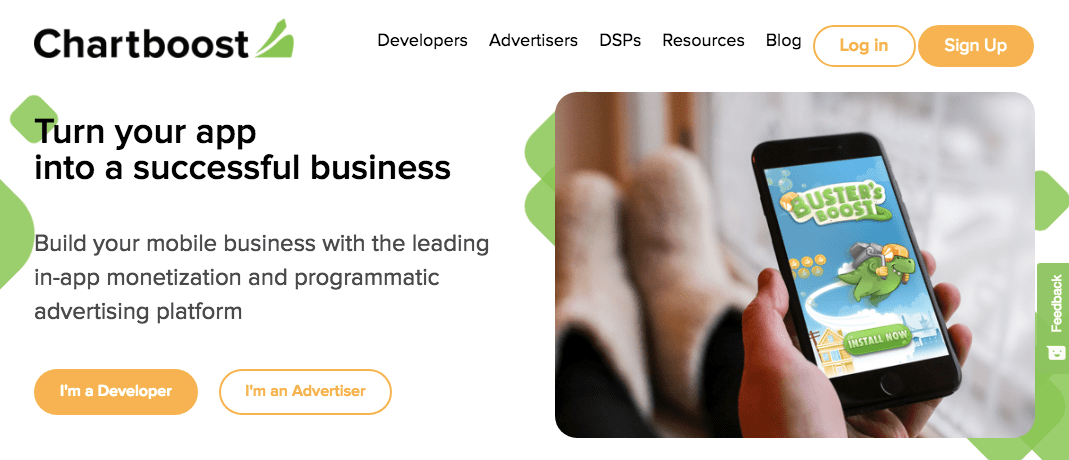 Chartboost is designed specifically for mobile gaming apps. This advertising network offers sophisticated tracking and targeting options for advertisers in this industry.
You can run CPC and CPI campaigns with Chartboost on iOS and Android platforms. The multiple ad formats supported are:
Video

Interstitial

OfferWall
Chartboost has over 40 billion monthly app sessions and more than 900 million unique monthly users. It's definitely an ad network you should consider if you own a gaming app.
Vungle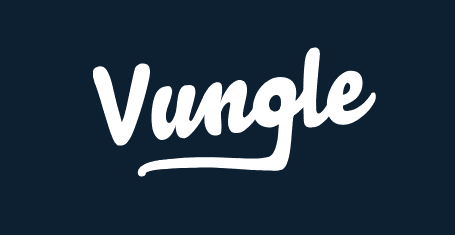 The Vungle advertising network is designed equally for marketers and publishers alike. One of the reasons why they are a top performer is because they are available on several mobile platforms.
iOS

Android

Windows Mobile

Amazon
This separates them from other options on our list that only offer iOS and Android options.
Vungle specializes in high quality in-app video advertisements. They also have a wide range of business models for you to choose from.
All of the consumer targeting options are completely customized. This is a great option for those of you who are targeting customers in Europe, the US, and China.
Unity Ads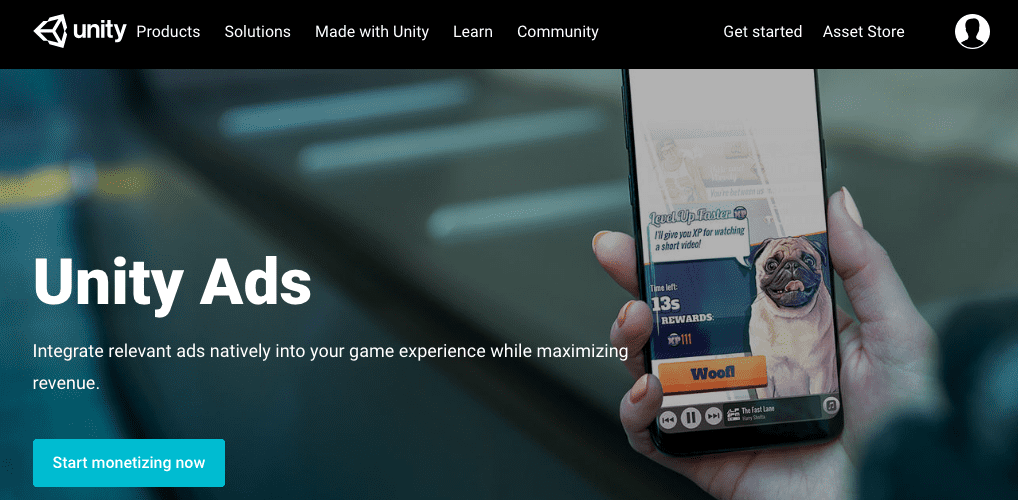 Unity Ads is unique because they specialize in native video advertisements for mobile gaming apps. They also run banner ads and interstitial ads.
You can run CPI and CPM campaigns on iOS and Android platforms through this mobile ad network.
Unity Ads mainly targets users in the United States and allows advertisers to target people based on their connection type, OS, and device.
It's a top option for those of you who want to use video ads to monetize your mobile gaming app.
CrossInstall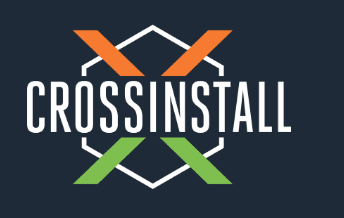 CrossInstall is unique because they offer playable gaming advertisements. This ad format isn't that common, as you probably noticed in reviewing our list. It's a top choice for mobile game developers.
The purpose behind this ad format is to give users a sense of how a game plays before they install it. Essentially, the ad serves a quick gaming demo.
Naturally, these ads are perfect for CPI campaigns. Since users have a chance to test a game before installing it, CrossInstall has amazing results. Each month they run ads on more than 2 billion unique devices. 132 million users have an interactive advertising experience that yields a 30% conversion rate.
CrossInstall is an excellent option for mobile game developers using the Android platform.
Liftoff

Liftoff specializes in CPI and CPA campaigns. This network is designed to target users who will generate the highest ROI for your mobile app.
Android, iOS, and mobile web platforms are all supported on Liftoff.
What makes this network special is the retargeting features. You can create lookalike audiences to reach users who fit the same profile as people who are already using your app.
Liftoff also has fraud prevention technology. This ensures that you're only paying for installs and actions that are actually occurring.
Leadbolt

Leadbolt is one of Australia's leading mobile advertising networks. The network supports Android, iOS, and Windows phone.
Native ads, video ads, and interstitial ads can all be run with the following business models:
Leadbolt uses lifetime value to help you acquire customers who will be the most profitable for your mobile app. You can target users by location, platform, device, interests, OS version, and connection type.
Brands who use Leadbolt say that they experience high retention rates from their app users.
IronSource

IronSource is a top choice for mobile gaming apps. They help brands with acquisition, monetization, and innovation with advanced analytics. The data they compile helps ensure that campaigns have a positive ROI.
IronSource supports several mobile platforms, which is something that not all of their competitors can say.
Android

iOS

Windows Phone

Amazon

Adobe Air

Cocos
They support multiple ad formats, like interstitial, video, and offerwall. In addition to US markets, IronSource also has an extensive user reach in Israel.
Webpals Mobile

Formally known as DAU-UP ClicksMob, Webpals Mobile specializes in user acquisition for mobile apps, as well as monetization for publishers.
The network supports banner ads, video ads, and native ads through the following business models:
Users in this network can be targeted by their demographics, location, device, as well as similar apps that they use. Webpals Mobile covers global markets on iOS and Android platforms.
Fyber

More than 1.2 billion active unique mobile app users are reached by Fyber each month. Fyber supports banner ads, interstitial ads, native ads, and video ads through the following campaigns:
It's a great option for advertisers, developers, and agencies as well. Fyber partners with other ad networks to deliver exceptional results.
These ads are run on Android and iOS platforms and reach global markets.
Airpush

Airpush is an ad network specifically for the Android platform. They facilitate CPM and CPC campaigns with messaging, notifications, and offerwall advertisements.
They use real-time data to maximize the efficiency of every campaign. Airpush also has a feature called the "conversion optimizer." This technology is used to boost the performance of advertisements using advanced learning algorithms.
So for those of you who focus primarily on Android users, Airpush should be a top option for your consideration.
Yeahmobi

Yeahmobi is a Chinese mobile ad network with a global reach. This network lets you target users with supporting platforms like Google, Facebook, VK, and Yandex.
Android and iOS mobile platforms can both support the following ad types with Yeahmobi:
Video

Native

Interstitial

Ad walls

Icons

Feeds
You'll have the option to run CPA, CPM, or CPC ads with Yeahmobi while reaching global markets.
Media.net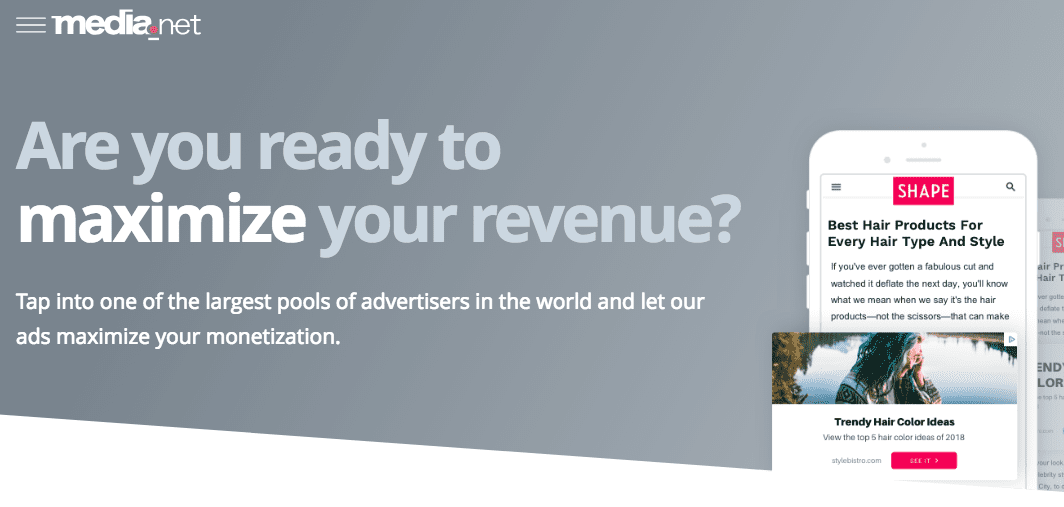 Media.net offers much more than just mobile advertising solutions. But when it comes to mobile ads, they specialize in native advertisements.
This platform is designed more for publishers as opposed to app developers. They have a great system that helps publishers earn additional revenue by selling advertising space that converts.
Ads are automatically targeted and reach a global audience based on your niche. As a result, advertisers are willing to pay more for this premium advertising space.
Media.net operates on a CPC pricing model, which means you can earn more than a traditional CPM format.
InMobi

InMobi is a top choice to consider for CPC and CPI campaigns. These ads are run on Android, iOS, and mobile web platforms.
This mobile ad network supports banner ads, native ads, interstitial ads, rich media ads, and video ads.
Here are some of the top markets reached by InMobi.
India

Japan

Kenya

South Africa

USA

Europe

UK
So for those of you who want to target mobile users located in some of these unique markets, I'd say you should consider InMobi for your needs.
Tapjoy

Tapjoy has been around for more than a decade. This ad network supports offerwall ads, content lock, rewards, and interstitial ads.
Tapjoy also has some unique markets throughout the globe, including areas like India, Kenya, South Africa, and the UK.
This network specializes in campaigns aimed on maximizing the revenue generated from each mobile app user. These are the campaigns that they facilitate:
CPC

CPI

CPM

CPD (cost-per-day)
Cost-per-day isn't as common of a business model that we're used to seeing on this list. But for those of you who want to try something different, you can consider using Tapjoy for those campaigns.
Startapp

Startapp lets you target users based on things like connection type, gender, operation system, mobile carrier, device, and geographic location. They even have an option for targeting users based on your competitors, which is unique compared to the majority of mobile ad networks on our list.
The ads run with Startapp are interactive and engaging. They use real-time data to enhance their targeting methods.
Startapp offers app icon ads, in-app ads, interstitial ads, video ads, and full page ads as well.
You can run CPA, CPC, CPM, and CPI campaigns targeting global markets on iOS and Android platforms with Startapp.
Persona.ly

Personal.ly has an SDK that offers interactive advertisements for developers. The ad network supports multiple formats:
Interstitial

OfferWalls

Rich Media

Video

Banners
They have custom targeting options for Android and iOS platforms. Personal.ly specializes in mobile app user acquisition throughout Canada, UK, Brazil, India, South-East Asia, and the US.
Digital Turbine

Digital Turbine is unique because it partners with global telecom companies, as opposed to app stores. Their system is designed to make it easier for users to discover new apps, so advertisers can acquire more customers.
Digital Turbine supports banner ads, native ads, and offer walls. The network reaches Android, iOS, and mobile web users.
You can run CPI and CPC campaigns through this platform. It's great for those of you who want to target markets in Europe, Asia, and the US.
Avazu

Avazu specializes in mobile game app advertising. They run CPM, CPC, CPL, and CPA campaigns through banner, text, and interstitial ad formats.
These are the top markets for Avazu:
Asia-Pacific

China

Latin America

Middle East

United States
Android and iOS users can be targeted by their carrier, device, and operating system. Avazu has an extensive reach, to say the least, with more than 20 billion daily advertising impressions.
Flurry

Flurry specializes in their app analytics. They measure conversion metrics that can be categorized into different groups, such as free app users vs. paid app users.
Flurry is part of the Yahoo developer network. This platform gives developers a way to monitor their entire portfolio of mobile app advertisements in once place.
This option is best for those of you who want to test different ad campaigns to drive optimal results.
Mobusi

More than 20,000 publishers use Mobusi. This mobile advertising network generates over 5 million leads each month across the globe.
Mobusi supports interstitial, banner, and video advertisements through these campaigns:
Users can be targeted by their location, device, browser, connection, and OS.
Appnext

The Appnext mobile ad network has more than 700 million app users throughout 180 countries worldwide.
More than 30,000 developers use Appnext to promote their app. All of these developers can communicate with each other in the Appnext community. So if you're new to this type of advertising, you can get help and advice from your peers in this community.
The platform operates on a CPI and CPC bidding system. The multiple ad formats include:
Native

Interstitial

Videos

Notifications
Users can be targeted based on parameters such as location, operating system (platform and version), device, and direct buy (to advertise on specific apps).
AdAction Interactive

AdAction Interactive is a mobile app marketing company based in Colorado. Although this mobile ad network is based here in the US, you can reach global markets through this platform with custom targeting options.
You'll be able to run CPI and CPE (cost-per-engagement) campaigns on iOS and Android devices.
AdAction Interactive supports native advertisements. Ads can be run through some of the highest performing publishers worldwide, including:
Instagram

Facebook

Twitter

Pinterest

Google
This network has partnered with other marketing agencies in the industry to deliver higher campaign tracking options.
DU Ad Platform

The DU Ad Platform is an advertising network based in China. The network supports Android, iOS, and Unity platforms.
DU Ad Platform offers an extensive number of ad formats for you to choose from.
Video ad

Native

Banner

OfferWall

Interstitial

Trigger
They offer CPI campaigns with custom targeting options for global markets.
Mobrain

Mobrain specializes in CPI campaigns.
Their network includes fraud protection technology, which is an added benefit for advertisers who have a fear of being taken advantage of by publishers.
The great part about Mobrain is that advertisements can automatically change and be adapted to various formats such as:
Banners

Videos

Interstitial

Native
Both iOS and Android platforms are supported by Mobrain. You have the option to target users by OS version, carrier, and location.
Tappx

Tappx offers a very unique business model for advertisers. Rather than paying for advertisements, you can get them for free in exchange for running ads for other apps.
Essentially, you're just trading advertising space with other developers who are also on this ad network. It's a great option for those of you who are looking for cost-effective ways to promote your app.
Tappx also has standard CPM pricing models if you're not interested in the trading ad space option.
This ad network generates over 400 billion monthly requests for 35,000 mobile apps on their network.
Conclusion
When it comes to choosing a mobile ad network, clearly, you'll have plenty of options.
So what's the best mobile ad network?
It depends on what you're looking for. There are so many factors to take into consideration. As I said earlier, what works for one brand may not be the best for another.
First, you have to determine if you want to use these networks as an advertiser to promote your own app, or as a publisher to monetize your app by selling ads.
Next, you'll have to factor in things like the mobile platforms the networks support, the campaign types they run, and the ad formats they allow. Some ad networks have a greater reach in certain markets compared to others.
So take all of this into consideration and use this extensive guide as a reference to help you find the best mobile ad networks for your app.
What are the most important features you look for in a mobile advertising network?