How to Get Your App Ranked In The App Store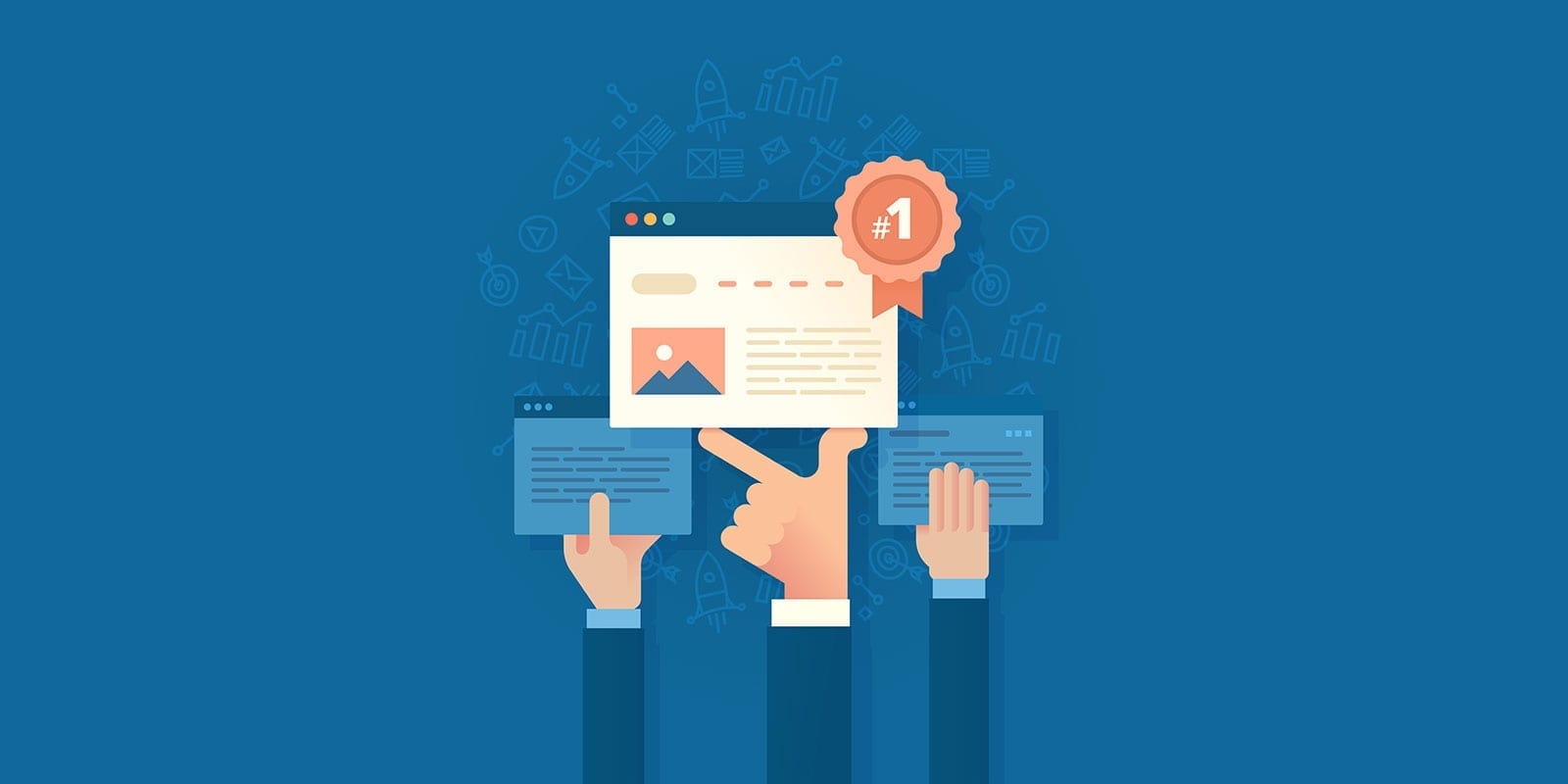 So you've finally built your first app.
It's a big step for your company and your career.
If this is your first time building an app, you'll quickly learn that the building process is only the first step.
You've still got to get people to download your app and find a way to actually make money.
In order to do both of these things, you'll need to get your app ranked on the Apple App Store.
Nobody will be able to see, find, or download your app if it's not ranked properly.
It all comes down to search optimization.
You may be familiar with this concept if you've done search engine optimization (SEO) for a website.
Well it's the same idea here, but the rules and algorithm are slightly different.
If you're not sure where to get started, fortunately, you've come to the right place.
I've got experience building my own apps as well as apps for other people, so I'm an expert when it comes to getting ranked in the App Store.
Every time I do consulting with a company, there's always someone in the room who doesn't think that the search ranking is important.
Let me take a minute to address this points in case you or someone in your company feels the same way.
I tend to hear something along the lines of, "We've got other ways to promote our app. We can generate downloads from our website, social platforms, email, and other marketing strategies."
While I won't argue that those are all valid ways to promote your app, the data still suggests that your app store ranking will significantly impact downloads.
Here's a study that shows how people discover various apps.
Two of the top three most popular ways that people find apps has to do with your search ranking.
Now that I've explained the importance of getting your app ranked, I'll show you exactly how to do it.
It's not as hard as you might think, but it definitely requires some effort and attention to detail.
Here's what you need to know.
How do you get your app ranked
It all boils down to the Apple App Store algorithm.
While there's not an exact blueprint that shows exactly how much each factor is weighed, we know that it has to do with the following components:
Description
Keywords
Download rate
Reviews
Title
Category assignment
Ratings
Here's something else that you should take into consideration.
If you've built an app in the past and successfully got it ranked on the Google Play Store, it doesn't mean you'll automatically have the same triumph on the App Store.
While there are certain similarities between the two platforms, there are also some key differences.
This graphic displays the impact of different aspects, so you can use it as a reference.
I'll go through each component that factors into your App Store ranking and let you know how to optimize the search results.
Description
The description of your app should emphasize some key features and benefits.
What makes your app unique?
Here's the chance to talk about how it functions and your competitive advantage.
Stay away from generic terms such as "the best app you'll ever download," or something like that.
Including that in the description doesn't tell anyone what exactly your app does, so it won't help with your ranking. It's just a waste of space.
Users may not even read the entire description, so try to keep it short and put the most important information in the beginning.
Hook the user's attention with your opening lines.
Use short sentences and avoid long paragraphs.
Remember, these descriptions are going to be read on smartphones and tablets, so you want to cater the readability accordingly.
Use bullet points as well so users can skim the content and find what they're looking for.
Here's a great example from Airbnb.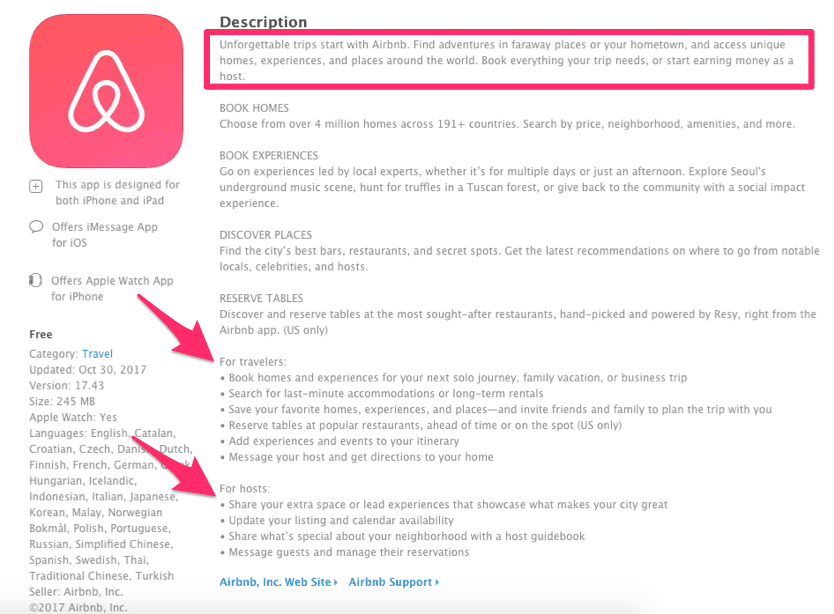 Let's analyze this for a minute.
Look at their opening lines.
You know exactly what this app does just by reading two sentences.
It even speaks to the two different types of users on the app.
Travelers
Hosts
As you continue reading, there's a much more detailed description that speaks to the functionality of the app.
Airbnb explains how many homes are available and how many countries you have the option to visit.
They included bullet points as well for both travelers and hosts.
Everything is clear and organized.
If you're interested in downloading this app to rent out your home, you can clearly see the host section and skip over everything else.
You can consider using this description as a template for your app and try to lay things out in a similar way.
Over 82,000 people have reviewed this app.
It has 4.5 stars out of 5, so it's safe to say that this company is having success with this strategy.
Keywords
Your description and everything else that's written about your app needs to have relevant keywords.
Think about what users may type when they're searching for an app.
While certain search terms such as "food," "jobs," or "car" may be popular, it's a competitive space.
So consider using other terms that are more specific to your app's functionality.
You can use the same keywords or phrases multiple times, but don't oversaturate it or the algorithm will pick up on what you're doing.
You're not allowed to use:
Unauthorized trademarks
Names of celebrities without their permission
Any protected words, phrases, or slogans
Keywords that aren't relevant to your app
Try using a service like Keyword Tool to help with your search optimization.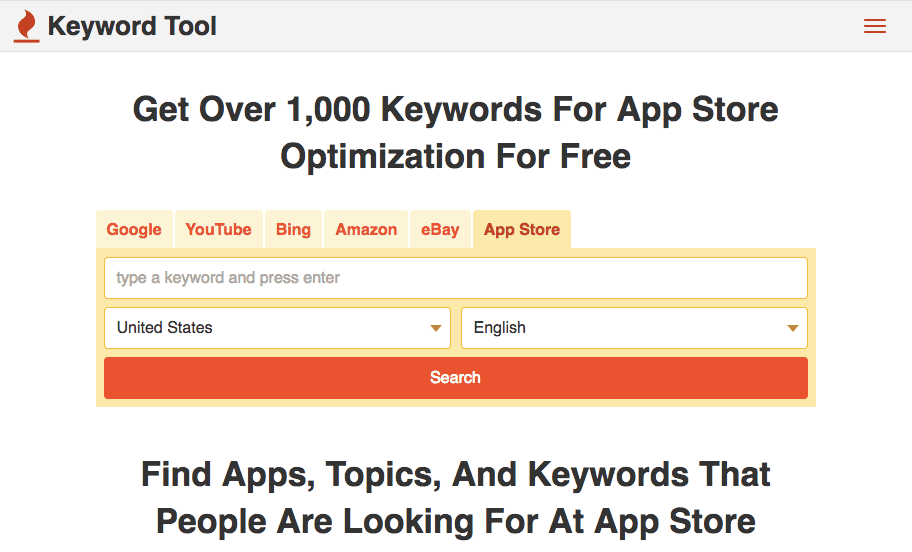 This will help improve your App Store ranking.
Download Rate
Think of it like the Google search algorithm for your website.
If you're not getting any visitors, it will impact your ranking.
Same goes for the iOS App Store.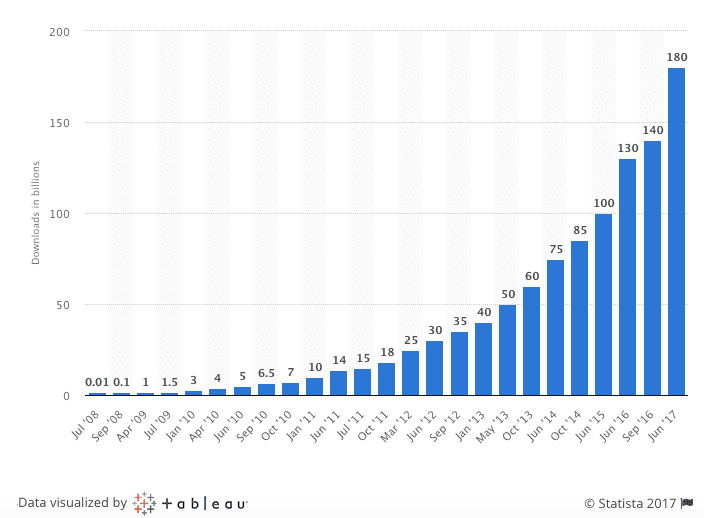 Billions of app downloads happen each month on this platform.
That's right. I said billions.
So there's plenty of opportunity in the market.
It's just a matter of figuring out how to do it.
If you already have an existing business and you've built this app as an extension to improve the customer experience and generate profits, you have an advantage.
Why?
Think about all the existing marketing channels that you already have in place.
Use those platforms to reach out to your current customers.
These people already know about your brand, so you don't need to pitch them on that.
All you need to do is tell them that you have an app and give them a reason to download it.
How many followers do you have on social media?
Facebook
Twitter
Instagram
Promote the app on all of these sites so it's exposed to a wider range of people.
If your app hasn't launched yet, use social media to build hype around your app.
That way when it comes out, your customers will rush to the App Store to get it right away.
Use your website as a marketing tool as well.
Find a place on your homepage that directly links to a download.
Write about the functionality of the app on your blog.
Use guest posts on other blogs to expose your app to a new audience.
Don't forget about email marketing.
Look how Nuzzel promotes their app with this email newsletter.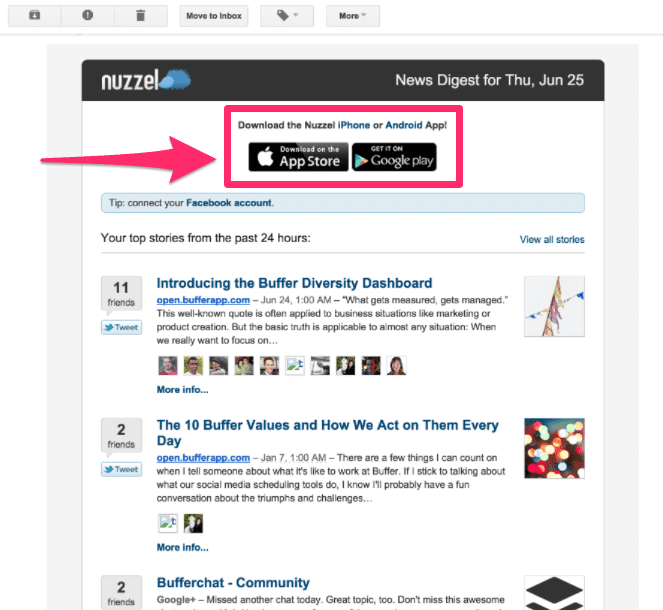 You already have an active subscriber list of people who want to hear the latest news about your business.
Use it.
Effectively marketing your app will increase the download rate and impact your ranking on the App Store.
Reviews
Your app needs user reviews.
There are a couple of reasons why this has to happen.
Reviews help your search ranking.
Positive reviews can encourage prospective users to download the app.
If someone is browsing on the App Store and comes across your app, they will look to see if other people had a positive experience.
When apps don't have many reviews, it tells people that it's not popular.
It turns them away, and you're missing out on downloads, which impacts your ranking as well.
To solve this, you need to encourage positive reviews.
But how?
Users may not go out of their way to write a review unless they had an amazing or terrible experience.
So you've got to give the average user some motivation to leave a review.
I'd recommend sending users a popup message or push notifications.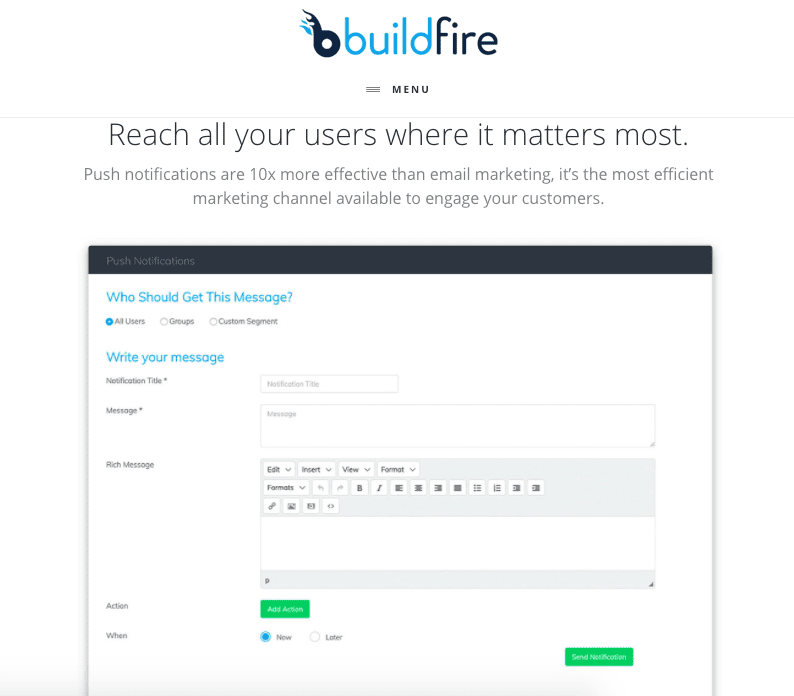 You can set up these push notifications right on the BuildFire platform.
It's a great way to remind customers to leave a review.
The key is figuring out when exactly to do this.
Don't rush.
If a user just downloaded your app an hour or two ago, they won't be able to leave a fair review.
So give it some time and send the notification after they've had it for a week or so.
You can continue to send this message out every so often as a reminder.
Think about offering users an incentive to download the app.
Earlier we discussed how you can use your existing marketing channels like social media and email to promote your app.
Well, you can use these same platforms to encourage users to leave a review.
The number of reviews and the amount of positive reviews helps your app get ranked higher.
Title
Your title is arguably the most important component of your ranking.
Apple allows you to use up to 30 characters to come up with a name.
Use those characters wisely, but don't feel obligated to use all of them.
Sometimes shorter is better.
Make sure the name of your app is unique and isn't the same or too similar to an existing app.
This will cause confusion and will ultimately impact your ranking.
Don't use generic phrases or words either.
The title should speak to what exactly your app does.
Try to find a name that's catchy and rolls off the tongue.
Take the lead of a company like Snapchat.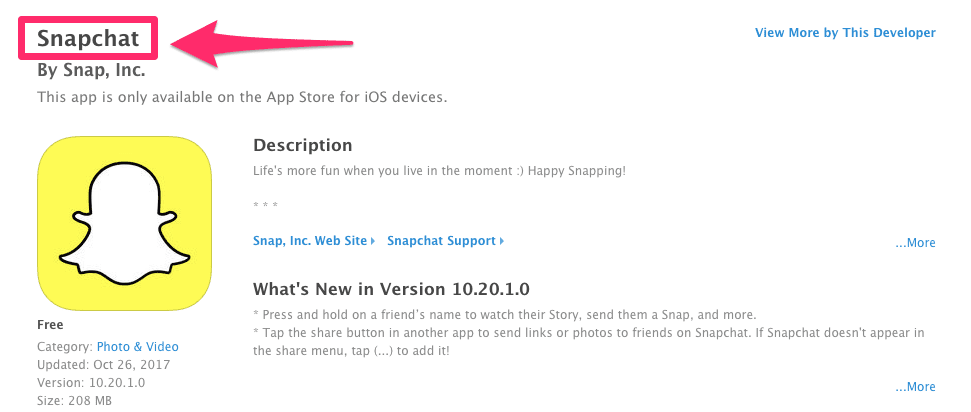 The name is super simple and speaks to the functionality of the app.
Snap = take pictures.
Chat = talk with others.
For most of you, the name of your app is already decided because it's the name of your company.
I wouldn't recommend changing the name of your app to something other than your business's name.
This will be too confusing for your customers.
You also have the option to include a subtitle.
Here's an example of what that looks like from the Alto's Adventure app.
This is an excellent use of a subtitle.
Put yourself in the mind of a prospective downloader.
They see a name like Alto's Adventure, so they might think to themselves, "what kind of adventure?"
Well, that question is instantly answered in the subtitle.
Users know that it's a snowboarding game.
So take your time and come up with a title that's easily searchable.
This will improve your App Store ranking.
Category assignment
You need to select a primary category for your app.
Examples of your options include:
Sports
Travel
Social Networking
Weather
Utilities
Games
Food & Drink
Lifestyle
Kids
Music
Magazines & Newspapers
Entertainment
Finance
Business
Education
Shopping
Make sure that the category is relevant to the functionality of your app.
If you select a primary category that's irrelevant, you could be removed and rejected from the App Store.
So if you have a business app, don't say that it's a game or social networking app.
People may attempt this in order to get more hits from a more popular category, but it will just end up backfiring.
Users can search for your app based on the category.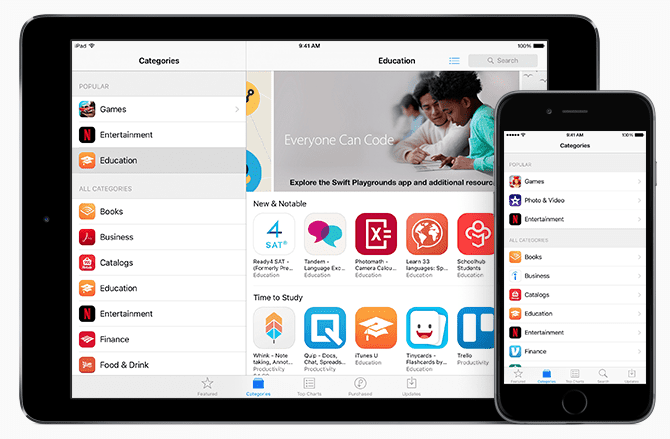 There are a few special circumstances for the primary category assignment.
Apps for kids
Games
Stickers
If you've got a kids app, you'll need to select an age group that it's appropriate for. Then you'll be able to select a secondary category based on what type of app it is.
So an example could be a kids app for children ages 6 to 8 years old with education as the secondary category.
You're also allowed a subcategory if you select games as the primary category.
Same goes for stickers as well.
Ratings
In addition to reviews, which we discussed earlier, you also need to get users to rate your app.
The App Store rating is on a 5 star scale.
Higher ratings will increase your ranking.
So just like we did with reviews, we're going to try and encourage users to rate the app by using popups.
Here's an example template for what this might look like.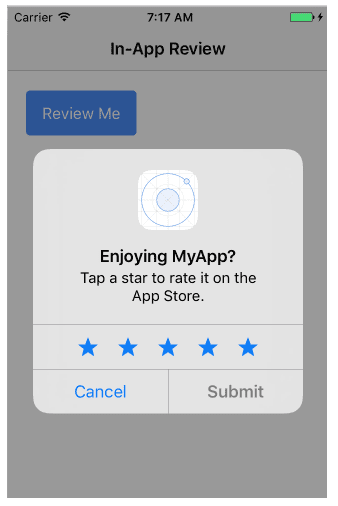 Come up with something similar to encourage users to submit a rating.
Conclusion
To get more downloads and ultimately make more money, you need to make sure that your app is searchable and easily accessible on the App Store.
There are certain components of the iOS search algorithm that you can change to improve your search ranking.
Make sure your description speaks about the functionality of your app.
Use lots of relevant keywords based on what users would be searching for.
Send out popups and push notifications that encourage users to review and rate your app.
The title is important as well.
You can add a subtitle that describes your app in greater detail.
After you've done all this, you need to assign a primary category for your app.
People have the ability to search for apps based on these categories.
Create an app icon that draws attention in the App Store.
If you follow the advice that I've outlined above, you'll make your way toward the top of the App Store rankings.
What keywords or phrases are relevant to the primary functions of your app?