10 Mobile Commerce Trends That Will Dominate 2023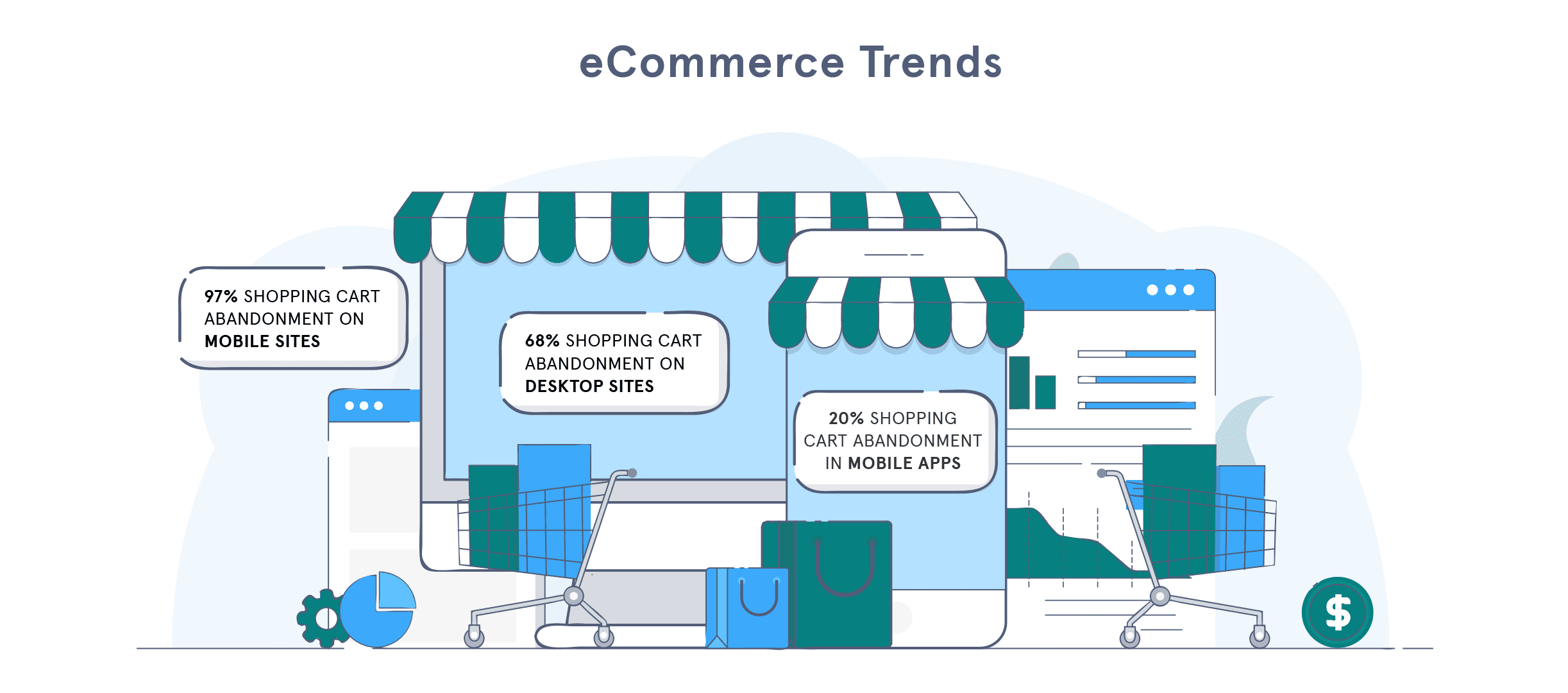 Mobile technology has changed the way we live. Our smartphones are seemingly always within an arm's reach and dictate our daily habits. As a result, mobile commerce trends are evolving.
Consumer buying behavior has changed drastically over the years, and mobile commerce will continue to thrive in the future. 
Mobile commerce controls 73% of the global ecommerce market share, up from just 59% back in 2017. Over the last six months, 79% of mobile users made an online purchase using their mobile devices. 
As an ecommerce store owner, you need to stay up to date with the latest mobile commerce trends. Whether you're using Shopify or another platform to sell online, you can't ignore mobile consumers.
That's what inspired me to create this guide. I've researched and analyzed the most recent trends in the ecommerce industry, and narrowed down the ones for m-commerce.
The following ten trends will dominate in 2023. Not only will I explain these ecommerce trends, but I'll also give you mobile commerce tips for 2023 to help you prepare and adapt accordingly. 
1. Shopping via Mobile Apps
It's no secret that consumers are using their mobile devices to buy online. We've already discussed how m-commerce is dominating the global ecommerce market share. But the way people are using those devices to shop is changing. 
57% of US consumers used a mobile retail app to learn more about a product. 
Rather than using an Internet browser, more than half of US shoppers went straight for a mobile app to accommodate their shopping needs. This is a game-changer for Shopify store owners. 
Yes, you obviously need to have a mobile-friendly website. But a mobile-optimized ecommerce site isn't enough to have success in this space anymore. 2023 will become the year of mobile shopping apps. 
For starters, 85% of consumers prefer mobile apps to mobile websites. So by building an app for your Shopify store, you're already giving the customer what they want.
But it doesn't stop there. Mobile shopping apps actually convert at a higher rate than mobile websites. 
That's right; a mobile app converts 157% more than a mobile web session. 
Think about that figure in dollars. How much more money would your ecommerce business make if a 157% higher conversion rate? 
Shopify owners have recognized this trend, and are adapting accordingly. Everyone has identified the importance of targeting mobile users, so they're building apps for their ecommerce sites.
Apps are the future of m-commerce growth. To stay competitive, you need to have an app in 2023. Creating one now puts you on the fringe of the early adopter category. But if you wait too long to make this decision, you'll quickly fall behind the competition. 
2. Sales From Smartphones and Tablets
With mobile shopping on the rise, it's no surprise that sales from smartphones will dominate 2023. Consumers are doing more than just browsing via apps; they're buying. 
The average order value from a mobile app is $102 compared to $92 from a mobile website. 
But mobile apps and mobile sites can be accessed from multiple devices. For the most part, you can segment mobile devices into two categories; smartphones and tablets.
Which devices are people buying from the most? Let's take a look at the latest m-commerce volume forecast from Business Insider.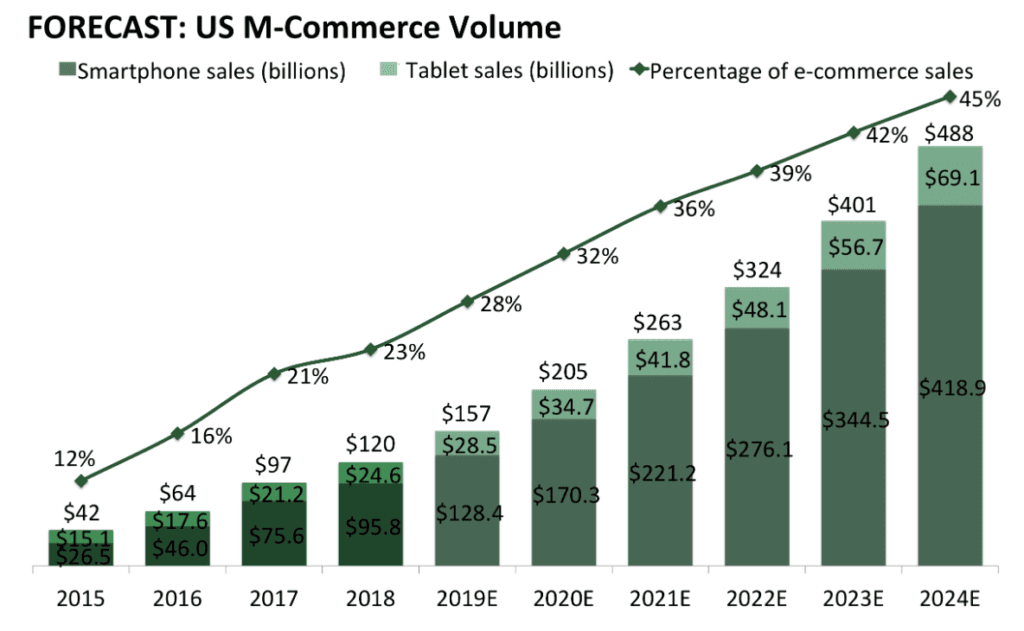 As you can see, smartphones dominate this category. By the end of 2023, it's expected that $344.5 billion mobile commerce sales will come from smartphones, compared to $56.7 billion from tablets.
Smartphones will continue to dominate tablet sales in the future as well. Based on these projections, tablet sales volume is actually on the decline.
Here's a five year stretch of tablet sales as a percentage of mobile commerce volume:
2018 — 20.5%

2019 — 18.2%

2020 — 16.9%

2021 — 15.9%

2022 — 14.8%
As tablets trend down, it means that smartphone sales volume is on the rise. These are the devices that consumers are using when they shop online. 
This is vital information to any ecommerce business owner. The way you communicate with your customers will vary depending on what devices they are using. 
For example, when you build an app for your Shopify store, you can contact app users by sending them push notifications. These messages should contain real-time offers based on factors like location or behavior. 
A push notification delivered to a tablet about a flash sale won't be as effective as the same message delivered to a smartphone. The tablet message likely won't be seen right away, whereas the smartphone notification will be seen immediately. 
I'm not suggesting that you ignore tablet users altogether. But based on these trends, smartphone users will be the primary target of m-commerce apps in 2023.  
3. One-Click Ordering
The shift to shopping from mobile apps will ease the checkout process in 2023. Placing an order online has historically required quite a bit of information from the consumer.
Think about what you need to process transactions on your ecommerce store. 
Customer name

Credit card number

Credit card expiration

Card verification number

Shipping address

Billing address

Email address
Manually entering this information each time a customer wants to buy something online is tedious. It's extremely inconvenient from the small screen of a mobile device.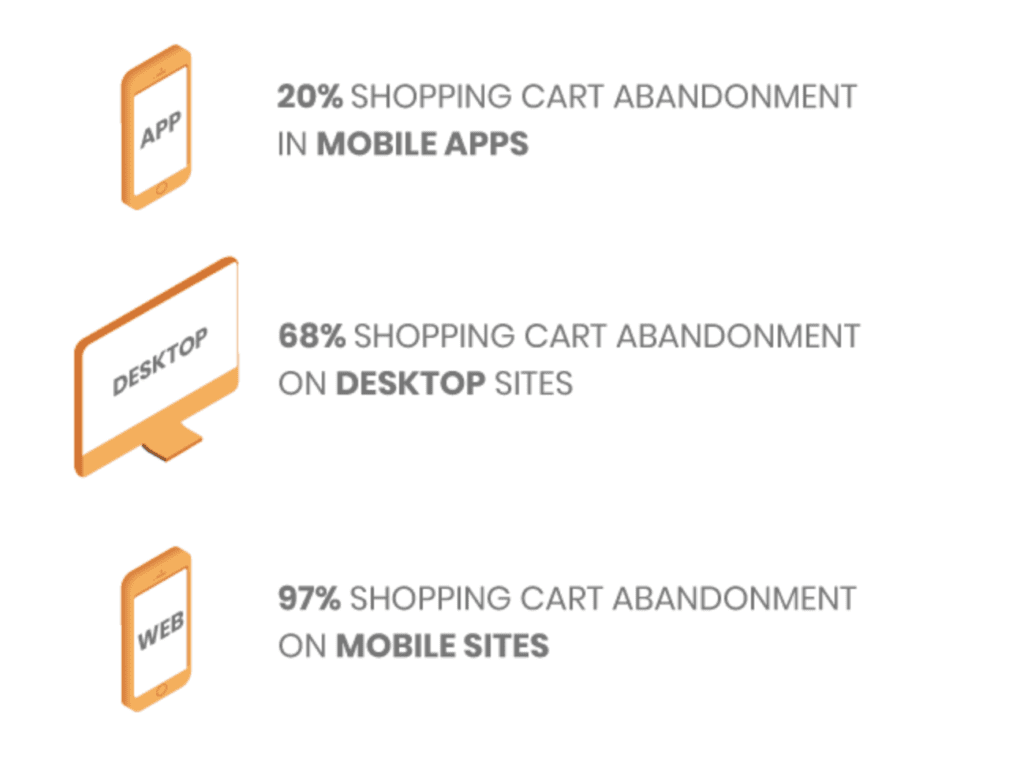 That's one of the reasons why shopping cart abandonment rates are so high from mobile websites. 
97% of mobile site shopping carts are abandoned. But the shopping cart abandonment rate from mobile apps is just 20%. 
How is this possible? Both instances are occurring from the same device. Yet mobile apps have the lowest abandonment rates.
An ecommerce mobile app allows you to store customer information to their user profile. So when it's time to buy, they don't need to enter those tedious details every time manually. 
One-click ordering makes it possible for customers to complete the entire purchase process in, you guessed it, one click. 
This is a win-win scenario for both parties.
As the business owner, conversions will skyrocket. But the customer benefits because the pain points of buying have been eased. They can find what they need and buy it in a matter of seconds directly from a mobile commerce app.
That's not all. Customers shopping in an app spend twice as much as customers buying from a desktop device or mobile website. 
One-click ordering virtually eliminates the checkout process. We're going to see more ecommerce businesses implementing this technology in the coming year. You won't be able to do this without a mobile app. So building an ecommerce mobile app will be the first step to following this trend in 2023. 
4. Social Commerce
Brands using social media to gain exposure and build brand awareness is nothing new. I'm sure (and I hope) that you're already leveraging social media for your ecommerce business.
While social media has a tremendous amount of upside, historically, it's been challenging for businesses to convert social traffic into sales. There's always been too much friction between navigating from a social post to a product page.
But social commerce has evolved. 
With shoppable Facebook pages and Instagram shoppable posts, customers have a more direct way to buy products they see on social media. 
These features make it possible for businesses to tag products in posts, the same way that they tag a person.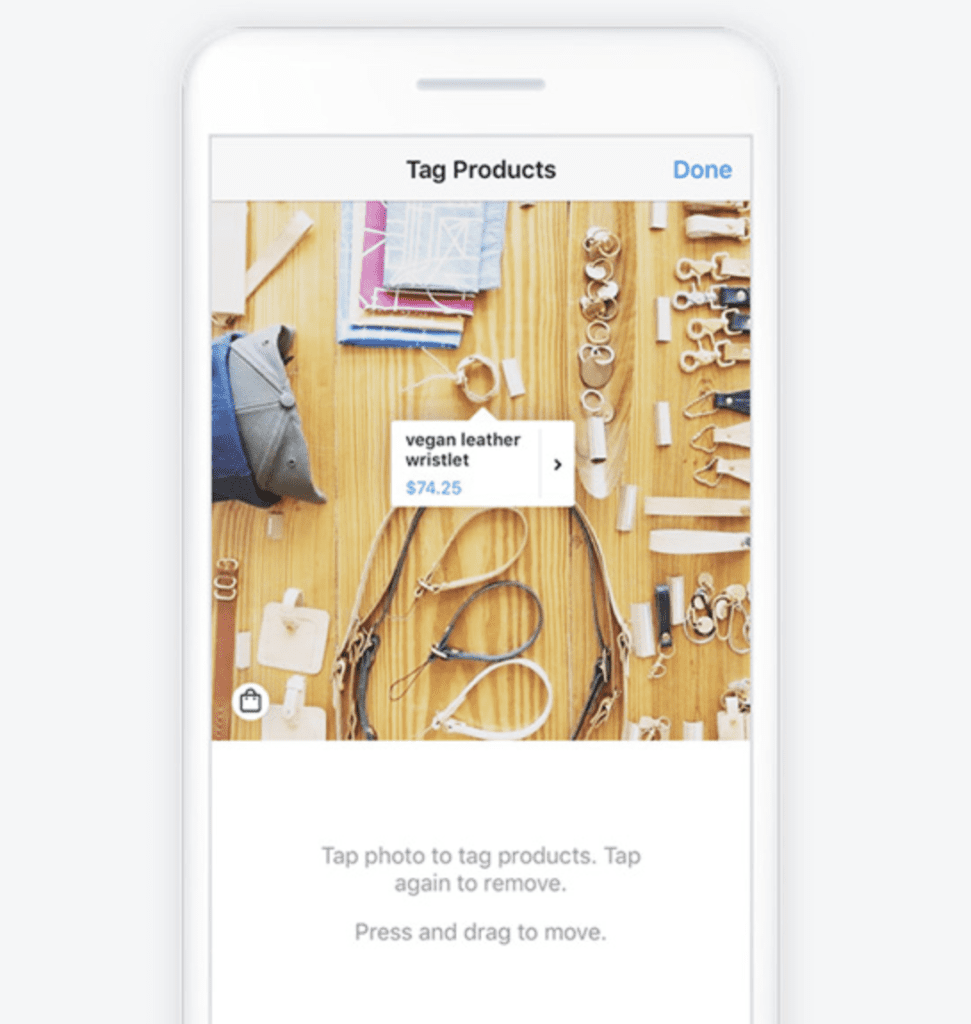 Users can click on the product to buy directly, without being forced to open a new browser, navigate to your website, and search for the product on their own.
Similar to our last point, social commerce eliminates pain points in the conversion process. 
Here's something else to consider; your customers are already using social media on a daily basis. It's easier to reach them here as opposed to relying on them navigating to your website every day. 
Instagram is installed on their phone. That's the advantage of facilitating ecommerce sales through apps. 
Do shoppable posts work? Absolutely.
A recent study suggests that brands using Instagram shopping have benefited from a 1,416% traffic boost and a 20% increase in revenue. 
Since shoppable posts are still relatively new, I expect them to continue trending upward in 2023. More brands will catch on, and consumers will be looking to buy directly from social media posts. 
5. Voice Shopping
Voice assistants like Siri and Alexa have been growing in popularity over the years. Furthermore, the way voice search is being used has shifted as well.
At first, people used voice search for things like weather-related questions. Or maybe telling their smart speaker to play music. 
Voice search has officially penetrated the ecommerce market. Voice shopping is expected to reach $40 billion in 2023. That's up from a modest $2 billion in 2018, which is a 1,900% increase in just four years. 
This will have a significant impact on mobile commerce, considering the fact that 40% of adults use voice search at least once per day. 20% of all searches on mobile devices are voice-based.
How are consumers using voice search to shop online? Let's take a closer look.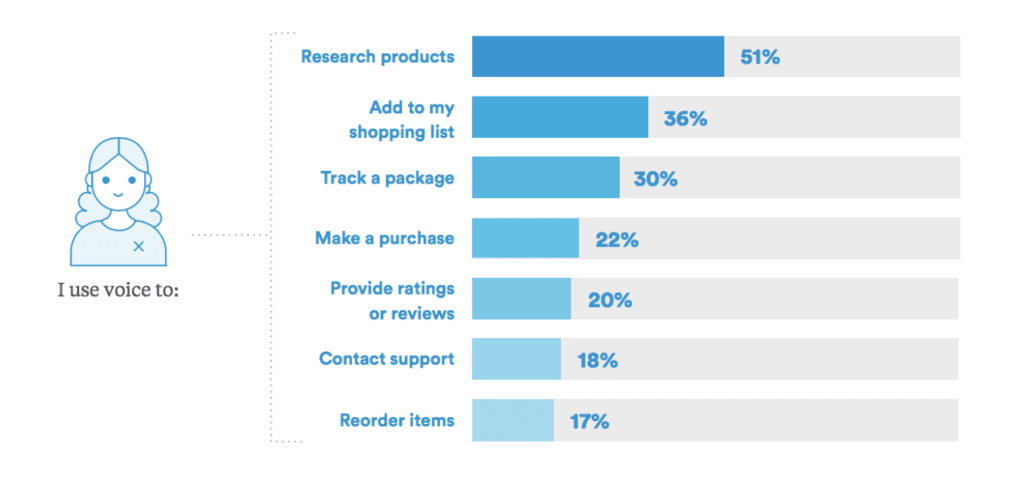 51% of people use voice commands to research products. 22% of people use voice search to make a purchase.
We've just barely scratched the surface in terms of what voice assistance can accomplish. As a Shopify store owner, you need to take this into consideration when making crucial business decisions.
For starters, your website must be optimized for voice search. But you should plan on making your mobile app friendly for voice shopping as well. 
Even consumers that don't own a smart speaker still have access to voice search and voice assistance from their mobile devices. That's why voice shopping will have a profound impact on the mobile ecommerce trends of 2023. 
6. Mobile Chatbots
Chatbots have been around for decades. You've likely interacted with chatbots in your personal life for a wide variety of reasons. 
In fact, some of you might already be leveraging chatbot technology on your ecommerce website. It's one of the best ways to provide customer service, and it's increasing in popularity. 
While chatbots have become a regular part of life, surprisingly, they haven't fully penetrated the mobile world. Most apps on the market today are not using chatbots, but that will change in 2023.
Think about all of the benefits of chatbots. If you're already using bots on your website, you're likely benefiting from most of these.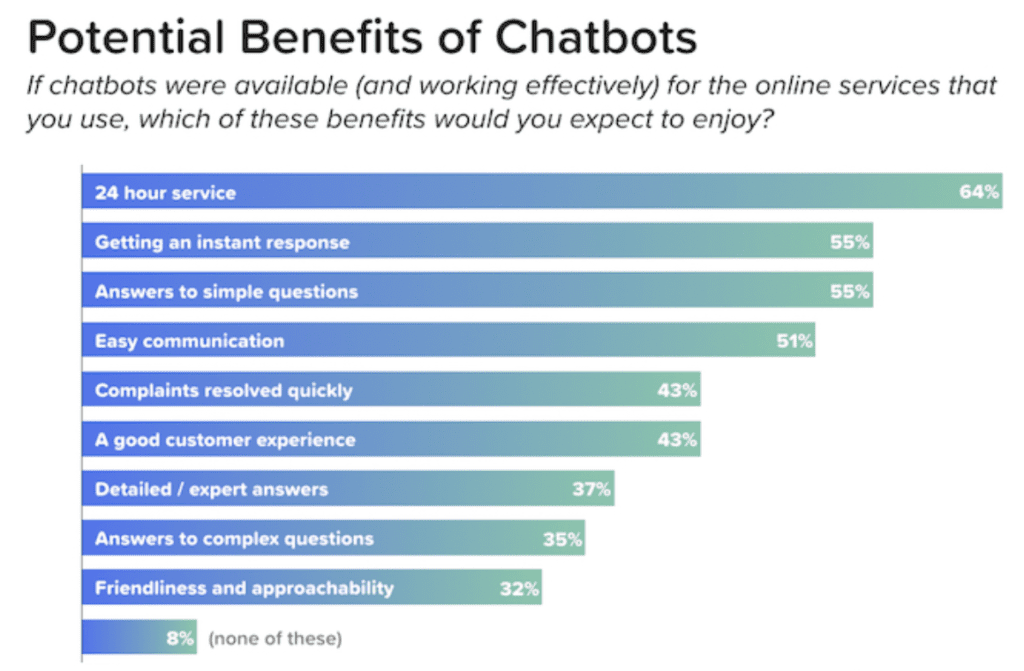 Take a close look at this list. Is there anything on here that would change if chatbots were used on a mobile shopping app? Absolutely not.
All of the benefits of using chatbots on the web can have a seamless transition to an app. So it's only a matter of time before ecommerce store owners start adding chatbots to their m-commerce apps. 
54% of people say they would always choose a chatbot over a human rep if it saves them time. 
It's not uncommon for customers to need assistance when they're shopping online. If you have an ecommerce website, you already know this.
Getting those questions or problems resolved as quickly as possible will not only improve the customer experience, but it will also save you a ton of money. Mobile chatbots will be used more than ever before to facilitate ecommerce transactions in 2023. The popularity of mobile commerce chatbots will continue to grow in the future as well.
7. VR & AR
Virtual reality and augmented reality have been popular buzzwords in the tech space for quite some time now. The use cases for this type of technology have endless opportunities.
Mobile shopping apps have already started to use AR to improve the customer shopping experience. 
For example, a business that sells furniture online can use augmented reality to showcase what a product would look like in a customer's home. This makes it possible for people to choose a color and see if an item will actually fit in the desired space.
AR for online shopping is much easier than the alternative. Without these mobile commerce apps, customers are forced to buy with trial and error, which is never ideal. The last thing someone wants to do is buy a couch or a table online, only to discover that it doesn't properly fit in their living room or kitchen. 
By 2025, the AR and VR industry is expected to reach $35 billion.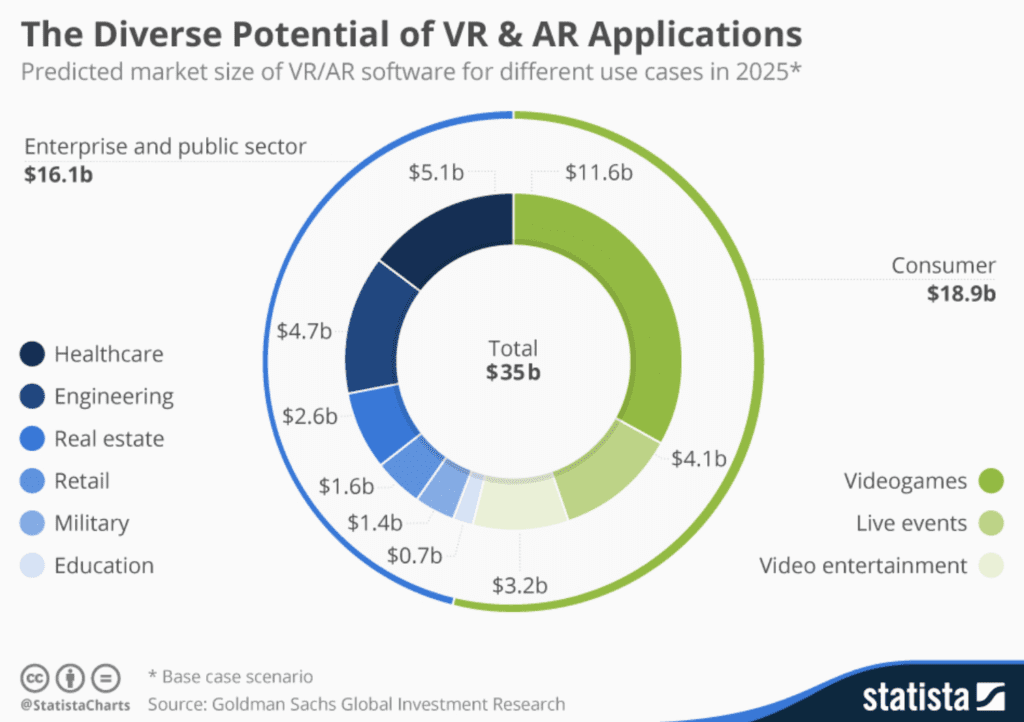 It's estimated that $1.6 billion of that market will be used for retail purposes. Mobile commerce definitely falls into this category.
I understand that this is just a fraction of the expected market for AR and VR in the next five years. But to get there, we need to start somewhere. 
I believe that 2023 will be a defining year for AR and VR mobile commerce trends. The potential applications of this technology can penetrate a wide range of industries.
For example, let's say you sell clothing on your ecommerce website. With a retail mobile app, you can use AR to measure customers and recommend the perfect fit. You could even customize orders based on a person's exact dimensions. Think of it as a virtual tailor. 
We're going to see more of this out of the box creativity for AR and VR in 2023.
8. Omnichannel Mobile Shoppers
In simple terms, omnichannel retail is the practice of selling products through multiple channels. An ecommerce website, mobile app, and physical store would all qualify as different mediums here.
When was the last time you bought something online by impulse? More often than not, you probably had an idea of what you wanted to buy ahead of time. 
Ecommerce store owners need to recognize that buyers are obtaining information from a wide range of different sources before they buy. If you have a physical retail location, that in-store experience can change the way people buy online. 
73% of consumers shop using multiple channels. 75% of people expect those experiences to be consistent across each channel.
Furthermore, 73% of people are willing to switch brands if they aren't getting a consistent omnichannel experience from one company. 
For those of you with a physical retail presence in addition to an online store, you cannot treat those customers differently. According to Shopify, more than eight out of ten customers consult their smartphones to make in-store purchases.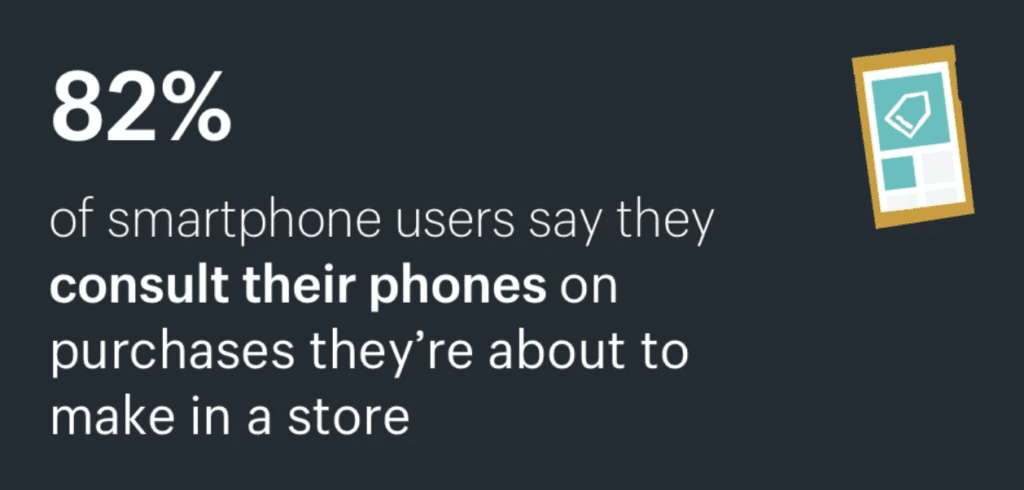 So how can you prepare for omnichannel mobile shoppers?
Here's an example. If you have an ecommerce mobile app, you can trigger a push notification when an app user enters one of your retail locations. The discount or promotion can give that person an extra incentive to buy. There's a good chance that they'll be consulting their phone anyway, so this provides the customer with even more motivation to convert.
You can take that one step further and give the user a personalized promotion or recommendation based on their browsing behavior.
Let's say they recently researched a specific product on your m-commerce app. The next day, the customer walks into a retail store. You can trigger a discount for that exact product to provide a smooth omnichannel shopping experience. 
9. Mobile Fraud
Unfortunately, cybercrime has become a real concern for everyone today. Consumers are hesitant to provide personal information to third parties that don't have an established reputation as a brand that is trustworthy.
This can be a problem for smaller boutique ecommerce shops. If you're selling products similar to well-established brands, a customer might feel more comfortable buying from a name that they recognize.
That's why it's crucial for every ecommerce business to prevent fraud on every channel, including mobile devices. 
65% of fraudulent transactions come from mobile devices. This is up from 39% back in 2015.
With mobile usage trending upward over the years, it makes sense that mobile fraud would follow suit and increase as well. While no person or business is ever 100% immune from fraud, there are definitely steps you can take to prevent it.
Creating an ecommerce mobile app for your Shopify store is the first step.
Apps are less susceptible to phishing scams and other common attacks that occur from mobile web browsers. By nature, the anatomy of an app is more secure as well. 
Customers won't have to manually enter their payment information for each transaction, as we discussed earlier. An app can safely store all customer and payment data to protect it from a possible breach. 
Apps can set up security features like two-factor authentication as an added layer of protection. 
As mobile fraud continues to rise, consumers will be looking for the most secure way to shop online. A mobile app is much more secure than a mobile browser. 
10. Mobile Payments
Over the past few years, mobile wallets have been increasing in popularity. This holds true for both online and in-store purchases.
Consumers are using mobile wallets like Apple Pay or Android Pay to checkout when shopping from a mobile retail app. It's a quick, safe, and secure way for them to shop. They also use these wallets at participating in brick-and-mortar locations with touchless pay capabilities. 
Wearables, like Apple Watch, can even be used to facilitate mobile wallet payments. 
It's not quite the new norm or standard in transactions, but we're definitely heading in that direction. According to Statista, mobile payment volume is growing at a rate of 62% annually.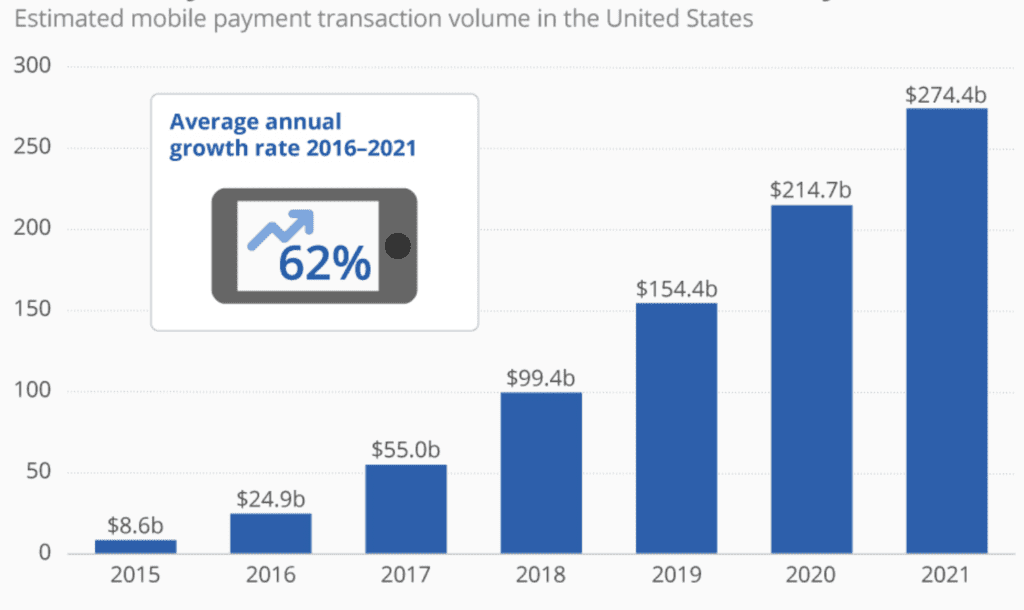 There were over $274 billion in mobile payments processed in 2021. That's a $60 billion jump from 2020. 
If you're selling online, you need to adapt to this 2023 mobile ecommerce commerce trend. The best way to do so is by integrating mobile wallets with your app. 
This will allow customers to buy using their preferred payment method. It's also a fast and safe way to process transactions online. 
Conclusion
Mobile trends will continue to play a significant role in the ecommerce industry for the foreseeable future. As an ecommerce store owner, you need to keep a close eye on mobile commerce trends to plan accordingly.
If you look at the m-commerce trends that I've listed above, you'll notice a common factor in each one; apps integration. 
The easiest way to keep up with the times and changing technology is by building a mobile app for your ecommerce website. This is how consumers prefer to shop in 2023. 
All of the mobile ecommerce trends are pointing in this direction. Follow the tips and best practices that I've explained in this guide to dominate mobile commerce in 2023.