App Monetization Guide: 10 Ways to Effectively Monetize Your Mobile App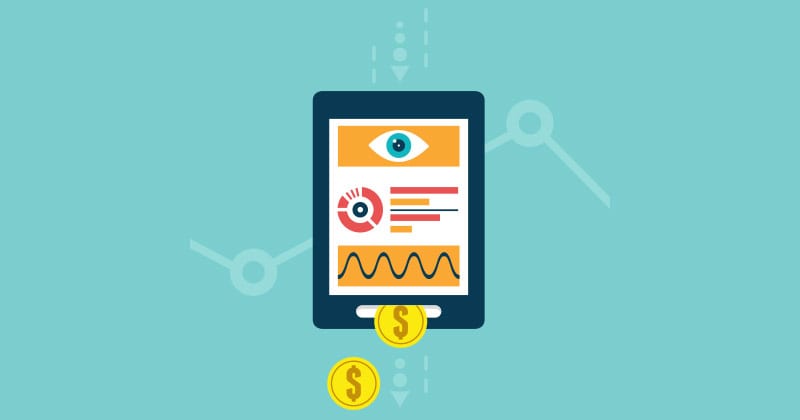 You finally accomplished it – you created an awesome mobile app for your business.
Now, your customers can interact with you like never before, and the data you're pulling from the app is helping you think of all kinds of new ways to market your brand.
But there's something else you can do to make your app even better for your business: monetize.
That's right – your app can be so much more than a tool. It can also be a serious source of additional income for your business.
Intrigued, aren't you?
Good. By the time you're done reading this post, you'll have learned 10 ways to monetize your app and turn it into a profit-generating machine.
You'll make even more money if you can promote the app for free.
How to Monetize an App
You need to find an app monetization strategy that works for you. There are different options that work better for free apps and others that work were well for paid apps.
Whether you're launching a paid app or you're looking for a free app monetization strategy, you'll find some excellent options below to consider for mobile app monetization:
1. Email Lists
You might not think of this as a likely first step, but using an email strategy tie-in with your app is a fantastic way to get more engagement from your customers, which in turn leads to more money.
Why?
Because people rarely change their email addresses. That makes an email marketing campaign an easy way to make sure users actually see your content and engage with it. Regular emails also keep your brand at the forefront of a customer's mind, making them more likely to buy from your business.
According to Wiselytics, the total life of a Facebook post is only a few hours, while a tweet's lifespan is just over an hour. Email, on the other hand, has a lifespan of 12 days.
And the best way to gather those email addresses is to add an email subscription form to your app.
An in-app subscription form will give your app a real boost by prompting users to enter their emails, especially if you tempt them with the prospect of some great benefits for email subscribers.
And your email strategy can be pretty varied. If you have promotions or deals, send an access code in the email that they can enter inside the app. If you write a regular newsletter or have a blog component on your website, promote those through the email while reminding users they can read all the content you produce on their mobile device.
So, whether it's to remind your users to come back to your app after being away for a while or to try and draw in new users, email lists are marketing gold. Just something to think about.
2. In App Advertising
If you aren't including ads in your app, you might be missing out on a phenomenal opportunity for monetization.
Digital advertising through mobile apps has improved the communication between advertisers and consumers dramatically. This is largely due to the crazy amount of time people spend on their phones. We're talking at least 90 minutes a day – the equivalent of 23 days a year.
And a lot of the time, people simply don't want to pay for the apps they spend all that time on. The temptation to download an app that costs $.99 drops away as soon as they see a cheaper (or free) alternative.
That's why 91 percent of all app downloads were unpaid in 2013.
So, how can you get around this and still monetize?
Simple. Make your app free, and utilize in-app advertising.
Advertisers realize the value of mobile apps over those embedded in browsers or sent via SMS messages. Here's what that breakdown will look like in 2018: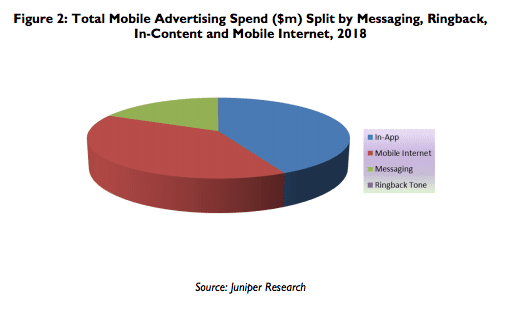 And when advertisers create ads to be used in apps, these are the five types of native ads typically used:
Interstitial/full screen ads – These ads are usually placed at natural pause points, like when moving between menus. Because these aren't actually interrupting the experience of using your app, they're more likely to generate clicks without causing frustration.
Notification ads – These pop up in the mobile device's status bar and make users more aware of the ad's presence. Be warned, these aren't the most well-loved ads out there, and could damage your app's reputation.
Capture form – Relying on user opt-ins, these offer incentives (like points or tokens) for users who enter their email addresses. You'll most often find capture forms in mobile games.
Advanced overlay – These use transition points like interstitial ads but are interactive instead of being simple clickable images. They're sort of a mixture of capture form and full screen ads.
Banner ads – App banner ads are usually found at the top or bottom of the screen and can be somewhat ineffective because they are more distracting than other forms. They can also irritate your users, so think twice before agreeing to incorporate one into your business's app.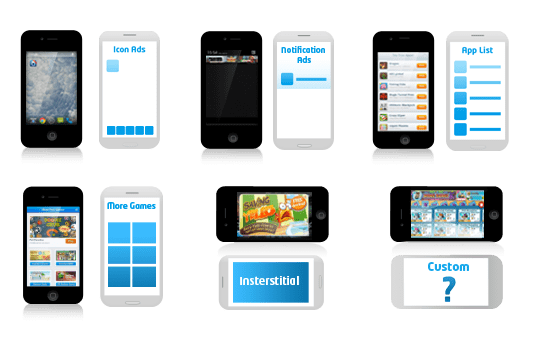 Which ad format is right for you? What you want to focus on the most through the implementation of these ads is engagement. It's an idea a lot of brands are struggling to define. Put simply: the better the experience, the higher the engagement. Your ads need to entice the user, not frustrate them.
So, when you plan to incorporate an advertisement into your app, ask yourself these questions:
How can users have a more meaningful experience when dealing with these ads?
What sort of ads would the target audience prefer?
How can these ads tie back to my brand?
Will these ads be too clunky or ugly, potentially ruining part of the experience for users?
Depending on your brand, the advertisers you associate yourself with could pay you a considerable chunk of change to host their ads. According to Gartner Research, mobile advertising is poised to reach $18 billion annually.
So choose wisely – your decision could make all the difference in the profitability of your app.
3. Sponsors and Partnerships
If you can secure a partnership with another brand, you can significantly step up your monetization game.
What you'll need to do is find a partner with a similar customer base who can add something to the experience of your users.
A partner or a network of partners can seriously benefit your customers and your businesses alike, especially if you create an integrated experience – like when Localytics and Optimizely partnered to deliver mobile analytics as a combined service.
Imagine users on another app who see your brand logo, and maybe even an interactive element typically found in your app appearing as part of the app they're currently using. That could potentially convince them to go download your app.
And if your partner includes advertisements featuring your apps, there's a solid chance their users might click that ad to go straight to your app. This is called a click-through rate (CTR), and in some instances, it can be as high as 12.5 percent.
So, once you've opened yourself up to the idea of hosting and sharing advertisements, definitely consider forming partnerships to strengthen your brand outreach.
4. Creating Strong Code
If you develop your own code from the ground up and it proves to be successful, other brands may approach you and offer to re-skin your app (either for their purposes or yours). By licensing your code to other developers, you can make money without disrupting your users' experiences.
For example, the popular game Temple Run was re-skinned for Temple Run Oz as a film tie-in.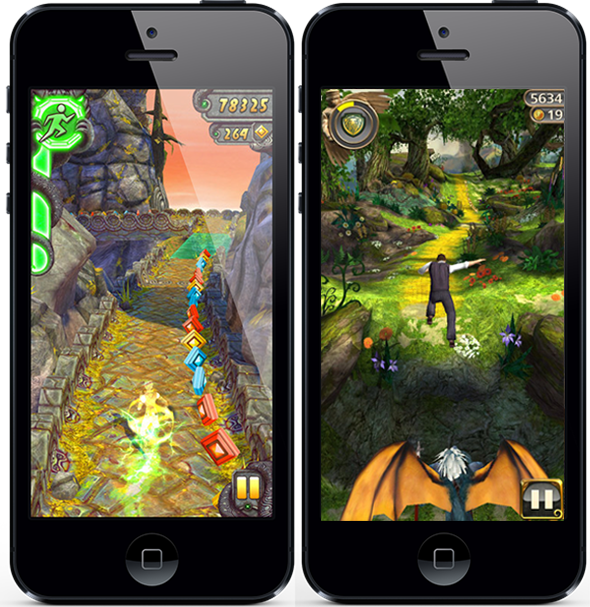 Another thing to consider with code-sharing is your app's endgame. After your business has gotten as much value possible out of your app and is preparing to move onto the next step, you can actually sell it as a whole to a buyer who wants to use your existing framework to create their own app.
Fortunately, there are easy ways of doing this, like using Apptopia, a popular marketplace that facilitates the buying and selling of mobile apps.
"White labeling" your code is similar to selling it from the ground up – without actually selling off your IP. The only issue here is that there will inevitably be multiple slightly different versions of your source code bouncing around on marketplaces.
Regardless of which one of these you choose, you'll be sure to make money by saving other developers from having to create code from scratch. All it takes is for your app to be initially constructed out of strong, desirable code.
5. In-App Purchases
Most app downloads are unpaid, but that definitely does not mean the users never have the opportunity to spend any money within the app. App purchases are the solution.
In-app purchases help you make as much money as possible off of your otherwise free app and allow customers to actually interact directly with your product.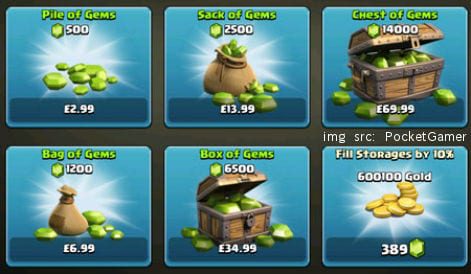 This is a huge part of so-called "freemium" apps (typically mobile games) where users pay no upfront cost but pay for gated features, but any business can make use of this strategy.
Your business can choose to provide users with the opportunity to purchase your products directly from the app (in the case of physical items) and have them shipped. Or, if you're a business that offers services, users can even opt for in-app billing.
The downside of in-app purchases is that developers walk a fine line between giving too many options for free and offering too few features. So, be mindful of that if you choose this monetization method.
6. SMS Marketing
By using in-app prompts similar to the ones used for collecting email addresses, you can send notices for app updates, reminders, contests, and promotions straight to your users' text message inboxes. This marketing method is one of the more effective ways to strengthen your brand because it drives users back to your app.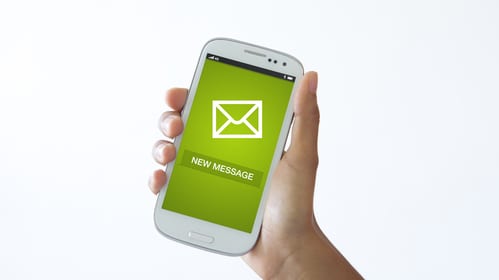 For example, BLUE LION mobile GmbH – a German company that created the app Qeep, one of the world's largest mobile social discovery platforms – used SMS messaging to reach and retain their high-value users. BLUE LION's targeted process for reaching and reactivating app users who hadn't used the app for days or weeks was able to achieve an impressive response rate of "slightly above 10 percent."
So if you're looking to enhance customer engagement, give SMS marketing a try.
7. Free/Premium Versions
As mentioned before, "freemium" apps cost nothing to download, but they typically include in-app purchases that make money for the developer.
But there's another method of generating revenue – creating an entirely separate version of your app with features that add up to a more complete experience.
Having a free/cheaper version allows users to get a sense of what your app can do for them.
Think of it like a teaser. Soon, after using the free version of your app, your customers will realize that the app can serve an important role in their lives that they simply don't want to live without.
Then, if they enjoy what your app offers and want a better experience, they might be willing to pay for the premium version.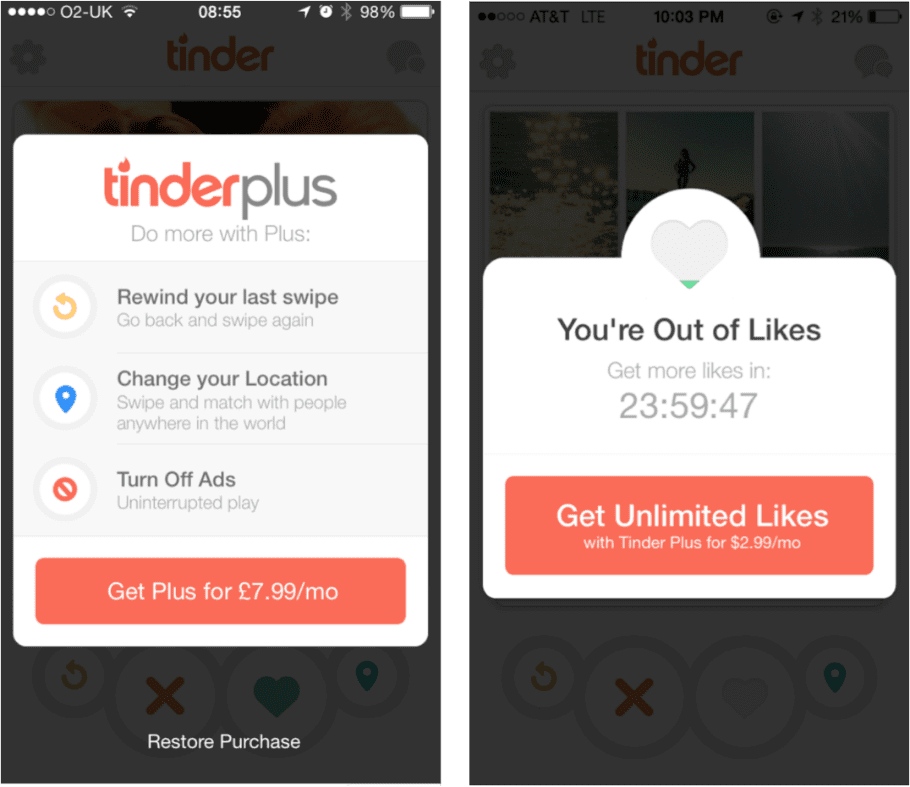 Keep in mind that, if users do pay for the premium version of your app, your responsibility as a developer is to make it worth it for them. That way, they'll leave positive reviews and recommend the premium version to their friends.
8. Strong Content Strategies
One of the more certain ways to convert new or infrequent users into lifelong, paying users is to regularly refresh your app's content.
For example, if your business has a blog, you could make the newest post available to your users via your app. And if you have industry news stories they can read natively, you need to make sure the news is always up to date.
That way, users have a good reason to keep coming back to your app for more.
The reason you need to keep customers coming back is simple. Many paying users will make one or two in-app purchases only and never return because they feel like they already used the app to its full potential. But if there's a constant stream of new content, even non-paying users will be more likely to become customers.
But there's another target out there besides these semi-occasional customers.
A report from 2015 from the app testing firm Swrve found that only 2.3 percent of users ever make a purchase, up from 1.5 percent in 2014. But shockingly, only 0.23 percent of that number are responsible for two-thirds of sales.
These are the customers that developers are always on the hunt for – the coveted "whale."
A whale will spend as much money as is necessary to collect and advance as far as possible in-app or in-game. Think of someone who has played a massively multiplayer online game for more than a decade – someone who consistently buys every new piece of content they need to stay on top.
Because these whales exist, developers are often challenged with the task of specifically targeting them when developing new content. Monetization mechanics are structured in such a way as to extract money from these whales by enticing them to continue their behavior of devouring ever-increasing content.
And hunting these whales isn't just about securing one sale. A fifth of spenders made five or more purchases a month last year.
So, when updating your app on a regular basis, always make sure there's something irresistible in that content so you can keep your most consistent customers coming back for more.
9. Multiple Payment Options for Subscription Services
If you do regularly update your content, consider creating a subscription service for those customers who keep coming back. That way, all your users have to do is sign up to be billed monthly or quarterly, and they'll receive all of that new content without having to remember to buy it.
But when you make use of the subscription service option, seek to differentiate between tiers of access to your content. The Economist used this strategy by allowing their users to opt for a web-only subscription, a print-only subscription, or both.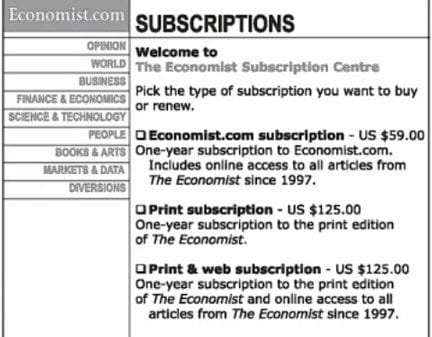 Many users saw the utility in spending that extra amount for the added value of access to both print and web subscriptions. So, when you're monetizing your app, consider offering separate options and including one subscription package combining all the services together as a premium package. Your app could become much more profitable as a result.
10. Data-Driven Strategies
The best way to optimize your app's ability to generate revenue is through studying the robust analytics you collect from the behaviors of your user base and putting those insights to good use.
Using this method, you can figure out who is spending the most time and money on your app and place a primary focus on those users instead of spending all of your development time on new user acquisition.
A recent study from Localytics showed that 20 percent of users never used an app again after using it only once. In other words, a considerable chunk of those new users you acquire may not engage on any level other than the initial download.
So, when you have the ability to learn why users are abandoning your app upon registration and compare their behavior with loyal users, you gain knowledge that can allow you to further optimize the user experience.
To make sure you get the highest ROI, you should always know which of your efforts are most successful with your target audience. By focusing on pursuing more of those same efforts, your app will prove more beneficial to your customers (and your business!) than ever.
And remember – whatever data you collect has value outside of your own business. Behavioral data is a gold mine to marketers. If your app is popular, there's a solid chance that a major analytics company may want to purchase that data from you.
In Conclusion
By this point, you're well aware of how awesome a mobile app can be for your bottom line. It can allow you to expand your brand and make connections with customers you might never have reached before. And as you've seen in this post, it can also be a considerable source of revenue.
All app developers need to find the best app monetization strategies for success. The right app monetization models for me and my app might not be the best app monetization methods for you and your app.
You can even white label apps as way to make extra money.
So take advantage of these strategies for monetizing your mobile app, and watch your business begin to generate more app revenue than ever.
Which of these methods will you use to monetize your app? Share in the comments section!