How to Run a Social Campaign in Less Than 30 Mins a Day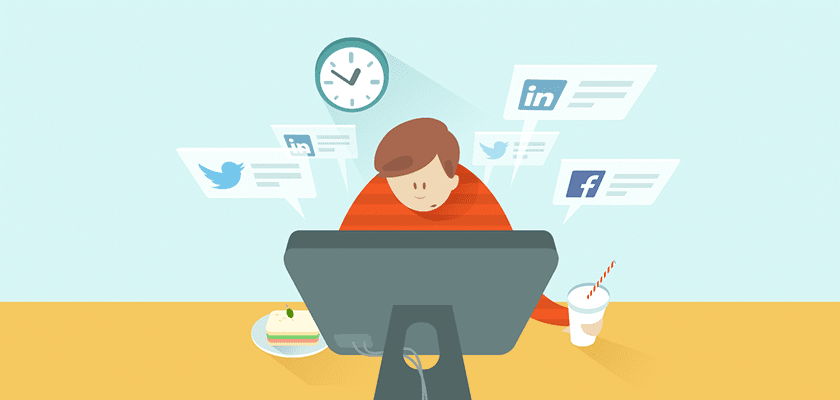 Amidst all the hype around social media, one element that many advocates overlook is time. More specifically, how little time most businesses have to spend 'doing social media'. This is particularly relevant in the case of small to medium businesses, where the responsibility for managing their social accounts is often allocated to a team member who already has an assigned workload. And there's no way around it, social media does take time – you have to post regularly, you have to monitor platforms and you have to respond in a timely manner.
It all takes time, a resource which for many is already in short supply. So how can you manage this? How can you ensure you're ticking all the social media boxes and still able to fit in everything else required in your work day? Here's a few tips on managing your social time commitment.
Listening
One of the most important elements of social is listening. With an increasing amount of people going online to share their thoughts, the growing consumer assumption is that brands will be listening to what they're saying, and when they say it. Studies have shown that people who pose a question to a brand on Twitter anticipate a response within 60 minutes, and as more brands work to meet social needs, that expectation continues to grow and become the norm.
It's clear that 'hearing' your audience is a necessary element – this element is built into the title, 'social' media. If you don't have time to be social, then you're not utilising the medium to best effect.
As a first step in your daily social media management, you should be checking all posts in which your brand is mentioned. There may only be a few mentions at first but as you become more active, mentions will increase, so it will progressively take more time, though the more time it takes, the better you're doing at social outreach. But if you do nothing else, you have to do take a moment to respond and interact to maximise your opportunities.
Check your direct mentions on all social properties – you can set up e-mail notifications to ensure you're aware of any such occurrences, but also worth checking each platform individually to ensure nothing gets lost in the notification shuffle (which happens, regularly). Log onto all your social platforms, check through your mentions, respond as required. This should take no longer than 7-10 minutes.
Set up keyword monitoring using a tool like Hootsuite or Mention, the more specific your keywords, the less time is required to sift through the mentions. You can set up streams to search for mentions within certain geographic regions and for any keyword, or a combination of keywords. Refining them will take some trial and error, but once you have a solid list of critical search terms, this should take no longer than 5 minutes per day to scan through.
Scheduling
Once you have your monitoring/responding element out of the way, the next priority is ensuring you remain active and in regular contact with your audience.
Having a content creation strategy is a separate element, so I won't go into that here, but what you need is to ensure that you have content either scheduled to go out from your social media accounts, or you have a plan on what you'll be posting and when, this may or may not be a daily requirement.
Take advantage of tools. The best way to save time on scheduling is to use an application like Buffer, through which you can schedule content ahead of time. For instance, I use Hootsuite for this, and what I'll do is at the start of each month, I'll schedule my best performing older posts to be shared at optimal times each day. I don't overshare, as you risk spamming your communities and I only aim to share a couple of my own posts each day. By scheduling them at the start of the month, I know that no matter what, I have content going out every day.
Of course, the risk with automation like this is that you may not be present to engage when those posts go out – as noted in the previous point, being 'social' is a key element.
The best way to ensure you're on top of this is to enable push notifications so you're alerted to any interactions related to your content. You can then log-on and respond as soon as any such occurrences happen.
Scheduling content at the start of each month should save you a heap of time it should take you less than 7 mins per day, dependent on the frequency at which you're posting new content.
Curating
Another important element of your social media and content efforts is curating great content from within your industry. This shows your audience that you're at the forefront of the latest happenings, whilst also helping you build connections with leaders in your field by sharing their content. It's easier to come up with ideas.
You don't want to spend all day looking through content – what you need is the most relevant content, and you need to be able to locate it quickly. There's a few ways to do this:
Create a Twitter list of only the most influential people in your industry, or people you want to connect with. Use Twitter lists to ensure you only see tweets from the sources you choose, so even though you might be following 1, 000 people, you may only need to read tweets from twenty or so influential and/or important people, relative to your brand. If you can narrow this list down to a small group of essential sources, you'll be able to scan through that list very quickly each day, helping you locate the most relevant content in your field.
You can use an app like Nuzzel to locate the content that's being most widely discussed amongst your followers. Nuzzel analyses your follower lists on Twitter and Facebook and highlights the content that's been shared the most amongst your community. You can filter this down to the last 2 hours or the last week. You can also check what's most popular in the communities of other users – so if you know the most important influencers in your field, you could quickly look at what content is generating discussion amongst their followers, highlighting what's likely to also be of interest and relevance in your niche.
PopURLs is another source you can use to find relevant content – PopURLs shows the most popular content from several major outlets, which you can narrow down to your own personal selections by topic or sites of interest. This enables you to stay on top of trending content in your sector, which you can then share, knowing that it's likely to be of relevance to your community.
Applications like Hootsuite, Klout and Buffer all have their own 'content discovery' elements and, processes that will search through what's being highly shared in your industry and among your communities.
This can be hit-and-miss, but these tools will often discover content gems that are both highly relevant and highly informative, for you and for your audience. One big proviso on content discovery tools – always read what you're sharing before sharing it out.
Using these tools, curation and scheduling should only take around 7-10 minutes each day, dependent on how active you want to be and how much content you're pushing through each of your social channels.
These three processes are critical to maintaining an active and relevant social media presence. Your aim is to become a trusted resource, and the only way to do that is to post content regularly – how much you need to post, is up to you and dependent on how much time you have to create and curate.
The only way to work out the right balance is to start doing it – by following these basic social activity steps, you'll soon work out what's working best, both for what you're able to provide and what your audience wants. This will help you turn a profit.