How to Pitch a Mobile App to Your Clients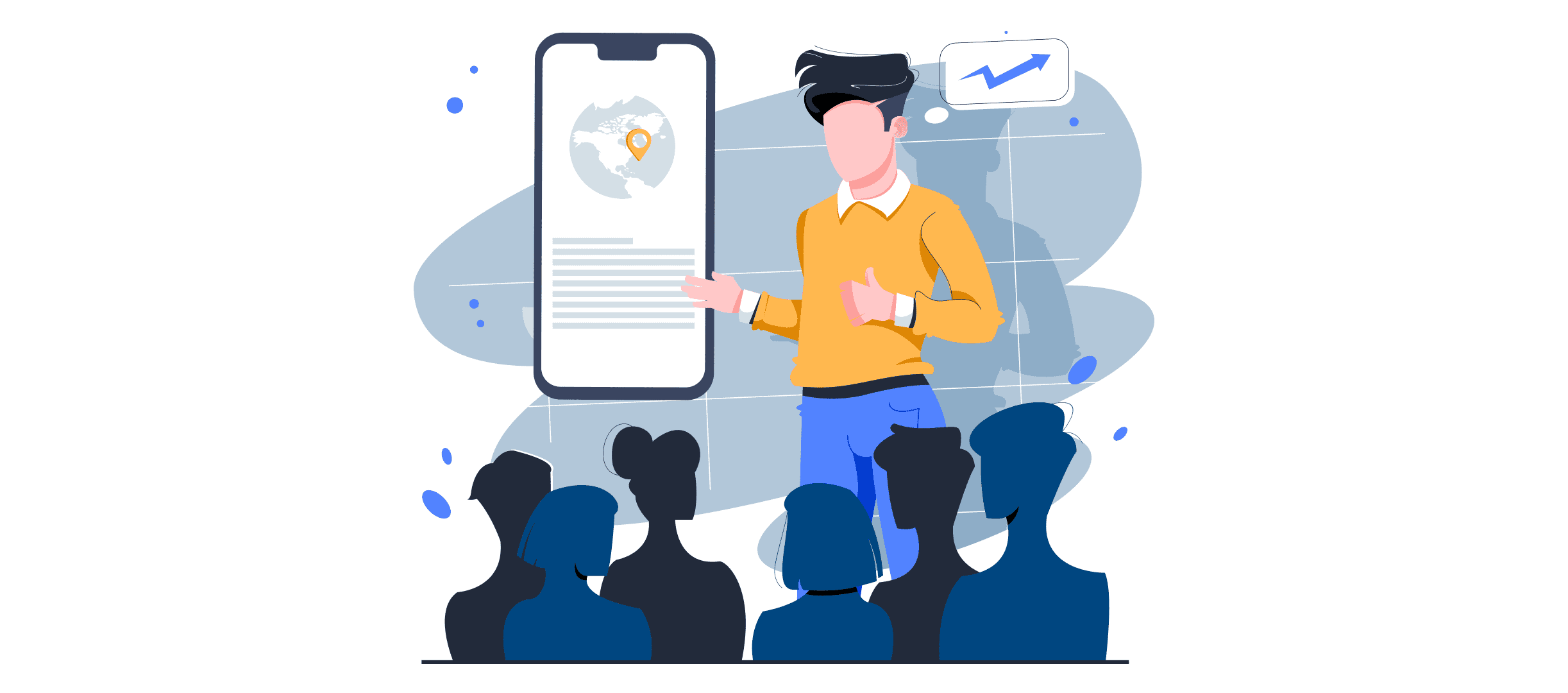 With mobile trends on the rise, agencies have a tremendous opportunity to expand and increase profits by becoming a mobile app reseller. But to have success in this space, you need to understand the science of mobile app pitching. 
Nearly every business can benefit from app development. This means that everyone is a potential client.
As an agency, you have a significant advantage since you already have existing relationships with various businesses. 
Everything is already in place. Now you just need to find a white label reseller program and pitch the app ideas to your clients. 
I've been working in the tech space for nearly two decades. Throughout that time, I've seen hundreds of app pitches. As someone who has been on both sides of these pitches, I know first-hand what works and what doesn't.
I created this guide to highlight and explain mobile app pitching tips for agencies. I'll show you exactly how to craft a winning pitch to your clients. 
Identify the Decision Makers
To have a successful app pitch, the first thing you need to do is make sure that you're pitching to the right person. Identify the decision-maker and figure out how to contact them. 
For those of you pitching to an existing client, you'll likely have a point of contact at that company. But don't assume that this point of contact is the decision-maker for an app development project. 
Being direct is the best way to get in touch with the right person in the organization. 
Simply ask your contact who you can speak to about app development. Be prepared to have a "quick pitch" ready for this person. Even if they aren't the final decision maker, you'll likely have to win them over first, before they pass the message along to the right person. 
Again, this is easier if you're pitching clients that you already have a relationship with. Depending on how long your agency has been working with a business, you probably have multiple points of contact at the company. 
In my experience, the larger the business, the more challenging it is to identify the decision-maker. That's because multiple positions within the organization will have influence.
For example, the CTO might have the final say in whether or not an app gets built. But the CFO, CEO, and VP of Marketing will let their opinions be heard. So your pitch needs to be persuasive enough to reach each of these positions. 
Pitch everyone at the same time whenever possible. If your agency has local clients, doing this in-person will be your best bet. Otherwise, a conference call with everyone on the line will be sufficient. 
For most small businesses, the owner will always be the decision-maker. They likely won't be swayed or influenced by other positions. So keep that in mind when you're pitching app ideas to those clients. 
Understand the Business Goals for Each Client
A big mistake I see agencies make all of the time is using the same pitch for every client. Sure, this is easier, but it won't get you anywhere. 
These are the top three reasons why small businesses build mobile apps.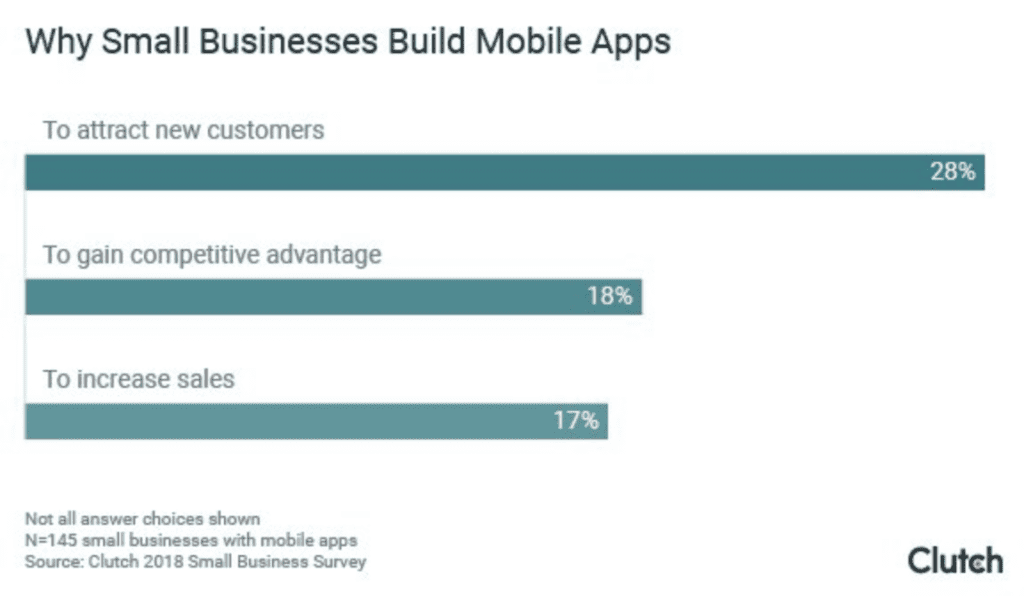 All three of these reasons are very different. Therefore, the pitch for each would need to come from different angles. 
If you give a generalized pitch, your clients will see right through it.
Make it personal. Be specific. If this is a company that your agency has already been working with, bring up the goals and KPIs that you're already addressing. Use real numbers to explain how your agency has helped them get so far, but the app will take things to the next level. 
Stay away from the "Dear Sir or Madam" and "To whom it may concern" approach. 
Your agency won't be able to sell any apps like that. 
Quality is far more important than quantity when it comes to mobile app pitching. I'd rather spend time doing in-depth and highly researched pitches for ten clients, then creating one general pitch and using it on 100 clients. 
Yes, it will obviously take much more work from you and your team to craft unique pitches for each client. But this approach will deliver significantly stronger results. 
Don't make assumptions. Not every business wants to hear a pitch about an app that drives revenue from another channel. Some companies would rather put emphasis on things like customer loyalty and retention. So you need to know which angles to push in your client pitches.
You should also be ready to encounter clients who do not have a clear sense of their goals. In these instances, your agency can help them establish some direction before you pitch them with an in-depth app idea. 
Address Frustrations and Pain Points
Identifying the goals of your clients is just one component of a successful app pitch. Will a mobile app make your client's business better? Yes. But what exactly does that mean?
Lots of clients will have the "if it's not broken, don't fix it" mentality.
That's why you need to show them areas of their business that are actually broken. Identify frustrations or pain points and explain how an app will close those gaps.
Show your clients other customer success stories of mobile app development. 
I don't mean to sound like a broken record, but I cannot stress this point enough. Every pitch needs to be unique. The challenges of one client won't be identical to others. 
For example, let's say one client is having trouble improving the customer experience, which is a common frustration. Building an app to address those pain points is a viable solution.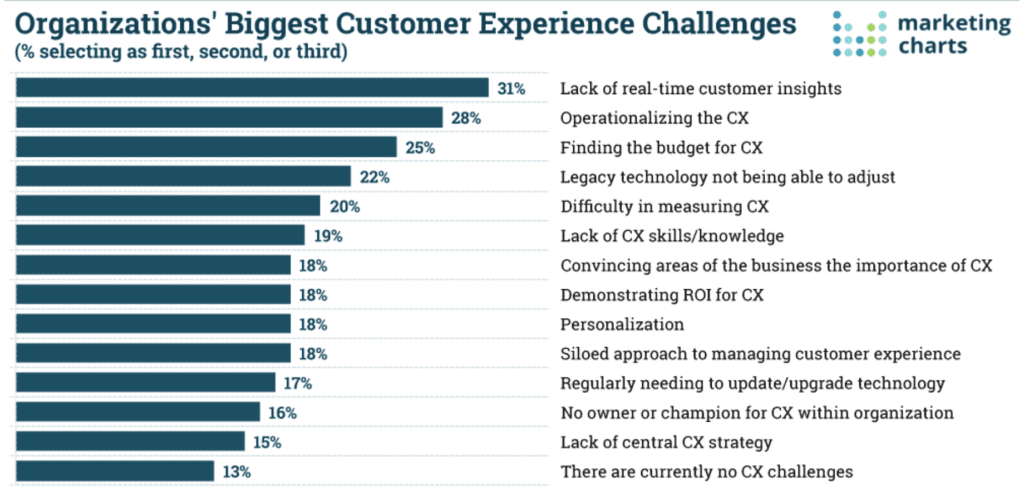 This pitch will be all about the customer. 
It will cover their journey throughout each stage of the conversion funnel. You'll address the customer frustrations using a mobile website, and explain why apps convert higher than the mobile web. The pitch will cover customer loyalty programs, referrals, personalization, and other relevant CX pain points that can be improved.
But this information could be irrelevant to other clients.
Some of your clients' biggest challenges might be internal. For example, companies with remote employees and field service workers can use an app to improve internal communication. 
A pitch for an HR mobile app will look completely different than app related to improving CX. 
That's why it's crucial that you take the time, do plenty of research, and conduct due diligence on each client before you consider pitching an app idea to them. 
Focus on Value, Not Features
App development has endless opportunities. So it's tempting for agencies and resellers to talk about every feature and possibility for building an app. 
But focusing your pitch on features is a mistake. Don't make things more complicated than they need to be. 
Lots of people are resistant to change. So if you pitch an app to them that will change their entire operation and process, it's likely to get rejected. Instead, focus on just one or two core features that are aligned with the company goals and fix the pain points that were previously identified. 
After you talk about the main features, use the rest of your pitch to emphasize value. 
Businesses don't want to build an app just for the sake of doing it. There needs to be value in this decision. 
For example, let's say you're consulting for a retail business. They have a few brick and mortar locations, and an ecommerce website. The company's goal is to increase customer retention, and their biggest frustration is missing out on mobile web conversions.
Your pitch should focus on using a mobile app to drive conversions and retain customers with a loyalty program. You don't need to go into detail about customer acquisition, accepting mobile payments in-store, push notifications, mobile referral programs, and more. That's too overwhelming. 
Stick to the value of implementing a mobile loyalty program. Let your entire pitch drive that point.
Make it clear to the client that they'll have more opportunities to add new features down the road. Adding everything at once will be too much for the client to comprehend. Plus, it can even cause some development and performance issues with the app. 
Paint a Picture
Mobile app pitch can only go so far if it's all hypothetical. It's tough for a client to wrap their mind around an idea if they can't see it or feel it.
That's why it's your job to show them exactly how their app will look, feel, and perform. Consider developing a quick demo or illustration of the app to use during your pitch.
For example, let's say one of your clients owns a restaurant. Show them different templates for restaurant mobile apps.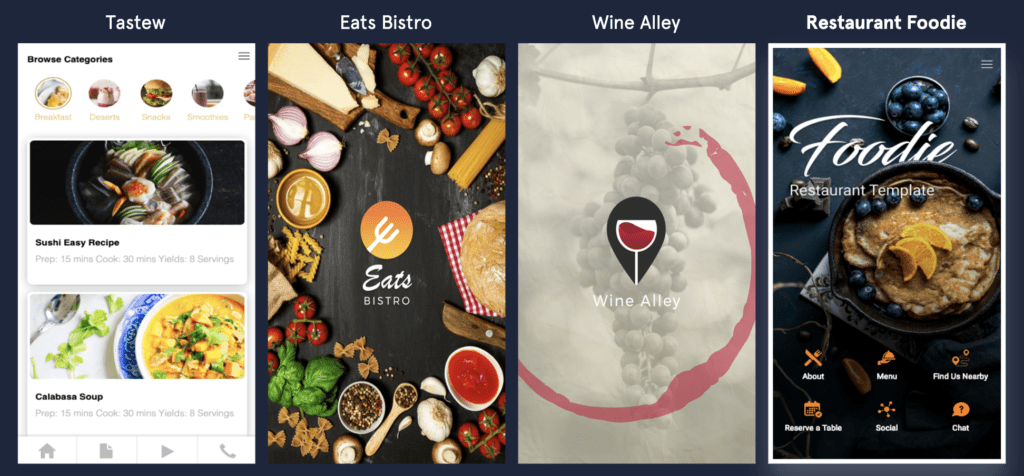 You don't need to go through the process of integrating their menu or set up a reservations function. Just use their name and logo on a few different homepage templates.
If other clients have built similar apps through your reseller platform in the past, use those as examples to show your clients. This will showcase that building an app is tangible, and not just some idea that is incomprehensible to imagine. 
Paint a picture of the user experience.
Who will be using the app? Whether it's a mobile commerce customer or a remote employee for an in-house communication app, the user experience will be one of your biggest selling points.
Conduct Industry and Competitive Research
We've already discussed the importance of understanding the specific goals and needs of an individual organization before you give them an app pitch idea. But your due diligence must go beyond that.
Show your clients real reasons why they need an app with industry statistics and competitive research. If you don't know where to start your research, check out these guides:
All three of these resources are full of facts, trends, stats, and data you can use during your client pitches.
Competitive research will be another significant selling point. As you research your clients' biggest threats in the industry, you'll uncover one of two things; the competitors either have mobile apps or don't have mobile apps. You might find some with an "app coming soon" listed on the website. But you can put that in the "has an app" category. 
Pending the results of your findings, this part of your pitch will go one of two ways.
If their competition has an app, you need to stress the importance of building one immediately to keep up with them. Otherwise, the client will be at risk of losing customers.
Alternatively, if their competitors do not have an app, focus the pitch on becoming an early adopter to gain an edge. By getting to market before the competition, your clients can gain a significant competitive advantage in their industries. 
Create a Roadmap
Naturally, your clients will have some questions after your pitch. I'm sure you'll even field some questions in the middle of your pitch. No problem. Just be prepared, and give them enough information, so they aren't left wondering. 
The most logical question for any client who is interested in building an app is "how do we proceed?"
You should have a rough roadmap and timeline ready during your presentation. Don't leave your clients wondering or tell them that you haven't thought that far ahead yet. That's unprofessional and won't win anyone over. 
Since you won't know exactly what features your client wants to build, don't include any firm dates in the timeline. Instead, just show them the standard progression of app development.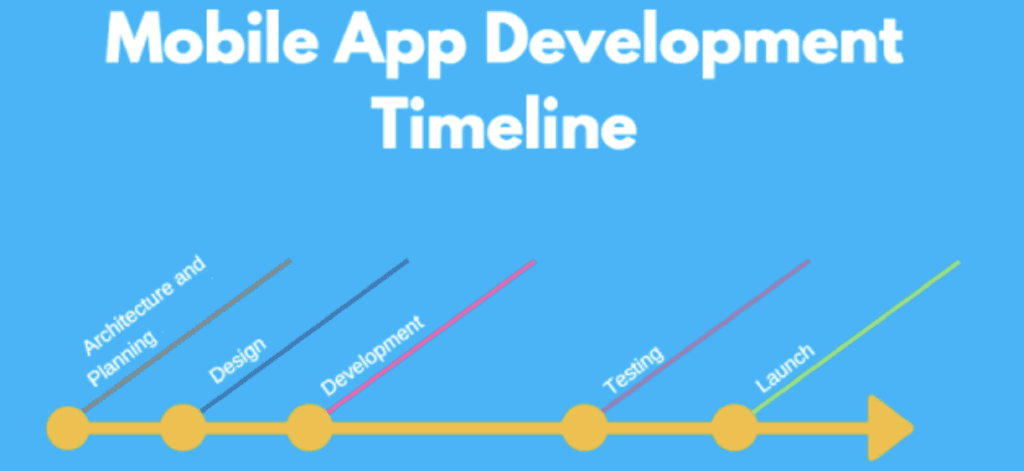 Depending on your business model and how your reseller platform is set up, there are a couple of different ways the app can be developed.
You can build the app for your clients using the platform. Or you can simply provide the white-label software and let them make it on their own.
Discuss these options with your clients during the pitch. Explain that they have control over the entire process. 
This is a great time to circle back to the couple of core features that you mentioned earlier in your pitch. Explain that the more features you add, the longer the development process will take. So it's best to work on those main functions first, and they can always add more post-launch. 
Even if you're new to white label reselling, you want your clients to feel comfortable building an app with you. Having a firm grasp of the roadmap and timeline will put their minds at ease. 
Emphasize Customer Support
Make sure you choose a reseller program that gives you dedicated white label support. You're definitely going to need it during development and after launch as well.
Whether it's for an update, adjustment, new feature, or just general questions and troubleshooting, your white label provider needs to be there for you.
This way, you'll be able to pass that support over to your clients. 
If your reseller platform can handle all of the heavy lifting on the tech side of things, it's a major selling point during your pitch. For example, if you use BuildFire's white label reseller program, our team will handle publishing the apps for you. 
So let your clients know that all they have to do is focus on development. Once it's done, you'll take it off of their hands and get it live in the app stores. 
Bundle Your Services
If you already have an established agency, you have the advantage of mobile app pitching to your existing clients. But that doesn't mean that you shouldn't be out looking for new clients as well.
According to a recent study, getting new clients is the biggest challenge faced by agencies this year.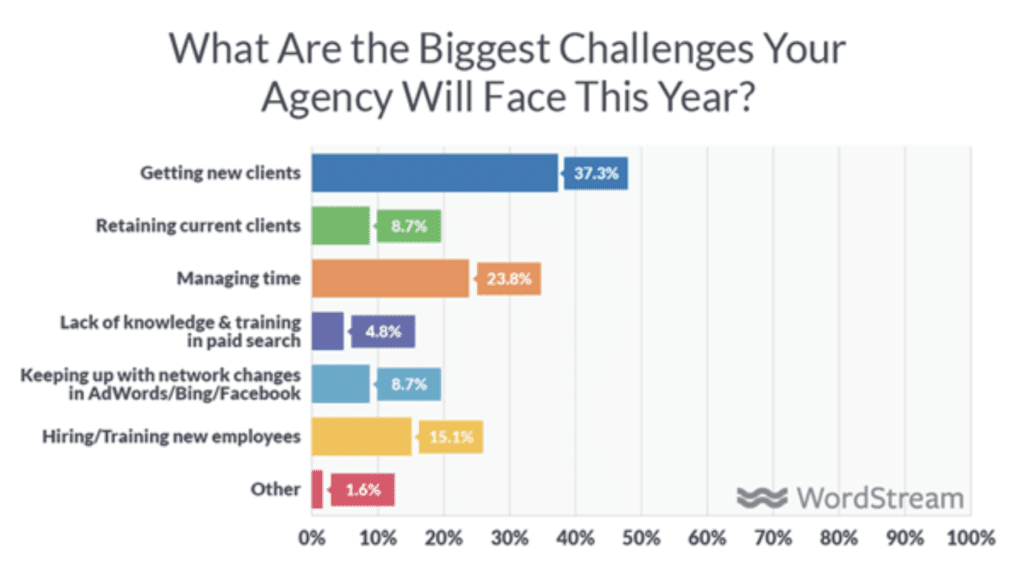 By offering app development services, your agency will stand out against the competition. 
You can essentially become a one-stop-shop for prospects. Market yourself accordingly by bundling your services into one package. 
For example, let's say your agency specializes in SEO, PPC, and social media advertising. Include app development in your plans and simply adjust the prices accordingly. 
Building an app doesn't always need to be sold as a standalone add-on. When you include it in the bundle, it's more appealing for your clients as well. Now they can get everything they need from a single agency, instead of having to shop around for different services elsewhere. 
Learn From Unsuccessful Mobile App Pitching
Every client you pitch will not build an app. This is just a reality that you need to accept.
Don't get discouraged. There are dozens of reasons why some clients won't be interested. Whether it's budget limitations or stubbornness to change, all pitches will not be successful. It's even possible that the client didn't buy because you botched the pitch; it happens.
Regardless of the reason, you need to learn from those mistakes and turn them into wins moving forward.
Try to identify the turning point when the pitch went south. Did the client ask a question that you were unprepared to answer? Were you speaking to the right person? Did you do enough research on the business, industry, and competition?
Be honest with yourself. 
Fortunately, pitching apps to your clients is like anything else. The more often you do it, the better you'll get at it. 
Conclusion
You need to find the right white label reseller program to successfully pitch apps to your clients. 
Even if you're the best salesperson in the world, your pitch will only be as good as your product once the client asks to see a demo or try it out. 
BuildFire has everything you need to create a white label program. Whether you have an established agency or want to start selling apps from scratch, we have the tools and resources to get you started.
Check out this case study to see how King Concepts used BuildFire to grow their agency. 
Before you start pitching apps to your agency clients, make sure you use this guide as a reference. Just follow the winning formula that I've outlined above.