Hiring an App Development Company vs. Freelancers
If you're tasked with creating a mobile app, one of the first things you need to do is answer a simple question—who will build it?
There are lots of different options to consider for mobile app development. But most businesses find themselves between one of two options—hiring a mobile app development company or hiring a freelancer.
This is a crucial decision that shouldn't be taken lightly. Your mobile app development method will have a significant impact on your project timeline, budget, and the quality of your final product.
There are pros and cons to each mobile app development path. We created this guide to help you decide whether a custom software development company or freelance developer is right for you. Let's dive in!
Types of Mobile App Developers
Before we compare mobile app development companies side-by-side with freelance app developers, it's important that you understand the different categories for mobile app development.
This will make it easier for you to weigh your options, as each type of app developer and development company is better for different types of mobile apps.
Mobile App Development Company
The best app development companies offer full-service solutions for custom mobile apps. These are typically enterprise-grade services that include everything from mobile app design to project management, UX/UI design, and everything you need to build successful apps.
For enterprise clients, a mobile app development company provides all of your mobile development needs under one roof. You can outsource the entire project to a highly qualified team of developers and designers and feel confident in knowing you're getting the highest quality product in return.
The top mobile app development companies provide cross platform mobile apps, meaning you'll benefit from Android app development and iOS app development simultaneously.
Some mobile app development companies even offer services beyond basic app development. They provide your backend infrastructure, assist with app publishing, provide post-launch support, and even help with refining your mobile app idea to ensure there's a viable market need.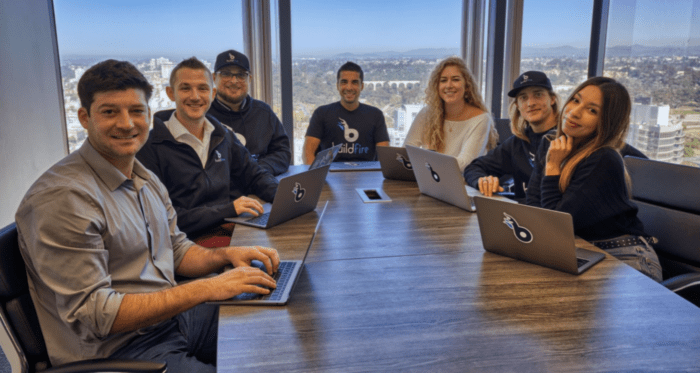 Read More: Resources for Outsourcing App Development
Boutique Mobile App Development Companies
A boutique mobile app development agency is a bit smaller than a traditional app development company. They still provide many of the services of a full mobile app agency, but they do so on a smaller scale.
These solutions are typically better for smaller businesses in niche categories. For example, you might find a boutique app developer that specializes in building a certain type of app, such as a gaming app. But they don't do anything outside of that highly specific category.
Boutique app developers have fewer resources than larger app agencies, meaning they may only be able to take on a handful of app development projects per year. They might be a bit more limited in what they provide with infrastructure, publishing, and post-launch support.
In-House Mobile App Developers
Some larger organizations employ a team of in-house app developers. But this is really only a viable option for businesses that continuously create, launch, and maintain mobile and web apps. Otherwise, hiring full-time employees specifically for app development isn't really worth it.
For example, let's say you want to create a dozen mobile and web apps over the next three years—strictly for internal use. Business productivity apps or extensions of web apps commonly fall into this category.
Then it might make sense to go with in-house developers over an app development company.
But even the top app developers may not have the same experience as an app development company. Plus, hiring full-time employees comes with extra costs and obligations. You'll have to factor in added costs like health insurance, payroll taxes, PTO, and everything else associated with maintaining your staff. In most cases, outsourcing is a much easier path to app development.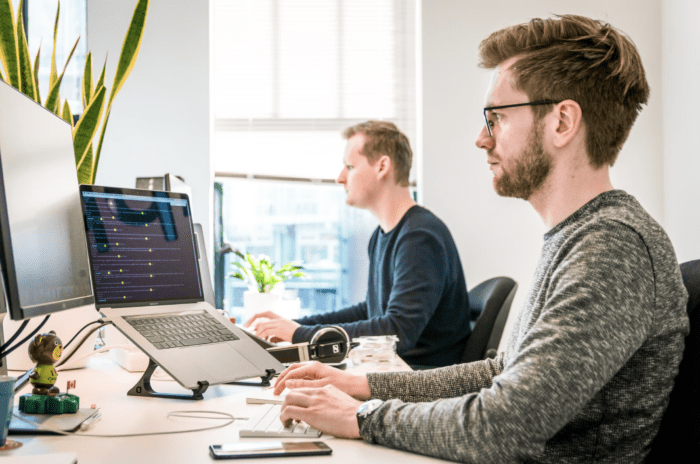 Freelance App Developer
A freelance mobile app developer works for themself. You can find them on freelance job boards like Upwork, Fiverr, Flexjobs, and similar alternatives.
Companies are typically drawn to freelance developers for the lower cost. But these low price points can end up costing you more time and money in the long run—so it's best to tread cautiously if you're considering this path to app development.
Some freelancers might charge lower hourly rates, but they take two or three times longer to create an app compared to an app development company. It's also rare for the same freelancer to build both an Android and iOS app. Since Android platforms and iOS platforms require different tools, skills, and development languages, you'll likely need a minimum of two freelancers to get the job done.
With that said, freelancers do have some benefits for smaller projects and non-business apps. But they're never a good idea for enterprise app development.
Benefits of Hiring App Development Company
Finding a top mobile app development company will make your life much easier compared to in-house app development or hiring a freelancer. Below we'll take a closer look at some of the top advantages provided by software development companies.
More Experience
All of the top app development companies employ multiple developers. The best mobile app developers are versatile and have lots of experience working on a wide range of different mobile and web apps.
A mobile app development company will also produce significantly more apps in a given year compared to a solo freelancer.
Even the best mobile app developers probably can't create more than four to six apps in a year. But an app development company can produce hundreds.
If anything comes up during the development process, there's a good chance that someone in the app development company has seen it before. But if a freelancer runs into an issue or stumbling block during development, they don't always have someone to lean on.
Multiple Mobile App Development Services and Pricing Options
Custom software application development is not a one-size-fits-all offering. You can expect an app agency to provide several different software solutions and development services to accommodate your needs.
A freelancer typically won't be able to match these service offerings, and they'll likely be priced at a fixed hourly rate for the duration of your project.
But with a mobile app development company, the pricing is much more straightforward and transparent. Rather than paying an hourly rate, you'll often pay a fixed monthly rate for app development services or be quoted on the entire project.
For example, here's a look at some of the BuildFire Plus development services and pricing.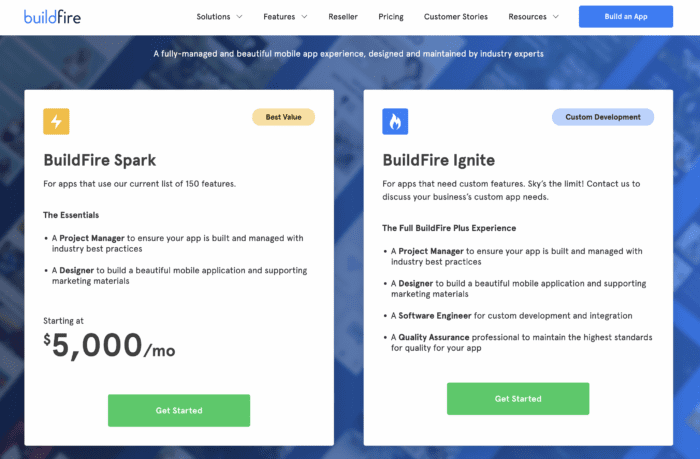 BuildFire also offers an app development platform with multiple pricing tiers and a white label app development solution. In total, that's six different plans between three unique development services to choose from.
There's something for everyone, regardless of your project scope or budget.
Simple Communication
Effective communication is crucial for creating successful apps.
Mobile applications are complex, and any miscommunication or discrepancy between the client and the developer can be disastrous. So it's really important to make sure you're on the same page as the development team before the build and throughout the development process.
This is much easier when you're working with a mobile app development company. The best app development companies will take you through strategy sessions, build out wireframes, handle prototyping, and ensure you're getting exactly what you ask for before any code gets written.
You'll also have multiple points of contact whenever you need to ask a question or make changes, which is not a luxury when you're working with a freelancer.
It's also common for freelancers to be working in different countries, making it more difficult to sync up with calls. In some cases, you might even be dealing with a language barrier if you're working with a freelance app developer. 
More Resources
A top mobile app development company has significantly more resources than a freelancer.
For example, it's rare to find a freelancer that handles native app development and UI/UX design. Those are typically two different roles.
But an agency has both of those roles, and more, all under a single roof. They also have the capacity to get your app to market faster compared to a freelancer, as multiple people will be working on your project simultaneously.
Agencies also have the funds to provide their team with the highest quality software and equipment, which ultimately translates to a better final product. Whereas a freelancer could just be working from a single laptop using outdated software.
All-in-One Solution
A custom software development company has everything you need under one roof.
This typically includes a project manager, cross platform app development for iOS and Android platforms, UI/UX design for web and mobile, quality assurance agents, mobile app testing, and more.
With BuildFire Plus, we'll even help you run a competitive analysis to ensure there's a viable market need for your app. We'll also assist with app strategy sessions and post-launch support.
A freelance developer just can't compete with these types of services. You'll ultimately need to hire multiple freelancers to truly complete projects. The hiring process is a challenge in itself, and it's even more difficult when you're assembling a development team that's never worked together before.
Fortunately, a mobile app development company has everything you need under one roof.
Scalability
Look for a mobile app development that goes beyond basic app development services. The job isn't complete when the development process is over.
You also need to consider post-launch maintenance, app updates, bug fixes, and everything else required to get your app to the next level, even after it's been installed on thousands of mobile phones.
What happens when you want to add a new feature in a year or two? A freelance developer may not be around or available at this time. But an agency is always there to help guide you through the process of scaling your app and business.
Support
Building an app is just one aspect of development services.
You also need to think about software testing and getting your app published on the app stores. This isn't always a simple process. For example, the Apple App Store has strict publishing requirements.
A top mobile app development company will help you navigate these requirements and publish the app on your behalf. On the other hand, a freelancer will likely just deliver the app and leave the rest up to you—without offering that extra level of support.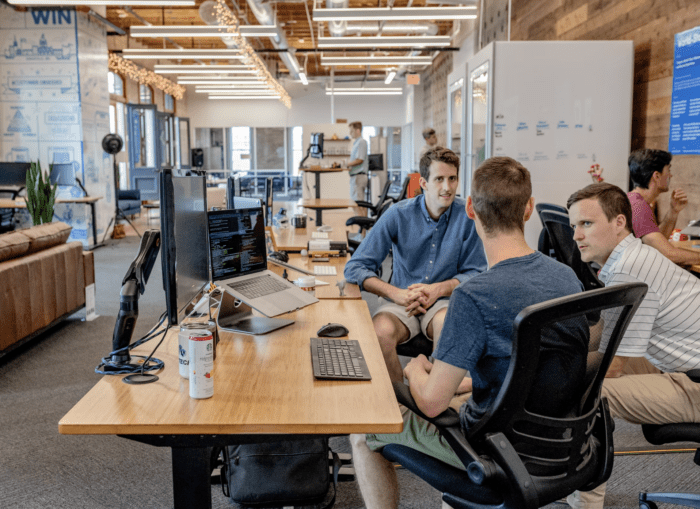 Potential Drawbacks of Hiring an App Development Company
As you're comparing different mobile app development companies, you should also be aware of some potential downsides of going this route.
Choosing the Right Mobile App Development Company
If you run a quick Google search for mobile app development solutions, you'll likely find hundreds if not thousands of options. Finding the right mobile app development company for you and your specific needs might feel a bit overwhelming.
You can quickly start to eliminate some options based on their location or your budget. For example, if you're located in North America, you may decide to eliminate any app development companies located overseas.
Once you come up with a shortlist of options, you'll have to request a consultation with all of your top considerations. Based on those consultations, you can move forward with who you feel the most comfortable with.
You can read our guide on how to hire a mobile app developer for more information.
Identifying Core App Development Services
Many agencies offer a wide range of different services. The key here is deciding what they're best at to ensure it aligns with your goals.
For example, you might run into a web development company that also offers UI/UX design in addition to mobile and web development. Or maybe you find a graphic design agency that also dabbles in mobile design.
Neither of those situations is ideal for mobile app development.
The best app development companies focus strictly on mobile app development. If they're also offering SEO services and web design, they're likely spread too thin.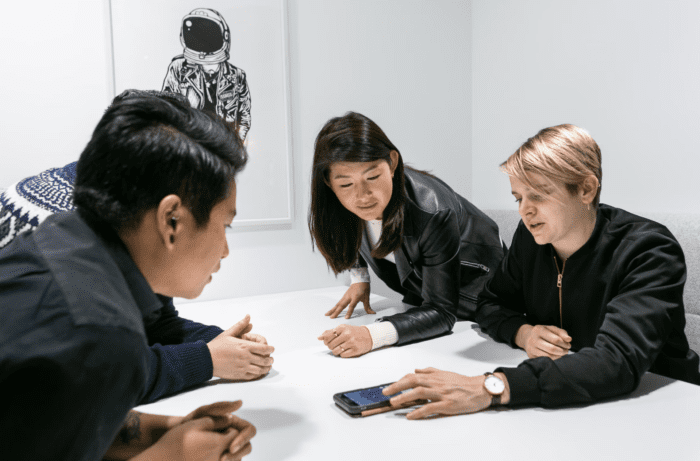 Benefits of Hiring Freelance App Developers
There are some situations when hiring a freelance developer does make sense. Here's a look at the advantages of working with a freelancer.
Lots of Options
Some of the best mobile app developers started as freelancers. So there are definitely plenty of quality developers out there. You just need to find them.
If you browse through freelance networks like Fiverr and Upwork, you'll find thousands of options to consider. In some cases, you can filter these developers by specialty, location, category, or budget.
So if you're on a tight budget, you can just adjust the filter for an hourly rate within your budget to only show options that meet your criteria.
Good for Quick Projects
Freelancers are great for mobile solutions and web app development projects that have a specific start date and end date. If you just need something built without any extra support or post-launch maintenance, a freelancer is probably better than hiring an in-house employee.
But it's rare for most mobile applications to be defined as a quick project. There's often a lot more that goes into this compared to web development or other software.
Lower Upfront Costs
Most freelance developers charge a fixed hourly rate for their time. If you compare this side-by-side with an app development company, the upfront costs will probably be cheaper.
But it's also worth noting that the development process and timeline will vary based on your project. For example, it might take a freelancer longer to build Android apps than iOS apps. React native app development won't have the same timeline as other frameworks.
If cash is scarce, a freelancer might be a better option for you. Just be aware that lower upfront costs don't always translate to lower total project costs (which we'll discuss in greater detail shortly).
Potential Drawbacks of Hiring Freelance App Developers
There are definitely some downsides to hiring a freelancer compared to working with a mobile app development company. We'll discuss those pitfalls in greater detail below.
Less Dependable
A freelance developer is a single source of failure, which is always something you want to avoid in business. What happens if that developer gets sick, goes on vacation, or gets hit by a car? Your mobile app development project just stalled.
Freelance developers don't have as much accountability as developers working for an agency either. It's not like they'll get fired or reprimanded if they're working slowly or pushing out sub-par code. Nobody is monitoring them or their work.
Less Security
Freelancers typically don't have the same security protocols as a leading global technology company. In fact, they might not have any security standards in place beyond basic antivirus installed on their personal devices.
This can be a big problem for mobile apps that contain sensitive company data, sensitive user data, or payment details.
If there's a breach and that data gets compromised, who is at fault? Your company is on the hook for the software you own—not the developer who built it.
Limited Bandwidth
Your mobile app development project might not be the only thing a freelancer is working on. They're likely working on multiple projects simultaneously, which leads to a longer mobile app development process.
What happens if they get another project that pays double or triple what you're paying them? Chances are, they're going to prioritize that app over yours.
Some freelancers might even work a full-time job and just create apps as a side hustle.
They just can't compete with an agency that has a team of developers all working 40-60+ hours per week.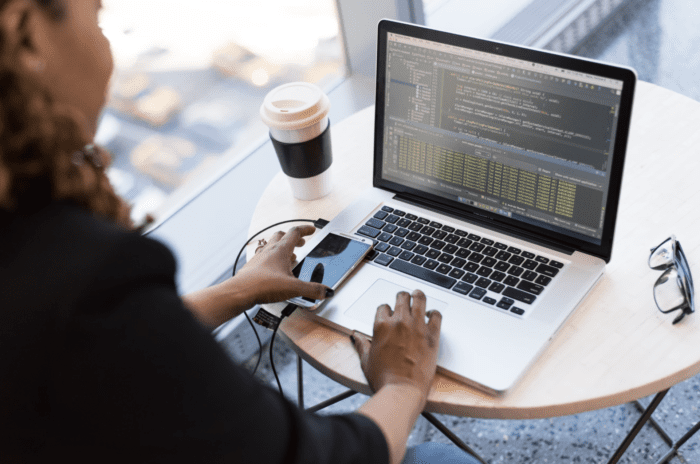 Quality Concerns
Experience is crucial for mobile app development. If a freelancer has bandwidth restrictions, isn't using the latest and greatest software, and doesn't have anyone holding them accountable, there's a good chance the quality will slip.
It will ultimately be on you to hire quality assurance agents and testers to find bugs or flaws in the code.
If you're unable to fix quality problems prior to launch, it's going to have a direct impact on the user experience. Poor UX is disastrous for apps, as users won't come back to use them in the future.
Additional Costs
Earlier, we talked about the low upfront costs of hiring a freelancer. But this often leads to larger expenses that get pushed to the backend of your mobile app development project.
For example, let's say you hire a freelancer to handle Android app development. Even the top mobile app developers in the world don't build Android and iOS apps simultaneously. So you'll eventually need to hire another developer to handle the iOS version.
You also need to consider project management, UI/UX development services, web development services, server maintenance, quality assurance, testing—the list goes on and on.
Check out our complete guide to building an expert app development team. This breaks down more information about the roles required and the costs associated with those positions.
How to Find the Top Mobile App Development Companies
Now that you've seen the pros and cons of development companies and freelancers, it's time to find the best mobile app development solution for your specific needs.
As you're going through this process, there are certain factors you need to keep in mind. This will ultimately help you narrow down your options so you can feel confident with your decision.
Timeline
How soon do you need to get your app to market?
An exact deadline isn't always realistic. But a top mobile development company should be able to offer an estimated timeline. They might even establish some milestones and deliverables to meet along the way to ensure the project gets completed on time.
Team Resources
Who exactly will be working on your mobile app development project?
Find out if the agency is assigning the project to a single developer or if a team of developers will be working on the project together. How much time will they be spending on your app? Are they going to be working on other projects at the same time?
These are all reasonable questions that you can ask during a consultation.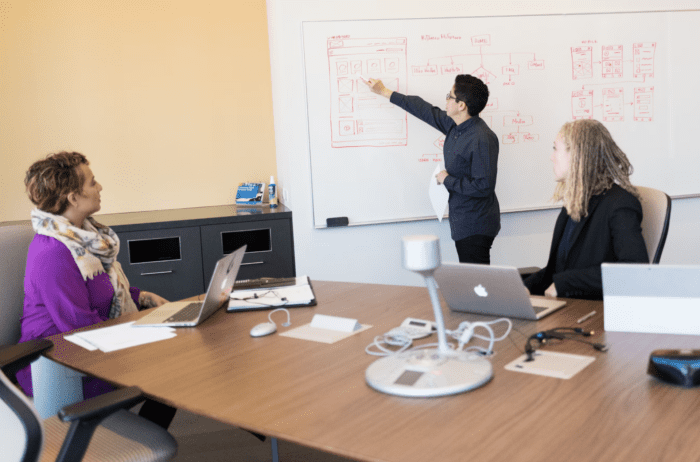 Budget
You should have a mobile app development budget in mind before you start consulting with app development agencies. When you see a proposal, you can start to narrow down your options based on the quotes you're getting.
Look beyond the exact dollar figure and think about the value you're getting.
Some agencies might come in at a lower price, but they're not actually offering everything you need to build, launch, and maintain a successful app. They'll be additional costs that you'll have to incur if you're not getting everything baked into a single proposal.
Location
Location shouldn't be a dealbreaker for mobile app development. It's more of a factor when you're dealing with a freelancer compared to an agency.
Let's say your business is located in Los Angeles. If you're working with a developer in India, communication is going to be a challenge with a 12-hour time difference. They might be going to sleep when you're starting your workday.
But agencies typically have dedicated staff working in different regions to accommodate international enterprise clients. So a business located in Asia or Europe could still work with a US-based app development company.
Portfolio and References
Not every mobile application development company has experience building every type of app. Some agencies develop digital business solutions for HR and internal communications. Others excel at building gaming apps for mass consumption.
What type of app do you want to build?
If the developer or mobile development agency doesn't have a similar type of app in their portfolio, you might want to look elsewhere.
Final Thoughts
There are lots of different options to consider for app development.
When comparing a mobile development company side-by-side with a freelancer, there are pros and cons to consider for both paths. While there are definitely some situations when working with a freelancer makes sense, an app development company will usually be the best option for most midsize businesses and enterprises.
Book a free app strategy session with our team of experts to learn more about BuildFire Plus and our custom mobile app development services.
BuildFire has been trusted to create more than 10,000+ mobile apps across a wide range of industries and categories. We provide everything you need under one roof from app development to design, post-launch maintenance, and support.
BuildFire is more than just an app development company; we're a partner in your success.