How to Hire a Mobile App Developer (A Definitive Guide)
You want to build a mobile application.
Where do you start?
If you don't know how to code, you're going to need to hire someone to do it for you.
So the search begins to find an app developer.
Even if you built an app in the past, you may not have had the best experience with your developer.
This guide is perfect for you as well.
I'll tell you exactly what you need to do to find a developer that's going to give you the app that you're looking for.
But let me perfectly honest with you, it's not easy.
There are lots of factors that go into hiring a developer.
So just make sure that you don't skip any of the steps, and you're very thorough.
You're going to be working with this person for a long time and giving them lots of money.
The last thing you want to happen is to get halfway through the development process and realize you chose the wrong person.
Or even worse, they develop a final product that you're not happy with.
Believe me, I've seen this happen countless times.
All of this can be avoided if you hire the right person.
Here's what you need to know.
What type of app are you trying to develop?
Before you do anything, you need to have a firm grasp of what you want to build.
How can you expect someone to develop something for you if you don't even know what you want? It's not possible.
I'd say there are two main categories here to start with first.
You're either developing an app for your existing business or launching an app as a new startup company.
If this app is going to be an extension of your current business, it needs to fit within your brand's image.
For those of you launching a startup company, this app will be the first association that customers have with the company.
It's absolutely essential that you make the right impression.
You've also got to determine if your app is simple or complex.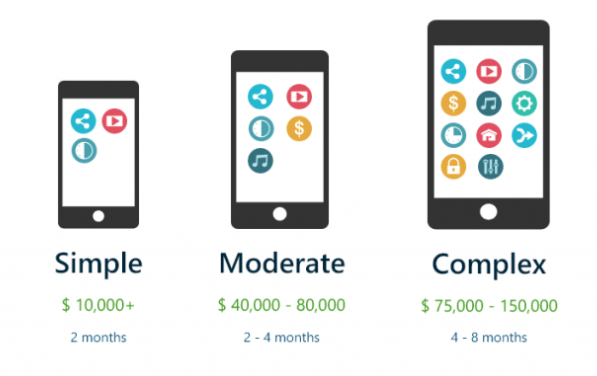 As you can see, the complexity of your app will also determine how long it will take to develop and how much it's going to cost you.
But we'll go into greater detail about those aspects later.
If you only need basic features like a calculator that can operate without being connected to a network, you probably don't need the world's best developer to build this for you.
But if your app needs complex functions like unique user logins, GPS tracking, lots of screens, storage for payment information, and connecting users with each other, you'll need a real pro.
Here's a scenario where you need to find someone who can do more than just code.
For a complex development process, you want this developer to be part of your team.
Look for someone who can design an app as well.
They should be able to do wireframing, custom animations, icons, and prototypes.
Ideally, your developer will also have experience with marketing and product management.
As you probably know by now, building an app isn't cheap.
You may need to raise money from outside investors, especially if you're building a complex mobile app.
So if the developer you hire becomes part of your team, find out if they have any experience with raising money.
It's possible they may have worked with investors in the past and still have good relationships with those people.
Overall, you just want to make sure that your developer is well rounded.
So let's get back to the type of app you need to get developed.
What category does it fall under?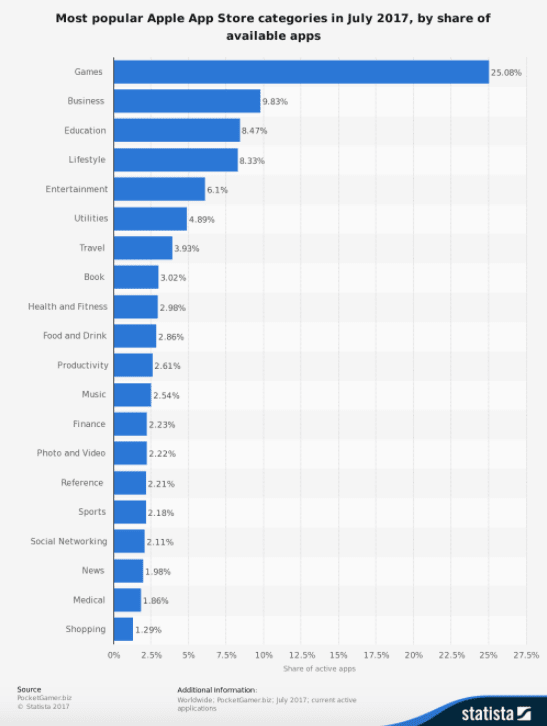 Here's a look at some of the most popular app categories that are available.
Does the prospective developer have any experience building apps in this category?
If they don't, you may want to consider finding someone else.
But if they're able to build complex apps like games or social apps, they should be able to handle your needs.
Make sure the developer fits within your budget
As we saw earlier, the complex features and functions required to build your app will impact the price.
Typically, the longer it takes to build an app the more money it will cost you.
But there's not one price across the board for each developer.
Think about all types of consumer goods and services available on the market.
How much does a large pizza cost?
How much does a pair of jeans cost?
How much is a car wash?
The answer is the same for all three of these – it depends.
Well, the same concept applies to app developers.
Different developers have different prices.
That's why you need to have a budget in mind before you hire someone.
I'm assuming you don't have unlimited funds, so you've got to take the time to figure out what you can realistically afford.
You can't expect to be the next Snapchat if you've only got $10,000 to spend on development.
Plus, think about all the money you're going to spend outside of your development costs.
Before you can hire anyone you'll need to conduct market research to determine if it's even worth building your app.
If you need to find investors, you should probably create a prototype as well.
That's not free either.
Do you need to hire a designer?
That's why earlier I recommended that you find a developer who also has design skills.
It's also going to cost you money to test and deploy your app.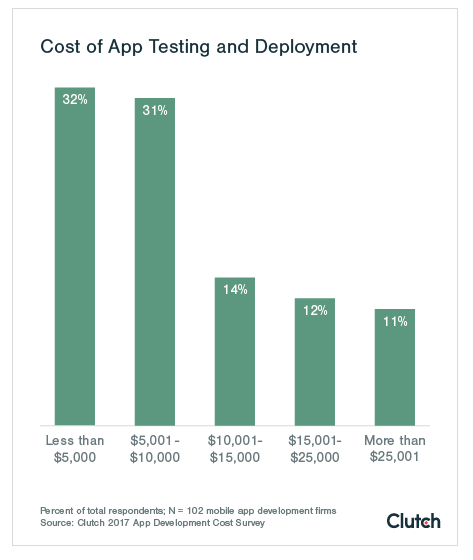 Don't forget about maintenance fees for after the app gets launched.
Is your developer going to handle the updates and bug fixes as well?
That's something you need to discuss ahead of time and make sure all of it fits within your budget.
So just because you or your company has $50,000 in the bank, it doesn't mean that you can afford to pay a developer $50,000.
You're going to run out of money if you do this.
That's why finding a well-rounded developer that can help you with other aspects like designing and testing would be ideal.
You'll also want to consider the type of developer.
Do you want to work with a freelancer who is just one person?
Would you prefer a small app agency with a team of a few developers?
What about a large company with potentially hundreds of developers on their payroll?
Each one of those options will come at a different price point. So make sure you can afford what you want before you approach one of these options.
You'll also want to consider the physical location of your developer.
Take a look at how much it costs to hire a developer in different regions of the world.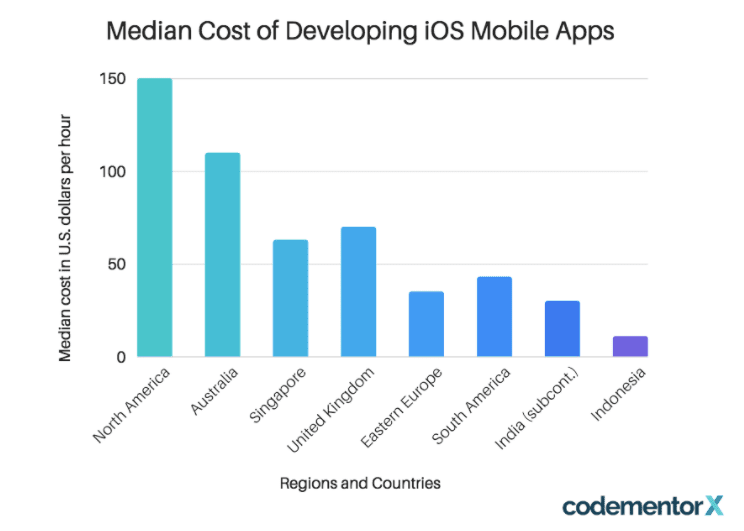 If you're planning to hire one locally, in North America, you can expect to pay premium prices.
At first glance, you may think that hiring a developer in Eastern Europe, India, or Indonesia would be your best options because of the price.
While they efficient cost is definitely appealing, you get what you pay for.
I would not recommend outsourcing development overseas just to save some money.
The quality of your app will likely suffer as a result.
In a little bit I'll go over some of the other benefits of hiring a local developer, such as the face to face contact you'll get with them.
Look at their portfolio
Earlier I mentioned that your developer should have experience building apps that are similar to the one you're trying to launch.
To find out what they've done, you need to look at their portfolio of work.
Look at specific apps that they've built.
Download those apps on your phone and see how they are performing.
Do they run smoothly?
Are you familiar with any of these apps?
Were they successful?
If the developer in question has a long history of building apps that failed, it's probably in your best interest to find someone else.
Spend lots of time navigating through apps in the developer's portfolio.
You can find out if there are bugs and unexpected crashes.
Read through user reviews and comments about the app's performance as well.
If people had a negative experience, take those notes into consideration before you move forward with that developer.
Ask for references
Nothing is more powerful than someone else vouching for you.
So what do this developer's previous clients have to say about their work?
Here's an example of a customer testimonial.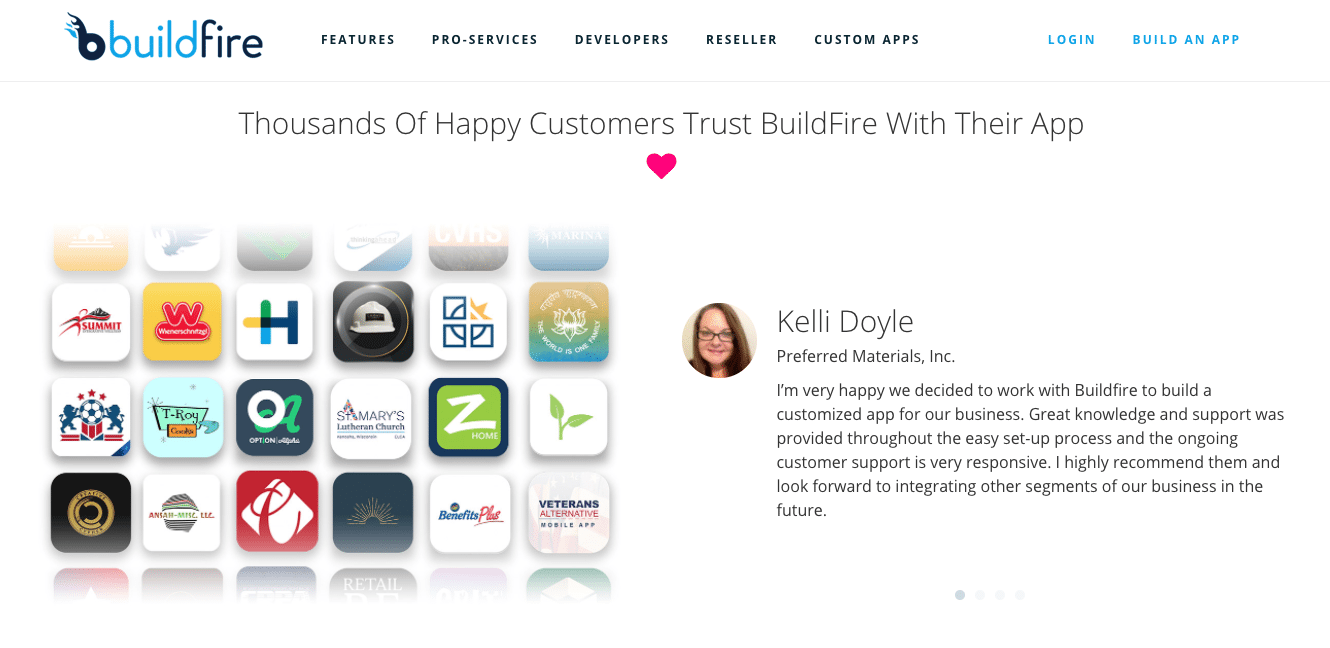 If your developer doesn't have any testimonials or reviews on their website, ask them to provide you with some references.
You can also reach out to their old clients directly if you know what apps they've built in the past.
Just look up the contact information for those companies and give them a call or shoot an email over asking about their experience working with that developer.
Getting a vote of confidence from those people can definitely make you feel better about hiring the developer in question.
Your developer needs to be easy to work with
You're going to be spending several months at minimum working with your developer.
Depending on the app you're building, it could even be up to a year or so.
In my experience, this process goes much smoother if you can get along with your developer.
Communication is key, and you need have a compatible relationship.
Don't get me wrong, I'm not saying they need to be your best friend.
But a strong professional relationship is essential.
You may even spend some late nights working together, so it just makes everything better if this person is easy to work with.
They've got to understand your wants and needs.
You might be technologically illiterate. Are they ok with this?
Can they still give you what you want even if you can't explain it in technical terms?
If they're not going to be friendly and just criticize the terminology you're using, you should probably find someone else.
This aspect is harder to test for, but it's definitely doable.
In addition to asking for references, you should try to arrange a face to face meeting with the developer.
That's why I like the idea of hiring someone locally instead of outsourcing international development.
See what kind of gut feeling you get from the initial meeting with the developer.
You should be able to tell by the first few interactions if you're going to be compatible with them.
The developer has to provide a reasonable timeline
Unless you're building an app that will somehow take users to the moon, your developer shouldn't tell you that it's going to take three years to build.
You also can't expect a quality app to get built in a month.
So have them outline how long they expect each phase of the process to take.

With that said, the timeline should be somewhat flexible.
If they say that the testing phase is going to take eight weeks and it actually takes ten, it's not the end of the world.
But if they tell you the planning and design stages will take six weeks and it turns into 20, that's not as acceptable.
Just understand that you're going to come across some speed bumps along the way that will impact your timeline.
Ask the developer how they plan to handle those situations as they arise, so the timeframe stays reasonable.
Do you really need to hire a developer?
So after going through all of these elements, do you think you can build an app on your own?
Not every company hires a developer.
You can learn how to code and build it yourself, but that's not reasonable or realistic for everyone.
Coding takes time and your final product may end up suffering as a result.
You could also consider other alternatives to hiring a conventional developer.
Think about building a hybrid or web based mobile app.
BuildFire offers custom services that can save you time and money compared to other developer options.
Reach out and let us know what kind of app you want to develop.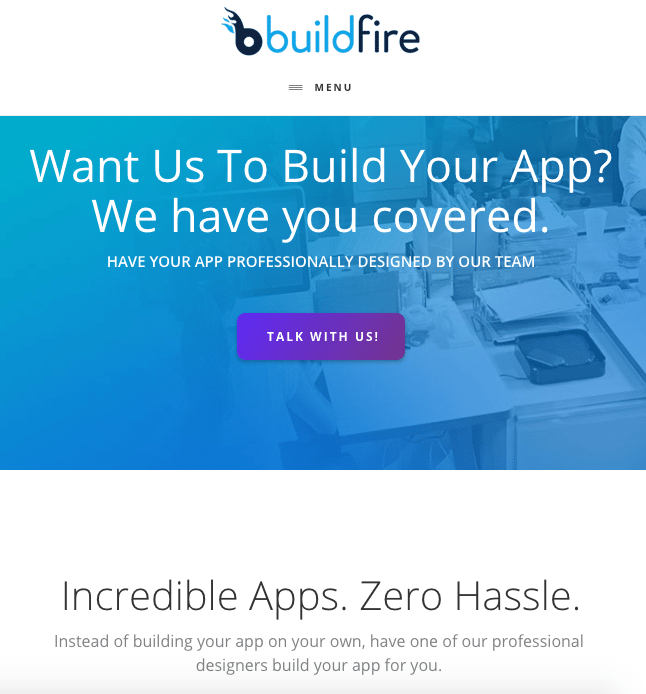 I know that I'm biased, but the BuildFire team gets the job done well.
For those of you that may be on a tighter budget, I would definitely recommend consulting with the BuildFire experts before you hire a developer that is out of your price range.
Conclusion
Hiring the right developer may be the most important component of building your app.
If you pick the wrong person, it's going to cost you time, money, and your app's performance will suffer.
But the right developer can join your team and make a really positive impact.
Look for someone who is well rounded in all aspects of launching an app.
In addition to development, it's ideal if they are familiar with design, marketing, raising funds from investors, and product management.
The type of app you want to build will also impact the developer that's best for you.
Depending on the category and complexity of your app, it's important that you can find someone who has experience with those features and functions.
You'll also need to make sure that you can afford to pay this developer within your company budget.
Don't forget to factor in all of the other costs outside of development.
Look at their track record.
Analyze their portfolio and ask for references.
You've got to make sure that this person is easy to work with because you're going to be spending a lot of time with them over the next several months.
If you're on the fence about a certain developer and not sure if hiring one is the best choice for your company, consider some alternative options.
You can learn to code everything yourself or consult with a custom services team like BuildFire to get your app built.
What's the most important factor that you look for when you're considering different developers to hire?