Best App Building Software of 2023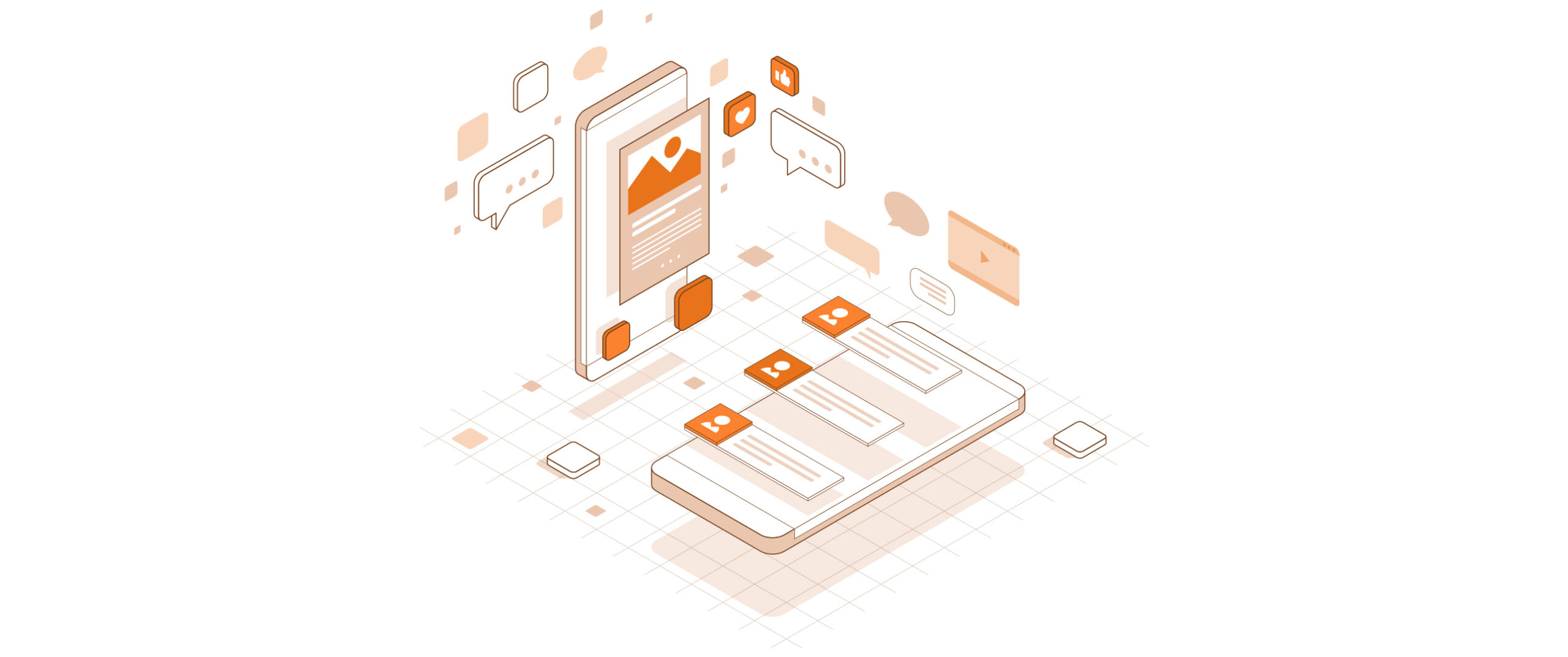 Building mobile apps no longer requires coding skills and technical knowledge. With the help of app makers and app creation software, anyone can create their own mobile app without writing a single line of code.
But not every app builder on the market is created equally.
To help you find the best app development platform for your specific use case, we've reviewed and tested the best app makers and narrowed down the top ten options.
Top 10 Best App Building Software
Before you start building mobile apps, check out these reviews to see which app builder best fits your needs, app idea, and business model.
1. BuildFire
BuildFire is the most powerful app builder for iOS apps and Android apps on the market today.
Trusted to create more than 10,000 mobile apps, it's the easiest way for anyone, regardless of technical ability, to create an app from scratch and get it in the hands of real users.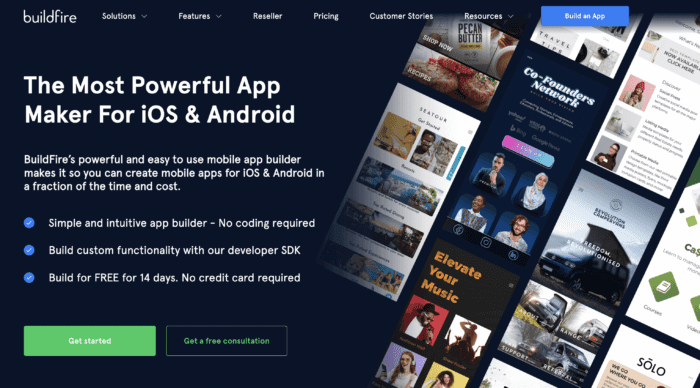 As a web-based solution, there are no software installation requirements or steep learning curves to get started. You can sign up for a free trial today and start building your app immediately.
To get started, choose from a professionally-designed template in your app category. Then it's just a matter of customizing the content to fit your vision.
Adding features and functions is simple. Just browse from the hundreds of pre-built functions on the BuildFire marketplace, and add them to your app with a single click.
What makes BuildFire stand out compared to other app builders is its limitless customization and scalability. You'll never outgrow BuildFire, and you can always add custom features.
If you have a function in mind that you don't see on the feature marketplace, just connect with a BuildFire rep, and the pro services team will build it for you.
BuildFire is the best way to build mobile apps quickly and for a fraction of the cost compared to traditional development. When you're done building the app, you can get it live on the app stores with a single click. The BuildFire team understands the publishing requirements for the Apple App Store and Google Play Store, and they'll assist you with the publishing process.
BuildFire's app development platform starts at just $159 per month, and you can try it for free with a 14-day trial.
2. Inspire U Mobile Apps
Inspire U is a no-code app builder that advertises the ability to build your own app in four hours.
It's a simple and intuitive platform designed for creating custom mobile apps without any technical knowledge.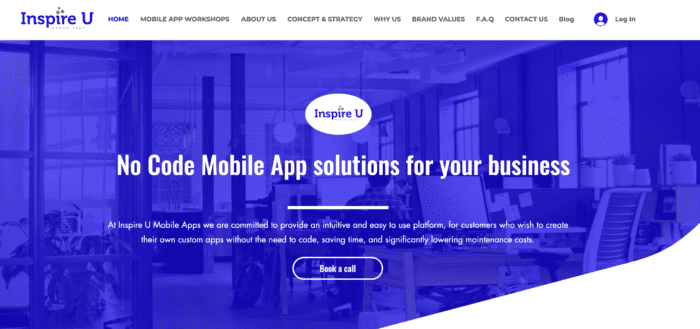 The company was founded by a marketing consultant that quickly realized the opportunity and demand in the app development space. After working with so many clients that needed an app, Inspire U Mobile Apps was born.
This customer-oriented brand is built on the foundation of hard work, quality, innovation, and trust.
They also run app development workshops to help teach people how to use the software.
To learn more about Inspire U Mobile Apps, check out the full story here.
3. Zoho Creator
Zoho Creator is a no-code app maker designed for business process solutions.
Unlike some of the other tools on our list, you do need some technical knowledge to use Zoho Creator for app development.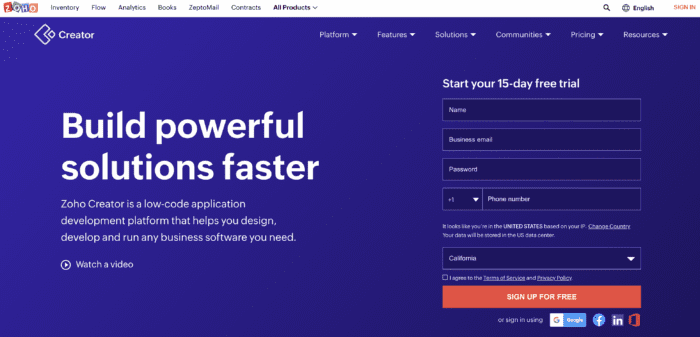 The platform has been used to create more than seven million business process apps. It's commonly used for business processes like:
Sales management
Project management
Customer portals
Data management
Enterprise resource planning
For the most part, Zoho Creator isn't really made for customer-facing apps. It does have a drag-and-drop interface but still requires some technical experience to get the most out of this tool.
If you have an in-house IT team and want to provide them with ways to improve internal workflows, Zoho Creator is a top option to consider.
4. MobiLoud
MobiLoud is a basic solution for anyone that wants to quickly turn a website into a mobile app.
If you're not worried about any customization and just want your site transformed into a web app or native mobile app, MobiLoud gets the job done.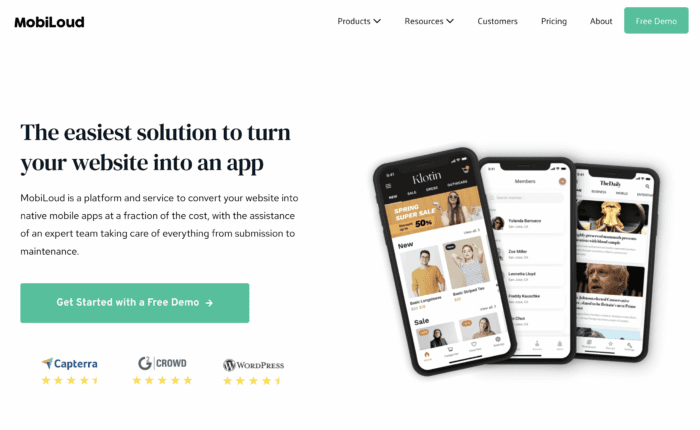 While this is a quick solution for web apps, it's not really a viable option for a business app.
A website in the form of a mobile app is going to be pretty restrictive. MobiLoud doesn't quite have the same customization options as other app development solutions on the market.
It's also worth noting that some app stores require differences between your website and app before they publish your app. So this method could cause your app to get rejected.
That said, if you're in a pinch and need a super basic app as quickly as possible, MobiLoud can be a good temporary solution.
5. Unity
Unity is a niche-specific app development solution.
If you're interested in creating a mobile gaming app, this app development platform should definitely be on your radar.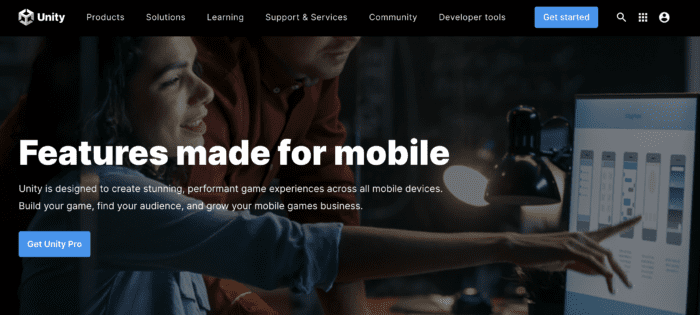 The software comes with custom tools for iOS and Android—making sure you have the power to create whatever you need for the game to work well on native platforms.
Generally speaking, games are a bit more complex compared to other types of apps. So some technical skills and general tech knowledge will definitely be helpful if you're using this platform.
They have a wide range of tools and resources, including:
2D game tools
Universal render pipeline (URP)
A game library
Addressable asset scripting
Visual scripting
Augmented reality foundations
Analytics
If you're ready to take your game idea and bring it to life, Unity is a solid option to consider.
6. Swing2App
Swing2App is a simple app development platform based in Korea.
If you're looking for a basic and low-cost solution to create an app, this is a viable option to consider.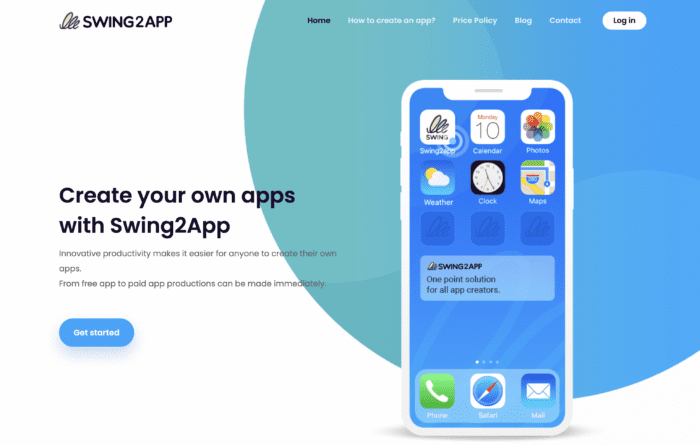 It's worth noting that the platform doesn't quite accommodate custom capabilities. Swing2App is more of a cookie-cutter solution, which really only supports basic mobile apps.
Cookie-cutters are fine for some people, but they're not always ideal for business use or monetizing apps.
Lots of customers rely on this solution for converting a website to a mobile app.
7. Skuid
Skuid entered the app development space in 2013.
For nearly a decade, the tool has been used to develop apps for business productivity and internal solutions.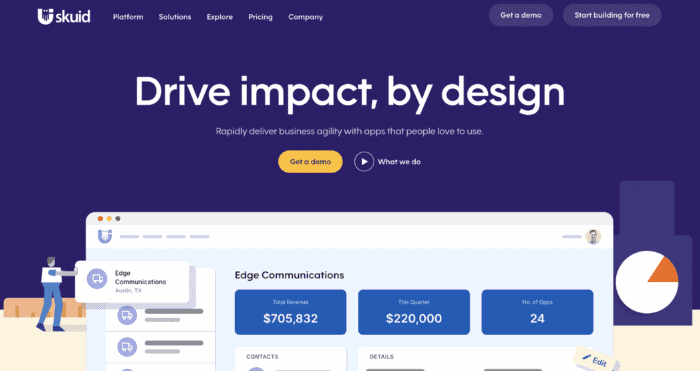 Similar to some of the other app makers on our list, Skuid isn't really designed for customer-facing mobile apps.
One unique standout of this mobile app builder software is its recent partnership with Salesforce. It was recognized for its ability to create apps that drive customer success using this well-known sales tool.
Skuid can be used to create apps for guiding sales, partner portals, people operations, and other internal business processes.
They also pledge to give 1% of their equity, employee time, and product licenses back to the community.
8. Linx
Linx is a unique app development solution compared to other options we've reviewed so far.
Based in South Africa, this low-code development platform is designed for creating and hosting backend applications.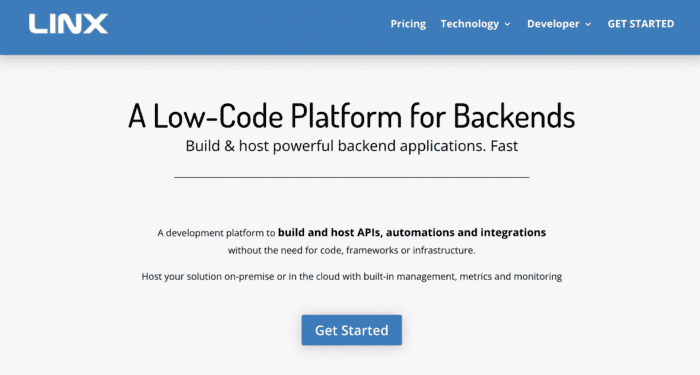 Like other low-code solutions, Linx does require some technical knowledge. You can host on-premise or cloud solutions that contain built-in monitoring, management, and metrics.
Some examples of what you can build with Linx include:
Integrated systems (like mining and supplier integrations)
Backend web applications
Automated backend processors
Endpoints for Webhooks
APIs and microservices
It's worth noting that this low-code IDE is probably the most complex solution on our list. While you technically don't need to write code, some basic coding knowledge and technical skills are definitely helpful.
Linx is built for developers.
9. Alpha Software
Alpha Software provides mobile app development tools for both low-code and no-code apps.
It offers two different Alpha app development solutions—Alpha TransForm and AlphaAnywhere.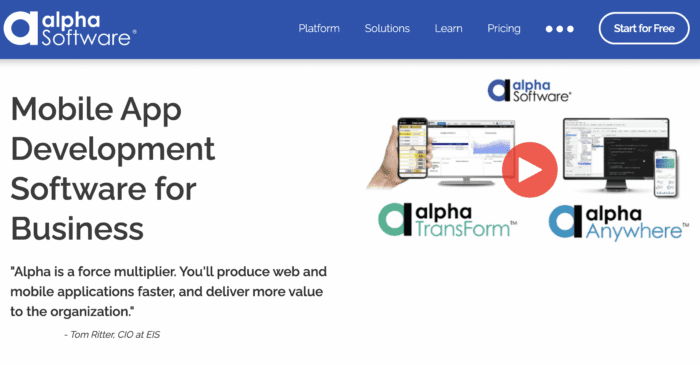 You can use this platform to create cross-platform apps using a low code system. If you want to create a no-code app, then you can use it for things like automating workflows and digitizing paper forms.
The platform offers offline capabilities, simple licensing, and the ability to integrate with any system.
It's commonly trusted by SaaS solutions and professional services that have specific use cases.
10. Xojo
Xojo is a solid app development option for developers that want to create a native app across multiple platforms.
You can use Xojo for desktop apps, web apps, mobile apps, and Raspberry Pi.
Unlike other web-based tools on our list, Xojo does require a software download for you to use it. The software is compatible with macOS, Windows, and Linux machines.
Overall, Xojo is a beginner-friendly tool that's designed for developers.
It has more than 40+ built-in user interface tools that you can use to customize the look and feel of your app. The software also supports advanced features like inheritance and polymorphism.
How Do You Create Apps With an App Builder?
Using an app builder to create mobile apps is a bit different from traditional development. The best app makers don't require any coding skills or programming knowledge to get started.
It's worth noting that some low-code tools on our list are made for developers and do require some tech skills.
For no-code mobile apps, getting started is typically as easy as creating an account and choosing a template. You can do this directly from your web browser, without any software downloads or installations required.
Here's a quick glance at what the initial stage looks like when you're creating apps with BuildFire: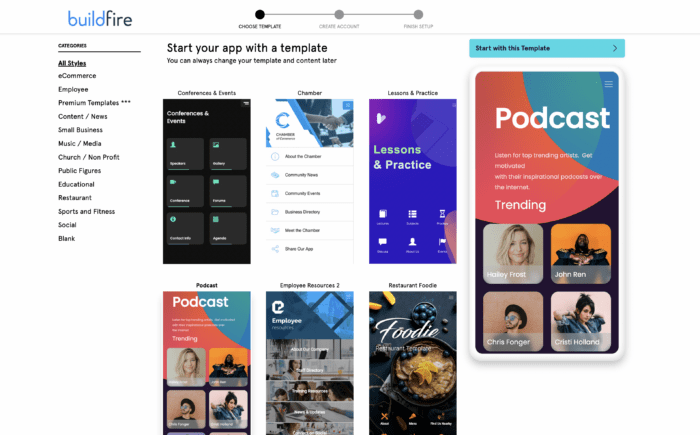 Once you've selected a template, you can dive straight into the app development process.
Just set up your account, and you can immediately start adding features and functions from the marketplace.
This process will look a little bit different for everyone, depending on the tools you're using. For more information, check out our in-depth guide on how to make an app.
How to Find the Best App Builders
Now that you've had a chance to look at some of the best app development solutions on the market, it's time to find the right app development software for you. Keep the following considerations in mind as you're comparing options and narrowing down a shortlist.
Ability to Create iOS and Android Apps
This is the first thing you should look for if you're seeking mobile app development software for real users. The best tools let you create iOS apps and Android apps in a single build.
If you can't simultaneously create Android native apps and iOS native apps using the platform, it's going to add to your costs and extend your project deployment time.
App Development Timeline
How long will it take for you to create the app?
Some app development solutions say you can build the app in hours. Others advertise weeks or months.
This answer is going to vary for everyone. It depends on what type of app you want to build and the features you're adding. If you're going to add custom features beyond the plug-and-play options offered by the software, it's typically going to take a bit longer.
Free Trial
Always sign up for a free trial of app development software before you start building.
These trials are the best way to get a feel for the app builder and what the solution offers. After playing around testing a handful of these solutions, you should be able to quickly identify which one gives you the most flexibility.
App Development Software Cost
Your budget is obviously an important factor when you're comparing app development tools.
With that said, you shouldn't look at price alone if you're assessing two tools side-by-side. While one tool might have a lower price tag, it could be extremely limiting compared to tools with more custom options.
Generally speaking, cheaper app development software translates to less flexibility. You'll be bound by certain restrictions of the tool, making it tough to scale or add custom features.
Some solutions might have a higher price point, but they come with pro services solutions and added support before, during, and after you launch the app.
Check out our guide on the value of mobile app development services vs. app builders to learn more about this concept.
Customization
Lots of app makers on the market are rigid and don't leave much room for customization. You're bound by the limitations of the software and what that tool can handle.
BuildFire is the only app maker that truly allows you to create fully custom apps without writing any code. That's because BuildFire offers limitless scalability and customization.
If you can't find what you're looking for on the feature marketplace, BuildFire has a team of expert developers that can create custom functionality for you.

Assess All the Features
This is something you can focus on during your free trial of an app development tool.
Assess the features and see if there's something missing that you'd need to complete the full app. The best tools should include features for push notifications, analytics, app publishing, and more.
You can also look at the pre-built functionality for things like calendars, video integrations, polling, social walls, event management, images, ecommerce integrations—the list goes on and on.
Ease of Use
Simplicity is key when you're comparing app development tools.
If you don't have any technical skills or coding knowledge, you need a solution that lets you create native mobile apps without writing any code.
With any software, there's always a slight learning curve. But you shouldn't have to go through any complex training or courses to figure out the tool. Some solutions on our list are a bit more advanced and designed for developers. These often come in the form of low-code app development as opposed to no-code app development.
White-Glove Support
Having a team of experts at your disposal definitely makes some tools stand out from the crowd.
If you have some questions or need something done for you, you'll definitely want to lean towards a tool that offers white-glove assistance. This can range from basic questions about using the software to full-service feature creation.
App Performance
The best app development software delivers a stunning final product. After all, isn't that what's most important?
Some tools might be cheap and easy, but the end result is a rigid app that crashes and has too many problems.
Check out some of the existing apps that have been built using the software you're considering. See if those apps perform well or if they have bugs and errors. You can also refer to the user reviews of those apps to see whether or not real users are happy with the in-app experience.
App Submission Process
Development is just the beginning part of creating and managing an app.
But once the process is complete, how are you going to get your app live on the app stores?
The Apple App Store and Google Play Store each have a unique publishing process. So it's in your best interest to use an app builder that provides a seamless submission process.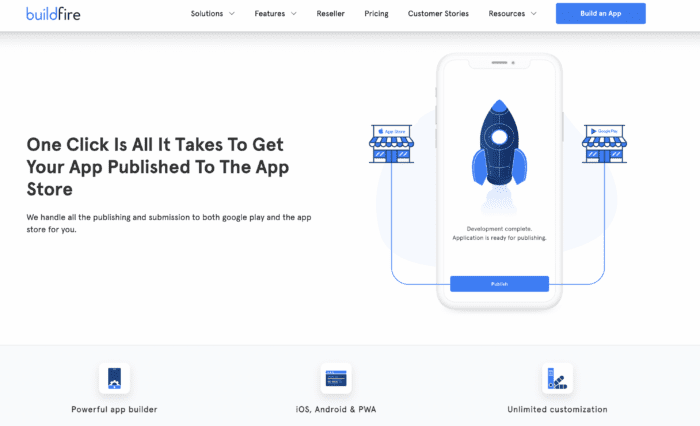 White-Glove Support
Having a team of experts at your disposal definitely makes some tools stand out from the crowd.
If you have some questions or need something done for you, you'll definitely want to lean towards a tool that offers white-glove assistance. This can range from basic questions about using the software to full-service feature creation.
Final Thoughts on the Top App Building Software
The best mobile app development software should be easy to use, customizable, and built to scale.
This guide contains something for everyone, but some of these tools definitely stand out compared to others.
We also have an in-depth ebook—a Complete Buyer's Guide to Mobile App Development Platforms that can help you narrow down your options and find the right solution for you.
If you're ready to get started, you can sign up for a 14-day free trial of BuildFire and start making your app today.