The Top 20 Mobile App Plug-Ins That Will Make Your App Successful in 2023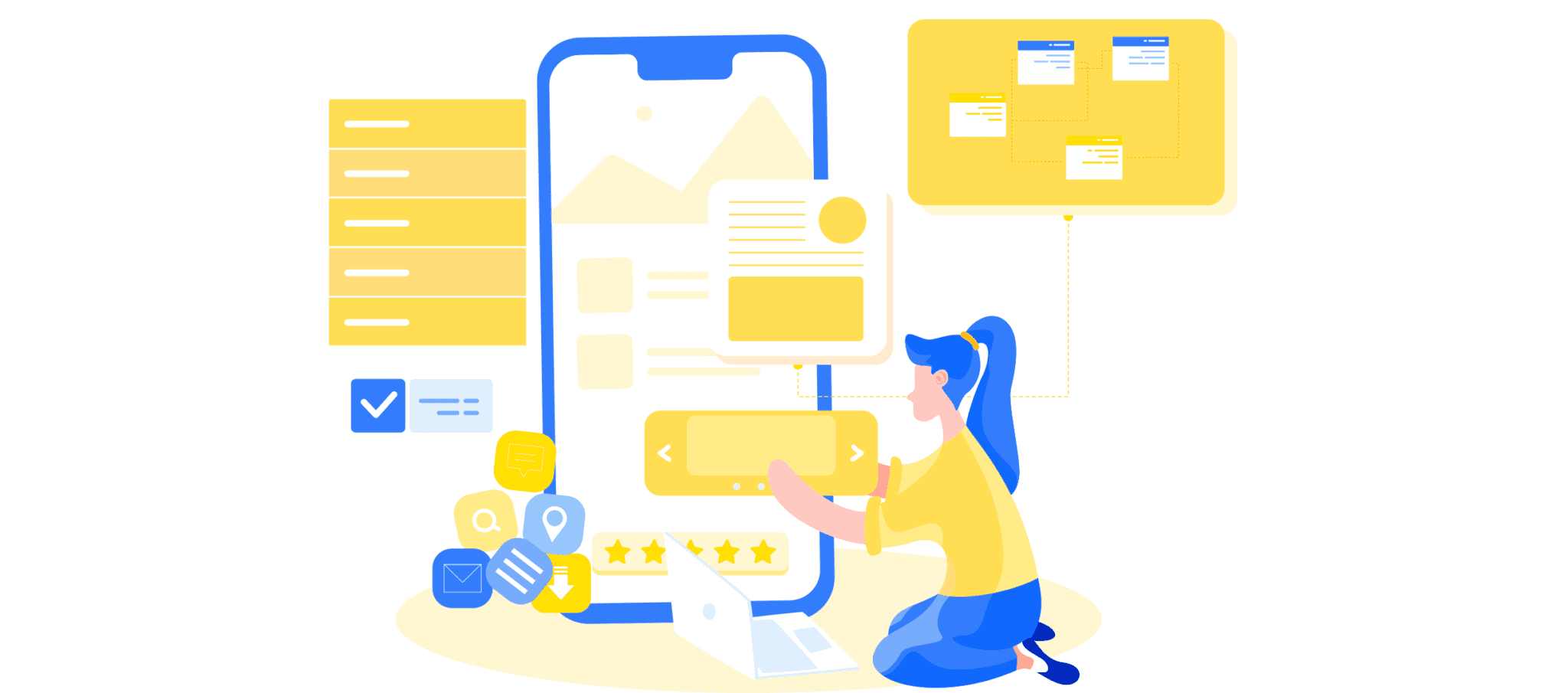 The Internet is flooded with mobile app design tools. How can you possibly know which ones are the best for building an app?
If you've never gone through the app development process before, this can feel a bit intimidating. But with the help of app design plug-ins, it's easy to design an app on your own in 2023. 
What's a mobile app plug-in?
Simply put, a plug-in adds a feature or functionality to your app. Installing an app plug-in is much easier than trying to develop an app design element from scratch.
So for those of you who don't know how to code but want to build a business app on your own, plug-ins will quickly become your best friend. 
What are the best mobile app tools and plug-ins to use in 2023? I've identified the top 20 for you to consider. I'll even cover some app design tips as we continue through this guide.
Thousands of apps have been built using these plug-ins and mobile app design tools. Your business can become the latest to do the same. 
1. Home Page Grid Layout

The design of your homepage can make or break the success of your app. Not only does it need to look clean and professional, but it must also perform well.
With the Home Page Grid Layout plug-in, you can build a highly responsive home page design that's fully customizable to your app and its needs. 
The home page buttons will point your app users precisely to where you want them to go. You can make this homepage as straightforward or as complex as you need with the grid design layout. 
One of the best parts about this plug-in is that it's free to use. If you're new to app design, getting started and set up with Home Page Grid Layout will be a breeze. 
2. Cascade Gallery

The Cascade Gallery plug-in is a unique way to enhance your mobile app design.
Using Cascade Gallery, you can display an image surrounded by five customizable rings. The image is followed by a seamless transition into a tailored gallery of responsive images.
A popular use-case for this plug-in is for a restaurant app. The featured image can be the company logo, and the gallery can be used to display different sections of your menu, such as lunch, dinner, happy hour, or drinks. 
With that said, the plug-in can be used for any menu or navigation that incorporates images into the design of your app. Leveraging images and other visual content is a top app design tip for 2023.
Cascade Gallery is available for a modest $19.99.
3. Image Gallery and Info Slider

The Image Gallery and Info Slider plug-in is another top mobile app design tool for 2023. 
Some plug-ins are explicitly made for images, while others are made for showcasing information. This plugin does both.
You can use the Image Gallery and Info Slider to showcase images or photos in your app. It's highly responsive, so you can display those pictures one at a time while the user navigates from image to image.
Alternatively, the plug-in is also a great way to provide slide-by-slide instructions with information or a combination of images and instructions.
Consider using Image Gallery and Info Slider for a workforce app. It's a great way to showcase employee training steps from a mobile device. 
This plug-in is 100% free to use and install, so it's at least worth trying out during your app design process. 
4. Google Slides

If you're looking for another free way to present images and information in your mobile app, check out the Google Slides plug-in.
Google Slides stands out amongst other app design tools for its versatility and a wide variety of presentation themes. The plug-in comes with hundreds of fonts, animations, and the ability to embed video content in your slides as well. 
Like most of the app design tools on our list, Google Slides is free to use when you're building an app on your own.
5. Text WYSIWYG

Most people don't realize it, but written text is a crucial component to app design. Aside from the text itself, the style and placement have a significant impact on the success of your app.
To embed text into your app design without any coding, you can use the Text WYSIWYG plug-in.
But don't let the name fool you. Text WYSIWYG offers much more than just text. The plug-in allows you to embed images, videos, and forms into your mobile app as well. 
This is one of the most versatile app design tools on the market today. You can even use it as an HTML editor, which will give you the ability to customize the plugin in any way that you desire. 
The fact that it's available for free is another huge bonus. 
6. Choice Homepage

We already checked out a couple of homepage design tools earlier on our list. But the Choice Homepage plug-in adds another layer of functionality to your app.
With Choice Homepage, you can design a question prompt to appear on the screen before a user enters the home screen. This is the perfect way to allow users to customize their app experience.
Once a user selects an option, the choice is automatically saved. So users won't be promoted again each time they open the app.
Allowing the app user to choose their preferred language or time zone are two popular use cases for this plug-in. Although the capabilities are seemingly endless. 
You can even design what gets rendered on the homepage based on what the app user selects.
7. WebView

The Webview plug-in adds a unique design element to your mobile app. 
Historically, there has been a disconnect between mobile apps and mobile websites. I'm sure you've experienced this first-hand with some of the apps you personally use on a regular basis. You click a link within the app, and it opens up a third-party web browser, which can take forever to load and takes you away from the app itself.
This is not convenient, and it's definitely something you need to keep in mind when you're designing an app in 2023.
Webview allows you to externally link online content while maintaining a native app experience.
This is perfect for linking web pages, documents, and pretty much anything else you can think of. You can use this app design tool for free.
8. Youtube

Leveraging video content is one of the best ways to have a successful app. But rather than reinventing the wheel, you can sync your YouTube channel to your app with the YouTube plug-in by BuildFire.
This is the easiest way to embed video content into the design of your mobile app. 
Each time you upload a video to your channel, it can automatically be shown within your app. This gives your app users a fresh viewing experience for all of your new content,
which is perfect for those of you who are building a media and entertainment app. 
People can view your new video content without having to leave the app itself. 
Whether you want to sync your entire YouTube feed or just display a single video, this plug-in has the design tools you need to make it happen. 
9. Optimized Format Media RSS Feed

Proper optimization is a common problem in mobile app development for new designers. You want to add all of these different elements into your app, but it can hurt the performance of your app if they aren't implemented properly.
That's where the Optimized Format Media RSS Feed plug-in can help you.
This plug-in will automatically optimize the content for your standard media RSS feed, just as the name implies. 
Now your app elements can be displayed in a standardized and computer-readable format. 
10. Webview Popup Service

The Webview Popup Service plug-in by Pixel Plugins is an alternative option to the Webview plug-in by BuildFire (#8 in this guide). 
There isn't a significant difference between the two plug-ins, at least not on the user end. 
Both plug-ins allow your app to open and display external links automatically within the app. You'll notice some differences while you're using the plug-in from a backend perspective, but nothing significant enough for me to give the edge to one over the other. 
Webview Popup Service costs $4.99, which is about as inexpensive as you'll find for a paid app development tool in 2023. Although Webview by BuildFire is free. The choice is yours; you won't need both. 
11. Questionnaire

The Questionnaire plug-in was developed to improve user engagement within the app. It allows you to create quizzes or polls, which can be used for a wide range of purposes.
Business owners can use this plug-in to collect user feedback about the app or about the customer experience and satisfaction with the business itself. 
Educators can use this plug-in to build an app for a school or university. Use Questionnaire as a tool for practice tests or study materials. 
From a design perspective, Questionnaire adds a high level of quality and performance to your app. The plug-in integrates seamlessly with the app, so it's highly responsive while users are completing the questionnaire or filling out a poll. 
In addition to the design benefits of this plug-in, it's also an excellent way to collect data and analyze user behavior. 
12. On The Go Push

Push notifications are a key component of any successful mobile app. That's why On The Go Push is one of the most popular mobile app tools in the BuildFire marketplace. 
This plug-in lets you design and send a push notification to app users from anywhere. You won't need to log-in to your app dashboard or computer to send notifications. Simply open the app, type the message, and hit send.
One of my favorite features of On The Go Push is the ability to schedule notifications for a later time or date automatically.
The right push notification paired with the right app design tips will drive engagement and increase revenue from your app users. No matter what type of app you want to build, you'll want this tool available at your fingertips (literally). 
13. Drip Notification

Drip Notification is another mobile app development tool that's made for sending push notifications to app users. Although this tool is a bit different from On The Go Push, which we just discussed.
This plug-in is designed to reach mobile app users who haven't opened the app in a while.
You can set the parameters for when a message should be triggered, and then design what it should say. 
I like this plug-in because it allows you to attach actions to each drip. This can guide your app users to specific features or functions in the app. Overall, the transition from the notification to the app's actions will be fluid and responsive from a mobile app design perspective.
14. File Manager

As the name implies, The File Manager plug-in can be used for basically anything related to files in your mobile app. 
The interface is exceptionally user-friendly. You can easily organize your files with lists or other parameters. 
The use cases for File Manager are seemingly limitless. Use it for invoices, contracts, training videos, or even orientation packages for new hires. 
No matter what the plug-in ultimately gets used for, you can rest assured knowing that the design of your app won't be compromised.
15. Large Icon Home Page

If you're looking for an alternative to the Home Page Grid Layout plug-in, this will be a top choice for you to consider. 
Large Icon Home Page can also be used as a home folder within your app.
I like this plug-in because it's versatile enough to meet the needs of any home page, regardless of the type of app you're building. 
Unlike Home Page Grid Layout, the Large Icon Home Page is not free to use. But with that said, it's incredibly affordable to install. The plug-in costs just $9.99, which is a small price to pay for a mobile app design tool. 
16. Google Sheets

If you're familiar with Google Sheets, then you already have an idea of the capabilities for this mobile app design plug-in. 
For data-intensive apps, Google Sheets will enhance the design of your app with colorful graphs and charts. This is a much better way to display numbers compared to written text.
The Google Sheets plug-in comes with built-in formulas, pivot tables, and conditional formatting options. As a result, you can save time and simplify common spreadsheet tasks.
If you're building an ecommerce app or traditional consumer app, you probably won't need this. 
Mobile apps for events and conferences will definitely benefit from the superior design and organization the Google Sheets plug-in brings to the table. Workforce apps will also find Google Sheets useful for a wide range of circumstances. 
This is another free mobile app design plug-in that was developed by BuildFire. 
17. Action Items Folder

Navigation is a crucial mobile app design element. Every app needs a way for users to get from one screen to the next. 
The Action Items Folder plug-in simplifies this entire process.
This plug-in creates a searchable list of items and displays a pre-description of the object. The list is expandable, with a link button that can navigate to the actual screen within the app.
Think of it as a menu with an expandable preview for functions like calling a phone number, sending an email, opening a map, or opening an external link. It starts with the list item and expands to a detailed view of the object.
The Action Items Folder plug-in is an app design tool and navigation feature built into one extremely useful resource. 
18. Time Release Content

The Time Release Content plug-in adds a unique design element to your mobile app. As the name implies, this plug-in allows you to schedule content for a specific date and time to become available in the app. 
This can be used for categories, app features, content, or app elements. 
From a design perspective, the plug-in lets you to grey-out buttons and content that are unavailable, which creates anticipation and excitement for the user, while simultaneously following app design tips and best practices. 
Writers could use this to release one chapter of a book at a time. Restaurants could use this plug-in to release menu specials and discounts in real-time. 
19. Contact Us
Every app should have some type of contact form. The Contact Us plug-in makes this easy for you to build in your app.
You'll be able to provide contact information like:
Phone numbers

Emails

Social media profiles
Furthermore, the Contact Us plug-in is perfect for including hours of operation and instant directions to physical locations as well.
Instead of just using a text editor to display this information on a screen, the Contact Us plug-in creates a beautiful and highly functional design for these purposes. It's free to use as well. 
20. Realtime Chat

Realtime Chat is the best plug-in for allowing app users to leverage live chat in real-time. 
Users can chat privately with each other or start group chats as well. This plug-in is perfect for those of you who want to build a workforce app for employee communication. 
Your staff can communicate using the app without having to use a third-party platform, resource, or web portal. It's great for in-house communication as well as communicating with deskless workers, field employees, and other remote staff. 
Conclusion
Building an app on your own is easy, especially with plug-ins and app design tools in 2023. 
For the purpose of this guide, I focused on plug-ins that were design-oriented. But you can check out the full list of plug-ins on the BuildFire marketplace. These tools will really make your life easier when it comes time to build your app.
Apps are one of the best ways to solve problems and pain points associated with your business or day-to-day life. Check out our customer success stories and case studies to see how versatile the BuildFire platform is for app development. 
If you're ready to proceed in the app development and design process, request a free consultation or start a free trial with BuildFire. 
Keep checking back or subscribe to get the latest information and resources about building an app.