How to Build a Successful Employee Mobile App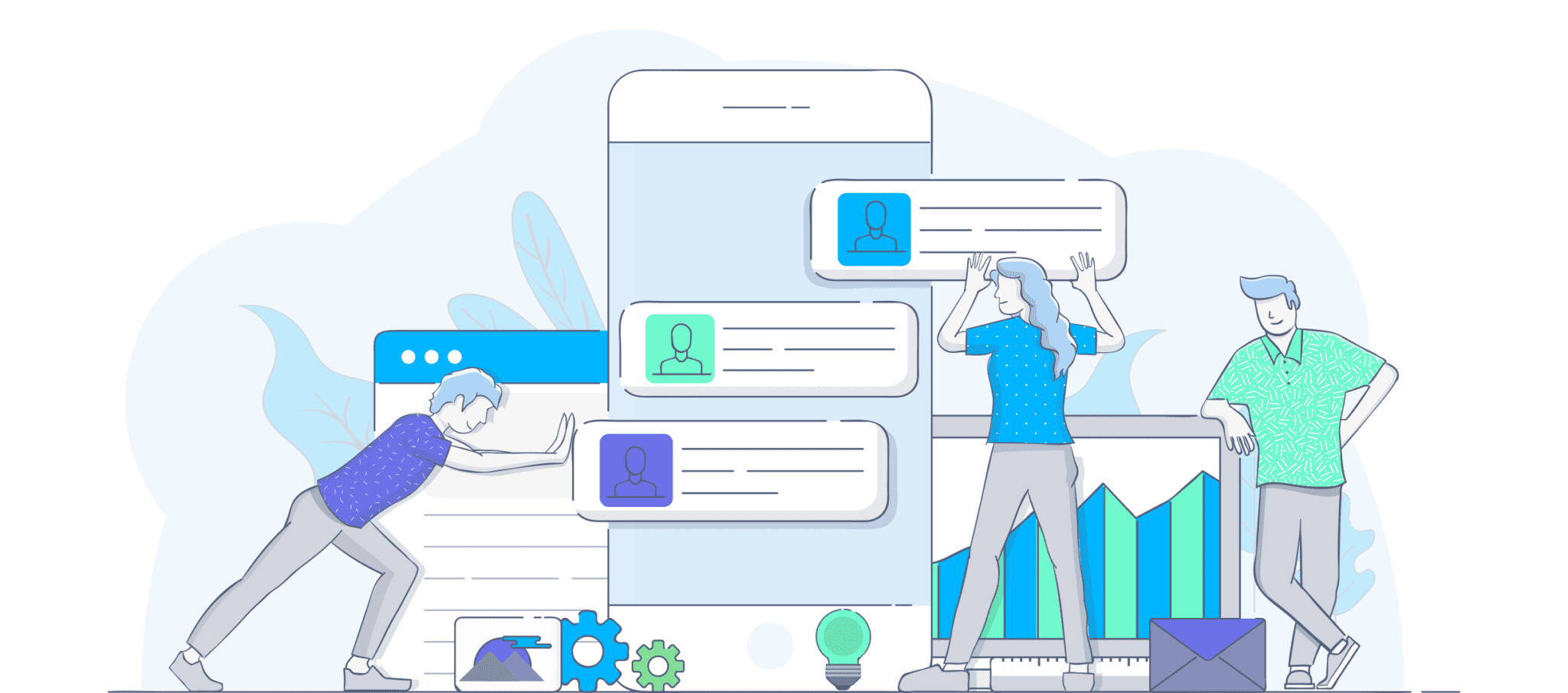 Not all mobile apps are intended for mass consumption on the app store. Mobile apps can be used as powerful tools in the workplace as well. Small businesses and large enterprises alike can benefit from an employee mobile app.
An internal communications app is a great way to improve any inefficiencies in your HR department while simultaneously future-proofing your operation. 
Common tasks that can be solved with an internal business app include:
Corporate communication

Management self-service

Employee self-service
An app can improve the way information is sent to your employees, which is a major HR challenge for businesses. Mobile apps can also give your managers access to crucial information, such as company financials, while they're on the go.
The employee self-service functionality gives your staff access to everything they would have from a company computer while they are working remotely. 
These are three broad types of tasks that can be solved with an employee mobile app for your business. As we continue through this guide, I'll cover some more specific features that make these apps successful.
So for those you of you who are thinking about creating an app for your employees, use this resource to guide you through the process. 
Benefits of a Business App For Employees
An employee mobile app is not something you should create just for the sake of doing it. If you don't understand the benefits of an internal business app, then it doesn't have a chance of being successful.
You should keep these benefits in mind when you're designing the app. This will ensure that all of the app features are implemented with a clear purpose. 
Increase Productivity and Engagement
Mobile apps can improve HR efficiencies, making it easier for your employees to complete basic tasks. Rather than having to visit the HR office or calling the HR department over the phone, your staff can access and make changes to their personal profiles directly from the app.
If someone wants to request vacation time or needs to call out sick, they won't need to make a call or use their computer. All of this can be managed in an app.
Your staff is already using their mobile devices on the job. 
In fact, 60% of employees say they use apps for work-related tasks. An additional 71% of people spend at least two hours per week accessing company information from their phones and tablets.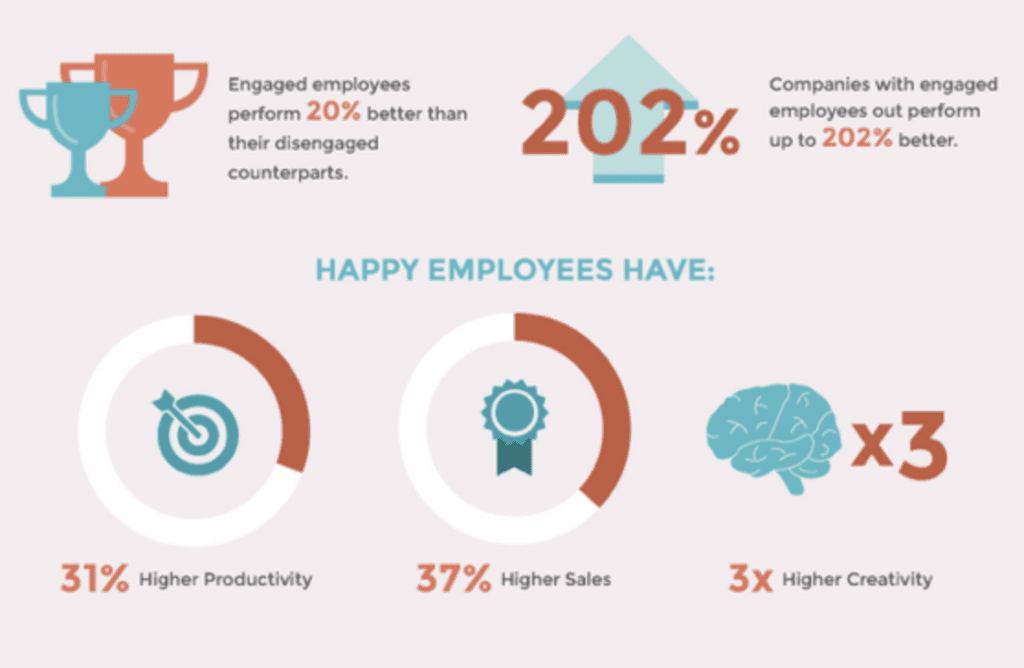 By giving them an employee mobile app, you're making it easier for your staff to do the things that they're already doing from these devices.
As a result, this will improve employee productivity and engagement on a day-to-day basis. 
Overall, this will improve the employee experience. According to the infographic above, happier employees are more creative, more productive, and generate more sales.
Once you recognize that your employees prefer to use their mobile devices for workflow-related tasks, you can build an app to improve those processes. 
Reduce Human Error
Mistakes happen. This is just part of running a business. While some mistakes are obviously more significant than others, you'll obviously want to reduce faulty actions as much as possible.
Your business is more susceptible to making internal mistakes if the majority of your processes are handled manually by your staff. Here's what I mean.
Let's use your human resources department as an example, as it pertains to your employees.
What is your current process for staff requesting time off? Some company policies require staff to email the HR department. Others even accept hand-written requests dropped off at the office. 
These types of procedures leave too much room for human error. An email can be overlooked, misunderstood, or accidentally deleted. Paper requests are tough to keep track of and can easily get lost.
But an app can eliminate these types of mistakes. Your staff can request time off and add their vacation schedules directly from the app. This information will automatically sync up with your HR system. 
Instant Feedback
How often do you get to sit down with your employees and review how they're doing? What's your process for listening to employee feedback?
Your staff is the driving force behind your operation. They are on the front lines, so they know what's working and what can be improved. If they have a suggestion to improve the process, it shouldn't have to wait until their annual review meeting. 
Set up a function within the app specifically designed for employee feedback. The possibilities here are endless.
It can even be used for requests to fix a broken microwave in the break room or an oversized pothole in the parking lot. You can send out surveys to your employees on a regular basis to encourage their feedback as well. 
Overall, this will keep your employees happy knowing that you actually care about their input. 
Improve Employee Communication
Effective employee communication is the key to success in the digital workplace. 80% of employees say that proper communication actually helps improve the performance of their work. 
60% of people want their employers to keep them informed with company news.
However, roughly 30% of the entire workforce believes that their company's existing methods for internal communication is not working. That's a major problem for businesses today.
Here are some of the most common reasons why internal communication is failing.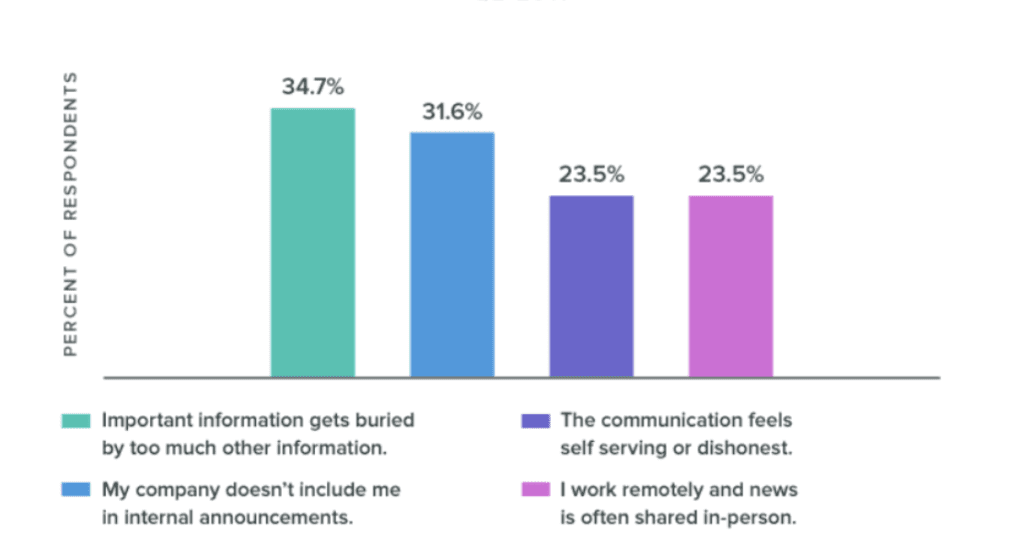 Furthermore, 86% of business executives and employees say that ineffective communication is the number one reason for workplace failures. 
The majority of businesses use email to communicate with their staff. But the average office worker receives 120 to 150 emails per day. Sorting through those to find the vital internal announcements is ineffective. This relates back to employee productivity, which we discussed earlier.
But an app can provide the main hub for all important announcements. You can use an in-app news feed as a way to reach employees. Important notices can be sent to your staff via push notifications, so everyone will see it immediately. 
Real-Time Information
Another top benefit of an employee mobile app is access to real-time information. This is a major flaw in the workflow process for many businesses, especially ones with deskless employees.
Let's say you have an employee who is on the road completing a job remotely. When the task is complete, they can update their progress directly in the app as opposed to waiting until they return to the office. This can drastically improve your scheduling procedures and workflow statuses. 
Here's another example, from a completely different angle, to show you how versatile these apps can be. 
Your company might have a shuttle bus that takes your employees to a parking lot, public transportation, or central location in a nearby city. Your staff can access the shuttle schedule and track its actual location in real-time with GPS monitoring. 
Is your IT department running last-minute repairs that will impact technology in the office? Are you shutting down early today due to foul weather coming in? 
All of this can be communicated and seen in real-time with an employee mobile app. 
How to Make Your Employee App a Success
Now that you understand the benefits of an employee app, it's time to learn how to make your app successful. I've identified some specific features and elements that should be taken into consideration when you're going through the building process.
Solve a Problem
The first thing you need to do is identify a problem in your current operation. Otherwise, your app won't have any purpose or sense of direction.
Don't limit yourself. An app can solve more than one inefficiency in the workplace. So make a list of everything and then figure out which ones can be improved with a mobile app. Some examples include:
Poor internal communication

Low employee productivity

Limited resources for remote staff

Too many manual tasks in the HR department

No access to real-time workflow processes
Once you identify the problems, it will be much easier for you to implement specific features in your employee app to address those concerns. 
Define Your Company Culture
What is your company all about? You might have a mission statement or branding strategy, but that's not the same as your company culture.
This is more important to your staff than you might think. Take a look at the most important aspects of a job description, according to a recent survey of employees.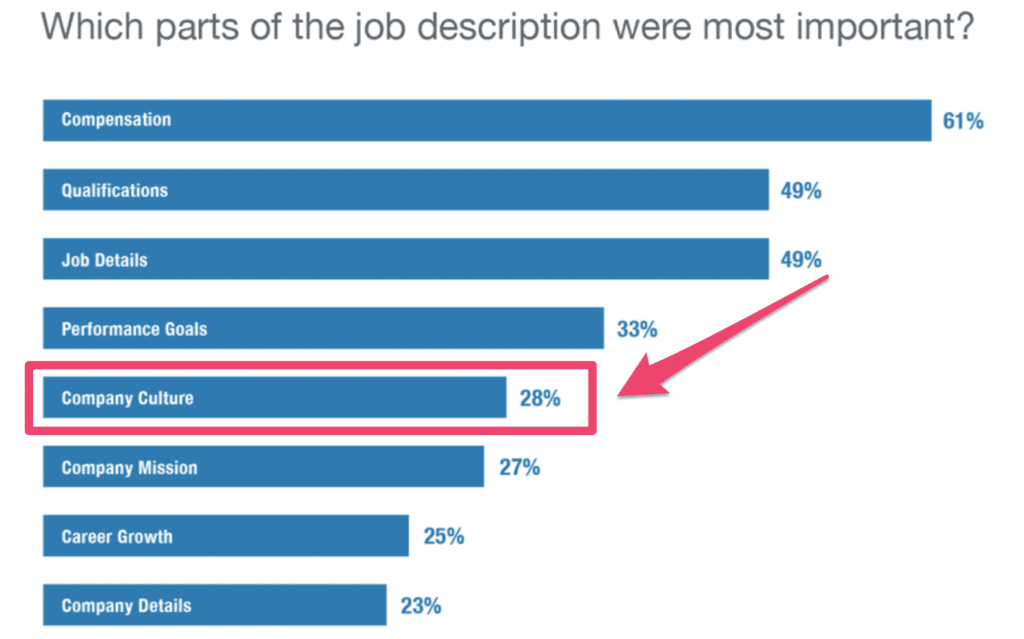 Aside from compensation and actual job requirements, company culture ranks high on this list.
An employee mobile app will allow you to set the standard for how your staff communicates, behaves, and works. If you can emulate the company culture through your use and engagement in the app, it increases the chances that your employees will follow that lead.
For example, let's say you have an instant messaging feature for internal communication. You can't expect your staff to use it if you never do.
A great employee app will be branded based on the company culture. If your app is dry, boring, colorless, and uses formal language, then that will be the perception of your company's culture. 
Alternatively, if your app is bright, colorful, branded with your logos, includes company taglines, while communicating information in a way that's both fun and engaging, your staff will behave the same way.
This relates back to employee engagement and happiness. Let's look at something as simple as the phrasing between two statements.
Free beer in the break room! Help yourself. 
Or… 
There will be complimentary beverages and snacks for all faculty at 1:00 PM today
Each of these portrays a different type of company culture. Which one do you want to be? The choice is yours, but an app gives you the chance to emulate your vision. 
Establish a Central Information Hub
Your app should be full of useful employee resources. You can't expect your staff to keep a physical copy of your employee handbook with them at all times. But with a mobile app, they'll have access to this type of information from anywhere. 
Here's a basic example of how you can set up the main dashboard for your employee app.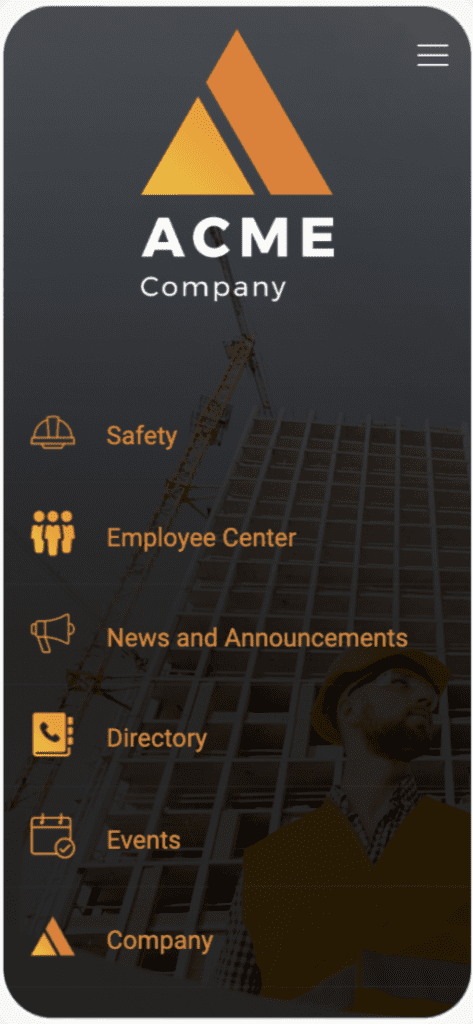 From here, your staff will have access to everything and anything they could possibly need to know about your company.
Do they need a reminder about certain safety procedures? Review the rules within the app. 
Rather than sorting through the 100+ emails, they get each day to find company news and announcements, they can simply check the app on their own time for any updates about the company.
The app can include a company directory listing all employees' names, phone numbers, email addresses, and other helpful information.
Your event calendar can be integrated into the app as well. This is much more effective than passing out physical flyers around the office for upcoming events. 
The best employee apps allow staff to access payroll information, health plans, and other benefits as well. If they have a question about any of these things, they can simply use the app as a resource instead of being forced to contact your HR department. 
Create Modules For Employee Learning
Employee mobile apps can also be used as an effective training tool. Depending on the type of business you have, it may require your staff to go through certain programs to remain eligible or advance their position. 
You can set up your app with learning materials, guides, and videos to train your staff on how to do things. This can be extremely helpful for new hires as well.
An app even gives you the opportunity to set up tests and quizzes directly on the platform. These can be used as practice examples before your staff needs to go through an actual certification program.
In addition to educating your staff, this type of feature can also provide you with valuable information about your employees.
You might be under the assumption that your staff is highly trained and fully knowledgeable about certain topics. But the results of these tests may tell you otherwise.
Furthermore, if you see analytics showing that a high percentage of your employees are constantly checking the same learning materials, you can potentially change your training process to make sure that people understand everything better the first time around. 
Encourage Friendly Competition
Do you offer prizes or rewards to employees with the top sales each month? You can set up a sales team leaderboard in your app to track everyone's progress in real-time.
This type of feature will encourage your staff to work harder to make their way towards the top of the ranks.
Even if you're not in sales, you can find other ways to re-create this type of competition using the mobile app. Maybe you reward employees based on their attendance or punctuality. Or maybe your staff has an in-house competition for who takes the most steps in a day.
These types of friendly competitions can boost morale around the office and create comradery in the workplace. Your employee mobile app is the perfect place to track and facilitate something like this. 
Enable Push Notifications
Earlier we talked about how inefficient email is when it comes to communicating with your staff. But how much time are they actually wasting searching through emails?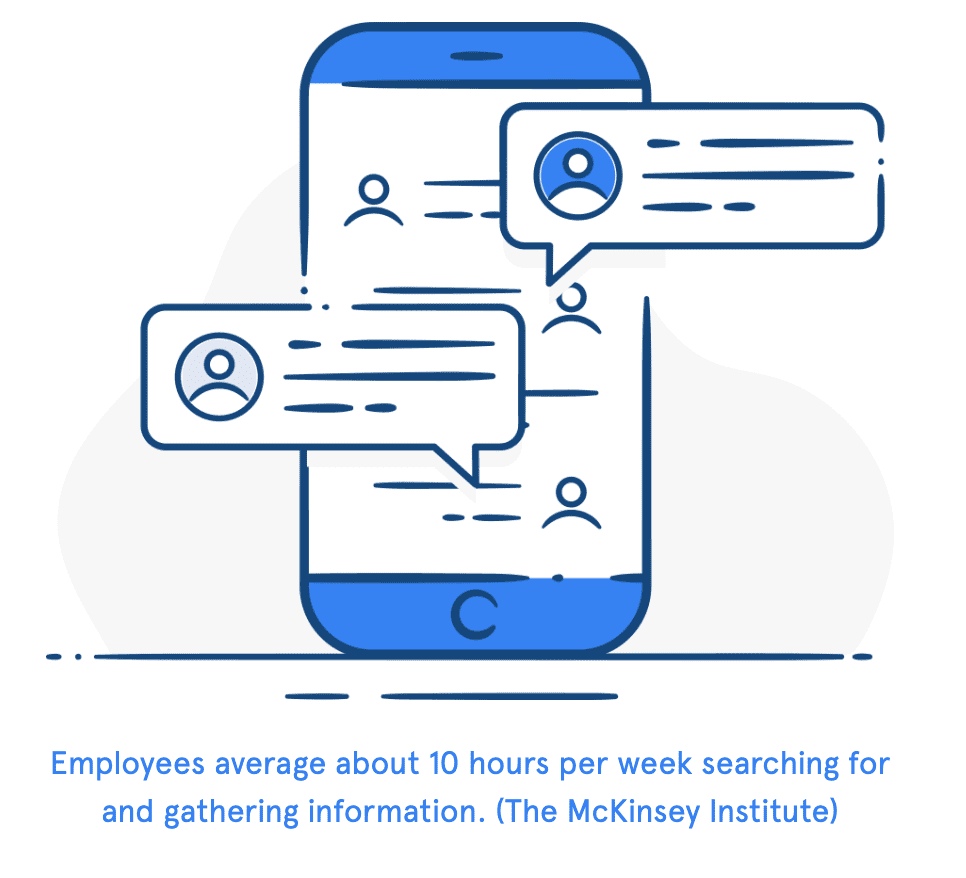 According to a recent study, your staff spends about 2 hours each day searching for and gathering information. That is not an effective use of their time, and it's costing you tons of money.
Push notifications are a much more effective way to communicate with your staff. So make sure that you take full advantage of this feature for your employee mobile app.
Don't get carried away and send them tons of useless notifications throughout the day. That defeats the purpose. 
Here's something you need to keep in mind. Push notifications can be disabled by the user. So you don't want to bombard your staff with too many messages. That will cause them to turn notifications off, and then you're back to square one. 
Save the push notifications for messages that are urgent and of the utmost importance. Any high-priority memo could be sent as a push notification as opposed to a general email.
Other company announcements can be found within the app as well. 
Don't Forget About Your Deskless Workforce
80% of the global workforce is considered to be deskless. While this group makes up the vast percentage of employees, just 1% of enterprise software funding goes towards them.
So when you're designing an employee app, you need to keep your deskless employees in mind. These are people who work remotely, work on the road, on-site, or bounce around between multiple locations.
You can't treat them the same way as your in-house staff who you see every single day from 9:00 AM to 5:00 PM Monday to Friday.
Depending on the type of business you have, it could be days or even weeks before your remote workforce needs to report to an office. 
Recently, BuildFire helped build a mobile app for Preferred Materials. The company has nearly 1,900 employees, but only 20% of them are office-based. By creating an app to target their deskless workforce, they were able to increase employee engagement by 300%.
You can check out the full Prefered Materials case study here.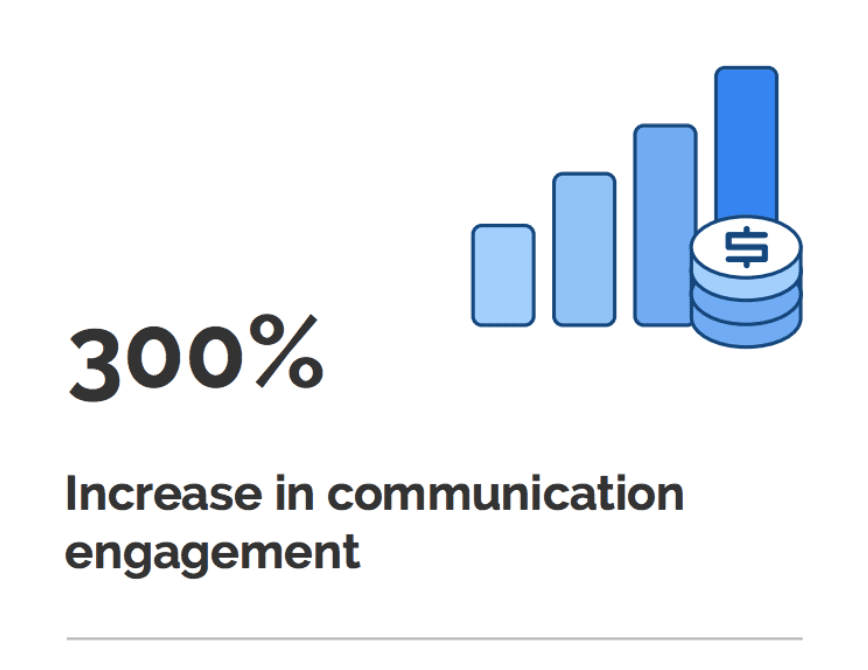 Set Up Instant Messaging
Communication has been a major theme throughout this guide. It's one of the main benefits of building a successful employee mobile app.
But most of the communication that we've discussed so far has been between management and the staff. Human resources or the CEO sending out updates, memos, or other types of information. However, you're not just limited to those examples.
You can set up instant messaging within your employee mobile app. This will allow your staff to communicate with each other, from anywhere, in real-time. 
Many companies might have some type of instant messaging software that they use for this. But in order to access it, your staff needs to be logged in to their computer. 
By adding this feature to your mobile app, it extends that communication outside of the office and doesn't chain your staff to a desk. 
People are used to texting and sending quick messages from their smartphones all day as it is. So this will be easy for them to adapt to. They may even prefer it over email or phone calls.
It's another great way for your remote staff to feel like they are still connected to the office when they are on the road. If they have a question, need some assistance, or want to provide an update, your employees can simply send an instant message within the app. 
Test the Usability
Building a successful employee mobile app goes far and beyond just adding the right features. You also need to make sure that the app is user-friendly. 
If your app doesn't load quickly, crashes often, and can't perform basic functions, then people aren't going to use it. This is not a situation that you want to be in.
A mobile solution is supposed to improve your efficiencies, not make things more difficult. If your staff tries to use the app for something but is unable to do so, then they are forced to revert back to their old ways.
This essentially makes your process even less efficient than it was before. Here are some statistics to keep in mind when you're testing the usability of your app.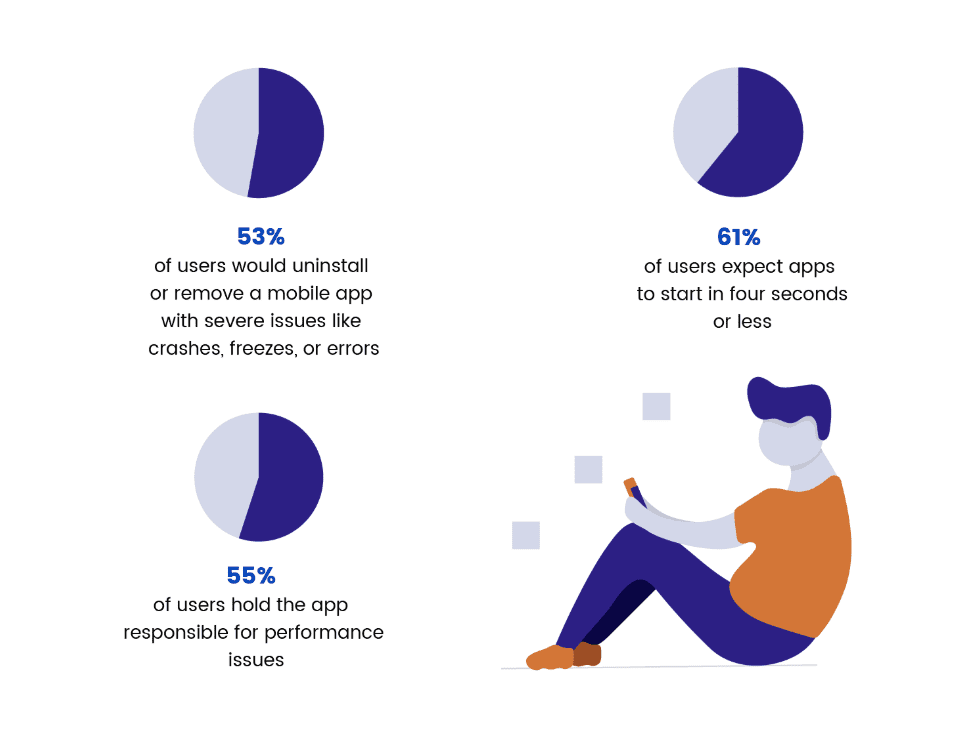 So don't rush to get your app in the hands of your staff until it's been thoroughly tested. Maybe release a beta version to a select few members of your team to get their feedback before you launch at scale. 
Maintain High Performance
Your employee app won't be perfect. Don't worry; no app is perfect. 
Even the best apps out there have room for improvement. While it's important to test the usability before launching it, understand that the process doesn't end there. 
You'll still need to come out with updates to ensure that the app is always performing at a high level. Since this is something that your staff will be using on a daily basis, you can't cut corners when it comes to performance. 
Take feedback seriously. If your employees are experiencing problems or difficulty using the app, encourage them to share that information with you so you can make the necessary adjustments. 
Conclusion
Nearly any company can benefit from an employee mobile app. But before you start this project, it's important to understand exactly what makes these apps so successful.
Don't just build an app for the sake of doing it. There needs to be a reason and purpose behind your decisions, like building an app to streamline the employee onboarding experience. 
Every business is different, but there are certain common features that every employee app should include. So use this guide as a reference for building your app. 
Once you've decided that you're ready to move forward, you need to figure out exactly how you're going to build it. Here at BuildFire, we have the tools you need to build a workforce app.