How to Get More Downloads on Google Play Store (Get First 1000 REAL App Downloads)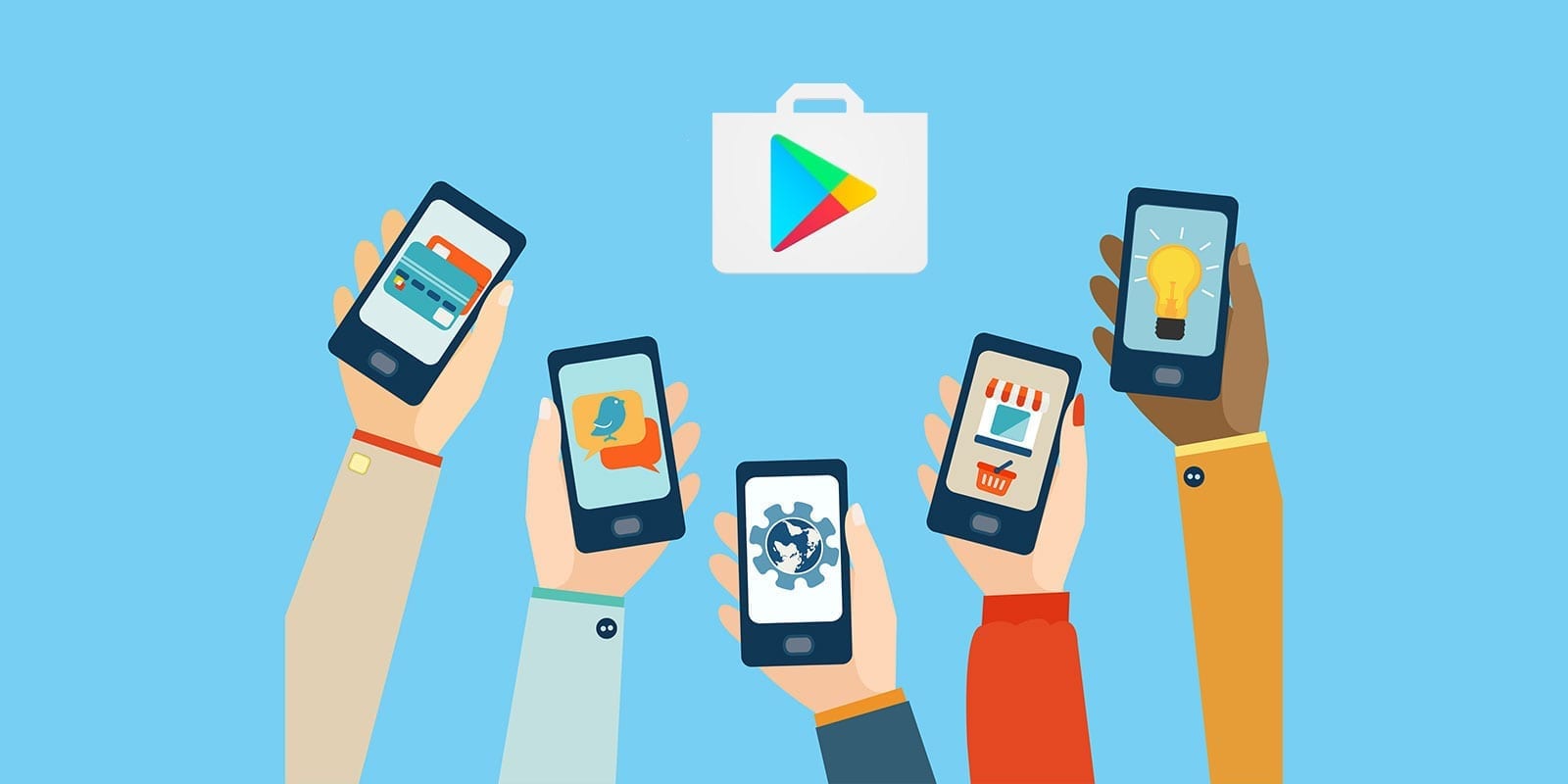 So you've finally launched your first mobile application.
It's a big accomplishment.
You should be proud of all the hard work, effort, and money you put in while completing this process.
Now that you released your app on the Google Play Store, you can just sit back, relax, and watch your software climb the app store rankings – right?
Wrong.
If you want your app to actually make money, which I'm assuming you do, you'll need to get more app downloads.
Don't be discouraged if you aren't seeing a massive surge of downloads right away.
As an expert in this space, I can give you some tips for how to get downloads fast. These tips go beyond your app title, app icon, app page, app screenshots, user reviews, and basic tools for app promotion. I'll help you target real users that will lead to more app downloads by building a quality app.
Follow my guide, and you'll be on your way to 1,000 downloads faster than you ever thought was possible.
Just because your app didn't have the initial success that you thought it would, it doesn't mean that it's time to enter panic mode or do anything drastic.
I've steered you in the right direction when I explained how to get downloads on the Apple App Store, and now I'm going to do the same for the Google Play Store.
Here's what you need to know if you want to be successful and how to increase app downloads in Google Play Store.
Ensure quality first
Think of your app like a product or service.
Nobody wants to use something if there's a higher quality alternative at an equal or better price point.
So don't cut corners when you're coming up with the concept and design.
Look at the comparison between iOS and Android users.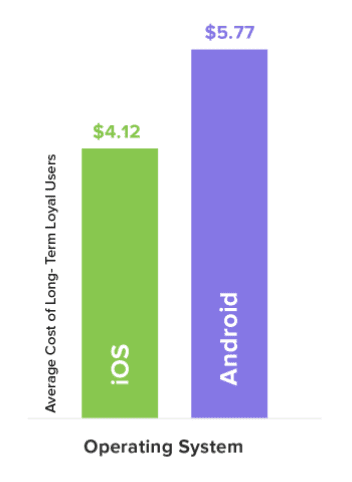 It costs more money for Android to establish long-term loyal users.
This is important information to know when considering quality.
Why?
Because based on this information, it's safe to say that users on that operating system care even more about quality.
Sure, it may cost more to acquire and retain them initially, but you can end up getting a much higher return on this investment if your quality outperforms the competition.
Your app needs to be the best version that it can possibly be.
Always strive to make improvements and fix any bugs that could impair the user experience.
Quality speaks for itself.
If you establish a superior app, the rest of these tips will be even easier for you to follow and incorporate into your marketing plan.
Join communities with other app developers
There's nothing wrong with taking advice or getting help from your peers.
For example, I'm a member of the Young Entrepreneur Council.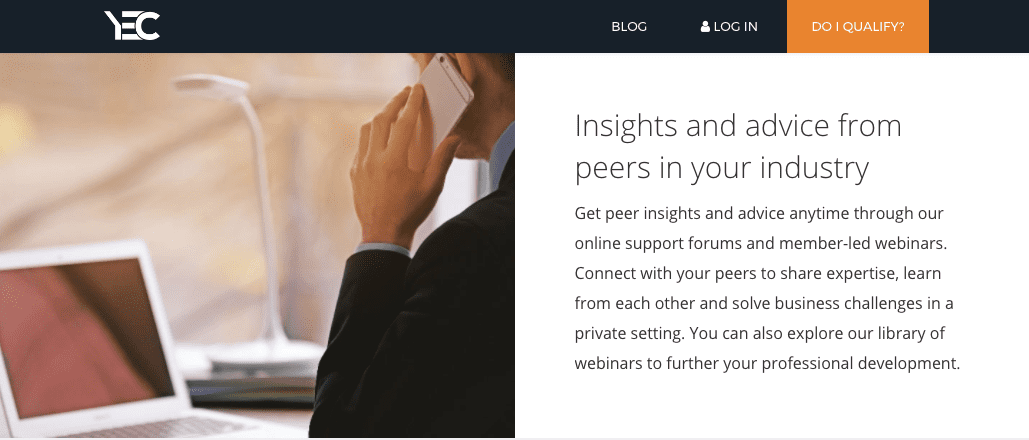 Being part of this community means I can chat with my peers and get advice.
Don't look at everyone in your industry as a competitor.
Just because you're consulting with someone who also has an app on the Google Play Store, it doesn't mean that you both can't help each other out.
Depending on the functionality of your app, it may have absolutely nothing to do with the target market of someone else in a certain community.
So take the advice from people who paved the way and already had success in this space.
With time, maybe you can return the favor and help other developers by sharing some of your insights to success.
A community that's directly related to getting downloads is the Mobile Growth Organization.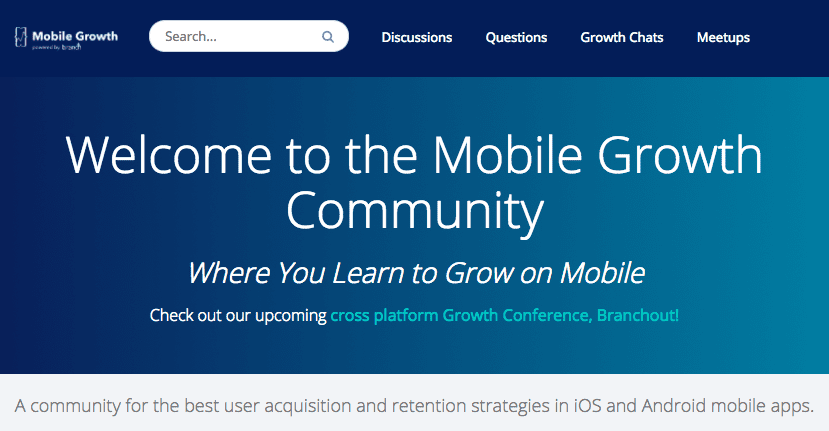 Users on this discussion board have helpful tips about getting downloads for new mobile apps.
Consider joining this community as a helpful resource.
You can also get some experts to critique your app.
This goes back to what we discussed earlier about quality.
Users who download your app may not give you any feedback if they're not happy with your app's performance.
They'll simply move on and delete it or just not use it.
But if you consult with someone in your community, they can help you make changes to improve the quality and performance.
Do beta testing
Let's take the concept of critiquing performance one step further.
Beta testing is a great way to accomplish this.
It's also important to do this when you're trying to compare different versions of your software.
Before you release an updated version, make sure that it runs smoothly by getting beta testers to try it out.
Here's a tip to consider when looking for beta users.
Don't source them all from one location.
Use different platforms to get a variety of testers to avoid bias.
While testing is important, nothing is perfect.
You don't want to waste too much time and money on these tests.
Set up a private community board where all of your testers can discuss the app amongst themselves and provide feedback directly to you.
These discussions should not be made for public viewing.
Get creative with your marketing strategy
Just because you're a developer, it doesn't mean that you can't let your creative juices flow.
Check out this shirt from The Yellow Pages that was used to promote their new app.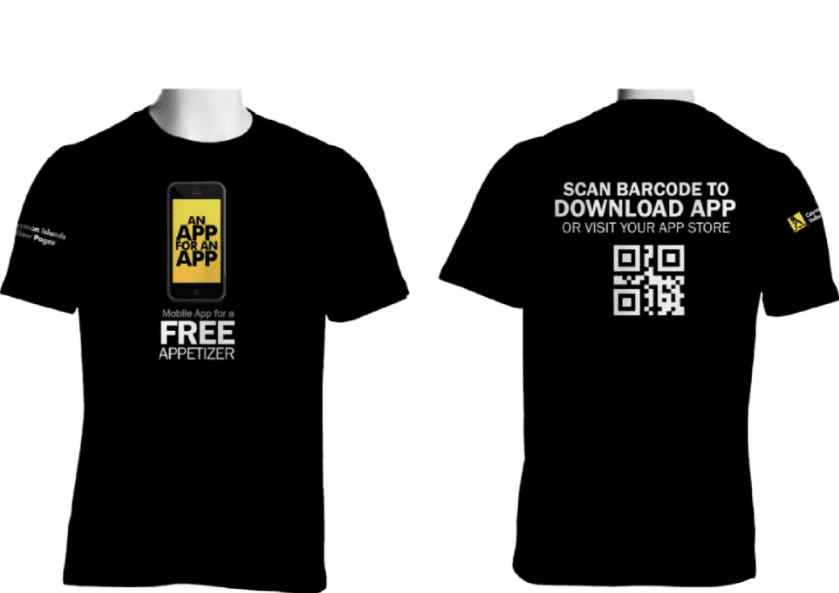 So do whatever it takes to spread the word.
If your app is an extension of an already existing company, use all of those marketing channels to make your existing customer base aware of your newest feature.
Companies that have a physical brick and mortar location can host an event and give away some free pizza or beer to give people an incentive to show up.
If you're an ecommerce website or your business doesn't have a physical address, no problem.
You can still host an event by renting out space at a restaurant or other venue.
Just make sure it's relevant to your brand.
For example, if you're selling skateboard equipment online, it doesn't make sense to host your event in Minnesota during the winter.
But giving away free merchandise throughout boardwalks in Southern California is a viable marketing strategy to spread the word.
Stay active on social media platforms
Again, if your app is for an existing business, you probably have social profiles already set up.
Use those channels to inform your followers about the app.
For those of you who created a completely new business with your app, you'll need to build social media profiles right away.
Facebook
Twitter
Instagram
YouTube
All of these are absolutely essential to help spread the word for your company.
There are billions of active monthly users across these different social channels.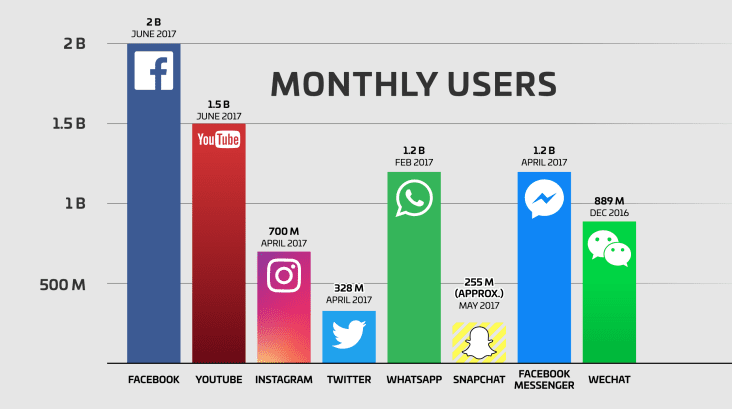 Your company can't afford to miss out on such vast marketing opportunity.
Look where YouTube ranks on this list.
Are you surprised that it has more monthly active users than Twitter, Instagram, and Snapchat combined?
Video content is taking over the Internet.
In 2016, 73% of Internet traffic came from videos.
It's what consumers want to see.
So come up with video advertisements and demonstrations to promote your app.
Publish the videos on YouTube and then distribute them on all of your social media channels.
Both Facebook and Instagram also give you the opportunity to stream live videos.
This is a great way to keep your viewers engaged.
Get them involved with the video session.
Give them an actionable reason to go download your app.
You can even run a contest or sweepstakes through your social media pages or live video streams to entice your audience to download the app on their mobile devices.
All of this is great PR for your brand helps spread the word about your app.
That's what's so great about social media.
Even people who don't follow your brand will see posts about it on their newsfeed if their own friends are engaging with your content.
If you're willing to spend some money, try to get a celebrity endorsement for your app.
Here's a perfect example of that from the Heads Up! game.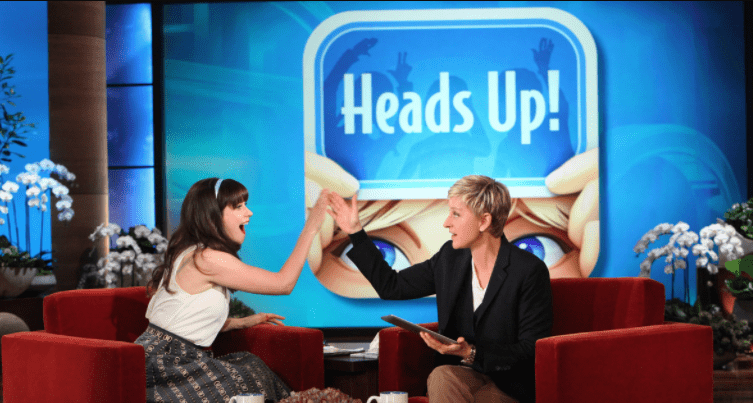 They partnered with television personality, Ellen Degeneres.
She plays the game with other celebrities on her show to help build brand awareness and expose the app to a wide audience.
While it may not be reasonable or cost efficient for everyone to target celebrities with such a high profile, like Ellen, you can still find brand ambassadors and other people to prove your concept.
Look for social media stars.
These people may not actually be famous from television, movies, or sports, but there are people who have hundreds of thousands of Instagram followers just for being themselves.
Often times, their followers may be more apt to follow advice from these people because they seem more relatable and down to earth as opposed to movie stars like Leonardo DiCaprio.
Look how different businesses evaluated how effective their influencer marketing strategies were.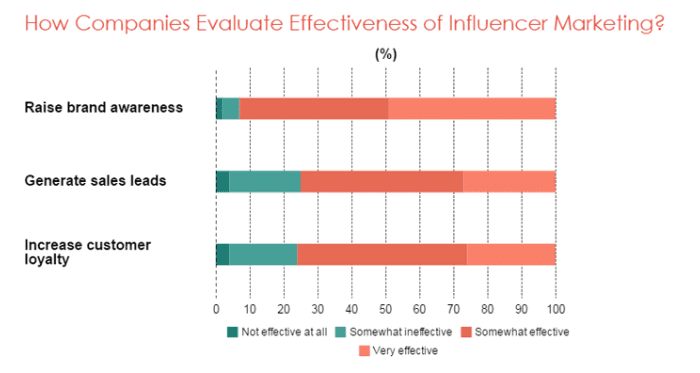 This marketing method helped:
Increase brand awareness
Generate new leads
Retain loyal customers
All of this relates back to staying active on social media.
That way if an influencer posts about your company on one of their social channels, it's easy for them to just tag your page as the resource for customers to follow up with.
From there, you can have direct download links to the Google Play Store.
It works.
Target early adopters by promoting on websites and magazines
There are so many people out there who always want the next best piece of technology.
Those people know about the newest computer, phone, or in this case, mobile application, before it's even released to the public.
Go after those people.
Use a website like Product Hunt to inform these early adopters about your app.

Hacker News is another resource for this same strategy.
It will help you create a buzz about your app before it launches.
Promoting it properly will have consumers itching to get to the Google Play Store for the release date.
You can also submit product teasers to different magazine publications in your industry.
Now you may be asking yourself, why would a magazine help promote my app?
It's a viable question, but you're helping them out just as much as they are helping you.
Here's why.
These publications always want to be talking about the next best thing.
If your app becomes the next Snapchat or Tinder, they will be able to tell everyone that their sources were the first ones to discover this app.
So it's a good look for them as well.
This works even better if you can find publications in the niche category or industry of your business.
Understand how Google Play Store optimization works
Think about your website.
There are certain things you can do to bump up your Google search page ranking.
Well, the same goes for your mobile app.
You can position yourself to be top search result for users who are looking for something in a specific category.
One of the first things you need to consider when building your company's first app is the name.
You should be doing keyword research on the name.
What will people search for that could bring up your app?
Try to incorporate those keywords somewhere in the title.
If you've already been through this when you launched on the Apple App Store, take a look at some of the key differences between each app store in terms of app store optimization.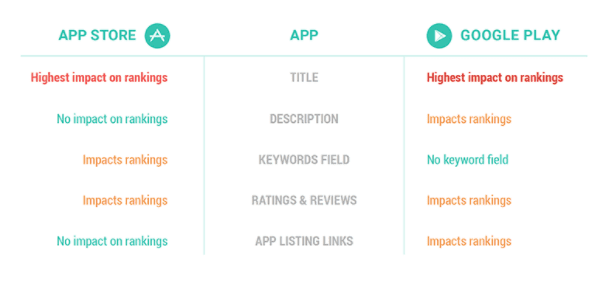 As you can see, each app store algorithm is a bit different. So you can't just take your app store page from Apple and apply it to the Google Play Store.
One of the biggest differences here is the keyword field.
Instead of using keywords to display your app by category, like other app stores, the Google Play Store gives you an opportunity to type a long description of your app.
Make sure your description is filled with keywords, but don't go too over the top.
It needs to be written in human terms without sounding too click baity – so tread carefully.
So focus on:
Title
Description (including keywords)
Reviews
Ratings
Once your app is launched, you need to encourage app users to rate and review it.
This helps your ranking tremendously.
Just be careful not to send users a notification to rate or review it too soon.
How can someone give a realistic review if they've only had it on their phone for an hour or two?
They can't.
Make sure the description focuses on all the advantages of your app as well.
Include some information about your company.
Use friendly words and short sentences so you don't confuse users or turn them away from downloading it.
Conclusion
Now that your app has officially launched, it's time to start getting downloads on the Google Play Store.
One of the best ways to do this is by making sure that your app doesn't have bugs and it's a high quality product.
You should join communities with other developers to gain valuable insight on how to be successful in this space.
Find beta testers to get feedback and make improvements for your app as well.
Get creative with your marketing efforts for the app. Free mobile app downloads will come your way if you do this carefully.
Use free giveaways, events, and other strategic methods to create brand awareness.
Stay active on social media and promote your app through all of those channels. Encourage users to leave reviews.
Try to partner with a celebrity or social influencer to market your app and get more downloads.
Reach out to magazines and early adapter websites to promote your product before it launches.
Make sure you understand how the Google Play Store optimization plays a factor on your app's ranking.
Last quick note – Gaining users is important, but keeping them is even more important. Keep an eye for our future articles about retaining users after the initial download.
What keywords will you use in the description of your app to improve its ranking on the Google Play Store?