How Much Does It Cost to Build a Mobile App? (You'll be surprised!)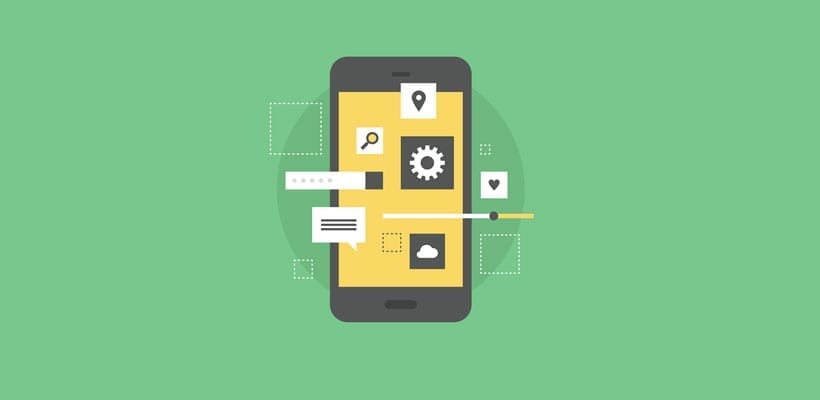 LAST UPDATED: December 4, 2017
The mobile revolution has ushered in an exciting era for business.
Websites and social media platforms are no longer the only way to build brand equity and generate sales.
Building custom mobile apps is now the new money move for businesses.
And it's no surprise.
In 2017, there have been 197 BILLION app downloads. That number will explode by a factor of three in a couple of years.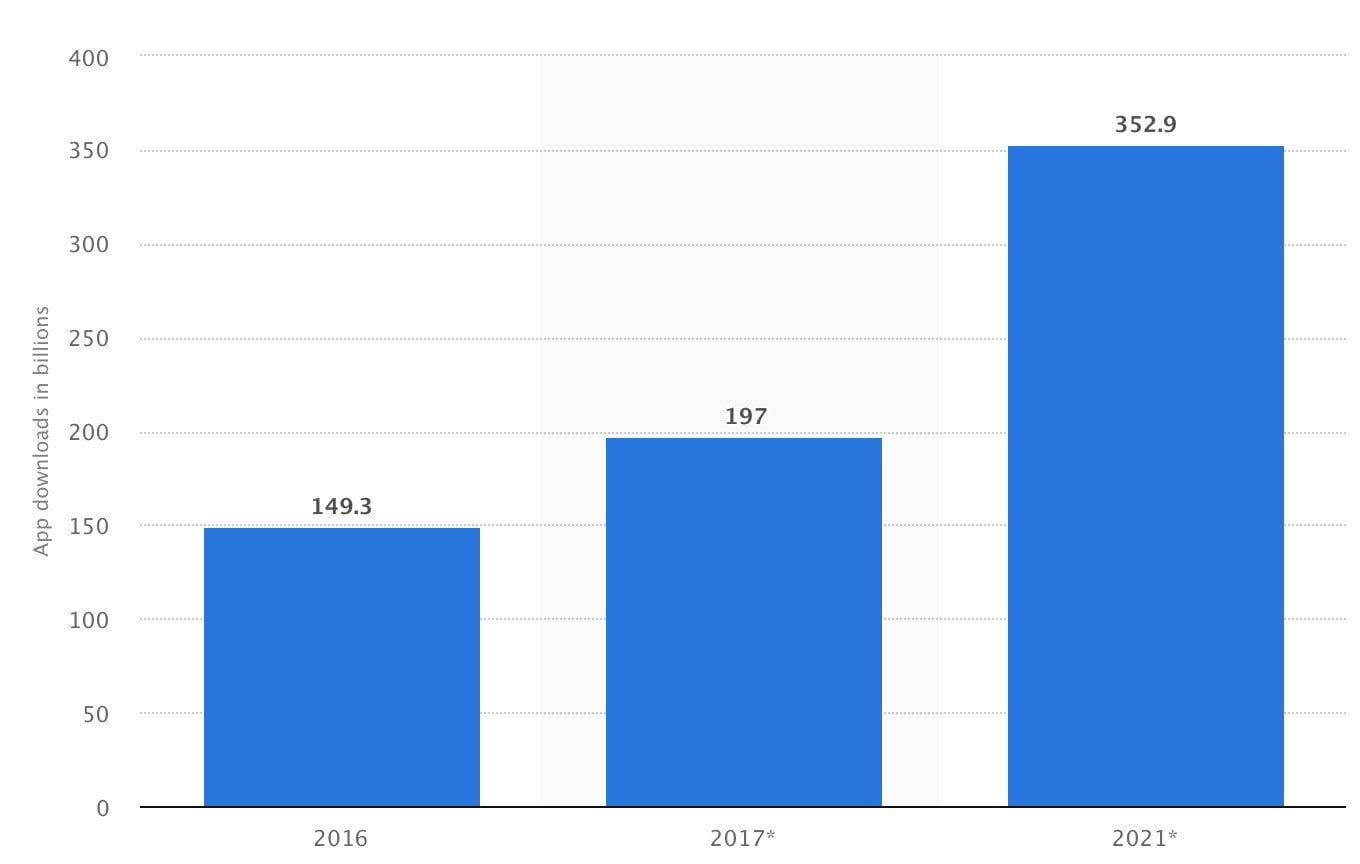 Exciting stuff? You bet.
Chances are, you may still be relying on your website to fulfill your business goals.
Perhaps the seemingly hefty time and money investment of an app have kept you back.
The truth is, you can easily catch up. A mobile app can be built without too much hassle these days.
This brings us to the critical question:
Just how much money will a custom app set you back?
I'll tell you right off the bat. There's no magic formula to determine the cost of building an app.
Platform matters. Complexity matters. Talent matters.
And so do a dozen other factors.
In this article, I'll get into all the variables that will affect the cost and some exact figures. This way, you'll know exactly what you're getting into.
But first…
What is a custom mobile app
Without getting too technical, a mobile app is a type of software program specifically designed to work on a mobile device, like a smartphone or tablet.
Are all apps created equal?
Not at all.
There are three types of apps, each with their benefits and downsides.
Native, web, and hybrid.
Let's look at each of these briefly.
A web app is a mobile version of a website. Mobile-friendliness is a big deal in the online space.
So I'm pretty confident that most businesses (if not all) have web apps.
And to be honest, it's not enough. At least, not from the users perspective. It's clear that users prefer apps over mobile websites.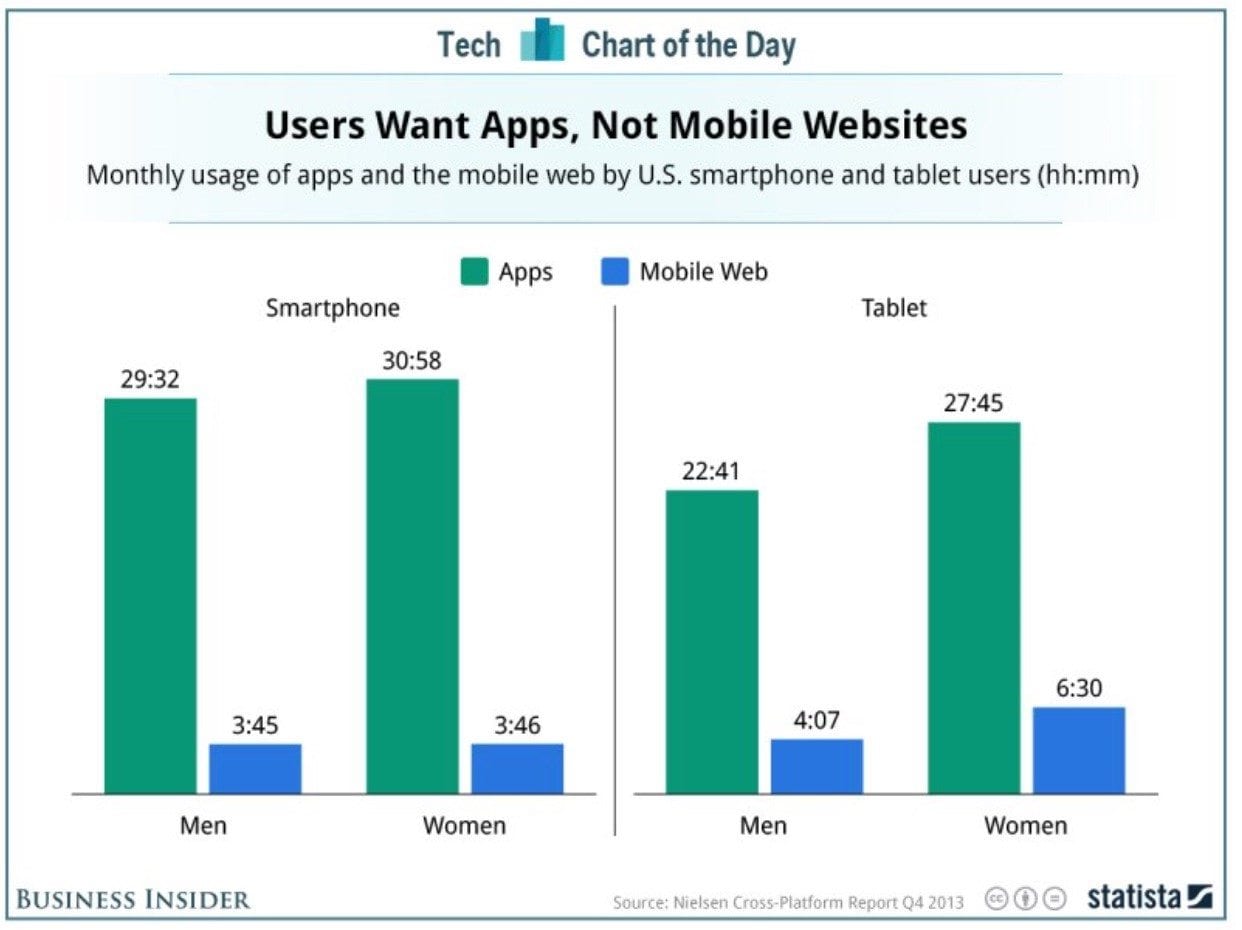 A native app is built for a specific operating system (either IOS or Android) and is downloaded from an app store.
This type of app provides the ultimate user experience which means it's among the more complex of apps.
The downside? If you want your app to be accessed on different devices, you must create two separate versions.
To top it off, the apps must be approved by the app store.
A hybrid app is much less complicated to develop, and I'll explain why.
It's written using only one programming language, can operate on more than one platform, and can function in much the same way as a native app.
Naturally, this type of app is more popular because it's easier to develop and manage.
Whether you select a native or hybrid app, I can tell you one thing:
It just might be the most game-changing move that you make for your business.
Here's why.
Why your business needs a mobile app
You've probably heard about all the benefits of having a mobile app. In case you didn't, let me run over a few of them quickly.
1. Mobile apps increase your value to customers
The bottom line?
Being mobile-friendly is non-negotiable.
An application is the most impactful way to embrace mobile because of it's sheer value to your customers.
The most prominent benefit is access.
Today's customers spend approximately 2 hours and 51 minutes on their mobile devices per day.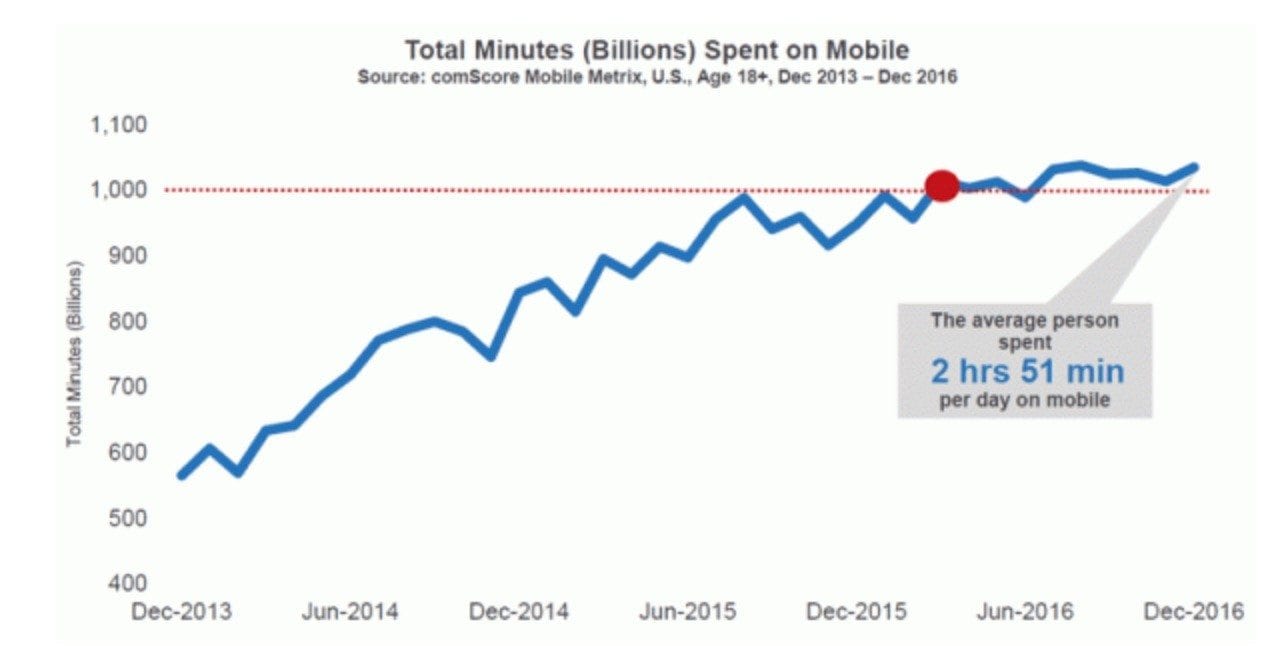 An app gives them a chance to interact with you at any time they please, without the need to switch devices.
This gives you plenty of opportunities to serve customers in a multitude of ways:
To offer exclusive discounts and promotions
To provide product/service information
To provide free, valuable information that leads to paid offers
To provide instant customer support and feedback
To facilitate rewards programs
As you might imagine, these strengthen customer relationships and cultivate loyalty.
Ultimately, you end up increasing your customer lifetime value which is a major business growth needle.
Almost 90% of businesses agree that customer experience is key to driving loyalty and retention.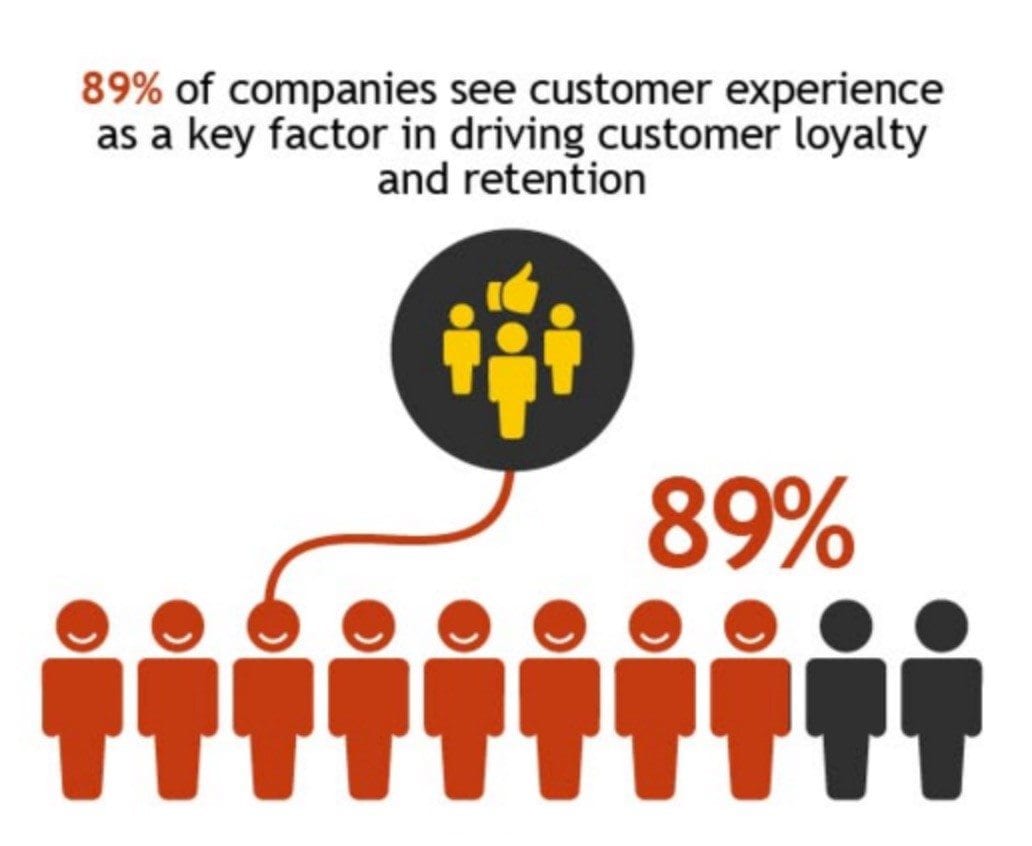 2. Mobile apps increase customer engagement
Value to customers is one thing. But engagement is next level.
One of the biggest advantages of the mobile channel is that it allows to connect and engage with the audience in real-time, develop trusting relationships and guide them through each step of the sales cycle.
The speed, accessibility, and convenience of an app make it ideal for driving action and influencing purchase decisions.
The result? More sales, and bigger profits.
3. Mobile apps increase brand recognition
The more customers see and use your app, the more likely they are to buy from you. Having a prominent branded icon sitting in front of them for almost three hours a day is an excellent way to keep your brand fresh in their minds.
Best of all, a mobile app is highly scalable and has great viral potential. When thousands of people download your app, it builds on your brand equity.
This increase in customer touch points also shortens your sales cycle.
Think about it.
The more opportunity you have to communicate with your potential customers, the easier it is to coach a sales conversion.
4. Mobile apps are another sales channel
An app could give customers the ability to do whatever they would normally on your site but without having to step away from the comfort of their mobile device.
It's a direct marketing channel which means fewer interruptions and more conversions.
This helps you make more sales at a lower cost of customer acquisition.
5. Mobile apps offer a path to market preeminence
If you want to be positioned as the preeminent solution in your market, you need to increase your competitive value.
A mobile app does just that and for two reasons.
The more value you provide to customers, the more you stand out as the superior solution to their problems.
As your customer acquisition increases, you get to capture a larger share of your market.
And that's how market dominance is achieved.
6. Mobile apps are a source of invaluable customer insights
Consumer data is everything.
It's why Facebook's ad product is one of the greatest in the world.
The level of demographic and psychographic data that you can collect from a mobile app is invaluable.
It allows you to get into the minds and hearts of your customers so you can understand their pain points. It also gives you insight into their behavior and what drives them to take action.
As a result, everything from your marketing to offer creation will be strengthened.
We've gone through quite a few benefits of an app, but do you know what?
These benefits can only be realized if your app is a winner.
Here's how to tell.
What makes a great mobile app
Not all apps are successful. But those that make an impact have a few qualities in common. Let's look at a few of the instrumental ones.
1. You need a stellar idea that serves an unmet need
Your app should have utility.
The way to secure that is to ensure that it solves a particular problem and market need. There are three things to consider to find a golden opportunity:
The existing app landscape, the needs of your market, and what you can offer.
Audit the existing app landscape. Here's what to look for.
Check app stores for top apps. What do they all have in common? Also look at underperforming apps. Why do they miss the mark?
Pinpoint both direct and indirect competitors. How can you differentiate yourself?
Is there any need that is not being met right now? You may be able to get the first mover's advantage.
Purchase and test out applications. Note anything that helps or hinders the user experience.
Look at app reviews. Pay special attention to the poor reviews.
After going through this process, you may have a few ideas.
Zone in on the most painful problems in your market. Your winning app idea will be at the intersection of these pain points and what you can offer.
2. You need great design
The aesthetics of your app should be top notch.
Your imagery, icons, and other branding elements should be well thought out and executed.
Superficial? Not in the slightest.
Design is not only about how the app looks, but how it functions.
That's where usability comes in.
How are your features and functions laid out?
Does the information architecture make it easy for users to understand the environment of the app and how to navigate it?
Is there a steep learning curve or is it intuitive to use?
All these need to be considered.
3. You need connectivity
Here's the thing.
What happens natively in the app is one piece of the puzzle.
But think about apps like Whatsapp, Facebook, Instagram, and Uber. They take into account the context of the user's world.
The way they do that is by offering connectivity. This not only increases usability but allows people to tap into the vast internet and mobile network.
4. You need the "sticky" factor
Great apps are borderline addictive. And that's what I mean by being "sticky."
Users should feel compelled to revisit your app. That's the only way to secure a sustainable business model.
So what makes an app sticky?
It all boils down to one fundamental thing.
Understand deeply the desires and pain points of your prospective users.
If you can understand their needs, you can become the "go-to" tool to satisfy those desires.
It gives your app emotional resonance which is what leads to the "sticky" factor.
With that out of the way, let's look at everything that affects the price of app development.
Factors that Affects App Development Costs
Mobile applications come in a variety of sizes, shapes, colors, and functionalities. There are a TON of moving parts at play, and every single one of them impacts the cost.
The primary factors influencing development costs include:
Business Model
Platform
Functionality
Design
Developer
And then, there are the hidden costs which is a whole other ball game.
Let's take a closer look at each of these elements.
Business Model
The quest to build an app starts with your business plan and your business model for bringing in revenue. This model will be THE most important driving force in the costs required to build your app.
When creating your app, you are looking at your business plan and asking "what's needed?"
Where are your target customers spending their time?
What devices and platforms are they using?
How will you monetize the app?
Will it be free to download?
Will you sell it for a fixed price?
Will you earn money via in-app purchases?
Will your app be used to advertise your own products or will 3rd party ads be the monetization method?
Does your audience care more about cutting-edge visual design or practical functionality?
Is the experience you are looking to provide based on access to information or a unique experience?
Each of these factors (and countless others) will determine what your app needs to become and thus, influence the amount you need to invest in platform access, functionality, design, and development.
For instance, it's easier to create an app that is sold merely for a fixed, upfront price. In-app purchases, on the other hand, take longer to implement and are thus more expensive. And if you want a full-blown ecommerce experience, you can expect to pay even more.
To narrow down your business model, you need to consider:
What you need to connect with customers
The price point of your app
Your monetization strategy
That's the only way to know if you're building something that will actually make money.
Let's explore each of these.
What you need to connect with customers
We've touched briefly on market need, so we won't go too much into it again.
Ever heard the saying, "you can't have a solution looking for a problem, but rather a problem looking for a solution?"
It's super important that you go through the depth of research that allows you to identify a real need in your market.
In the words of legendary marketer, Gary Halbert, you need to find your "starving crowd."
Otherwise, everything we discuss onward is irrelevant.
You won't make a dime from your app because there's no real hunger in your market.
Make sense?
Determining the price point of your app
Now that you know your app has a market, it's time to work on your pricing and revenue model.
It comes down to two options:
Isn't the paid app the no-brainer?
How the heck do you make money from a free app?
I'll explain.
Paid apps are pretty straightforward. You make money by selling your app in an app store. The more downloads you generate, the money income you pull.
It means you have to set the right price for your app.
Here's what you should consider.
Your development costs: Naturally, you want to be able to recoup your costs to make a return on your investment.
Your market positioning: Basic, average, or high end? The way you position your app will depend on what features and functionality that you offer as well as how it compares to the other apps out there.
Market's willingness to pay: You should be able to market your app and generate sales from your ideal users.
Quickly browse through an app store, and you'll see price points anywhere from under $1 to just under $20.
The average price is on the lower end.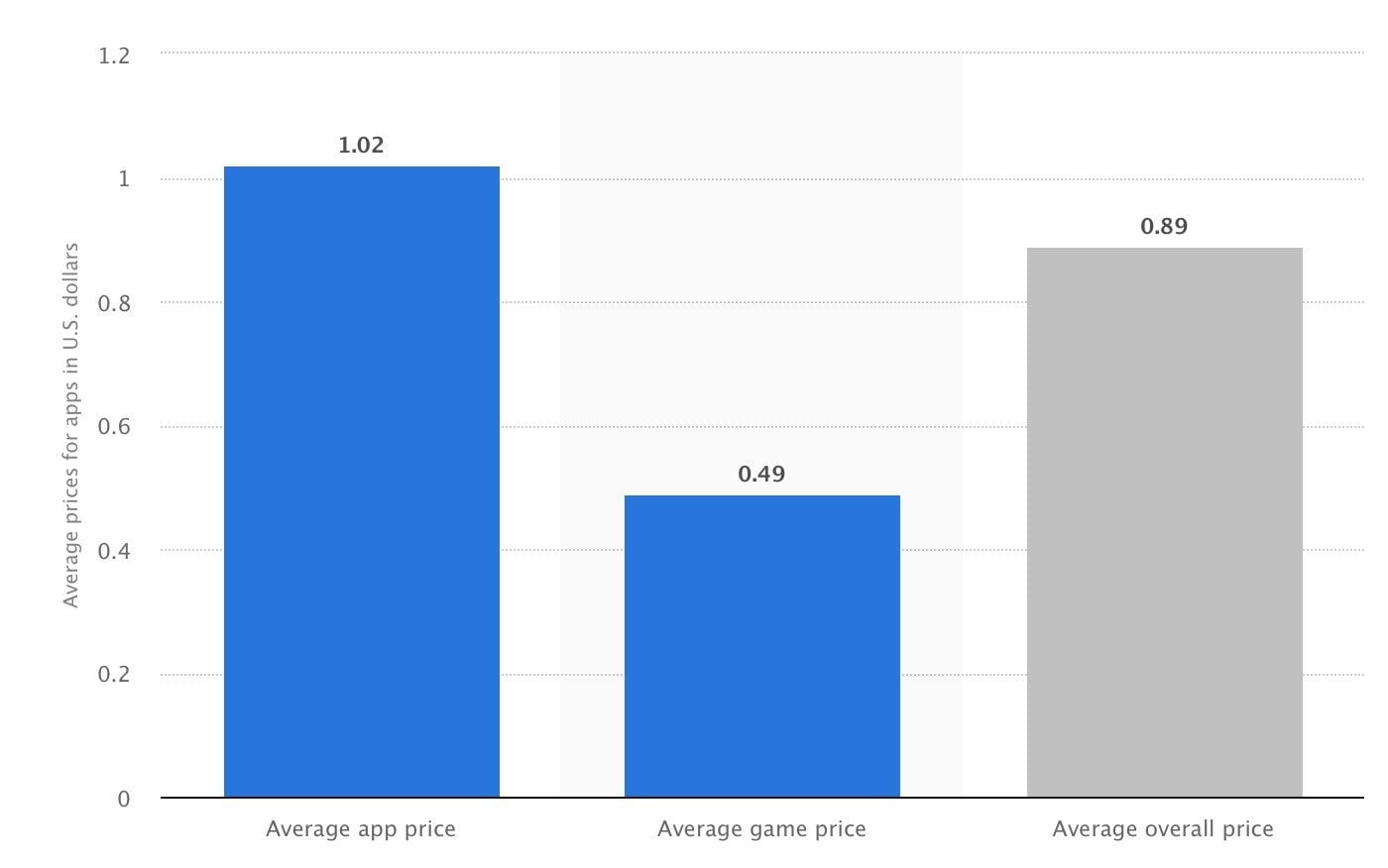 Here's a step-by-step play to decide where you fall on that scale.
Step #1: Identify the demographics and psychographics of your ideal user.
Finding your niche and creating buyer personas is super important at this stage. It will help you determine your positioning and ultimately, your ideal price point.
Take note of black and white demographics like age, gender, occupation, etc.
Then, get into the grey matters. What do they believe and value? What are their behaviors and how does that impact the way they make purchase decisions?
Step #2: Conduct a competitive analysis.
Chances are, your competitors have gone through the hoops of figuring out an ideal price point for similar apps.
What's the average price point for your niche?
Step #3: Identify ideal prospective buyers.
After you've created your buyer personas, find a sizeable of group of people who fit the criteria.
Survey them and to find out if there's willingness to pay for your app and at what price.
Step #5: Find the middle ground between what customers say they're willing to pay and what's profitable for you.
While customer feedback is everything, your profit margins are also important so don't neglect that in setting your price.
Step #6: Test your pricing with the target market.
A sale is the ultimate validation of your idea and revenue model. So, market your app and sell it.
Now, let's look at free apps.
These have a bit more indirect revenue model as you're not charging for the app.
So what's the value of a free app?
Several things.
To drive in-app purchase
To generate income from advertising and affiliate marketing
To expand the value of an existing product
To create a user base that you can later sell to
To build brand equity
Now that you have insight into pricing and revenue models, you may be wondering…
Which is the superior model?
There's no cut and dry answer. It depends on your goals for the app, as well as the competitive landscape.
With either model, a mobile app can be insanely profitable.
Platform
You've determined what your app needs to do. You've pinpointed who it needs to reach. And you know exactly how it will be monetized.
It's time to decide on a platform for its creation.
You can build an app that is accessible on many devices: iOS (iPhone and iPad), Android, Windows Phone, the Web or all together.
Depending on which platform you choose, the price of its development will vary.
When we are talking about native mobile apps, however, the typical options are either Android or Apple.
As you can imagine, it's not an easy choice. Android and Apple users are fundamentally different.
So why not go for both? If you've got the money, go for it.
Just know that you'll have to create two different versions of your app for each platform.
However if you build your app with BuildFire, your app would support both iOS and Android while being maintained by one simple to use dashboard.
Now, back to the question at hand:
Which should you pick?
To help you decide, let's look at the pros and cons of each platform.
Pros of IOS Apps
Quicker and cheaper to build than Android Apps. This is why many companies opt to launch iOS-only apps initially and then expand to Android later if the iOS version proves to be successful.
More engaged and free-spending user base, so they are more likely to pay more for an app.
The customer lifetime value of Apple users is higher than Android users.
Stricter guidelines and more quality control mean a higher quality app.
Cons of IOS Apps
Apple's software requirements are in constant flux which means your app needs to be frequently updated. Regular maintenance can increase the costs.
Your app has to be approved by the app store.
Pros of Android Apps
Android users dominate mobile web traffic.
Android has numerical superiority which means wider market penetration and reach, particularly in emerging markets.
The cost per install for an Android app is WAY less than IOS.
There aren't as many updates as IOS.
Cons of Android Apps
Android users spend less.
Takes more time to develop. On average, leading developers report Android apps requiring 2-3 times longer to develop than the same app in iOS.
More fragmented devices. There are way more models of Android phones than there are apple phones. Features like screen size and resolution play a part in development costs.
Now that we've highlighted the main points, let's establish a clear verdict.
IOS Vs Android: Which is better?
Both platforms offer great accessibility.
It comes down to two key things.
The tradeoffs you're willing to make
Your target users
Here's what I mean by tradeoffs.
While Apple has stricter guidelines which make for a higher barrier to entry, that can translate to higher quality and more security for your app.
In that case, you'd have to decide if the higher cost of maintenance is a good tradeoff for quality and security.
The same premise goes for the other features.
Android users spend less, but there's a far wider user base to tap into.
You can begin to see how your business model and goals for your app will determine which trade-offs are acceptable or not.
The second and most consequential part of the equation is your users.
You'd have to research the behaviors of both Android and IOS users. Then, find which one fits your ideal user.
For example, looking at the chart below, if your primary target marketing is black Americans between the ages of 20-30, it might make sense to go with Android.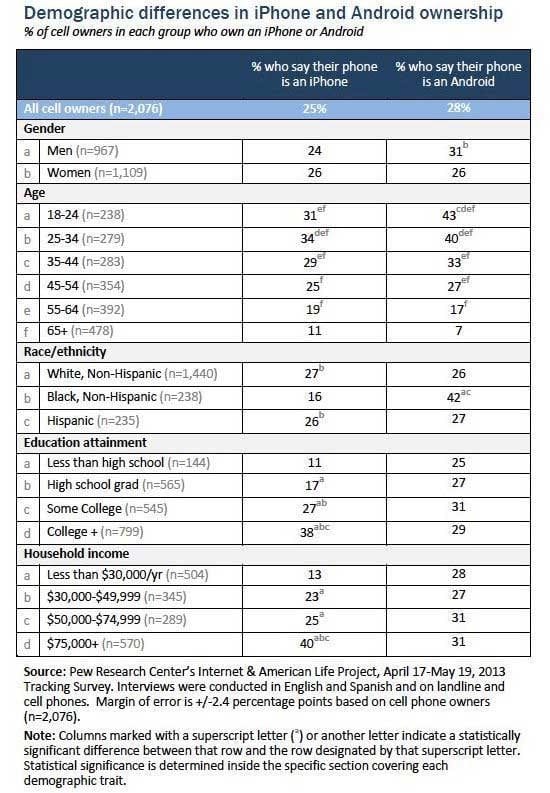 Or, for example, if your target market is located in Asia, Africa, or South America, Android is the clear winner.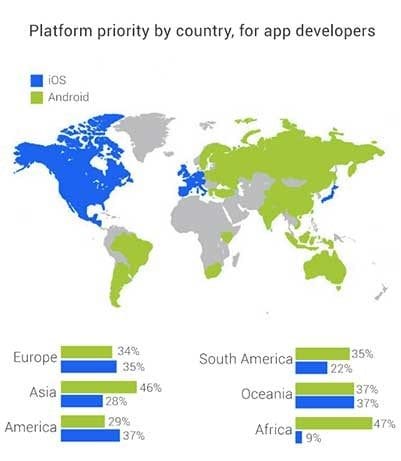 All things equal, it's best to make your platform decision based on your target market, so the accessibility of both platforms is fortunate. Costs for both are a lot closer than they used to be, although as we mentioned before, Android still takes a bit longer to develop on average, which usually translates to slightly higher costs.
If you decide to launch to both platforms simultaneously without using a development platform such as BuildFire, you can expect to pay nearly double what you would pay to develop on a single platform. There will be some crossover that lower the cost, but you'll pay at least 75% more to launch to both platforms.
For platform-specific directions, check out the following guides:
App Type and Functionality
Now that you've decided on the platform, it's time to actually dive into building the app. The type of app you're aiming to develop and its technical specifications will be the single biggest factor in its cost.
Apps continue to become more and more dynamic, and there is virtually no limit to what can be produced. For this guide, we've broken app types down into the following four categories:
Table/List
Database
Dynamic
Games
There's also the factor of additional features used to add functionality to your app.
Let's take a close look at each.
Table/List Based
These apps are designed primarily to display a relatively simple collection of information. In general, they present information to a user who can in turn select from available options and be redirected to additional materials on the topic. In other words, it functions very similarly to a simple, mobile-optimized website.
Database Based
These are more complex apps, designed to allow users to find, sort, and display data from very large data sets. Database apps often connect to a website or other online web service to retrieve information, making them more complex to develop than their Table based counterparts.
Dynamic Apps
These apps are similar to database apps, but instead of simply connecting to an online server for information, they need to cooperate with other platforms and software via APIs. For example, a 3rd party Twitter app would need to be integrated with Twitter's API to import tweets and other data. APIs vary in quality and complexity, so this addition to app development can range from a relatively small cost increase to a massively expensive undertaking.
Games
Lastly, the hardest app type to develop is that of app-based games. Simple games can be more on par with a dynamic app regarding difficulty and pricing, but more complex games with 3D environments or advanced physics engines can be substantially more expensive than any other app type.
While these 4 categories do a good job of incorporating most app types and functionalities, apps these days are tremendously varied and hard to categorize.
The most important thing to understand is that every app's unique functionality requirements will carry a corresponding cost. Some types of functionality might seem simple yet be very expensive to build, while other functionalities might be surprisingly affordable.
You won't know for sure until you've actually solicited quotes from multiple developers.
Additional features
In addition to the basic functionality of your app, you are privy to several additional features (all of which will compound the cost).
Here are some examples of what you may want to include.
Login: Most apps have this feature. You can have an email login which opens up another marketing channel. You can also opt for social login.
Personal profiles: User profiles are another standard feature that you can implement. It adds a personal touch and enhances the user experience.
In-app purchases: This is a monetization strategy where you offer products, services, subscriptions, premium features, etc. You'd have to add that feature to your app to have that functionality.
Payments integration: To enable in-app purchases, you'd need to integrate with a payment processor.
Customization: You can enable users to control the aesthetics of the app.
Search: Search functionality is an excellent way to enhance the user experience. It helps users to navigate the app with as little friction as possible. In turn, it boosts engagement.
Connectivity: You can offer synchronization between devices as well as integrations with other platforms. Social integration is among the more common features with massive value. It boosts the viral potential of your app.
Geolocation: This adds context to your user experience as you collect information about user's geography. With some apps, for example, restaurant apps, dating apps, and travel apps, this is an essential feature.
Push notifications: This one is a no-brainer if you want users to be updated about what's happening on the app.
Chat/messaging: If you want users to be able to communicate with each other, this is a key feature.
Ratings/review system: Want users to have the option of rating or reviewing your services or content? This is a super useful feature for that purpose.
These are among the more common features.
They seem pretty simple, right?
It's easy to overlook the investment that goes into these features when you don't know what the development process entails.
The truth is, many of these additional functionalities require hundreds of hours of development that have to be expensed.
They also factor into the maintenance costs as well.
Later, you'll see how they might impact the total cost of app development.
Design
When it comes to app development, the design can matter as much as the app's functionality.
There are several pillars to design.
Graphic/Visual Design
Customers buy with their eyes. A catchy icon can attract their attention. A breathtaking design makes them want to use the app more and more. (In fact, many app designers create apps to be so visually pleasing that they intentionally prevent users from putting their devices down.)
To look great, your app will need an icon, a splash screen, interface elements like tabs, buttons and many other design features that entice users to engage with it.
But a great design typically comes at a cost. While you can find winners and duds at any point in the prices spectrum, there is usually an obvious difference between a $300 icon and its $1,500 counterpart. If you want compelling design to work in your favor, you should be prepared to shell out some serious cash for a proven design team with an eye-catching portfolio.
At this point, it becomes a matter of budgeting and prioritizing based on your target audience. If your intended market is very design-sensitive, it's probably better to lower your ambitions in the functionality department and divert that money towards high-end design. If your audience is far more UX or info-driven, you will still want to ensure that your design is competitive with the market standard, but you don't need to shell out for something cutting edge in the looks department.
This brings us to the next pillar of design.
User interface and user experience design
Beautiful graphic design is important. But user experience (UX) is everything.
It's also an aspect that is seldom thought about, so you have a real chance to stand out here.
This pillar of design refers to the layout of the features as well as how users interact with the app.
The UX design will determine how successfully your app meets its goals. Everything from engagement and conversions to how "sticky" the app is depends on your ability to provide a stellar experience to users.
So, it's up to you to select the design features that work for you and a design expert to execute them.
Naturally, this factors into the app development costs and more specifically, which type of developer you will hire.
Development
Everything we have described thus far has dealt with the app itself and how you want to create and market it.
The business model driving your decisions, the platform you choose, the functionality you need, and level of design you require are all baked in costs that can't really be manipulated.
Let's call these the "objective" costs of mobile app development.
Unfortunately, there is also a "subjective" side to app development costs, and this side deals with who you hire to design your app and what they charge.
There are 3 basic categories of developers you can choose from:
Freelancer
Small agency
Large agency
There are a number of benefits and downsides to each type of developer. We'll take a closer look at each one, but first…
Why hire a developer anyway?
Can't you just DIY this?
Well, if you're a tech whiz, by all means, go for it. If you know how to program and execute all the other highly specialized skills needed to develop an app, it's a reliable option.
It would then be a matter of finding the right tools and resources to get the job done.
But if you don't, a developer is essential.
Let's get into the routes you can take as well as the pros and cons of each.
Freelancers
Freelance developers are typically the cheapest option you can find for developing an app, and really, their affordability is the ONLY reason you would hire a freelancer as opposed to an agency.
When you are hiring a freelancer, you are ultimately just hiring a person and all the risks that come with that.
If the freelancer is unskilled, you could end up throwing your money down the drain. If the freelancer is slow, late, or uncommitted, your project could drag on indefinitely.
Furthermore, a freelancer will have a fairly limited range of expertise. It's very rare for more complex apps to be successfully built by freelancers.
Even if your app is relatively simple, it's unlikely you will find a single freelancer that can execute an entire app at a high level.
If you go the freelance route, you will most likely need to hire a handful of freelancers, each of whom could cause problems and delays for your project.
With that said, there are fantastic freelancers out there. If you can manage to find a few great ones, you can potentially get a great app made at a very low cost.
But you are just as likely to end up with no app and no money.
If you decide to go that route, where can you find a freelancer?
You have some options.
A freelance marketplace
Google search
Your personal network
Local colleges and universities
Design communities
Small Agencies
Small app agencies are typically a collection of 3-10 creatives focused on creating a specific class of app.
Each member of the agency is there to meet a specific need in the app creation process, allowing the agency to be a one-stop shop.
If you can find a small agency that builds apps in a similar category to what you are looking to build, you will benefit tremendously from their experience.
Having a team working on your app usually results in a greater degree of quality assurance, consistency, and timely delivery. And while they tend to be a good bit more expensive than freelancers, they still provide tremendous cost savings as compared to large agencies.
On the downside, small agencies are often unequipped for highly complex apps and still have the potential to manifest the downfalls often associated with freelancers, although to a much lesser degree.
Small agencies as a whole provide a very attractive middle ground on price, quality, and consistency.
Large Agencies
Big app agencies bring large teams, heaps of experience, and a big brand guarantee to the table.
Hiring a large agency to build your app is the closest you can get to a quality guarantee, but at a cost.
You will be paying a significant premium for that assurance.
If your app is highly complex, a larger agency might be the only development option cable of bringing it to market.
The larger the agency, the more likely they are to have expertise for any problem that might come up during development.
At the same time, there is no such thing as a guarantee. Multi-million dollar companies can still fail to do right by their clients from time to time.
You are putting your trust in the brand, but agencies (particularly higher end ones) are usually very dedicated to upholding the reputation of their brand.
You've gotten an overview of your options as far a development goes.
So what's the verdict?
Ultimately, it depends on the complexity of the app and tradeoffs you're willing to make.
Just keep in mind that the type of developer you choose will have a significant impact on the amount you pay for your app. And as you will see later in the article, that amount can vary wildly.
Whichever development path you take, you need to screen your candidates with a microscopic eye.
What to look for in a developer
While some development options are riskier than others, you need to be on top of your game, no matter what.
That means effective outsourcing, staying within budget, and avoiding pitfalls that will cost you precious time and money.
Here's some of my best advice.
Hire someone with a documented and proven track record. This is one of the surest ways to know if a developer is capable of what they claim. Do they have a portfolio that you can analyze? Quantifiable results? References that you can follow up with? These are all important to consider.
Is your developer well-versed in your niche or type of application? Let's say that you want to build a travel app on the IOS platform. You want someone who's skilled enough to get the job done. And it would be wise to bet on someone who's done this type of work before as opposed to one who hasn't.
Discuss the project in depth. It's important that you provide a concrete and clear roadmap of what you want to your developer. This way, you avoid misunderstandings and missteps that can do damage to your budget.
Can your developer operate within your budget and timeline? Time and money investment is a big deal. You want to make sure that your developer is affordable and skilled enough that you can recoup your costs. It's also crucial that you establish these details from the get-go. How many hours will the developer work? What will the delivery milestones and status updates be? When will the app be completed?
Hire someone who's detail-oriented. Particularly for the kind of user experience that makes for a winning app, details are everything.
Has the developer worked on a project of your magnitude before? If your app is a complex and massive undertaking, this is something you should consider.
Iron out ownership details. You want to protect your rights and intellectual property as the project owner. If your developer retains ownership rights, they could license the code. Some people choose to do that to cut the costs of hiring a developer. It's up to you.
Up to this point, we've looked at everything from platform, design, and business model to development.
Think we've covered all our bases?
Not quite.
There are still the "hidden" mobile app development costs that are seldom addressed. I'll explore them so you don't get blindsided by unexpected expenses.
The bottom line?
From ideation to development, you're going to have to spend a good heap of money for a solid app.
But that's just the beginning.
Take a look at this chart: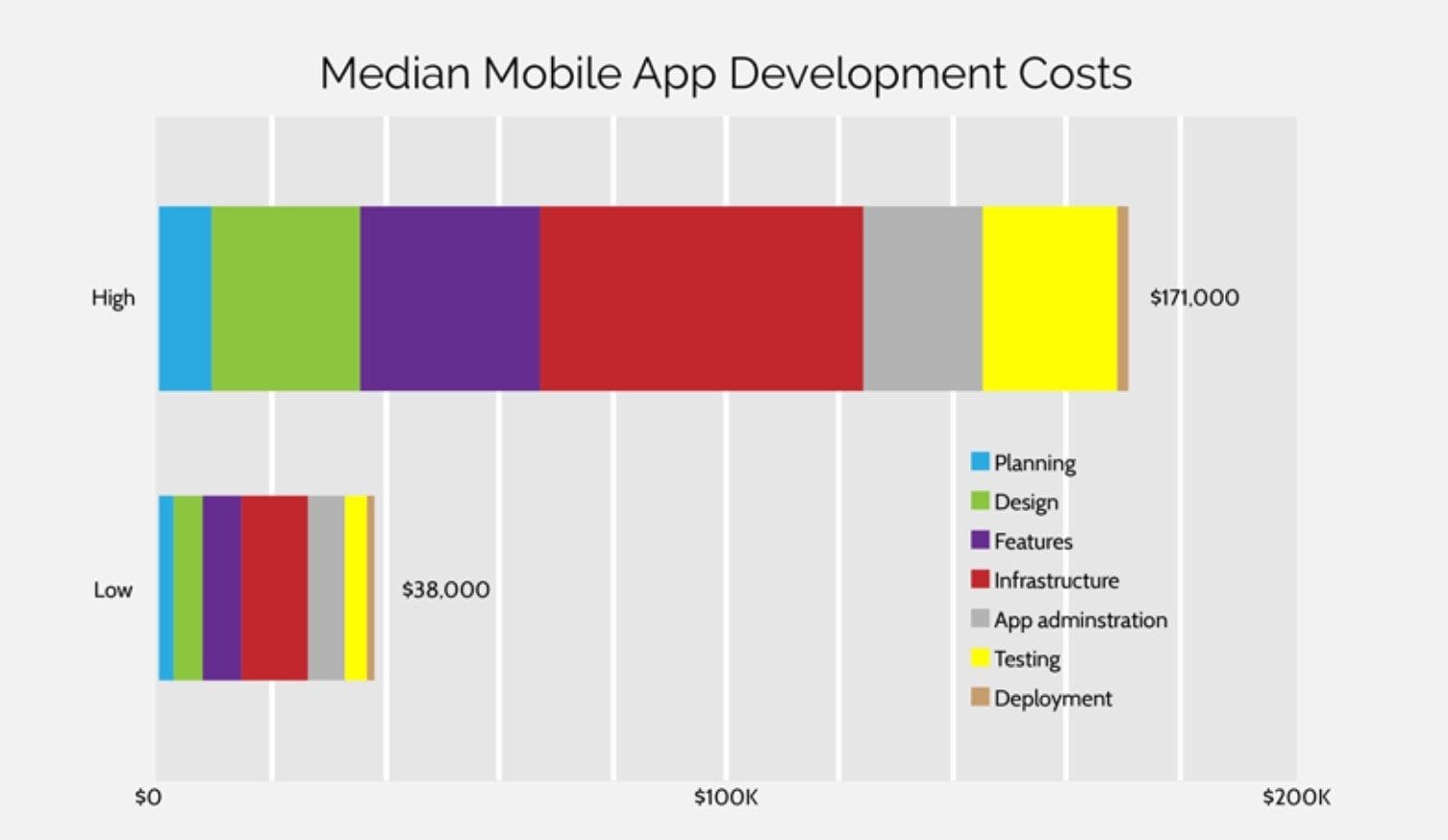 As you can see, factors that go way beyond development, like app administration and testing, weigh on the overall cost.
Let's look at some of the expenses that you are likely to run into.
Testing your app
You want to ensure that your app has no bugs and glitches. Particularly if you have to submit it to the app store for approval, it will save you some heartache.
That's not to say that you have to wait until the end to test your app in one fell swoop. You can keep testing and reiterate as you go.
The important thing is that you allow your beta-testers enough time with the app so they can truly experience it. That's the only way to pinpoint the imperfections.
It's not so much the testing that will cost you, but fixing the issues you are likely to come across.
Protecting your intellectual property
I get it – legal stuff can make most people squeamish. But it is super important that your intellectual property is protected.
If not, your application can get into the hands of competitors who can outcompete you on price.
Let's look at the varying layers of IP protection.
Copyright: You can use this to protect the text, visuals, and multimedia from being plagiarized.
Patents: A patent-owner has the right to prevent anyone from duplicating or profiting from his intellectual property. If your mobile app is protectable, you should definitely get a patent to defend your ideas.
Trademark: a patent protects the invention, but a trademark protects the name. If you've got a name that sticks, it's a good idea to protect that.
As expected, legal is expensive.
Marketing and launch your app
Marketing can be a massive and inevitable expense. How much you end up spending in this phase depends on how savvy you are at gaining exposure for your app.
Organic methods like word of mouth marketing, referrals, and third-party review sites can be cost-effective.
The tradeoff? Lots of time and effort.
You can also tap into your existing marketing channels like email and social media.
Another option is paid advertising. It's effective but can get costly, quickly.
Admin and technical support
You can't skimp out on support.
I'm talking about facilitating updates, managing user profiles, managing APIs, collecting data, monitoring user behavior, etc.
All these are crucial for sustaining your app and its functionalities.
Infrastructure
Your app has to be hosted somewhere secure. Your data has to be stored. Data also has to delivered at the speed of light, so users don't get pissed off at any lags.
And guess what?
These are among the most costly factors.
Maintenance
Want to continue iterating and refining your app? New features will cost you.
Want to ensure that existing features are working as it should? That's also going to cost you.
Want to ensure a frictionless user experience at all times? There's a hefty price tag on that.
On average, you may spend 20-30% of total development costs to maintain your app. So let's say that development cost you $100,000, then maintenance can cost you at least $20,000 per year.
By now, you probably think that a mobile app it truly expensive business.
Is it even worth it?
The best and only way to know is to count up the total cost. This is where we get to some hard dollar values.
Note: If you were to use an app development platform such as BuildFire all these maintenance costs would be included in your subscription cost, saving you thousands of dollars and all the headaches associated with app maintenance. What happens when your server goes down on a weekend? Trust me, I don't think you'll want to deal with that.
With over 10,000 mobile apps built on our platform, the infrastructure you need for your app has already been battle tested by millions of users.
The total investment of building a mobile app
So how much is this all going to cost you?
It comes down to app complexity, features, human capital (development team) and platform.
Frankly, it largely depends on who you ask. Development projects are notorious for having a fairly ridiculous range of potential pricing.
Present the same project to 5 different developers, and you are guaranteed to get wildly different pricing from each one. That's no exaggeration.
According to the report by Kinvey, organizations spend an average of around $270k to develop an app.

And the whole process typically takes the majority of organizations around a year from getting the go-ahead to launching a complete app.

Otreva, a mobile and app development company offers statistics indicating the average cost for a full-blown business app to be in a region of $130k.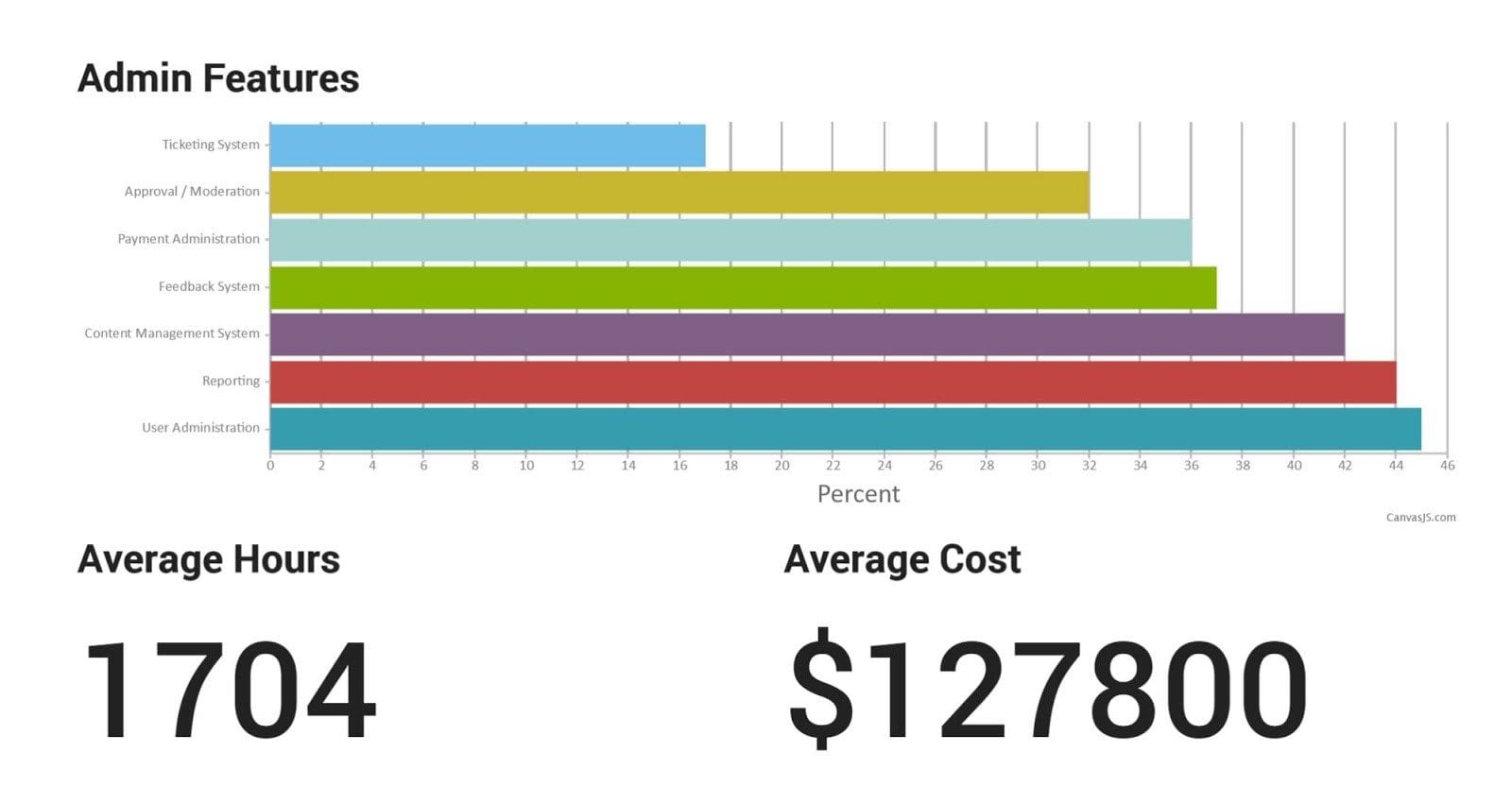 In a third opinion, after surveying representatives from 12 leading mobile development companies, Clutch established the cost of building an iOS only app to be between $38,000 for low functionality to $171,000 for a high spec app.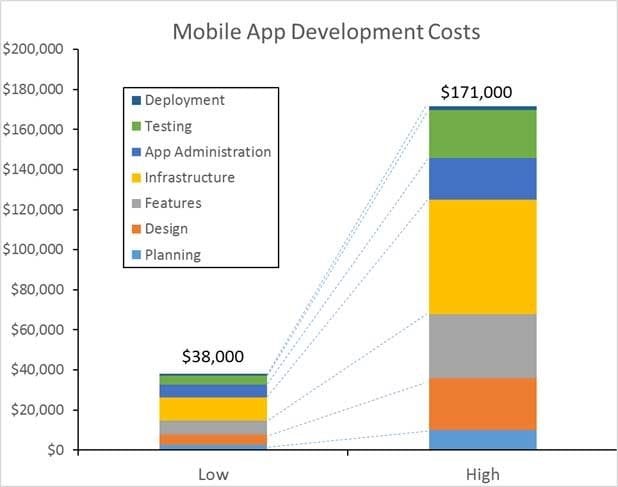 Here's the breakdown of costs for different stages of the development cycle: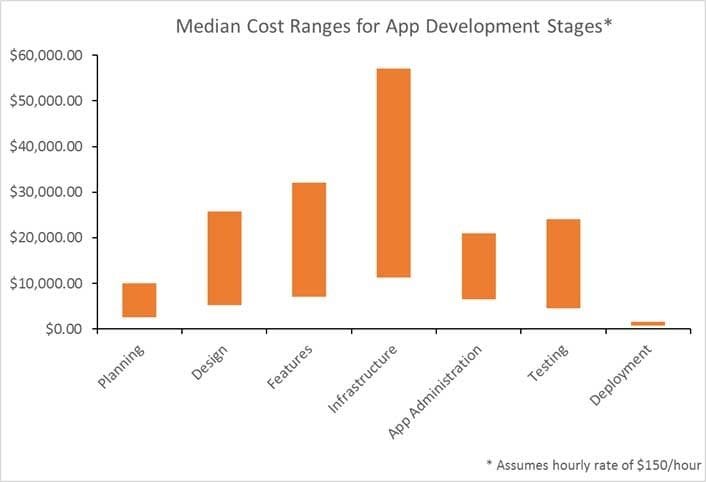 And finally, OSX Daily reports development costs for a simple iPad app to be in a region of $3,000 – 8,000. A more complex app (typically developed by brands) can cost anything between $50,000 – $150,000.
As you can see, it really depends on who you ask. But all in all, the above examples indicate that if you're looking to develop a mobile app for your business, you typically have to be prepared to spend some serious cash on development.
Counting up the actual development cost of your desired app
Given the numerous factors that affect app development, it's understandable that finding an "average cost" is a tall order.
Fortunately, it doesn't matter.
An average cost will do you no good. Your desired app will have a unique list of requirements, most of which will have a somewhat consistent method for pricing.
Understanding this, many mobile app development companies built cost calculators that could help you assess how much it would cost to develop your app.
Here's a couple of them you can check out to get a feel for your unique project's pricing
These will obviously be estimates and won't account for a given developer's specific method for charging, but they will give you a good ballpark range of what to expect.
BuildFire's Mobile App Building Calculator
We created a calculator to show you how much traditional mobile app development companies might charge to build your app:
A very thorough app that allows you to provide a host of details for a more accurate estimate.
So you've gotten some concrete numbers as to what your app will cost.
Now what?
How are you going to afford to develop and launch it?
Strategies for funding your app
An app is a business.
It means you've got options for funding.
If you have access to the money, you can certainly self-fund. It will save you lots of time and effort.
You have the option of a small loan if the costs aren't astronomical. Also, if you're capable of writing the code and going through all the other hoops yourself, that's a solid option.
But the reality is, most people aren't in a position to finance an app themselves. A quality app has a steep investment attached to it, as you've seen.
The solution?
Investors!
There's money out there. You only need to find the right investors and communicate your idea in a way that they are compelled to bet on you.
Best of all, the mobile market is a very attractive one for investors. So how do you get on the radar of the right "money" people?
Understand that investors are looking for a return on their investment above all else. That's why the first thing we covered was your business model.
It's going to help you put together a persuasive proposal so investors can be confident that they'll get their money back in good time.
Know what you are willing to trade for the investment. That either involves giving up equity or agreeing to some royalty-based repayment strategy. You have to pick what's comfortable for you and what works for your business model.
You may also have to make some tradeoffs. Let's say that an investor brings a particular skill set and experience that he's willing to lend you for the growth of your business. That may cost you some more equity.
Royalty deals can be tricky particularly in the initial stage of your business. Cash is oxygen. You don't want to be sucking the life out of your business while it's growing.
What type of investor are you looking for? You can't opt for silent investors, angel investors, venture capitalists, etc. Understand what you are looking for in an investor. Do you want just a money man or a strategic partner?
Now:
It's quite possible that you are not prepared to go either route.
Self-funding is not possible. Investors are not on your game plan.
So, what's the next move?
What if you can't afford to develop an app?
There's no denying it.
Developing a mobile app can be incredibly expensive.
But when you think of what it can do to propel your business, it's hard to give up the idea of building your own app.
The truth?
Even if you don't have the budget to develop it…
Even if your idea is so grand and complex…
A mobile app is within your reach.
The answer (and one that thousands of businesses have begun using) is to use a custom app builder.
App builders like BuildFire allow you to create a mobile app for your business.
No upfront cost. No development expertise.
For a relatively low monthly fee, you can use your app to serve your business needs.
The simplest of information based apps will cost a minimum of $25,000 when sourced from a small app agency.
But with a platform like BuildFire? You can create, publish, and utilize the exact same app for under $100 per month.
No kidding.
If you are interested in skipping the hassles of upfront development, click here to build your own app for free.