How to Market a Mobile App: Simple But Effective Guide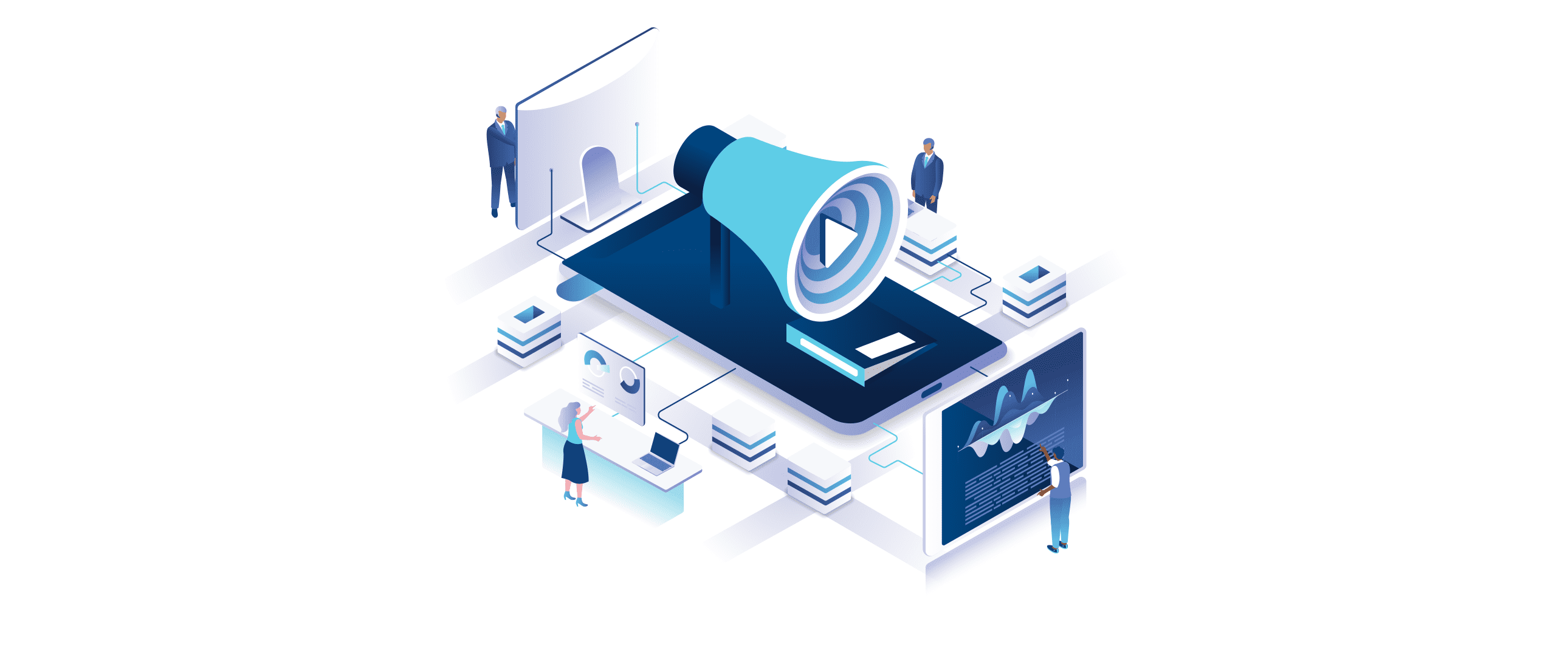 If you've developed a mobile app, it's your responsibility to market and promote it.
App marketing can be challenging because there are so many apps available today that you're competing with. However, with effective promotion techniques, you can easily get noticed by potential customers and increase downloads for your app.
We've created a simple guide for how to market your app online. It covers everything from social media ads to SEO, email marketing, influencer campaigns, and much more.
Know Your Audience
The key to effective marketing is knowing your audience. This includes understanding what they need and want, where they hang out online, how you can reach them, and even when the best time to talk with them would be. You'll be targeting different audiences depending on which platform you choose for advertising.
Choosing the right platforms to market your app is not as simple as many people say it is. You'll have to consider the differences in the platforms, which vary depending on several factors.
You must choose a platform that matches your audience's interests. For example, Instagram is good for fashion; Facebook has more of an older demographic, and Snapchat is great for reaching out to younger generations. There are advantages and disadvantages for each.
Check out this detailed social media usage by demographics chart: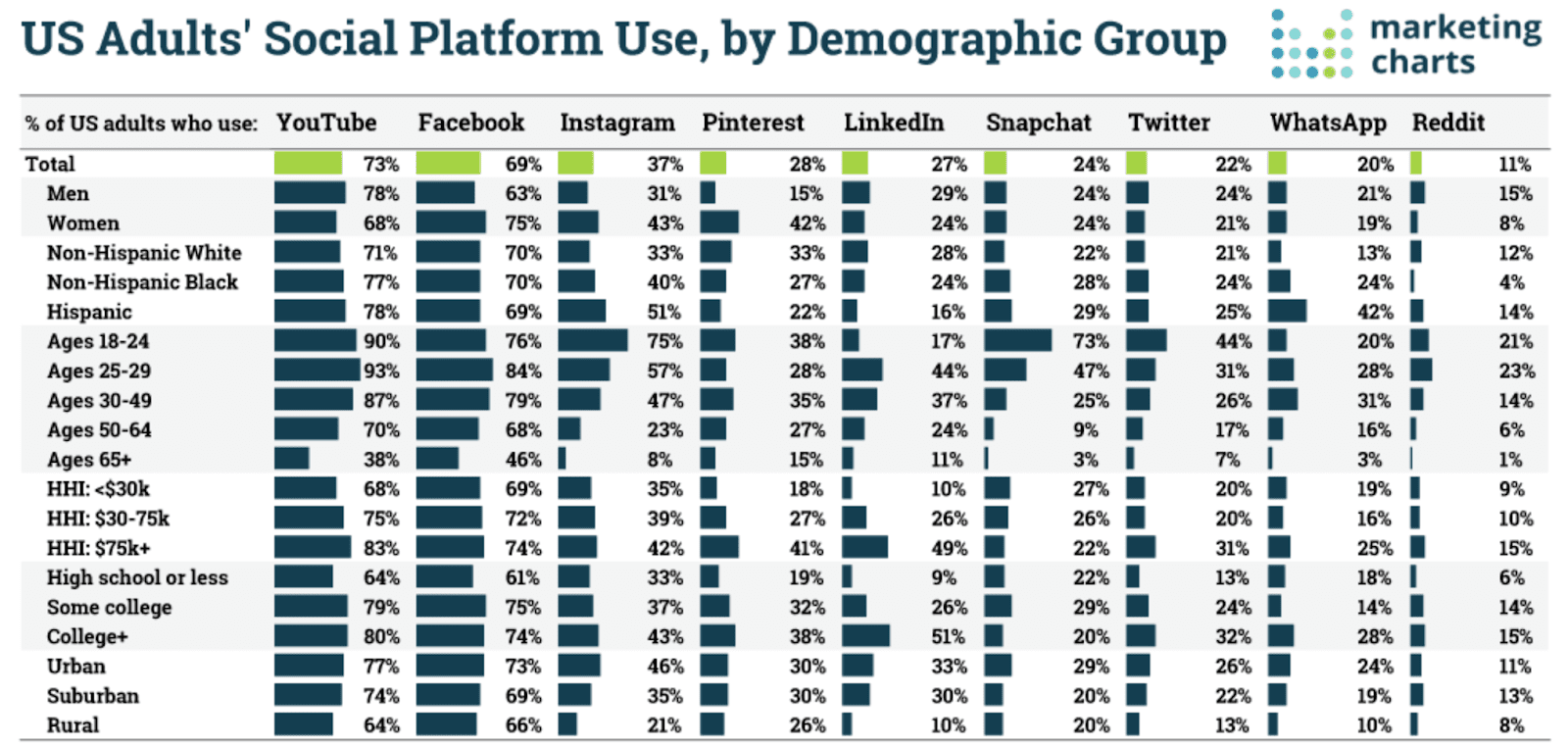 You can't just blindly decide to start marketing your app on Reddit because it's your favorite social network. Based on this data, it would only reach a fraction of potential users across all demographic categories.
Even if you're just deciding between Facebook, Twitter, and Instagram—each one caters to a different audience, so you'll want to pick the ones that best fit your target market. Ultimately, you'll be marketing your mobile application on a variety of channels. But it's best to figure out where your audience is spending the most time and start from there.
It's not enough to know who you're selling to, but also how they speak and what they expect.
When you're creating marketing content, it's important to remember that your audience is likely not experts on the subject. Keep in mind what they might already know and what they don't. So your audience will help you decide what your content should look like.
Next, take into account any "hooks" that might be needed to get someone interested in downloading your app. If you're targeting young adults, offer them prizes if they download it on a certain day or time period. This will encourage them to check out the app because they'll want those rewards.
The best hooks appeal to the emotions. They make people laugh and discuss something relevant. Try using a combination of hooks. Think about being funny or touch on current events, and then share the features that make your app unique. But at the end of the day, the best way to connect with potential app users is by using the right tone of voice. It'll make you more memorable and help build a stronger relationship between yourself and the customer. That's why identifying your audience always needs to be the first step.
Create a Marketing Plan
In today's world, mobile app advertising has become more prevalent than ever before. But it all starts with a marketing plan.
A marketing plan is the most important part of any business, including a mobile app. A well-thought-out and planned campaign will have you reach your target audience—the people interested in what you sell.
It's essential to create a marketing plan that will include the following:
Define your target audience

Determine what you want to achieve with the marketing plan

Create a list of goals for each campaign and identify how they will be measured

Identify which social media platforms are best suited for your needs (Facebook, Twitter, Instagram, etc.)

Develop a budget that includes all expenses related to the marketing plan
I'll break down some of these components in greater detail below.
Target Audience
Who are you trying to reach with your marketing campaign? Do they have an interest in or use for your product, and how can you best reach them?
This part will be easy since you've already taken the time to understand your audience back in the first section of this guide. But now, it's time to take that information even further by creating a customer persona.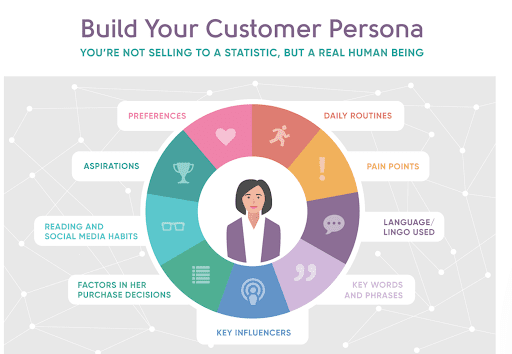 App users are more than just a number on a screen. So this will help you understand who they really are as people. A persona is a representation of your ideal customer, based on research and analysis, which you can use in your app marketing strategy.=
Give your personas a name, and really dive into detail. Here's an example:
Joe is a man in his early 40s who had grown up in a small town and raised by strict parents. He now lives in the city with his wife and kids, where he makes an average salary as an insurance agent. Joe always wanted to be more than just "average" but has never been able to make any big changes because of work or family priorities. He sometimes thinks about what life might have been like if he had more free time. There's nothing that interests him more than watching TV shows about aliens living on other planets, but he's too busy at work to attend any meet-ups or go out for drinks with friends after long days at home taking care of the kids.
If you were launching an app that helps people manage their time more effectively, this could be a viable persona. Then you'd just need to figure out how to reach "Joe" based on this information.
There are even differences between Android users searching for apps on the Google Play Store and iOS app users downloading from the Apple App Store. So you might experience different conversion rates on these platforms.
Marketing Goals and Measurement Metrics
What else does it take to have a successful mobile app marketing plan? You'll need to make a list of goals and identify how they will be measured. When you do this, it can help you better gauge your success.
It's important to know what you want from your marketing campaign and how you will measure it. For example, if one of your goals is to increase the number of new customers, you would measure this by tracking how many people download the app after being targeted by a marketing campaign or ad.
Bust out your pens and paper; you're going to need them. Research ahead of time is crucial when it comes to app marketing campaigns. Look at your target audience's demographics and make sure you know what platforms they are most likely using before diving in headfirst into your campaign strategy. Your research helps ensure that you don't make too many mistakes when marketing your app.
Here are some examples of potential marketing goals for any mobile application:
Create an app landing page on your website

ASO (app store optimization)

Run ads in the App Store

Increase social media presence

Run social media ads

Create blogs for SEO

Partner with influencers
Just make sure that your goals are measurable, or you won't be able to track your success.
Which data points are most important when looking at whether or not the campaign has been successful (e.g., number of likes vs. shares)?
Any time you're marketing an app, you should also consider any competitors that are available and what they're offering. This is another way to measure your goals and track KPIs.
Marketing Channels
What types of marketing channels will work best for reaching your target audience? Think about what type of content resonates with this group and what social media platforms they frequent.
How often should updates be posted on each channel, and how much time should be spent creating new content per day/week/month?
The marketing channels you choose will have a direct impact on your content marketing strategy.
For example, look back to some of the potential goals that we discussed earlier. The content needed for an Instagram post looks very different from a blog that drives traffic to your website. Let's say you want to drive app downloads with an influencer marketing campaign.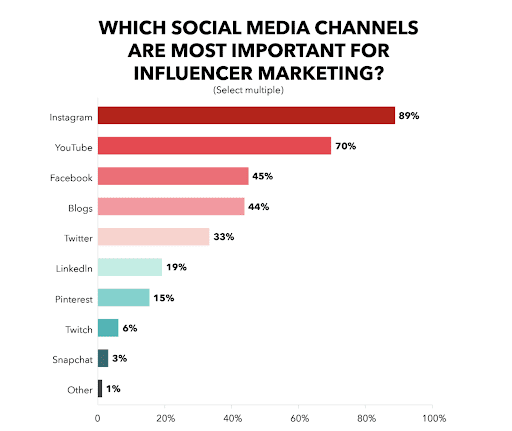 Based on the data from the chart above, it's clear that some marketing channels are clearly better than others if you're going to use this strategy.
App Marketing Budget
Finally, you'll want to think about how much money your budget will allow for advertising the app as well as any other costs associated with creating it.
Start by outlining what your desired ROI is and how much money you can invest in advertising for it. Remember that certain platforms like Facebook and Instagram sell ad space, so research which ones are best for reaching your target audience.
As an entrepreneur who has launched many products before, I know that it's very important to plan ahead with regards to funding as early as possible. When it comes time for app launch day, having a more concrete idea of how much money will be necessary for advertising and other costs can help ease some stress-inducing financial burdens down the road—especially if funds start running low unexpectedly during implementation or after release.
Your app marketing budget will ultimately include the cost of any advertising you want to do. This includes offline methods like radio and TV ads, as well as online efforts on social media, in print publications, or via email campaigns. An app's first impression is critical, so make sure it looks good with a great logo, graphics for app icons and screenshots, and professional photography. The same goes for any other content that will be on your website, like videos. All of this must be accounted for in the budget portion of your app's marketing plan.
Solve a Problem For Your Target Audience
Developing an app that will solve a problem for your target audience is not easy. You need to identify the problem, analyze what type of solution would be best, and create a prototype that can be tested. Once you have done all these things, you can develop the app with the knowledge of what will work best.
The first step in developing an app marketing campaign is identifying the problem. It sounds simple, but it's actually quite difficult because there are many problems to choose from, and sometimes people don't know they have a problem until it's pointed out to them.
The next step is analyzing which type of solution would work best for this particular person or group of people based on their needs and wants as well as their lifestyle and goals (refer back to your customer persona). Creating prototypes allows app developers to test different solutions so they can find one that works really well for most users without being too expensive or time-consuming to make changes later on if necessary.
As a mobile app marketer, your job is to find the problems in people's lives and make them better. If you can do that, your app will be successful. Every marketing campaign for your app needs to clearly identify and solve a problem for your target audience. Otherwise, it just won't be effective.
Check out this example from Hinge: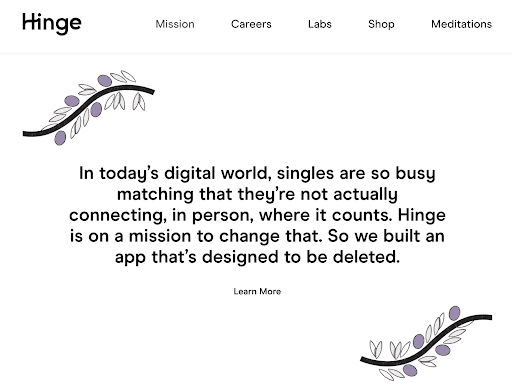 Hinge is a popular dating app that competes with lots of other big names in this category. All of their app download campaigns follow a similar theme. The app is designed to be deleted.
This is a really unique approach to marketing an app, but it works well in the online dating space. It speaks to a target audience of users who haven't had success with other dating apps and were forced to keep going back and using them. But Hinge claims to solve this problem by providing real connections between people.
Mobile App Promotion Strategies
There are lots of ways to promote an app and tons of platforms to do it. Earlier, we talked about your app marketing budget, but not all of these strategies require upfront costs. In fact, there are plenty of free app marketing strategies that you can use as well.
It's important to understand that you should start marketing the app before it's released. So if you're still in the development or pre-development stages, it's not too early to get started.
Launching a new app is always an exciting time and one that can be made even more special by giving your customers "special" deals. You don't want to launch your app without any sort of promotion—so get creative. Create a buzz on social media and offer exclusive offers to the first people who download it. Then make sure you celebrate when you launch by rewarding those who were with you from the beginning. Start collecting email addresses and promote your app on your website.
Here are some of our favorite app marketing strategies for you to consider:
ASO (App Store Optimization)

Blogging

Connect with bloggers for guest posts

Email marketing

Social media marketing

Paid social media ads

SEO (search engine optimization)

App referral programs

Encourage app reviews

App Store ads

App screenshots

Press release
The list goes on and on. If you're on a tight budget, check out our list of 33 create ways to promote your app for free.
Bonus: Where Can I Find the Best Developers For My Project?
As previously mentioned, app marketing should start before your app has been built. So some of you are likely still in the market for a developer. There are a lot of developers out there, and it can be hard to find the best one. The search is made even more difficult because so many companies offer mobile app development services.
If you're looking for help with your next project, here's what you need to know:
The first thing to do is figure out what kind of developer you want. Do you want someone who specializes in design or coding? Or do you just need someone who has general skills?
Once that's decided, look at the company website and see if they have any testimonials from previous clients. This will give an indication as to how good their service is. You should also check if they have any awards or certifications which show that they've done work on projects similar to yours before.
Finally, make sure that the company offers competitive rates, as well as flexible payment plans.
Hiring a developer from scratch can be expensive and time-consuming. You don't know if the person is going to do it right or even finish it at all.
Instead of hiring a developer, consider using an alternative solution—like a mobile app development platform.
BuildFire is easy for anyone who has a basic knowledge of how apps work but also gives advanced users the ability to customize their mobile apps beyond just the standard components offered by other development platforms. This saves you money and makes your life easier when building your own custom mobile application.
Conclusion
When it comes to mobile app marketing, we're not just talking about what you do on the first day of operation. You need a long-term strategy that will set your company up for success in today's ever-changing business world.
Start by identifying your audience and understanding what they want from their apps. Once you have that information, create an appropriate marketing plan for them. Keep an eye on your budget, and don't forget about testing out different strategies if things aren't working out as planned.
In summary, mobile app marketing is the key to success. Follow the tips outlined in this guide, and you'll be on your way to a successful campaign. Good luck!