Make Money Like These 8 Business Giants With Geofencing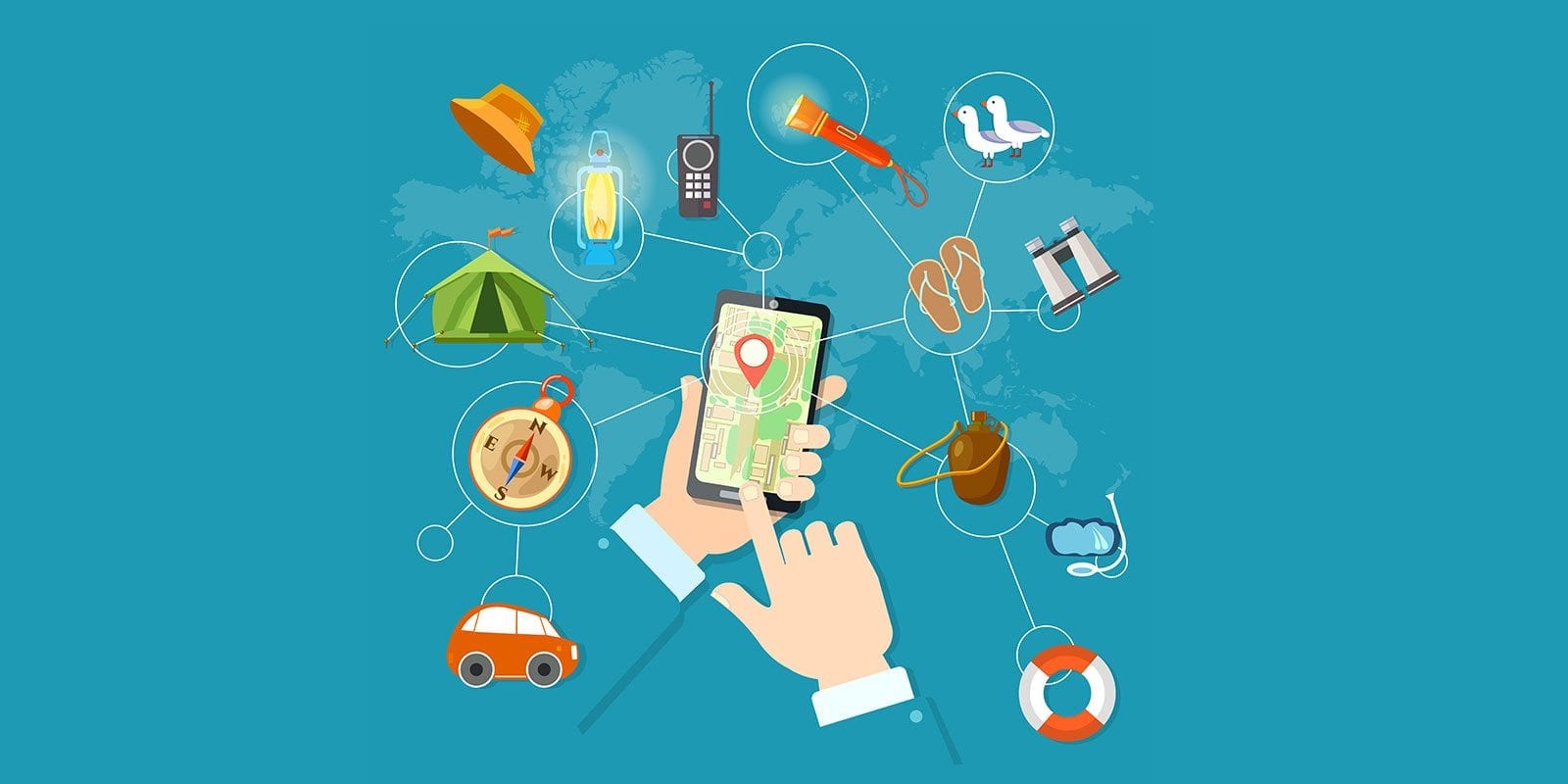 As a business owner, you've got to constantly come up with new ways to make money.
This statement holds true for every company throughout all industries. Just because your business model is sustainable right now, it doesn't mean that it will be in the years to come.
You need to stay educated on industry trends and learn about new forms of technology to help your business grow.
One of the ways that you can make more money for your business is through geofencing. Have you heard of this? Are you familiar with how it works?
For those of you with a mobile application, you definitely need to be using geofencing.
There's no need to reinvent the wheel. If you're not sure how something works or how to apply it to your company, your best bet is to follow the lead of those who succeeded before you.
I'm going to show you some examples of well-known companies that use geofencing to improve their business model and turn a hefty profit.
For those of you that don't know what geofencing is, I'll also explain the basic concepts of how it works. That way you'll be able to use this guide as a reference for when you apply geofencing to your business and mobile application.
Here's what you need to know.
What is geofencing?
Geofencing uses location services to help you make marketing tactics more relevant to your customers.
Essentially, it's a GPS tracking system that creates a barrier around a specified area, which you get to define.
Here's a pretty basic animation to show you a visual representation of how it works.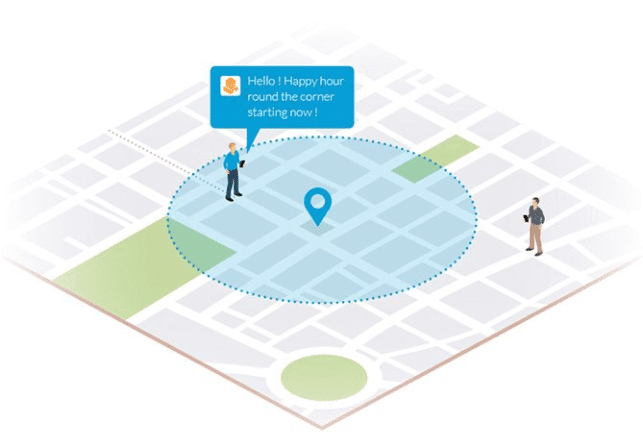 The example above is for a restaurant, which is represented by the blue location icon in the center of the picture.
This company set their geofenced area to the blocks surrounding their restaurant. When someone enters the specified area, they'll receive an alert as a push notification or SMS notification.
In this case, the restaurant is promoting their happy hour specials.
This is one of the best ways that you can use geofencing to grow your business. However, there are other ways that you can use this technology to save money as well.
For example, if your company has drivers out on the road, you can use geofencing to make sure that your employees aren't leaving their designated route area while they're out on the road.
It keeps them accountable for doing their job without wasting time on your payroll.
How businesses are using geofencing
As I just said, there are lots of different ways to use geofencing.
Depending on your company and industry, you'll find that some methods are better than others.
Rather than continuing with broad examples, I want to show you how successful businesses are using geofencing right now. These specific cases will help give you a better understanding of how versatile this technology is.
Some of you may be able to mimic these methods exactly if you're in a similar industry. But even if you're not, you'll still be able to apply the basic concepts.
As a whole, geofencing improves the click-through rates by more than double your industry averages.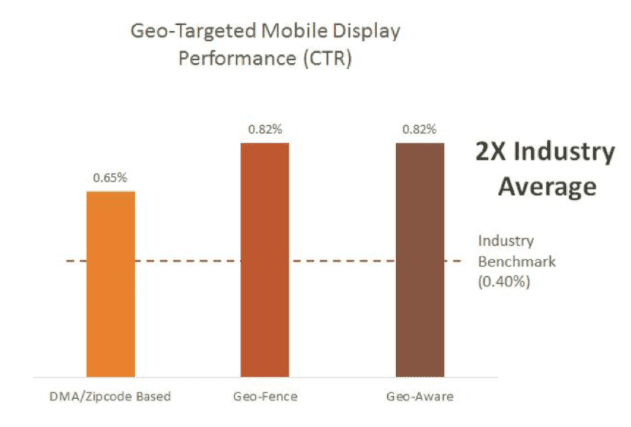 Take the lead from these businesses and find a way to apply their strategy to your own company and mobile application.
Honeywell
Honeywell has a thermostat that uses geofencing to improve their products and enhances the customer experience. Here's how it works.
The system uses geofencing technology to set a barrier around specific rooms in the house. Using the signal, it can tell if someone is in the room or not.
Based on this information, the heat or air conditioning turns on or off automatically to help save power.
As a result, the Honeywell equipment is optimized to run efficiently and last for a long time. But the customer gets even more benefits.
For starters, they know that the temperature in the rooms they're in will always be comfortable. But even better, they'll save money on their utilities since the system regulates itself.
This use of geofencing is an absolute homerun for Honeywell.
As I said before, geofencing is great for businesses with mobile applications. Well, Honeywell uses a mobile app as well so that these same customers can control all of the settings from their mobile devices.
Customers can manually turn on or turn off their system, even if they aren't home.
Ultimately, this use of geofencing adds value to the customer, which is why Honeywell is able to sell them at a premium price to make more money.
Uber
Uber's entire business model wouldn't survive without GPS tracking and location services.
When a user opens up the app to request a ride, they use geofencing around their specified area to show how many cars are available and an estimated wait time for when a driver can arrive.
But Uber takes geofencing one step further. If you agree to have your location services turned on when you're not using the app, Uber knows where you all at all times.
So if you enter one of their geofenced areas, they'll send you a push notification as a way to drive more sales.
Here's an example of this strategy being used at an airport in San Francisco.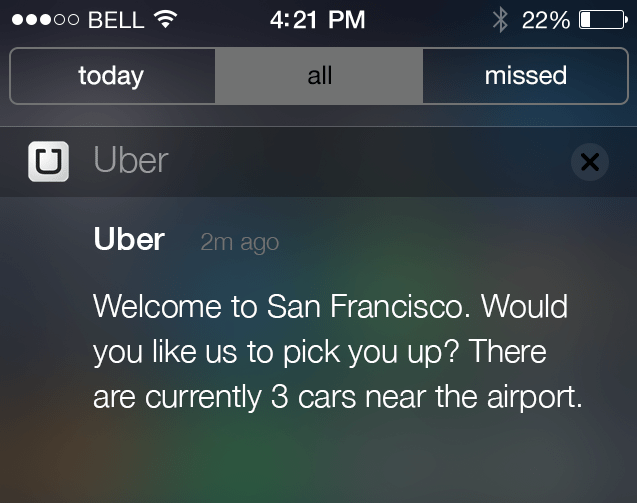 It's a genius strategy. Uber knows that anyone arriving at the airport, obviously, needs to leave the airport to get to their destination.
While some people may think to use Uber automatically, not everyone would have this thought.
Some people may just try to find a cab driver outside. Others may call a friend or family member for a ride. Travelers can even contact a hotel to try and arrange a shuttle service.
But Uber doesn't want people with their app to do any of those things. They want to make as much money as possible, so they send this notification.
Meeting a driver at the airport can be hectic and confusing. But Uber even provides specific instructions on where customers can meet their drivers.
All of this makes the user experience that much better. It was all made possible because of geofencing.
Walgreens
Walgreens uses geofencing technology as a way to promote customer retention and establish brand loyalty.
They use this method to appeal to their loyal customers. If a customer enters a geofenced area that's close to Walgreens store location, they'll receive a notification.
This is great for customers who may need something, but don't realize that a Walgreens is nearby. Here's an example of what that notification looks like.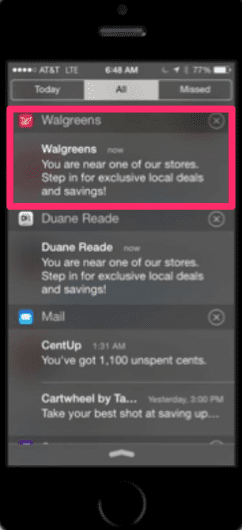 I'm willing to bet that the majority of people who have this app, don't have it on their homepage. It's probably not something that they open up every day.
So this notification is perfect because now the user just needs to swipe on the notification and the app will automatically open. They won't have to go digging through their phone to find it.
Once the app opens, they'll be logged in to their personal customer profile.
Now users will see promotional offers based on their purchase history. The whole concept of combining personalization with geofencing is a great strategy and it's why Walgreens has been so successful with customer retention and brand loyalty.
You can apply this same idea to your company's mobile app as well to maintain loyal customers and provide them with promotional offers that are timely and personalized.
BMW
BMW is an industry leader in the automobile industry. Their brand is known for luxury, performance, and excellent customer service.
That's why their vehicles come with such a premium price tag. BMW also uses geofencing to enhance their customer service.
Cars with BMW Trackstar monitor the position of the vehicle. Once a customer activates their service, the position of their car is tracked and pinpointed every 20 seconds.
Customers can use their mobile application to track the location of their car if it's parked in a garage or somewhere on the city streets. That way they never have to worry about forgetting where they parked.
Furthermore, this service also helps prevent theft.
If the car moves out of the geofenced area or moves without the keys, BMW gets notified right away. Then BMW contacts the owner to see if they are aware of the situation.
That way if the vehicle is being moved without the owner's authorization, the police can be notified and it will be easy to track the location of the car.
This improved security measure is a huge marketing point for the company. Geofencing helps them go the extra mile to provide customer service, which is a profitable strategy.
Taco Bell
Taco Bell has a mobile app that allows customers to order food from their phones and tablets.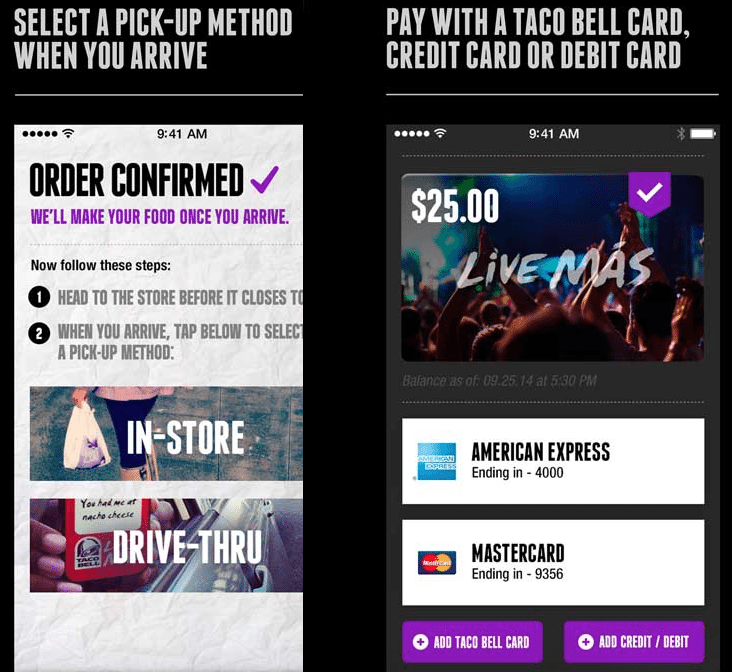 It's a great service for their customers, so they won't have to wait in line at the store or drive-through window.
While the app alone is a great idea, Taco Bell uses geofencing as a way to drive even more sales.
Whenever a customer drives by a Taco Bell location, they'll get a push notification. This notification reminds them that they can order food from their phone and pick it up.
Just seeing that they can order food right away and get charged to their credit card reminds them of the service. Otherwise, they may forget that this is an option.
The strategy was a huge success. After launching this campaign, Taco Bell saw a 6% increase in sales. Furthermore, the average order amount from the mobile app was 20% higher than in-store orders.
So it's safe to say that the combination of geofencing with the mobile application was definitely a winning recipe for this fast food industry giant.
JetBlue
JetBlue also has a mobile app for their customers. This app is designed to enhance the customer experience.
Users can book flights and manage their itineraries directly from their mobile devices without having to visit an airport, call customer service, or use their computer.
It's a very convenient way to book and manage your travel arrangements.
On the day of a flight, you can even check-in without having to visit a kiosk or speak to a representative. JetBlue offers paperless boarding passes as well.
Customers with the app can use the barcode on the app to board the plane.
While all of this sounds great, JetBlue was able to improve their app even more when they introduced geofencing features.
Check out this push notification that was sent to a customer after they arrived at the airport.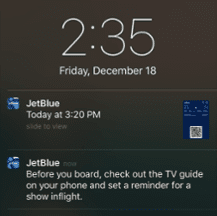 Once the app recognizes their location, it automatically sent them their digital boarding pass.
It also sends a notification about their in-flight entertainment options. Customers have the option to browse through movies and check out the TV guide schedule before they board the plane.
These added benefits help make the customer's travel experience much easier.
Apple Maps
Apple Maps is constantly tracking your location.
Based on your habits, this app can predict where you're most likely to go. For example, if you leave work around the same time every day and drive straight home, Apple Maps will recognize this habit.
If the app knows that you're not home, based on being outside of a geofenced area, you'll get a push notification telling you how long it will take to get home and what the traffic will be like.
Here's an example of what that notification looks like.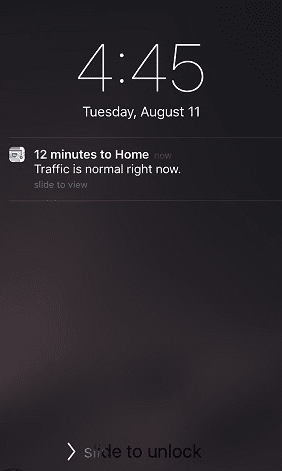 In the event that there is an accident, road work, or some other reason causing traffic to be abnormal, Apple Maps will notify you of the change.
Then you can adjust your departure time, or seek alternative route options that are suggested by the app.
By combining relevant traffic data with geofencing, Apple Maps has become an industry leader in this space.
ProximitT: MBTA Bus and Subway
ProximitT: MBTA Bus and Subway is a mobile app for the Boston transit system.
Users who take advantage of the services offered by this app can put in their most frequent stops.
The app uses geofencing to determine whenever a user is nearby a frequent stop. One their location is detected, they get a push notification.
Then it sends relevant information, like when a train or bus will be arriving in relationship to your location.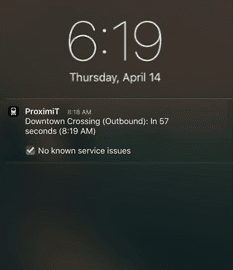 This is very convenient for anyone who has the app. It helps them make sure that they don't miss their ride.
As a result, the transit system will get more riders and make more money. If their customers were constantly missing the train, waiting too long, or having an unfavorable experience, they might seek other forms of transportation to get around the city.
But the geofencing technology optimizes the customer experience and helps the company turn a profit.
How can you use geofencing to improve your app?
Now that you've seen some examples, you have a much better understanding of what geofencing is and how it works.
Even if your company isn't associated with any of the examples, you can see that there is a variety of options based on the wide range of different businesses that use geofencing.
You can definitely find a way to apply it to your company.
Geofencing can be used to optimize the customer experience, which ultimately drives more sales to your business.
Just make sure that you're providing relevant information, especially if you're sending push notifications to app users.
You don't want to be perceived as annoying if you send too many irrelevant notifications. Then customers will mute your app notifications or turn their location sharing off.
Conclusion
If you want to make more money for your business, follow the lead of companies who were successful before you.
Stay educated, informed, and up to date on the newest trends and tools.
If you have a mobile app, you've got to start taking advantage of geofencing.
When a customer enters the specified area that you determined, send them a push notification to remind them of your company and services.
You can even send them personalized information or promotional offers based on their transaction or behavioral history with your company.
If you can improve their experience, they'll spend more money.
Follow the examples and tips that I've outlined above to apply geofencing to your business.
How is your company using geofencing to drive sales and improve the customer experience?