App Store Optimization 101
Do you remember how you found the last app you downloaded on your tablet or smartphone? If you're like most people, you probably searched for it in the App Store or Google Play. As it turns out, the battle for app discovery is being won (or lost) in app store search results, according to research by TUNE, an ad analytics company. Take a look at these interesting charts: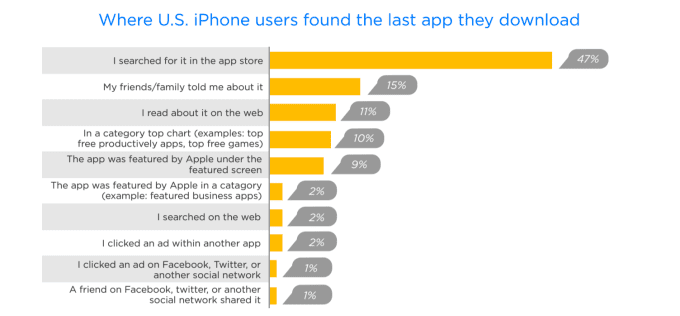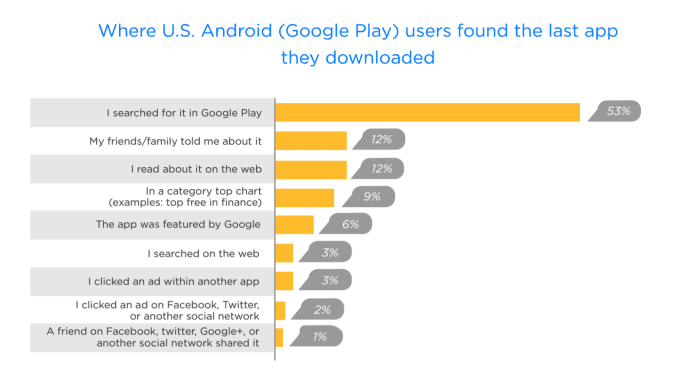 charts courtesy of Tech Crunch
This study shows pretty clearly that app developers need to focus on app store optimization (ASO), as opposed to other mobile app marketing channels, if they want their app to be discovered. If you're about to release your new app, or want to get better organic download numbers from an existing mobile app, here are the basics of ASO to help you the best results.
What Is App Store Optimization (ASO) Exactly?
Simply put, app store optimization are the steps you take as a mobile app marketer to help your app rank higher in app store search results. ASO functions as a tool to drive traffic to your app in the app marketplace and prompt more users to download your app. You can liken it to SEO for your mobile website, because the general idea and overall strategy is the same, but the tactics are somewhat different.
ASO requires a good understanding of your buyer persona; it will shape your keyword strategy. You need to know what keywords your target customers are using to search for apps so you can choose yours wisely. Because keywords matter just as much for ASO as they do for SEO, perhaps even more so, since you're working with smaller, more tightly focused fields.
Basically, app store optimization is one of the most crucial components of your overall mobile app marketing plan. So…let's get started.
The 8 Basic Parts of App Store Optimization
While there are a few variations between optimizing for Google Play versus Apple's App Store, the process for both rests on eight basic elements. For simplicity's sake, you can break them out into three main categories:
Optimizing Keywords
➤choosing the right title
➤writing an optimized description
➤including localized keywords where appropriate
App Store Visuals
➤your app icon
➤the screenshots you use
➤the promotional or preview video
Offset Factors that Affect ASO
➤number of downloads (and uninstalls)
➤number and quality of your app ratings and reviews
We'll look at each of these elements in more detail and break out the differences between optimizing for the App Store and Google Play.
Choosing Keywords for App Store Optimization
You probably already know how important identifying the right keywords are for ASO, but you may not know which factors are most important when it comes to choosing them. Don't make the very common rookie mistake of looking for keywords with the highest search volume—your top priorities should be choosing the most relevant keywords and the ones you have the best chance of achieving a higher rank. After all, it isn't going to do you a bit of good to choose a keyword that gets 500,000 searches a month if your app ranks 699th for that term.
If you need help with keyword search, try tools such as Sensor Tower, TUNE (formerly MobileDevHQ) and App Annie. You'll find a wealth of useful app analytics to shape your marketing efforts.
Of note: Keywords are more important for Apple's App Store ASO than for Google Play, but you should still choose wisely.
Title Keywords for App Stores
Simple rule: Use a keyword in your title. Period. The graph below gives you ample reason to do so: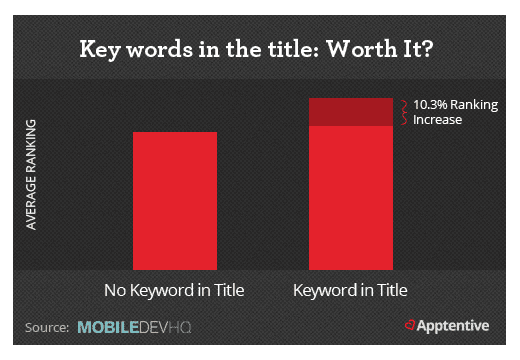 Image courtesy of MobileDevHQ via Kissmetrics blog
As a matter of mechanics, the App Store displays 25 characters in the title, while you can use 30 characters for Google Play. Don't use special characters ($,%,&, etc.) in your app title; keep them all URL friendly. And don't use category words (free, game, puzzle, etc.) in your app name, because you already select those when you list your app.
The App Store also gives you 100 characters to list your keywords; here are some tips:
➼Separate words by a comma, but don't use a space after the comma. Use your 100 characters wisely.
➼Don't repeat keywords.
➼Use numerals, don't write out numbers.
➼Skip stop words like "the," "at," etc.
➼Don't repeat the app name in this section.
Optimizing Your App Description
This is the space where you sell your app by offering compelling copy about all the features and benefits they user can expect if they download your app. Since the recommendations for optimizing the app description are quite different for the App Store and Google Play, we'll break them down here by marketplace.
| | |
| --- | --- |
| The App Store | Google Play |
| First three lines visible; make them count | Focus on first 167 characters for web search |
| Prioritize compelling copy over keywords | Watch keyword density; don't keyword stuff |
| Include social proof (awards, reviews) | Don't use testimonials |
| Highlight features/benefits list | If possible, get backlinks |
| Include press releases and updates in the "what's new" section | Use long-tail keywords and take advantage of all 4,000 characters |
| Don't overuse keywords, it will lower your rankings | Use main keywords a maximum of 5 times each |
One other important note about optimizing your app description: This is a good place to do A/B testing and find the copy, keywords, and features or benefits that do best with your target customers. You can also A/B test your icon, screenshots, or any other part of your app page. Google has added improvements to Google Play so that you can A/B test your app page elements right from the Google Play Developer Console.
Localizing Your Keywords
Depending on your app and your target audience, it may well be worth your while to localize your keywords. What does it mean to "localize" your keywords? It just means to translate your title, the first sentence or two of your description (including a call to action), and even your screenshots. Is it worth it? Check out these charts based on one developer's experience with keyword localization and the "Harlem Shake Yourself" app:
Before localization, approximately 3,000 downloads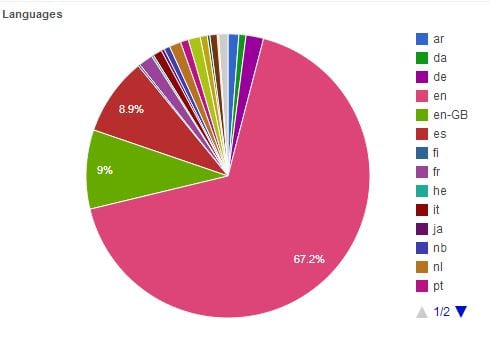 After localization, approximately 23,000 downloads (760% increase)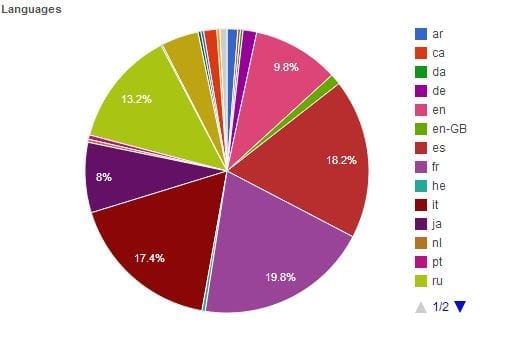 Of course, your results may vary, but if you are marketing an app that targets customers in more than one country, you should definitely do keyword localization.
Getting the Visuals Right for ASO
Technically, your visuals aren't going to really impact the ranking algorithms, but they are going to make a huge difference in how your app is perceived by potential users and how many of them will be interested enough to click through and ultimately download your app. So yes, you do need to get them right for ASO. Let's look at the three main visual elements in detail.
The App Icon
This is the first (and sometimes only) visual impression you will give potential customers, so it needs to be powerful, yet simple, and consistent with the rest of the app design. This is also a great place to emphasize branding. Some tips for icon design:
?Don't use words or text in the icon design.
?Borders help your icon stand out.
?Focus on one idea; don't let the icon get "busy."
The Right Screenshots for ASO
With the App Store, you get slots for up to five screenshots, and Google Play allows up to eight. Use them all, but give special attention to the first two slots, because they are the ones that searchers will see when they visit your app page. Best practices for screenshot ASO:
?Avoid generic screens such as menus.
?Add explanations if necessary so people know what features/benefits the screenshot is illustrating. Localize your screenshots if applicable.
?Don't neglect A/B testing.
?Consider combining two or four screenshots in one slot if you need more images to explain app flow.
One note about Google Play: You must submit a "feature graphic" if you want your app to be featured anywhere in Google Play. Use this space to tease or highlight some feature of your app, don't load it down with text or make it too fussy.
The Promo Video
You can add a preview or promotional video to your app page in both stores; there are separate guidelines for the App Store previews and for Google Play promo videos. While these aren't mandatory, they can be extremely compelling and give you a leg up on branding and promoting your app. Some tips:
?Write a script and stick tightly to your video plan.
?Get to the "magic moment" right at the beginning; this is especially important with the App Store, since you only have 30 seconds to make your point.
One major difference between App Store and Google Play videos: You can localize your video on Google Play, and in fact, you can add a separate video for each language translation. You only get one video on the App Store, so it has to work for all countries you are targeting.
Off-Site ASO Factors
These are the most difficult ASO factors for mobile app marketers because they have a relatively high impact on rankings—and they are pretty much completely out of your direct control.
Both app store algorithms factor in the following offsite stats:
?average rating and total number of reviews
?number of downloads and uninstalls
?user engagement (how many times they open the app, session length)
?growth trend line
Moz did some research into just how important each of these factors were in each of the two app marketplaces; one of the key takeaways was that ratings and reviews matter much more to the Google Play algorithm, and there are almost 16 times more rankings on Google Play apps than iOS apps (3.1 million versus just 196,000).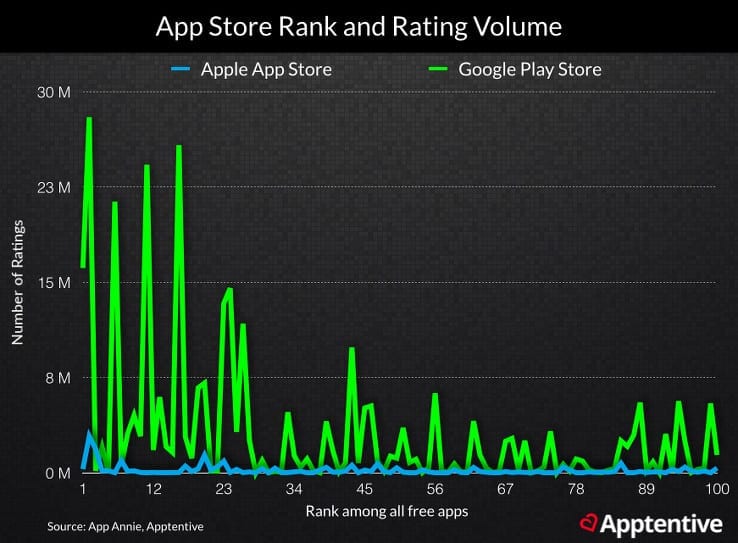 Downloads and Uninstalls
This is difficult metric to influence, but obviously, all your app marketing channels need to be oriented toward achieving as many downloads as possible—your website, press presence, social media, and app website should all be focused on this goal.
But downloads aren't the be-all end-all for offsite ASO, either. The Moz study referenced above showed that monthly active users (MAUs) was one of the best indicators of rank, the keyword being "active." There are several steps you can take to increase engagement and reduce churn, not least is using push notifications to keep users involved.
Ratings and Reviews
As we mentioned, there are two factors involved in weighting this offsite ASO criteria: Total number of ratings or reviews, and the average review quality (number of stars). Rating quality, in particular, is important, because few potential customers will download an app with a poor review rating.
You really have no choice but to ask users to rate your app, but some ways are better than others when it comes to posing the question:
➼Don't ask users to rate your app when they are in the middle of doing something; keep the overall user experience in mind and time the ask with sensitivity.
➼Give users an alternate channel to communicate with you if they are having trouble or need technical support with the app. You do not want feedback in the form of a crash report on your page.
➼Consider offering an incentive in exchange for an app review. This could be a one-time discount, an extra life in a game, a free product—whatever works with your business.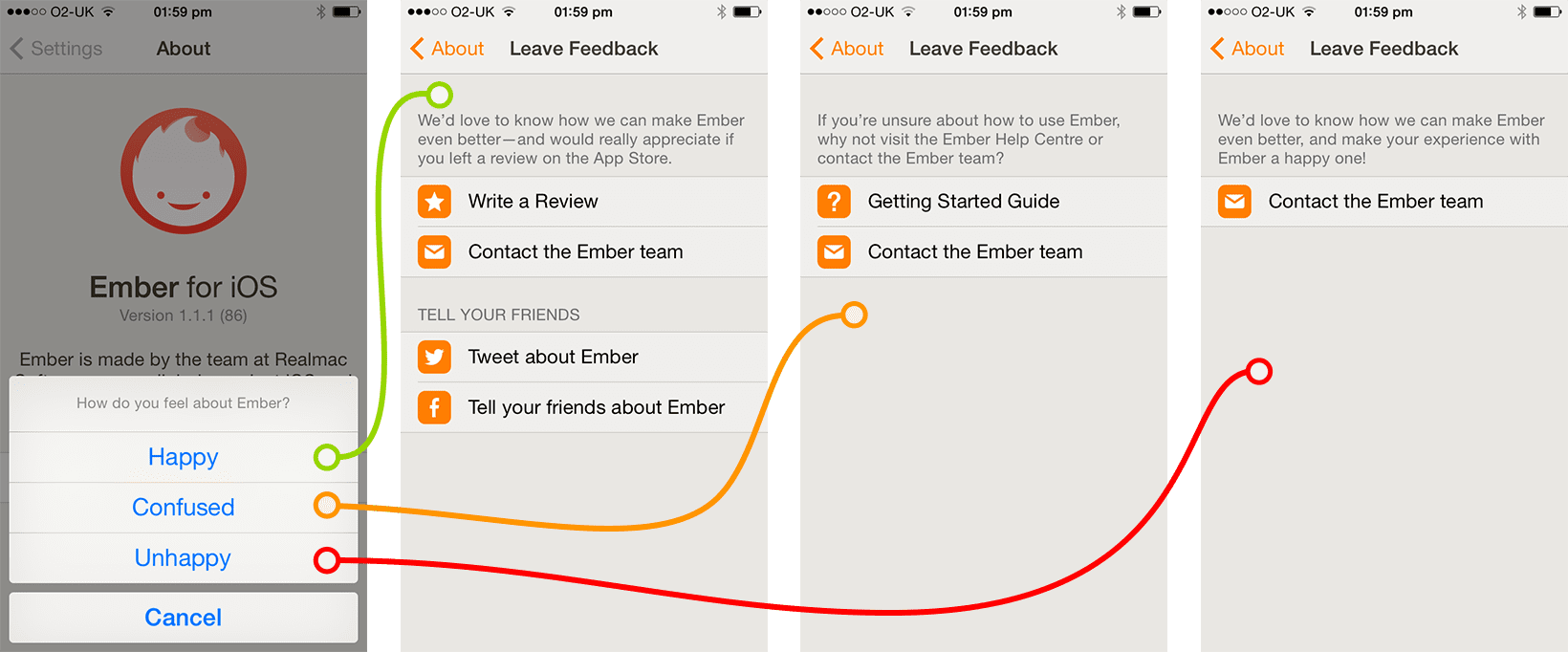 Image courtesy of DanCounsell.com
Once you've taken care of all the basics in your quest for ASO, you can't afford to rest on your laurels. App store optimization is a process, and regular testing, tracking, and optimizing every element of your app page and listing. It's also a good idea to take a look at what your most successful competitors are doing and see if there are elements you can recreate for your own app.
If you've done your work with ASO, you'll go a long way toward ensuring that your app is getting in front of your target audience as often as possible. Are you using any app store optimization tactics we didn't cover? Share them in the comments below.