21 Best Marketing Blogs You NEED To Read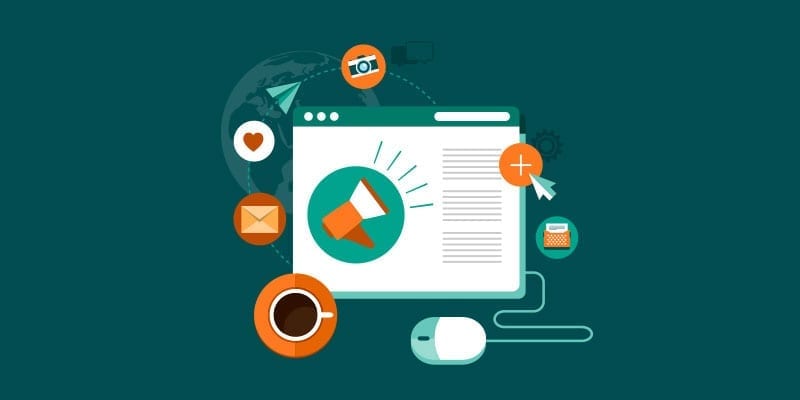 Which blogs do you follow and read?
If you're into digital marketing, then you need to identify marketing blogs that will nudge you to keep at your game.
You already know there are thousands of online marketing blogs out there and it gets overwhelming for marketers and businesses to find and read the right ones.
But I've done all the heavy liftings for you. If you religiously follow and read the blogs below, your insights, experience, and conviction will take on wings and your business will fly.
It's high time you stay updated on everything that's happening in the marketing industry worldwide.
Here's a list of 20 best marketing-related blogs that you should read and learn from:
1. Unbounce

Unbounce is the official blog run and owned by Unbounce which is a platform that helps marketers create, convert, integrate, and optimize landing pages.
Their blog covers topics related to landing pages and conversion optimization. It publishes scientifically-proven tips and best practices about landing pages.
If you've always struggled to create landing pages that convert and do the job, Unbounce blog is where you'll find all the answers.
22 Brutally Honest Landing Page Critiques is my favorite post from Unbounce blog that criticizes 22 landing pages and shows you what's wrong and how it has to be fixed.
2. Copyblogger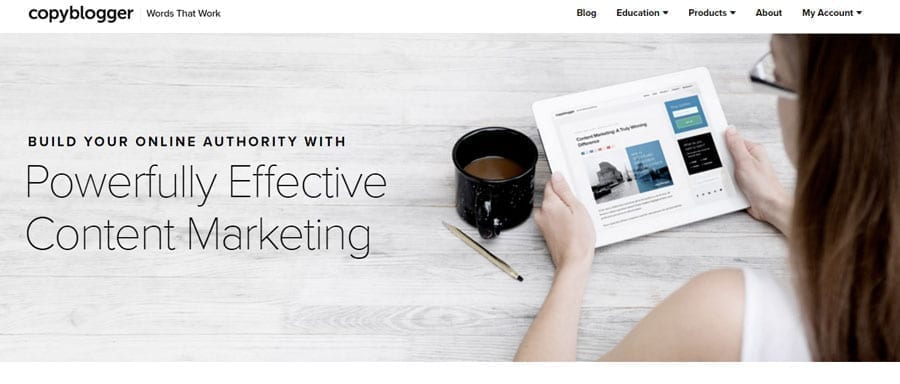 Are you struggling with content marketing and copywriting? Copyblogger is the place you should be.
Brian Clark and Sonia Simone are the two big guns behind the blog. You'll get to learn the best tips, guides, and strategies on copywriting that will make you a better blogger and copywriter.
My favorite post from Copyblogger is The Ultimate Copy Checklist: 51 Questions to Optimize Every Element of Your Online Copy. This post will make you a better copywriter than you are now.
3. QuickSprout
The QuickSprout is a marketing blog by Neil Patel where you'll find guides and tips on everything digital marketing with a focus on traffic generation. If you religiously read QuickSprout, I'm sure you'll never have to struggle for web traffic again.
My favorite article is none other than The Beginners Guides to Online Marketing. If you haven't read anything on online marketing, this guide will be more than enough.
4. Marie Forleo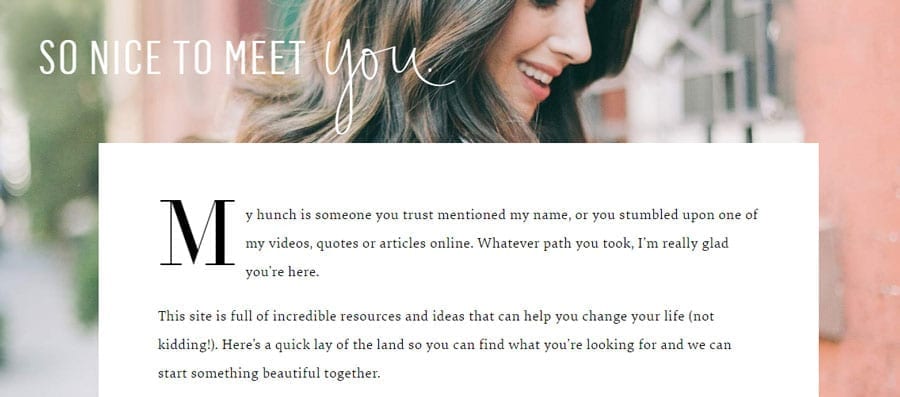 As a marketer, there are times when you need motivation or life-changing advice from an expert. Marie Forleo is the blog where you'll find ideas and resources that will help you change your life.
Let's start your journey with Marie from this vlog: What to do when you feel useless and alone.
5. Mirasee

Mirasee is a brand founded by Danny Iny. The purpose of Mirasee is to provide businesses with resources and education that help them impact their audience and change the world.
This is what exactly you'll find on their blog. It covers topics ranging from businesses to audience engagement to digital marketing to case studies and more.
My favorite guide is their inspirational 10 lessons from debt to 7 figures. You'll not earn 7 figures exactly but the lessons you'll learn will change the way you do business and earn.
6. HubSpot

Inbound marketing seems to be incomplete without HubSpot. The have a massive marketing and a sales blog where you'll find data-driven blog posts, case studies, templates, guides, expert opinions, and everything about inbound marketing.
If you cannot find it anywhere else on the web, chances are, you'll find it at HubSpot.
State of Inbound 2016 is my favorite report by HubSpot that shares data and information that is worth millions.
Beyond marketing, you'll also find tons of useful information on running a business and just being a good employee. Alternative topics range from how to write a memo to project management success, using the agile framework, and so much more.
7. John Doherty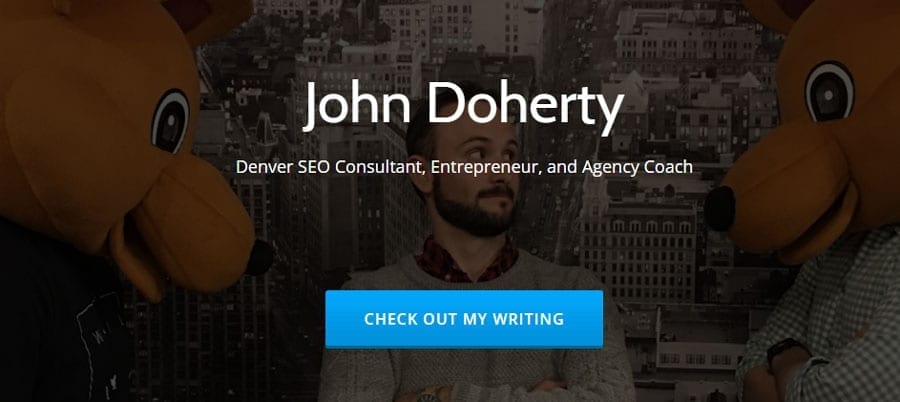 This blog is run by John Doherty, who is an entrepreneur, marketer, and a top consultant. John mostly writes about SEO and content marketing. One of best things about this blog is that you'll find exclusive case studies and best content from around the web. John reads, summarizes, and shares the best content on marketing with his subscribers every week.
One of the most insightful posts and my favorite is SEOs are Growth Hackers. Do read it.
8. Content Marketing Institute (CMI)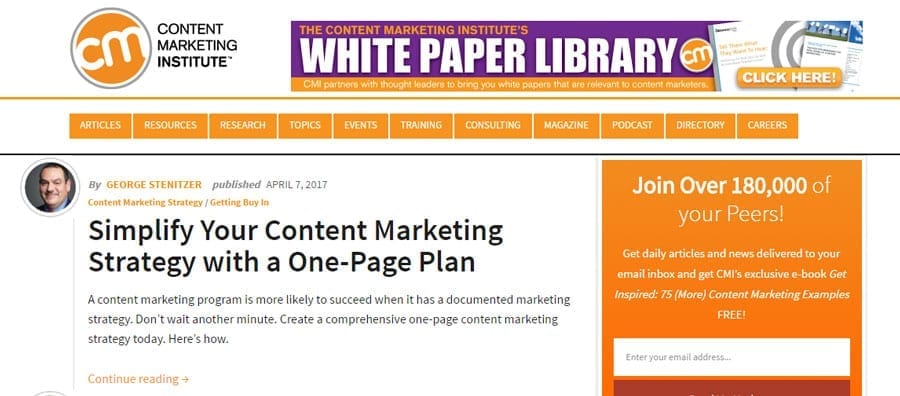 Joe Pulizzi founded CMI who is a content marketer, entrepreneur, author, and speaker.
Content Marketing Institute (CMI) publishes new articles on content marketing and copywriting every single day. Not just that you'll find content marketing guides and templates but they talk about recent news and events in the content marketing space.
I love the post by Brody: 12 Things to Do After You've Written a New Blog Post. It is old but still valuable.
9. Buffer

Buffer isn't just an interesting social media scheduling app, their blog is even better.
At Buffer blog, you'll find posts on social media marketing, digital marketing, case studies, and posts on news and trends. The real beauty of Buffer blog is their in-depth and detailed blog posts that cover every topic in extreme detail.
The first thing that you should read on Buffer blog is the Sidekick case study: 7 Powerful Social Media Experiments That Grew Our Traffic by 241% in 8 Months. You'll love it.
10. Econsultancy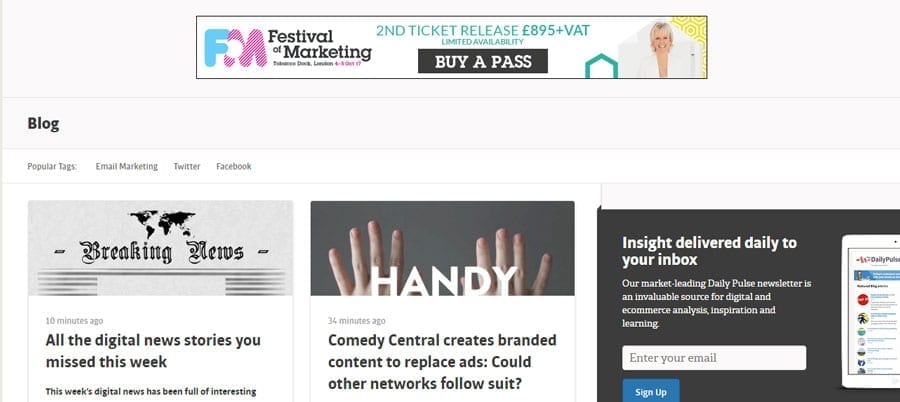 Econsultancy is an ecommerce data-driven blog that publishes content on marketing and analytics. It publishes statistics and opinions on marketing and ecommerce. If you plan to learn more about ecommerce, econsultancy is your best bet.
My favorite blog post on the blog is: What marketers need to know about Facebook's ethnic affinity ad targeting. If you get a chance, do read it.
11. BigCommerce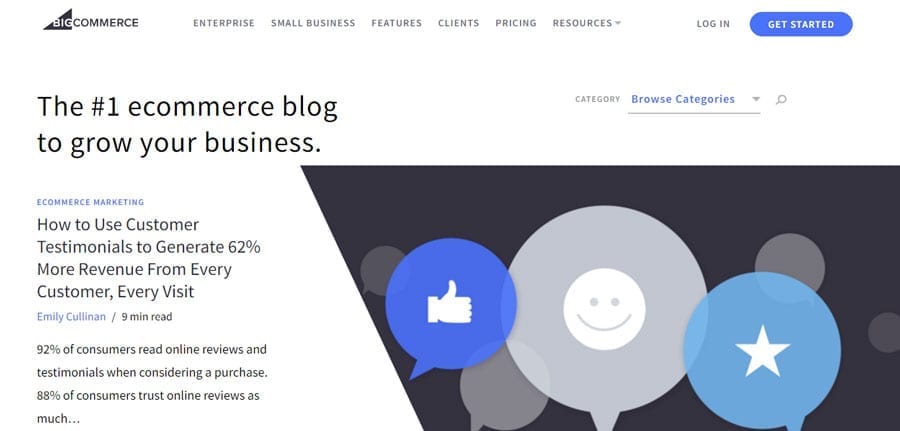 BigCommerce blog provides you with some of the best and latest content on eCommerce. The blog posts regularly on the topics related to ecommerce, ecommerce design, payment processors, shipment and fulfillment, ecommerce marketing, and more.
If you want to stay updated on what's happening in the ecommerce industry, stick to the BigCommerce blog.
My favorite recent post is: Instagram Shopping: The Future of Mobile Ecommerce + 19 Tips to Increase Conversions Now.
12. 9Clouds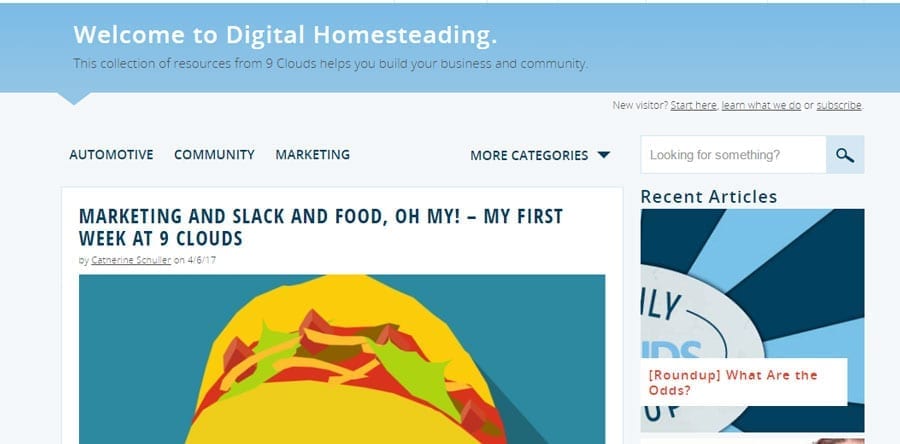 9Clouds is an inbound marketing blog that is must for those in the automotive marketing niche. While you'll find articles on pretty much everything on marketing but since 9Clouds is an automotive digital marketing platform, therefore, most of their content is based on automotive marketing.
My favorite article: An Excerpt From the 2017 State of Automotive Marketing Report
13. GetResponse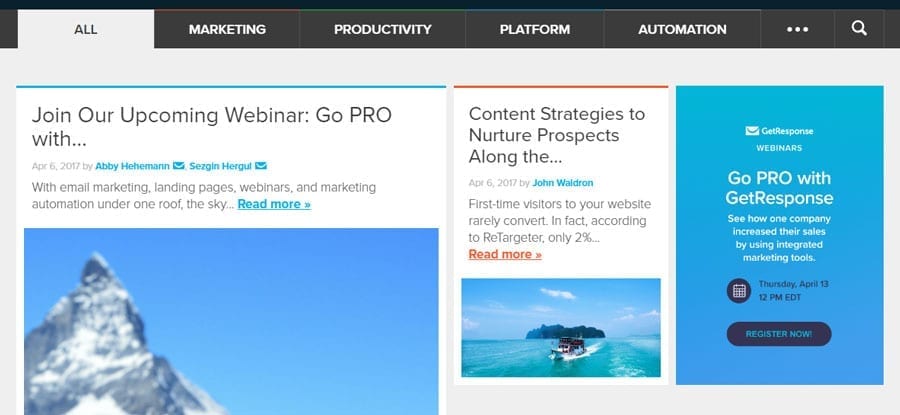 Get Response is an email marketing platform that helps businesses with email marketing, landing pages, marketing automation, and more. Their blog is one of the best in the market that talks about marketing, productivity, automation, and email marketing.
Nobody writes better than Get Response on email marketing.
My favorite article: How to Start a Video Content Campaign the Right Way
14. ConversionXL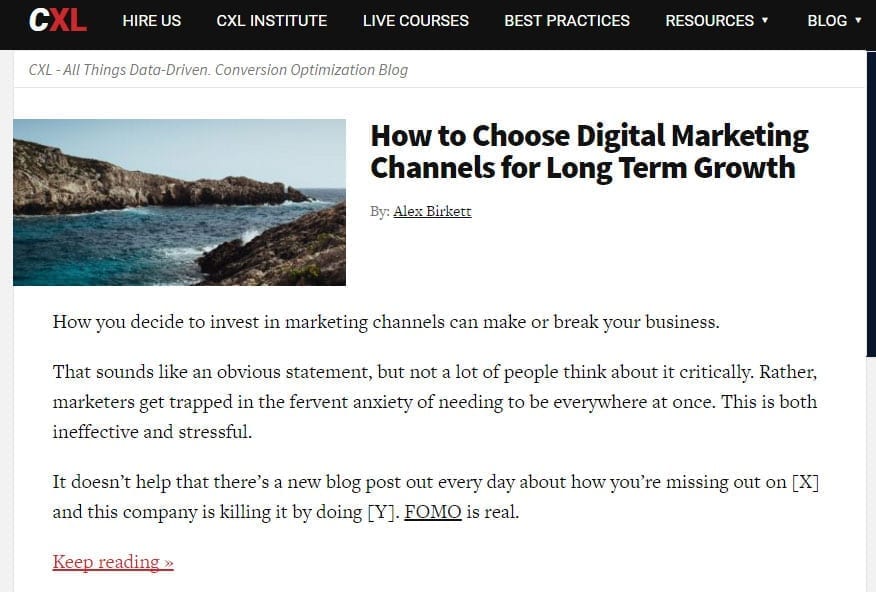 Founded by Peep Laja, ConversionXL is the leading conversion optimization blog that publishes resources, guides, courses, and case studies on conversion optimization.
If you plan to learn more on how to get better at conversion optimization and how to grow revenue, subscribe to ConversionXL.
My all-time favorite blog post is: The Beginner's Guide to CRO. It is a collection of several valuable articles that will enable you to get better with conversions.
15. Social Media Examiner
There is no better blog on social media marketing than Social Media Examiner.
Not just social media marketing but they publish on other marketing topics too like content marketing.
Whether it is new research, case studies on social media marketing, latest events and conferences or talk shows, Social Media Examiner is every marketer's best resource.
My favorite article on Social Media Examiner: Essential Facebook Marketing Resources: A Complete Guide.
16. Inside AdWords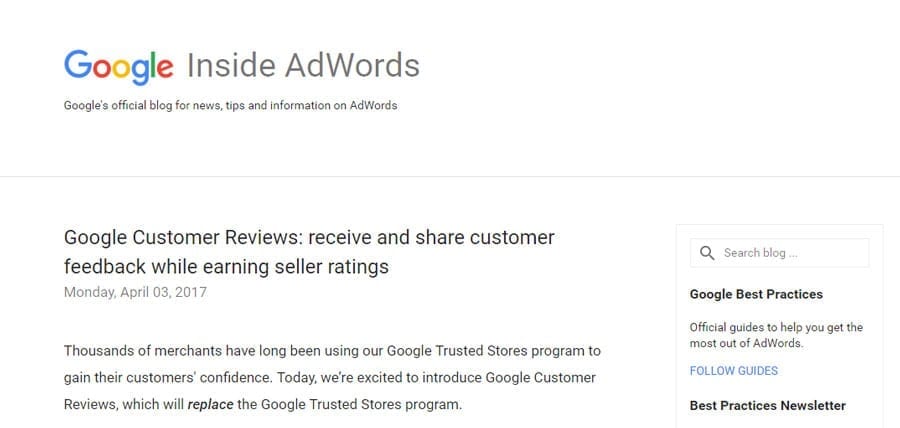 Inside AdWords is the Google's official blog about Google AdWords. They post the latest news, best practices, guides, and updates about AdWords.
You'll not see new posts very often but every time they post, you will learn something awesome and probably before your competitors.
Subscribe to the Inside AdWords blog if you use AdWords, you'll never regret it.
One of the best recently published articles is: A fast start to 2017 for click-to-call ads.
17. GetApp

GetApp is a home to more than 5200 apps for businesses. They blog about business apps including the best marketing apps, marketing plugins, marketing software, and more.
GetApp blog has several articles on employee management, business, customer engagement, sales, analytics, and more. You'll find everything on apps and latest tools at GetApp.
My favorite article is: How to Choose Marketing Automation Software: A Handy Checklist.
18. Marketo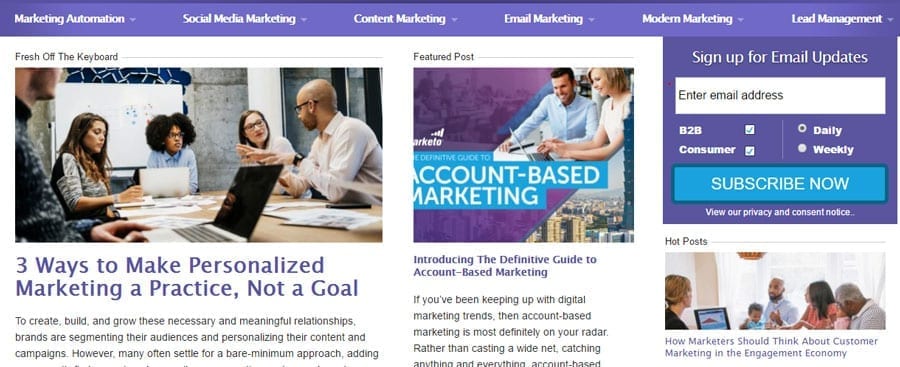 Marketo blog is a leading marketing blog that publishes extremely valuable and insightful articles on marketing.
The blog covers all types of marketing topics including automation, content marketing, modern marketing, lead management, branding, etc. There is hardly anything that you won't find at Marketo.
One of the best things about Marketo blog is that it categorizes its posts on the basis of B2B and B2C that makes it easier to find the right content.
My favorite article is: The Definitive Guide to Engaging Content Marketing.
19. GetFeedback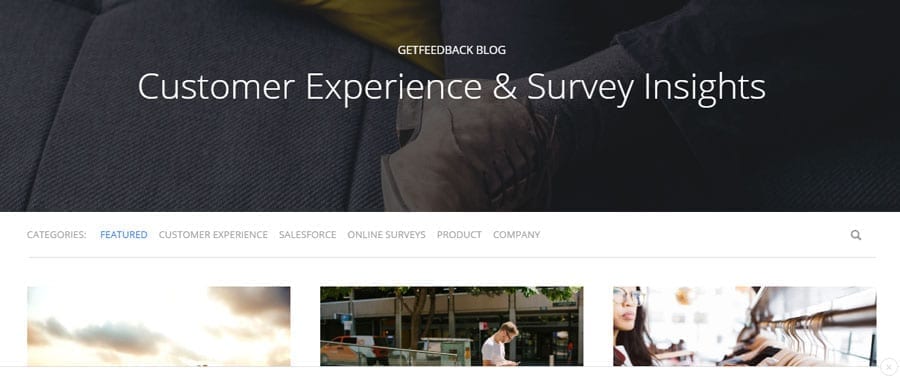 GetFeedback is an online survey software. They publish insightful content on topics related to customer experience, surveys, salesforce, audience engagement, and data collection and analytics. If you're planning to create a consumer survey to collect data from your customers, GetFeedback blog will provide you with some great articles.
My favorite post is: 3 Ways to Increase Retention with Customer Feedback.
20. Wistia

Wistia is a video platform for marketers and businesses. Their blog is your best resource for video marketing. It publishes tips, news, guides, and case studies on video marketing that will be helpful for video marketers.
My favorite article: Your Business's Videos Should Include Faces. Here's Why.
21. G2 Crowd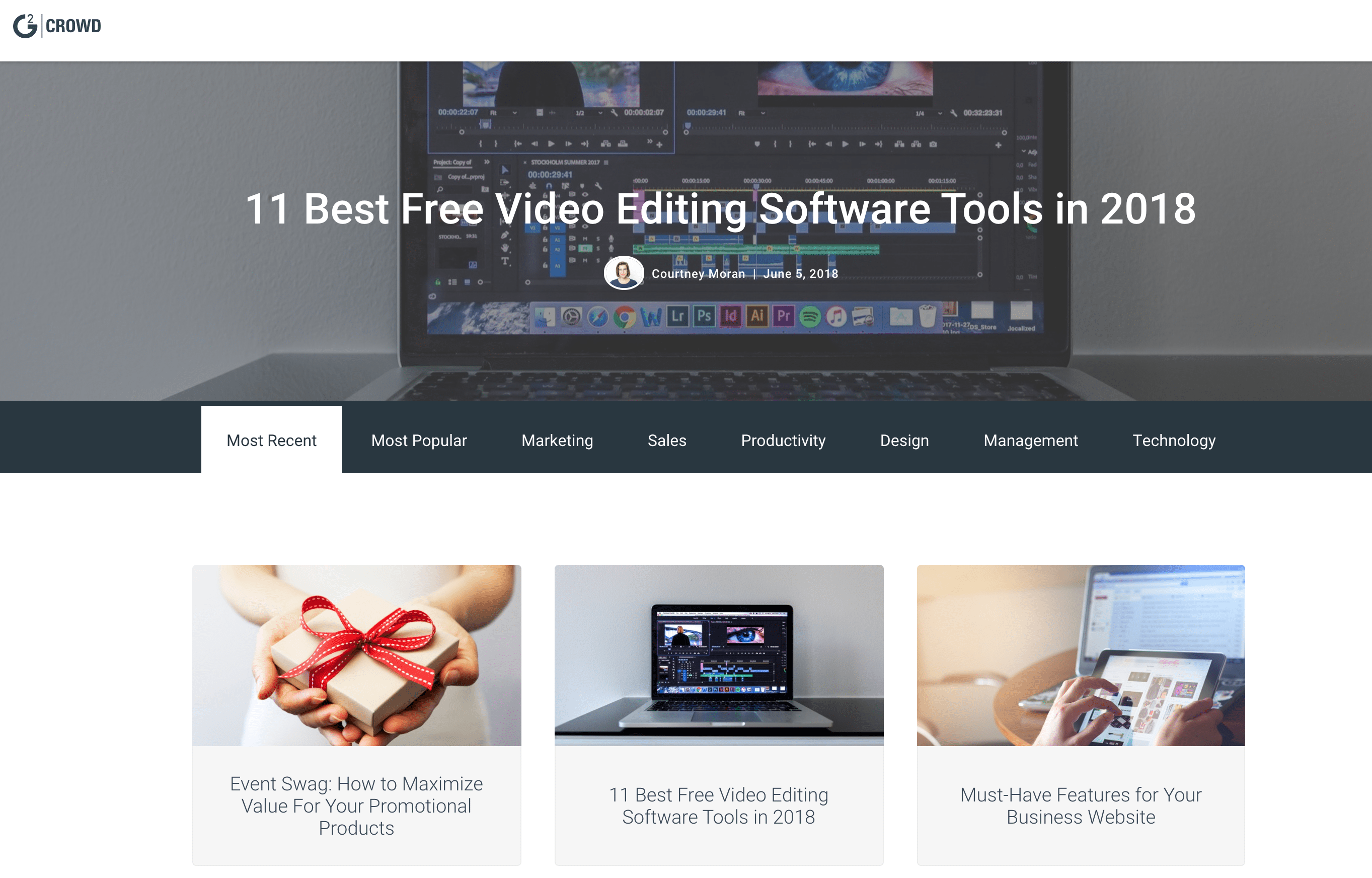 G2 Crowd's Learn
blog is an educational resource for leading marketing, sales, design and general business topics. The blog consists of ultimate, long-form guides, resource roundups, infographics and other valuable content.
Conclusion
Essentially, you're what you read and who you follow. If you frequent blogs that inspires you to do your best work and impact your world, you'll be fired up to do just that.
These 20 marketing blogs aren't the best, but they will keep you engaged all year long, and prepare you for what lies ahead. Constantly reading new posts on these blogs will keep you updated on latest happenings in the marketing industry, and help you build a thriving business.