With recession fears looming, businesses across every industry are looking for ways to stay alive.
Historically, tough economic times have disproportionately impacted small to mid-sized businesses compared to larger enterprises. In fact, roughly 1.8 million small businesses went out of business within the first two years of the 2008 market crash.
Yet 44% of small to midsize companies still haven't taken steps to prepare for upcoming recessions.
If you've landed on this page, then you're doing something right. Acknowledging the need to prepare is the first step in the right direction.
Launching a mobile app can help your business not only survive a recession but also thrive during the recession and after it ends. Continue below to find out how.
Why Invest in Mobile During a Recession?
At first glance, the idea of spending money during a rescission may seem counter-productive. Many business owners and decision-makers look to cut costs, reduce spending, and increase cash reserves to prepare for downturns.
While trimming the fat and being a bit more cautious with your capital is definitely important, it doesn't mean you should stop spending altogether.
Investing in a mobile app is a nominal cost when you compare it to the short-term and long-term savings you'll benefit from. Not to mention the potential for revenue.
When you actually look at the cost of a mobile app, you'll quickly discover that you can afford it within your budget and still keep plenty of cash in the bank. Depending on the use case, investing $500 or $5,000 per month in a mobile app can generate a positive ROI within the first month of its launch.
These are the top reasons why it's important to go mobile during a recession:
Reduce employment costs
Lower training and development expenses
Boost employee retention rates
Increase productivity and maximize efficiencies
Boost customer retention
Increase sales and revenue
Future-proof your business
We'll take a closer look at each of these benefits in greater detail below, using real numbers and examples to highlight the importance of going mobile. This might be the most important resource you read all year, as these principles can transform your business for the foreseeable future.
Mobile Apps Reduce Employment Costs
The costs associated with employee salaries and benefits are rising. In December 2022, wages and salaries were up 5.1% year-over-year, and employee benefit costs were up 4.9%. In simple terms, your employees are getting more expensive.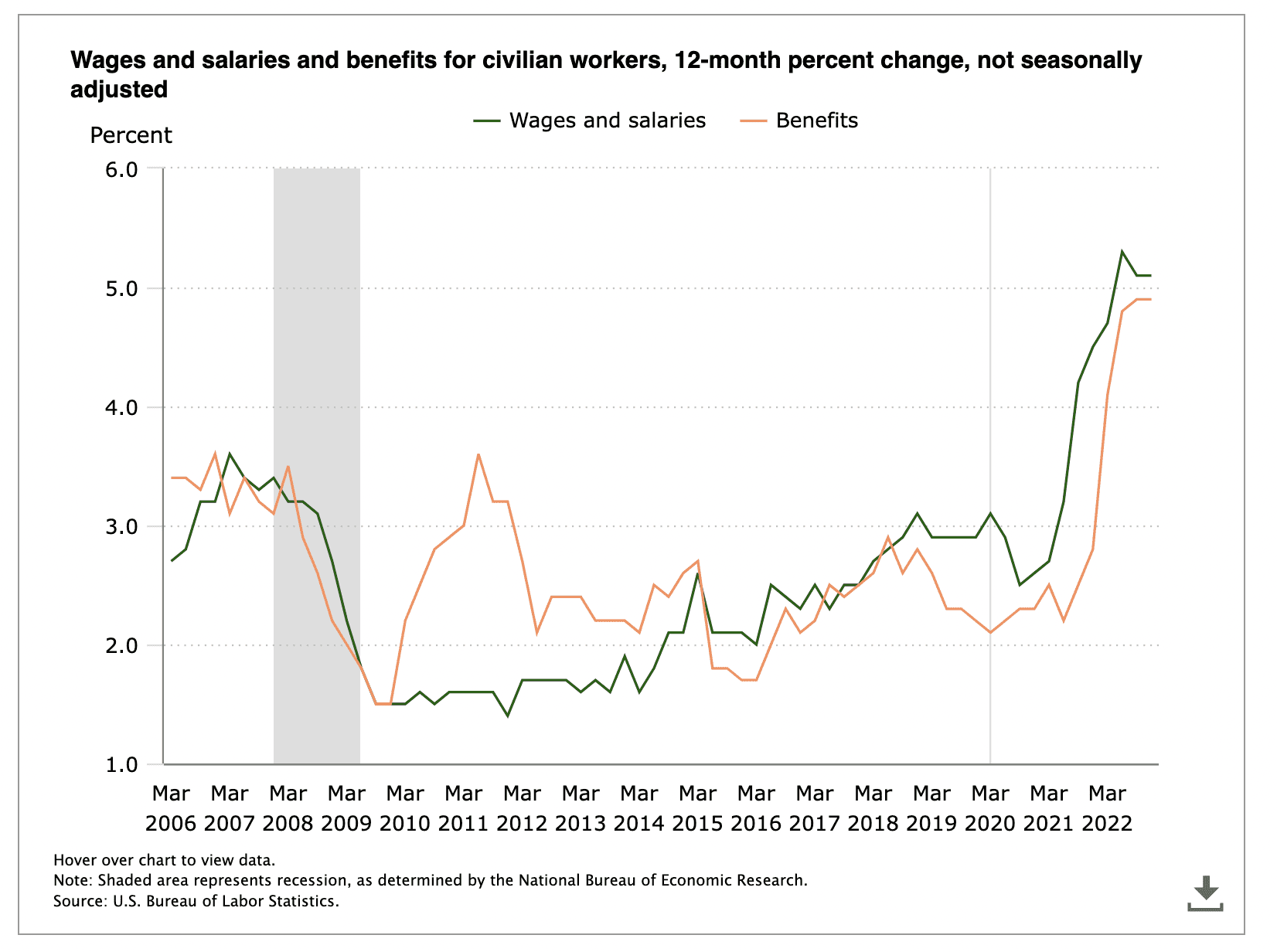 Labor is often the most expensive cost for businesses—accounting for as much as 70% of total spending. That's why layoffs are commonly the first move for a business when recessions strike.
However, simply cutting payroll costs alone is not an effective strategy and can have disastrous long-term implications for your company. You still need a way to replace an employee's impact on the business, and that's where a mobile app comes into the equation.
According to the US Bureau of Labor Statistics, the average cost of an employee's total compensation is $41.86 per hour or $87,068.80 per year.
Let's say you were to invest in a mobile app for $5,000 per month, plus a $7,500 one-time setup fee—for a total of $67,500 in the first 12 months. If that app's functionality can replace just one employee, you've already saved over $19,500+ in the first year.
That's over $73,000 in savings in 36 months, and that's just if the app replaces one employee.
The savings continue to mount if you're able to replace more than one employee with a single app. Using this same example, you'd save over $106,500+ in the first 12 months and over $334,000+ in 36 months if your mobile app replaced two employees.
Some apps may only require a $500 monthly investment. That's just $13,500 in the first year when you include the $7,500 one-time setup fee. If you can replace a single employee at this rate, your ROI is $73,500 in 12 months and $235,500 in 36 months. That's nearly half a million dollars in savings over 36 months if the app replaced two salaries.
Think about the impact an extra $300,000 or $450,000+ of savings could have on your business, especially during a recession. 
Mobile Apps Help Lower Training and Development Expenses
The importance of having well-trained employees is magnified when you're curing costs and scaling back on labor. It's also worth noting that training isn't just for new hires—as 58% of employees need to develop new skills to effectively perform their jobs.
Failing to properly train your staff can cause serious problems for your business. So this isn't an area where you can cut corners, especially when it comes to safety and compliance. For example, OSHA penalties can cost you $15,625 or even $156,259 per violation.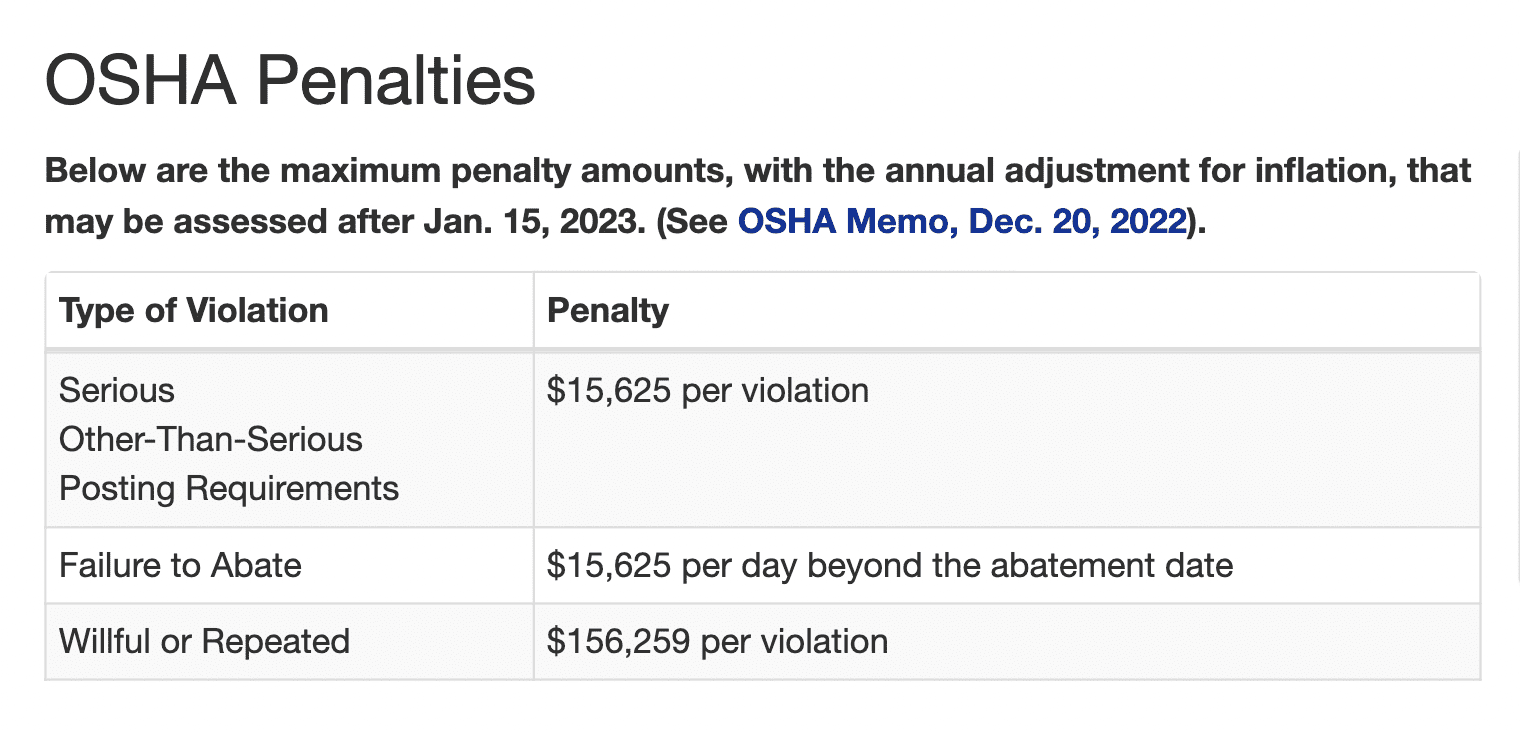 But traditional employee safety and training practices are expensive and outdated.
Using a mobile app to provide training materials to your staff is not only more affordable, but it's often more effective.
First, an app puts all of the training resources into a single source of truth and provides clearly defined learning recommendations. 78% of employees find this to be extremely helpful.
Mobile learning is super accessible. It's easy for your staff to find the training materials and put them into practice from anywhere. Your organization can also set up everything directly from the app at a self-guided pace. You can keep track of everyone's progress on the backend as well.
Training videos
Employee safety manuals
Quizzes
Surveys
Employee feedback
Slide shows
All of these and more can easily be added to your app. This is helpful for hiring new employees as well as ongoing training for existing employees.
The average cost of employee training is $1,071 per employee per year. However, larger organizations bring this number down significantly. For example, companies with 10,000+ employees spend an average of $722 per employee, compared to companies with 100-999 employees spending $1,433 per employee.
SMBs could be spending $1,600 or more annually per employee on training alone. That's roughly $80,000 per year for businesses with 50 employees.
Starting at roughly $500 per month, you can easily build an app like this. That's just $6,000 annually compared to $80,000 per year for a 50-employee operation using traditional training methods.
It's easy to implement these types of features with a BuildFire workforce app.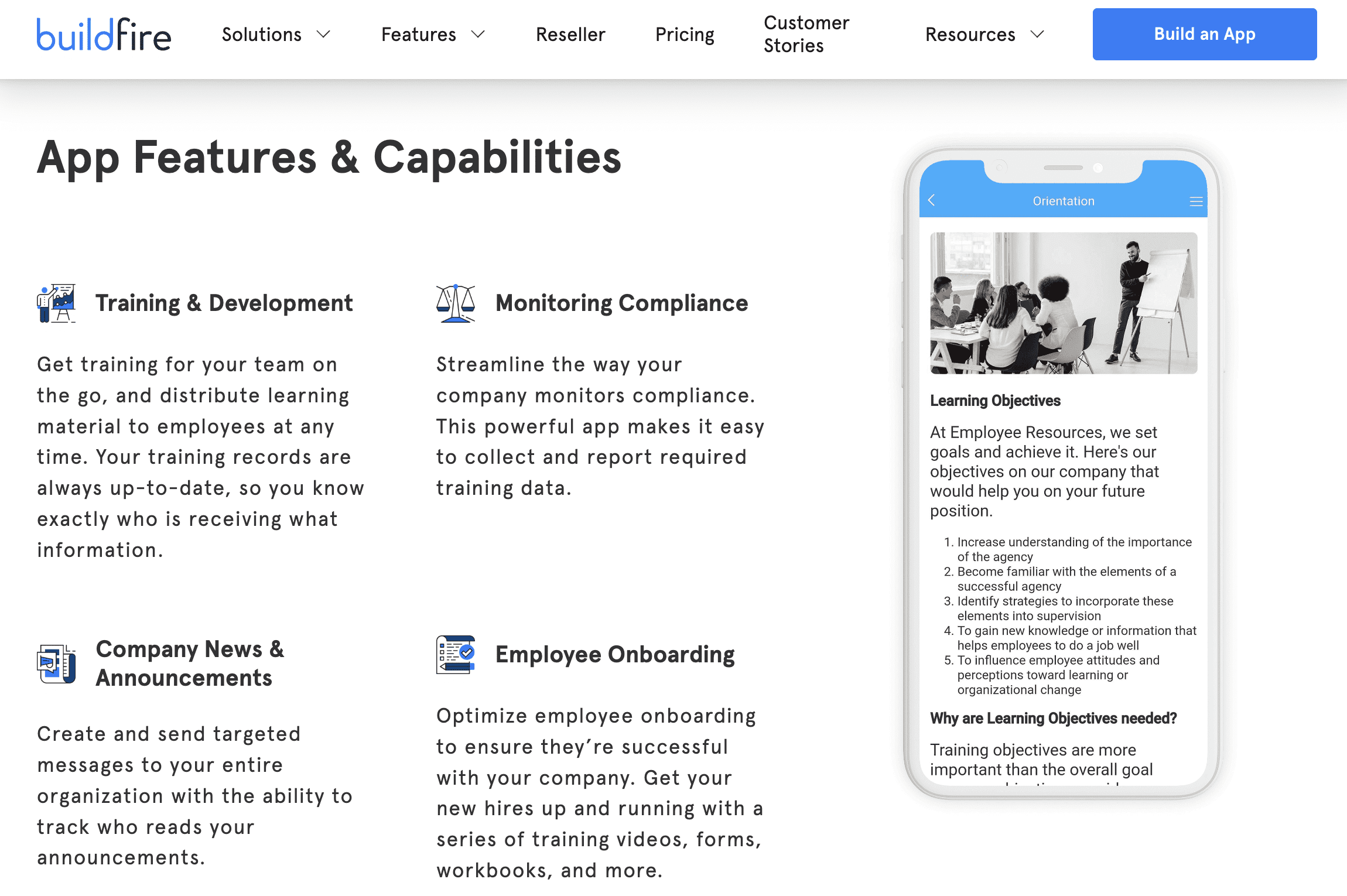 Additional Reading: Find out how BuildFire saved Praxair $480,000 on training costs just in eight months.
Mobile Apps Boost Employee Retention Rates
Keeping employee turnover low during recession periods is crucial. Research suggests that the average cost to replace an employee is 100% to 150% of that person's salary. For executive-level positions, that number jumps to 213%.
Here's something else to consider. 57% of employees say they would actively look for a new job if we enter a recession, and 70% of employees believe we'll be entering a recession within six months. So there's a good chance that half of your staff is already looking for a new job.
Let's run through an example using conservative estimates.
We'll say you have a small business with 25 employees with an average salary of $80,000. The cost to replace just five members of your staff could range from $400,000 to $600,000 based on the research mentioned above.
Now compare that to the cost of about $6,000 per month on an employee mobile app. For just over $70,000 per year, you can save around $325,000 to $525,000 or more by avoiding employee churn.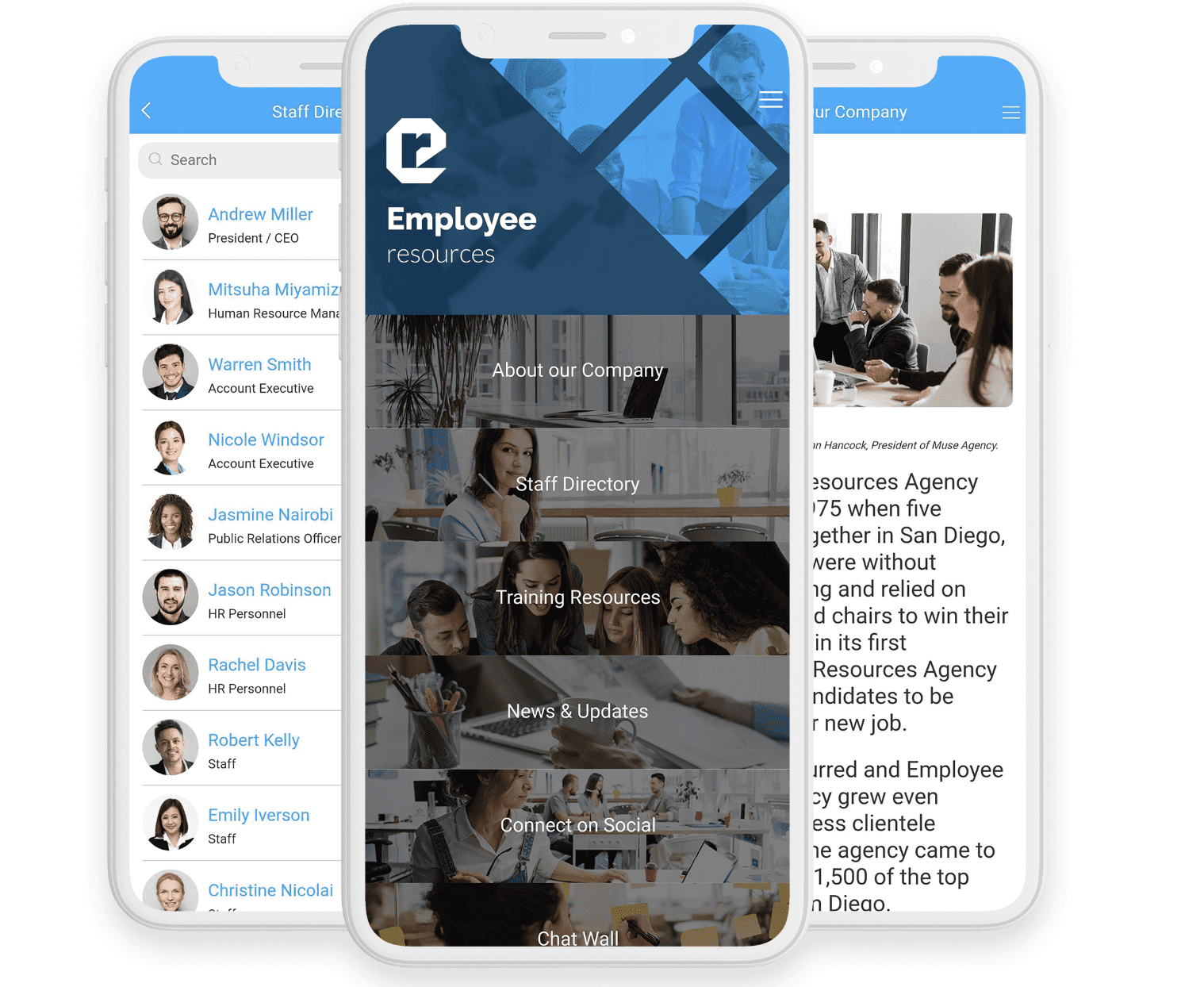 One of the best ways to improve employee retention is by connecting employees with each other, and a mobile app is the perfect way to facilitate this initiative. According to a recent study from the Harvard Business Review, employees are 12 times as likely to feel connected to colleagues and five times more likely to be on high-performing teams when organizations help them build connections internally.
With a mobile app, your staff can:
Stay connected on company-wide news
Get important updates delivered straight to their phones
Connect with each other through employee message boards
Quickly access employee health and wellness resources
Discover new opportunities for growth within your company
Access payroll and benefits information
Enhance diversity, equity, and inclusion (DEI) initiatives
Providing your staff with a mobile app with a variety of these types of benefits shows that your company is tech-forward and innovative. Investing in your staff during all economic times shows that you care about them, and they'll be less likely to leave.
Mobile Apps Increase Productivity and Maximize Efficiencies
Throughout history, recessions have been synonymous with poor productivity and output in the workplace. Check out this graph from Deloitte that shows ten different recessions over a 65-year period: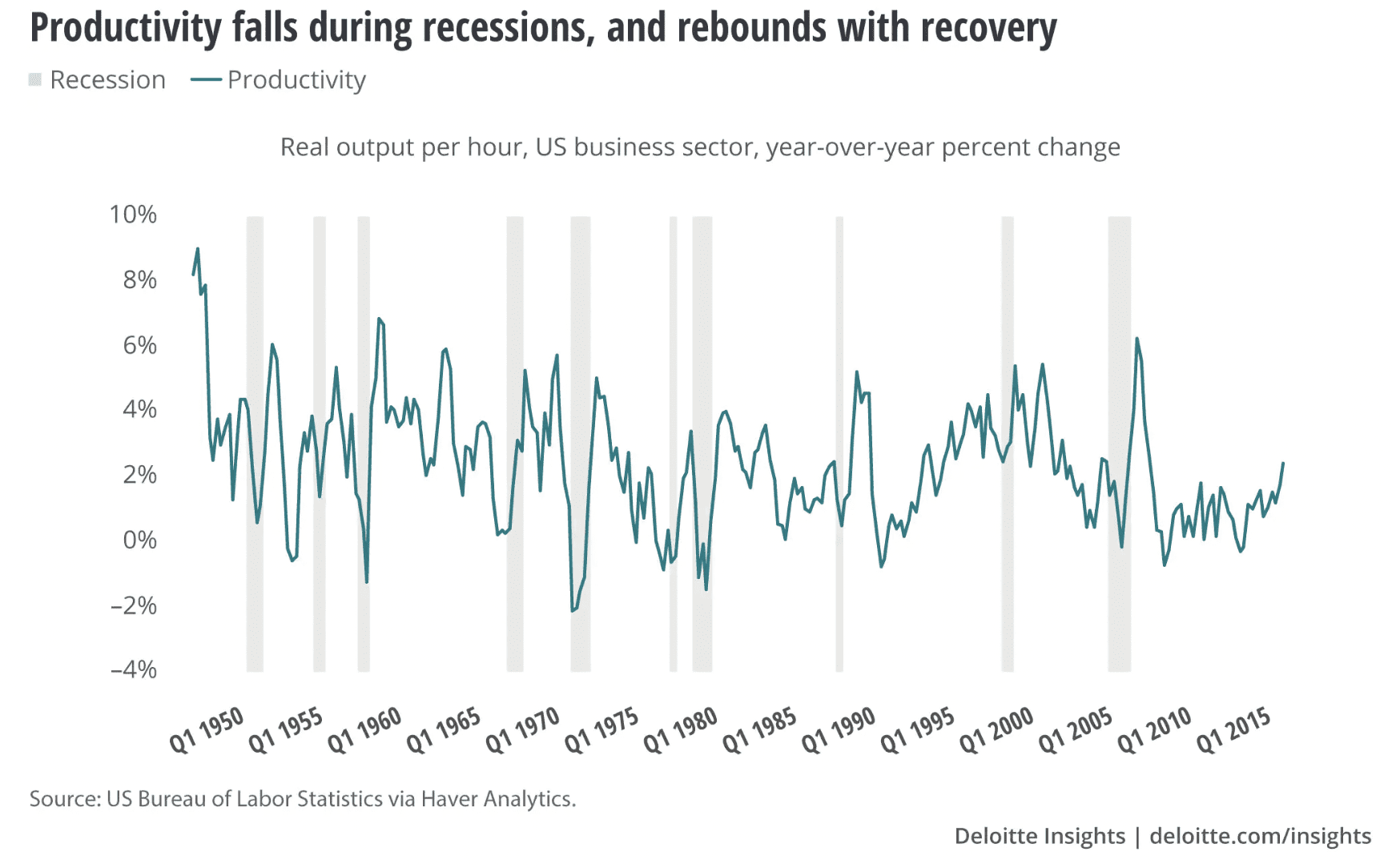 As you can see, there's a significant dip in hourly output during each recession, which is highlighted in gray on the chart.
Fortunately, the graph also suggests that productivity bounces back when recessions end. But if you truly want your business to thrive during poor economic times, you must look for ways to keep productivity high at all times.
Task automation is one of the best ways to increase both output and productivity. This is something that can easily be accomplished through a workflow app or self-service app.
For example, try to identify a single mundane or repetitive task in your business that could be replaced with automation. Maybe it's something like time-off requests, scheduling, approvals, or benefits administration in the HR office.
These types of inefficiencies build on each other. If an employee is forced to pick up the phone, send an email, or otherwise visit someone in the HR department for one of these requests, it's time spent away from their actual job—therefore, reducing output. But it's also taking time away from another employee as they're forced to field these calls and messages, and then handle all the subsequent correspondence.
HR mobile apps can eliminate these types of scenarios altogether. Your staff can find what they're looking for within a few clicks from their mobile device. This allows them to spend more time on their job, and boosts their productivity.
It also lets your HR team focus on other tasks and may even help you eliminate one or more positions in that department.
For around $500 to $5,000 per month invested in a mobile app, you can simultaneously increase output and potentially save hundreds of thousands of dollars on labor. 
Mobile Apps Boost Customer Retention
Lots of what we've discussed so far has been focused internally. But beyond your internal operations and employees, mobile apps are perfect for retaining your customers during a recession.
It's no secret that consumers tend to scale back on spending during recessions. That's why it's so important to shift your focus to retention during these times.
First of all, customer retention initiatives are significantly cheaper than acquisition methods.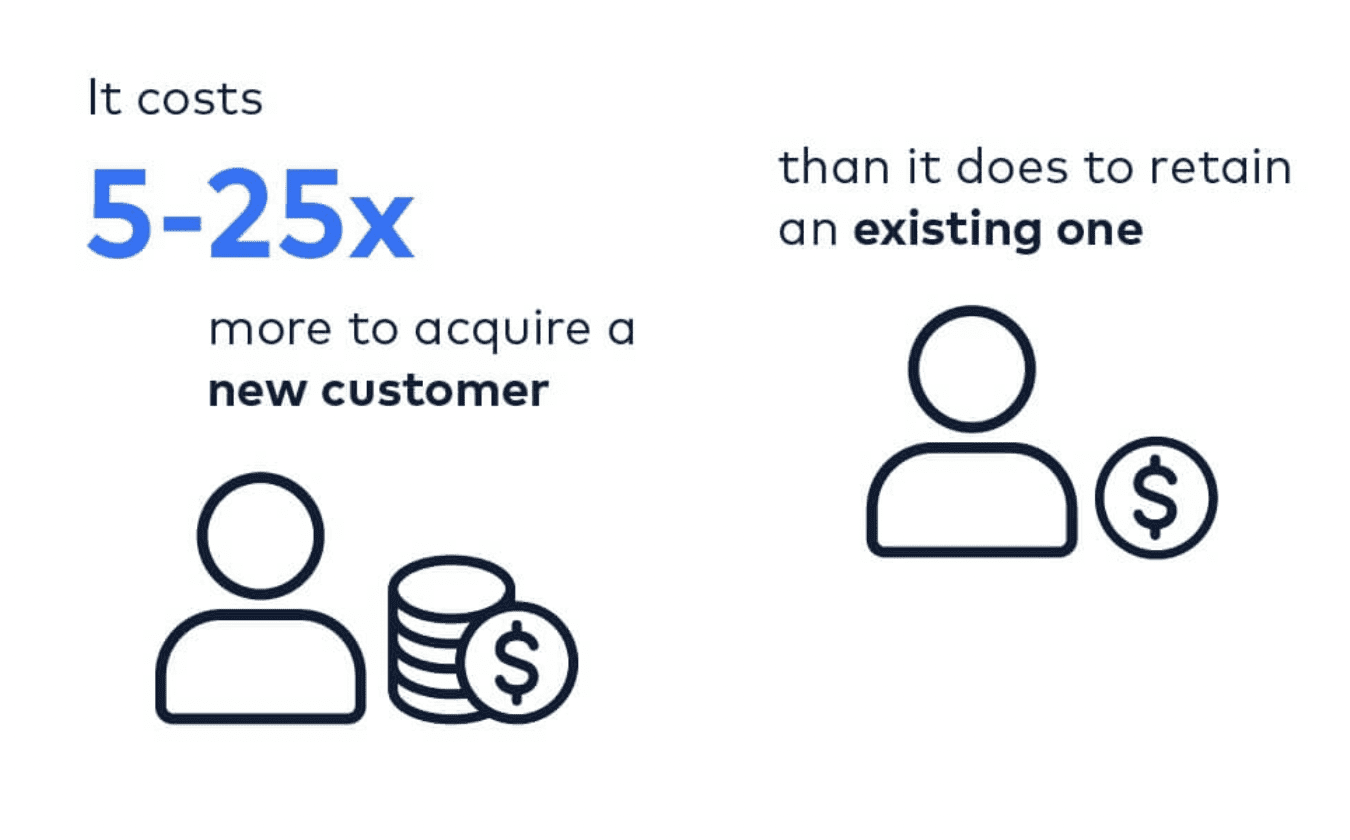 You also have a 60% to 70% chance of selling to a current customer, compared to just a 5% to 20% chance of selling to new customers.
With a mobile app, you can:
Create and promote a customer loyalty program
Send push notifications to customers to drive engagement
Let your customers save billing and shipping information on their accounts
Optimize the shopping and checkout experience
Facilitate recurring payments for monthly or annual subscriptions
Improve your customer service with in-app support
Collect feedback with customer surveys
Create a community message board for your most loyal customers
Take a look at your upcoming marketing budget. Rather than pouring that money into Facebook Ads or expensive CPC campaigns, you can invest it into a mobile app for your customers.
The investment will quickly start to pay for itself as your retention rates will stay high—even during a recession.
Mobile Apps Increase Sales and Revenue
Smartphones have officially become the most popular device for buying things online. Roughly 76% of all US adults use their smartphones for this purpose.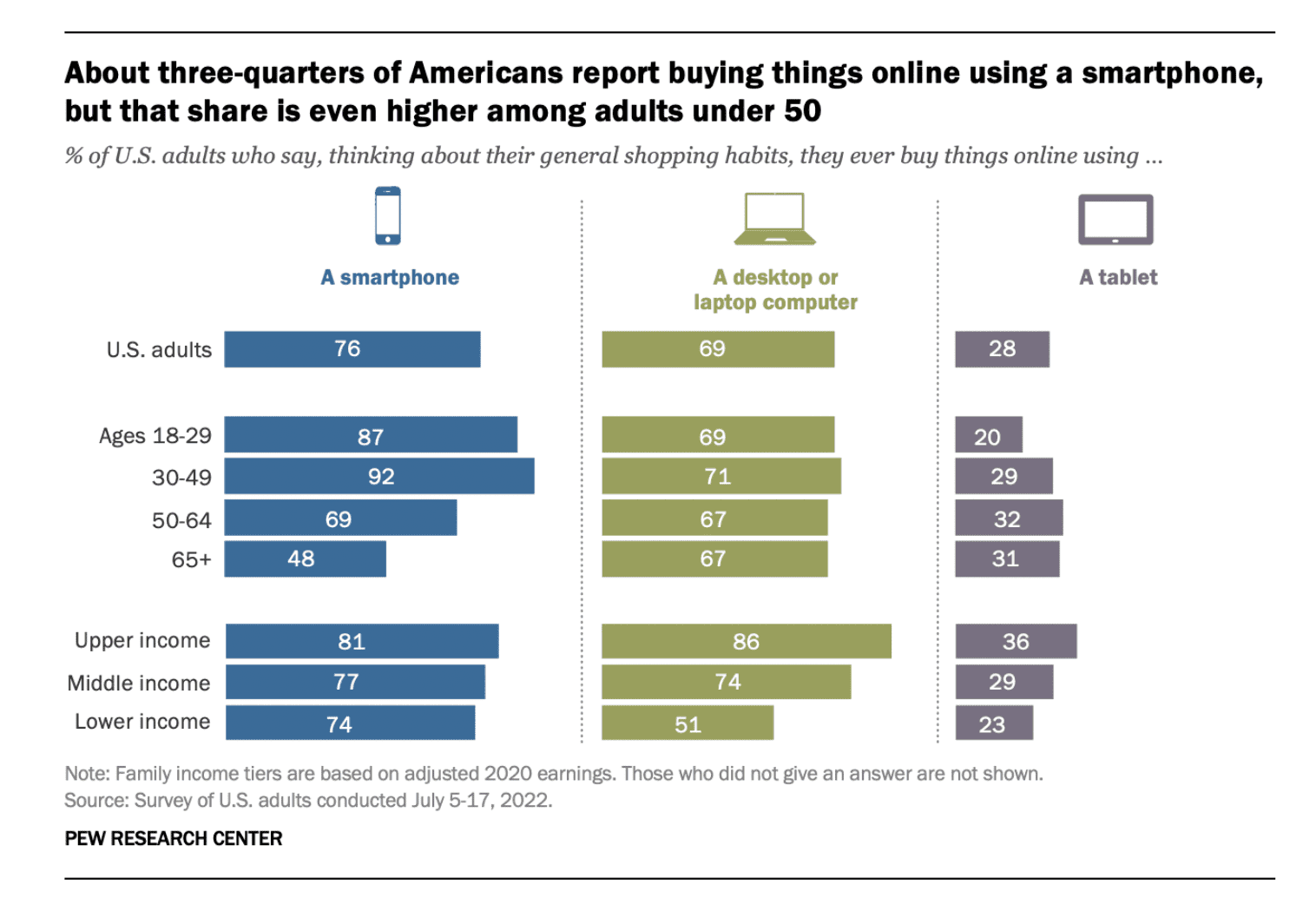 If you don't have a mobile app, you're missing out on a huge opportunity in this space. Here's why.
On average, mobile apps convert at a 157% higher rate than mobile websites.
Regardless of the industry, it's just a significantly better shopping experience when you compare a mobile app to a mobile website. Customers can save their information on file, get a personalized experience, and convert with just a few clicks. Mobile sites give shoppers too many opportunities to abandon the purchase because there are so many extra steps in the flow.
The cost to develop an ecommerce app will easily pay for itself if your conversion rates increase by 150% or higher.
In addition to direct commerce, you can also utilize your app for other revenue streams, including advertising revenue, subscriptions, and more. This additional cash flow can be really helpful during economic downturns, and it can even supplement the revenue you're missing from reduced consumer spending.
Mobile Apps Are Future-Proof For Recessions and Beyond
The most successful organizations look beyond the short term when they're making important decisions.
Simply scaling back your spending, pausing hiring, or laying off employees are all short-term recession solutions. They might help your business keep the lights on over the next couple of years, but they won't help you grow in the long run. In some cases, these types of strategies may even restrict your growth.
But going mobile is a future-proof strategy. Not only will it benefit your business in the short term for all of the reasons described in this guide, but it will continue working for you as the economy recovers.
The use of mobile technology in our day-to-day lives isn't going anywhere. This holds true for both internal employee use cases as well as consumer habits.
So while your competitors are playing catch-up as we come out of a recession, you'll already be poised for growth and success. All of the benefits of a mobile app during a recession will be multiplied exponentially during the economic recovery stage.
Final Thoughts
Investing in a mobile app today could save your business during a recession.
BuildFire can provide you with an out-of-the-box mobile app starting at $500 per month plus a $7,500 one-time setup fee. This is marginal when you weigh this cost against the benefits described in this guide. 
The ROI of your mobile app will pay for itself, potentially within the first month of its launch.
At BuildFire, we're more than just a mobile app development solution—we're a dedicated partner in your success. More than 10,000+ businesses have relied on us for app development, so we know what it takes to have success in this space.
Don't let a recession stop your business from thriving. Request a free consultation if you're ready to get started.