15 Features Every Mobile Commerce App Needs to Have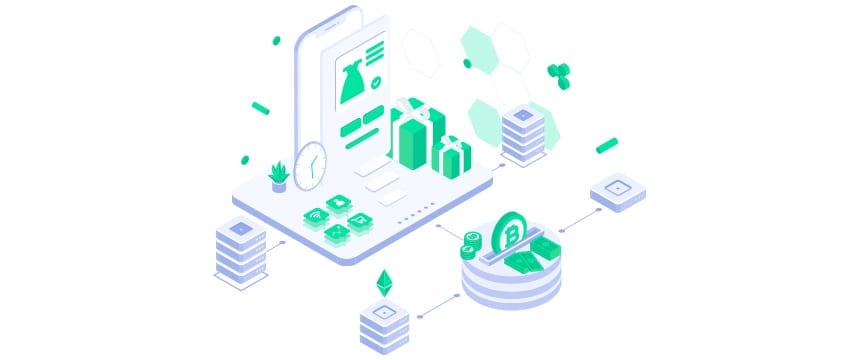 Building a mobile commerce app is one of the best ways to drive sales for ecommerce businesses. That's because mobile apps convert higher than the mobile web.
But simply launching an app isn't enough to make it successful.
The best ecommerce apps on the market have certain features in common. These specific elements are all focused on improving the customer experience, driving sales, and increasing conversions.
Whether your app is live or still in the early development stages, adding the right features will lead to prosperity, success, and profitability.
After researching the latest mobile commerce trends, mobile commerce tips, and best practices, I've identified the top 15 features your m-commerce app must have.
1. Push Notifications
A significant benefit of your mobile commerce app is the ability to communicate with app users. You don't have this advantage with your mobile site or desktop site for that matter, either.
When leveraged correctly, sending the right push notification at the perfect time can lead to sales.
Push notifications can be treated like your email marketing campaigns. You can send product updates, discounts, promotions, and other offers as well. Except push notifications should be reserved for your best offers.
If the offer is so good that you'd send a text message to your customers about it (since you basically are), then send it as a push.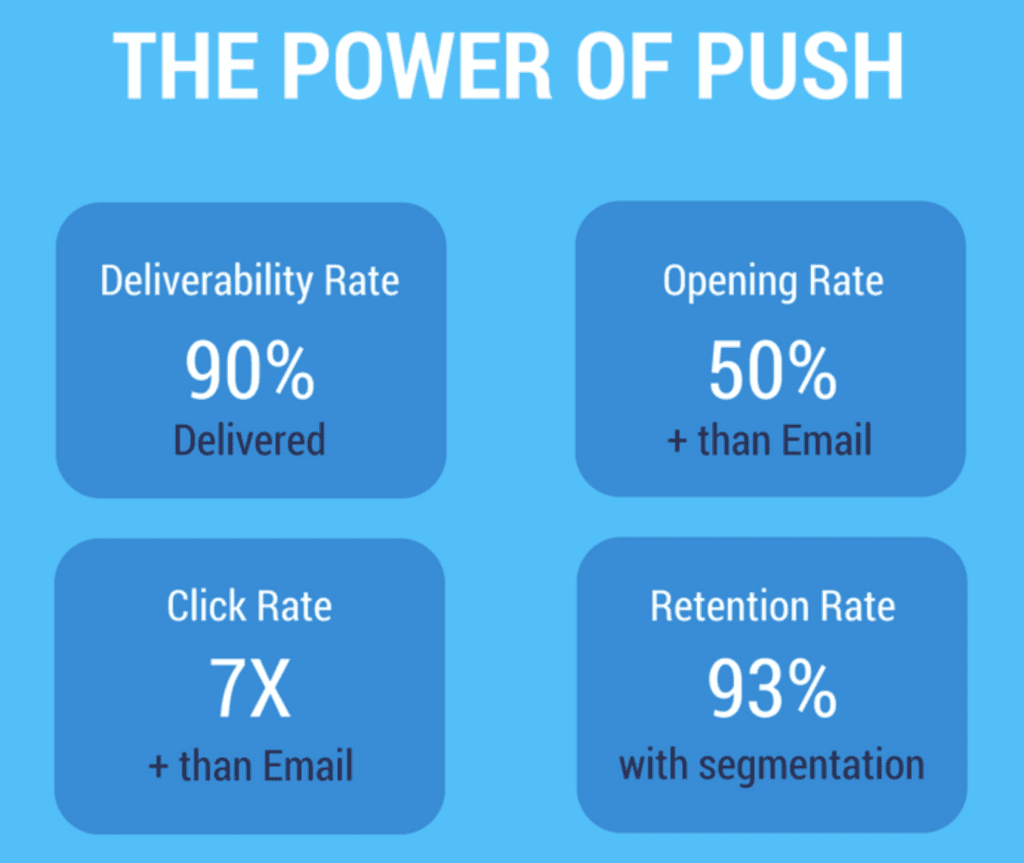 70% of app users find push notifications useful. 40% of people engage with push notifications within an hour, compared to just 8% who ignore them altogether.
Here's a breakdown of the most desired that content app users want from a push notification:
Promotions — 34%
New developments — 26%
Geotargeted information — 26%
Other — 14%
Running a flash sale? Send a push notification. Are you releasing a product with limited availability? Tell users with a push.
Consider using push notifications to update customers about their orders. For example, you can send a "package delivered" message when the order arrives at the front door.
2. Location Tracking
As I briefly mentioned, 26% of app users want push notifications relevant to their locations. Furthermore, 53% of people agree to share their location with mobile apps.
Use this crucial data to your advantage to improve your mobile commerce marketing strategy. There are so many different ways to leverage location tracking for mobile apps.
Here are a few basic examples to showcase how versatile location tracking can be.
For those of you with physical retail locations, you can have a "store locator" feature within your app. Users can use this to find the closest store to their current position.
According to a recent consumer survey, the ability to locate physical stores from an app is one of the most valuable features of a mobile commerce app.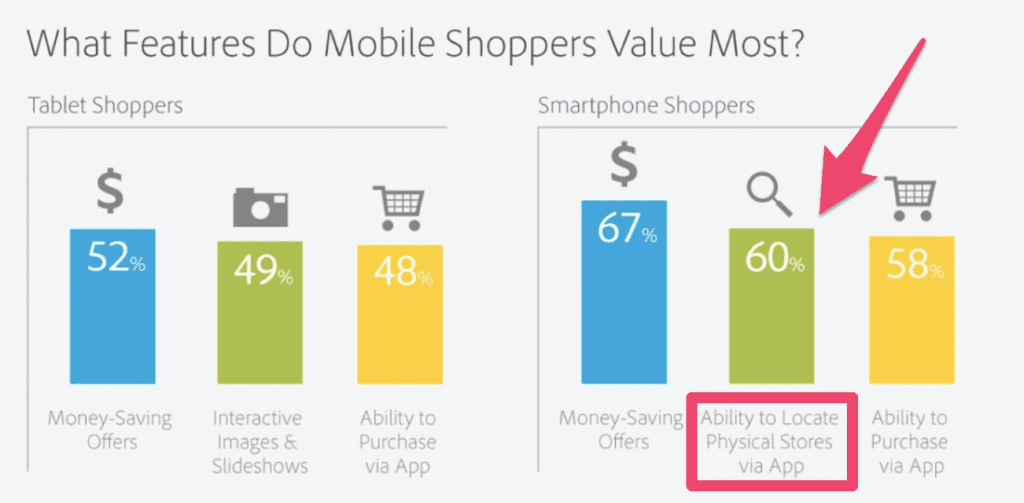 In addition to your store location feature, you can use geofencing technology to send relevant push notifications.
If an app user walks by one of your stores, you can immediately send them a push notification enticing them to buy. Even if you don't have any physical stores, geofencing can still be extremely useful.
Here's an obvious example to illustrate my point.
Let's say your business sells sports equipment. If an app user goes to the beach, you can send them an offer related to surfboards and kayaks. If a user goes to a ski resort, you can send offers related to snowboarding and skiing.
A person's physical location can also be used to personalize their app home screen.
Customers living in New York City shouldn't be seeing the same offers as customers living in Los Angeles.
3. User Profiles
Allowing users to log in and make purchases from a customer profile is the ultimate advantage of having a mobile commerce app.
This feature has countless benefits for you as well as your customers.
For starters, a user profile gives you so much insight into the mind of each customer. You'll be able to recommend relevant products based on their purchase history and browsing history.
Customers are happy because they are getting personalized offers, and you're pleased because those recommendations will lead to sales.
90% of people find personalization appealing.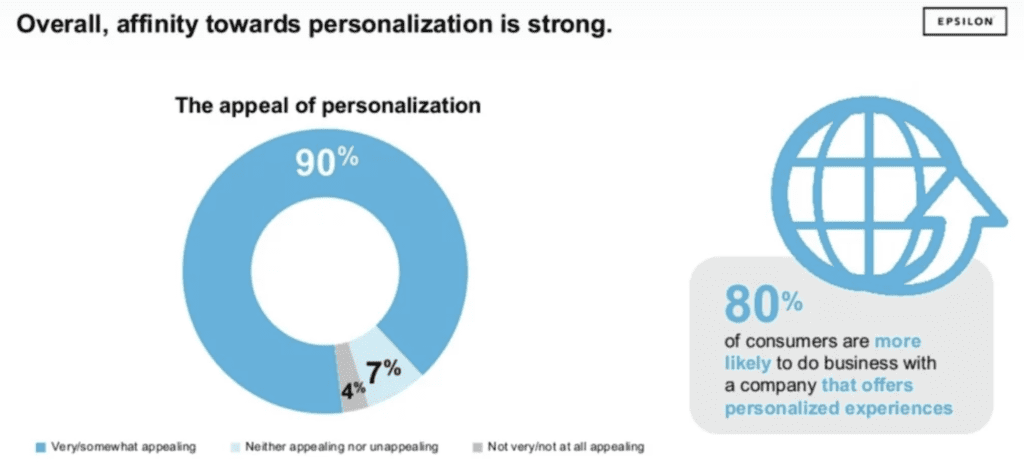 As you can see, 80% of consumers say they are more likely to do business with brands that offer a personalized experience.
Personalization aside, customer profiles make the lives of app users much easier.
Since all of their information is saved to the profile, they can shop and checkout in seconds. Think about how much information is required to complete a transaction. At the bare minimum, you're asking for things like:
Customer name
Credit card number
Billing address
Shipping address
Email address
Each additional step a customer has to take reduces their chances of converting. From a mobile device, entering all of this information is tedious.
However, app users only have to do this once. Then the information can be stored and used for future purchases.
4. Social Media Integration
74% of shoppers are influenced by social media when it comes to purchasing decisions.
I'm assuming (and hoping) that your company already has an active presence on social media. So integrate those channels with your mobile commerce app to get the most out of them.
Here's why. It's possible that customers who installed your mobile app do not follow you on social media. Even your top customers won't be opening your app every day, but it's likely that they're using social media daily.
Adding your Facebook wall or Instagram feed to your app can encourage users to follow you.
On days when they aren't shopping on the app, you can still engage with those people via social media.
Social media integration also saves you time when it comes to adding content to your app. For example, if you install a YouTube plugin, any video uploaded to your YouTube channel will automatically appear in the app. So you won't have to upload it twice.
5. Discounts and Promotions
Everyone loves to feel like they got a great deal when they're shopping. So give your customers an incentive to use the app by offering exclusive discounts and promotions.
According to a recent study, 65% of people use ecommerce apps to receive exclusive deals and offers.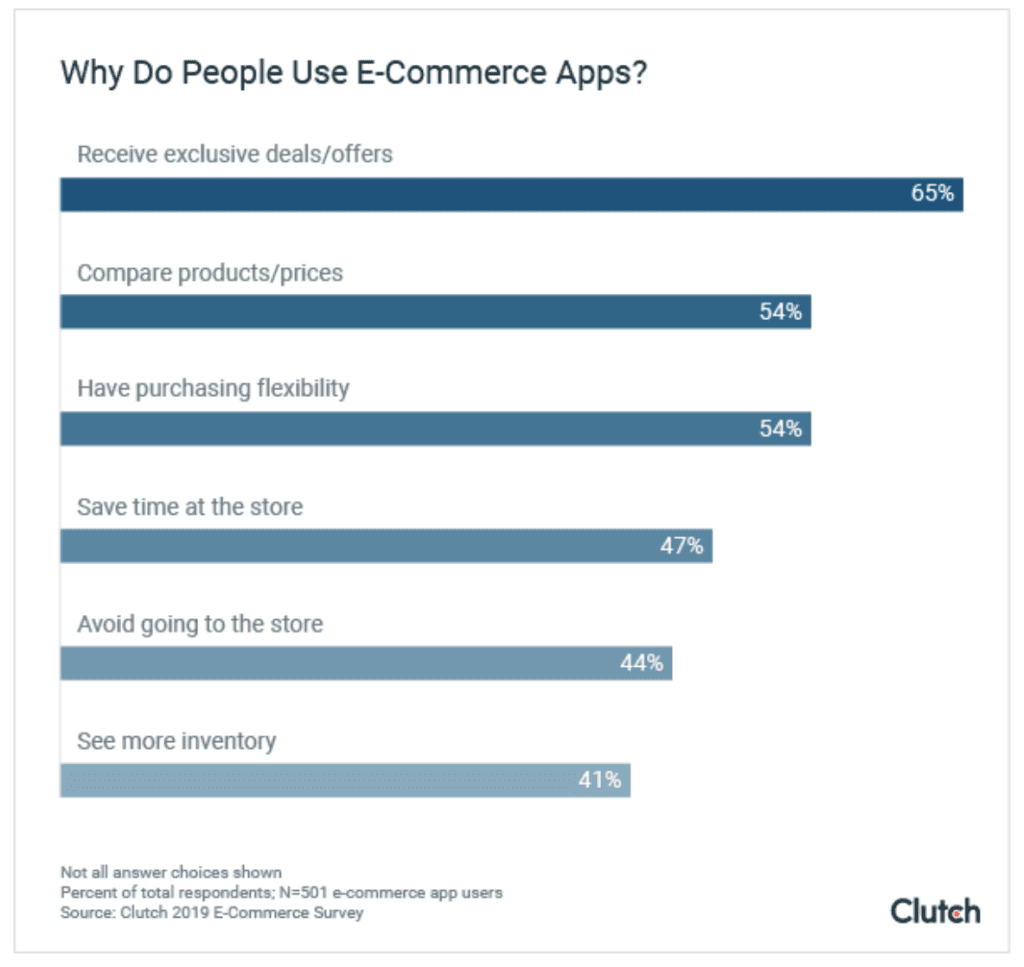 As you can see from the chart, this ranked first on the list of reasons.
This feature will obviously have a lot to do with your brand's overall image and pricing strategy. I know that some luxury brands never offer discounts or anything like that.
But for the majority of you, this feature will be essential for success.
I like the idea of using a discount or promotional offer as a way to drive app downloads from the beginning. For example, you could offer $20 off or 20% discount off the first purchase using the app.
But beyond the initial offer, discounts are still a great way to drive mobile commerce sales. This is especially true for time-sensitive offers.
Send push notifications for flash sales or deals expiring soon. If you can create FOMO (fear or missing out), it will entice app users to act quickly. People want to get a discount before it's too late.
6. Customer Loyalty Program
An app is the perfect platform to facilitate your customer loyalty program.
This is a great opportunity for those of you who already have an existing loyalty program, as well as brands starting one from scratch. A mobile commerce app makes it easier for customers to track their loyalty status through their user profile.
There are lots of different ways to promote customer loyalty. All of which entice consumer spending.
You can reward customers based on purchase frequency, total spending, or a combination of the two.
What makes a loyalty program better on an app? Take a look at the results of this recent study by CodeBroker.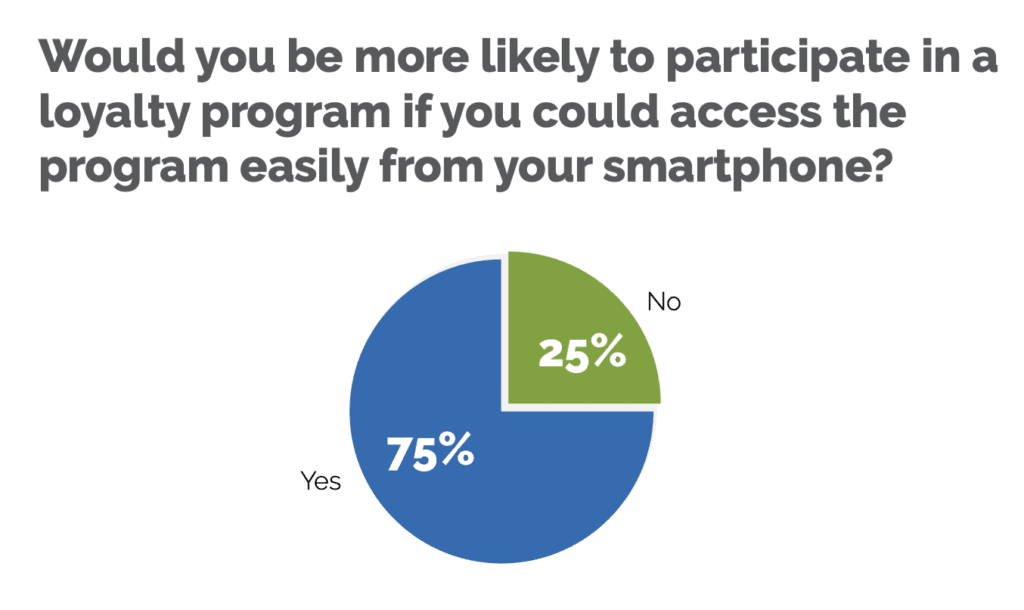 The vast majority of consumers are more likely to participate in loyalty programs if they can easily access information from their smartphones. Nothing makes this easier than a mobile app.
Mobile ecommerce loyalty programs address other customer wants and needs that we previously discussed as well. Earlier, we learned that the number one reason why consumers use ecommerce apps is to receive exclusive deals and promotions.
A customer loyalty program delivers exactly what those individuals want.
7. Lots of Payment Options
Let me take a moment to paint a picture for you.
Imagine that a customer just got acquainted with your brand. Maybe they stumbled upon a social media advertisement or heard a friend's recommendation. The customer visits your website, learns about your app's first purchase promotion, and decides to download it.
With the app installed on their device, the user browses for products and adds a few items to their shopping cart. Time to checkout, right?
As the user continues through the purchase process, they quickly discover that you don't accept their preferred payment method. The user abandons the cart, and you probably lost them forever.
Don't let this happen to you. Think about how much work that user just went through and how disappointed they were when they couldn't complete the order.
You can't assume that everyone wants to pay with a Visa or Mastercard. Even if the customer owns one of those cards, they might get better rewards or benefits by using an alternative method.
Every ecommerce mobile app should accept:
All major credit cards (Visa, Mastercard, Discover, American Express)
Debit cards
PayPal
Apple Pay
Google Pay
Venmo
We haven't quite reached the point where you need to accept cryptocurrencies, but that might change within the next five or ten years.
8. Speedy Checkout Process
Let's continue talking about your app's checkout process. In addition to accepting multiple payment methods, the checkout must be as fast as possible.
The perfect mobile commerce checkout can be completed in seconds. Users should be able to complete the purchase process in one or two clicks at most.
According to Forbes, fewer form fields yield higher conversion rates.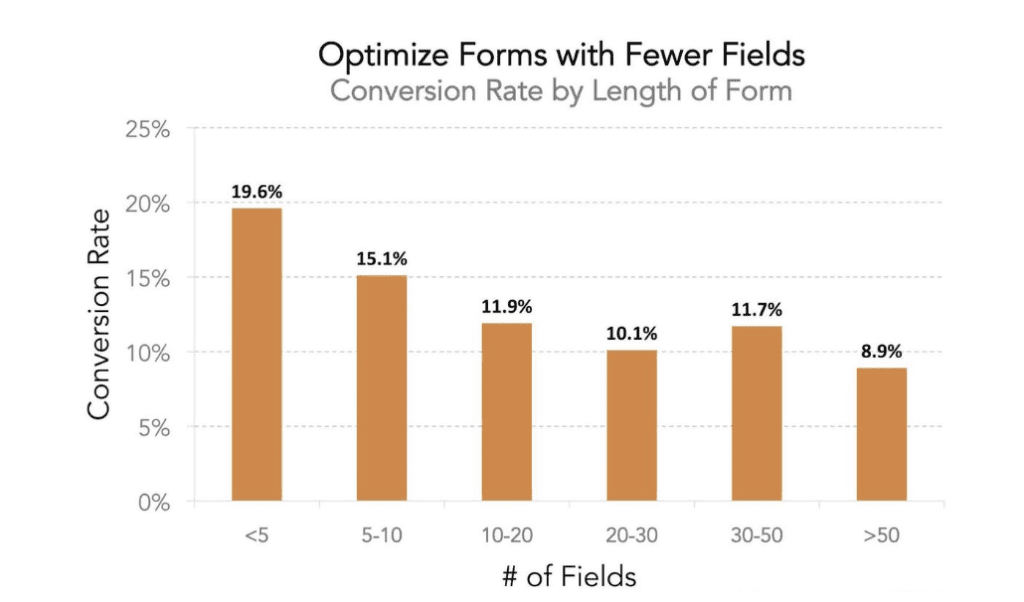 Think about the information you're asking from your customers. You don't need to know their favorite color or mother's maiden name to complete the purchase.
Earlier, we talked about the significance of user profiles on a mobile app. This gives you a major advantage over your desktop site or mobile site.
After a customer buys something once, you can store their information for future purchases (with their permission, of course). This can drastically reduce checkout times and yield sky-high conversions.
App users will have the ability to checkout in seconds with just one click.
9. Product Search
How do users find what they're looking for on your app?
Some of you might be selling a handful of products, while others are selling hundreds or thousands. No matter how many products you're offering, the customer needs to find what they're looking with as little friction as possible.
Just make sure that your app has an advanced search and filter system. These are the biggest pain points associated with retail site search.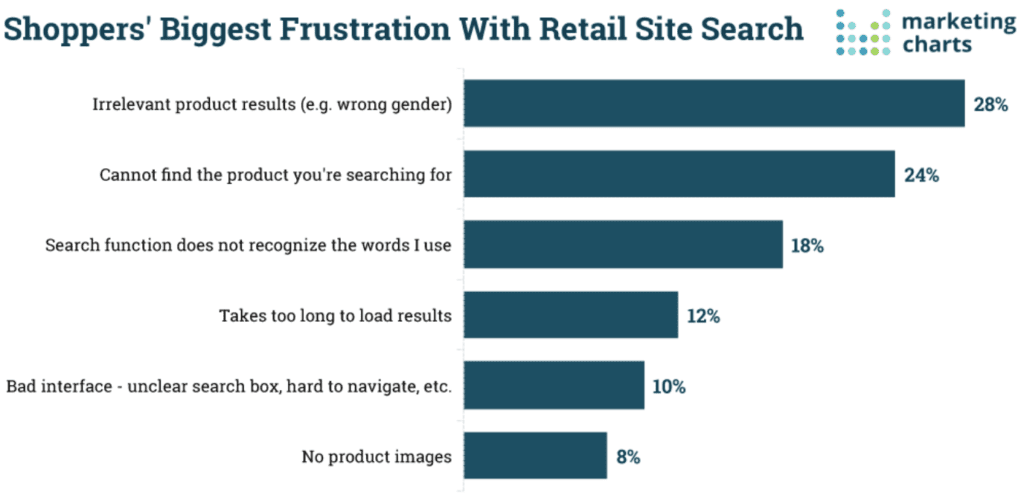 While this particular study is focused on websites, the same concepts can be applied to mobile commerce apps. If your search isn't displaying relevant results, it can do more harm than good.
With that said, adding search functionality to your mobile app can yield exceptional results.
Conversion rates from users using the search feature are typically two to four times higher compared to those who don't. Up to 60% of all transactions come from sessions that used the search function.
Here's something else to consider. Take a look at the most popular shopping apps in the United States.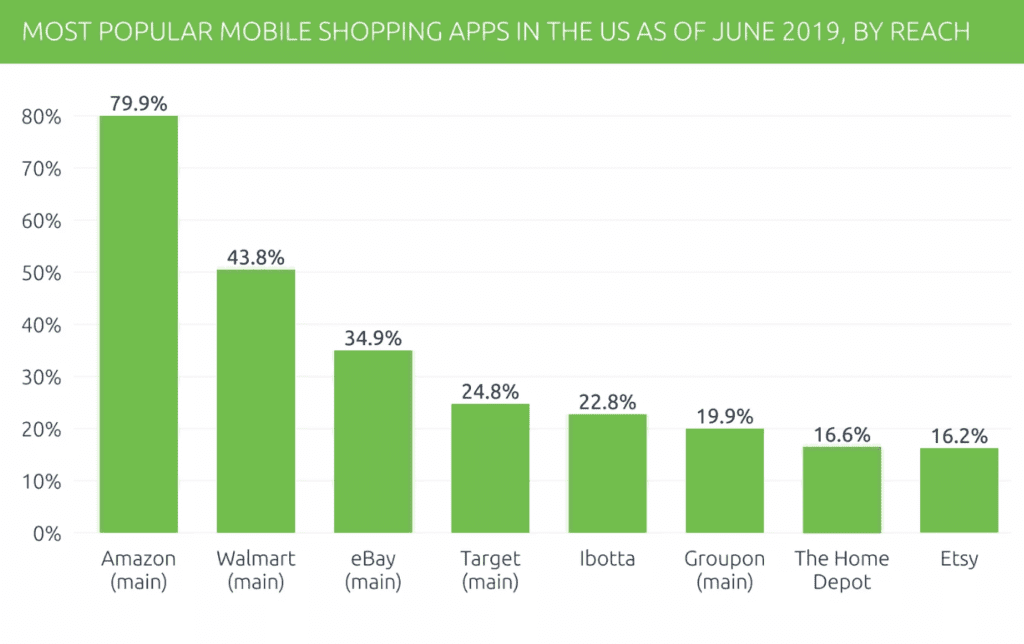 Global giants like Amazon, Walmart, and Target lead the way. What do these apps all have in common? They all have an advanced search and filter function.
Even though thousands of products are sold through these apps, customers can still find what they need with a quick search.
10. Customer Support
No matter how simple your app is, people will always need assistance. Whether it's questions about particular products, returns, payments, or navigation, you must be available to assist your customers.
Don't look at this as a negative thing.
86% of users are willing to pay more for great customer service. Excellent service creates customer loyalty and retention as well.
According to HubSpot, 77% of happy customers share positive brand experiences with other people. Your customer service can ultimately lead to free referrals.
With all of this in mind, your app must have features for customer support.
Whether it be live chat, email, ticket support, or phone calls, customer support should be easy to find for all app users.
According to VentureBeat, 77% of people between the ages of 18 and 24 use their smartphones to contact customer support. So it's only natural that your ecommerce mobile app should have support functions built-in.
11. Retail Integration
This is another feature that's a must-have for anyone with a physical retail presence.
Your app and stores should not be treated as separate entities. Allow each one to compliment the other. This is something that you can't really accomplish with a desktop site or mobile site.
Studies show that consumers are already using their mobile devices when browsing in physical stores. Take a look at how those devices are being used.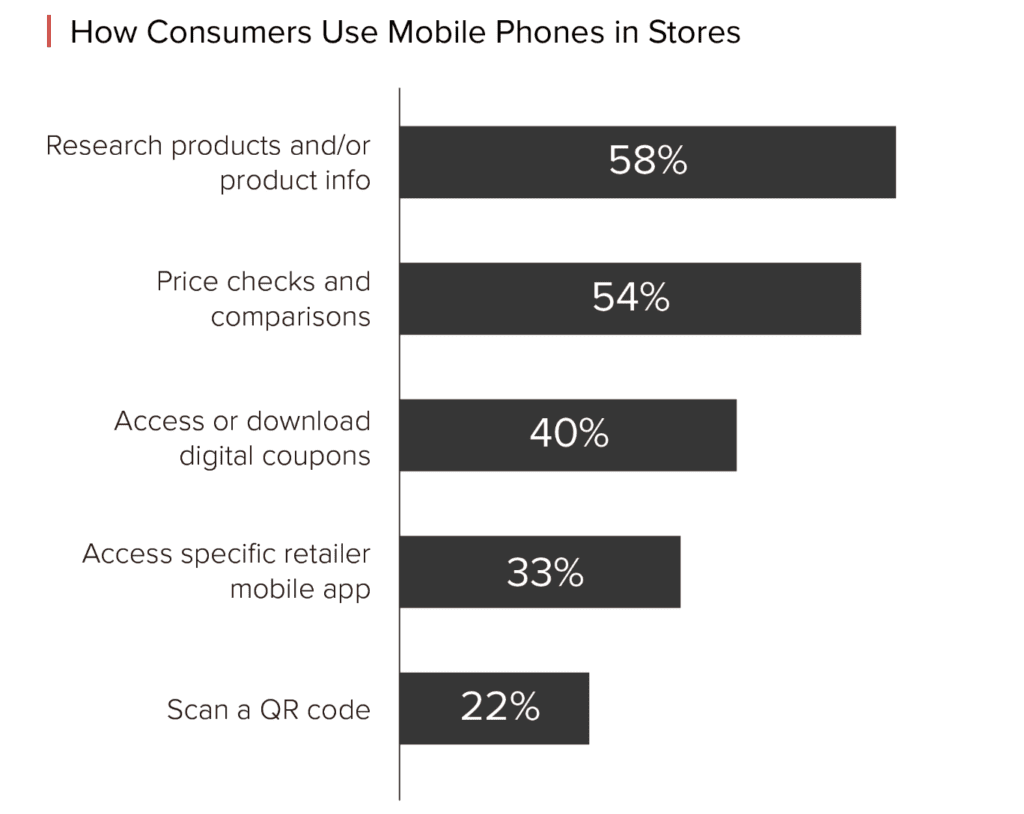 Your mobile app can make all of these uses much easier for your customers. Whether this leads to sales through the app itself or at your physical registers, it still benefits your business.
Some shoppers might research products ahead of time on the app, and wait until they see the item in person before making the purchase. Allow app users to create a wish list for this purpose.
Other users might do the opposite. They could see an item while browsing in-store, and ultimately decide to purchase it at a later date.
Remember earlier when we talked about using location tracking to improve your app? Retail store integration is another opportunity to leverage this feature.
Set up beacons throughout your store to track an app user's movements. If you see that they spend significant time browsing in a particular aisle, you'll have a better understanding of their needs.
For example, let's say a user is standing in an aisle for makeup. You can send them a push notification in real-time for a discount on cosmetics.
12. Mobile Optimized Product Descriptions
Every product on your app must have a description. But these descriptions must be optimized for mobile devices.
Desktop users have the benefit of viewing product descriptions on a 13 or 15-inch screen. But that screen is just four or five inches from the app. So if your product description includes lengthy paragraphs, it will be challenging for users to read.
In a perfect world, your app and ecommerce site will have identical descriptions for products. But consider using an alternate description to shorten things on your mobile app. This mobile commerce tip will yield higher conversions.
I recommend short bullet points that render two lines at most from a mobile device.
Analyze your existing product descriptions and determine what can be eliminated to shorten the length.
13. Mobile Optimized Product Images
Let's continue discussing the way your products are presented in an app. You must include mobile-optimized images as well.
The inability to touch and feel a product is one of the most difficult aspects of making an online purchase. Consumers rely on detailed and accurate photographs to eliminate this barrier.
Research shows that an inaccurate depiction of products is a leading cause of returns.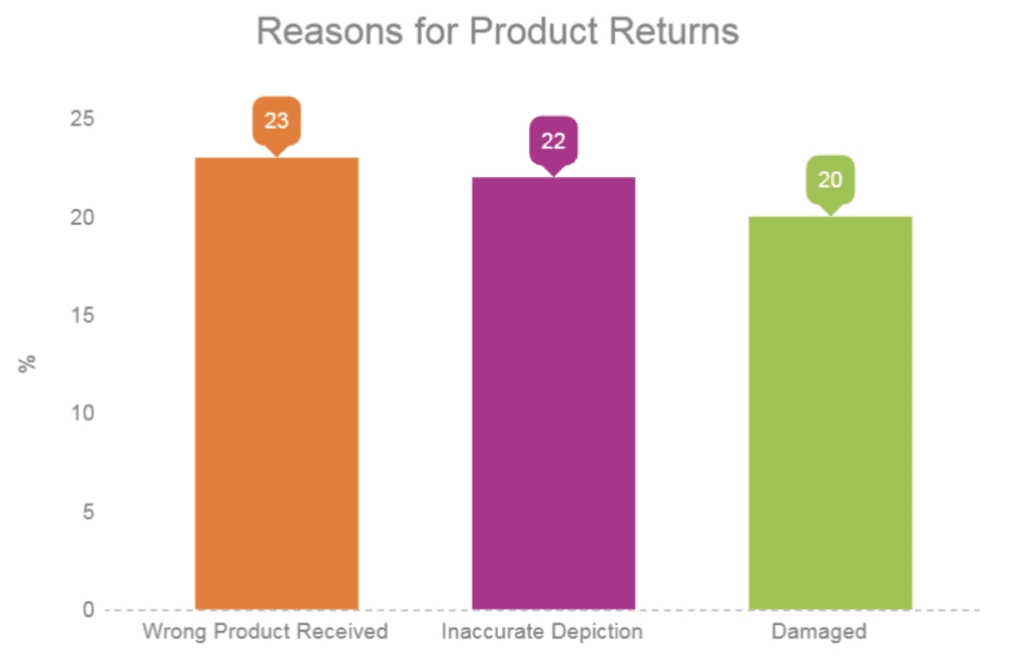 Your app should include as many product images as possible. These must be high-quality and show the product from every angle.
If possible, find a way to show the items to scale. Show action shots and people modeling or using the product.
For example, let's say you're selling a shirt. A person wearing the shirt would provide more value to a customer than a shirt sitting on a table or plain background.
According to a case study from CXL Institute, product images with a 360-degree spin feature can boost conversions by up to 27%.
14. Simple Returns
In a perfect world, all of your customers will be happy with your products. But we both know that's not the case.
Returns are part of running an online retail business. Don't make this a hassle for your customers.
92% of consumers are more likely to buy from a brand again if they experience a simple returns process. 67% of people check a company's return policy before finalizing a purchase.
Furthermore, poor return policies are a leading cause of shopping cart abandonment.

Always offer free returns.
Allow users to facilitate the return process directly through the app. You can take a page from Amazon's playbook and generate a QR code in the app. That code can be scanned and processed at UPS or FedEx store.
You know that returns are bound to happen. Making them easy for app users will keep those customers coming back to make more purchases in the future.
15. App Analytics
Use app analytics to make continuous improvements in your mobile commerce app. You can track things like:
Product page conversion rates
Most popular payment methods
Section of the screen that's clicked the most
Geographic location of app users
Types of mobile device being used
Daily app usage per user
Duration of app usage per visit
App crashes
Bugs and error reports
The list goes on and on. This type of information is extremely valuable. You might learn something about the behavior of app users that could trigger a change in your app.
Don't assume that your app is perfect the way it is. There's a good chance that it's not. App analytics will help you make significant improvements.
Conclusion
If you have an ecommerce mobile app, you need to add these must-have features if you want it to be successful.
All of the information above is based on actual research from high-performing apps.
Subscribe to the BuildFire blog to get insightful mobile commerce tips and best practices delivered to your inbox. We're constantly publishing updated content to help Shopify store owners and ecommerce apps drive sales.