Everything You Need to Know About Google+ for Your Local Business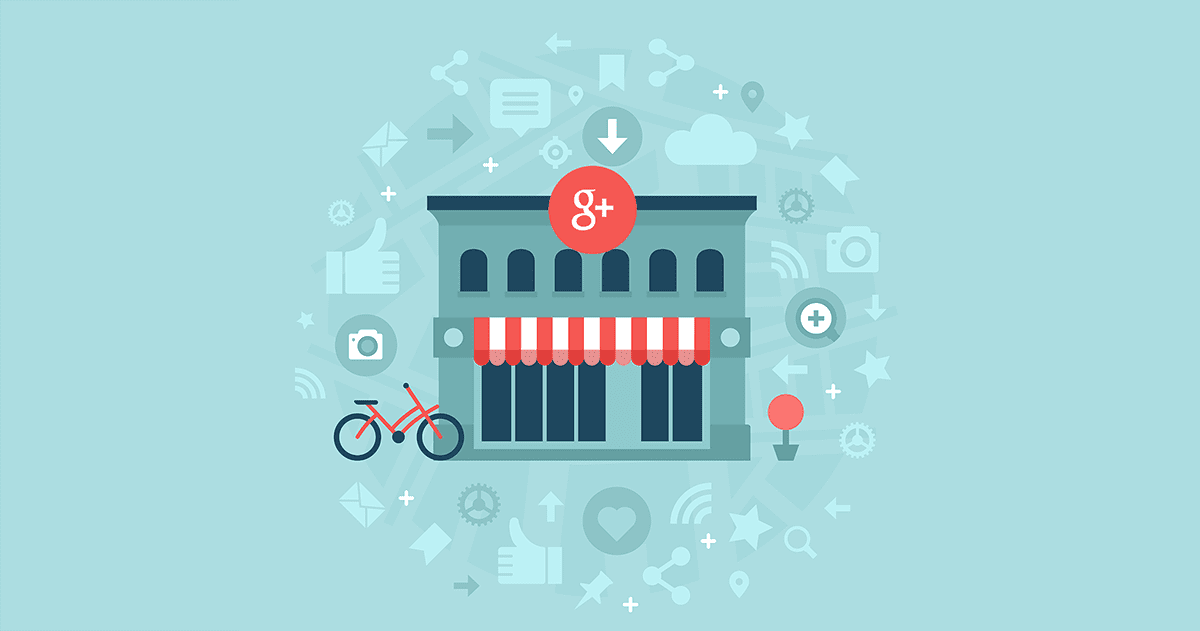 Based on media reports and coverage, it would be fairly easy to dismiss Google+ as a failure, with certain large media outlets often referring to the service as a "ghost town". However, these same media outlets also make the mistake of looking at Google+ as a social network rather than a social platform.
Google+ might have started out as its parent company's attempt at a social network, but over the past 3-years it has (somewhat awkwardly) transformed into a social platform, with The Next Web (TNW) describing it as a "social layer":
it's a series of tools that are being layered into every single product that Google has ever made popular. The measure of success that Facebook tracks, time on site, likes, etc. aren't the same things that Google is aiming for as a company.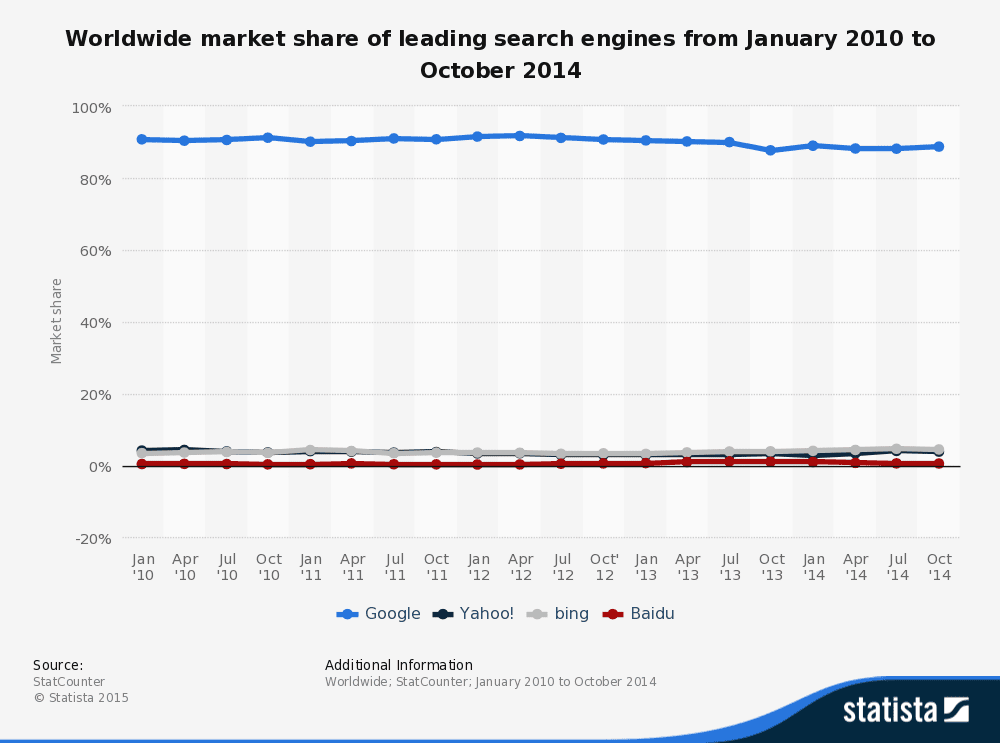 Image Source: Statista
Why Google+ Still Matters
There is no denying that Google dominates the search engine market, with a Search Engine Watch study putting their US market share at 67.6 percent , while Statista has Google's worldwide market share at more than 80 percent. This dominance, when combined with TNW's statement that Google+ is
a series of tools that are being layered into every single product that Google has ever made popular
help explain why Google+ still matters. When customers go looking for information about your business, or any of the products and services offered, they turn to Google, not Facebook. And while Facebook can be quite powerful when it comes to engaging your audience, many of the tools offered by Google, and specificially Google+, are more beneficial to small businesses.
What Tools Does Google+ Offer?
Most of the tools offered by Google+ are available to all users, but there is one that is only available to businesses – Google My Business. My Business replaces Google Places for Business and the Google+ Dashboard, becoming a central hub from which to manage your presence on Google. If you previously used either of the above you would have automatically been migrated to My Business, but if not you can begin by visiting Google My Business and adding your business information.
The most important step in setting up your Google My Business account is choosing the right business type, with the following options available:
Storefront – this is for businesses with a physical location, such as restaurants, retailers, hair salons, small hotels, etc.
Service area – this is for service providers who don't have a physical storefront or location, but do serve a specific geographical area, such as plumbers, taxi services, etc.
Brand – this is for national and international companies, products, performing artists, etc. and not recommended for local businesses at all.
Once you have selected the correct business type you can then proceed to add all the relevant information for your business, before linking to your own website, checking that your business shows up correctly on Google Maps, and finally establishing your presence on Google+.
Poquitos in Seattle doesn't post any updates to Google+, but they have still ensured that their local presence is complete by adding all their relevant information. They have added their own header image, and they have set their profile image to the restaurants logo.

All their relevant information appears below their profile image, including their address, business hours and website URL. Scroll down the page and you get to see their location on a map, a brief description of the business, along with images and reviews left by customers.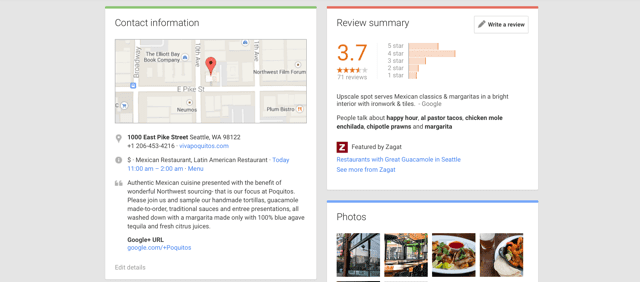 Google+ Circles
On Twitter you follow people, on Facebook you like people, and on Google+ you circle people. Google+ allows you to organise the people you follow (and who follow you) by adding them to specific circles. You create and name the circles, and add people according to your own rules – you could organise based on actual location, age, gender, interest, but you are also able to add people to multiple circles. This allows you to more precisely control who sees your updates: you can post a general update that is visible to everyone, but then you can also post an update and limit its visibility to only a particular circle of people.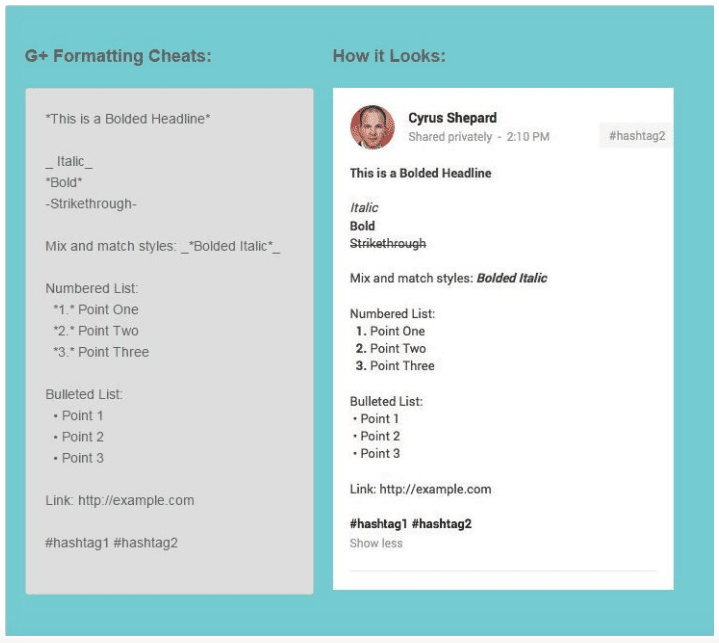 Image Source: Moz Blog
Another important difference is that Google+ gives you more control over the formatting of your posts, allowing for the following:
A headline
Bold, italic and strikethrough text
Lists (numbered and bullet points)
in addition to links, images, videos and hashtags. Formatting not only makes your updates easier to read, it also helps them stand out, while your headline would also feature for any of your Google+ entries that appear on SERPs.
Google+ Hashtags
Hashtags are particularly important on Google+ since, as Ann Smarty points out:
Other social networks use hashtags to curate content by filtering updates that include a specific hashtag. If you search for #easyrecipes, your results only show updates that include that hashtag. Google+ uses hashtags to explore a topic rather than curate it. When you search for a hashtag within Google+, the network auto-selects related hashtags and trending topics and returns those along with the hashtag you typed in.
By default Google will automatically add relevant hashtags to any posts you make on Google+ (you can disable this feature), but you should still add your own.
Focus on keywords relevant to your brand and the audience that you are trying to reach, and experiment with using your business name as a hashtag too. Google's approach to hashtags can be of great benefit to your business since it means your content (and your brand) can reach a larger audience outside of people you are connected to in Google+. However, it should not be seen as an invitation to go overboard with hashtags; always keep them relevant to the audience you are trying to reach.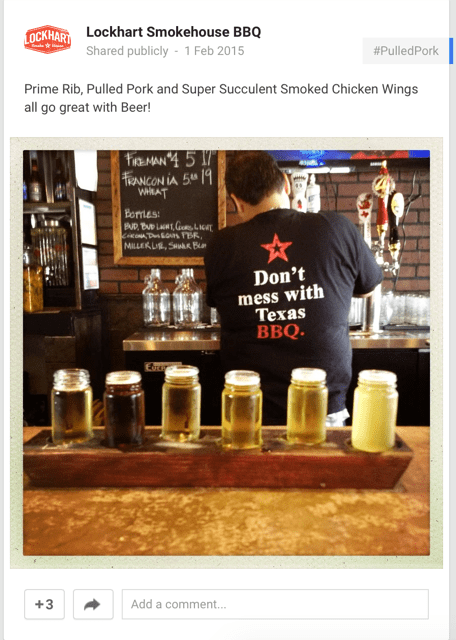 The Lockhart Smokehouse BBQ restaurant in Dallas is very active on Google+, posting updates almost daily. Each update includes a short, but always relevant sentence and a great image of the restaurant or its food. Hashtags are either included in the sentence, or added automatically by Google.
Hangouts and Hangouts on Air
Another powerful business tool available through Google+ is Hangouts, or more specifically, Hangouts on Air (HOA). Hangouts are essentially a private group chat (with or without video) limited to no more than 10 participants. Hangouts on Air (HOA) are also limited to no more than 10 active participants, but they are not private and can be viewed by a limitless number of people, in addition to being recorded and saved to YouTube. And this difference is what makes HOA such a powerful tool for small businesses, with suggested uses being:
Hosting a regular Q&A session – invite customers to send you questions about your company, services or products, that you and relevant invited guests answer.
Host a regular HOA where you either showcase any new products, or better yet, demonstrate how to use certain products.
Interview an industry expert, or a product specialist (for example, a small clothing boutique could interview a fashion stylist regarding upcoming trends, while a salon could interview a prominent colorist, or even beauty editor).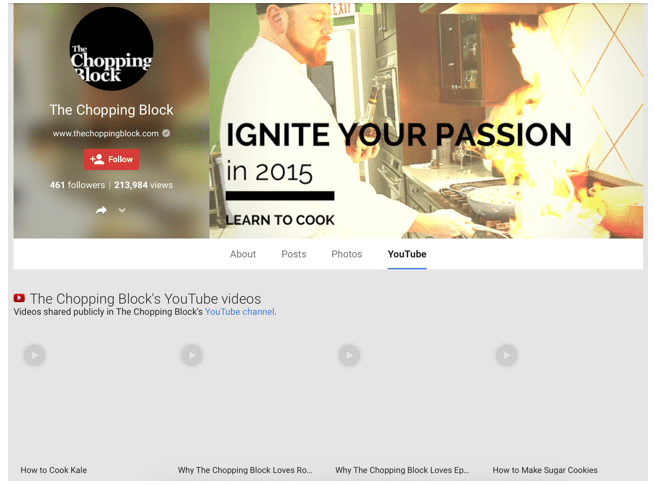 The Chopping Block in Chicago is on all the major social networks but still manages to keep their Google+ presence fresh and engaging with a variety of updates almost daily. In addition to this, they also host regular HOA's featuring short demonstrations aimed at encouraging their audience to sign up for their cooking classes. Each HOA is promoted on Google+ and their website, and afterwards the video is made available for anyone to watch on their YouTube channel.
Google+ Events
Although HOA allow for up to 10 active participants, it isn't a requirement. You can be the only person presenting/participating in the HOA, but unless you actually promote the HOA, very few people will be watching it. Naturally it makes sense to invite people from your circles to the event, but you may also want people from outside your circles to be aware of the event. Which is where Google+ Events fit in.
Google+ Events allow you to schedule an event (either online in the form of a Hangout or HOA, or at a physical location), customise the invitation, and then send the invitation to selected people and/or make it a public event. Public events are listed on Google+ and anyone can attend, and once anyone indicates that they are attending the event the details are automatically added to their calendar.
It is also recommended that, like The Chopping Block, you promote any upcoming events on your website.
The Importance of Local
The way people search for business information has changed: the Yellow Pages and directory assistance has been replaced by a Google search, and most queries will list businesses with local presence near the top.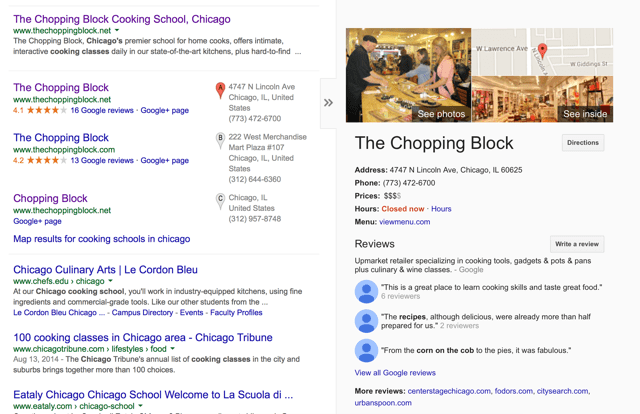 In the past, getting your information to show required a separate process of adding your business to Google Local, but now that Local has been layered into Google+ the process is simpler. Using Google My Business in conjunction with Google+ means you are able to manage most aspects of your Google presence from one account, and giving you greater control.
All that remains is for you to find ways to use the tools provided by Google and Google+ to your advantage.