How to Create a Real Estate Agent App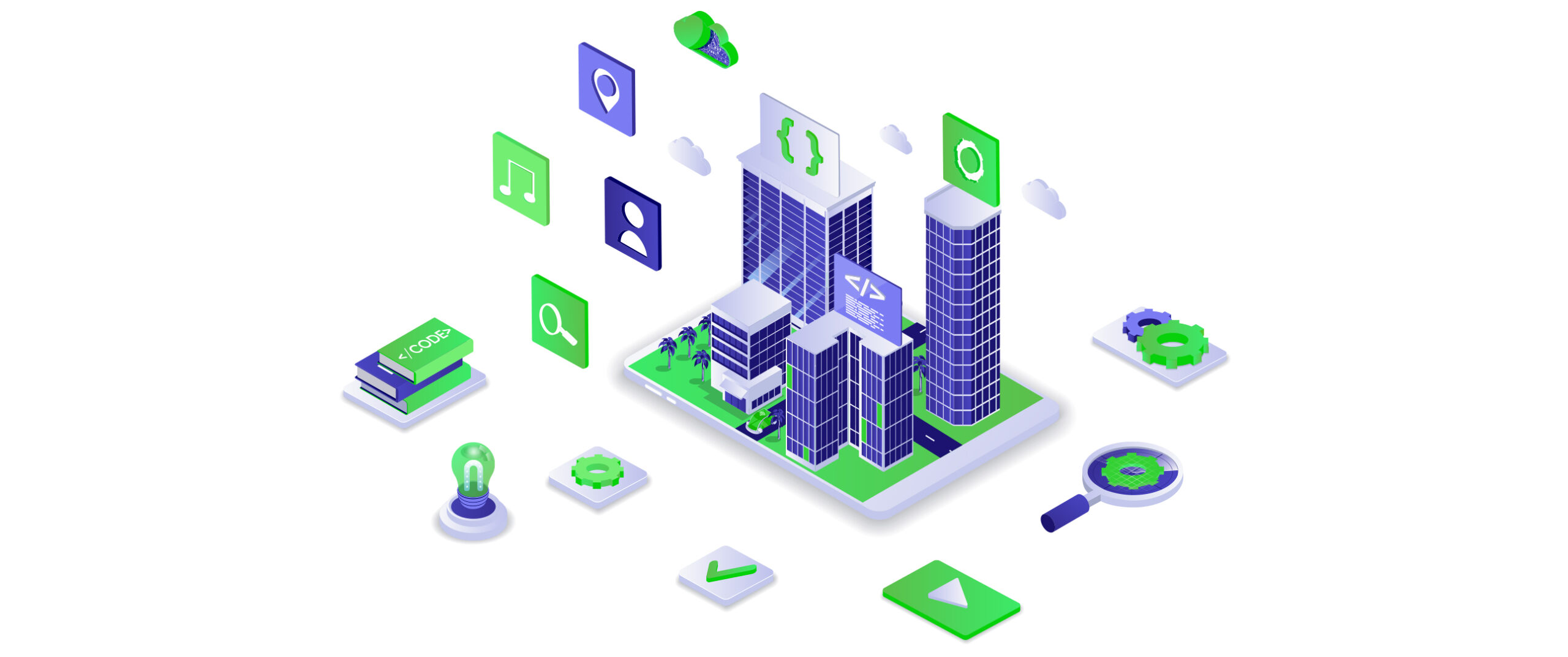 Real estate apps are an essential part of the home-buying process. In fact, research from the National Association of Realtors indicates that 76% of buyers found a property from their mobile device.
As a real estate professional, you need to recognize this trend and adapt accordingly. The best real estate apps not only help people find homes but also help connect buyers and sellers with real estate agents.
If you're ready to take your real estate career to the next level, this guide is for you. You'll learn more about the benefits of real estate apps and key features for success, in addition to the step-by-step instructions for creating a real estate app.
Why Real Estate Agents Need Mobile Apps
Having a website alone is no longer enough to market yourself to buyers and sellers. It's also not sufficient for showcasing homes for sale and for rent.
73% of people prefer using apps to search for homes, as it's the easiest and most convenient way to browse from a mobile device.
This is an excellent opportunity for you to stand out from your competitors. 75% of home buyers go with the first real estate agent that they interview. So if you can connect with a buyer through an app, there's a good chance you'll secure them as a client.
Additionally, you need to look at the trends of who's buying houses today. According to Bankrate, 43% of homebuyers are Millennials—representing the highest share of all generations.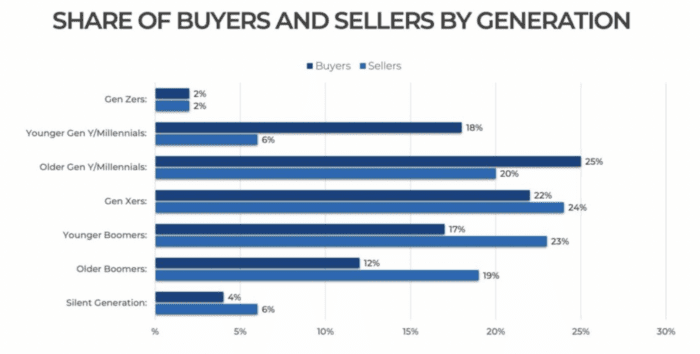 Millennials and younger generations are always looking for the best apps to solve their problems and make their lives easier. They use apps for banking, food delivery, and nearly every other aspect of their life. You can't expect them to break that trend when it comes to something as important as buying a home.
Mobile apps are faster than mobile websites and provide a better overall experience for the user. They can also utilize device-specific features, such as push notifications for communication, that otherwise wouldn't be possible from a website.
6 Steps to Make a Real Estate App
Creating a real estate app might sound intimidating, especially if you've never done it before. Fortunately, the entire process can be simplified into just six simple steps.
Step #1: Validate the "Why" For Real Estate Business
Before you get ahead of yourself, you need to identify your app's main purpose. Make sure you're developing your app for the right reasons, as opposed to creating an app just for the sake of having one.
Without a clear reason for development, your app won't have any direction or purpose. This lack of direction will be clear in your final product and won't actually accommodate the needs of your audience.
You can turn to some of the best real estate apps as a resource as you're coming up with ideas. Look at the Zillow Premier Agent app if you want CRM features, or look to apps like Trulia for listings management.
Examples might include better marketing, improved communication, or more control of your listings. Some of you might create a real estate app specifically to improve the way you manage client relationships.
While your final product might end up with lots of different features, the first version of your app should be released with your primary purpose as the focal point. Additional features can always be added down the road.
Step #2: Identify Your Budget and Desired Launch Timeline
How much does it cost to create a real estate app? Depending on your development method and desired features, it can range anywhere from $10,000 or $20,000 to upwards of $250,000 or more.
For those of you planning to hire developers, the location of your development team will also impact your cost.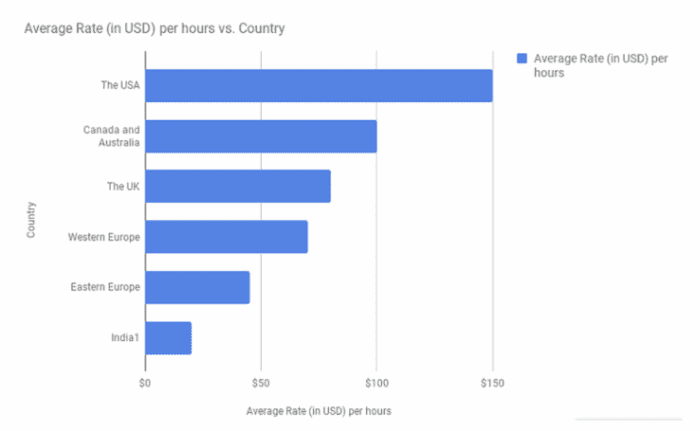 With that said, most of you can develop a great app without having to break the bank.
For example, using an app maker to create a real estate app is going to be the most cost-effective method for most of you. With platforms like BuildFire, you can create a real estate app on your own without any coding knowledge or technical expertise. You'll also be backed by the team of development experts at BuildFire, who have facilitated the development of more than 10,000+ apps.
This will also help you get your app to market faster than traditional development—ideal for those of you who want to launch your real estate apps in a few weeks or months, as opposed to six months or upwards of a year.
If you want every feature under the sun, it's going to add to your total cost of development. For example, if you're looking for an augmented reality feature with virtual tours and complex integrations that need to be coded from scratch, it will be expensive.
But if you just want to use a YouTube plugin to add video walkthroughs of properties to the app, it will be much more cost-effective.
For real estate agents that want to create an app that's affordable but still provides value, app builders like BuildFire can be used as a subscription for just a few hundred dollars per month.
Step #3: Choose Your Real Estate App Development Method
Now you need to determine how you're going to create a real estate app. Your responses in step #2 can help you decide. But generally speaking, there are three options to consider:
Use a DIY app maker to create a real estate app on your own
Outsource the project to an app development company
Hire developers to build it for you
Technically, you could also learn how to code and create the app yourself that way. But this method isn't really practical or necessary for real estate professionals. You're much better off relying on DIY software, as it's the most cost-effective option and fastest path to launch.
Choosing your app development method is something that we've covered extensively here at BuildFire over the years. So if you're unsure which option is right for you, refer to these resources for more information:
Step #4: Select Your Real Estate App Features
Next, you need to determine which features to include in your app. It's important to keep things simple in the early stages and only focus on the features you need for your app to function the way it's supposed to.
Refer back to what we discussed in the first step. What's your primary focus for creating a real estate app? Narrow your efforts to that reason, and ask yourself which features you need to make that happen.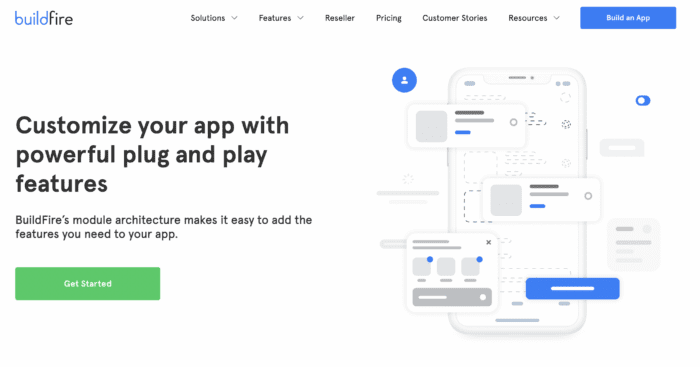 You can look at some of the top real estate apps on the market for inspiration if you're unsure what to include. But again, simplicity is key in the early stages.
It's easy to get lost during the development process and add new features you think of. But this creates delays in your timeline and often adds to your expenses.
You can always add more features months or years down the road. Later on, we'll cover more features that are typically included in the best real estate apps.
Step #5: Design and Build Your Real Estate App
Now you're ready to start building the app. With your timeline, budget, and features already accounted for, this process will be much easier than if you started development without a clear plan.
The exact steps here will look different for everyone, and the development you selected will have a big impact on what needs to happen.
But regardless of your method, it's in your best interest to break down the project into simple and attainable steps. You can use basic project management software to keep track of what needs to happen and ensure you're meeting deadlines that align with your timeline.
If you're using an app maker like BuildFire to create your app, this process will be extremely easy.
To get started, BuildFire will ask you what type of app you want to create. Just select the real estate industry option to continue.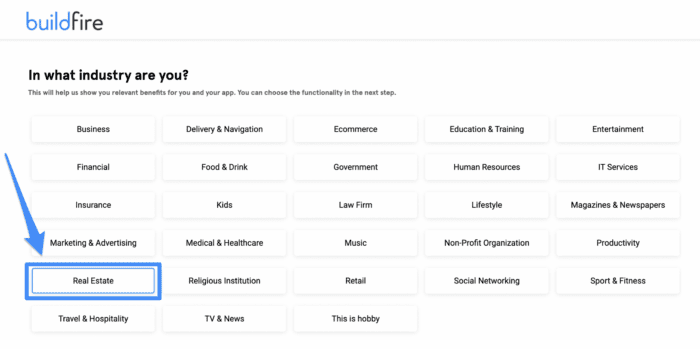 Based on your response to this question, you'll be presented with different template options that are specifically designed for real estate apps.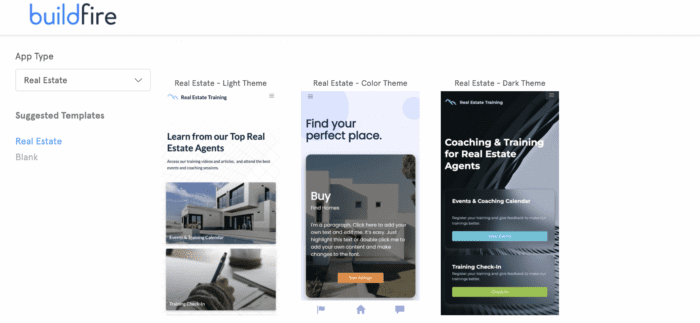 These templates are the perfect starting point, as you won't be working from a blank slate.
From here, it's just a matter of customizing the content to align with your brand and goals. Adding features is easy too. You can just install plugins with a single click from BuildFire's marketplace of 150+ features.
If you want something unique that can't be found on the feature marketplace, that's not a problem. Just reach out to the BuildFire team for help, and we'll create that feature for you. This is not a service that you'll find from other app makers on the market, which is one of the many reasons why BuildFire truly stands out from the crowd in the app development space.
Step #6: Market and Launch Your Real Estate Agent App
As a successful real estate agent, you know the importance of effective marketing. You could have one of the best apps on the planet, but it's useless if nobody knows about it.
You can even start promoting your app prior to launch, so people will be ready for it when it's finally released.
Make sure to leverage all of your marketing channels to drive downloads. Share the app on social media, promote it on your blog, blast it out to your email subscribers, and add a download link to your website.
If you're using BuildFire to create your app, you won't have to worry about getting your app live on the app stores.
You can let us know your app is done with a single click, and our team will get it live for you on the Apple App Store and Google Play Store.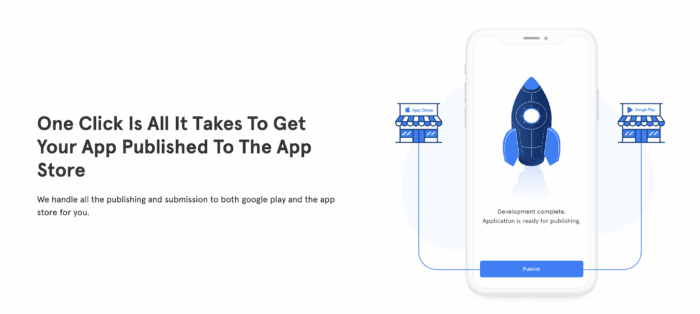 Key Features Every Real Estate App Needs to Have
Below we'll take a look at some features to consider for your real estate app. These are inspired by the best apps in the real estate industry.
User Onboarding
There should always be a free version of your app that you don't need to register or sign up for. But the best apps also have some form of user registration.
This allows you to collect more information about your app users that can ultimately improve their experience. You can also use the onboarding details to help with customer relationship management.
Rather than forcing people to provide all of their information to sign up, you can integrate with social media apps to facilitate the onboarding process. Then users can create an account with a single click, simply by logging in with an existing social account.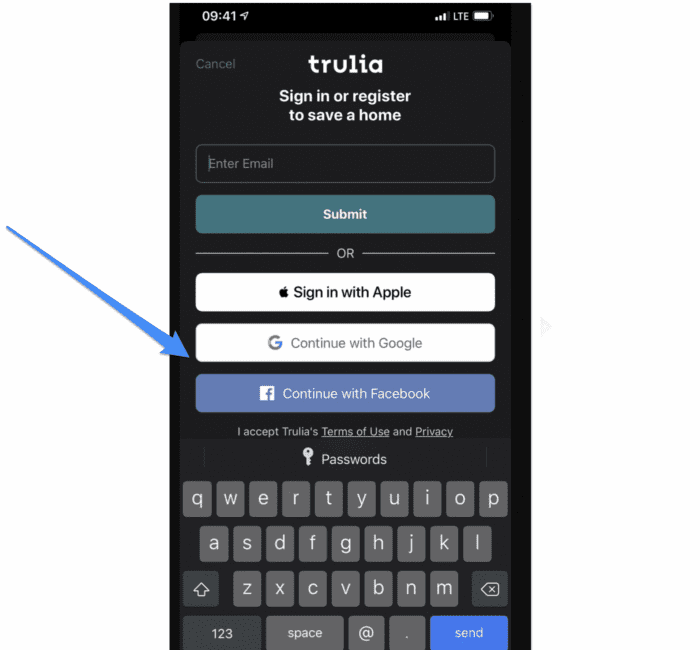 Registering an account gives users more flexibility and personalization with what they see within the app. They can also "favorite" or "like" homes that they want to view later or keep an eye on.
Real Estate Listings
Obviously, your app needs to highlight properties that are for sale and for rent. Rather than adding this information manually, you can set up an integration through multiple listing services.
This will automatically bring the details of each property into your app, simplifying the backend management for you and your team.
Listing should include photos, videos, price history, tax information, property type—everything a buyer would need to make an informed decision on whether the property is right for them.
Agent Profiles
Potential buyers use mobile apps to network with agents. This is your opportunity to tell people about yourself and what you do.
If you have a real estate company, then each agent should have their own dedicated profile.
Include a photo, brief bio, and details about how that agent can be contacted.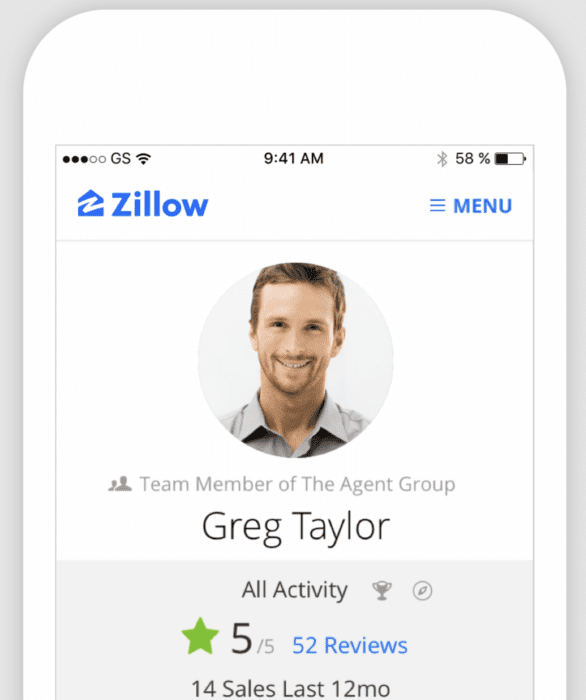 Search and Filter Capabilities
It can be overwhelming for people who are browsing for homes, especially if there are hundreds of different properties in the area. To make things easier for your users, you must give them the ability to search and filter properties based on what they're looking for.
You can set up filters for:
Price
Distance
Bedrooms
Bathrooms
Property Type
Max HOA
For Sale vs. For Rent vs. For Lease
Users should even be able to search for specific terms, such as "pool" or "backyard."
Maps Integrations
Adding a Google Maps integration to your app is a great way to showcase properties. This gives users the ability to navigate through listings on a map view as opposed to just a list.
Your maps integration can also support geofenced property details—only highlighting listings in a specific area.
Mortgage and Payment Calculators
Price is obviously an important factor for home buyers. But the sale price can be very different from a monthly payment. This is especially true when you're factoring in additional details like property taxes, mortgage insurance, HOAs, and other fees beyond the mortgage itself.
While the calculators in your app should just be used for estimates, they're still helpful in giving users a better understanding of the actual costs they'll incur if they buy the property in question.
Appointment Scheduling
If a prospective buyer likes a property, they shouldn't have to jump through hoops to schedule a viewing. Yes, you can still include your phone number and email address with each listing. But people should be able to book a tour without having to leave the app.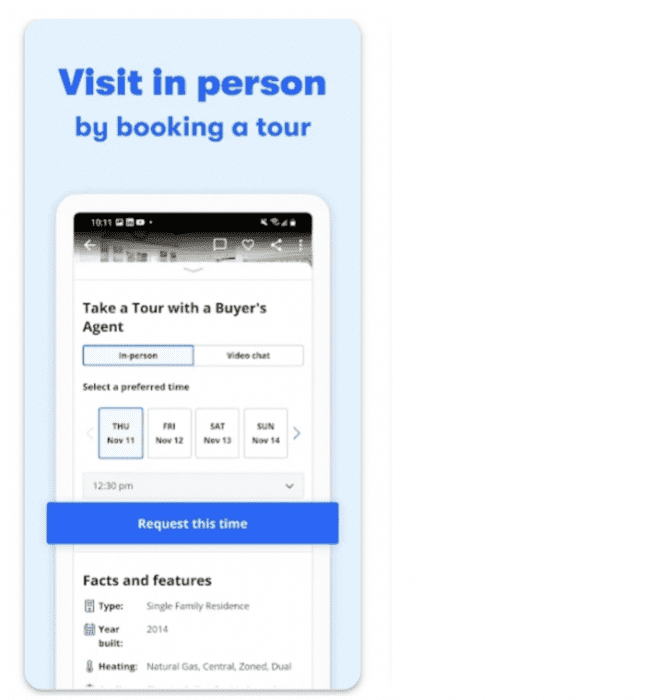 This feature can also help you with your lead generation strategy, as the user will be asked to submit their name, email, and phone number to schedule the appointment.
Push Notifications
Your real estate app should definitely have push notifications to communicate with users.
For active buyers, this is an excellent option for you to notify them of new properties for sale that fit within their desired search criteria. It also gives you an advantage over other agents who might be sending them new properties via email. The push messages will be seen immediately, as they're delivered straight to the user's screen.
Final Thoughts on Mobile Apps For Real Estate Agents
The real estate market is extremely competitive. As an agent, you need every advantage possible to stand out from the crowd.
A mobile app will give you an edge over other agents who are competing for the same clients.
It can be the reason why a seller chooses you to represent them, as they'll think the app gives them a better chance to sell quickly. Apps are also highly beneficial for buyers and renters who are looking for a simple way to find properties from their smartphones.
There are lots of different paths to launch when you're creating a real estate agent app. But using a platform like BuildFire is definitely the easiest.
Start your 14-day free trial to get started, or request a consultation with one of our app development experts for more information.