How to Improve Employee Efficiencies With An HR Mobile App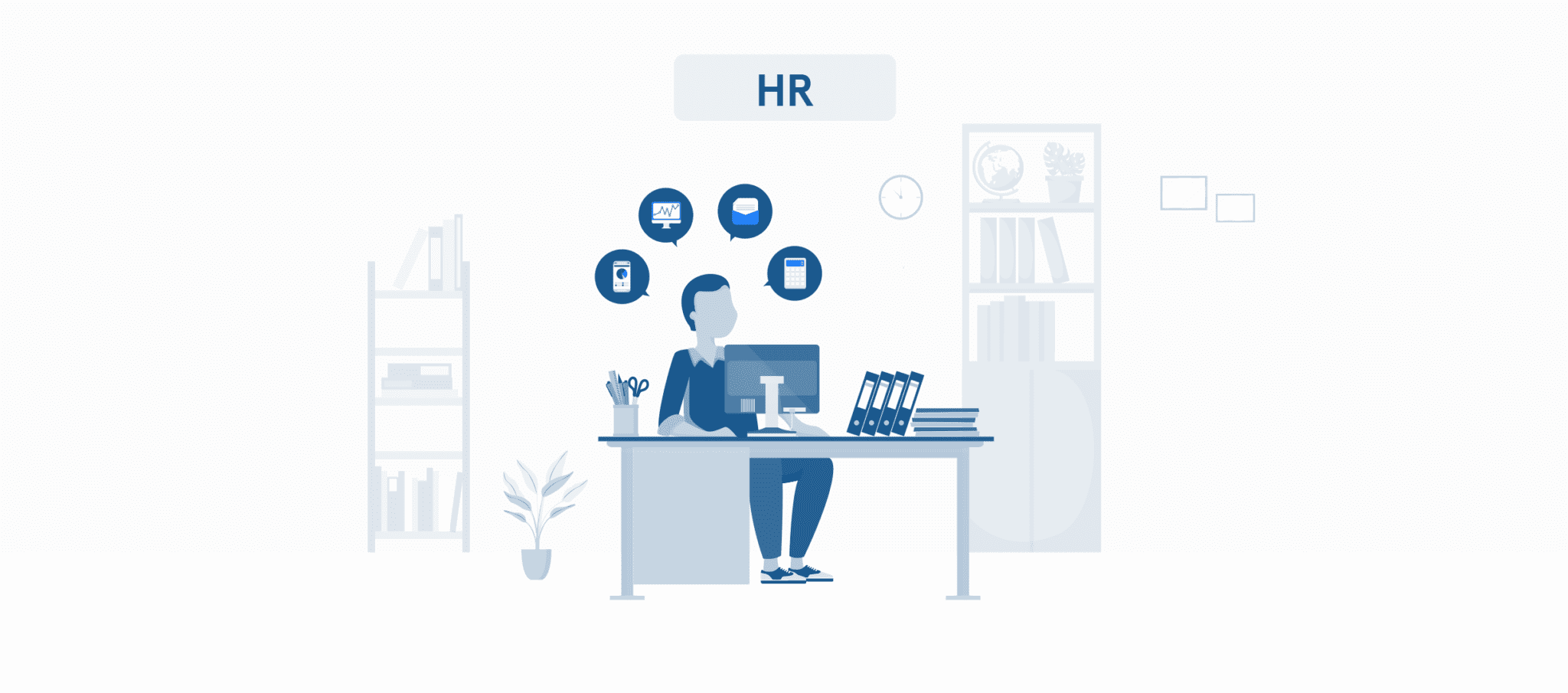 Human resources is one of the most important departments in any business. Yet, so many HR departments struggle with efficiency issues. Paper piles up, phones ring off of the hook. Emails go unanswered. HR inefficiencies can lead to more significant problems in the workplace. Your employees need HR to gain access to crucial information related to things like their compensation, benefits, schedule, training, and more. 
The inability to access this information can create disgruntled employees and low productivity. Some companies have HR functionalities and information accessible through a web portal but that's really not enough. The best way to have an efficient HR department is with a workforce mobile app. Mobile apps make it easy for human resources to improve internal communication with its deskless workforce. 80% of workers across the globe are considered "deskless."
Your staff, deskless or not, needs to be kept up to date and have access to critical information in real-time. 
97% of HR leaders plan to increase technology investments in the coming year. So if your company can't adapt, your problems will only get worse.
In this guide, I'll explain why you need to have an HR mobile app for your business. I'll also go through some real-life examples for how you can use this technology to improve efficiencies. 
Benefits of Building an HR Mobile App
The advantages of an HR mobile app are seemingly endless. But to simplify things, I've segmented these benefits into five main categories.
Convenience

Productivity

Engagement

Accuracy

Speed
Check out my detailed explanation of these perks below. 
Convenience
81% of Americans own a smartphone. 61% of people check their phones within 5 minutes of waking up. 
As you and I both know, mobile technology has taken over our lives. Your employees are using their phones every day, even while they're working.
In fact, more than 90% of people use their smartphones at work.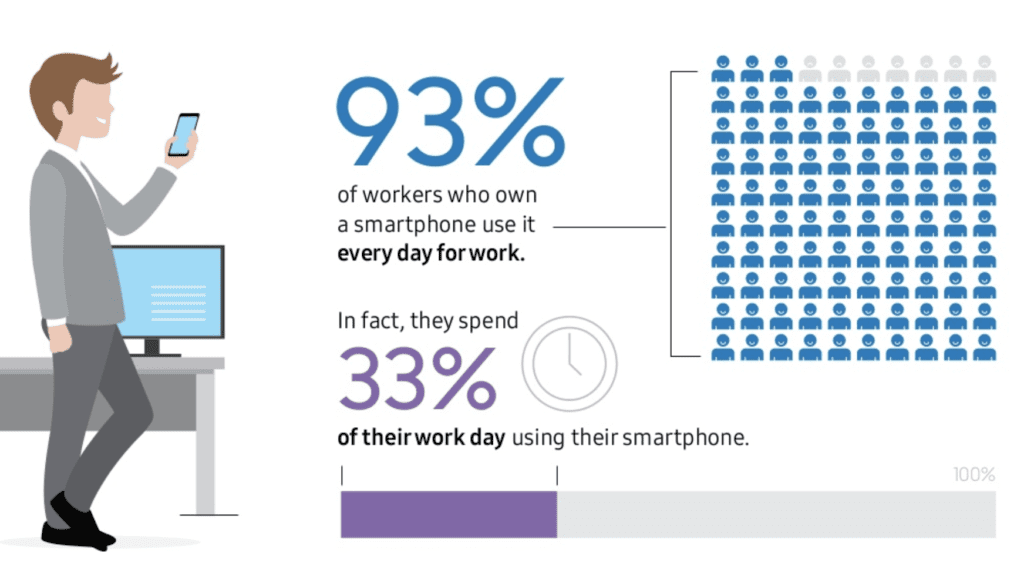 Since your staff is already using these iOS and Android devices on a daily basis, it only makes sense to provide valuable HR resources to them via mobile as well. 
Yes—theoretically, they could use a smartphone to access an HR web portal. But that won't deliver a good user experience, so they probably won't take advantage of it. 
90% of mobile time is spent in apps. This is how your staff wants to access information. 
Plus, most of your workers may not have another option. We have already established that the majority of the workforce is deskless. Think about all of your staff that aren't tied to a desk. How are they supposed to access HR information?
Deskless employees, remote workers, and staff who are on the go need a mobile solution for human resources. 
Being forced to visit the HR office, make a call, or send an email isn't nearly as convenient as opening an app on the devices that they constantly each day. 
Engagement
Employee engagement can be challenging to manage. Regardless of your industry or business size, engagement can make or break the success of your company.
Communication is the key to success at every level of your business. But it's even more important for HR departments since the information being provided is so crucial to the lives of your staff.
So many businesses fall short here, and it's causing major engagement issues with their employees. According to a recent survey, 80% of the US workforce says that poor communication is causing them stress at work.
This stress is impacting performance. In fact, 63% of workers in the same study said that they've wanted to quit because ineffective communication has hindered their ability to do their jobs. 
A mobile app can drastically boost engagement at work. It's also one of the best ways to improve internal communications and performance management with field employees.
Check out this case study on Preferred Materials. 
To summarize, only 20% of their 1,875 employees were office-based. It was challenging for them to communicate with remote staff, and their HR department couldn't keep up with the calls and emails. 
The solution—Preferred Materials built an HR mobile app, which resulted in a 300% engagement increase.  
Productivity
Low engagement results in reduced employee productivity as well. This is a significant problem since it directly impacts the bottom line of your business.
If your staff isn't getting as much work done, then it costs you more money to operate, which results in lower profit margins. Depending on your scenario, poor productivity could even cause an operational loss.
70% of employees feel overwhelmed at work due to broken communication methods. That's why your company needs to adapt to new technology.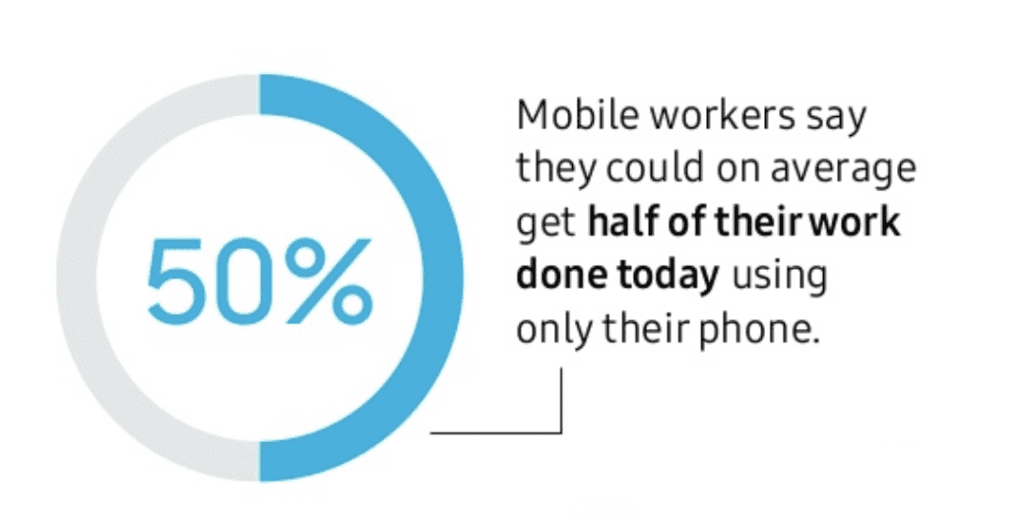 However, mobile workers say they could get half of their work done using just a smartphone. 
By giving your staff access to work-related information in a mobile app, it will automatically boost their productivity.
Without an app, your staff is forced to connect with HR by either calling, emailing, or physically visiting the human resources office. This takes too much time away from more important tasks. 
It creates productivity problems for the workers seeking information, as well as your HR staff that needs to provide them with assistance. 
An app essentially kills two birds with one stone. Your staff will be able to access information more efficiently without causing any bottlenecks in the HR department via phone or email. 
Accuracy
An HR mobile app reduces the risk of human error. If you aren't using technology to streamline your HR department, there's a good chance that you've run into problems like this in the past.
In terms of scheduling, vacation time, and time tracking, an app will be much more efficient. You can even automate certain workflows.
Your staff, management, and HR team will all have access to everyone's schedule. So there won't be any miscommunication about who was supposed to be working or when they were supposed to arrive.
If someone wants to request vacation time or call in sick, everything can be managed directly within the app. 
This is much more accurate than relying on email correspondence for something so important. If your team has to email their manager for time off, and the manager has to approve the time by submitting another email to HR, it becomes a chain of events that's susceptible to error. 
Speed
Real-time communication is another top benefit of an HR mobile app. Any important announcements can be sent directly to your staff via push notification. This is something that they'll see almost immediately, as opposed to an email that can be overlooked for days. 
Here's an example of what these messages could look like.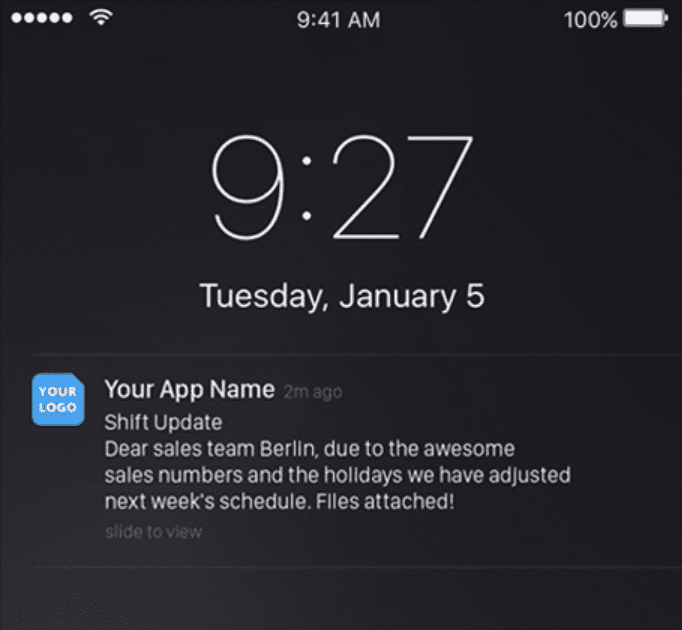 The speed of an HR mobile app also relates back to convince and productivity, which we previously discussed. 
Think about how long it takes for an employee to call your HR department to get an answer. There might be some back and forth, hold times, and call transfers within the department. Those calls are likely followed up by an email with additional information. Overall, it's just not the smoothest procedure.
An app eliminates any friction or pain points in the process. Your staff won't need to call, email, or physically visit the HR office.
Instead, anything they need will be available in real-time at their fingertips. 
A web-based employee portal is not a substitute for an employee self-service iOS or Android mobile app. Those only perform well from laptop or desktop devices, and we already know that your staff prefers to use their phones. Plus, your team may not even have access to a computer throughout the day.
Can employees access a web-based portal from their smartphone? Sure. But the experience won't be user-friendly. Mobile apps are faster and more responsive than mobile websites. 
Examples and Use Cases For an HR Mobile App
The advantages that we've just discussed showcase the importance of an HR mobile app. But how can you actually get those benefits?
I'll show you some real-world examples of ways that a mobile app an improve efficiencies in your HR department. 
Payroll
How can your employees view and access pay stubs? I know some small businesses that hand out physical pay stubs to their staff around the office on payday. This is a challenge for companies with field workers.
Some of you might have an online system through your payroll provider that allows your employees to view stubs online. But this isn't the most user-friendly way to provide information.
In fact, employees are 60% more likely to access pay stubs and other payroll information from a mobile device than from a desktop or laptop. 
With an app, your staff can see everything they need related to payroll. 
Hourly wages

Salary

Bonuses

Taxes

401k
The list goes on and on. They'll easily be able to view specific pay periods, either by week, month, quarter, or year. 
At the end of the day, your staff is working for a paycheck. The last thing you want to do is give them any reason to think that you're withholding information or not providing easy access to what they are being paid.
54% of American workers have had problems with their paychecks. 26% of hourly employees were paid too little. Even 15% of salaried workers say they have received paychecks that were shortchanged. 
Mistakes happen. I would never accuse a company of intentionally underpaying their staff. But if you're transparent and make everything easy to access through a mobile app, it will make any errors easier to identify and rectify as quick as possible. 
Time Tracking
Are your employees stealing from you? Again, this is a heavy accusation that I wouldn't make. But stealing can go beyond taking physical inventory from your property.
A recent study suggests that one out of every two employees has admitted to "time theft." This includes 16% of employees who use the "buddy punching" system. 
Another survey found that 43% of workers have exaggerated their hours to get paid more. 
One of the best ways to prevent this is with time-tracking HR software, which can be integrated into your HR mobile app. Right now, just 25% of employers use time tracking technology.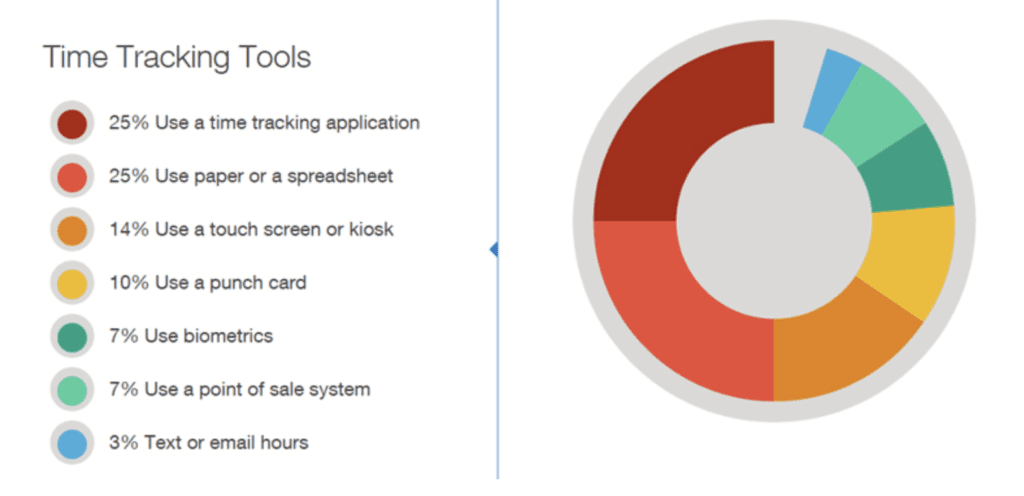 Shockingly, 25% of offices still use paper or a spreadsheet. 10% use punch cards. A small percentage of companies track hours via text or email.
Clearly, these are not efficient ways to monitor something as important as employee wages.
With time cards, paper sheets, or email correspondence, there is so much room for human error. Your HR staff could easily make a mistake when manually inputting these numbers into your payroll system.
But with an HR app, everything can be tracked with technology in real-time. It also eliminates the possibility of buddy punching.
This makes it easier for your deskless workforce or field employees to track their time as well.
Employee Benefits
What benefits do you offer your employees?
There's a good chance that not everyone who works for you fully understands these benefits. Whether it's a retirement plan, time off, sick days, health insurance, or something else, you want to make sure that this information is easily accessible so everyone can take full advantage of it.
When someone first gets hired, they are focused more on the job itself than every single benefit offered by the company. It's easy for certain things to be forgotten or overlooked.
For example, maybe you offer to pay for a percentage of your staff's gym membership. Or maybe they get a discount on equipment or clothing at a nearby store. 
Without a mobile app, it's a pain for your employees to learn about their benefits. They'd be forced to communicate with HR, where benefits would be listed over the phone or via email. That's not an efficient use of anyone's time. 
With an internal employee mobile app, your staff can access these benefits on their own time, conveniently, from their smartphones. 
When it's time to renew their health insurance, your team can review plans and packages directly from the app as well. 
Your HR staffing team will also have access to employee records and other crucial information needed for HCM.
Scheduling
Employee schedules can be another big headache for your HR department. Without using technology, it forces someone to manually figure out who should be working when. 
This can easily lead to shifts being overstaffed or shorthanded. 
Take a look at how employers plan weekly schedules. As you can see from the graph below, 45% of them use paper.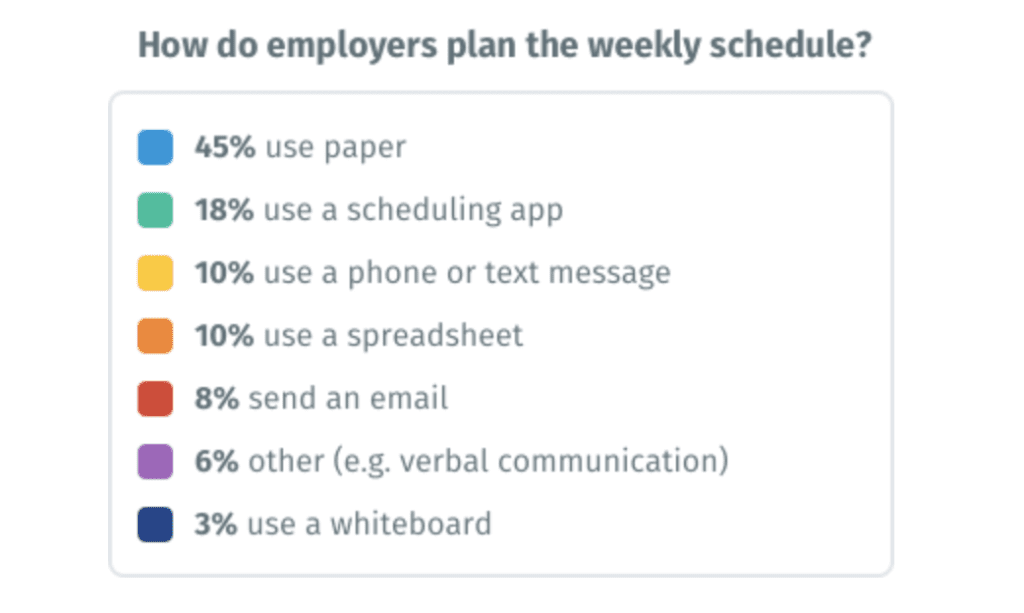 Only 18% use an app for scheduling. The other methods, such as texting, spreadsheets, emails, or verbal communication are far less effective. Instead, you can use automation for scheduling workflows with a mobile app.
Inferior scheduling methods increases the chances of your employees missing work. In fact, 26% of employers say that workers miss shifts at least several times per month. An additional 18% of employers say this happens weekly, and 9% say they deal with missed shifts on a daily basis.
Not only is this costing you money and lowering your productivity rate, but it's also damaging your employee morale.
In certain industries like retail and food, 70% of employees say they have at least one last-minute shift change per month. This has a major impact on their quality of life, and doesn't keep them motivated to keep working for you.
Believe it or not, 49% of hourly workers say they would take less money for more control over their schedule. 
An HR mobile app will let you kill two birds with one stone. This new management system allows for your employees request their schedules directly through the app, and assign them shifts in advance. Any changes can be made in real-time.
Your staff can also use this app as a way to schedule vacation time or call out sick. If an employee has to miss a shift, you can send a push notification out to other members of your team if they want to pick up some extra time. The opportunities here are seemingly endless. 
Either way, it will be much more effective than forcing all communication to be done via email or phone calls to the HR department. 
Employee Training
When you hire a new employee, it's common for them to go through some type of training program. They might even need to take tests or get certifications to continue working for you.
You can use your HR mobile app to distribute and facilitate employee training. This can save you tons of money and improve your process.
An app allows you to create a sequence of tasks for employee onboarding. It might be videos to watch, forms to complete, or a combination of both. Your HR staff can monitor the completion rate of these tasks to ensure that your new hires are going through the proper training process.
We wrote a case study on Praxair, an industrial gas company with 40,000+ employees worldwide.
After launching a mobile app using BuildFire's platform, Praxair saved $480,000 in training costs in just the first eight months of deployment. At this rate, the app will save them $720,000 per year in employee training. 
Granted, not all of you have employee training costs that are this high. But everything is relative. Even if you have 40, 400, or 4,000 employees, saving money and time on employee training will improve your company's profitability. 
It also makes things easier for your employees and ensures that they are always up to date on any required certifications.
Resources, Policies, and Employee Handbook
This relates back to what we discussed earlier in terms of employee benefits. Your mobile app can serve as an all-in-one HR solution for employee resources. 
Company information, news, staff directory, and even an internal employee chat can be accessed directly from the app.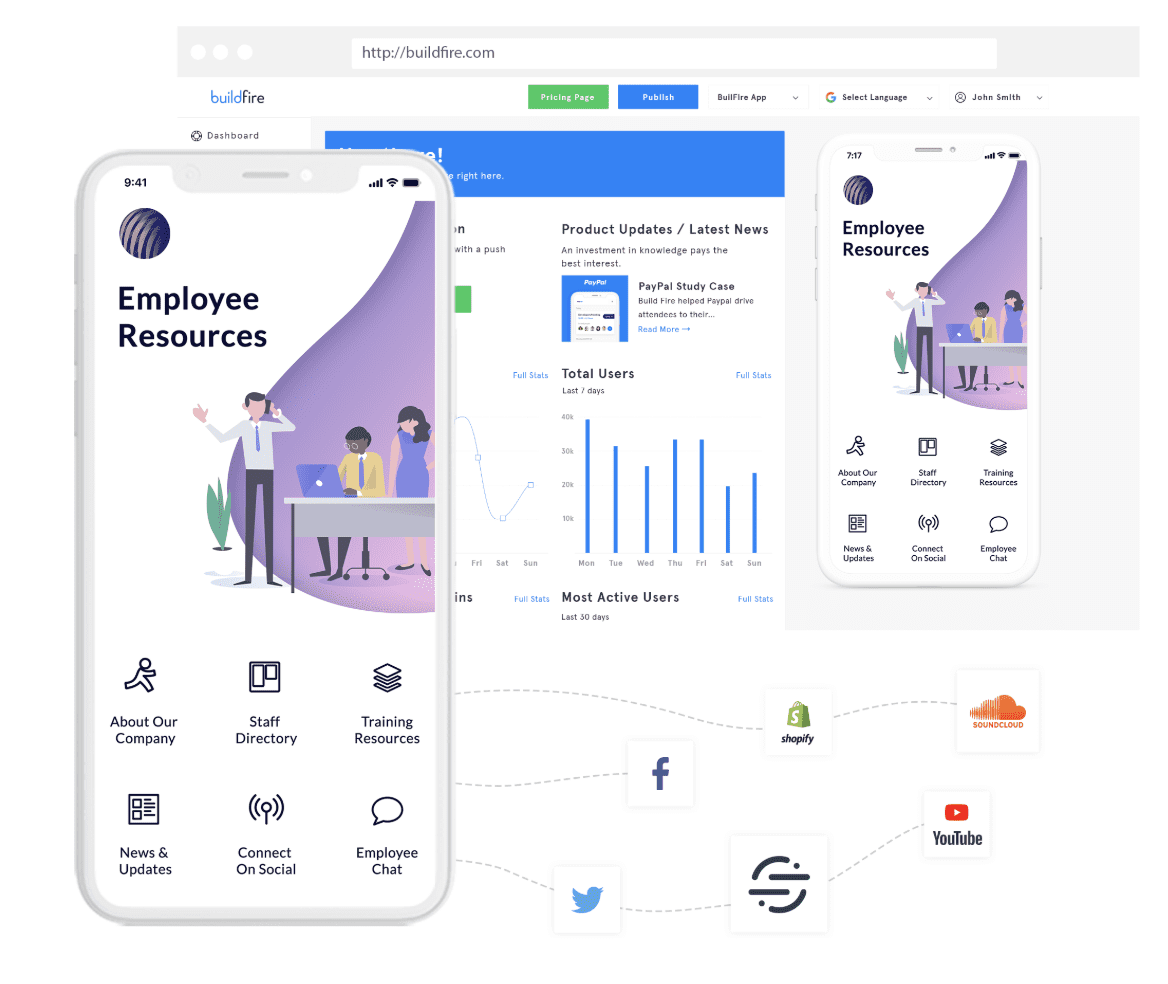 Your app can even integrate with social platforms that your staff uses for work.
Use your app as a way to showcase company events. Whether it's important meetings, fundraisers, a 5k walk, holiday party, or conferences, everyone will be able to access that information from the app.
Another top feature of an HR mobile app is the ability for employees to submit feedback. 
Whether it's a suggestion, compliment, or complaint, all of those forms can be accessed and submitted directly through the mobile app. 
Internal Communication With Field Employees
Any business with field employees must have an app to improve internal communication. 
Failing to communicate with remote workers can make them feel like they aren't part of the team, which causes engagement and productivity issues. 27% of field employees say they feel underappreciated. 
12% of deskless workers say they didn't receive adequate training. An additional 11% did not receive any training at all.
Just 9% of companies are using mobile apps to communicate with field employees. Those companies typically have higher employee engagement and employee satisfaction rates. 
It's not practical for a field employee to be on a computer throughout the day. They also shouldn't be forced to access a computer when they get home on their personal time.
An app drastically improves this communication. With live chat and push notifications, your field staff can stay connected to your office without having to access emails or make calls. 
They'll also be able to manage their schedules and view essential resources related to payroll, benefits, and training while on the go. 
Use your app for safety and compliance. This type of information will always be available to your staff, and you can collect any incident reports directly through the app. You can also provide tools to boost field sales performance. All of your remote reps will have sales tools at their fingertips to optimize productivity. 
Conclusion
An internal business mobile app is the ideal solution for improving efficiencies in your HR department. 
Your staff is already using mobile devices on a daily basis to complete work-related tasks. You might as well make this process more efficient for everyone.
Apps boost employee performance and productivity. In addition to being incredibly convenient, apps are faster and more accurate than alternative methods for HR management. 
Some specific ways to apply a mobile app to your HR processes include:
Payroll

Timesheets

Employee benefits administration

Scheduling and PTO

Training and onboarding

Employee Resources

Communication with Field Employees
The possibilities and opportunities here are limitless. You can build apps for human capital management, applicant tracking systems, and more. A mobile app can save you money, improve inefficiencies, and make your employees happier. 
Whether you're a large enterprise or a small startup; you can use BuildFire's platform to create a workforce app. Contact us today for a free consultation.