Mobile App for Your Wedding Planning Business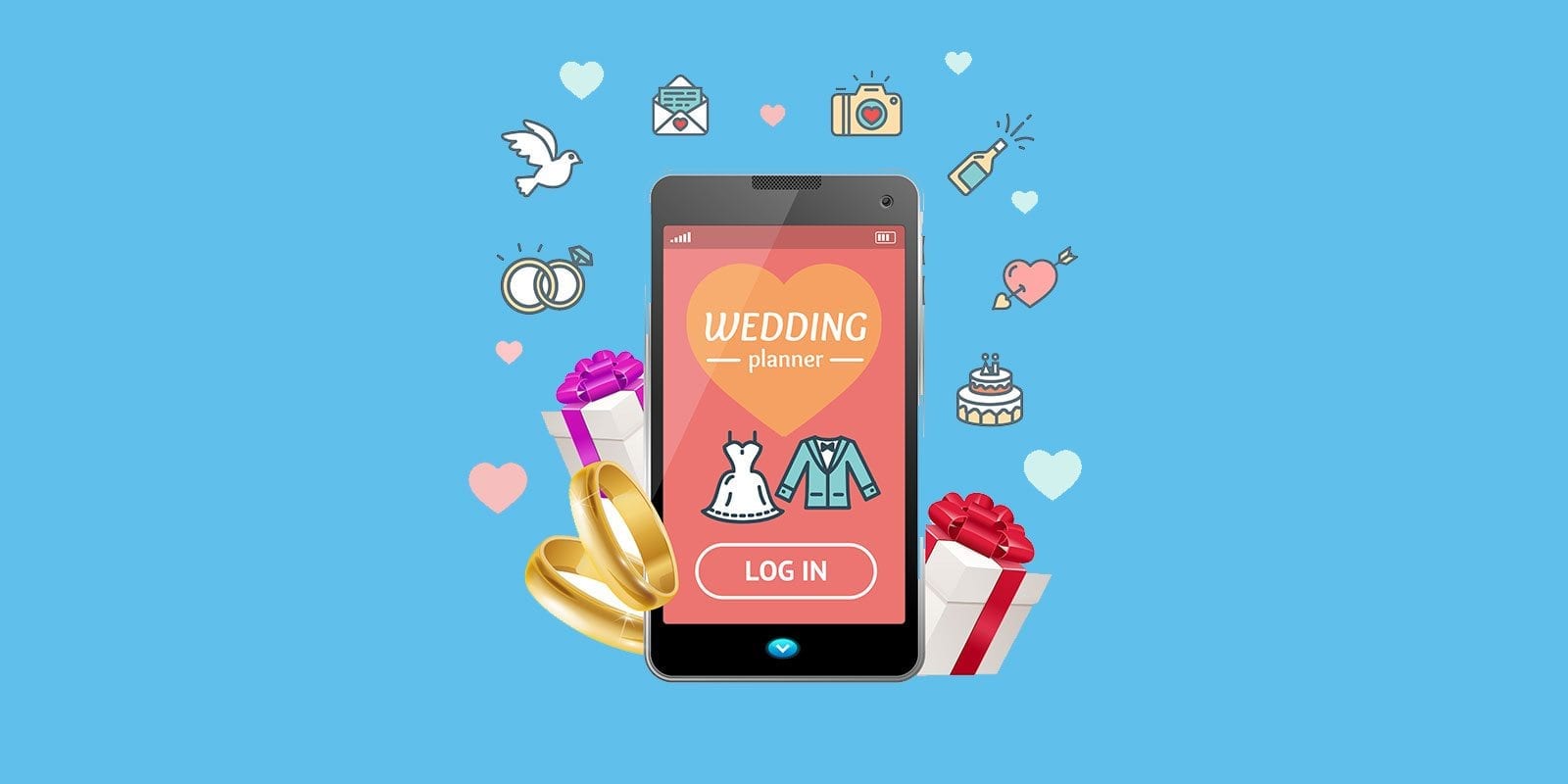 Today, it seems like there is an app for everything.
Mobile apps are penetrating every industry. Think about how much you personally use apps on a daily basis and how your customers rely on them as well.
You've got to get with the times and stay up to date on the latest technology trends.
If you're in the wedding planning industry, you've got to have a mobile app. So much goes into planning a wedding. Obviously, you know this better than anyone.
A wedding is one of the most important events in a person's life. As a wedding planner, you need to make their experience and planning as easy as possible for your clients.
Think about all of the different aspects that they need to keep track of. A mobile app can make this much easier.
If you don't have an app for your wedding planning business, I'll explain why you need one and how it can be applied. Here's what you need to know.
Display potential venues
Selecting a venue is one of the first things your customers need to do when they're planning this important event.
After a venue gets picked and a date is selected, other things will start to fall into place based on these choices. So you can make it easy for your customers to choose the perfect venue by providing a full list of all prospective locations through your app.
Here's an example of how this function was applied by the WeddingWire mobile app.
Think about how much time this will save your clients. Hypothetically speaking, let's pretend that they have five potential venues in mind. But let's be realistic, your clients probably have a list that's much longer than this.
These venues are not all right next door to each other. So to view these locations, you'd have to set up appointments for your clients. Then they have to drive to each one, walk around, and meet with a representative.
It's inefficient. Plus, your clients may have to take time off from work to see all of these places. With the high costs of a wedding, now isn't the best time for the bride and groom to miss work.
But look at how simple this feature is from the example that I used above. 3D tours give your clients the ability to browse through dozens of venus in just minutes.
They can search for a venue based on their needs, such as the location, price, and availability for their preferred dates.
Include lots of images and videos of each venue so they can make a decision and narrow down their choices without having to schedule an appointment in person.
Include a calendar feature
It's so tough to keep track of everything associated with planning a wedding. You and your clients will both have a ton of appointments to manage. There are also so many people to keep track of. It's easy for things to get lost in the shuffle.
With your mobile app, there's no need for your clients to have a separate appointment book and write things down by hand.
Any time there's something to do, it can simply be added to the calendar feature within the app's platform. You can even sync this calendar with the default one that comes pre-installed on their devices.
Take a look at the most used mobile apps from Android users in the United States.
Tools, communication, and productivity apps are the top three categories. This shows that people rely on their calendars, so apps that incorporate productivity tools will definitely benefit the user.
It's a great way for your clients to stay organized during a hectic time. But you can benefit from this feature as well.
Part of running a successful mobile app means that you want to keep your customers engaged and using the app as much as possible.
You can send users push notifications to remind them of upcoming dates and important appointments. Ultimately, your app can behave like a timeline to their wedding.
You'll have more free time to work with other clients as well since your app can do the work for you. You won't have to spend time taking and making phone calls all day since the automation of your app can take care of this.
Add a registry option
Your clients are going to be getting gifts from their guests on the day of their wedding. You can set up a registry feature on your app they can list everything that they need.
As you know, newlywed couples need some help getting on their feet in their new homes. They'll need everything from silverware to appliances, toiletries, and window treatments.
By setting up a registry feature on your app, you're killing a few birds with just one stone.
First of all, you're giving your clients a central location to manage all of their wants and needs. But this also will increase the chances of you getting more people to download your app.
Marketing is the most difficult challenge for new mobile apps.
You built a great app, but how are you going to get people to download it? Unless someone is getting married, they don't have a reason to be searching for your app.
But adding a registry feature acts as free app promotion for your company. Now the bride and groom can promote your app to their guests.
When they send out information to their guests, such as a save the dates and invitations, they'll include where their registry can be found. Now people who aren't planning a wedding or getting married have a reason to download your app.
You could even set up an arrangement with the businesses who are selling the items on the registry. They could offer you a commission for purchases made through your app.
So this could act as another revenue stream for your wedding planning company as well.
Connect your clients with vendors
In addition to connecting your clients with stores from their registry, your app can serve as a third-party connection with other vendors. The app will act as a one-stop shop for your clients.
Think about all of the different vendors that you currently work with. Part of planning a wedding means that your clients will need to find a DJ, a band, and photographers.
They'll need to arrange for flowers and catering as well.
This is going to save you a ton of time and also make your clients' lives easier.
How are you currently handling this process? Let me paint a picture to refresh your memory. The bride and groom want to hire a photographer, so you call them with some different options.
They get back to you with their top two. So you call those photographers and ask if they are available for the required dates. But one doesn't answer the phone, so you have to leave a message.
Then your clients call you back wondering what's taking so long to get an answer. Now you're planning phone tag with a photographer and your frustrated clients.
Oh yes, and this process continues for each vendor on the list. It's a headache and an inefficient use of your time.
That's why apps like The Wedding Planner have a vendor management feature built into their platform.
So this is definitely something that you should consider adding to your wedding planning app.
It will improve your efficiency and satisfy your customers at the same time.
Manage guest lists
Here's another headache associated with planning a wedding. Managing the guest list. Now this is more of a problem for the bride and groom than it is for you, but their headaches can become your headaches very quickly.
This is especially true if you're trying to secure an appropriately sized venue and get a proper quote from the catering company. Plus, you want your app to solve all of your clients' problems.
Who is getting invited? Which guests are getting a +1 on their invitation?
These are tough decisions to make. The bride and groom don't want to forget anyone important, but they also don't want to invite everyone they've ever met to their wedding either. If too many people get invited, the budget could get out of hand.
So each night after dinner, the happy couple sits down and writes down potential guests. It's exhausting. They add someone, then cross them out, then add them again.
They're also trying to account for guests who are going to decline the invitation as well.
Having an app makes it easy for your clients to access and manage their guest list at any time throughout the day.
If someone pops into their head while they're standing in line at a coffee shop, they won't have to scramble for a piece of paper and worry about forgetting to add it to their master list. They can simply open the app and add someone to the list from there.
Here's an example of what this feature looks like from the LadyMarry Wedding Planner app.
They've included an option for users to manage the guest list by groups, such as family members, the bridal party, and friends.
Once you add someone to the list, you can also include their mailing address, email address, and their RSVP status. Use this function to manage the seating arrangements as well.
After the wedding is over, your clients can refer back to this list to help them keep track of thank you notes for gifts and attendance.
Real-time budget planning
As you already know, weddings aren't cheap.
You'll have different clients with a wide range of budgets. But your mobile app can help them keep track of all of their expenses in real-time with a budgeting feature.
You can even exclude certain vendors and venues from the search queries based on the budget of your clients. There's no reason to show them a list of places that they can't afford.
Set up your app to keep track of each expense associated with the wedding each time it occurs. So for example, when they add a DJ or book a venue, they'll be able to see how much it will impact their budget.
Now they'll know how much room they have left to work with for food, flowers, and a photographer.
The search options can be adjusted accordingly based on how much money is left in their budget.
The average cost of a wedding in the United States is $32,641.
This number is continuing to grow with each year. Obviously, you'll come across clients who are willing to spend significantly more money than this. But you'll also have ones that don't want to come anywhere near this number.
So including a budget feature in your app will help personalize the experience of each one of your clients.
Weddings are already going digital
People are already using the Internet to plan and organize their weddings.
Websites like The Knot act as a digital wedding planner.
These sites provide people with information about the bride and groom. They can share the story of how they met, provide details about the bridal party, and act as a digital invitation.
With tools like this already in place, it makes sense for you to have a mobile app that does all of this as well.
If you can't adapt to the digital trends, your wedding planning business could become obsolete for modern clients.
Mobile is the solution
As I just finished saying, you need a mobile app to stay relevant. Otherwise, your company's existence may be in jeopardy.
In addition to websites specifically designed for planning weddings, people are using other mobile apps as part of their wedding process.
They use social media platforms like Pinterest for inspiration about dresses, flowers, and other decorations.
The bride and groom use Instagram to create wedding hashtags to keep track of all the photos during the bachelorette party, bachelor party, and day of the wedding.
There are even websites designed to create personalized hashtags for a wedding, to make sure that it's unique and hasn't already been used by another couple.
E-commerce vendors have mobile apps as well.
With your clients using apps for all of these different things, you need to make sure that yours is connected to social media as well to make their mobile experience even better.
Conclusion
Your wedding planning business needs a mobile app.
It's a convenient way for you to help your clients select a venue for their wedding. The app can also serve as a medium to connect the bride and groom with various vendors.
Include a calendar that keeps everything organized and send push notifications to remind your clients about their appointments.
Your app should also have a registry feature. This is a great way to get more people to download your app and increase your in-app revenue stream.
A great wedding planning app needs to have tools for managing a guest list and keeping track of a budget in real time.
Ultimately, a mobile app will make your process more efficient and keep your business relevant in the future.
How will you use a mobile app to improve your wedding planning business?