13 Easy And Effective Customer Engagement Strategies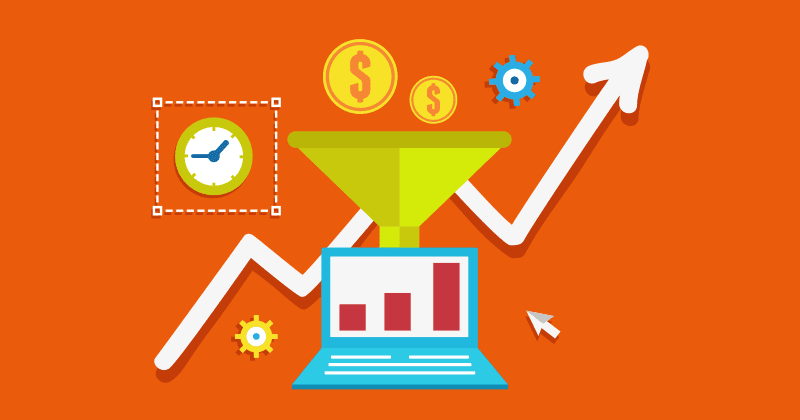 Love your customers.
I guess you already know that. But the question is, "do you really love them?"
Or you're just concerned about milking them dry.
Think about it. If you truly love them like you claimed, then, why are you in so much a hurry to get their money?
Don't you think it's more honorable and easier to engage customers first, and fan their hunger and thirst for your product?
Customers are the lifeblood of your business. Whether you sell ebooks, software, consulting, coaching, or a physical product (e.g., clothing), without loyal customers, you'll fail.
If you're looking for actionable "no regrets" strategies to engage your customers, this in-depth article is for you.
I'm not really here to lecture you. You already know that without engaged customers, it would be difficult – perhaps, impossible to win them.
Most brands tend to pay more attention to lead generation and customer acquisition.
They forget that until these ideal customers are motivated, and upgraded in their state of mind, they'll likely switch to competitors – it's only a matter of time.
The way you treat your customers matters. Are you giving them a good experience?
According to Verint, 61% of consumers would tell friends and family about their experiences, while 27% reported that they would sign up to the company's loyalty scheme.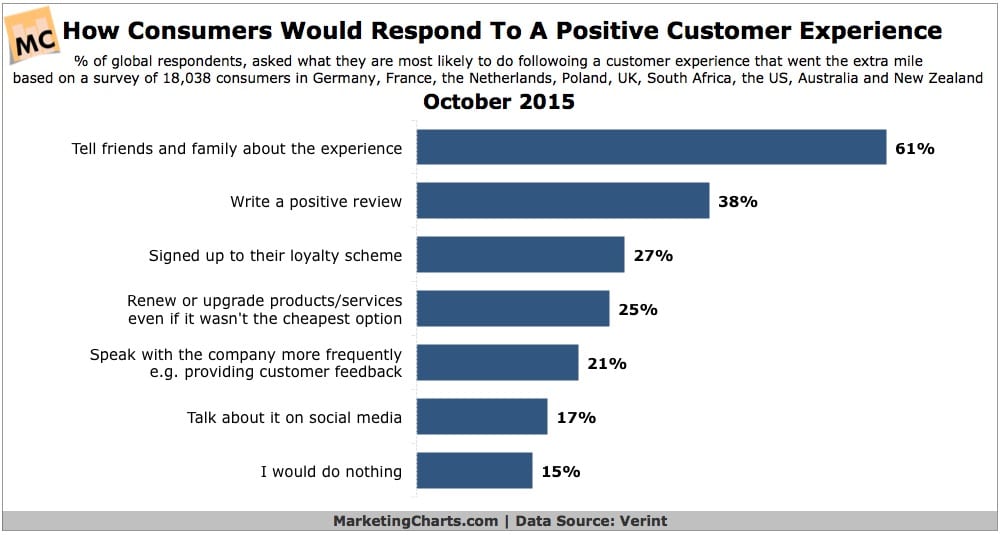 People have a diminishing attention span. Since these people (customers) come from different sources, it's important to track engagement on both desktop and mobile devices.
According to a recent report from IMRG Calpgemini, "a total of 52% of web traffic to retail sites currently comes via smartphones and tablets."
More so, over a third (36%) of online sales are now completed on a smartphone or tablet device.
More customer interactions across channels and devices will give them a "welcome note" to remain loyal.
Let's explore the 13 customer engagement strategies together:
1. Use social media as an engagement tool and not simply a platform
You're closer to reaching your personal peak, if only you can change your mindset about social media.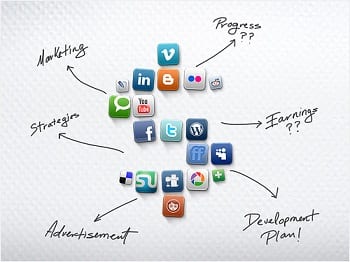 Listen up: social media networks, such as Facebook and LinkedIn are not merely platforms for connecting with people.
Yes, these social platforms are primarily for that, but you should use them as tools, if you want better results.
The rapidly evolving behavior of consumers in this age should impact your perception about social media marketing.
Social media is huge. As of July, 2015, the total worldwide population is 7.3 billion. And out of these, about 2.3 billion people are active social media users.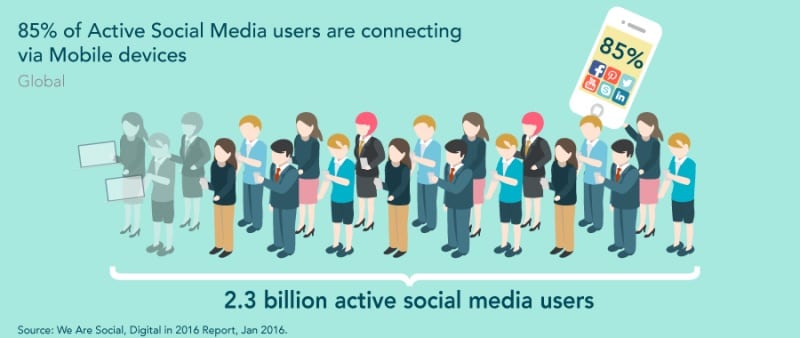 What do you think that these billions of people want?
Do you think that connecting with them is all they want? If that were all, then, it doesn't make sense – because you can connect with people outside of Facebook.
When people follow you on Twitter, or like your page on Facebook, they took that action because they trust that you'll help them.
Make no mistakes about it, these people have problems that need urgent solutions. Through customer engagement, you can retain and make customers happier.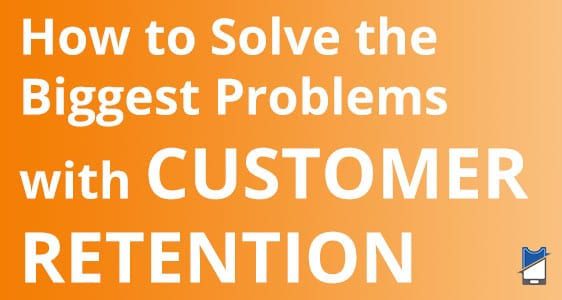 Begin to see social media as a tool, not just a platform. This means that you can use the tool to connect, share, identify questions, research influencers and other experts, and create content that your fans will scream, "Wow, 've been looking for this!"
Most brands merely regard Facebook, Twitter, and other social media networks as platforms.
But Lenovo, a global leader in computer technology sees social media differently. As a brand, the company uses digital social tools to deliver immense value to its customers.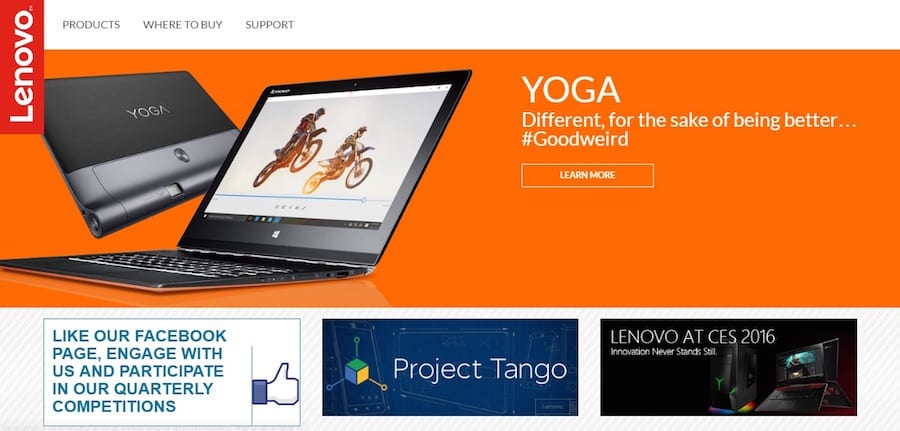 The company uses social media to obtain user data and after analyzing it, gets ahead of its competitors – in terms of consumer trends.
For example, after listening to customer feedback, ranging from color preferences for laptops, to screen sizes, Lenovo has mastered product development.
Like Lenovo, if you begin to view social media as a new and viable means to engage with prospects and customers, you can shift your brand's social media strategy – and begin to cater for your customers.
2. Engage customers with In-Product messaging
When it comes to product messaging (i.e., notifying your customers about your new product), there are several key channels that you can use.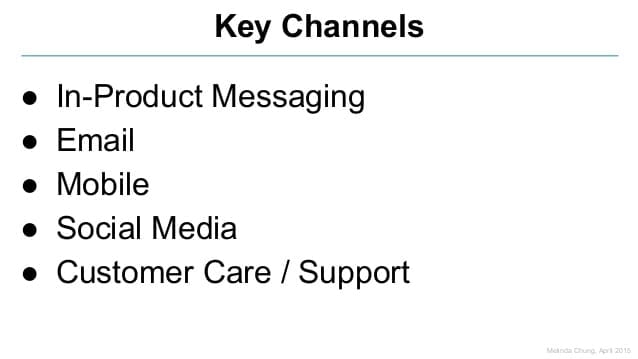 Out of these four channels, in-product messaging happens to generate the best conversion.
Overall, follow up emails have poor conversion rate.
But you can improve your conversions, by sending in-product messages. Because, that's what your intimate customers are desperately looking for.
According to Wikipedia, in-product messaging means:
"Content, and related media delivered directly to a user's internet-connected device or software application, with the purpose of informing, gathering feedback from, engaging with, or marketing to that specific user or segment of users at often-higher engagement rates than other digital marketing and online marketing channels."
The part of this definition that you should consider critically is:
"Marketing to that specific user or segment of users."
From the definition, you can see that when you send targeted message to a segment of your users, you'll get higher engagement rates.
You should segment your email list. Because if you don't, you'll blindly send the same message to everyone.
Sadly, not everyone of your subscribers or ideal customers want your latest product or ebook.
Sending out of context emails will likely increase your customer's email fatigue.
The ideal approach is to message a specific segment of your customer base with the exact product/offer which they've indicated interest.
In-product messaging is a viable strategy to adopt, because there is a market fit, which is the direction correlation between product and market.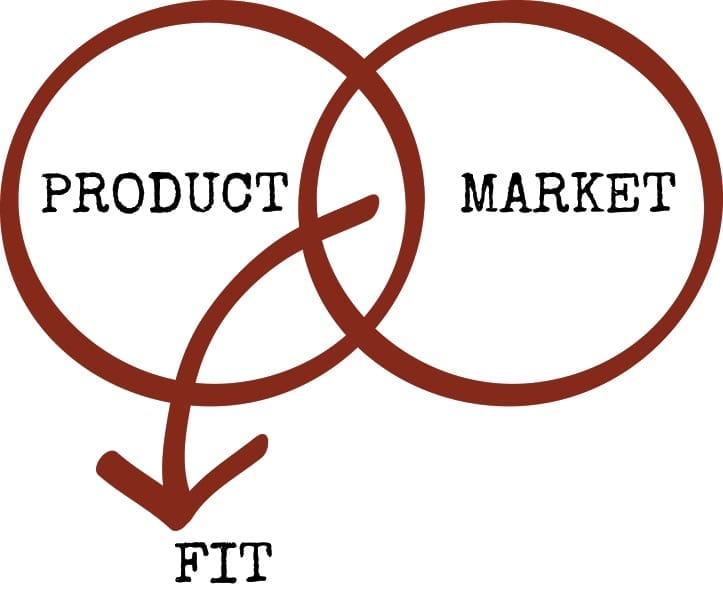 Not all CRM software are equipped with in-product messaging feature. If you find any marketing automation software that supports it, you should grab it with both arms.
A lot of startup and software companies agree that you can leverage in-product messaging to move new customers through a seamless onboarding process and use email to engage customers who are still stuck on a step.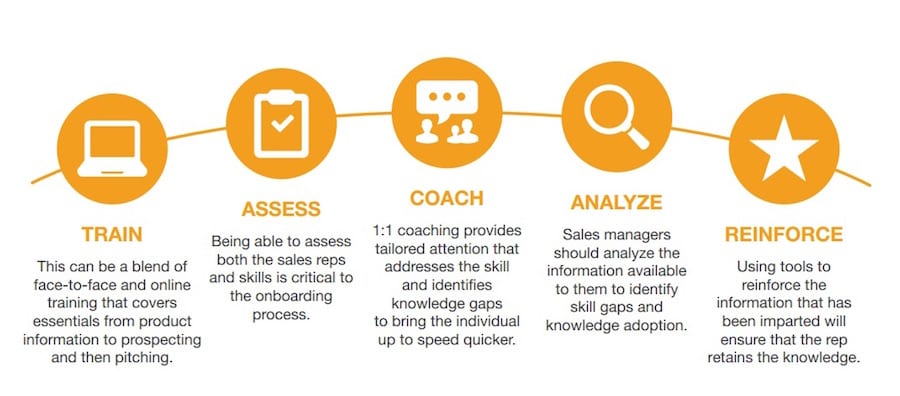 3. Nurture free trial prospects and get them to upgrade
Free trial prospects have gone beyond "onlookers."
They're actually customers – even if you haven't charged them yet. By definition, a customer is someone who had made a transaction that would benefit the business.
To use your product, customers have to spend focus, time, and money.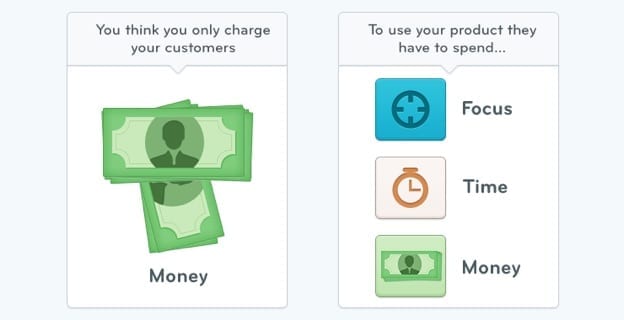 How often do you sign up to try a new software or solution but never actually upgrade or renew account?
It's very easy for free trial users/prospects to get overwhelmed when they first signed up to a new service. The ultimate question in their minds would be similar to this: "Should I upgrade my account?"
A study published in the Journal of Marketing Research found that free trial customers act differently than paying customers.
According to the author, "starting a relationship through a free trial influences usage and retention behaviour, how these free trial customers respond to your marketing messages, and ultimately how long the consumer will remain with the service."
Sadly, companies are struggling to convert their SaaS free trial users into paying customers.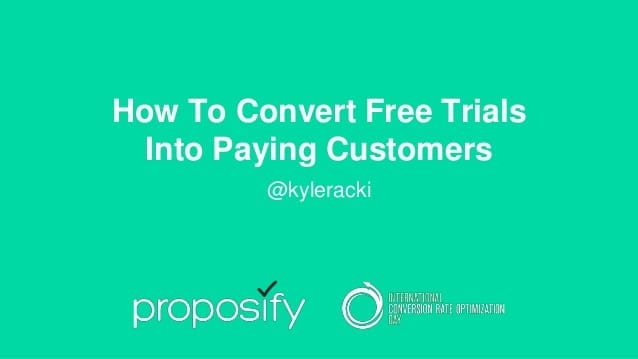 Data compiled by Sixteen Ventures shows that users active in the first 3 days of free trial – regardless of trial length – convert higher than inactive users.
To nudge free trial users to upgrade their account and use premium features, you need to nurture them.
One of the proven ways to do that is through personalized communication. "Getting to know your customers is easier if you give them the chance to get to know you," says Belle Beth Cooper.
As simple as this might seem, it can help free trial users know you by name, and they'll feel more secured about your brand.
To get the full tactics for turning free trial prospects into engaged customers, see the resource guide below:
4. Communicate with VIP customers with promotions specifically for them
Simply put, VIP customers are those who have been with you for a long time, purchased your product, referred friends, family members, and fans to your business.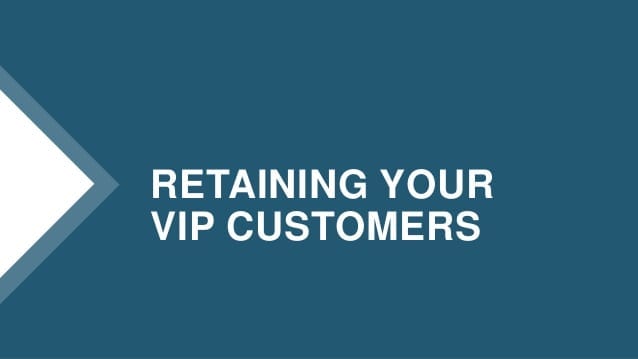 VIP customers are not one-time buyers. But the good news is that through customer engagement, you can turn casual buyers (or one-off buyers) into loyal and trustworthy customers.
Here's an excerpt from an article on Early To Rise:
"Think of what a VIP customer is, and what it takes to keep him. Think of his long-term value once you have figured out how to motivate him to spend five to 10 times what others will pay for essentially the same product or service. Think about the very small cost of reselling him as compared to the cost of acquiring a new customer."
Truly, having a lot of VIP customers could mean that your business will thrive even in the midst of economic turmoil.
There are 3 types of retail VIP customers:
i).   Liberal VIP Customers: These are customers who are loyal to your brand. They usually purchase the most over a period of time. Doug Fleener says he measures spending over an 18 – 24 month period.
ii).   Community VIP Customers: These are important group of customers, too. According to Fleener, they aren't actually big spenders, but you can't do without them. Because, they refer qualified customers.
Social media influencers and pro bloggers fall into this category. When they tweet your post or new product, you can expect tens if not hundreds of new subscribers and buyers.
iii).   Advocates/liberal VIP customers: This are customers who make impact in your brand. They're brand advocates as well as big spenders. They're not only happy after purchasing your product, but they can tell others, too.
As a rule of thumb, dazzle every customer. But elevate the DAZZLE or experience, and provide a more personal touch for your VIPs.
On the other hand, if you neglect or take for granted these very important customers, you'll lose them. Top notch customer service is what brings about VIP customers, not just great products.
According to data from LinkedIn, "68% of customers will leave your company if they believe you don't care about them."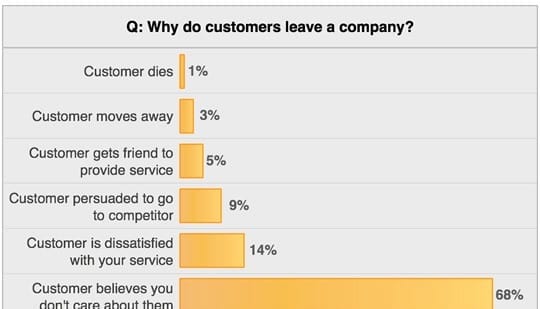 The keyword is "believe."
So, it doesn't matter what you think, or how great you claim your customer service to be, once customers begin to feel ignored, they'll switch over to, maybe your strongest competitors.
Rachel Miller says you should treat all customers as royalty, if you want your brand to be known as a top notch service provider.
Remember to invite your VIP customers to live events and one-on-one coaching programs. You need to be closer to them.
If a customer can spend up to $2,000 with your business, you should allot more time to them.
Apple treated Dang Sung as one of their VIP customers, after he spent £12,000 for an Apple Watch Edition with 18-Carat Yellow Gold Case with Black Classic Buckle.
It all boils down to delivering enormous value in your product.
5. Obsess over your customers by delivering enormous value
No matter your niche or market, when you put customers first and think about their welfare, you'll nurture an army of brand advocates.
Avis has one of the highest level of consumer engagement for the Car Rental market. They always go the extra mile to answer customer questions and address complaints.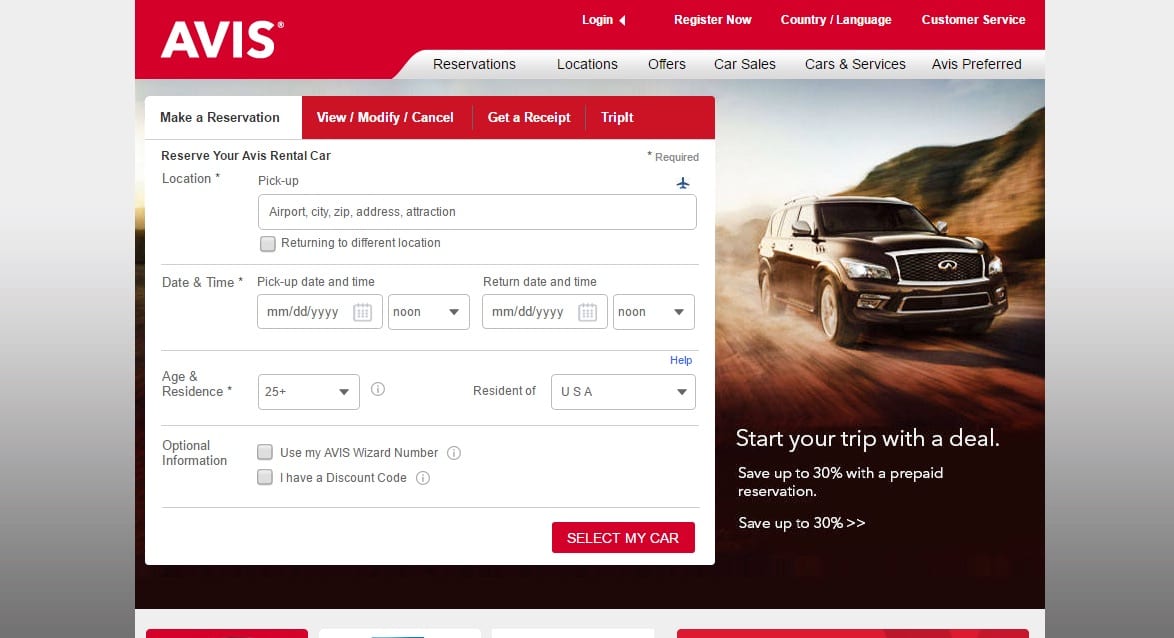 Do you know that customers are distracted?
In case you've forgotten, there are more businesses, products, and information online today than there was in 2010.
Information overload has become a major roadblock to engaging customers. Majority of the customers who lack focus could find themselves switching brands.
A study by Accenture found that, "46% of U.S. consumers said they're more likely to switch providers than they were 10 years ago."
More so, recent data shows that 72% of U.S. shoppers want to feel more in control than ever before when shopping.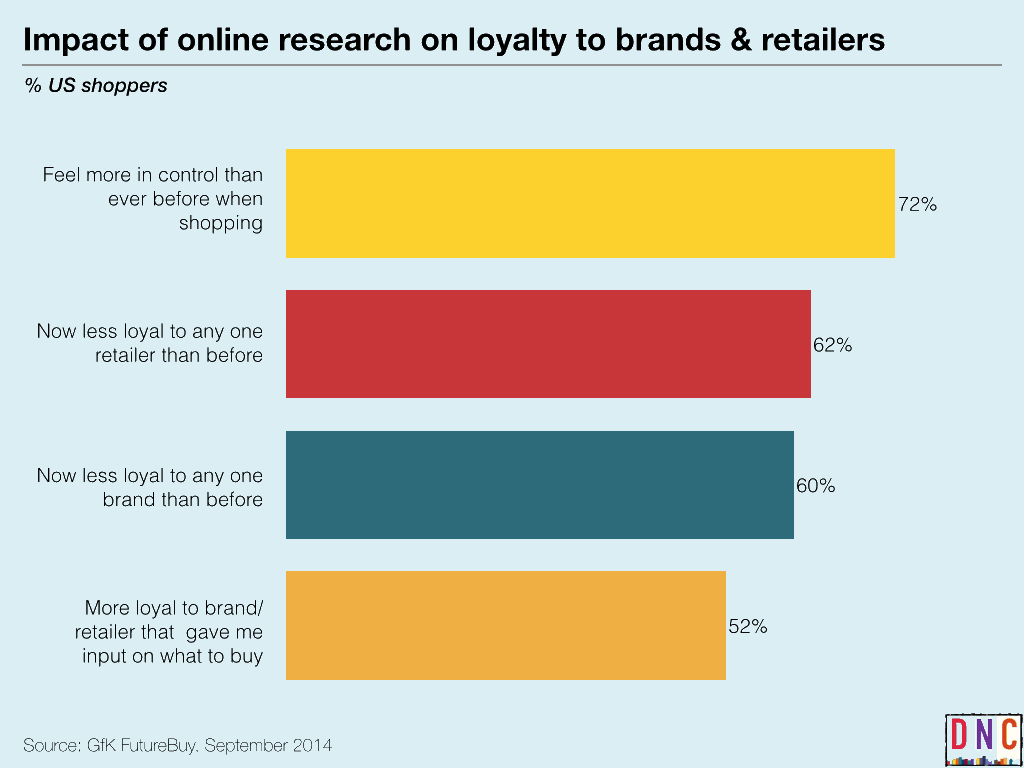 Obsess over customers, and not competitors," says Evancar Michael
Amazon always top the chart for overall customer satisfaction among America's largest companies.
Amazon seeks to be Earth's most customer-centric company …"
And the company, which is being navigated by Jeff Bezos is committed to customer service.
"Obsess over customers, says Jeff – who's famously a customer service leader.
Above all things, he's passionate about the welfare of customers. He pays attention to customer questions, listens with rapt focus and delivers outstanding results.
This explains why Amazon is the no #1 online shopping site in the U.S., if not the world over.
6. Create custom content that addresses a bugging customer questions
Are you engaging your customers with custom content.
Overall, content marketing is used to drive leads and acquire new customers, whereas, custom content is primarily used to engage and nurture existing customers.
There you go. That's the difference between content marketing and custom content marketing.
It's important to create useful content for your customers. This engagement strategy didn't just begin today – it's been used by large companies in the U.S., Uk, China, and more – although, in various forms – several years ago.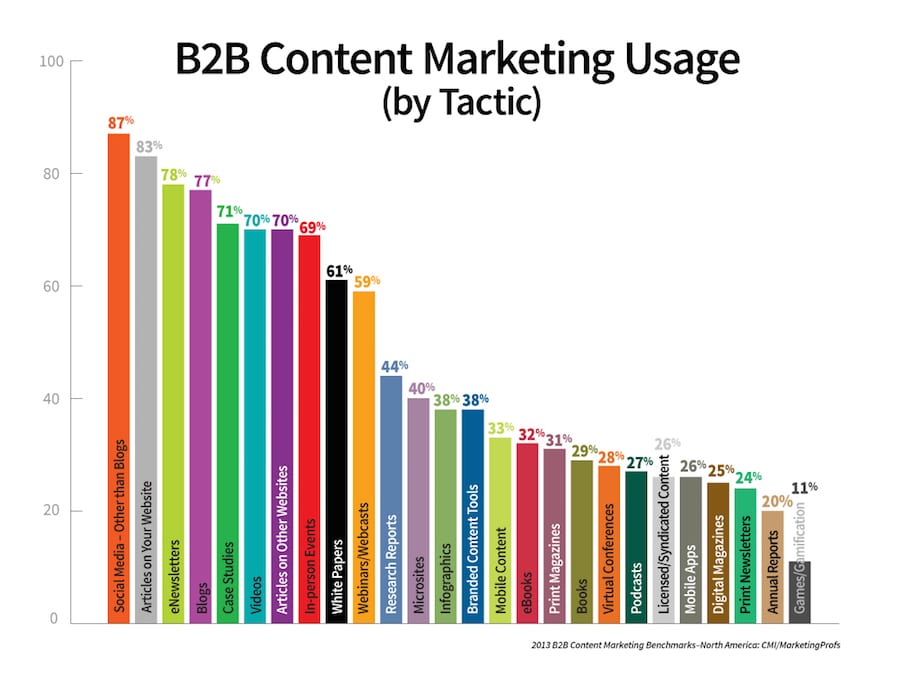 Even in the digital marketing world, top brands such as HubSpot, KISSmetrics, Moz, Search Engine Journal, QuickSprout, and the like, have mastered the art of using content to inspire customers.
Custom content is the way to go. According to Demand Centric, "78% of CMOs think custom content is the future of marketing. And 61% of buying decisions are influenced by custom content."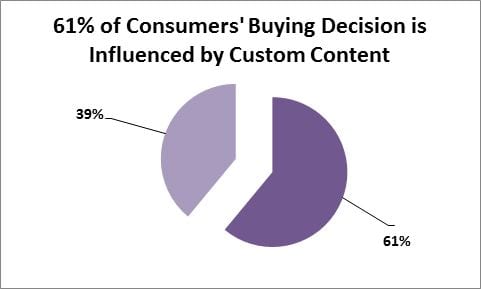 How did Shopify acquire and nurture over 165,000 loyal customers who are billed on a monthly/yearly basis.
Yes, Shopify provides one of the best shopping cart software, but it's more than that.
The company have also embraced content marketing – specifically, they create more custom content that shouts out to their existing customers.
Here's one of such posts: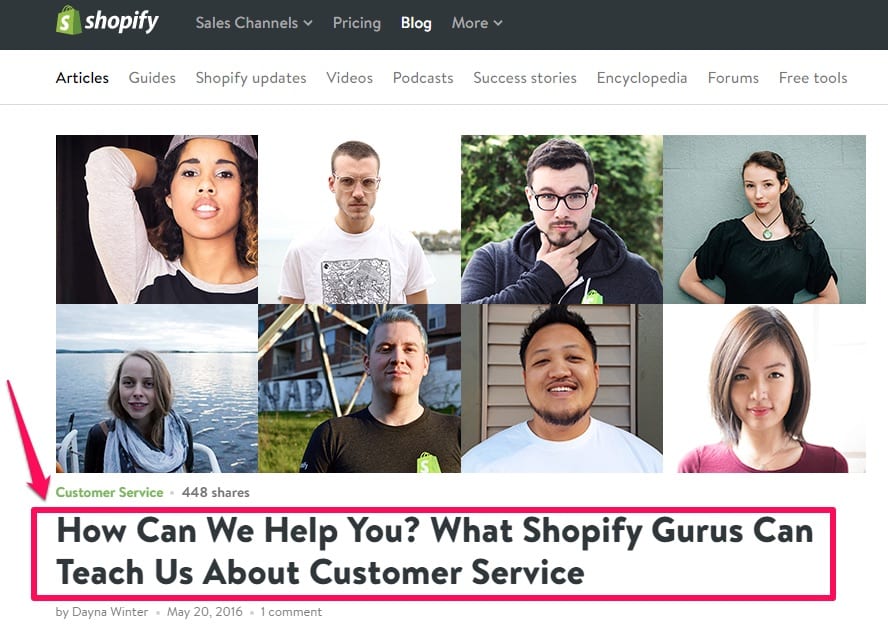 Here's what you should know:
Your existing customers have questions bugging their minds right now. What are you doing to proffer answers to them?
Time is precious. If you've a large customer base like Shopify, Moz, Volusion, and so forth, you can't afford to answer every customer.
The easiest way to address that question is to create a custom content. I told you earlier that custom content is a type of content written to customers who are familiar with your product.
You could create custom to inform your customers about new features of your software, or how to install and setup a feature. KISSmetrics does that too well.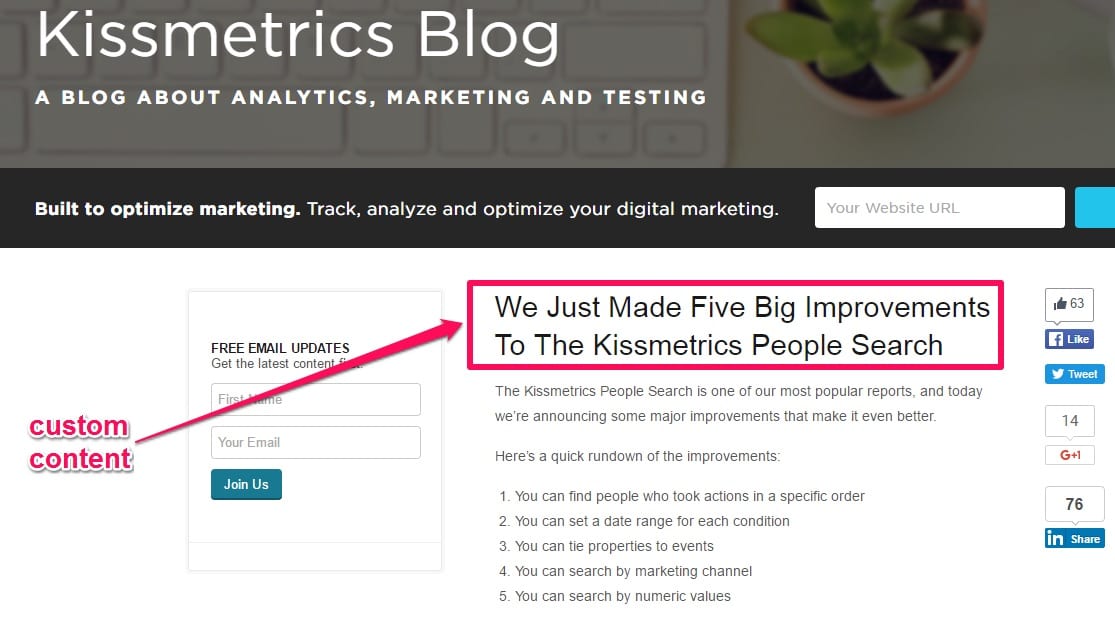 It doesn't even have to be a new product or feature. It could be a new content that highlights an upcoming event, benefits, and how your customers can buy tickets.
Moz recently announced the MozCon 2016 and how their customers can qualify and win a free trip to the event.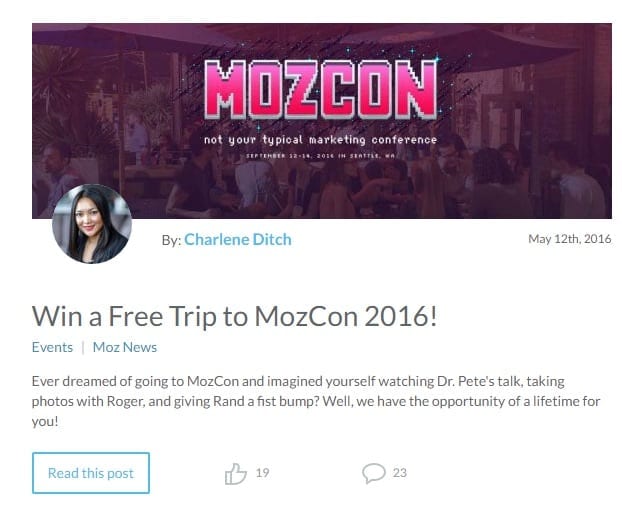 All of these are examples of custom content. Because, the sole objective is to engage existing customers and give them a reason to stick to the brand.
7. Hold a customer-engagement summit
There are so many ways to learn today: books, blogs, articles, magazines, newspapers, journals, videos, podcasts, and multimedia.
However, attending a summit or conference will broaden your horizon, and upgrade your learning curve in a dramatic way. The benefits are enormous.
Adobe conducted a study on the impact of summit in attendees' lives.
The company found that 98% of attendees met or exceeded their expectation. And 80% of them discovered new skills to impact their organization and their career.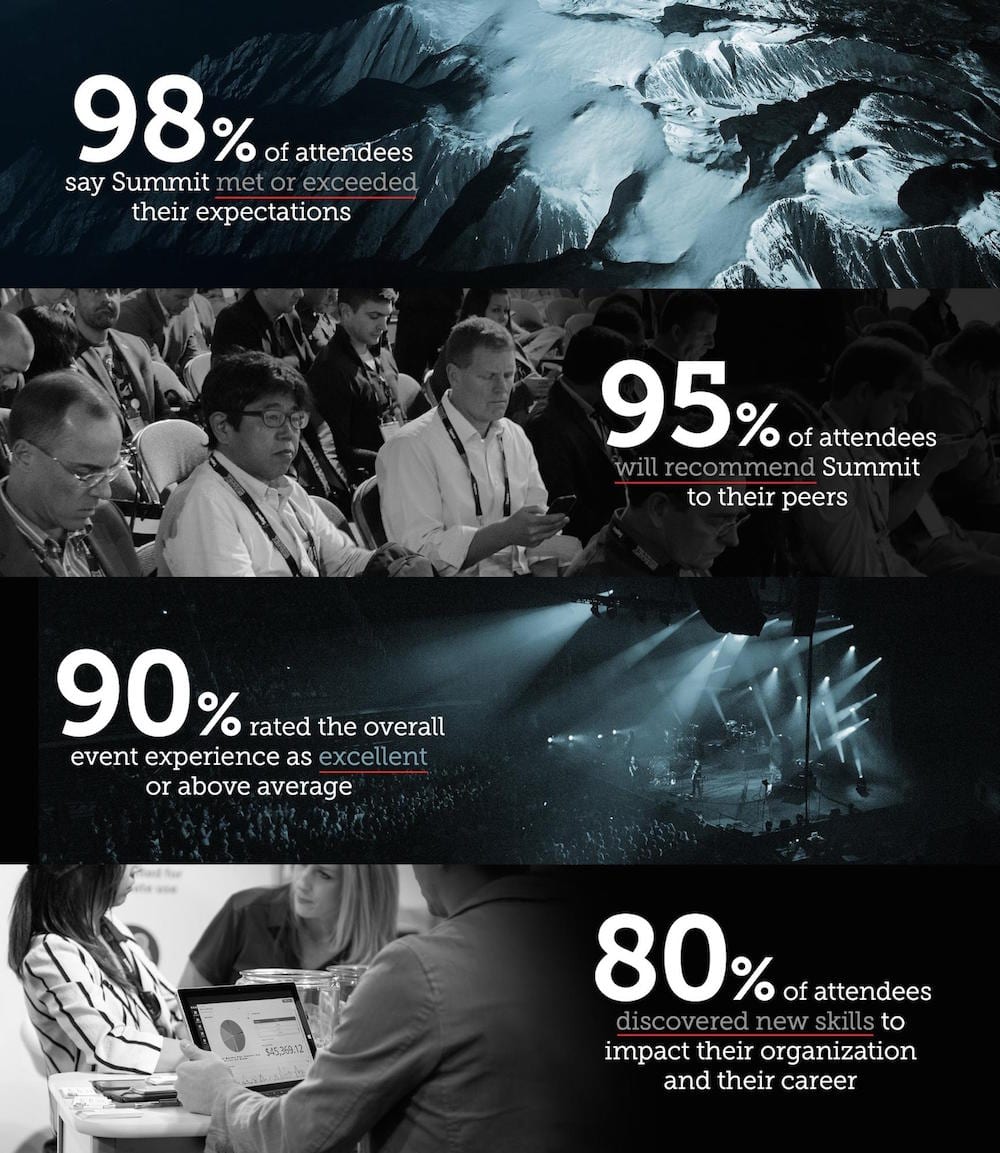 If you've the resources, I encourage you to host a customer-engagement summit. You could collaborate with other businesses to make this a success.
It's really not about the ambience, but the value you plan to bring to the table. What matters is the impact you'll make in customers' lives as they come.
According to the Academic Association of Contemporary European Studies, when you attend academic conferences, you'll learn from others and dramatically improve your own skills and knowledge about your field.
As you engage with other people's work, dare to ask questions.
In like manner, hosting a customer-engagement summit gives you the rare opportunity to meet face-to-face with your customers (especially the VIP customers).
These customers can ask questions, and instead of answering via email, support system, or phone, you can infuse personality and humor while providing answers.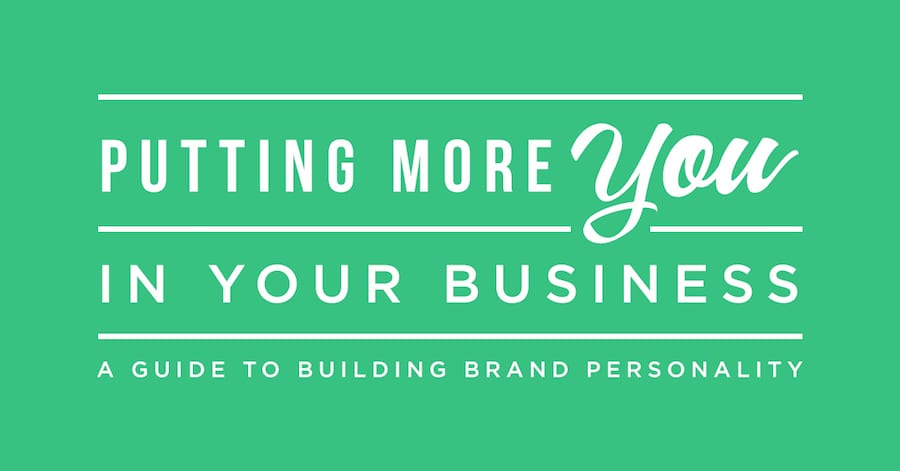 That would make a lot more sense. And your brand will stand out in the crowd.
If you look around carefully, you'll agree with me that successful digital companies that have loyal and engaged customers all have annual or semi-annual summits/conference.
For example, CEO of Digital Marketer, alongside his inspiring team organizes the Traffic & Conversion Summit yearly.
The summit is regarded as one of the largest conversion summit in North America. As I write this article, the company is about to launch a second flagship summit, which they call, "Content & Commerce Summit.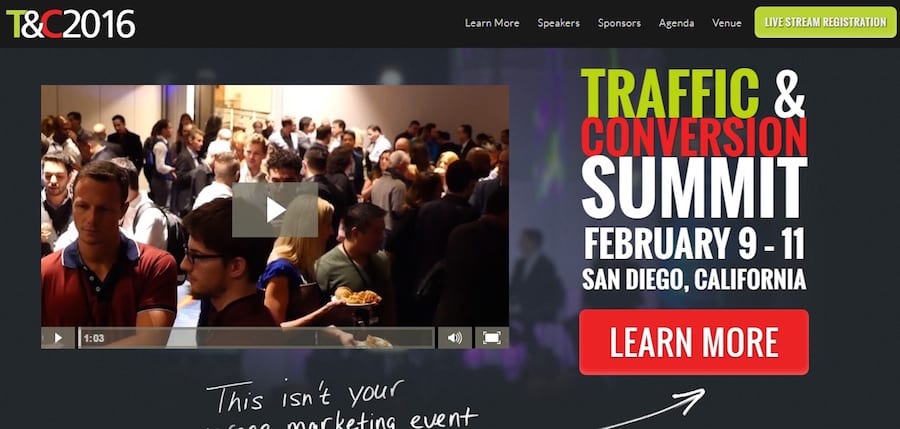 Remember that the focus of a customer-engagement summit isn't necessarily to provide great customer support. Rather, it's to cement the relationship that you already have with your customers.
Customer engagement goes beyond managing the initial touch points. It also cuts across understanding what your customers want and how they want it.
Yes, if your customers want you to create a digital product, have you determined the type of product that you'll create?
Is it going to be an ebook, software, membership site, online course, email course, or a one-on-one coaching?
You should got to find out.
And it's through engagement that you become certain. Customer engagement is your responsibility – and you've got to do it now. By the way, it's not a destination, though, but a journey that never ends.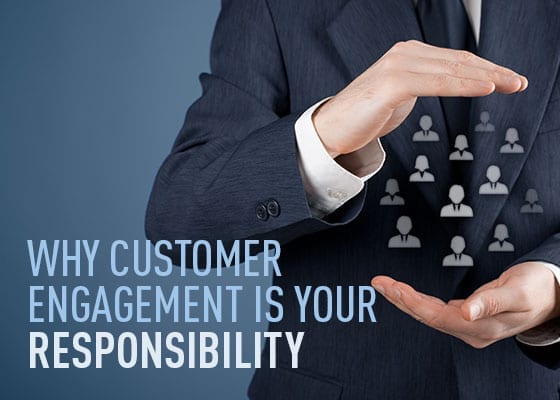 8. Produce interactive content to feed customer demand
What type of content are you producing?
A study by Demand Metric found that interactive content is an effective approach for educating customers.
And when customers are educated and excited, they become engaged and willing to take actions.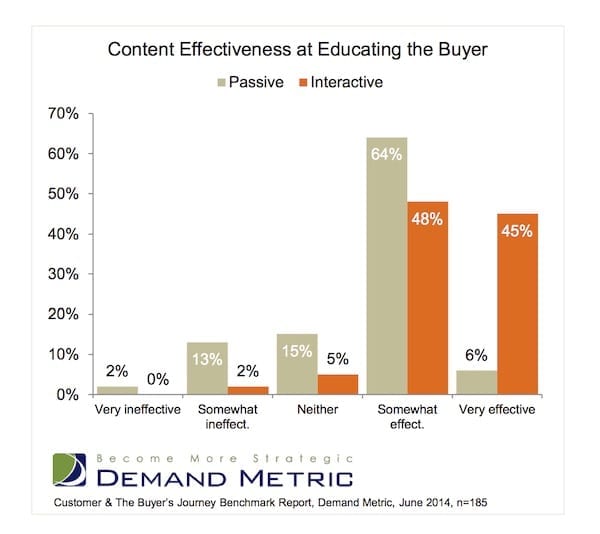 Content marketing is the way to do. I'm sure you don't want me to preach about it. Do you?
In the past, traditional marketing strategies worked well. A lot of brands still use them today – although, with mixed feelings.
When you come over to online, content is king.
Your ability to produce the right content is your one-way ticket to generating more leads, more inbound links, and more sales.
But it's easier said than done. According to Content Marketing Institute, 52% of B2B content marketers are struggling to produce the kind of content that engages. 39% do not have a budget in place to hire professional content creators.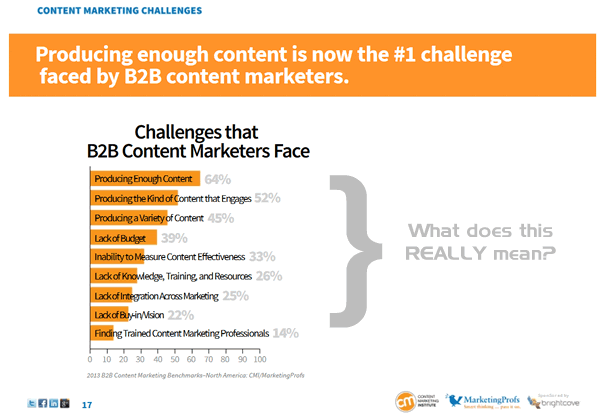 No two articles are created equal. Or should be.
Do you realize that two writers can write an in-depth article on the same topic, one of the articles could go viral – generating thousands of social shares, comments, links, and clients, while the other may not even reach a few hundred readers.
What could be the cause?
Well, there are several factors that could lead to that.
One thing you should know is that the rules have changed. Content is no longer about the quantity, but the quality.
As an example, Brian Dean writes and publishes one article per month, yet, he drives over 100,000 qualified visitors to his blog. And hundreds of social shares on every new post.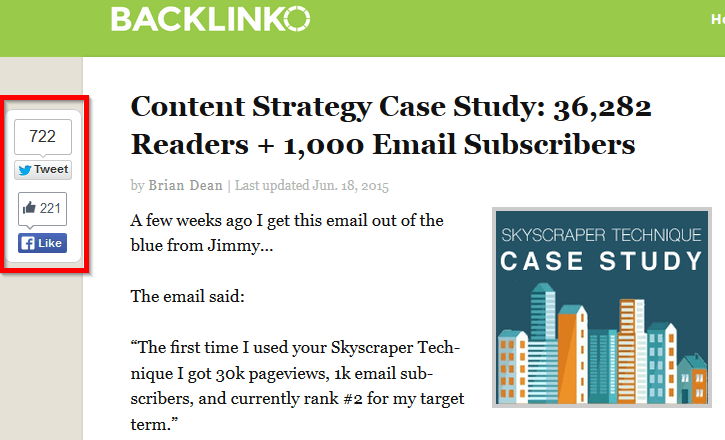 Although, Brian updates his blog once every month, but he doesn't sacrifice the quality of his post. In fact, he always up his game.
On the flip side, if you want to create an engagement stream that never runs dry, you need a different type of content.
From the term "interactive content," It's simply the type of content that talks back at the reader.
In other words, there is an interaction that goes on when readers go through it. Here are some examples of interactive content: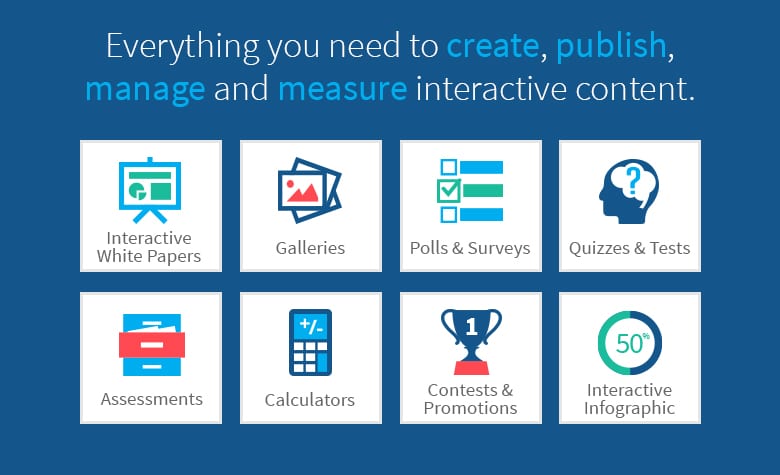 A typical blog post is not really an interactive content, but it can become if you spice it up.
Generally, humans live to interact. Consequently, if your content follows that pattern, your customers will not only be engaged, but they'll feel at home with your brand – and become motivated brand advocates.
The real measure of any form of content is action. If you write content and the right people aren't able to take action, it means that you didn't achieve any goal. You've wasted time.
To truly understand interactive content, here's an excerpt from a post on Copyblogger:
"By its very nature, interactive content engages participants in an activity: answering questions, making choices, exploring scenarios. It's a great way to capture attention right from the start. Individuals have to think and respond; they can't just snooze through it."
Interactive content is what engages the user and provides enormous value. A typical example of an interactive content is "Your Life on Earth."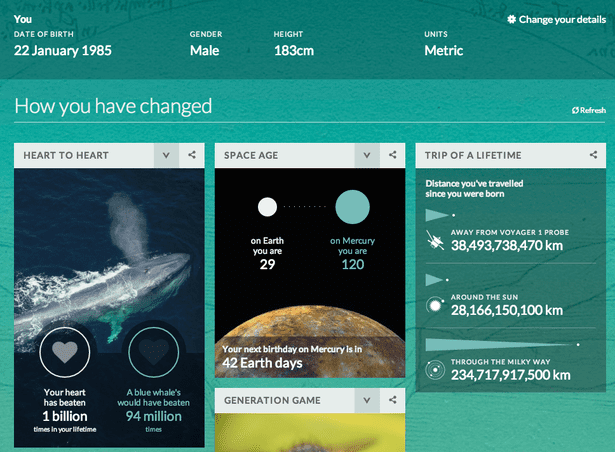 It involves scrolling text with images and video and you get to participate in the HTML5 quiz (interactive element).
Your Life on Earth isn't solely an integral part of iWonder guides, but it's in the same development cycle at the BBc of "doing, not just viewing' content. You should try and play it.
9. Create a "listening center" to drive conversation
Without communication, your customers will be lost.
Confusion sets in only when you neglect to set up systems that will aid effective communication.
A listening center isn't just an avenue where you listen to your customers, it's equally an opportunity to pay attention to details – as you sort all questions and make a promise to answer them – if you don't have all the answers at one sitting.
Cisco and some of the top brands are redefining customer engagement and service. Although, these companies have come a long way, you too can create a listening center that will drive conversation.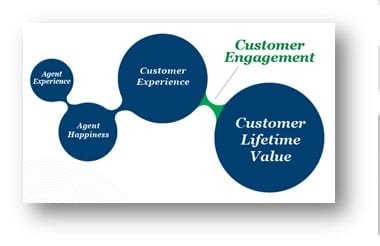 There are several benefits to developing a "listening center." For one, cisco sees and hears social media at new listening center.
In case you don't know, here's the truth: your customers are in a haste. It's your responsibility to shorten response time – especially when they ask questions that's been bugging their minds.
Knowing which questions to answer first, and how to send it across to your customers will go along way to excite them. That's what customer engagement entails.
With a listening center, you've got a system that you can leverage on to further strengthen relationship with your existing and new customers.
10. Scale your customer engagement budget
Business is not as it used to be.
There are new strategies, tools, vehicles, and content types at every corner. Most companies are confused, because they can't figure out how they can afford all of these with their limited budget.
Trust me, content creation and distribution is where the budget is mainly at. Recent data from Dcustom shows that marketers are now spending $44 billion on content marketing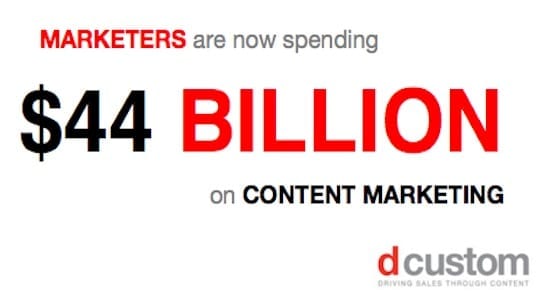 Content marketing is expensive.
If you consider the time, research required, money, and sometimes the network that you need to build to make it work, you can't really equate it with anything.
However, it's important to scale your customer engagement budget. If a large portion of your budget goes into content creation and distribution, your engagement will suffer.
Ideally, you can optimize your inbound marketing budget like this: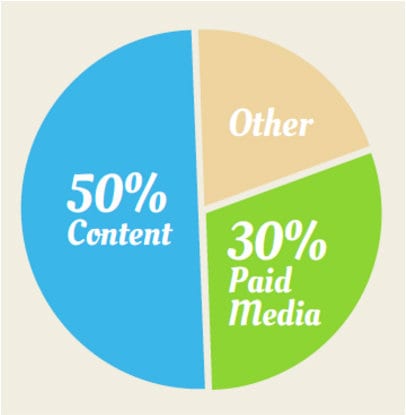 A wise marketer will always put the customers first. After your content has attracted new customers to your business, you need to motivate and fan their zeal.
If you don't do it, your customers will likely switch – irrespective of the value that your content delivers.
When companies recognize that there's plenty of money allocated to one aspect of customer relationship marketing, they will map out a strategic means of communication.
A means that will enable them communicate with customers more productively.
If you're in a tough niche, then creating more content may not help you trounce the competition – but creating the right content and scaling your network.
This means that you connect with more businesses, marketers, influencers, and content curators – who can help amplify your content to reach more people.
If you look at the comparison chart below, you'll notice that when marketing budget is high, especially towards developing and documenting a content strategy, as well as hiring a competent chief content marketer to manage every aspect of content marketing, the resultant effect is "very effective."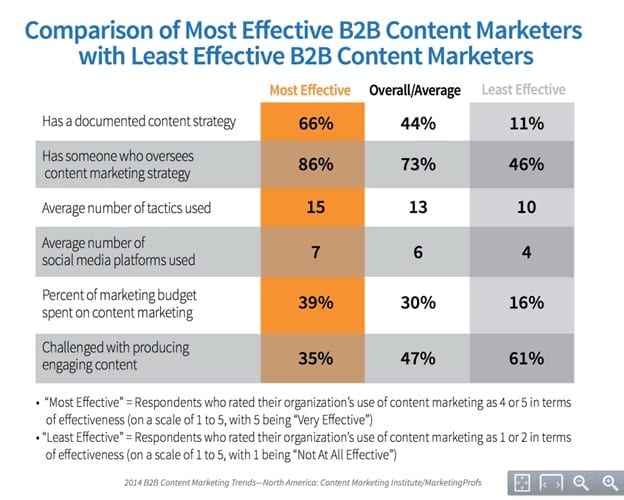 11. Improve customer support by making it your team's duty
No matter the product you deal on, what you're truly selling is experience.
Tony Hsieh, founder of Zappos once said that his business wasn't primarily for delivering shoes or clothing, but for delivering happiness.
As the Chief Executive Officer of a thriving shopping brand, Tony hires and fires – based on their core values.
Core values that are based on human psychology – and what makes people happy.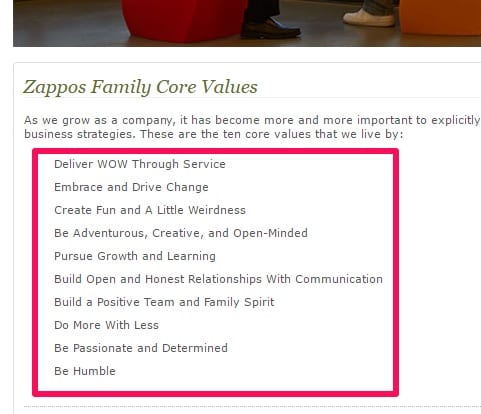 I've a question for you: "Are you satisfied with your present customer support system?"
I'm not talking about the latest helpdesk solution, tool, or program that you're using to improve customer support.
Rather, I'm talking about the one-on-one communication that you once had with your customers.
Of course, you can't possibly connect or communicate with thousands of customers one on one, but you can add personality to your voice.
Because you're not a robot.
But a human being, with blood flowing through your veins. You understand that customers aren't "traffic" as we call them – but real people with questions that needs answers.
To help improve your customer support, one thing I recommend for my clients is to make customer service everyone's responsibility.
Yes, "everybody should be involved."
It doesn't matter whether you have a sales team (you should), or administrative team – all hands must be on deck.
Poor customer service will cripple your business.
According to Insightsquared, "$41 billion is lost by US companies each year due to poor customer service."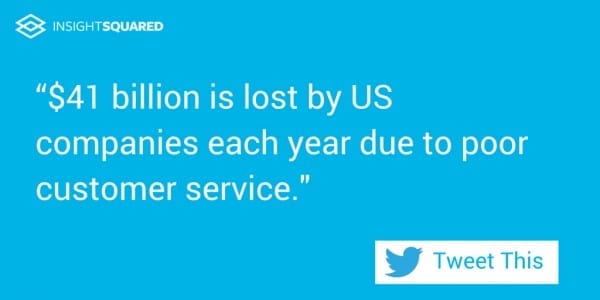 Your staff or team should be helpful and kind when communicating with customers. A study by New Voice Media found that about 42% of customers will switch if they're put off by rude or unhelpful staff.
I encourage you to become customer-focused brand. It doesn't matter your designation or profession, put customer service at the forefront.
This means that if you're engaged with a particular task outside of customer service, and you receive complaints from a customer, what should you do?
Here's what I advise you to do:
Pause whatever task you're handling and address the customer's complaints. Be kind to them. Show them that you're not after their money, but their love and trust.
When customer service becomes your no #1 priority, customers will trust you more, and refer new customers to your business. Drive this urgency into every of your team member.
Let them understand that the customer has been crowned king – and should be treated as royalty.
According to Harvey Mackay, Author of 'How to Swim with The Sharks Without Being Eaten Alive,' "Successful organisations have one common central focus: Customers."
It doesn't matter if it's a business, a professional practice, a hospital, or a government agency, success comes to those, and only those, who are obsessed with looking after customers."
12. Respond promptly to customer calls
How fast do you respond to customer calls?
Fast replies generate revenue. When an airline responded to a customer's Tweet in less than 6 minutes, the customer was willing to pay almost $20 more for that airline in the future.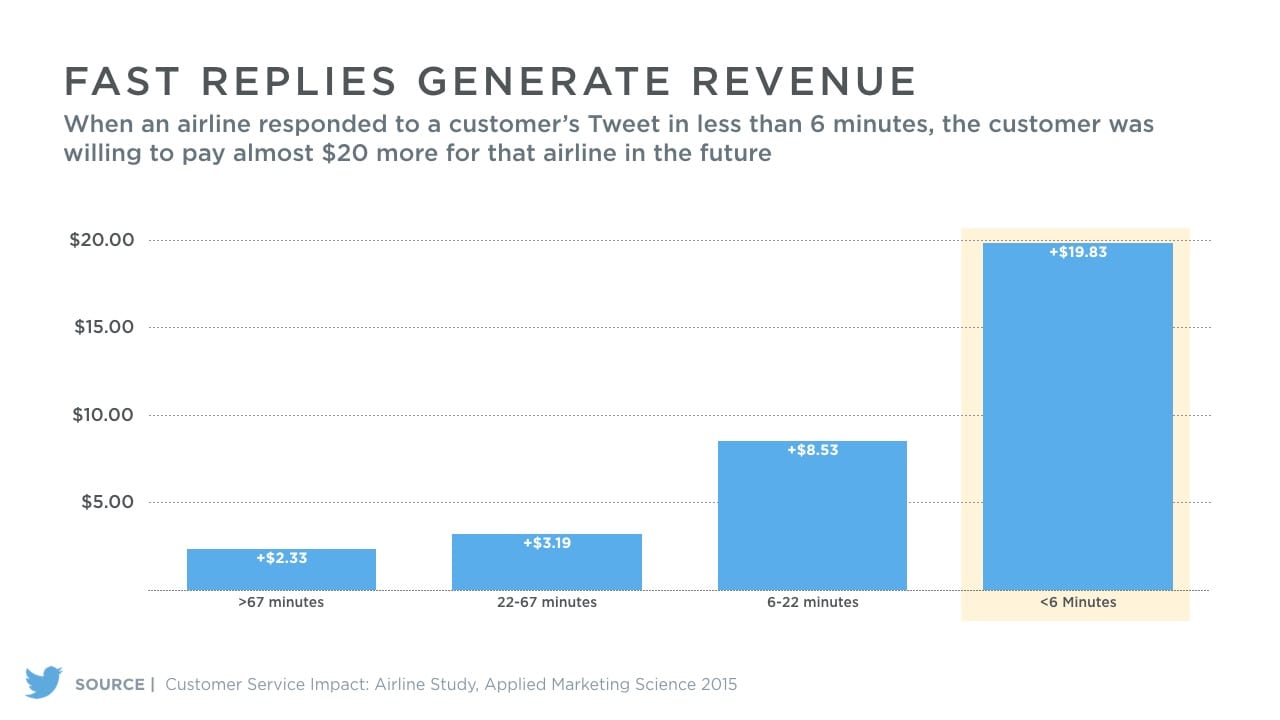 By "calls," I'm referring to feedback, not just phone calls or emails. The customer is the absolute priority.
Companies like Dell, Xerox, Starbucks, Apple, and several the like are leading the way – because they respond promptly to customer calls.
In case you don't know, here's a shocker:
Customers are impatient.
It's estimated that humans attention span is 8 seconds – which is 1 second lower than that of a goldfish.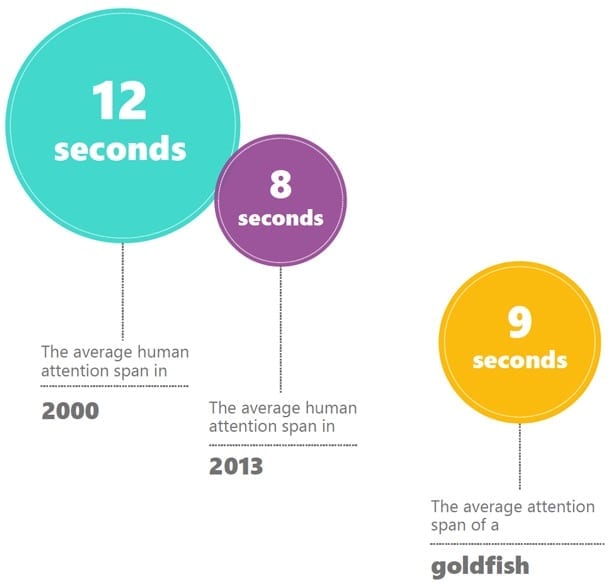 You've got to understand that people are not ready to wait for 48 hours to get their questions answered, when another brand can answer within 24 hours.
Even if the question requires some technical know-how, it's vital to up your game. You can achieve tremendous results if you have a technical team or department to handle these technical issues.
When it comes to responding to customer's feedback quickly, don't make excuses.
How fast you respond will help you gauge and understand the difference between customer service and customer experience. "Experience" is as a result of the service you provide.
If your service is awesome, but you are slow, customer experience will be negative.
On the other hand, if the service is great and the time it took to deliver it blends properly, customer experience will be high and positive.
Don't wait for a customer to resend a question, or create a new support.
Although, I use GetResponse email autoresponder, but their response time is discouraging. The last time I emailed support, I didn't receive feedback until after 2 days.
I agree that the company is good at what they do, but I can't recommend them in terms of customer service.
Speed is critical.
13. Create mobile apps
Have you created your first mobile app yet?
If no, what are you waiting for?
It's easy to learn different programming languages.
You can drive growth easily with mobile apps. Take a look at the average number of apps used and time per person each month, from Q4 2012 to the Q4 2014.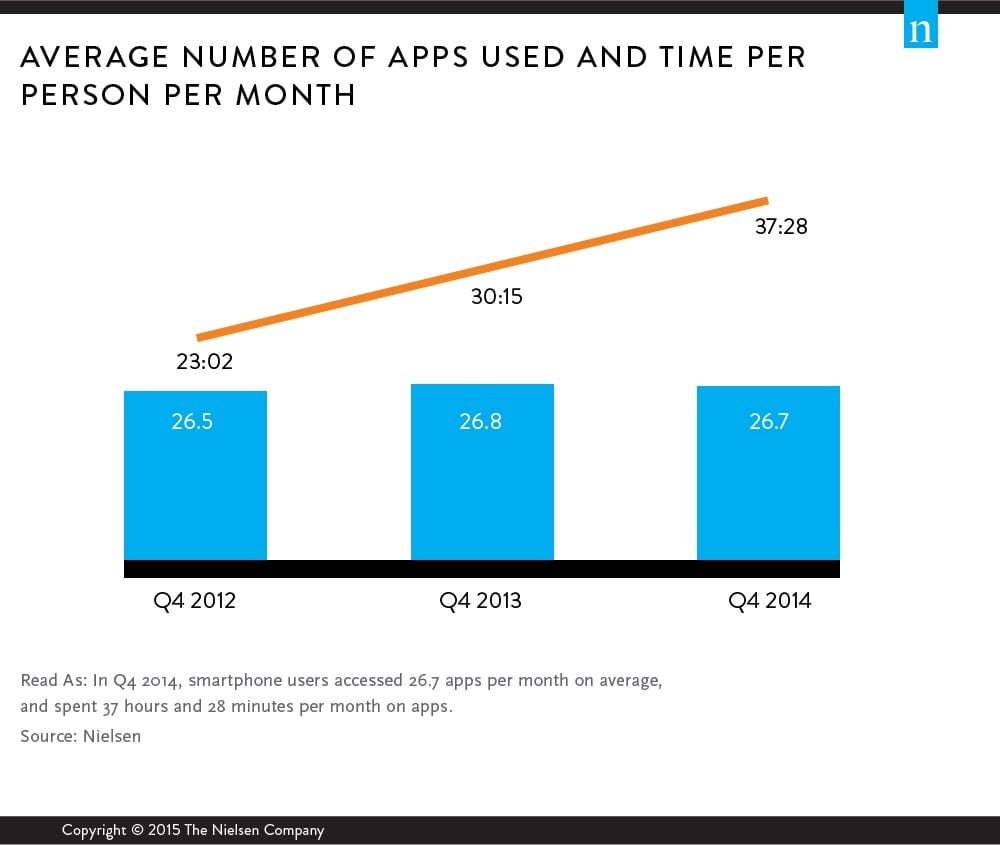 Deep analytics combined with good psychology for user behavior are the defining factors that differentiates an app from a website or other software.
When it comes to customer engagement, we've seen firsthand how apps can turn a casual conversation into a bonded relationship that generates sales.
Having a unique app icon helps too.
If you're looking to engage your customers, while providing unfeigned value that will remain fresh in their minds for years to come, then you should seriously consider creating mobile apps.
By the way, you can get started with your first mobile app in 15 minutes – Sign up with Buildfire.com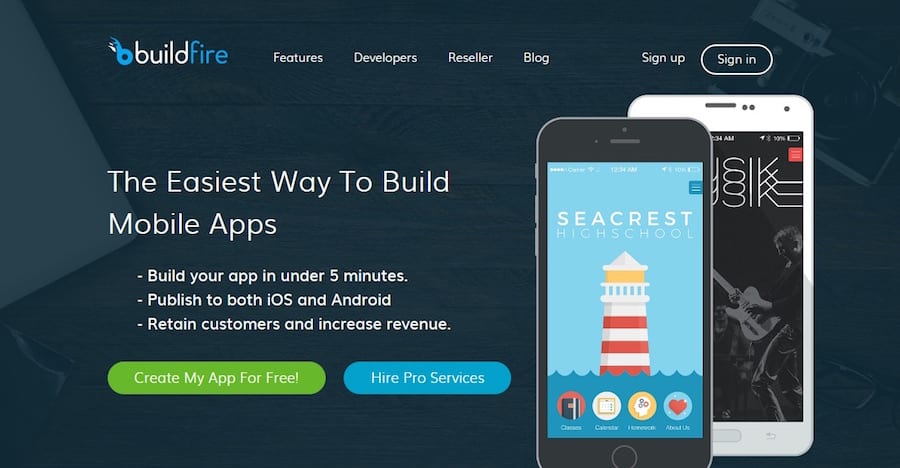 Conclusion
The key learning here is that customer engagement isn't a destination, but a journey. Because it doesn't stop.
I'm yet to find any brand, business that can boast of mastering customer engagement 100%.
If only you can take these 13 strategies to heart and implement them, you'll not only inspire your customers, but you'll build a brand that thrives in the midst of market downturns.
Using BuildFire to create your app will help keep costs low.
Which of these customer engagement strategies have you used in your business?