How to Generate Your First $1,000 For Your Mobile App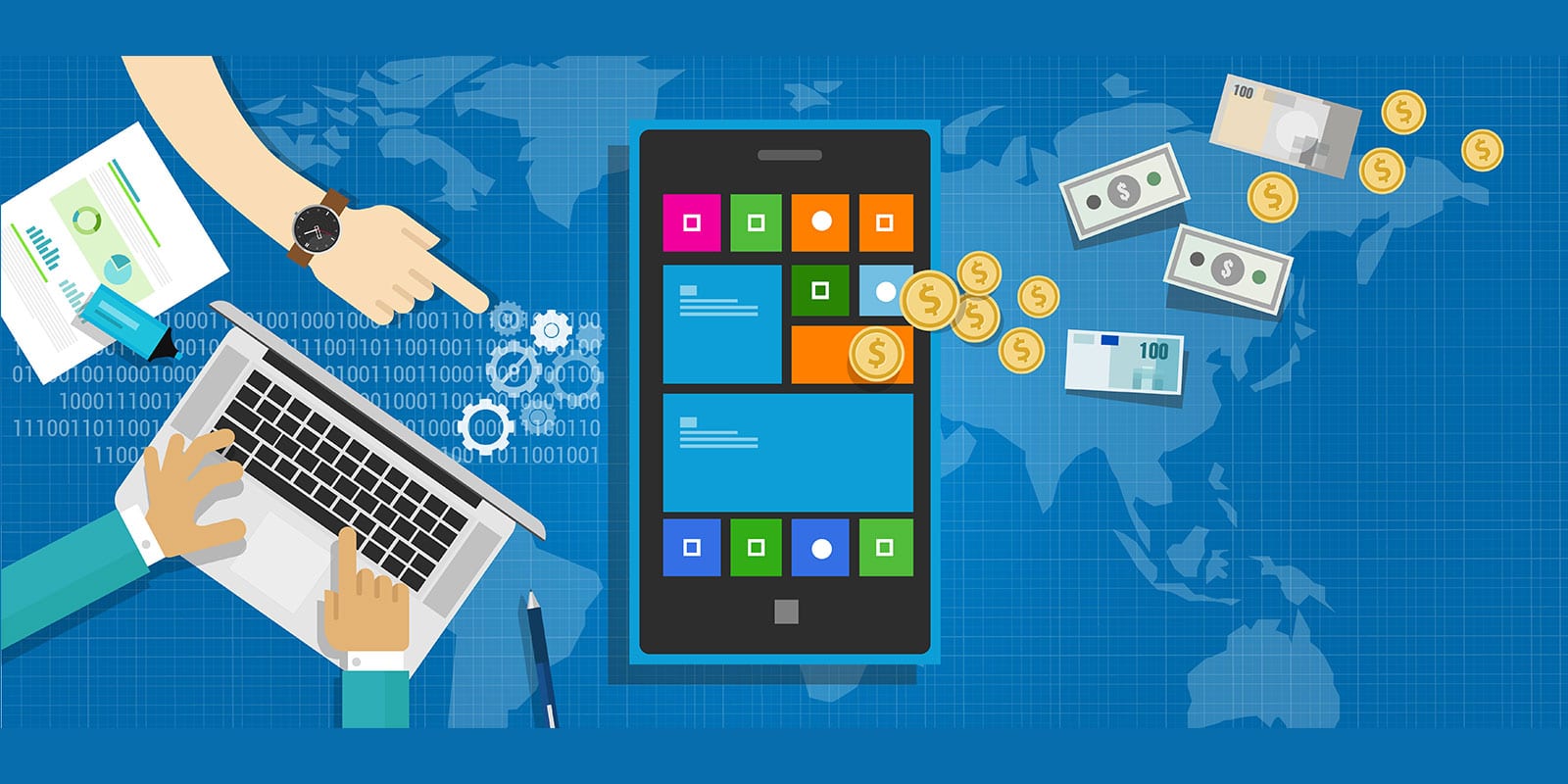 Building your mobile app has been quite the journey.
I know from experience that this process has ups and downs.
It's such an accomplishing feeling once you're done – so congratulations.
But the journey isn't quite over yet.
Now that the app is completed and approved by the App Store, it's time for you to start making money.
That's the whole reason you started this in the first place, right?
Somewhere along the way, hopefully, you haven't forgotten your initial revenue generating strategies.
Or maybe those methods aren't working.
Regardless of your situation, I can help you out.
As an expert in this industry, I can show you the best ways to make money with your mobile app.
Sometimes it feels like the first $1,000 is the hardest, but it doesn't need to be.
Once you hit that milestone, it will give you the confidence to know that your app actually works.
Getting downloads that translate to dollar signs will reinforce that it was it was worth it to build an app for your business.
Let's jump right into it.
How to make money
Treat your app like you would any other business.
Come up with a marketing campaign that generates money.
Analyze different trends, such as location targeted advertising.
Each year we're seeing an increase in the percentage of companies using location targeted marketing campaigns.
Consider these three categories when you're determining the best ways to generate money for your app.
Pricing
Development
Promotion
I'll go through a more detailed description of each of these segments to give you some more guidance.
Keep in mind, there's no single right answer that's best for your business.
In fact, you may want to combine a few different strategies if you want to increase your chances of success.
Here's a comparison to illustrate my point.
A successful business wouldn't just use email as their only marketing strategy.
They would use a combination of different campaigns like social media marketing, PPC ads, as well as other inbound and outbound techniques.
Same goes for your app. Don't limit yourself.
Here are some different options in those three categories.
Pricing Strategies
Consider how you're going to price your app.
Are you going to charge users to download it or will you list it for free?
Keep in mind, the majority of apps offered on the Apple App Store and the Google Play Store are free to download.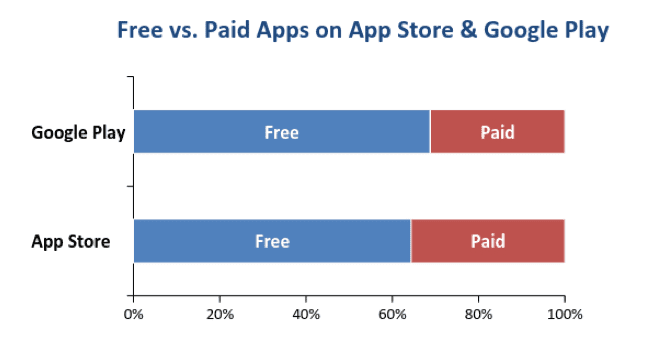 There are pros and cons to each method.
If you charge users to download your app, you'll get revenue up front.
People who are willing to pay for mobile apps will likely be more engaged than users who download it for free.
It's unlikely that someone will buy your app and then never use it.
But if the app is free, it's easier for users to lose interest because they don't have any monetary investment in the download.
With that said, charging just to download your app will turn people away.
Since there are so many apps available on the market, there's a good chance that users can find something similar for free.
Personally, I'd recommend offering free downloads.
You can still generate money from free users.
Here's how you do it.
In-app purchases
Advertisements
Subscriptions
How many users have downloaded your app?
Here's a look at the average in-app purchase for iOS and Android platforms.
Based on this information, if you can get 1,000 users to download your app on the Apple App Store, you'll get your first $1,000 right there.
Not sure how to go about setting up an in-app purchase?
Don't worry, I'll show you how.
Basically, it will depend on your industry and what type of app you have.
For example, if you're an ecommerce store, the in-app purchases will consist of actual products offered by your business.
But if you're not selling anything specific, you'll have to come up with clever ways to entice purchases.
Let's use the gaming industry as an example.
Mobile games generate the highest profits.
They accomplish this by offering in-app purchases that enhance the user experience.
Let everyone download and play your game for free.
But give users the option to purchase certain items that make the gameplay easier for them.
Here's another example from a popular mobile dating app, Bumble.
Anyone can use Bumble for free.
But users can access premium features by making a purchase.
This upgrade lets users gain access to people who have already liked their profile.
They also get unlimited extend time and the ability to rematch with users who they didn't connect with initially.
Employing this strategy is more than just an in-app purchase.
Charging people a monthly or annual rate becomes a subscription.
I love this strategy.
Subscriptions are a great way to increase customer loyalty.
Plus, you'll have a chance to get constant revenue from the same user.
When you're trying to come up with a subscription plan, consider your target market.
Try to make your app as appealing as possible to people all over the world.
For example, mobile users in Asia spend 40% more in apps than other areas across the globe.
Another pricing strategy that you can consider is advertisements.
Let other businesses pay you to display ads on your app.
Some of the most popular types of mobile app ads include:
Native ads
Interstitial ads
Video ads
Banner ads
Native ads blend within the content.
They don't interfere with the user's experience.
Interstitial advertisements are the opposite. These images or videos typically take up the entire screen.
Users have to watch the ad or perform another action before they can continue where they left off.
Remember earlier how I said you can combine different strategies?
Well here's an example of how you can combine advertisements with subscriptions.
Let's look at how My Fitness Pal does this.
The free version of their app has advertisements.
So they can generate money that way.
However, they offer a premium upgraded experience where users can navigate without ads if they make an in-app purchase.
I love this strategy because it's a way to generate revenue from different sources.
Consider this combination option if you're going to use both of these techniques to generate money.
Development Strategies
One of the best pieces of advice you'll hear regarding your development strategy involves adaptability.
Not everything you do will go as planned.
You'll encounter some hiccups along the way.
Don't let those speed bumps get you flustered or overwhelmed.
Make the necessary changes and move on.
Here's a hypothetical example.
Based on what we've discussed about pricing strategy, let's say you've decided to launch an app that charges users to download it.
But you realize that nobody is downloading your app.
You're all done, right? Wrong.
Adapt and move on.
Allow users to download your app for free.
Set goals to help measure your success.
Let's say you want to get 1,000 downloads this month.
If you only get 200, you'll need to adjust your marketing strategy.
As you're developing the app, make sure that it compliments your existing marketing strategy.
For example, if your current business has an ecommerce store, you should drive customers to download your new app as the primary outlet for online retail.
Furthermore, consumers spend three or four times longer using a mobile app than they do on a desktop page or mobile site.
Even after your app is released on the App Store, it's not too late to continue making changes.
Make sure you give users the option to rate and review your app.
Not only do those ratings help boost your search ranking in the App Store, but they also provide valuable information for your development strategy.
Use comments about the user experience to constantly create better versions of your app.
You can also do beta testing to help work out any bugs or glitches before your app is released.
Outsourcing this testing is your best bet.
Biased opinions can impact these tests if you're running them in-house.
Your developers may be hesitant to say there are problems with the experience if they are the ones who designed it.
Making sure your app is always running smoothly will help ensure users keep using your platform.
If users are frustrated with the performance of the app, it could be the reason you're having problems generating a profit.
Promotional Strategies
Now that you're pricing and development strategies are in place, it's time for you to promote your app.
You can't get any money if users aren't downloading it, so getting downloads fast should be your number one priority.
But where do you start?
If you have an existing business, use all of your marketing channels to promote the app to your current customers.
That's the place to start.
These people are already familiar with your brand, services, or products.
For the most part, this app should be welcomed with open arms.
Look how Internet usage has been trending across the globe over the past eight years.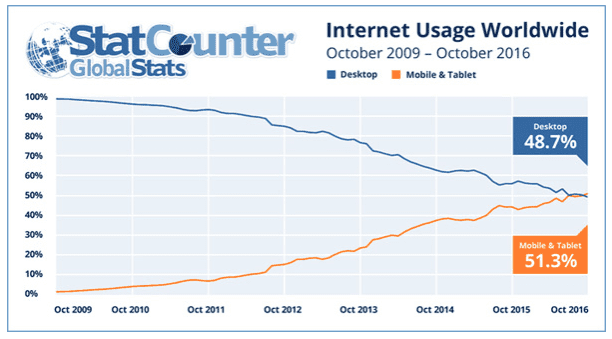 In 2016, mobile usage finally surpassed desktops.
Based on this graph, it appears as though mobile and tablet devices will continue to rise.
So give the customers what they want.
Next time you send out an email marketing newsletter or promotion, include a link for your subscribers to download the app to the phone.
More than half of emails get opened on a mobile device, so your customers can have your app on their phone in just seconds if your email gives them a reason to download it.
Offer some kind of incentive.
Take 20% off your next purchase if you use our app to complete your checkout.
Something to that effect should do the trick.
I'd also recommend using your social media channels to promote the new app.
For the same reason.
Mobile users in the United States spend 51% of their mobile time using social media.
So it's only logical that you promote the app on here as well.
Here's a great example of Jasper's Market doing this on Facebook.
It's a simple and effective way to get more people to download your app.
In turn, this will help you generate more money.
How BuildFire can help with these strategies
Once you have your pricing, development, and promotional strategies in place, you'll need to implement them into your app.
Looking at all of this on paper is one thing, but putting it to the test can be intimidating if you've never done it before.
Don't worry.
BuildFire's Pro Services Team can walk you through the process.
The platform makes it super easy for you to build the app and publish it to the App Store, even if you don't know how to code.
As an expert in this space, I can attest to how smooth this process is.
Here are some of the top reasons why BuildFire is one of the best available options for you to consider.
Your app will hit the market faster.
The platform will save you time and money.
It's easy for you to continue making changes even after the app is released.
Risk gets reduced since the investment amount is less.
Critical thinking experts can help bring your plan to life.
All of these points hit the mark on the topics we've discussed earlier.
BuildFire can ensure that you're going to generate your first $1,000 fast.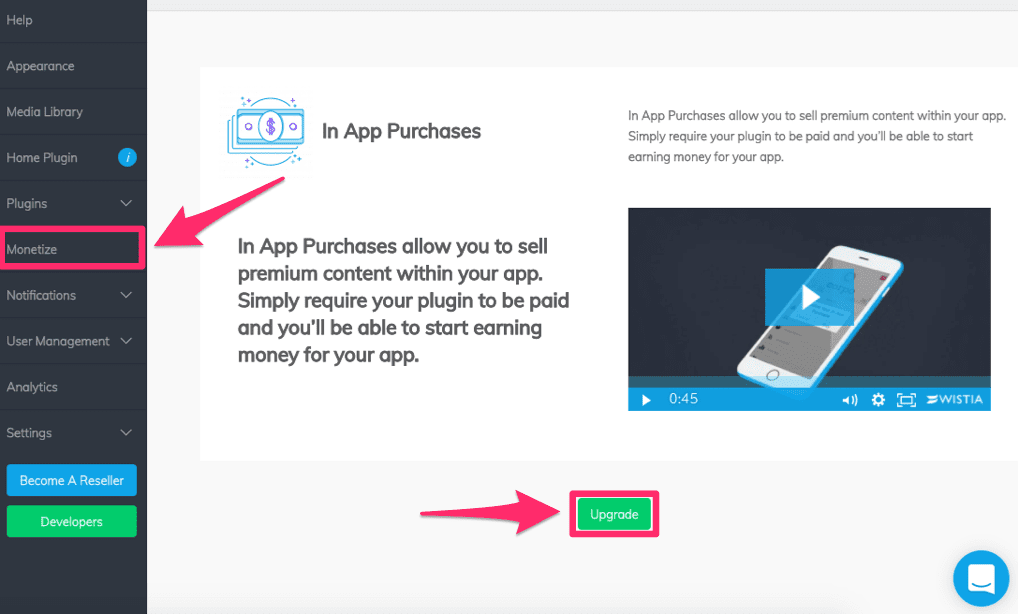 From your dashboard, navigate to the "Monetize" option on the left side of your screen.
Now you can set up in-app purchases, which as we discussed earlier is a top option for your pricing strategy.
For $134 per month you'll have a Professional Membership, which is our best value.
I highly recommend this if you want to add in-app purchases.
It's a much less expensive alternative to learning code and developing the app yourself.
Plus, the upgraded plan comes with other great features like push notifications, an iPad, and Android Tablet.
Conclusion
Generating your first $1,000 for your mobile app is a milestone that can help you build confidence for continued success.
Don't let that number intimidate you.
It's easily attainable if you implement the methods that I explained earlier.
Start with a pricing strategy.
How do you plan to make money?
Subscriptions
Advertisements
In-app purchases
If you want to implement in-app purchases, BuildFire lets you set that up through their platform.
Make sure your development strategy is adaptable.
You've got to be ready to make changes on the fly.
Next, you'll need to find a way to get users to download your app.
Use your company's existing marketing channels like email and social media to inform customers about your new app.
The more downloads you get, the easier it will be for you to make money.
Follow this plan, and you'll be on your way to much more than $1,000 in no time at all.
Are you going to charge users to download your app or use an alternative pricing strategy to generate revenue?