How to Increase Agency Profits With a White Label Mobile App Reseller Program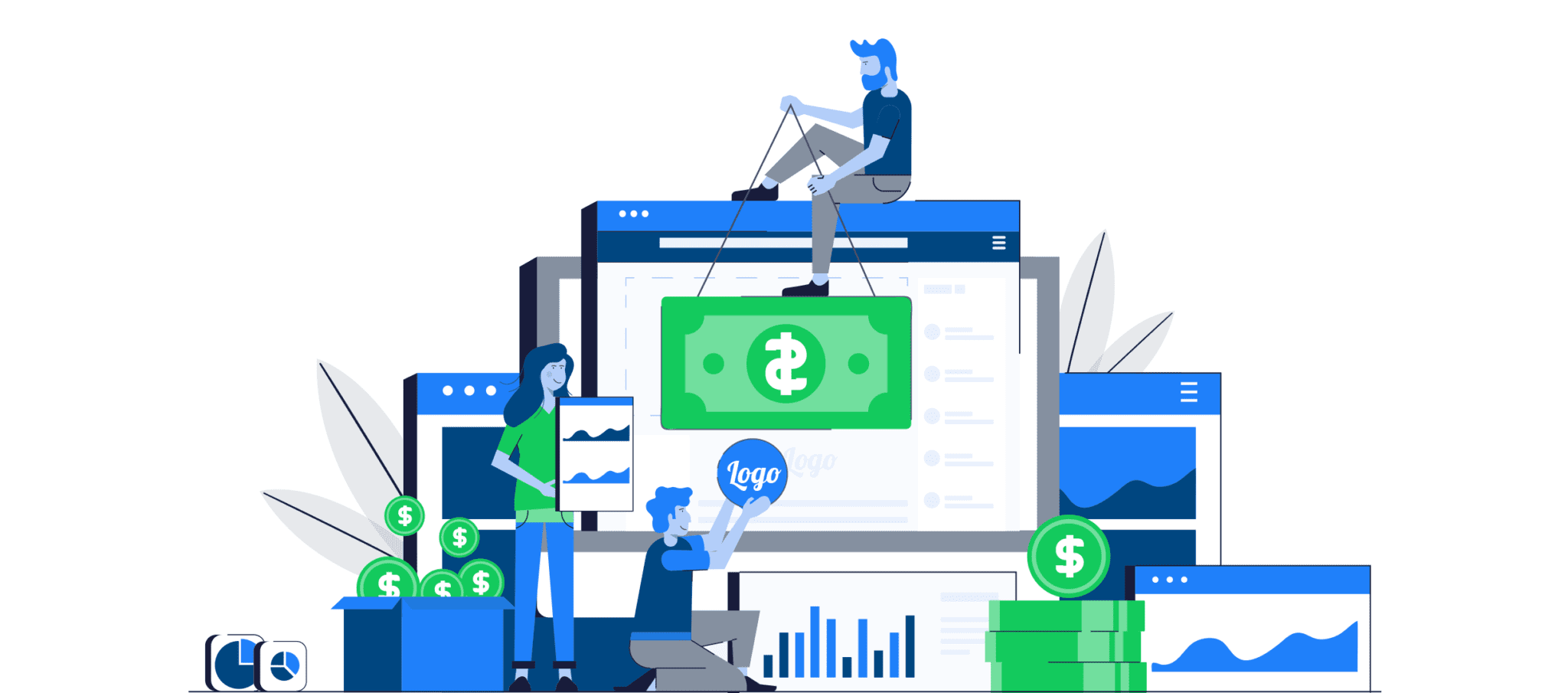 Every agency needs to do two things right in order to survive and thrive. You must sign new clients and then find ways to retain them.
In a nutshell, that's the foundation for any successful agency. 
Today's digital landscape has made the demand for creative agencies higher than ever before. Businesses of all shapes and sizes across every industry are seeking professional help from marketing firms, web development agencies, branding companies, web designers, and advertising agencies. The list goes on and on.
The most successful agencies are able to leverage market trends to make more money. 
By offering additional products and services that your current and prospective clients need, it puts your agency in a position to generate high profits.
With mobile trends on the rise, the mobile app industry is booming. Historically, helping clients create apps was reserved for mobile development agencies. You needed to have a background in tech, coding, and app development to enter this space.
But times have changed. Today, any agency can get its share of the mobile industry profits with a white label reseller program. The best part about being a reseller is that you can do it with zero app building experience and without ever needing to write a single line of code. 
Use this guide as a reference to learn more about the benefits of these programs and how your agency can profit by becoming a white-label mobile app reseller.
Attract New Clients
As I said before, the demand for agencies is seemingly at an all-time high. Every business has recognized the importance of establishing a digital presence. Lots of those companies need help from third-parties to reach their goals.
On the plus side, it's nice knowing that there is a high demand for your services. But this high demand has created an increase in competition as well.
A recent study identified the biggest challenges for agencies in 2020.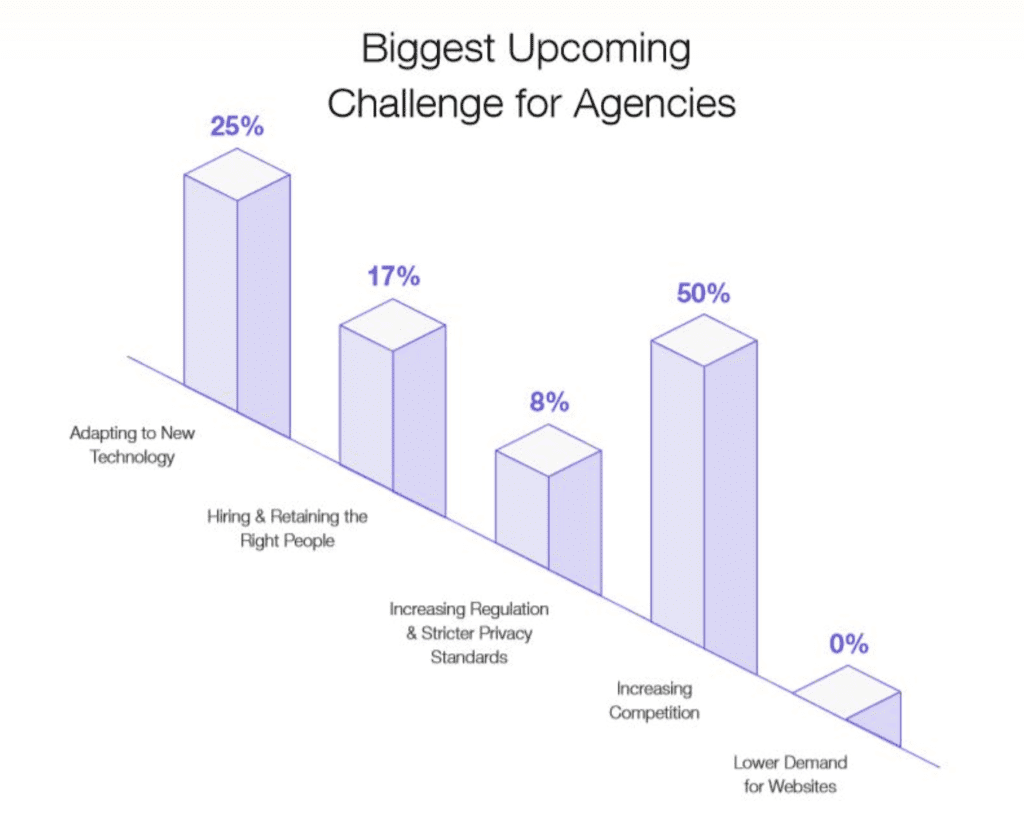 As you can see from the graph, increasing competition ranked first on the list. Adapting to new technology is the second biggest challenge faced by agencies in the coming year. 
By becoming a white label app reseller, you'll be able to address both of those barriers at the same time.
You need to find ways to stand out from your competition. If you're offering the exact same services as everyone else in the market, signing new clients is going to be nearly impossible. 
But the more services that you offer, the more appealing you are to prospective clients and new leads. Businesses who want to develop a mobile app won't even consider your agency if you don't offer that service.
30% of small business owners are planning to build an app in the future. Your agency can't afford to ignore one-third of your target market. 
Businesses seeking agencies are always looking for an all-in-one solution. Working with separate firms for web design, marketing, and app development is too complicated. If your agency can meet all of these needs under one roof, new clients will be much more inclined to sign with you.
Reduce Time to Market
You've already decided that you want to be part of the mobile app industry. There are lots of different ways to enter this space. But being a white label reseller is the quickest and easiest.
The alternative methods of developing apps for your clients are much more complex. 
Your existing in-house talent probably won't be able to take on this additional workload. They may not be qualified for it either. In this case, you'd have to find experienced developers and train a completely separate department. 
To build these apps properly on your own, it could potentially pull your focus and efforts away from your core services. This is a long and grueling process, especially if you don't have any experience with coding and development. 
But with a white-label mobile app reseller program, you can offer app development services immediately without hiring new staff or hurting the quality of your existing services. 
Time is of the essence. Your target audience wants to build an app today. So if you wait six months or a year to offer these services, you're missing out on a huge opportunity. Prospects won't wait around for you. They'll simply find another agency that can provide what they're looking for.
Furthermore, a white label reseller program will make it easier for your clients to get their apps to market faster as well. Here's a look at how long it takes to build an app.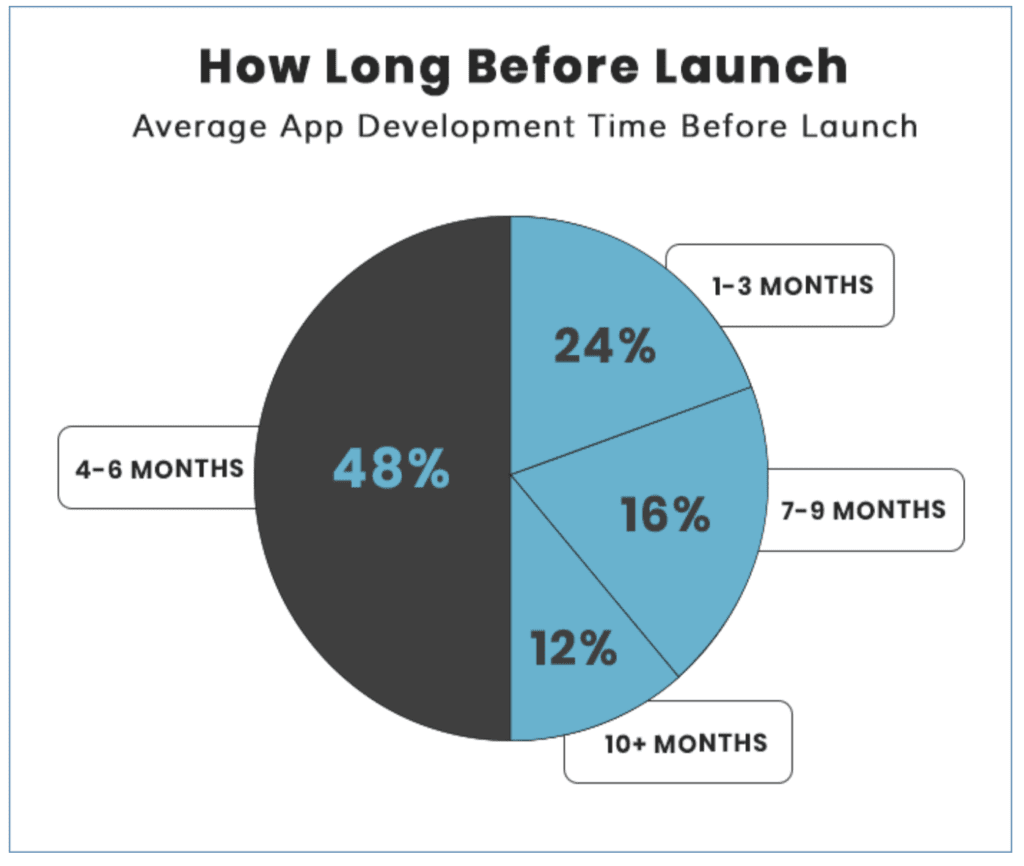 Several factors affect the mobile app development timeline. But as you can see, the majority of apps can be built in less than six months. 
However, using an app builder instead of coding from scratch will ensure faster development. 
You and your clients won't even have to worry about publishing the apps. If you use BuildFire's platform for your reseller program, we'll handle all of that for you. 
Low Risk, High Reward
Any time you consider entering a new market or expanding your services, the cost is always a factor. You must ask yourself if the price is worth the risk before you spend money on something, especially if you don't have any experience in a particular industry. 
Fear of failure is a common reason why agencies don't expand or enter new markets. 
But being a mobile app reseller through a white label program is a cost-effective way to increase profits at little to no risk. You can add this service to your agency even if you're on a tight budget. 
In most cases, the only cost is the monthly fee for the platform that you're using. Your clients can easily offset those costs.
You won't need to worry about hiring developers or expanding your team. You don't need any new hardware, or have to deal with the costs associated with managing that equipment. 
As a reseller, you don't need to develop your own tools or system. Everything is already done for you. 
A white label reseller program is by far the most cost-effective way for your agency to build and manage apps for your clients. With little overhead costs, the opportunity for profits in this space is virtually limitless. 
Set Your Own Margins
This piggybacks off of my last point in terms of high profits. With an app reseller program, you have complete control over your own pricing. 
It's a common misconception that you are bound to certain price restrictions with a program like this. But that couldn't be further from the truth. 
The reseller programs don't come with price restrictions. You can market and offer these services on your own terms, based on the value you're providing to your clients. 
Think of it like any other tangible product. A retailer selling shirts may buy them in bulk for just a couple of dollars each. They can slap their logo on them to resell for hundreds of dollars per shirt.
You're essentially doing the same thing as a white-label app reseller. Your logo and branding will be on everything. The product is yours to do what you want with. 
The beauty of providing app development solutions as an agency is that you have so many different options for how you'd like to approach your pricing strategy.
One way to set this up is by offering the mobile app service completely separate from your current offerings. So theoretically, a client could build an app with your agency without signing up for your other services. 
You could also offer an all-in-one bundle for app building included with your existing services. This is a great opportunity for you to add value to your total package and charge higher rates.
Whether you're a web designer or marketing agency, there is a massive opportunity for high profits with both of these pricing strategies. You can even offer a combination of both techniques to give your clients as many options as possible. 
According to a recent study by HubSpot, here are the average agency profit margins.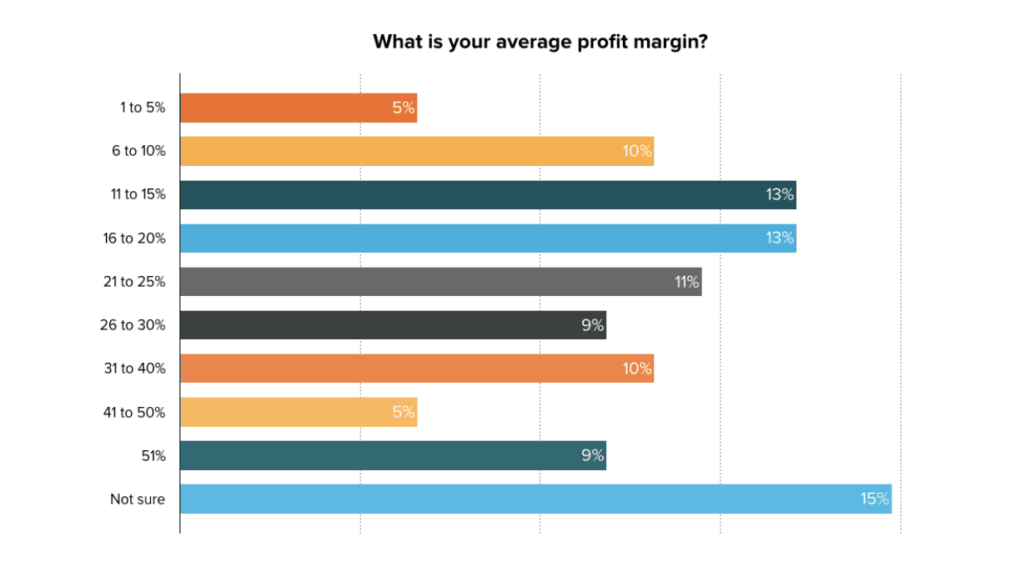 As you can see, these figures are all over the board. But the average falls in the 11% to 25% range. While that might be a standard industry benchmark, it's pretty low if you ask me.
You can aim to be in the 30% to 50% or more range by becoming a white label app reseller. 
There is lots of money to be made in this space if you can price your services accordingly. 
Recurring Revenue Opportunities
Signing new clients is excellent. But agencies make their money by retaining their clients in the long run. The most successful agencies in every industry have a low churn rate and find ways to retain their clients for years.
The best way to do this is by continuing to provide value to your clients. 
Mobile app services are the perfect solution for recurring revenue over time. This goes far and beyond the initial set up fee and launch.
You can continue charging your clients for maintaining the app on a monthly basis. There is also a huge opportunity for other ongoing services like updates, submissions, and maintenance.
When someone builds an app, they don't just set it and forget it. The process is never complete. You can always make changes to improve the performance of an app.
In fact, roughly 30% of apps are updated at least once per month.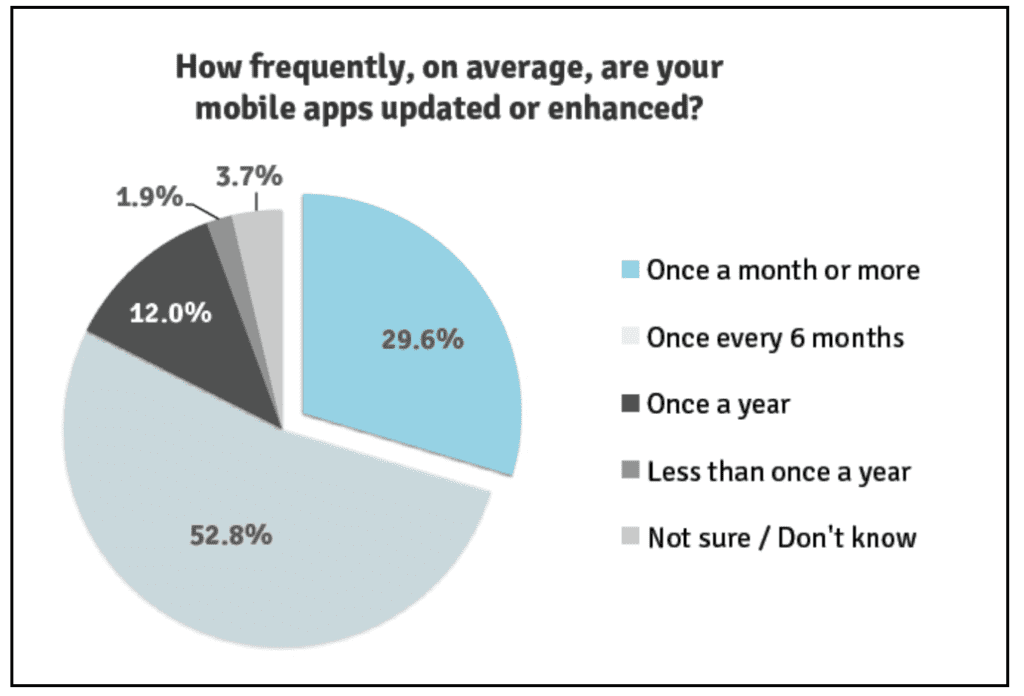 Furthermore, more than 80% of apps are updated at least every six months. Each time your clients want their app updated is another opportunity for you to make more money.
You won't always have the same opportunities with other standard agency services. 
For example, let's say your agency specializes in web design and development. Once you build, set up, and optimize a website, there really isn't a need for the client to keep paying for your services in the long run. 
Sure, maybe they'll need help once a year or so with a redesign. But there isn't always a need for you to actively add value on a monthly basis.
Or maybe you have an advertising firm. Your agency handles all social media ads and PPC campaigns for a client. You might be able to sign them on for six months or a year for your services.
But once you lay the groundwork down, the client could continue running those ads on autopilot once your contract is up. They won't necessarily need to resign from your agency. 
With white label app development services, you can generate monthly recurring revenue for the lifetime of the app. 
No Coding Required
As a white-label app reseller, you and your clients will be using an app builder for development. The benefit of this system is that anyone can use it, regardless of their technical skill level.
Whether you build the apps or let your clients build them on their own, nobody needs to know how to code. 
The ease of use is what makes this so appealing for everyone. There isn't much of a learning curve for you, your staff, and your clients. 
As a result, the service is straightforward to pitch. You won't have to put your clients through a rigorous training program or anything like that. You're also not restricted from selling only to clients who know how to code.
Make sure you choose a development platform that has all of the tools you need to succeed. Training manuals and how-to guides will be a big help for everyone. You can simply rebrand these materials and pass them along to your clients. 
Furthermore, the best white label platforms also offer premium support. If you choose a platform like BuildFire, you'll benefit from a dedicated white label support team that can be reached via phone an email. 
Upsell Existing Clients
We already discussed how mobile app development services will make your agency more appealing to prospects. But when you become an app reseller, you won't necessarily get new clients that same day. 
You'll still need to promote those new services appropriately so clients can find you. This can take some time before new leads start coming in.
But that doesn't mean you can't start profiting from your app development services immediately. 
In addition to attracting new clients, you should also look at your existing customers for revenue opportunities. There's a good chance that these businesses are interested in building an app as well.
You already have an existing relationship with them. They are familiar with your brand and services. In many cases, these businesses have already benefited from your current offerings.
If you're able to add even more value to their companies, then they will be excited to hear about a new opportunity. 
Leverage these relationships. You already have an open line of communication and billing information on file. Upselling these clients will be a breeze.
In fact, the chances of selling to an existing customer are up to 14 times higher than selling to a new prospect.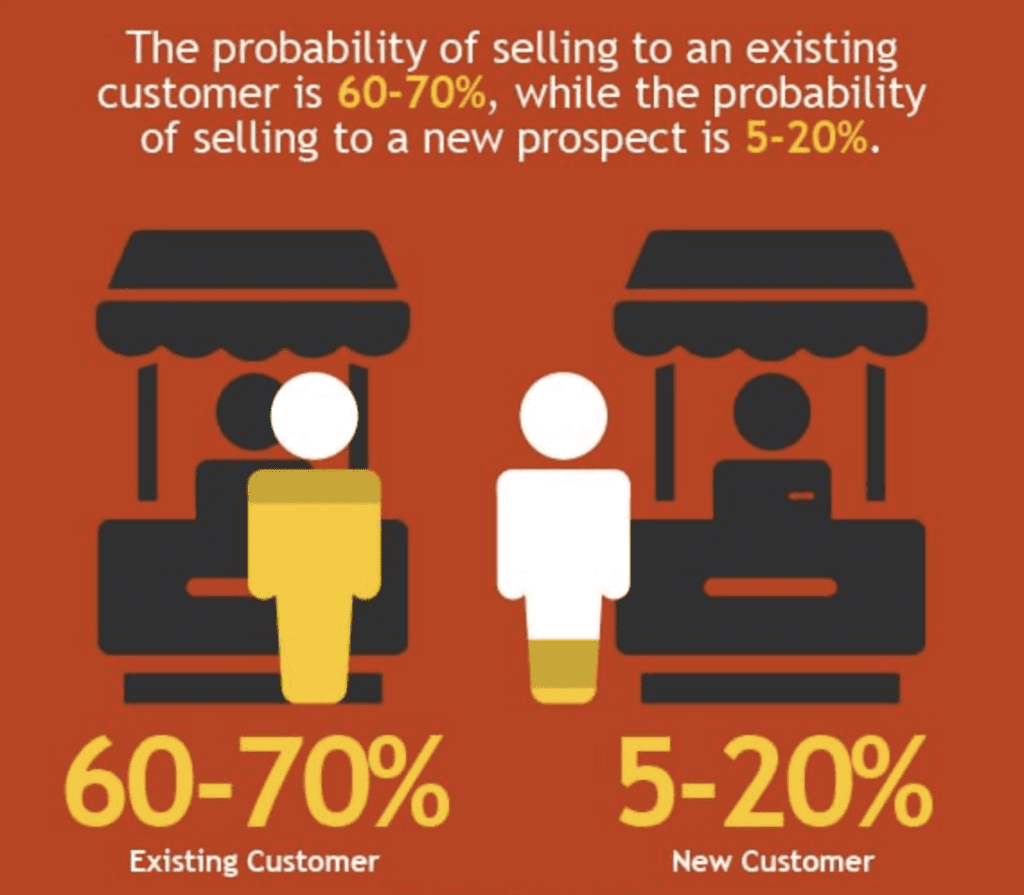 Furthermore, existing clients are 50% more likely to try a new product offered by your company. They will also spend 31% more money than a new lead. 
So you don't have to worry about waiting for new clients to profit as a reseller. Those new leads will come with time. But in the short term, you can start pitching your app services to the businesses you're already working with.
Based on all of these numbers we just discussed, there is a high probability that they will be eager to try it out. 
Your Own Branding
Branding is another top benefit of your agency becoming a white label app reseller. 
Your brand name, logos, and everything else will be all over the platform and the app, even on the back end. So your clients won't know where you got the platform from. 
This means that you aren't given a cookie-cutter solution. You'll be able to configure the platform so that it fits the needs of your agency and its customers. 
For example, if your agency targets a specific type of business or industry, you can set up the platform so it appeals to those clients. 
You'll be able to manage all of your clients' apps and even clone apps to make the process more scalable if you're building lots of similar apps for different businesses. 
Your clients will be able to log in to make real-time changes as well. When they do this, your agency's branding will be all over their dashboard. 
In addition to the professionalism associated with this branding, it's also an opportunity for you to get more business. 
Research shows that 90% of agencies name referrals as the best source for generating leads. 
Clients talk. Prospects will communicate with colleagues who publish apps, wondering how they were able to build it. Depending on the relationship they have, your clients might even show them how they were able to build it using your platform.
As a result, new leads will be exposed to the dashboard with your name all over it. So it's a great opportunity for you to gain more business. 
Conclusion
Agencies need to adapt to the latest trends. Understand what your clients need and find out how you can offer it to them.
Mobile trends are at an all-time high and aren't slowing down any time in the near future. 
Your current and prospective clients are looking for mobile solutions. So if they can't get it from you, then they'll just find another company to meet their needs. 
By becoming a white label mobile app reseller, you'll be able to attract new clients while simultaneously retaining and generating more profits from your existing customers. 
This is the fastest way for an agency to enter the mobile market. App reseller services are cost-effective and have the opportunity for massive margins. 
No coding is required from you or from your clients. Plus, the platform will be completely branded with your agency's name and logos.
Now that you understand the benefits of becoming a white label app reseller, it's time to find the right platform to use. Here at BuildFire, we have the perfect mobile app reseller program for agencies. 
Contact us today for a free consultation. We have the tools you need to scale your agency to the next level.