Beginner's Guide to No Code Development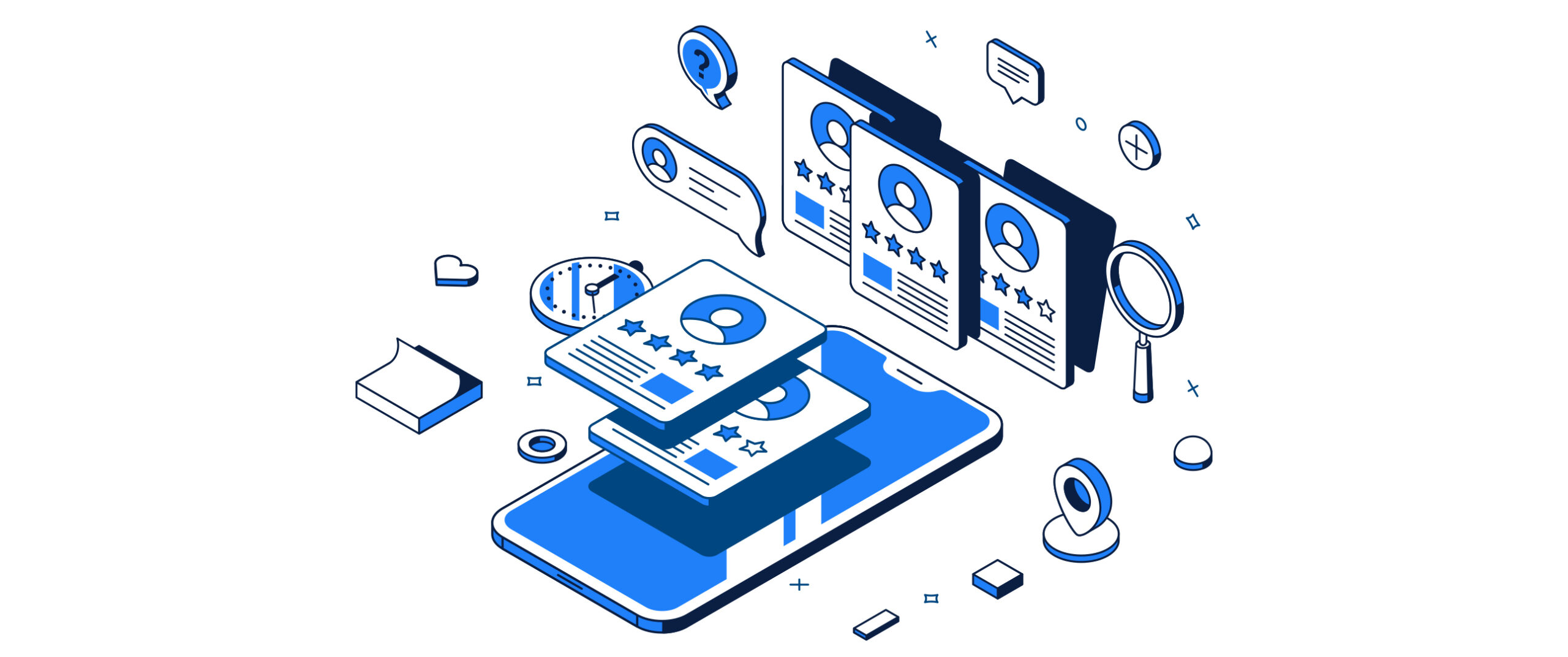 No-code development is one of the hottest buzzwords in tech right now. No-code platforms are rising in popularity, and the use cases for no-code development are continuously mounting.
With that said, there's still a lot of confusion about no-code development—especially for beginners who are new to the concept.
Some of you might be evaluating a particular no-code platform. Others might be comparing no-code development to other software development options. Whatever the case might be, you've come to the right place.
This in-depth guide will explain everything you need to know about no-code development, answering all of your questions once and for all. You'll find out what it is, how it works, the advantages of no-code platforms, and use cases for no-code application development.
What is No Code Development?
As the name implies, no-code development is a software development method that doesn't require any coding. No-code development is made possible with the help of no-code solutions for rapid application development.
By eliminating code from development, it drastically changes the entire development process. You don't need to hire developers or outsource your project to an agency. Anyone can use a no-code platform to create an app without any technical skills, programming languages, or technical knowledge.
No code development is commonly used for mobile app development, web app development, website builders, business process management, backend automation, and more.
How Does No Code Development Work?
While every no-code platform has slight variations, the basic concept remains constant across this space.
The entire development process is made possible through visual building blocks and graphical user interfaces. Rather than writing code for functionality, you're simply telling the platform what you want to accomplish through a drag-and-drop interface or WYSIWYG (what you see is what you get) editor.
All of the elements have already been pre-coded by the platform, and the technical components are handled behind the scenes. Then it's just a matter of saying, "I want an image here" or "let's change the color on this screen."
For mobile app development, you can easily add functionality to your app by installing or enabling plugins or extensions. For example, let's say you want to add videos to your app. You can simply install a YouTube or Vimeo plugin. Or maybe you want the app to give users directions to your business. This can be accomplished by adding a maps plugin.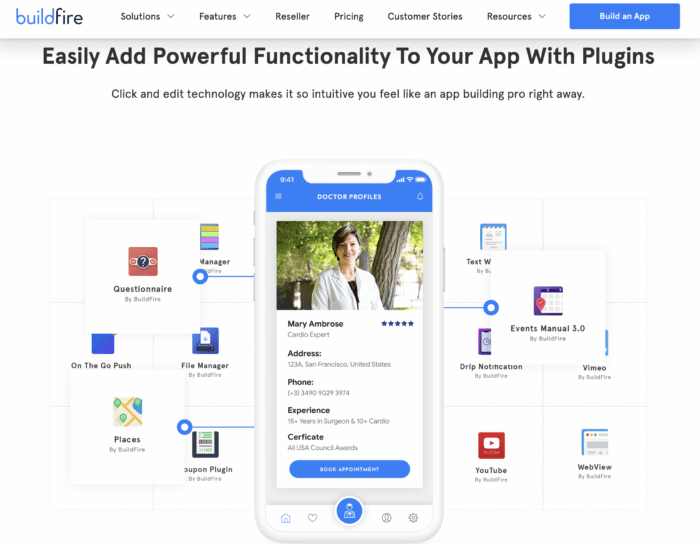 No-code platforms focus on getting critical inputs from the user through visual builders.
As you make changes through your no-code platform, you'll be able to see those changes in real time through an emulator. So you know exactly what you're building and how your software will look from an end-user perspective.
Benefits of No Code Development Platforms
No-code platforms have significant advantages compared to traditional development. We'll take a closer look at the top benefits below.
No Code Tools Simplify App Development
No code dev eliminates the complexities associated with creating mobile and web applications.
Traditional app development requires coding skills to build apps. But there are so many redundant tasks that developers need to follow for every app.
When you think about it, the vast majority of mobile apps share so many of the same core functionality on the backend. There are just slight variations and functionality differences that make the app unique. For example, refer to all of the ecommerce apps you've used in your life. They're virtually identical, except for different products and branding.
No-code tools have all of those similar components pre-built on the backend. You just have to enable which functions and advanced features you want in your app. Then you can customize everything else based on how you want the app to look or feel.
Anyone Can Use a No Code Development Platform
Since you don't need to write code, anyone can use no-code software to create an app.
This empowers citizen development in the business world, and it offers DIY entrepreneurs a simpler path to launch. No code software bridges the gap between non-technical users and software development.
You don't need any coding skills, technical knowledge, or specialized training to get started. Everything is very straightforward, and you can figure it out within an hour or two of basic trial and error. The only learning curve is getting used to the interface of the platform you're using.
Hiring developers and designers to build your app is no longer necessary. You can start with a pre-built template and just move things around to your liking. All of the heavy lifting is done for you.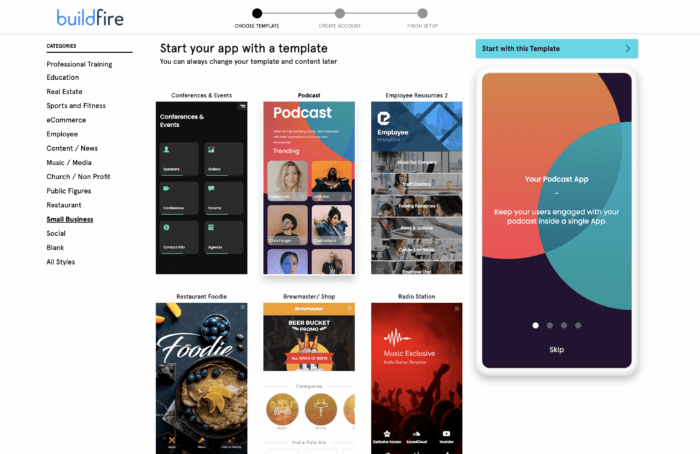 Additional Reading: How to Make an App — The Ultimate Guide
No Code Development Platforms Are Affordable
No-code app development is a cheap alternative to traditional development.
If you're going to hire developers or an agency to create your software, you can expect to pay upwards of $10,000 to $20,000 per month in labor costs alone. These high price points historically made app development only accessible to larger businesses with big budgets.
But no code development platforms are affordable for any budget. For just a few hundred dollars per month, you can build a high-quality app for your business—and nobody will know the difference.
The final product is still a fully functional app. Only you're getting it for a fraction of the cost. Here's an example of some app builder pricing so you can see what I mean: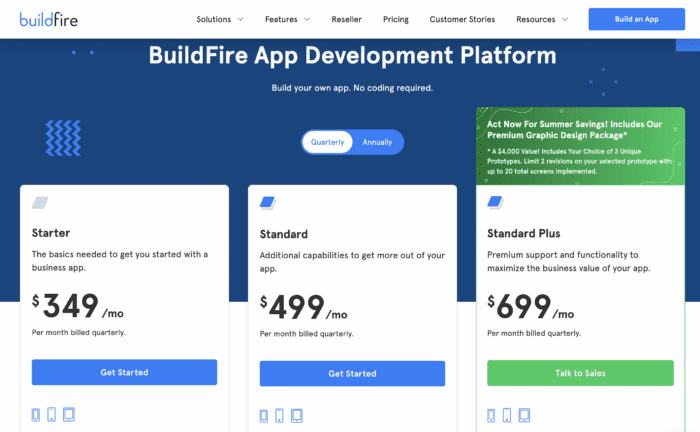 You're just paying for a software subscription—and that's it!
It's also much easier to budget for your app development project if you're paying in quarterly or annual installments. So you won't have to come up with $20,000 or $50,000 upfront like you might if you're going the traditional dev route.
Check out our guide on the hidden costs of software development. You'll be able to avoid these fees if you use a no-code app builder instead of hiring developers.
No Code Platforms Speed Up the App Development Process
With a no-code development platform, you can launch your app in days or weeks instead of months or years.
That's because all of the core components are built for you. You're just deciding what you want to include and customizing the app with your own content and branding.
For example, let's say you're a gym owner that wants to create a mobile app for personal training subscriptions. Your development timeline is solely based on your content creation. It's not like you're creating backend functionality components for home screens, user registration, and design. All of this is already done for you.
You're simply uploading the videos and training programs to the app, and deciding who can see them based on their subscription level.
Getting paid through your app is as easy as enabling a payment feature. You don't have to manually write code for a custom gateway or anything like that.
If you want to launch an app fast, no-code development is your best bet.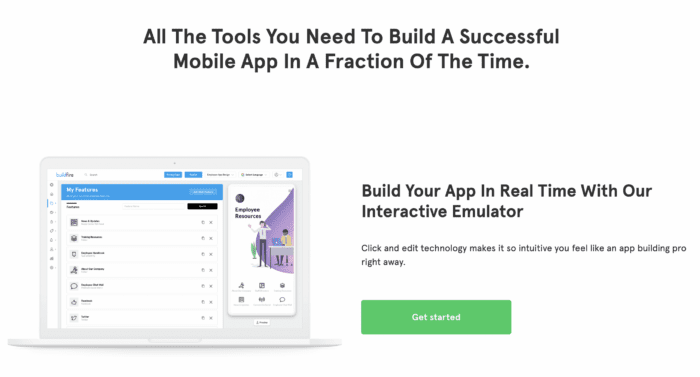 Who is No Code Development For?
There are so many different use cases for no-code application development. No code tools are used for mobile apps, web apps, websites, business process automation, internal communication apps, integration apps, and more.
To see if this software development method is right for you, we'll take a closer look at the types of people who can benefit the most from no-code platforms.
Small Businesses
Small business users can use no-code platforms to modernize their businesses. We're living in a world where everything is trending mobile, and consumers expect all businesses—even small businesses—to have a mobile app.
But most smaller companies don't have an extra $50,000 or $100,000+ laying around for app development.
No-code platforms offer a simple and cost-effective alternative to anyone who falls into this category. For just a few hundred dollars per month, small businesses can have apps that compete with Fortune 500s—for a fraction of the cost.
Citizen Developers
Citizen development is at an all-time high, with no signs of slowing down. These are internal apps used for business processes and similar functions.
Historically, internal business apps required an IT department with specialized skill sets. But now, any mid-size business can empower its employees to create an app without having to code from the ground up.
This is a cost-effective solution for businesses, and it's an easier development method for citizen developers.
Enterprise Grade Applications
No-code and low-code development platforms can also be used by larger organizations that want to create enterprise-grade applications.
You may not be signing up for the same subscription as a small business user. But you can still get advanced features from a no-code tool without having to code everything from scratch.
For example, enterprise users may want domain-restricted login access, custom terms and conditions, and SSO (single sign-on) capabilities. They might also want advanced analytics related to app performance and users. Some may even require industry-specific compliance features or advanced integrations.
All of this can be accomplished through a no-code app builder.

Entrepreneurs
Anyone with an app idea can use a no-code platform to bring their idea to life.
You can do this without having to hire developers or raise capital from investors. All you need is a no-code platform that fits your needs, and you can create the entire app on your own without any help.
This is also a great opportunity for people who already have a brand identity or online presence. For example, if you're an influencer, YouTuber, or have a podcast, you can easily expand your presence by creating your own channel for content distribution.
Your mobile app can be a way to share exclusive content with your audience by charging a subscription fee for access.
Professional Developers
Even professional developers who have the coding skills and programming knowledge to create apps from scratch can use no-code platforms to simplify the development process.
Rather than coding all of the redundant lines for each project, you can get a huge head start by leveraging the power of an app builder.
If you find a no-code platform that's also developer friendly—like BuildFire—then you can also create custom functionality that can't be found through the plugin marketplace.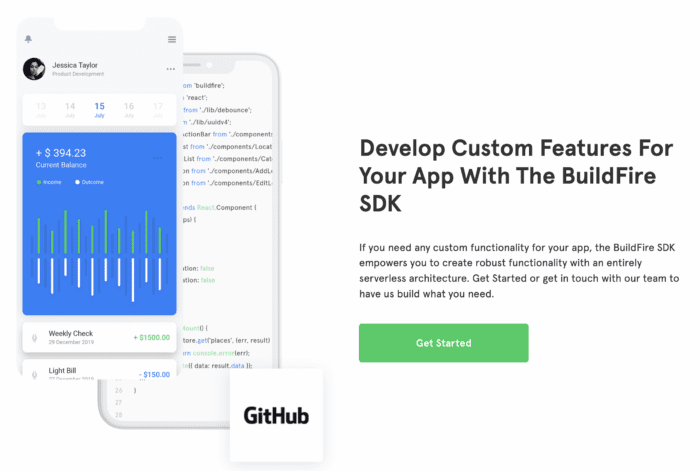 80% of the app will already be built for you. Then you just need to code that extra 20% to make it unique for your clients.
You can also rely on BuildFire's backend infrastructure and servers to maintain the app. So you won't have to go out and configure all of this on your own. Custom features can be added on top of our existing platform and ecosystem.
Agencies and Resellers
No code development is the best way to make money selling apps—even if you have zero coding skills.
There are two main ways to go about this process.
First, you can offer app development services to your clients. This is great for existing agencies that want to expand their service offerings or anyone that wants to start a new app development business from scratch.
Then you can create the apps for your clients using no-code software and maintain them post-launch.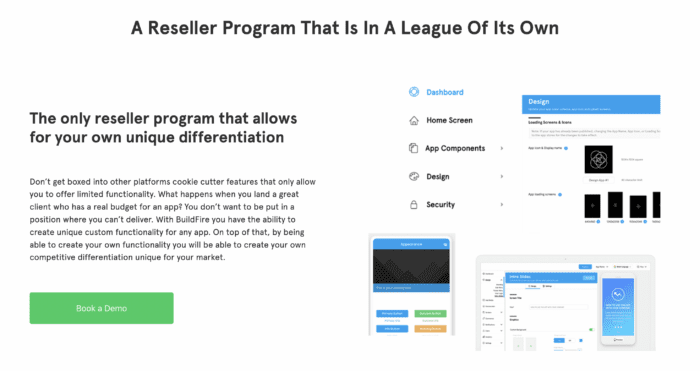 Alternatively, you can simply white-label an existing no-code tool and pass it off as your own. All of your branding will be on the platform, and your customers will never know the difference. You're basically giving them the power of an existing app builder and charging a subscription to use the service.
You can learn more about BuildFire's reseller program here.
What's the Difference Between No Code and Low Code Platforms?
Low-code development platforms are intended for professional developers. They require coding experience and technical knowledge to create apps, but they drastically speed up the development process.
Many low-code platforms come with a pre-built architecture and backend development infrastructure. So repetitive features that you'll find across most apps are already built for you. All you need to do is enable or disable those functions before building the custom features.
No-code platforms are made for non-technical users and don't require any technical expertise or specialized training. They bridge the gap between software development and the average user.
Most no-code platforms operate on closed systems, meaning you're relying strictly on pre-built plugs or extensions. Low-code platforms are open source, meaning you can reuse code from other systems or projects.
Getting Started With No Code Development For Mobile Apps
The first thing you need to do is find the right no-code solution for your specific development needs. Check out our list of the best app building software as a starting point.
BuildFire is the ultimate no-code solution for iOS and Android mobile app development.
It's the most powerful app builder on the market today due to its limitless customization and scalability. The platform is easy enough for anyone to use but powerful enough for developers to create custom features and plugins.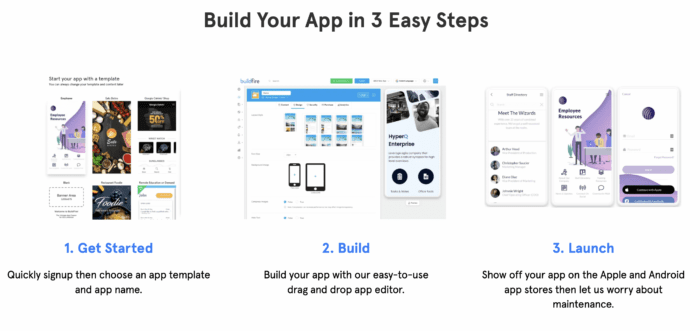 You can use BuildFire to create an app quickly and for a fraction of the cost compared to traditional development. Best of all, you'll have the full support of BuildFire's team at your disposal if you need any help or assistance throughout the project.
We'll even help get your app live on the Apple App Store and Google Play Store once it's done, and manage updates for you post-launch.
Use this guide on how to build an app without coding for step-by-step instructions on getting started and launching your app.
You can also sign up for a 14-day free trial of BuildFire to try it out and get your feet wet with no-code development.
Final Thoughts
No-code development is the future.
It's a simple way for anyone to create apps on a tight budget. No code solutions make it easy to get your app to market quickly and don't require any technical skills or coding knowledge.
The vast majority of apps can be built using a no-code tool—so there's a good chance it's right for you.
If you have any more questions about how this works or specific questions related to your app idea, reach out to our team here at BuildFire for more information. We're happy to help!