Restaurant Why's for Offering Mobile Food Ordering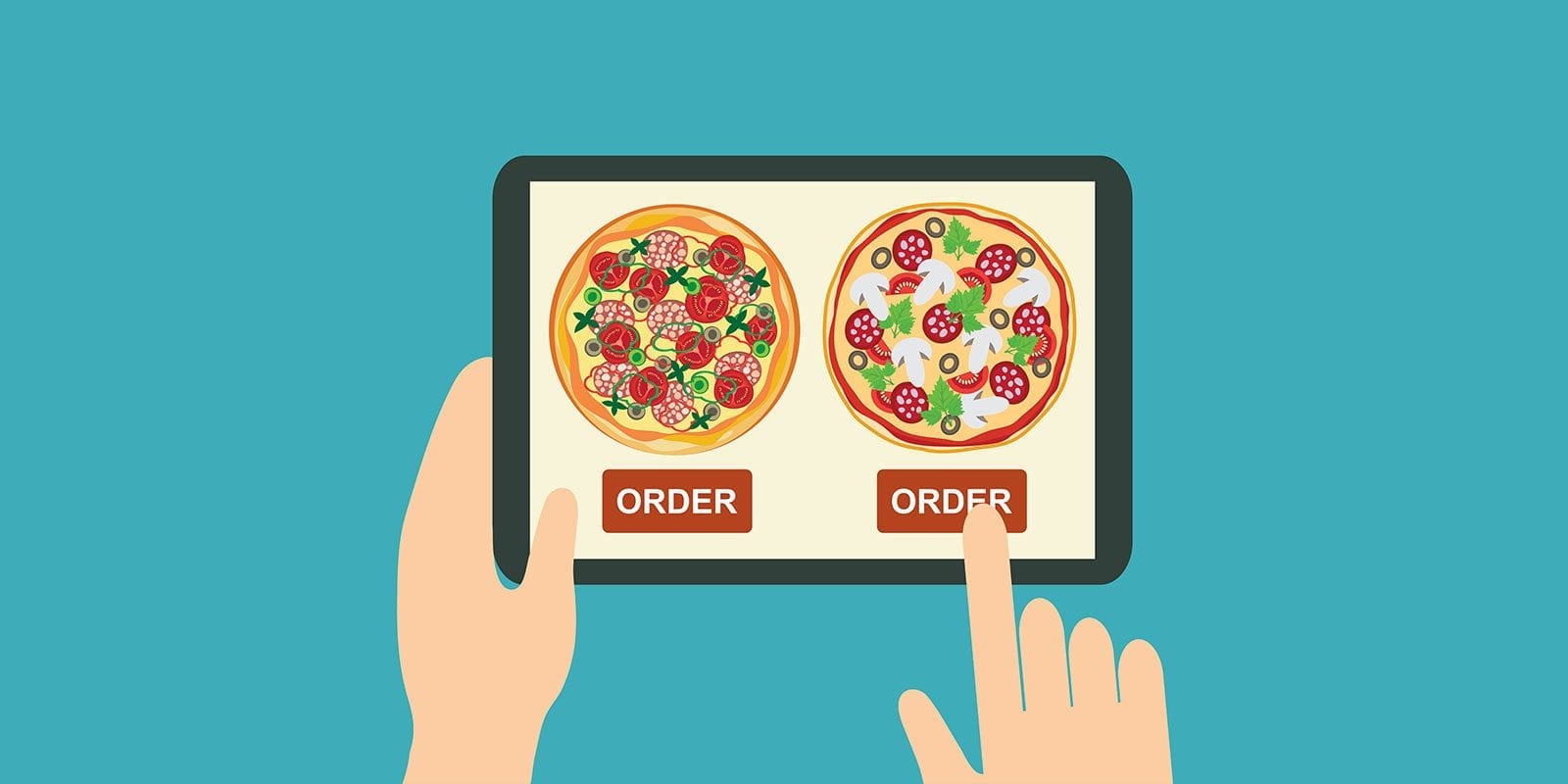 It doesn't matter what kind of food you serve or where you're located, your restaurant needs to have a mobile presence.
That's right. Fast food joints in remote suburbs as well as high-class restaurants in major cities, need to go mobile. Mobile apps are a great way to increase exposure for your restaurant and reach new customers.
But going mobile helps improve the experience for your existing customers as well.
In addition to helping new and prospective customers find and frequent your restaurant, a mobile application will have tons of other benefits for your business as well.
If you're on the fence about building an app for your restaurant or you're trying to optimize your existing app to incorporate mobile food ordering, this guide is perfect for you.
I'll explain everything you need to know about why restaurants are offering the option for their customers to order food from mobile devices and how you can incorporate this same strategy to your business as well.
Here's what you need to know about the food industry and mobile apps.
Mobile ordering makes things easy for your customers
If you don't have mobile ordering set up, think about how you take orders right now. What's the process like? Do customers have to call your location? Do they visit your website?
This is an inconvenience for your customers. First, they've got to find your menu online. Even if they have a physical menu at their house, it's not always readily available and it may be outdated.
Not everyone wants to rush to their computer, but their smartphones are usually glued to their hands. So that's what they'll use a mobile device to find your menu.
70% of consumers prefer to see a restaurant's menu on their smartphone.
Then they'll have to make a call using the same device that the menu is on, which is confusing since the customer will have to look and talk at the same time. Or they'll have to get a pen and paper to write the order down, which is a pain as well.
If you've got a mobile application, customers will have access to your menu and other important pieces of information too.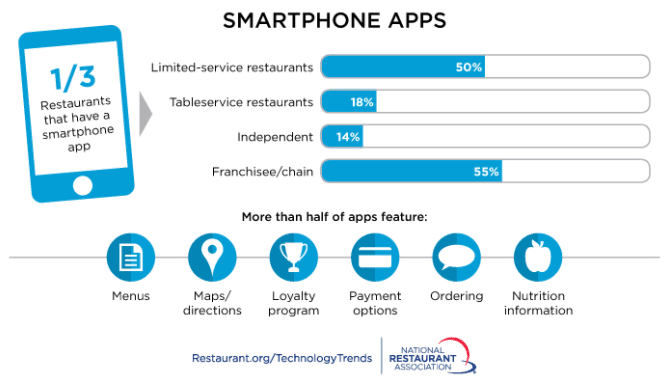 Now there's no reason for the customer to call. They can order directly from within the app.
Ordering over the phone can lead to too many mistakes. Sometimes things can get lost in translation if the customer has an accent or speaks too fast or too quiet. If you've ever answered the phone at your restaurant, you know exactly what I'm talking about.
You've got to constantly keep asking the customer to repeat themselves, which is annoying for the both of you.
Plus, if multiple customers are calling at once, they'll get busy signals or you'll have to put people on hold. 34% of customers who hang up after being put on hold won't call back.
That's probably why 25% of smartphone users have one or more restaurant apps on their devices. It's just an easier process for them to browse your menu and place an order.
It simplifies your process
As you can see from what I've discussed so far, going mobile doesn't just make things easier for the customer, it makes your life easier as well.
You and your staff will spend less time on the phone. You won't have to write things down by hand either. As a result, you'll see fewer mistakes.
No more wasting time sending out wrong orders only to have the customer come back and complain. With mobile ordering, everything will clearly show up on your POS screen when the orders get sent in.
You also won't have to spend time shouting or having trouble hearing in a loud restaurant.
Take a look at the most common actions people do when using their smartphones and tablets to order food for delivery or takeout.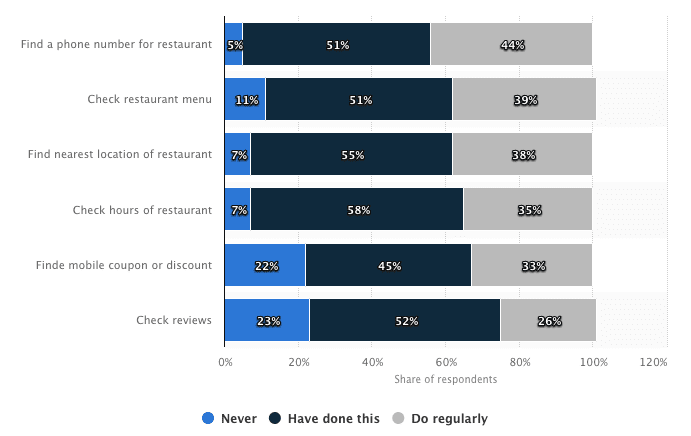 As you can see from the data, only a small percentage of said that they never do some of these actions. The majority of people have done these or do it regularly.
Look at that list and see how much easier these actions can make your life. Customers can easily find your location, hours, discounts, and contact information.
Another benefit of mobile ordering is the fact that customers can pay for their orders in advance.
This is much more efficient for your process. Depending on the size of your operation, you may only have one or two registers.
On a Friday or Saturday night when lots people are placing takeout orders, there could be a long line of people waiting to pay for their food. That line could be confusing and a deterrent for other customers who want to dine in.
They may see a long line and thing that there is no room for inside seating when in reality, it's just the takeout pickup line.
Orders that are paid for in advance can be seamlessly picked up. You and your customers won't have to deal with anymore long lines. We'll discuss payment options in greater detail later.
Customers will order more food
Mobile ordering will improve your conversion rates. 64% of smartphone users convert in less than an hour of their original search for a restaurant.
65% of these people say that they're searching for restaurants within driving or walking distance.
If your restaurant falls within their search query, research shows that the customers will order more food if they complete the purchase process from their mobile app. Here are the average values of mobile food orders in the United States.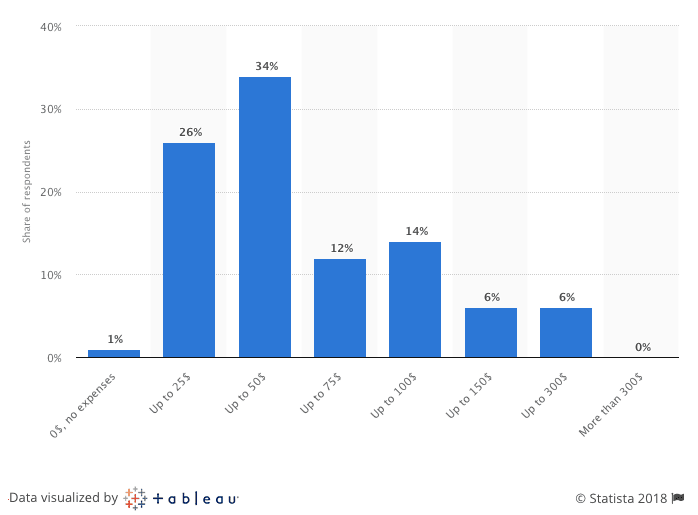 But what does this mean for your mobile app?
Restaurants that offer mobile food ordering have seen a 6% increase in the frequency of customer visits. Furthermore, customers spend an additional 20% per order when they use a mobile device.
People coming in more often and spending more per order translates to more money for you.
One of the reasons why customers are visiting restaurants with mobile ordering more frequently is because it's easy for them to repeat a previous order.
Your app can save the order history for everyone's individual customer profile. Set up an option to repeat the order with just one click to speed up the process and increase sales.
Plus, mobile ordering makes it super easy for you to upsell your customers. Right before they finish ordering you can pitch drinks, desserts, or other menu items with high profit margins.
Even when they order an entree, you can upsell extra sides or premium additions to their meal.
All the user has to do is click to add more food to their order. Customers won't have the same experience if they order in person or over the phone.
You can also add pictures to your mobile menu to show people exactly what the food will look like. Pictures of food can be tempting and cause people to order something else just because the image looks good.
Enhance the customer experience
Having a mobile app and mobile ordering system makes it really easy for you to implement a loyalty rewards program. Since all of the orders are tracked, you can reward your most loyal customers.
After a certain amount of visits or spending threshold, customers can get discounted items or even a free meal, depending on how you set up your program.
In the restaurant industry, loyalty rewards programs are extremely effective.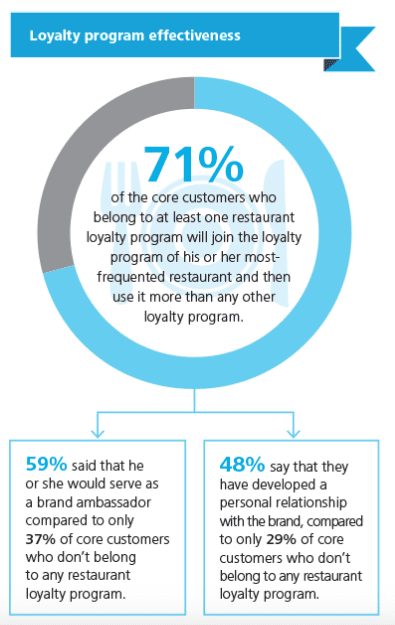 Furthermore, 57% of consumers say that they are more likely to visit restaurants with loyalty rewards programs than restaurants that don't.
You can use your mobile marketing strategy to increase the buying incentives for customers who are participating in your loyalty program. This relates back to what we just discussed about customers spending more money when ordering from a mobile device.
Well, now you're giving them an excuse to spend even more money if those dollars translate to customer benefits.
You can also have your daily specials available on your mobile ordering system. This isn't something that's available for customers who have a physical copy of your menu.
Your customers can also see real-time information about their order from start to finish.
Set up a system that shows the customer when their order has been received, when it's being cooked, when it's done and ready for pickup or en route for delivery.
These updates will increase the user engagement with your app and increase your chances of making more money. Plus, it keeps the customer satisfied.
Accept mobile payment options
We briefly discussed mobile payment options earlier, but I wanted to go into a little bit greater detail on the subject.
Allowing customers to pay for their food from their mobile devices in advance can provide so many benefits for your business. As I already stated, advanced payments will cut down on long lines and wait times when a customer comes to pick up their food.
They can quickly just grab it and go when the order is ready if it's already been paid for. If you're delivering them food, they don't need to hand the driver cash. They can also tip the driver from within the app as well.
You'll also get paid in advance. That way if a customer orders food but never picks it up, you won't get stuck for the money. Everyone who is in the restaurant business has had this happen.
If you're accepting mobile payments, make sure you offer the customers as many options as possible.
In addition to accepting all major credit cards, try to include alternative options like PayPal, Venmo, Apple Pay, and Google Pay. Apple Pay has already surpassed PayPal for retail acceptance, so customers are used to having these alternatives as an option.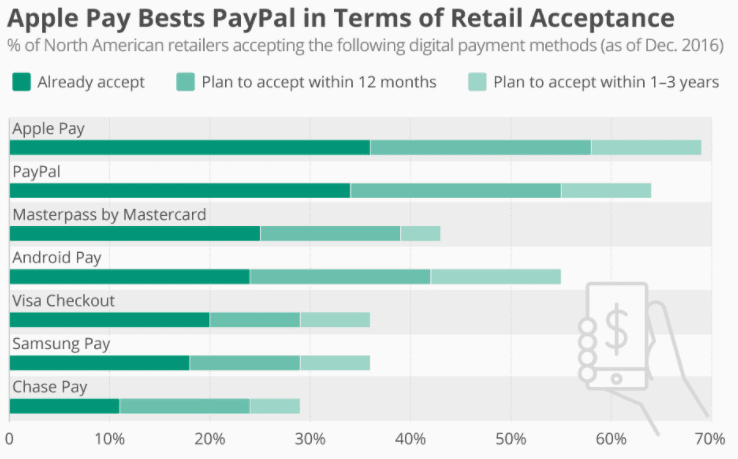 Consumers will want to have these same choices when they order food from a restaurant's mobile platform as well.
People will seek alternative options
If your restaurant doesn't have mobile ordering available, people are going to use your competition instead.
We already looked at research showing how consumers have restaurant apps downloaded to their phones and want to use mobile devices to find menus.
In addition to regular restaurant apps, consumers are also using apps like GrubHub, Postmates, and Uber Eats. The problem with these apps is that they charge extra fees since they are a third party.
Here's something else to consider. Let's say a customer uses a third party delivery app to order food from your restaurant.
The order takes forever to get delivered and ends up being cold by the time the customer gets to eat it. Even though it's not your fault, the customer may have a bad association with your restaurant and be hesitant to buy something from you in the future.
Rather than trusting your food with a third party, it's better for you to be in total control of the process until it reaches the customers' hands.
This will also keep the customer happy because they won't have to pay those extra fees associated with third party apps.
Offering mobile ordering gives you other opportunities as well
If you've got an app for mobile ordering, you can do other things with it as well.
When a customer downloads your app and sets up their profile, you can ask them for certain information like their birthday or an anniversary date. That way you can send them special promotions on those days.
You can also use geofencing technology to target customers when they are nearby your restaurant. Just send them a push notification enticing them to come in.
Check out this push notification from Starbucks.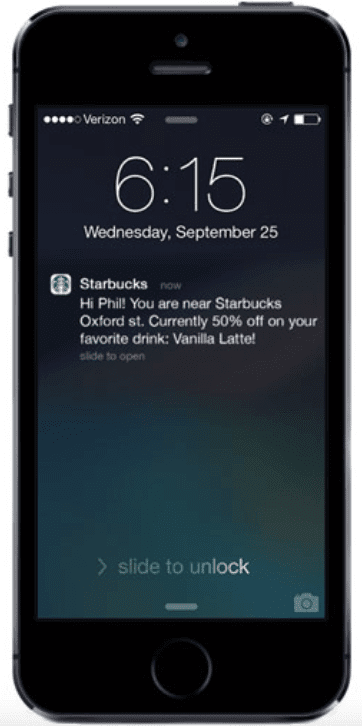 When the customer walked nearby a local Starbucks location, they received this notification. In addition to geofencing, this algorithm also encouraged the customer to order with personalization tactics.
Since the customer's mobile ordering history has been saved to their profile, it's easy to determine what their favorite drink is.
Imagine walking down the street and getting a message to your phone saying to come grab your favorite drink for 50% off. It's a genius marketing strategy that converts.
You can also use your mobile app to drive traffic to your website and increase your social media presence.
Provide links to your Yelp reviews. Encourage user-generated content like pictures of your food paired with the reviews.
So think outside of the box if you're on the fence about implementing a mobile ordering system.
You'll get other benefits as well, just by having a mobile platform to take advantage of.
Conclusion
Every restaurant needs to have a mobile ordering system.
Consumers search for restaurants on their mobile devices, so it's only natural that they should be able to order from them as well.
Implementing a mobile ordering system makes things easier for the customers while simplifying your in-house process.
By enhancing the customer experience, you'll also see that customers will buy more food when they use their mobile device to place an order.
Your mobile app will also provide you and your customers with other benefits in addition the mobile ordering system.
If you don't have an app for your restaurant, you need to develop one right away so you can take advantage of these opportunities.
How does your restaurant use a mobile food ordering system to improve the customer experience?