25 Powerful Small Business Apps You Can't Do Without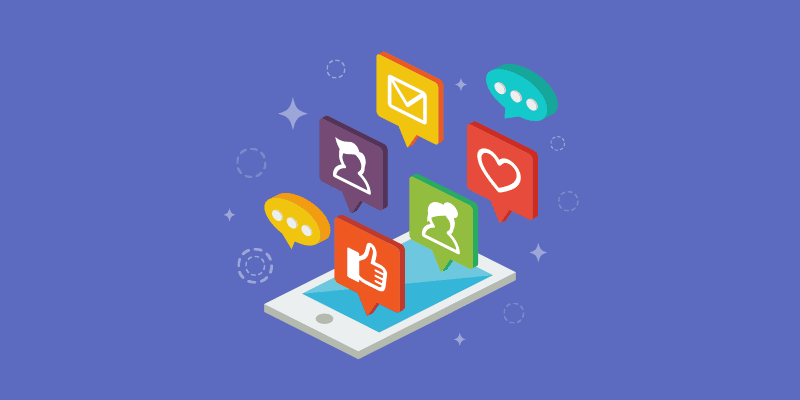 Slowly but surely, small businesses are leveraging apps to automate tasks.
If you consider that operating a small business is such a big deal, especially in this data-driven era, you can no longer ignore mobile apps.
You should set big goals for your business, and work towards achieving them. According to Small Biz Trends, "72% of small/mid-size businesses expect their revenue to increase 10% from 2015 – 2016.
To fully be in control of your business, you need to know enough about social media and SEO, and how mobile apps can help you reach more audience through these channels.
Any small business has the potential to thrive. It all depends on the people managing it. It's no longer about starting a business with big capital – but managing what you already have.
There's a good chance that your business is well on its way to the top, where you can build self-sustaining system that runs your business on autopilot – generating sales and revenue at the backend.
No matter the business model, as long as you leverage the internet to drive leads and customers, you need to step up your game – through mobile apps.
If you're looking to automate your business, you need mobile apps. A survey by Aberdeen Group shows that automating your digital marketing platform boost your conversions rate by 53%.
In fact, a quarter of all B2B Fortune 500 companies are already using marketing automation, along with 76% of the world's largest SaaS companies.
Looking at the chart below, you'll see the three most effective sources you can use to generate leads. Each of these channels can be automated using mobile apps to achieve better results – handsfree.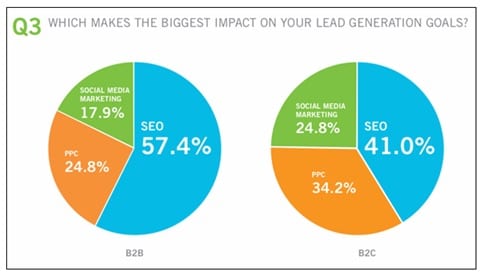 I put together these 25 powerful small business apps to help you navigate your way in this competitive marketing era, acquire new leads and engage existing customers – as well as create more brand awareness via mobile channel.
The first small business app to earn our number #1 spot is…
1. Expensify
Expensify is an attractive one-click expense reports app for small businesses.
The good thing about it is that the reports are real-time, which means that you can rely on it. If you're looking for an intelligent app to automate your expenses in real-time, Expensify should come to mind.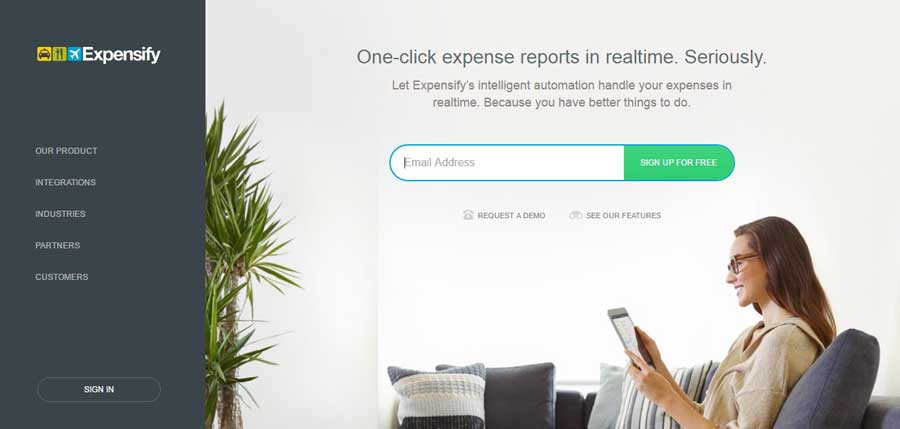 Do you know the cost of your digital marketing campaigns?
The only way you can have an idea of the cost is by keeping records of your expenses.
Take a look at a scenario: The PR or social media firm that you work for as an employee nominated you to attend a workshop and represent the firm, probably somewhere really far.
On your return, you're expected to present a detailed report of your expenses. And note, it doesn't matter whether you're a chartered accountant or not, you report needs to be clear to your Boss.
I can imagine how overwhelming it would be when you don't have a detailed report of what transpired at the workshop.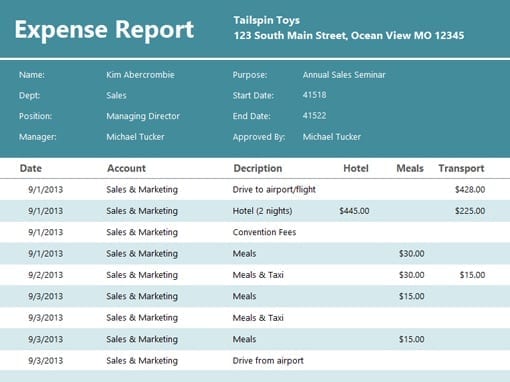 You need to know, not only what you spend on as a small business, but the estimations associated with putting together: a social media project, mobile marketing campaign, as the case may be.
To reach more audience, as a digital marketer, you must know the cost implications of every tactics you may want to implement, the time it takes, at what pace, and more.
And you can have all these details listed out in a single dashboard, but with the right app.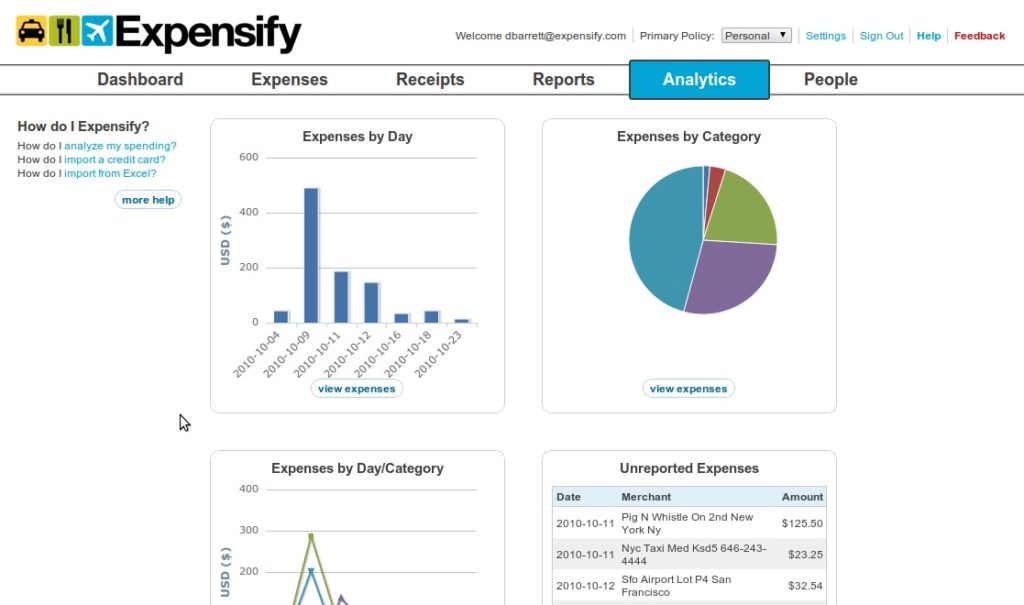 2. LocalVox
Are you visible online?
Your digital marketing success depends solely on your visibility.
The best visibility to have in addition to being active on social media networks is organic search visibility. See, about 87% of consumers find business using search engines.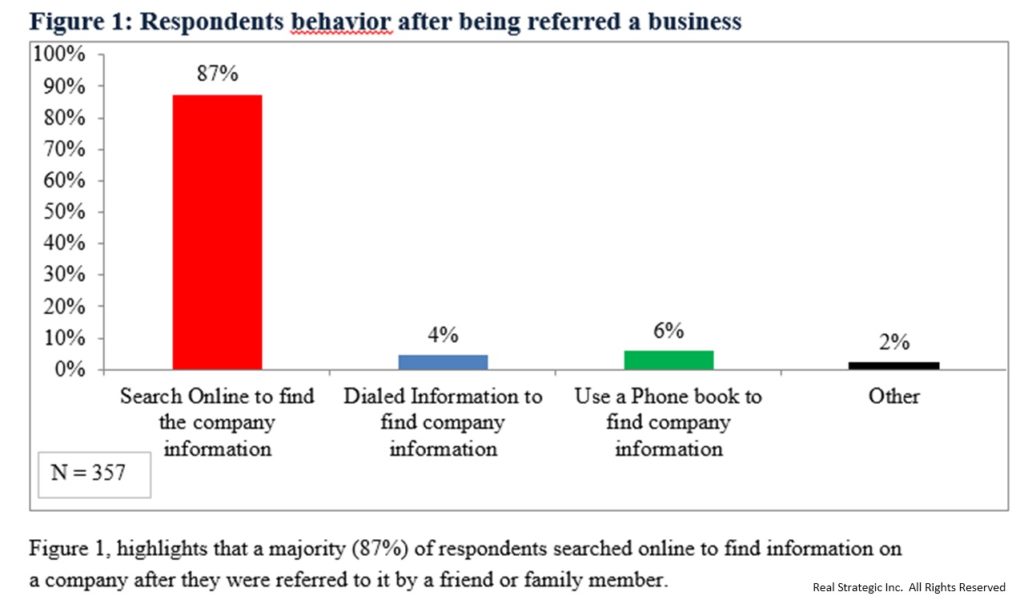 Yes, we can view LocalVox as an app, because of the specific tasks that you can do with it, but it goes beyond that.
LocalVox is a digital marketing company that provides online marketing solutions for local businesses that fall into these categories:
Small businesses
Multi-location & Franchises
Featured industries
If you want local consumers (e.g., in Las Vegas) to find your business, you need to optimize for geo-specific keywords.
Let's assume you're a web developer based in Los Angeles, here are a few geo-specific keywords to optimize your web pages with:
Los angeles web developer
Best web developer in LA
LA web designers blog
Where to find web developers in Los Angeles
And so on…
Your business can only thrive online when you're seen and heard by the right people.
Invesp estimated that if you're not leveraging available social media, search, and mobile channels in your marketing, you're likely to miss out on more than 85% of ideal customers who need your services.
As a digital marketing solution, LocalVox can help you in these areas to optimize your content and reach more audience.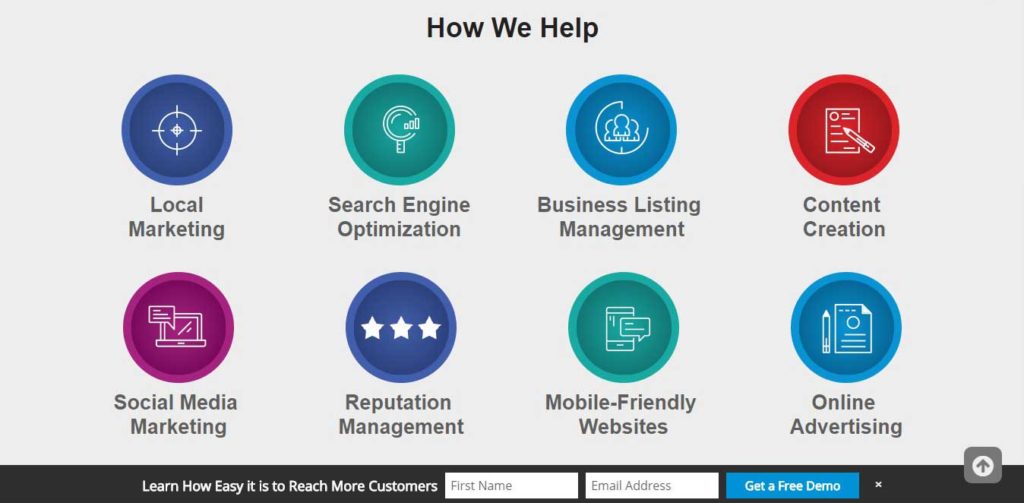 It's high time you keep control of your brand, while increasing your revenue and building a reputation that puts your business at an advantage over your competitors. LocalVox can help.
3. TweetDeck.com
Why use TweetDeck?
Well, a recent survey by MediaBistro found that if you use Twitter to promote your content and engage your followers, you can increase your business' growth by 67%.
Here are more benefits of using Twitter: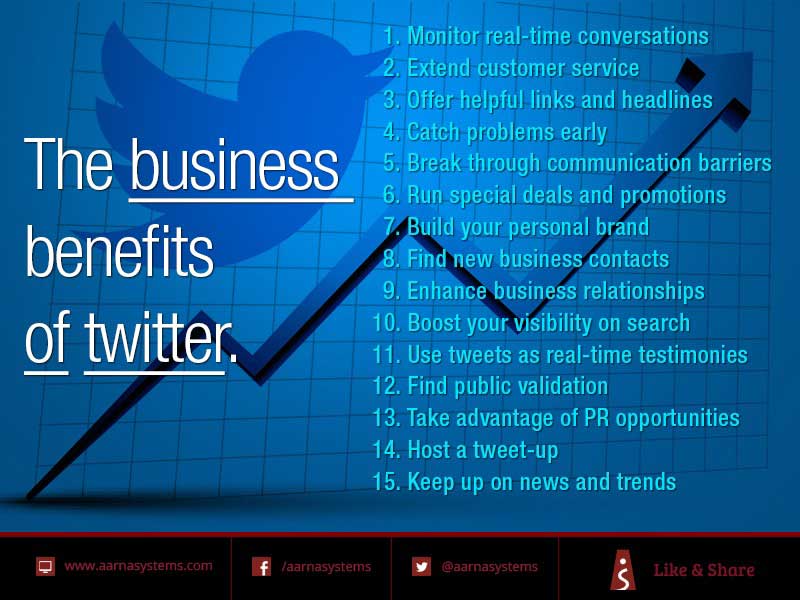 It's often said that the life of an animal is in the blood. In the same vein, the life of any digital marketing business is in the use of social media channels.
Twitter is a reliable channel. It's integrated into TweetDeck to help you manage your accounts and achieve more. With this small business app, you'll be promoting your business on Twitter like a pro.
A pro knows how to turn ugly moments into best moments. In the midst of the distractions on social media, trust TweetDeck to pull you through.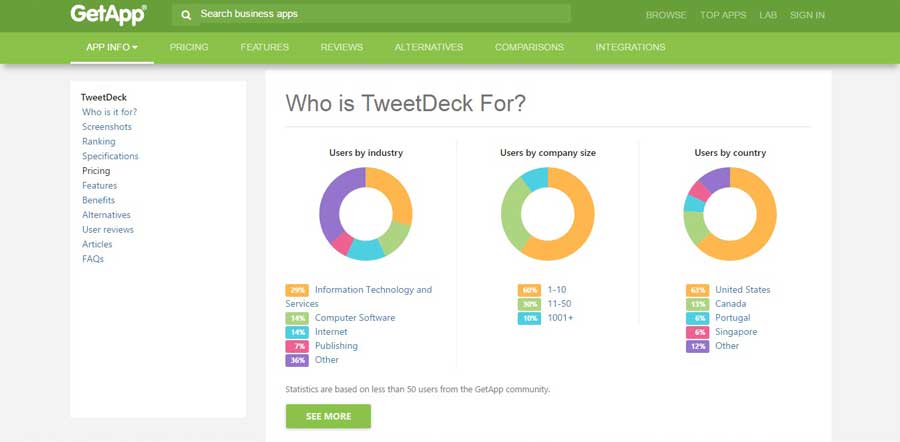 4. Majestic
Majestic is your marketing search engine and backlinks checker tool.
How good is your ranking on search engines?
No doubt, you'll generate a lot of traffic if your web pages rank on the first page of Google, for related search queries. The traffic in turn translates into increased sales, loyal customers, and brand ambassadors.
You can also use Majestic to conduct competitive analysis. This way, you're able to know which keywords your competitors are ranking for, and how where they're getting their backlinks from.
All you've to do is enter your competitor's domain name into the search box. Then click on the search icon at the right side:

Next, you'll see your competitor's backlinks, trust flow & citation flow, and so much more.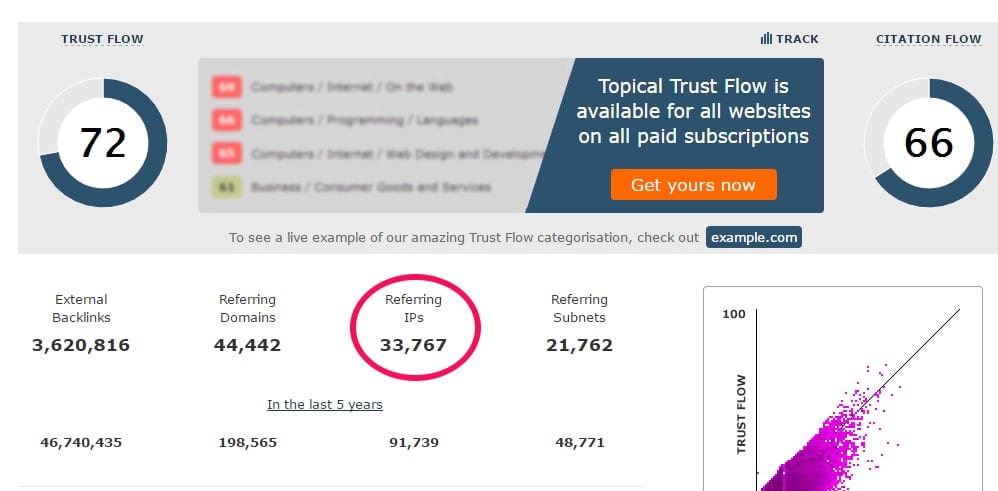 There are several ways to rank highly in Google first page.
Most people employ the blackhat techniques. Well, it works but it puts your website at a risk. Because, you may wake up one day and realize that your web pages have been de-indexed by Google.
The best strategy for improving your search rankings naturally is through inbound marketing. Here's the most relevant and simple definition that Google trusts:

In a nutshell, inbound marketing involves the process of creating exceptionally great content that addresses the pain points of your audience.
Inbound marketing puts your business in such a good light, which makes your prospects and customers desire your brand. This makes it possible for your clients to come to you, instead of you going to them.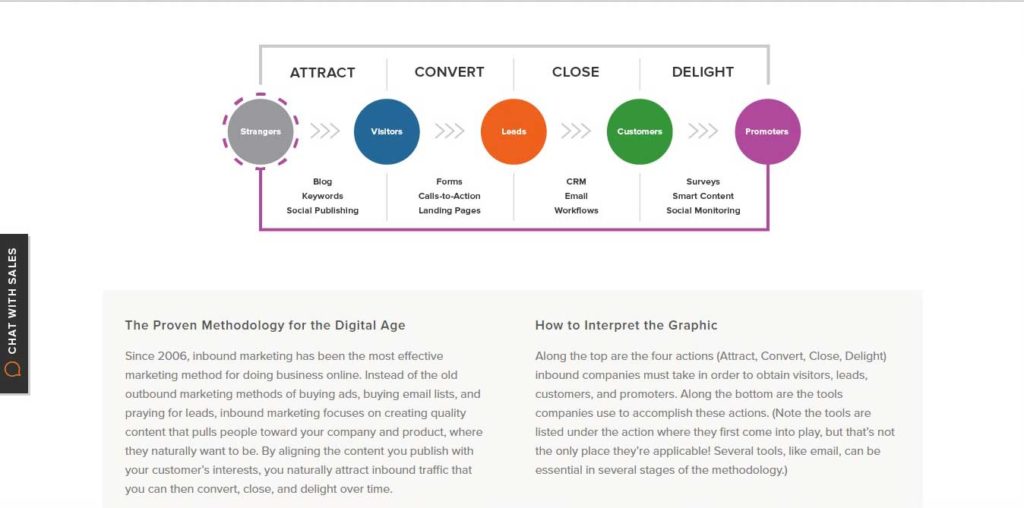 Although, there are other alternatives to Majestic. But what I like so much about this small business search tool is how it groups backlinks types.
This is really priceless, especially when you're aiming to build more educational and governmental backlinks.
5. The Search Monitor
The Search Monitor is a precision ad intelligence tool for small businesses.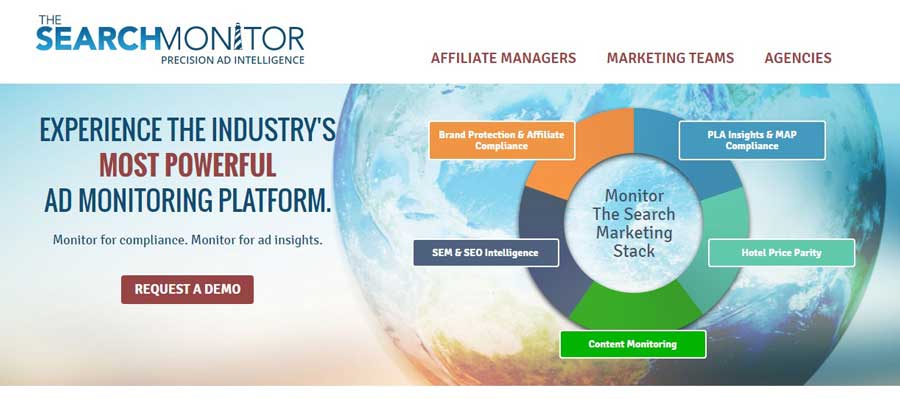 It helps you monitor your digital ads. In fact, you can:
Monitor for compliance
Monitor for ad insights
Keeping track of the performance of your ad campaigns equip you with information of what works or doesn't work in your industry.
It gives you a detailed report of your competitor's strengths and weaknesses. You can't afford to ignore this tool.
Since search is the most common starting point for mobile research, it means that you've an opportunity to reach tens of thousands of mobile users with your mobile ads.
For example, when you advertise on Facebook and target mobile users, Facebook provides a detailed user report. With this report, you can create better ad copy using Google AdWords.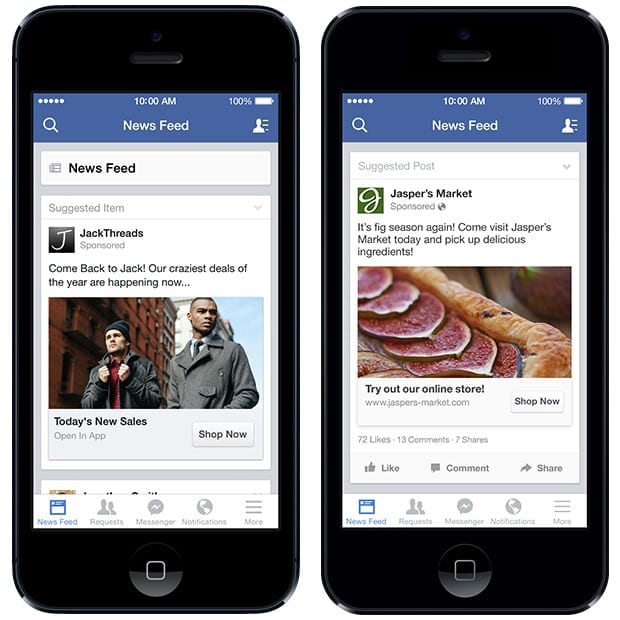 Like the saying, "testing the waters," you're now equipped to make very good marketing projections, and thus, reach more audience – because of the discovery you just made.
6. AdGooroo
"Truly, mobility drives agility and efficiency." – Vala Afshar
Our economy is driven by small, private businesses. In fact, only 1% of U.S. businesses are publicly traded.
If you want to build a thriving and agile small business, you need to leverage mobile technology. Data from Huffington Post found that small businesses project to see triple-digit-growth in mobile apps in 2018.
In turn, this should improve customer experience – which is the ultimate focus of every business.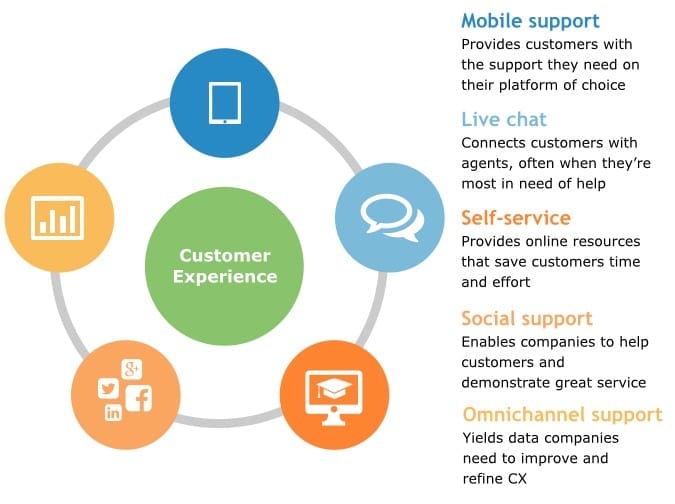 That being said, you need the right marketing landscape and solutions. And that's where AdGooroo comes in.
AdGooroo is a small business application that allows you gain complete insight into the paid search marketing landscape.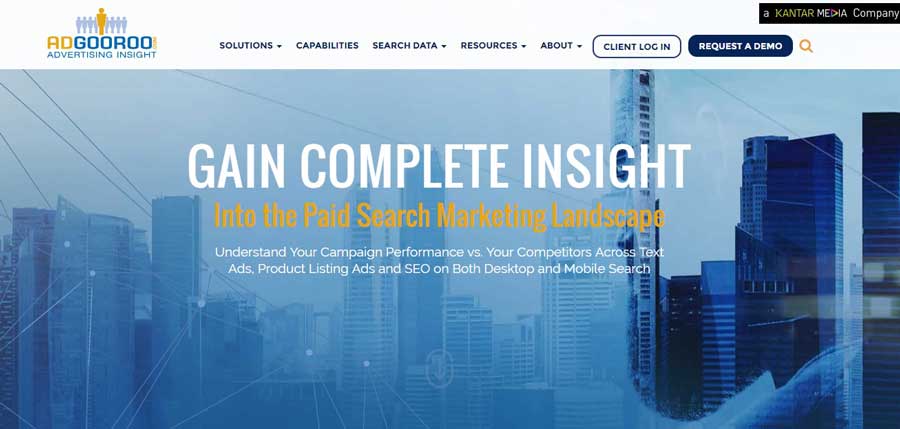 With AdGooroo, you can understand how your campaign is performance vs. your competitor's across text ads, product listing ads and search engine optimization on both Mobile Search and Desktop.
Running ads online to generate leads and customers is good. But a detailed update on ad performance is even greater.
You can use AdGooroo to measure the performance of your campaign.
Generally, customers will see your ads at different times, under different circumstances. Therefore, paying close attention to ad performance across these channels while monitoring the timing is critical to your success.
In this era of digitalization, your ideal customers are online, which implies more reach for your business if you know how best to get your ads in front of them.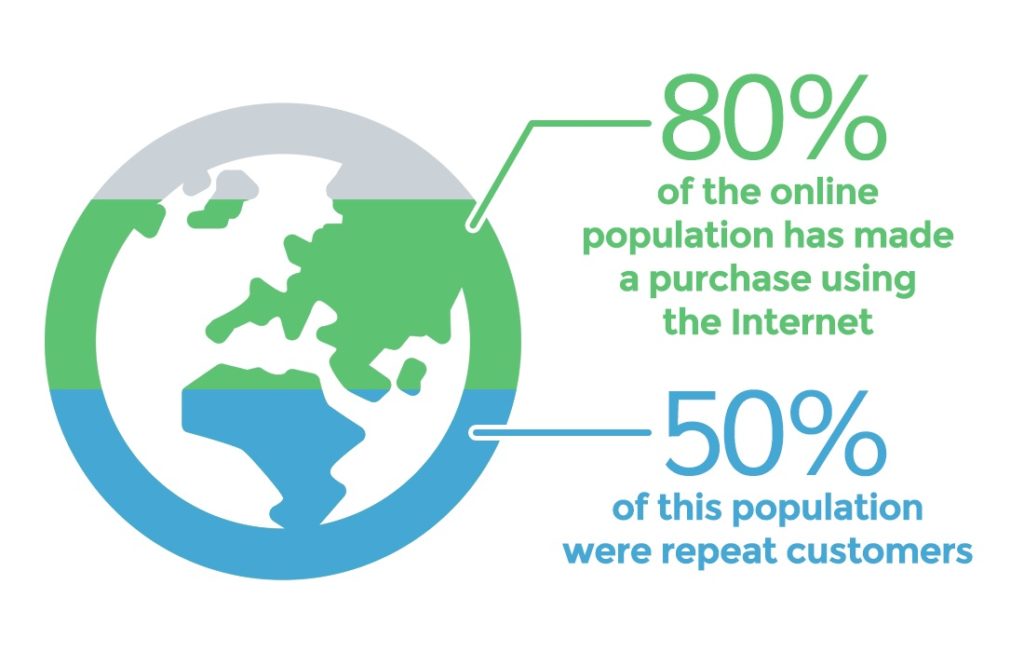 Your ad campaign may be dysfunctional because of the poor technique you use in tracking them. Notwithstanding, AdGooroo is here to revive your mobile marketing campaign – and provides you with these insights:
7. iSpionage
What are you waiting for?
Isn't it high time you steal your competitors' traffic & uncover their conversion strategy?
If you desire that, iSpionage can help you.
iSpionage is an AdWords Competitor Keyword Tool and PPC Intelligence tool for marketers.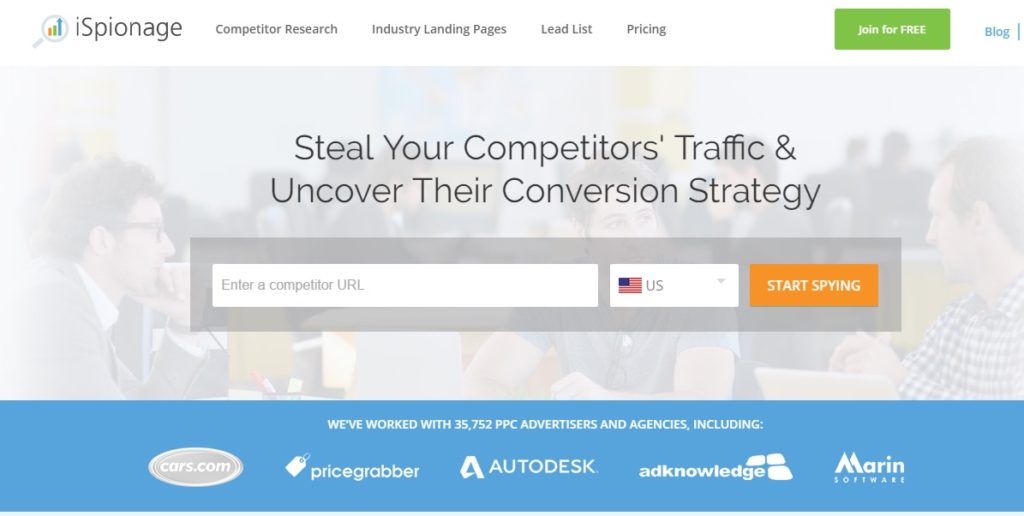 Driving targeted traffic is the primary focus on every digital business. Getting the traffic to convert into customers is the ultimate goal.
But no matter the amount of traffic you drive to your website, until you engage them you may not be able to get more sales.
For example, Slideshare is able to average 60 million unique visitors each month, because it engages the users with compelling visual content.
Great content is what results in increased page activities. So, the time you spend producing irresistible content in variety of formats will pay off big time.
For your PPC ads to generate more leads, you must have a way to find profitable PPC keywords lists, as they have a potential of setting you ahead of your competitors. iSpionage can help.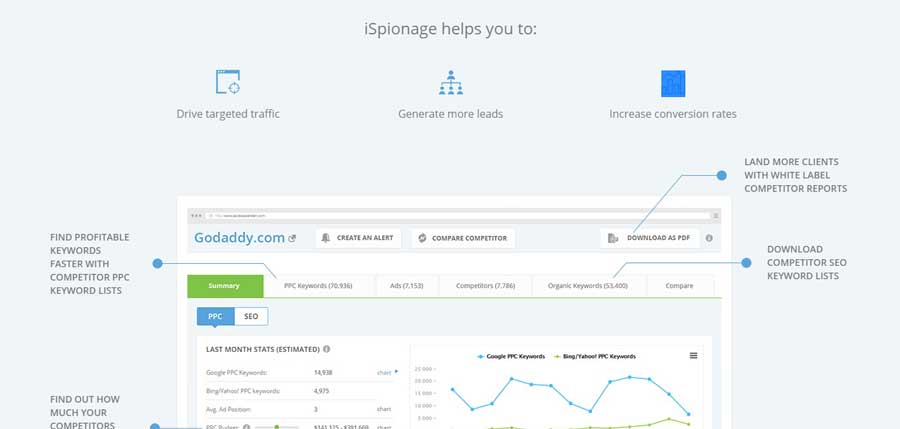 8. SpyFu
One way your digital marketing brand can become exceptional, is learning from your competitors.
As you spy on them, you'll pinpoint what gives them the edge, and what they're missing out on that you can take advantage of.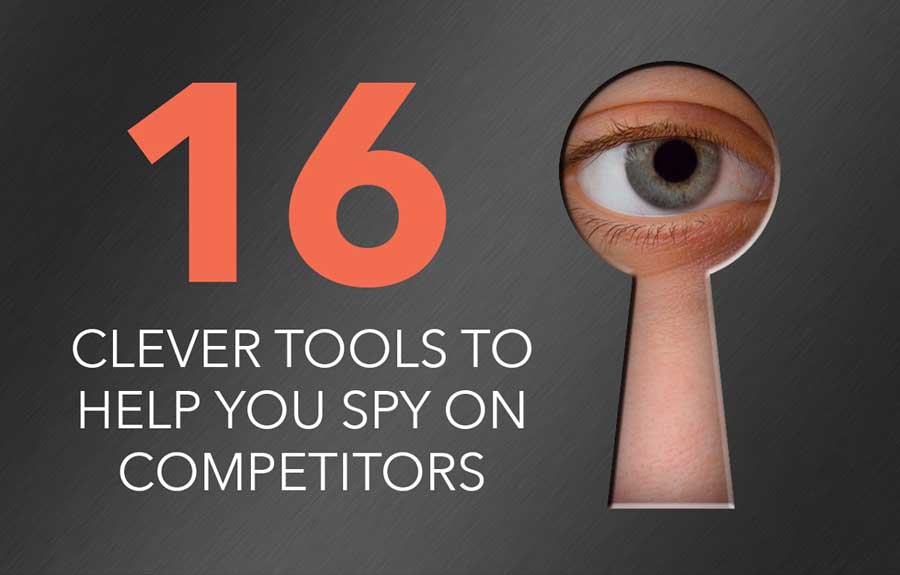 Spying on your competition reveals areas that you can improve on your own campaigns, because you have known the areas where competitors are weak, or not doing so well, and so, built on them.
Do you know the keywords that generates the most traffic for your competitors?
SpyFu is a trusted search marketing app that allows you to download your competitors' Most Profitable Keywords and Ads for paid and organic search.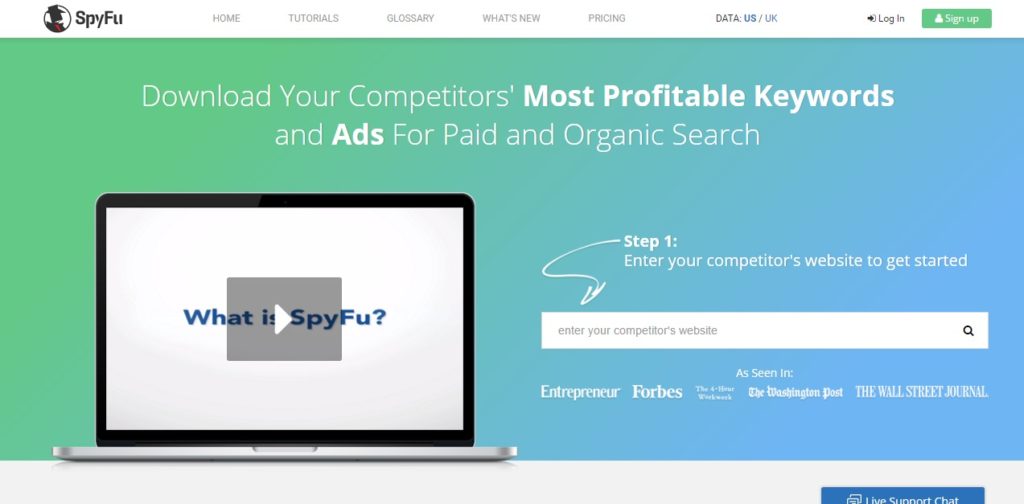 9. SEMrush
Are you satisfied with your SEO results?
SEMrush provides service for competitive research, shows organic and Ads keywords for any domain name.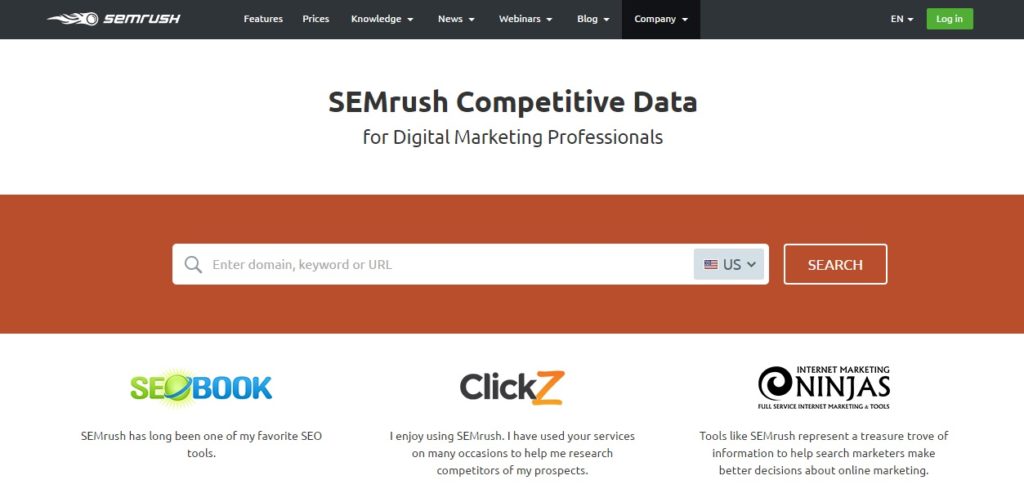 Search engine optimisation is the new fair advantage you must consider as a mobile marketer. On-page SEO is one practice that helps you drive more organic traffic and improve rankings.
If your web pages are ranking highly in Google, then you should see the results in terms of increased organic traffic, more clicks – since 42% of users click the top-ranking search results.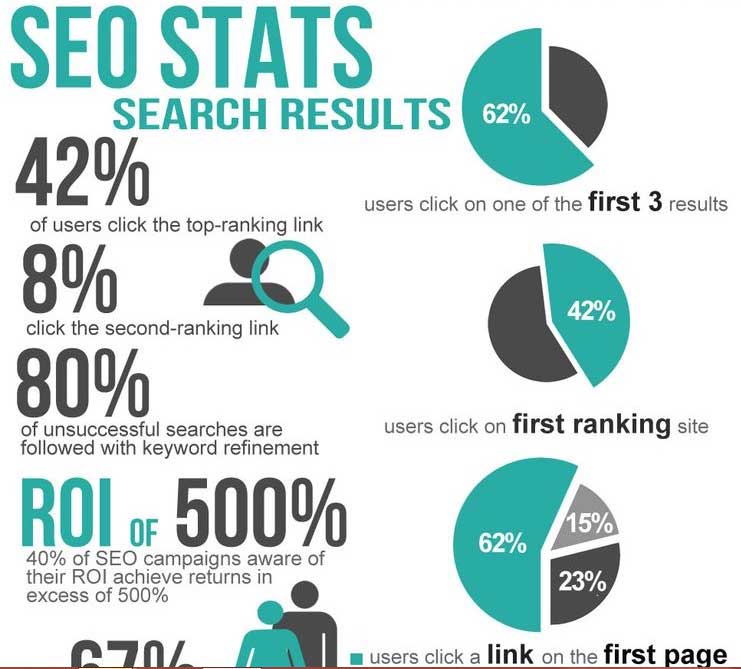 Digital marketing is becoming more competitive as the days go by. As a result, a host of sites are hidden because they can't be found on the search engines.
If this is the only reason why you execute SEO, then it's a good one. Remember that when your business is easily seen in the top results pages, you'll generate more traffic to your website and grow your revenue.
10. Tweepi
Social media is such a great resource that can't be ruled out in today's digital marketing. It provides platforms that elevate businesses especially via mobile, since mobile users enjoy accessing their favorite sites using their devices.
One of such social media platforms you can't ignore is Twitter. And if you're going to use Twitter to grow your business, you'll need an app.
Tweepi is a social media app that allows you to get more Twitter followers.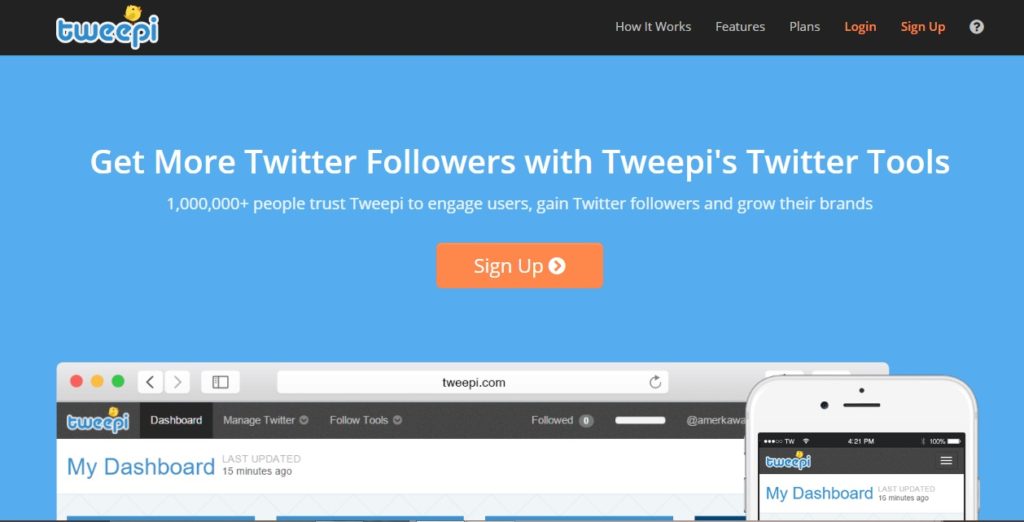 Tweepi is trusted by over 1,000,000 people, who use it to grow their brands and make more impact on social media.
Given the numerous platforms available, social media presents an advantage for small businesses to make more money.
According to Social Media Examiner, "64% of Twitter users are more likely to buy the brands they follow or are a fan of."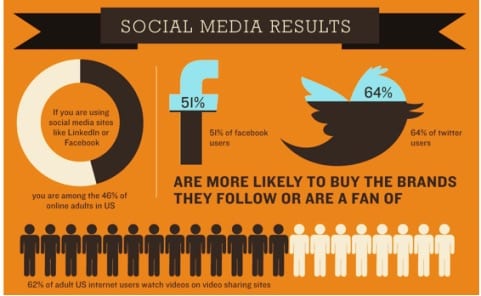 Yes, your mobile marketing results can soar even in the midst of distractions, but you've got to arm yourself with an accountability partner. Tweepi is a proven and trusted app to make your investments worth your while on Twitter.
11. Buffer
Most small businesses waste ample time managing their social media accounts?
If you're one of them, it's time to make a U-turn. Rather than managing multiple accounts manually, you can use Buffer – a social tool that provides a smarter way to share your best content on social media.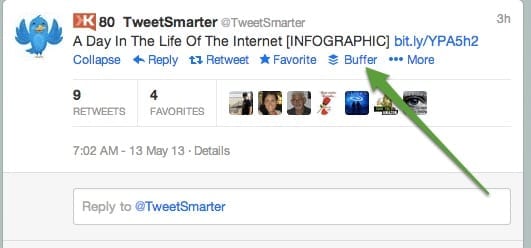 When it comes to social media, your next biggest challenge is scheduling and sharing content, at the right time, across your different social media channels.
You're probably going to spend more time than necessary, if you choose to share content on Facebook and Twitter manually.
Imagine the time it can take to first log into your Facebook account, then Twitter, Google+ and LinkedIn.
Worse, you might get into your account and bump into an interesting image that you may consider checking out.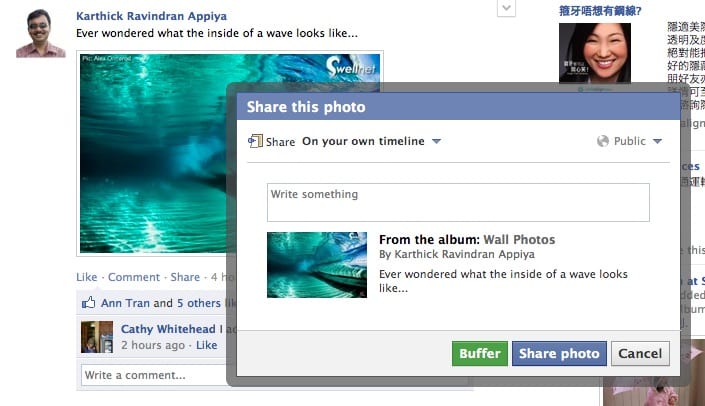 From there, another fancy quote gets your attention, before you suddenly recognize your purpose of logging into your account.
All of these unnecessary distractions can be taken care of by Buffer. Buffer is your one-shot solution to save time sharing content across multiple social media channels – on both desktop and mobile channels.
12. Sprout Social
Sprout Social is trusted by agencies, and relied on by businesses for scheduling, publishing and analyzing social performance across different channels.
Your ability to follow up on your audience across social media while serving them with compelling content is a sign that you truly care. A timely update on social media can engage them.
According to Salesforce, showing users how much you care has a potential of increasing your sales by up to 29%.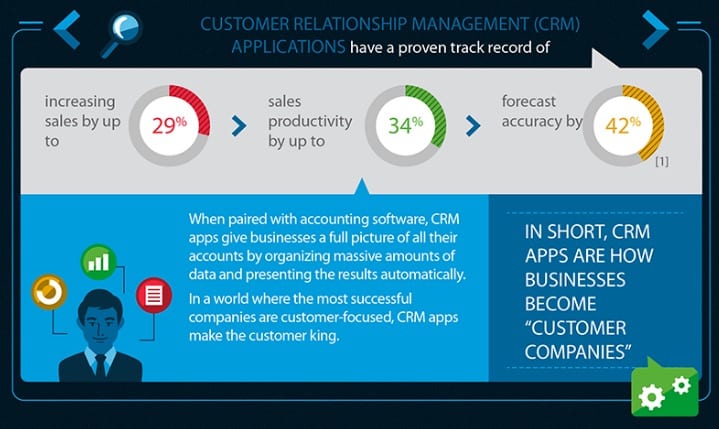 Sprout Social furnishes you with a detailed report of every activity, especially where you're expected to manage your clients' multiple accounts.
It takes away the stress off you. Such that comes with searching unnecessarily, and wasting time.
Sprout Social is an app that takes your mobile marketing beyond making most of a good relationship with user, but it gets your visitors engaged, seamlessly manages your accounts on multiple social media channels.
Additionally, the app allows you get a reporting on your conversations, mentions, direct messages, to follower requests and comments.
13. Happy Cyborg
Happy Cyborg is a small business and social media app that uploads your personality to the cloud as a cyborg on Twitter.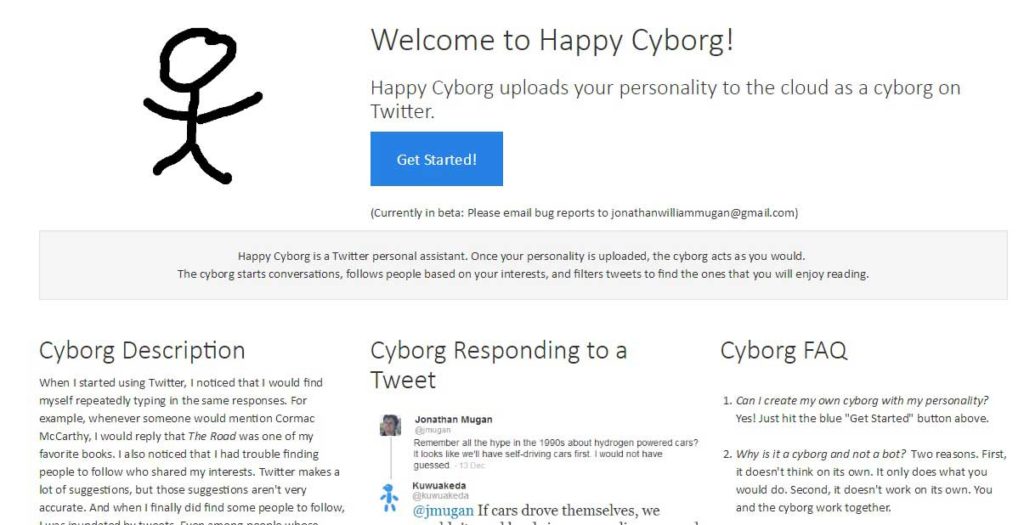 In a nutshell, Happy Cyborg is a simple Twitter personal assistant. Once your personality is uploaded, the cyborg acts as you would.
The cyborg initiates conversations, engages people based on your interests, and filters tweets to find the ones that you will enjoy reading. This is priceless.
With billions of active social media users as of 2015, you need to always be there for your audience. You should post compelling content and engage them at all times.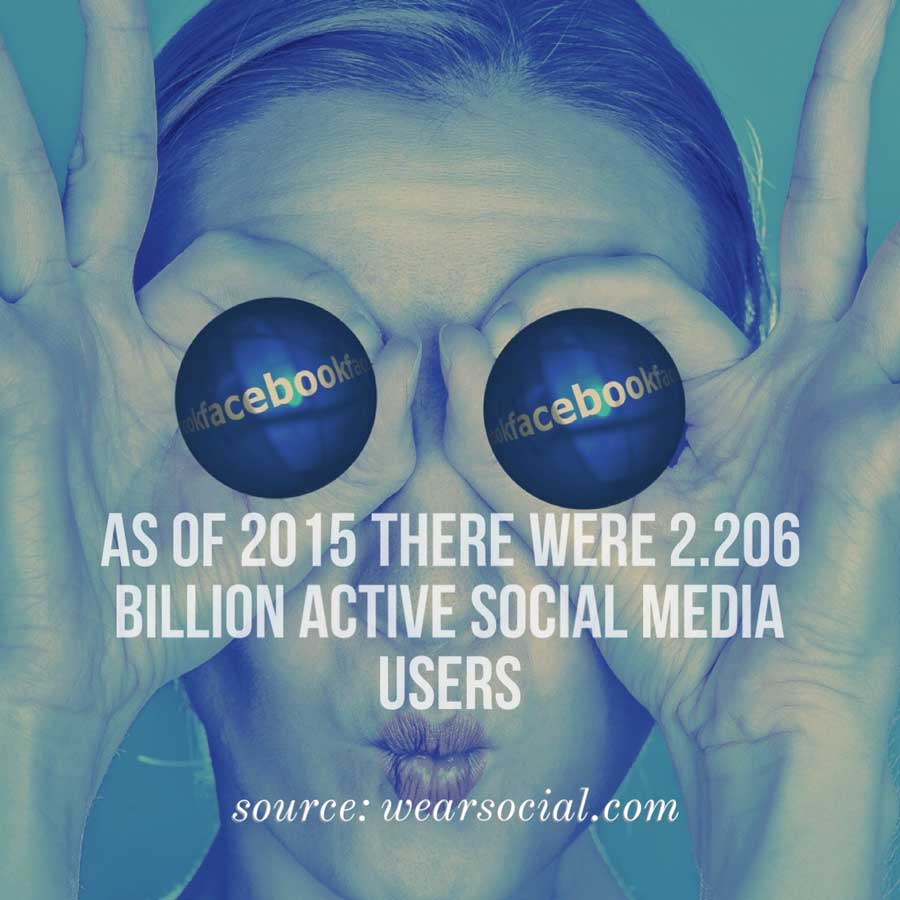 How can you follow up on these people?
You need a Cyborg.
Twitter is one of the social media sites that tops the ranks. And Happy Cyborg is an app you don't want to ignore as a digital marketer. It's not a bot per se, so it works with you to say only the things you can say.
14. Pocket
Why use Pocket?
As marketers, we scour the web for relevant information that could help us get ahead in business. While at it, you're sure to find articles, infographics, photos, videos, and more.
When you find something you want to view later, put it in Pocket.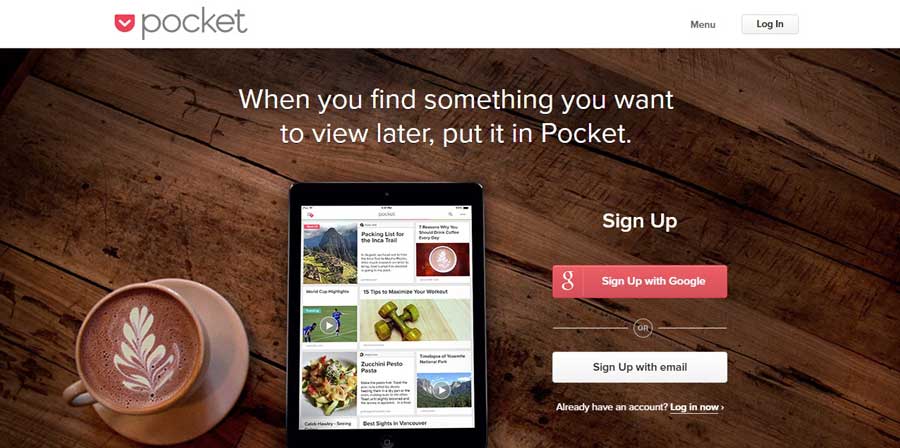 You can save insightful content for that will help you improve your marketing campaigns on social media and search.
Pocket helps you safeguard your best content, so that you can retrieve and use them at any given time. Avoid losing delicate information or data, as this could affect your business growth in the long-run.
In a survey by Centre Technologies, it was discovered that, "60% of businesses that lose data are more likely to shut down within six months of a disaster."
Among other things, you can reduce such a loss to the barest minimum.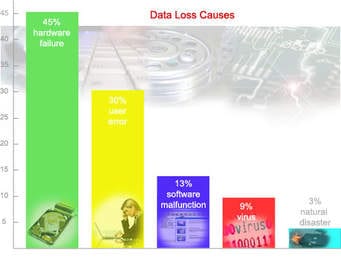 You're sure to overcome such an occurrence when you use Pocket, which is proven by hundreds of top brands and marketing influencers.
In addition to the many functions and compatibility, Pocket is free to use. And it doesn't require you to have internet, in order to view your saved files.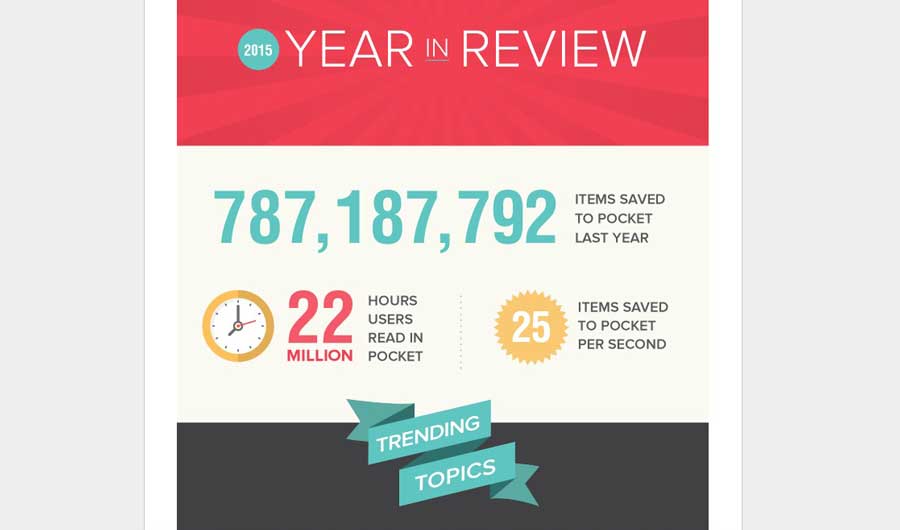 Pocket earned a reputation as the best tool of choice for saving files. It also won the 2015 Webby Awards for best productivity app.
15. RescueTime
Do you want to find your ideal work-life balance and get more productive?
Your small business and social media activities require a lot of time investment. For example, you need to spend adequate time on Facebook, Twitter, Pinterest, Instagram, and more.
No doubt, the frequent use of these social media sites, especially when you've a goal can help you generate more leads and make impact.
With so many distractions on the web, RescueTime App, it's easy to get scattered. But the good news is, RescueTime helps you understand your daily habits so you can focus on what matters and get more productive.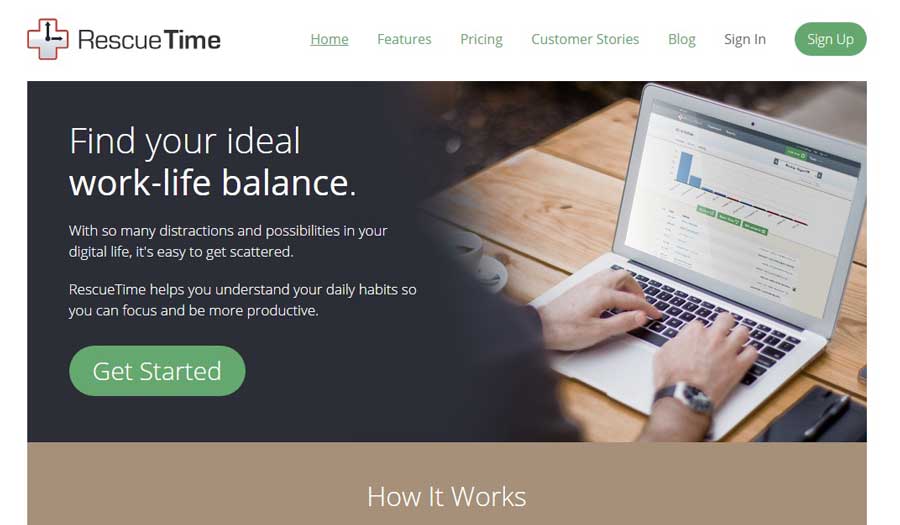 RescueTime can transform your business life in a dramatic way.
David Reeves, Director of Product Management at Limeade has this to say,
"RescueTime teaches me things about my workday I would never otherwise have the time or perspective to learn. It's a great tool for anyone who wants to be intentional about improving their productivity."
16. Trello
Here's why I love Trello:
"Trello lets you collaborate with more people and get more done."
Executing any project successfully depends on how efficient you organize and communicate with your team members. With Trello boards, lists and cards, you can seamlessly manage a complex project with ease.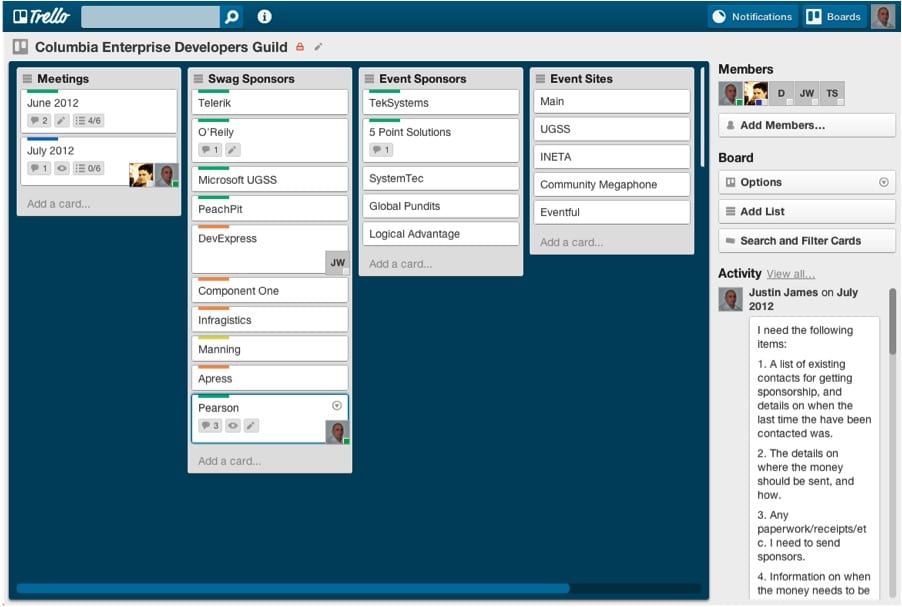 Vital information and how you relate it needs to fit perfectly into the project at hand, even as you carry your team along every step of your work system.
So the entire process boils down to effective communication. When the communication isn't clear, nothing gets done.
A finding by Coreworx reveals that companies risk $135 million for every $1 billion spent on a project and new research indicates that $75 million of the $135 million (56%) is put at risk by ineffective communication.
Trello, is not just a name, but a good friend. It's got you covered. The dashboard looks amazing.
In addition to the reduced cost, Trello is user-friendly, with enhanced visual appeal.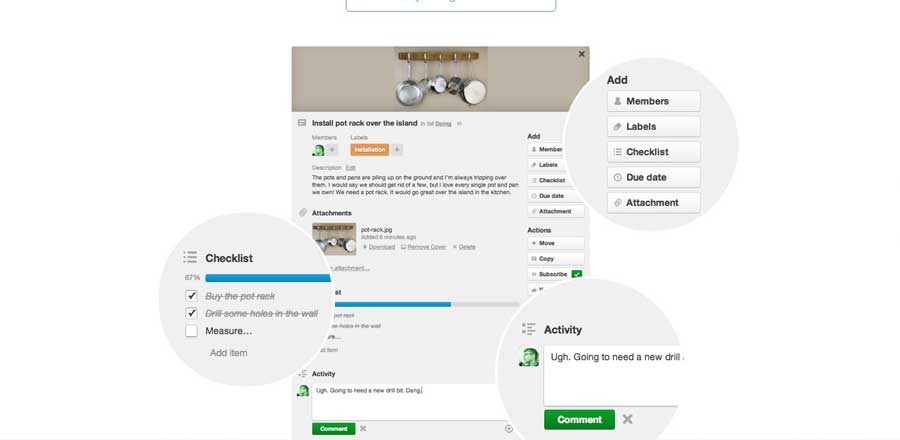 Update on Trello is done in real-time, irrespective of your business' location, and every team member gets notified immediately.
This is in addition to the standard setup of Trello, which makes your setting it up unnecessary.
17. Buildfire
Do you know that you can build mobile apps in 5 minutes, for your small business?
As every small business takes a giant leap to target and acquire mobile users, it would be a misguided decision to disregard building or using apps.
Mobile apps revenue is predicted to exceed $50.9 billion in 2016.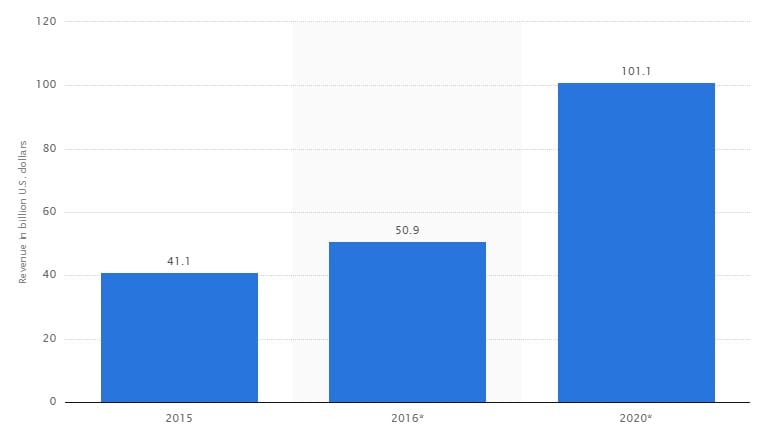 Buildfire is the easiest way to build mobile apps in under 5 minutes, publish to both iOS and Android. While all that is happening, you can retain customers and increase revenue.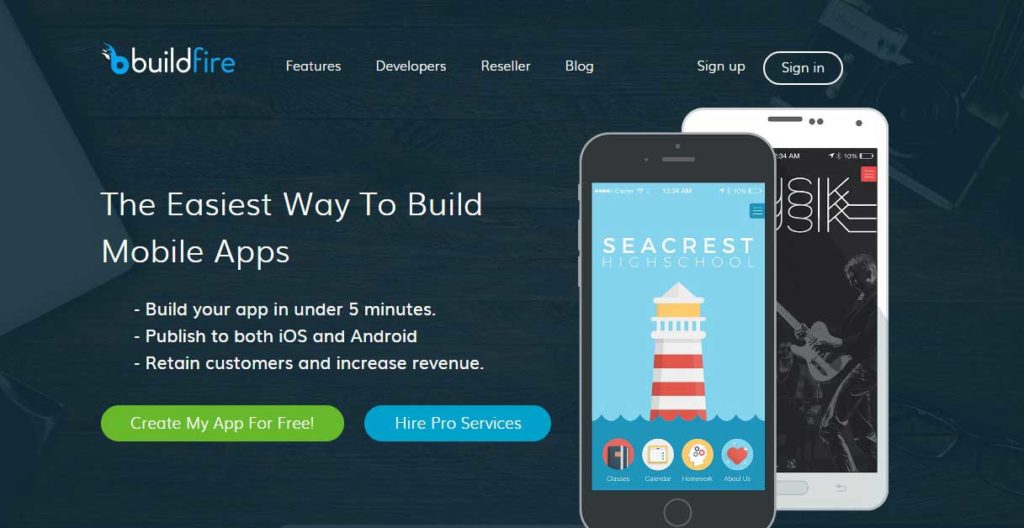 Not only do these mobile apps make running a small business stress-free, you can save time and money as you reach the target audience. In fact, 26% of mobile research started on branded apps.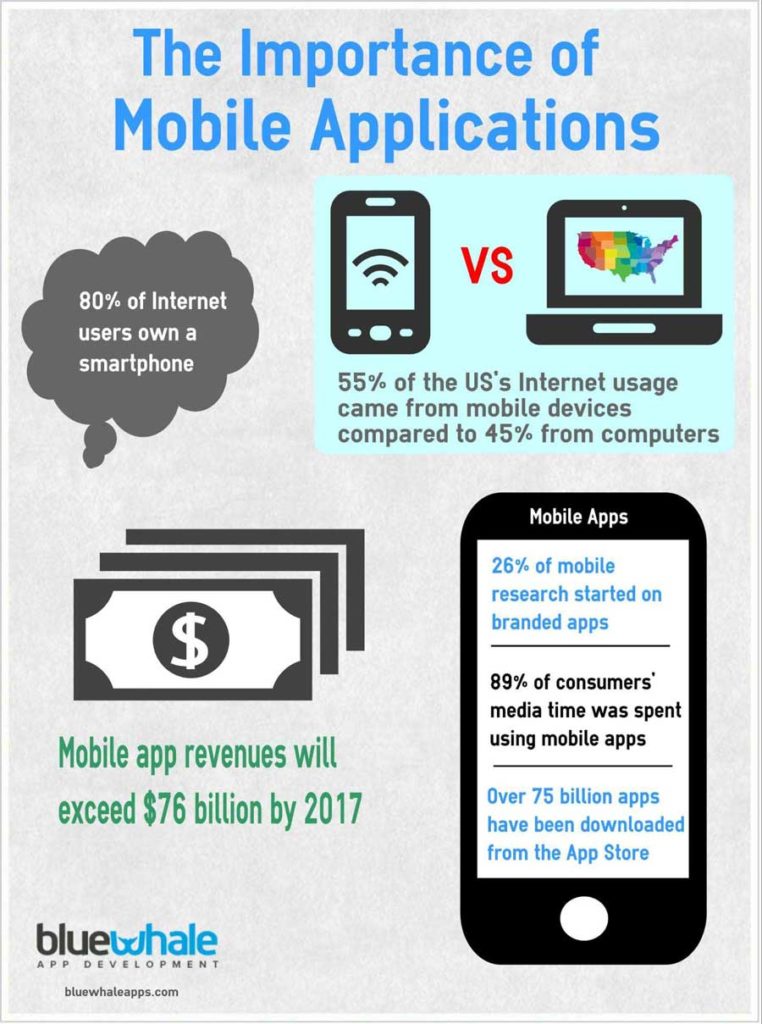 Mobile apps enable small businesses to do a whole lot, from engaging the customers, to organising social media contests, and more.
Interestingly, mobile users spend 80% of time on mobile apps – either on games, messaging, productivity, chatting, and so on.
18. HipChat
How fast does it take your message to reach your desired audience?
HipChat is a group messaging app for team communication. Every small business wants to get the word out and work efficiently with others.
HipChat is such app that equips you with speed to reach more people via live chat. As of January 2014, its instant messaging services handles 60 messages per second. Can you imagine that?
Funny but true, Pingdom Royal predicted that instant messaging is set to get louder and faster with time.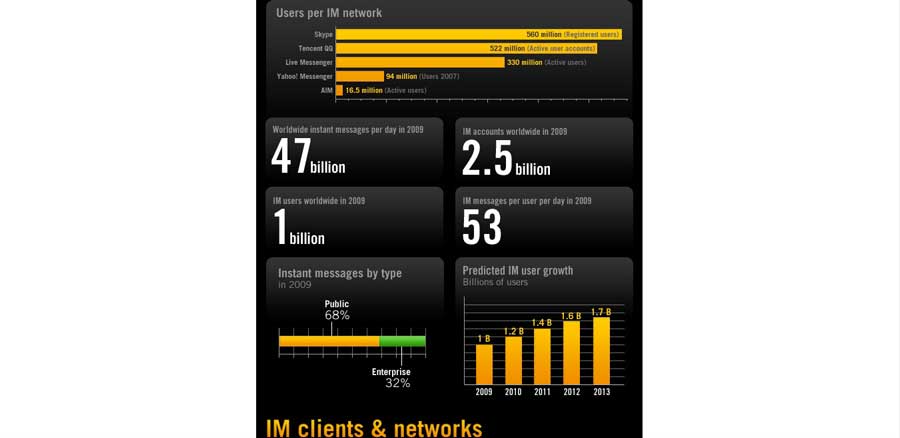 19. Skype for Business
How do you reach more people outside your city, state or country?
Yes, you can send emails, put a call across, but nothing beats a face-to-face communication.
Dan Brutto, the President of UPS International suggests trading beyond the local shores, on observing that about 95% of the world's consumers are located beyond the United States borders.
In the same vein, you can expand your reach as a small business marketer, no matter the location of their target audience.
Skype for Business allows you to collaborate with anyone on any device. You can make calls, host online meetings, and do much more.
For a small business, the challenge of managing a team at one end of the globe, when you're domiciled at the other end is now a tale of the past.
With Skype for Business and its rich features, you can communicate with your team, clients, and fans anywhere in the world.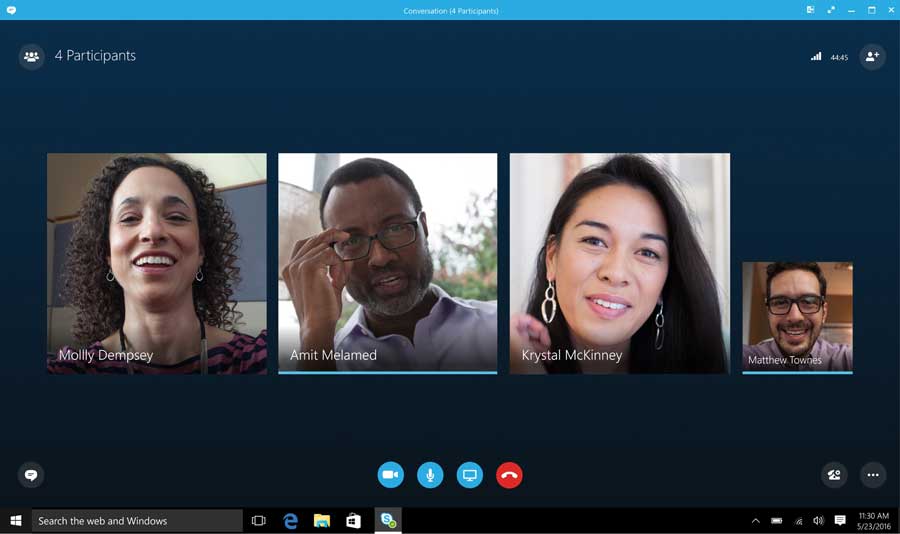 With its instant messaging, voice-over IP, and video conferencing, Skype for Business is integrated and compatible with a host of other apps.
In addition to this, it functions via whiteboard documents, which enables team members to share texts.
Also, with Powerpoint documents, polling lists, desktop sharing, and more.
20. Nimble
Yes, you can grow your small business faster with the right CRM and lead generation tool – Nimble.
Nimble is a marketing CRM application that enables you to turn communities into customers. It provides smart contacts, smart insights, smart results no matter where you work.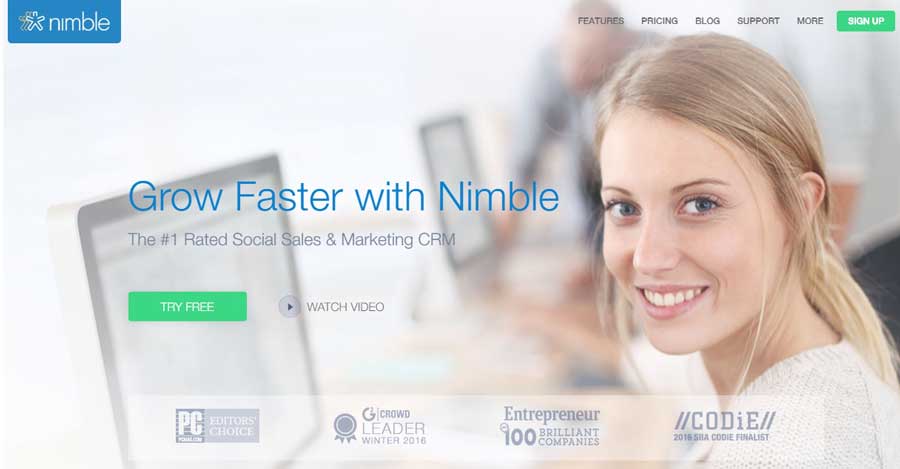 Leveraging a marketing CRM is really that important, if you want to make more sales, and win customers that are loyal for life.
According to a study by the American Express, "70 percent of Americans can spend about 13% more with companies they believe provide excellent customer service."
Excellent customer service is only traceable to what your particular customer considers to be important, especially when their needs are met.
Regardless of what you may think you know as a business, your customer is king.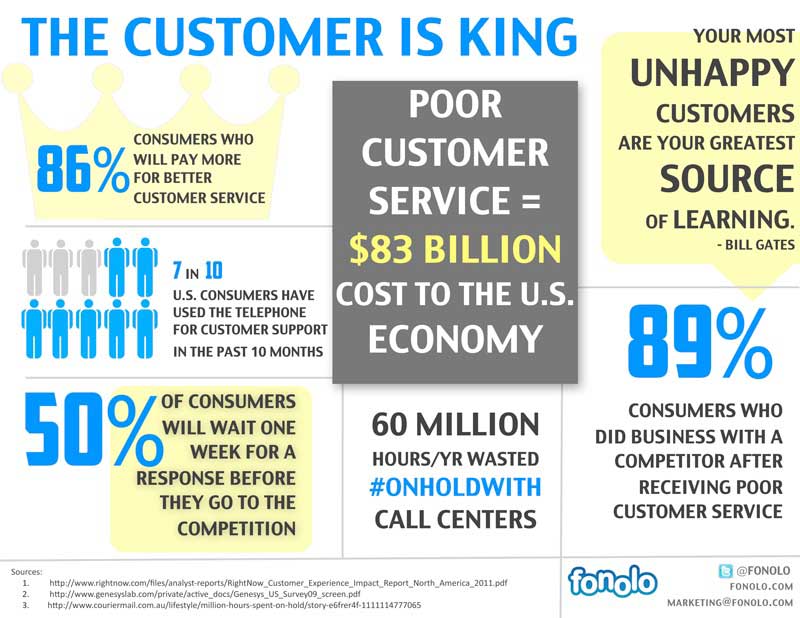 Nimble, as both an automation app and a social media tool enables your business to keep record of your customers profiles, coordinates social listening, email conversations, and activities across known social platforms.
21. Insightly
Is your customer relationship management effective?
Though your primary goal as small business is to add value and consequently make profit – but at the heart of any thriving business is relationship.
You're bound to lose it, like the proverb, when you put the cart before the horse. This is similar to counting your gains, before caring for your clients.
Establishing strong relationships with your customers is certainly what would gain your business customers for life.
Insightly is a CRM and Project Management software. Use Insightly to classify your contacts with notes, link social media profiles, and keep you informed of latest happenings.
22. FreshBooks
Invoicing is a major part of any small business.
And if not properly done, it can affect every other aspect of your business. For example, it can result in unexpected debts and credits.
Issuing your clients the due invoice puts them in a position where they're able to consider their debt, a priority.
Take for instance, a situation where one of your clients owe you for more than the agreed time. Paperless invoicing is the new trend right now.
If you want your business invoicing to be automated and paperless, FreshBooks is your best bet. FreshBooks is a small business accounting software in the cloud.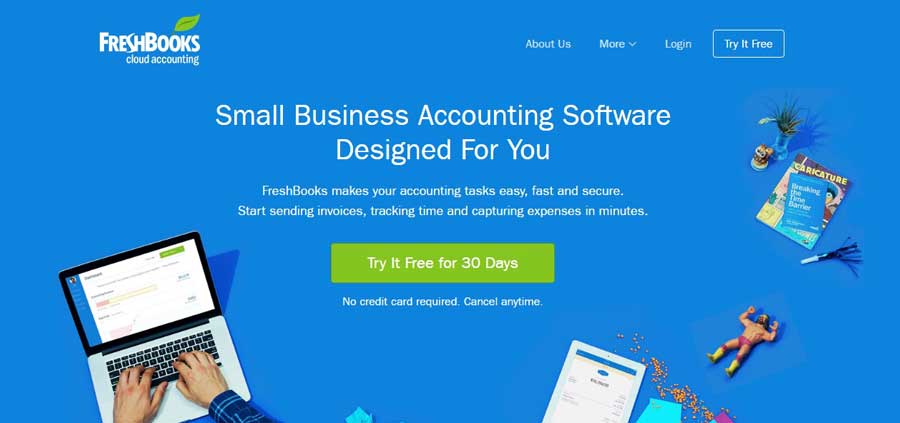 If you dread accounting tasks, FreshBooks will make them easy and enjoyable to you. Start sending invoices, tracking time and capturing expenses in minutes.
23. Wave
Wave is a free small business application, which handles credit card processing, and payroll management. Small business owners use Wave to run payroll for up to 96,255 times a year.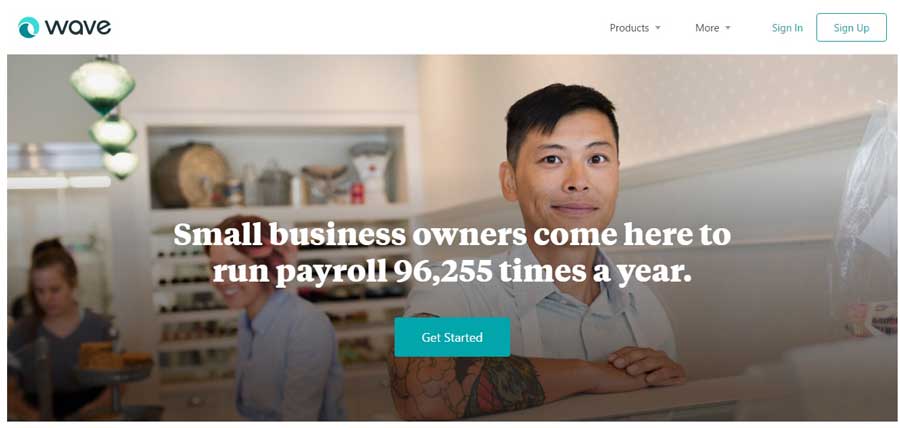 It won't be right if you were to pay for goods you didn't consume. I'm sure such would be labelled an abuse.
Such can be the lot of a small business.
More often than not, small businesses bring this upon themselves. One instance is making purchases you don't need.
Your expenditure as a digital marketing firm for example should be limited to your status, and such as what your business is in dire need of. But keeping track of your purchases is one way to hold yourself accountable.
It enables your business to service other maintenances, pay employees, draw up a profit margin, plan expansion and more.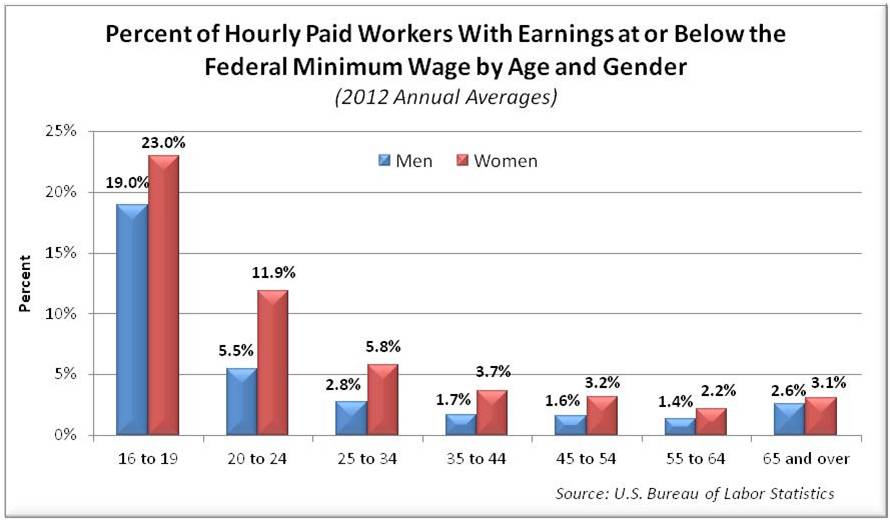 24. Tune.com
Do you want to drive more traffic, build engagement with customers, and discover opportunities to make more money with your mobile apps?
If yes, then you need Tune.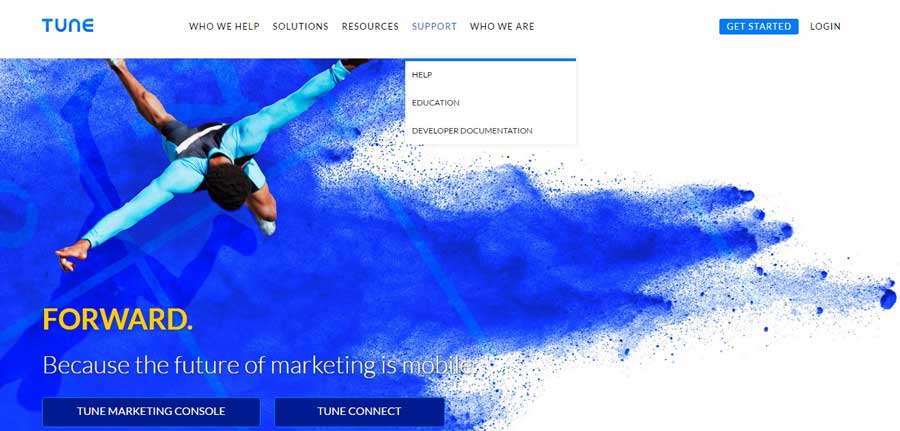 As a small business owner/marketer, you can make more money and impact with Tune.
The future of your small business depends on how you leverage social media and mobile technology.
As you embrace mobile apps marketing, you need to understand your customers.
Tune will track them for you.
There are opportunities to grow your small business, and increase mobile apps engagement.
Don't be deceived, you need a robust mobile apps analytics tool like Tune to run your small business.
Sure, your your growth may be from mobile ads or organic search – but irrespective of the source, Tune analytic tool will track them all in a single dashboard.
Here are the core benefits of Tune.com:
Measure the value of each marketing channel you employ (e.g., social, search).
Get authentic reports right on your dashboard.
Easily gather all your marketing campaign reports in one place.
You must know that a lot of people using mobile devices are just visitors. According to Localytics, about 4% of them become into qualified leads.
The good news is that with Tune, you can set up the right campaigns to re-engage these casual mobile visitors into customers.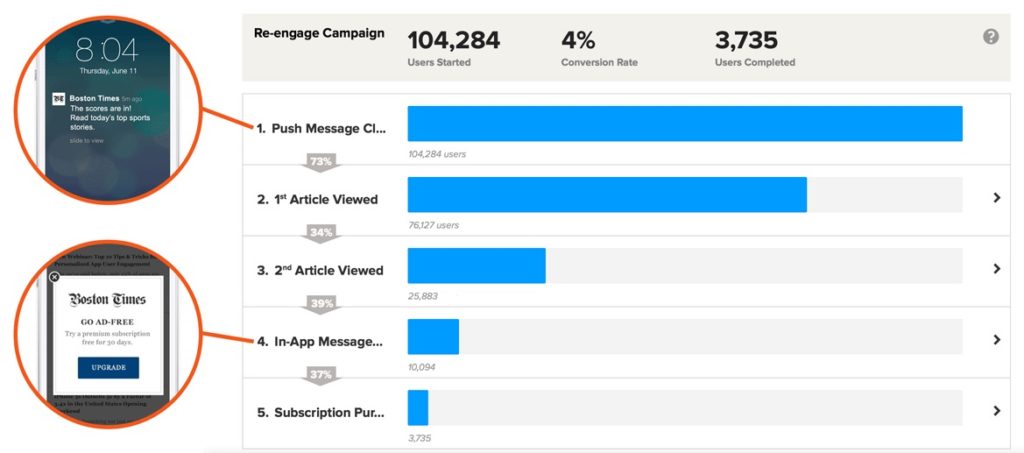 Depending on the size of your market, but 4% of out 100% is small. Hence, the need to track your mobile apps performance and optimize your small business campaigns accordingly.
Tune improves your decision making process, by allow you gain better understanding of your customers and collect more sales data.
25. Admob
Admob is an extension of Google Analytics.
Truly, getting the right can cheap, but tracking performance is usually expensive. For this singular reason, you need to make more money from your mobile apps the smart way?
Admob is a unique tool that displays advertisements from a host of Google advertisers. It generates reports from more than 40 networks through AdMob Mediation.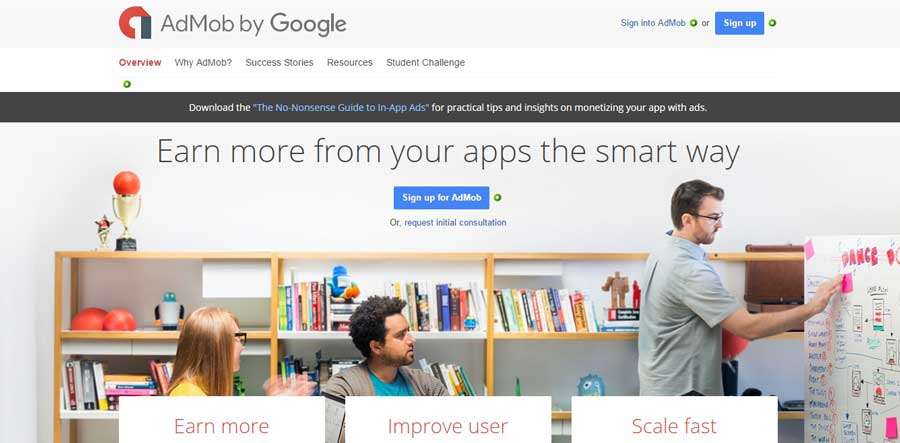 You can use AdMob to manage 40 Advertising Networks are managed from a single interface. And you seamlessly track the highest paying adverts using AdMob Adverts Network Optimization.
Data like "user destination" and "type of mobile devices" used is monitored by Google's AdMob Network.
You can also engage users with innovative video ads using AdMob's native ads. It will in turn preserve your user experience.
We all know that when the users or customers have a good experience, it can lead to sales and business growth.
Compass has authenticated that you can grow faster by 75%, if you engage in Mobile app campaign – and share them on the App Store.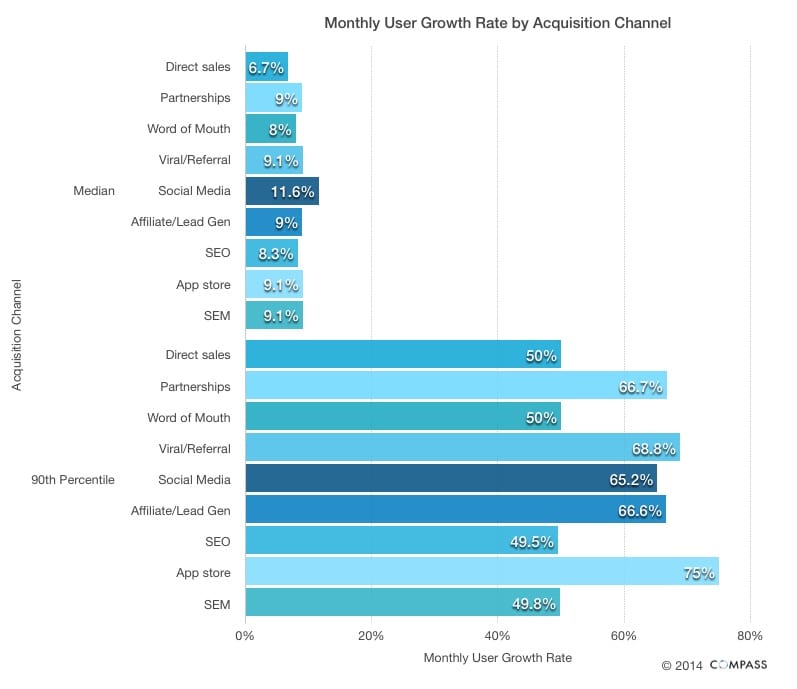 Therefore, consider Google AdMob Network for a smart choice to understand your mobile apps users better, and earn extra income.
Conclusion
Apps have made it possible for small businesses to overcome most bugging challenges.
Yes, starting a small business is easy. Because, managing communications, being accountable, and handling every aspect of your business can be automated.
Behind every successful business is a great automation tool that helps the organization generate leads, acquire customers, and build a great customer experience pipeline.
To get started, look through these 25 small business apps to find the right candidate that fits well with your goal. Easy, right?
All in all, small business app must never entirely replace personal contact. Always remember that intimacy is what your customers want.