14 Useful Business Apps to Help Small Businesses Grow in 2016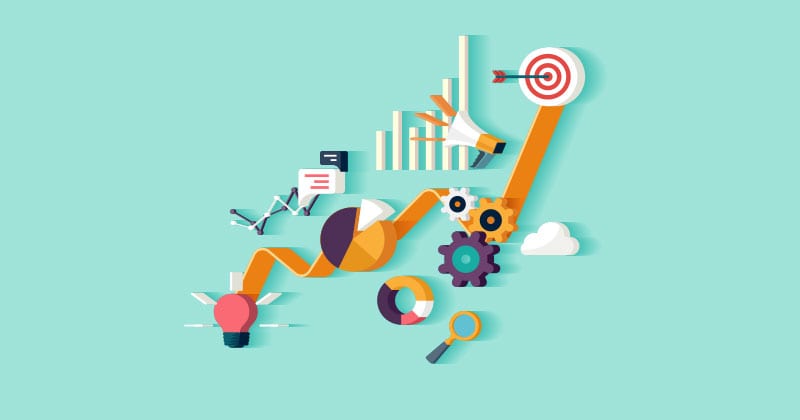 There's a good reason why business growth is one of the most popular topics online today.
It's the #1 goal of most business owners. After all, business growth means more money, and just about everyone wants to make more money.
But what actually makes a small business grow?
Things like good management, good employees, a solid marketing plan, and…
That's right.
And I'm not just talking about creating a cost-effective mobile app for your business (although that's a great idea too). I'm talking about downloading apps to your smartphone and using them on a daily basis. Who knows – you might even want to recommend certain business apps to your employees too!
Bottom line:
By using apps to boost your productivity or otherwise improve your business, you can propel your business to greater success than ever.
So today, we're going to discuss 14 business apps that'll help you do just that.
Let's get started.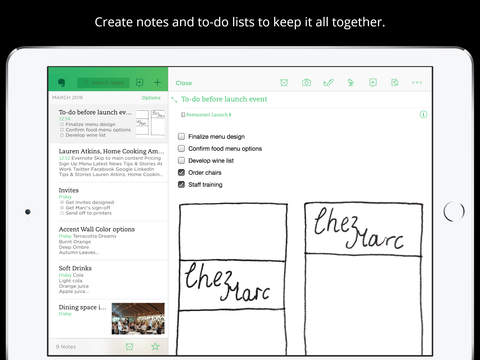 Have you ever felt frustrated after losing an important notebook or document? Or wished for a more effective way to take notes at meetings, organize your thoughts, and plan your content (like blog posts)?
If so, you should consider using Evernote.
Simply put, it's a digital notebook you can use to quickly keep track of your ideas so you can revisit them later and avoid forgetting the important stuff.
But don't dismiss Evernote if that benefit doesn't make it sound useful – you can use it for so much more than jotting down random ideas. For example, you can use it to take notes on client calls, outline blog posts, and organize all of your business information.
Best of all, Evernote Business (the $12 per user per month version) allows you to easily collaborate with everyone on your team. You can invite co-workers to join specific notebooks and leave their own notes on what you've written.
And you don't have to worry about not having access to your notebooks when there's no WiFi nearby – you can access them any time. No internet connection necessary.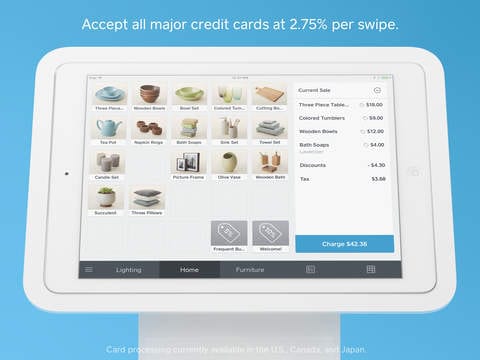 Imagine what your professional life might be like if you had to haul around a clunky cash register everywhere you went to accept payments. What if that was literally the only way you could accept customer payments when you're out of the office?
It'd be ridiculously difficult – so much so that you'd probably avoid accepting payment altogether.
Fortunately, you can use the Square Register app to easily turn your phone into a credit card reader so you can accept payments without invoicing or using a physical register.
Want to offer a discount of accept a gift card? No problem – the app allows you to do both.
On top of that, Square Register app allows you to send digital receipts to customers, track your inventory and sales history, and download previous transaction information as an Excel file. You can even use the app to allow merchants and customers to give each other feedback if an issue arises with the product sold.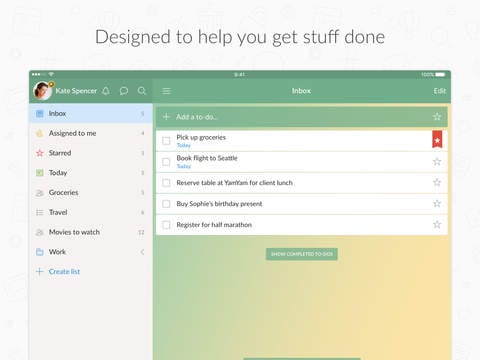 Paper to-do lists are a thing of the past. In today's business world, it's often better to go digital. That way, you can reduce paper clutter (and go green!), keep track of your lists more easily, and access your lists conveniently from anywhere.
Interested? If so, download the Wunderlist app.
Not only is it great for creating digital to-do lists – it allows you to share those lists, sends you reminders for tasks that need to be completed soon, and let you re-arrange your list items as your priorities change.
Worried that your many to-do lists will get lost and start to overwhelm you?
That won't happen if you use the Wunderlist features to their full potential and filter your tasks by due date (or other specifications).
And guess what? The app is free to use. But if you want more functionality, you can download the premium version, which allows you to assign unlimited to-dos, upload large file sizes, and more.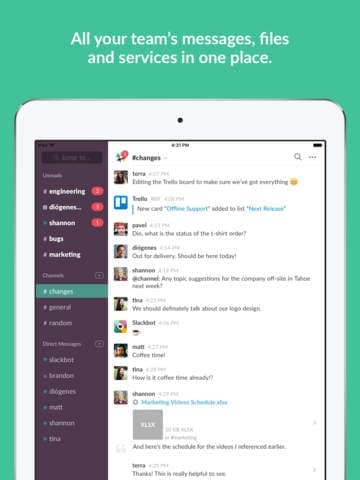 If you're researched communication apps for your small business at all, you've probably encountered Slack. It has become wildly popular for its simple, intuitive interface and useful collaboration features.
But don't think that you'll be able to use Slack to its full potential right away – there's a bit of a learning curve, so you and your team might need to devote a week or two to figuring out the best way to use the app based on your business operations and customize your Slack experience.
Don't let that stop you from using the app though.
Once you and your team figure it out, there's a good chance you'll notice improved productivity due to the way the app streamlines the way you collaborate.
For example, instead of digging through your emails for a conversation/document, you can simply use the Slack search tool to find what you need. You can also create multiple groups for different departments, projects, etc.
You can get the Lite plan for free if you want to try Slack out. From there, you can always upgrade to the paid plan, which starts at $8 per month per user.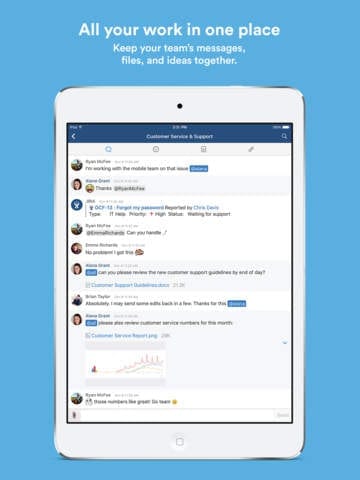 Similar to Slack, HipChat is an app that makes it easy for you and your team to collaborate using group messaging, instant messaging, and file sharing.
One of the biggest differences?
The price. HipChat offers more in the free plan, and the HipChat Plus option is only $2 per user per month. A perfect option for a small business on a tight budget.
If you're not sure whether HipChat or Slack is the better option for your team, consider checking out this study that examines the pros and cons of each app based on employee responses.
You can always try the free version of both apps. Once you've done that, you should be able to see what works best for your team and choose one app or the other based on that.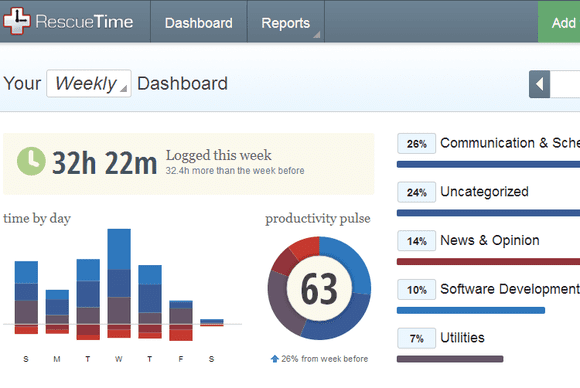 Any business-related app that receives an "Outstanding" 5-star rating from PCMag is worth talking about and considering. That's why RescueTime is on this list.
But what is RescueTime, exactly? And how can it help your business grow and improve?
Simply put, it helps you stop wasting time – no more wondering where your day (or week) went.
With the RescueTime app, you can track how you spend your time and see reports/data based on the information collected by the app.
That way, you can learn more about how you really spend your time during the day and make adjustments that allow you to be more productive. And, as seasoned business people everywhere know, improved productivity can easily lead to improved profits.
If you also want features that allow you to block distracting websites, alert you when you're not being productive, and log time away from your desk, try the Premium version of the app. It's $9 per month.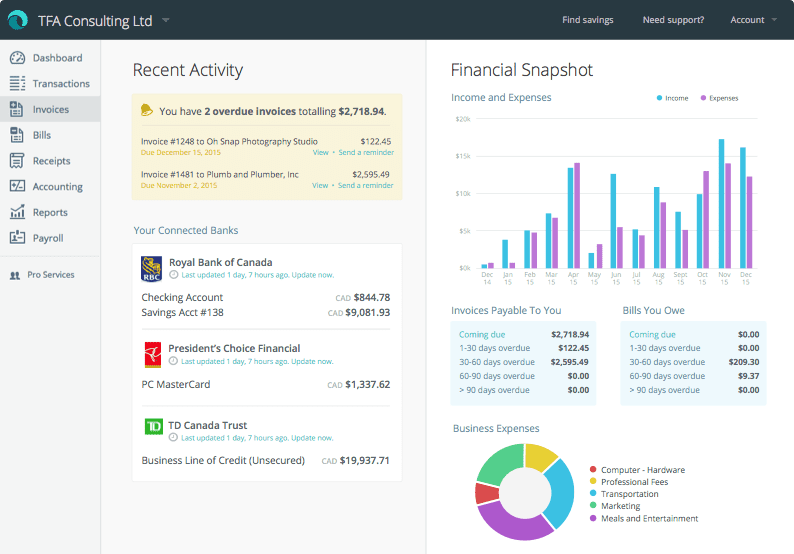 There are a lot of accounting apps out there aimed at businesses – and many of them come with a shocking price tag. Often, these apps do far more than what the average small business owner needs, which means that those business owners end up paying extra for unnecessary features.
Wave is a better accounting option for small businesses on a budget. While it's not as robust as an app like Quickbooks, it gets the job done for business owners with simple accounting needs and a handful of employees.
Plus, it's free. But there is a paid version available if you need premium support and payroll.
If you need more from your accounting software than what Wave can offer, consider an app that offers more features, like Quickbooks or Freshbooks.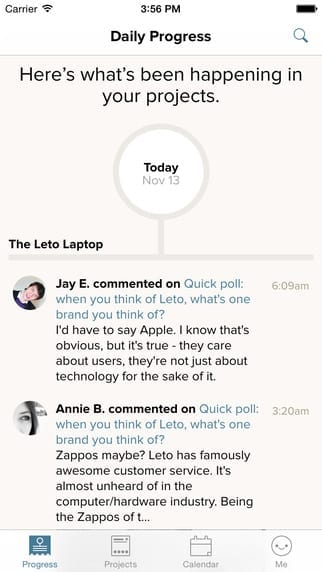 Picture this:
You're out of the office, but you need to get some work done remotely. The problem is that you're being pulled in a million different directions due to all the programs you need to use to complete tasks, collaborate, and share ideas.
If that situation sounds familiar, Basecamp can help.
It's a project management app that helps you manage your tasks (and your employees' tasks) so you can stay involved in all the activities going on at your business, whether you're in the office or not.
And it's not a one-size-fits-all experience – you (and everyone on your team) can look at tasks in a calendar view or list view depending on personal preference. You can also upload and share documents directly in Basecamp – just pick the storage size that best meets your business needs.
The best part?
A Basecamp account will help your business without destroying your budget. You can get the smallest monthly package for just $20 per month, and even the largest package they offer is just $150 per month. That's a small price to pay for a project management tool that helps you and your team stay on task and get organized.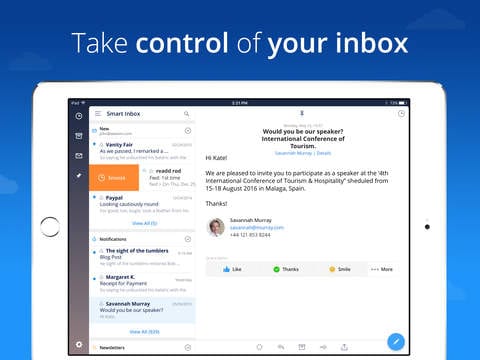 If you're like many business owners, you probably have multiple email addresses. You may even have different email apps on your phone.
If that's the case, you probably get a bit overwhelmed just by looking at your phone screen. The little red notification showing you how many unread emails you have can cause serious stress.
While you may not be able to get rid of those unread emails, you can take the hassle out of email with the Spark app.
Think of Spark as a unified inbox that allows you to view your inbox from each email account in one place and takes the pain out of having many different email addresses.
It also allows you to categorize and filter your mail, set up notifications for your most important messages, and pin messages to the top of your inbox for easy viewing. Plus, it's compatible with the most popular business apps, including Dropbox, Evernote, and Google Drive.
It'll even work with your Apple Watch so you can use your watch and voice dictation to acknowledge and respond to emails quickly.
Imagine this:
You and your team are sitting in the conference room talking to a new client. The onboarding call is going well, and everyone is taking notes and figuring out how they can best serve the client.
Then, the call ends, and everyone starts working on their tasks. There's just one problem:
Some of your co-workers forgot to write down important details of the client call, and now they're not sure what to do. They don't want to call the client back and bother them.
The solution?
TapeACall Pro.
With this app, you can easily record client calls for later reference. And the recordings don't even have to take up storage space on your phone – you can simply upload them to Evernote, Dropbox, and Google Drive or send them to your email address.
The app also allows you to stay organized by labeling your recordings. For example, you might choose to label a client call recording with the client's name and the date of the call.
If you're interested, you can get the app in the App Store for $9.99.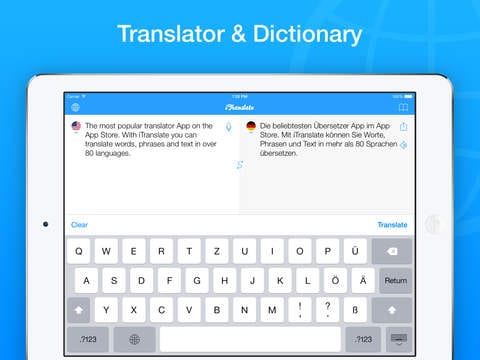 Do you ever travel out of the country for business?
If so, you know how frustrating it can be when you don't speak the local language. Thankfully, the iTranslate app is available to make your travels much more enjoyable and manageable so you can accomplish everything you need to.
To use the app, you just open it and speak into your phone in your native language. Then, the app repeats what you said back in the other language of your choice.
That's right – you don't need to type a single word into your phone to use this app (although typing is an option if you'd prefer that). You can even use the Phrasebook feature to save your most commonly used phrases so you can easily access them later.
You can download the app for free or opt for the paid version for $2.99.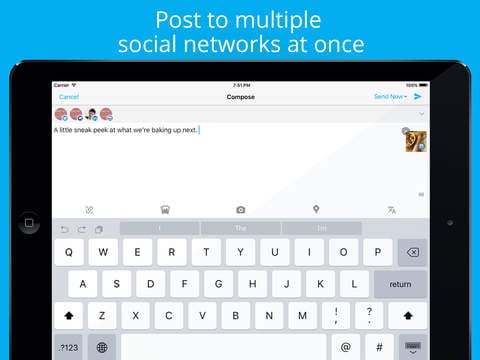 If you're a small business owner in 2016, you need to market your business on social media. Period.
Now, I know what you might be thinking:
Social media marketing takes up too much time! And it takes too long to see any results from it, so I'd rather spend my time on something else.
You're not alone. In fact, 1 out of 3 small business owners don't think social media is important for their business.
It's true that social media marketing, much like content marketing, requires some time and effort before it pays off. But fortunately, you can use the Hootsuite app to majorly cut down on the time you spend posting to your social media accounts.
Hootsuite allows you to schedule your posts ahead of time, which means you can get all of your social media marketing done at once rather than having to constantly worry about it. You can even post to multiple social networks at once and shorten links (this really helps when you're working with Twitter's character limit!).
You can use Hootsuite for free, but you also have the option to upgrade to a paid plan if you want other features, like premium app access, multiple users, real-time analytics, and priority support.
Plus, they've got an amazing app icon.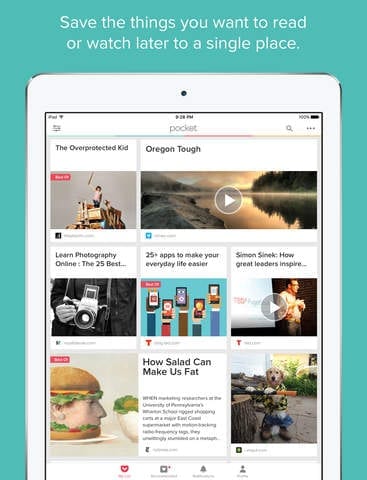 Have you ever come across a blog post or website you wanted to look at, only to get sidetracked by a more urgent business-related task?
It's a common problem for busy business owners. If you've ever experienced it, try Pocket.
This easy-to-use app allows you to save videos, articles, blog posts, and pretty much anything else you'll find online so you can view it later.
And you don't need an internet connection to view your saved items – all you have to do is open up the app, and it'll be there waiting for you.
That means no more missing out on the things you're most interested in that can help you power your business forward. It'll all be stored in your digital Pocket.
14. Swype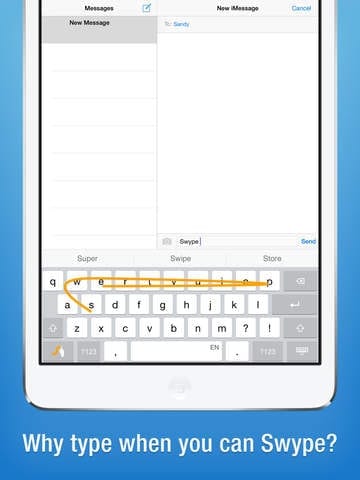 If you didn't grow up using a smartphone, you might find typing on your phone tedious to the point where it significantly slows down your productivity.
With Swype, you can make typing on your smartphone easier than ever.
That's because the app relies on gesture-based input as opposed to the normal keyboard, which relies on tapping of individual letters.
In other words, with Swype, all you have to do is drag your finger across the keyboard. Then, the app identifies the word you're tracing and adds it as text.
That might sound like a recipe for disaster as far as accuracy is concerned if you've never used the app before, but Swype is actually known for its accuracy. On top of that, the app includes an emoji keyboard and allows you to customize your keyboard layout for easy use.
It'll cost you 99 cents to download in the app store, but it's completely worth it if you find yourself regularly frustrated with typing on your smart phone.
There you have it – 14 apps that'll help you grow your small business.
Start downloading, and take note of how much each app helps you. Who knows – you might be surprised at the huge difference a simple app can for your business.
Which of these apps will you plan to download? Share in the comments!