The Modern Workforce: 11 Employee Management Trends For 2023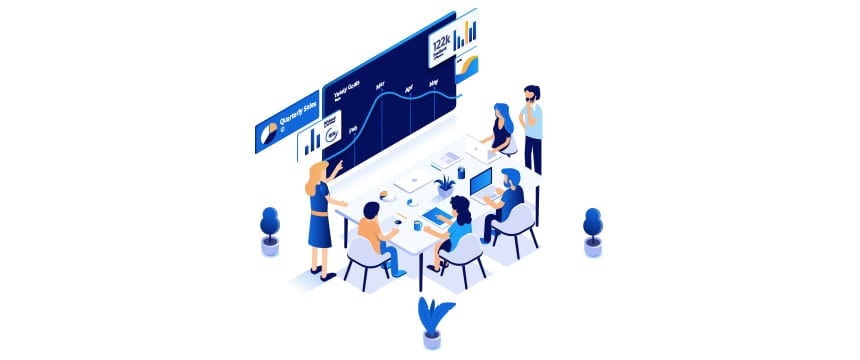 Workforce management trends are continually evolving. As a business owner or manager, it's crucial that you keep up with the latest management tendencies in your industry.
It's no secret that the employee landscape has changed over the years. The modern workforce has a different mindset than those in the past.
Workers have different needs, wants, and behaviors, so managers need to adapt accordingly.
While most companies recognize this, they've done little to change their existing protocols and processes. If your company is still using employee management tools from a decade ago, it's a sign of trouble moving forward.
With that said, it's not too late to adjust your methods. That's why I created this guide.
Does your company have field service workers, remote employees, technicians, or use contractors? You need to get familiar with the latest workforce management tips, tools, and best practices.
Use this resource to improve your employee management skills by appealing to the modern workforce.
1. Data-Driven Insights
Historically, terms like "data-driven insights" and "big data" were only used in tech companies and large corporate offices. That's no longer the case.
Companies with field service workers are using data to manage their employees.
New technology has made it possible to track employees while they're out on job sites. From monitoring their vehicles to calculating how long it takes to complete tasks, these management tools are trending upward in 2023.
According to a recent study, the smart fleet management market is growing at a CAGR of 8.9% between 2018-2025. This is expected to be a $537.53 billion industry by 2025.
These are some of the top benefits experienced by companies using this technology to manage employees.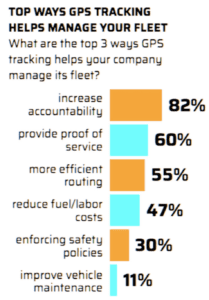 Employee accountability is the number one benefit experienced by managers. It ensures that your field service staff isn't taking a two-hour lunch break while claiming to be on-site or at a customer's home.
But this technology can also improve your processes by providing more efficient routing.
For example, your dispatchers can know exactly where every vehicle is at all times. So when a new job gets called in, they can send the closest truck. All of this can be managed directly from your employee workforce mobile app.
It's a much more effective system than having to manually call each employee on the road to see where they are. This is inefficient for management, as well as the workers who are interrupted by these calls.
As a manager, the data generated from these workforce management tools can help you provide a better experience for your employees and clients alike, all while reducing costs.
2. Improved Workflow
The modern workforce wants to be more efficient. When they recognize inefficiencies in the organization, it gives them a negative perception of management.
Managers are finding new ways to improve the workflow process for their staff. Most of these workforce management solutions are driven by automation and technology.
For example, let's say you manage a plumbing, electric, HVAC, or similar type of business. You do commercial projects, as well as jobs in customer homes.
What is your current process for managing employee workflow tasks? If it involves clipboards, manilla file folders, and manual record-keeping, then you're using an outdated system.
Mobile technology has made it possible for workers to complete workflow processes on the go, from anywhere. They can have access to job information from the palms of their hands.
Arrived on-site
Job in progress
Task #1 complete
Task #2 complete
Scheduled follow-up
Job complete
This is just a basic example of a potential workflow sequence. Your staff can complete steps from a workforce app in seconds while adding notes and taking pictures of the job site.
Managers can have access to everyone's progress in real-time. This improves employee efficiency while giving management more of a "hands-off" approach. You don't need to call your workers every hour to check-in for a status update. Just check the app to see their progress.
3. BYOD in Field Service
Bring your own device, better known as BYOD, has been a common theme in corporate offices for quite some time now. But as of late, BYOD has also penetrated the field service workforce
A recent study shows that 77% of field service workers use their own devices for job-related tasks.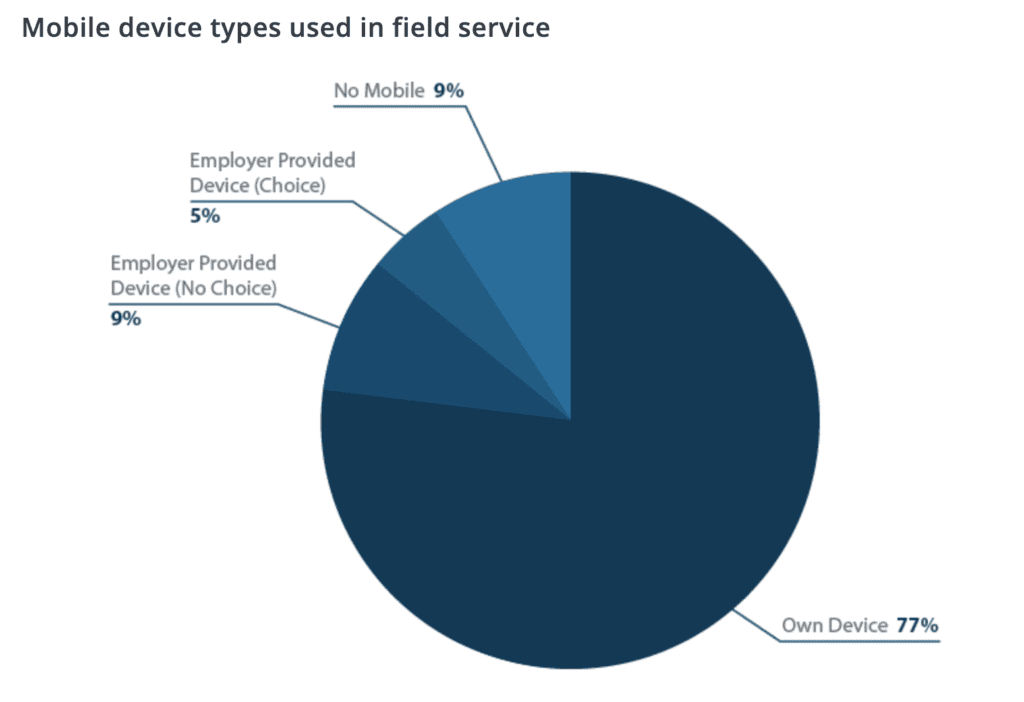 Just 9% of workers in this category aren't using a mobile device at all.
There are several different reasons why BYOD has become such a popular workforce management tool in field service.
For starters, more companies are turning to mobile workforce solutions. Since virtually everyone already has a smartphone that they're using at work, it makes sense for them to use the devices they're comfortable with.
Some workers prefer Apple, while others would rather use Android. Instead of spending more money issuing company phones to every worker, they can simply download your custom company app on their own devices.
As you can see from the graph above, 5% of field service workers are given an employer-provided device of their choice.
This tackles the problem of forcing employees to use a specific type of phone issued by the company. However, with just 5% of field service workers having this option, it's not much of a trend in 2023. We may see more of this in the future. But for now, BYOD continues to dominate field service employee management.
4. Worker Wellbeing
Employees are more than just a number on a computer screen. Companies are striving to improve the wellbeing of their staff.
This goes beyond just providing health tips and benefits for your employees. It's about creating a commitment to a wellbeing culture.
North America leads the world with workplace wellbeing programs. In fact, 52% of North American workers have access to workplace wellness programs. This compares to 23% in Europe and just 7% in the Middle East.
With that said, we're going to see a greater emphasis on these types of programs in 2023 and beyond. As a manager, you need to understand the costs of unwell workers.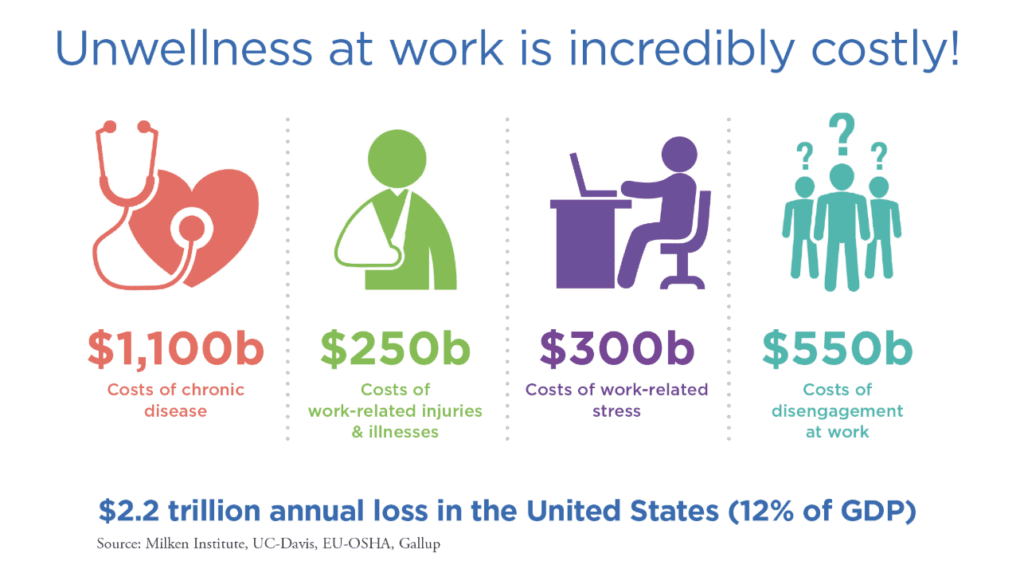 Managers have recognized that it's better for the company when workers are healthy.
Top workforce management professionals encourage and promote these types of wellness programs for both physical and mental health. As a result, they're benefiting from workers who are happier and healthier. This translates to better performance at work and reduced costs in the long-term.
Ease of access to wellness programs is crucial to success. For example, let's say your company is providing free or discounted gym memberships for employees at select locations.
How can your employees find out more information about this program?
If it requires visiting the HR department or calling a manager on the phone, it's less likely that they'll participate. This is especially true for remote workers who are rarely around the office.
But if your field service staff can get discounted health club and gym memberships directly from their mobile devices, the programs will have higher participation rates.
Happier employees will ultimately translate to better decision making and improve the customer experience.
5. Employee Self Service
Employee self-service (ESS) has been dominating the last couple of years and will continue trending upward in 2023.
Self-service technology benefits employees and managers alike.
That's because your staff will have access to crucial information on their own time, whether it's in the office, on a job site, or at home. They won't be required to communicate directly with a manager to complete certain tasks.
Take a moment to analyze your current process for common employee requests. Can they be improved with self-service technology?
These are some of the top uses of employee self service-portals.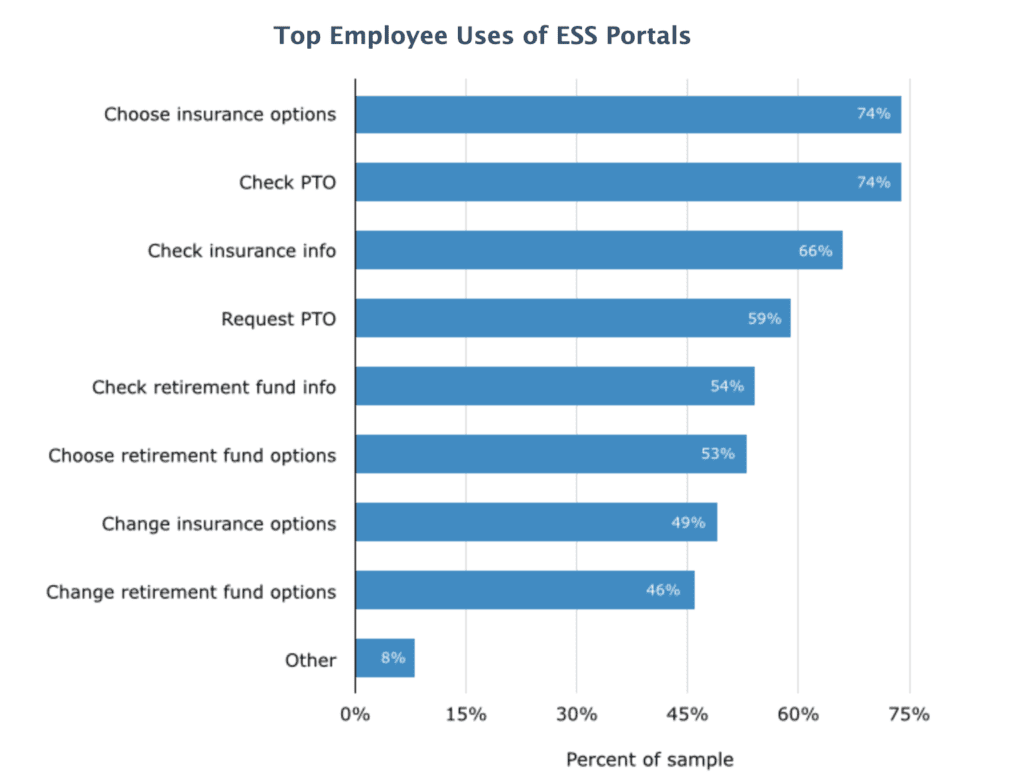 Some businesses have inefficient processes for choosing insurance and requesting time off. In many cases, the staff has to actually meet with a manager to go over insurance options.
I've seen businesses that require time off requests via hand-written notes left on a manager's desk. It adds an extra step or two for everyone involved in the process. Plus, it's incredibly inconvenient for field service workers who need to go out of their way to deliver a message in person.
But workforce management tools, such as an HR mobile app, will improve these inefficiencies.
This will allow your staff to request vacation time directly from their phones. Once approved by management, automation can notify employees with a push notification. Now they won't have to keep checking the status of their request online. The message will be delivered straight to their phones.
6. Independent Contractors
More and more companies are continuing to use independent contractors for a wide range of reasons.
For starters, hiring a full-time employee is expensive. Just look at your costs related to onboarding, training, benefits, sick time, vacation, and turnover. You don't have to deal with those issues by outsourcing tasks to independent contractors.
According to a recent study by Intuit, 40% of the US workforce will be contingent or on-demand by the end of the year.
This puts managers in a unique situation. Technically speaking, these independent contractors are not company employees, even though they might have similar roles.
I could argue that it's even more important to establish rapport with someone doing contract work than a traditional in-house employee. Managers need to maintain control over the project while understanding the position of the contractor.
In the simplest terms, you are not the boss of an independent laborer. Sure, you can terminate the contract if you're unhappy with the relationship. But the contractor has less to lose than a full-time staffer.
Good contract work is hard to come by. Managers assuming that these workers are easily replaceable will be sorely mistaken, especially in high-demand industries.
As a manager working with contractors, you need to change up your management style a bit. Make sure the relationship is mutually beneficial. When managed correctly, your company can benefit from skilled contractor labor for years to come.
7. Less Emphasis on Higher Education
Companies are changing the way that they recruit employees. Skills are being valued higher than degrees.
Most jobs require on-site training, regardless of the employee's educational history.
Managers have realized that a college degree doesn't necessarily make someone a more qualified candidate. In fact, just 10% of managers say they would not hire someone who doesn't have a college degree.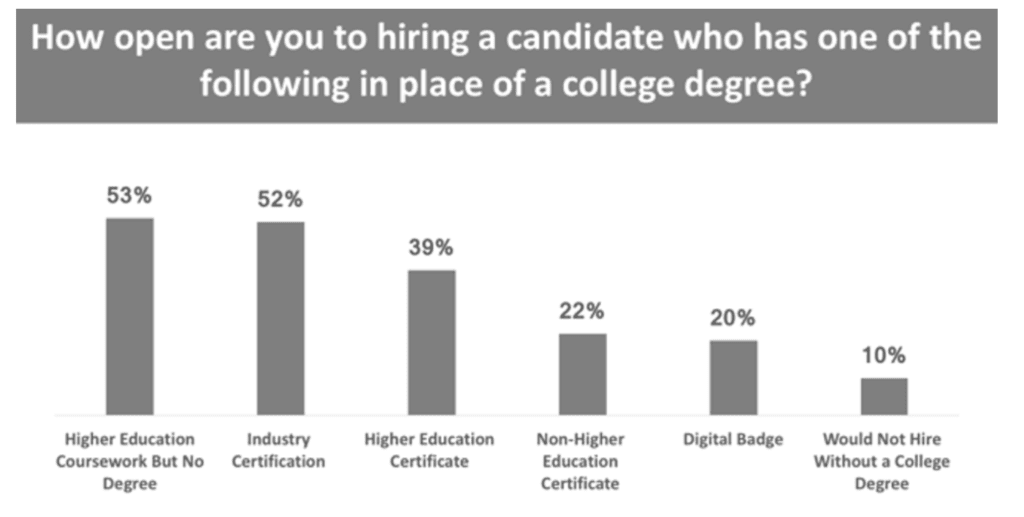 The modern workforce consists of people who carry industry certifications and other credentials.
Do certain jobs require higher education? Absolutely. Doctors, lawyers, and accountants will always need college. But a field service employee, project manager, or on-site technician does not.
Furthermore, companies can offer continuing education credits to their staff through various methods. You can offer training materials and tests to your staff through a mobile app.
For example, let's say you manage a construction company. You might initially hire someone as a general laborer. But you may eventually want them to get an electrician license. That person can work towards that certification while continuing with their daily on-site duties.
More and more companies are offering apprenticeships and similar types of programs. This encourages workers to better themselves without needing a four-year college diploma.
Close-minded managers that are only considering candidates with a degree will struggle to find qualified workers in the coming years. With the rising costs of tuition, the modern workforce has realized there are plenty of fruitful opportunities that don't require higher education. So look beyond an applicant's LinkedIn profile.
8. Remote Work Communication
Did you know that 80% of the modern workforce is deskless?
There's a good chance that your company has remote teams or people working from home. Managers still need to communicate with field service workers, even if they're not on-site with them at all times.
But unfortunately, there seems to be a significant disconnect between managers and employees when it comes to communicating. In fact, 49% of employees say they are not happy with the way management communicates with them.
Only 56% of the deskless workforce feels connected to their respective companies. This means that roughly half of all remote employees experience communication barriers with their managers. Poor communication has an adverse effect on employee productivity, employee happiness, and operating costs.
What's the solution?
Companies are turning to technology as a resource for improving communication with remote staff. Mobile apps are becoming the most popular workforce management tools for employee engagement in 2023.
Today, you can do anything remotely. From project management to performance reviews, modern managers need to adjust their skill sets associated with talent management.
Do you want more information on this subject? Check out our guide explaining why your deskless workforce needs a mobile app. Subscribe to our blog as well. You'll be notified whenever we publish new content and resources.
9. Emphasis On Company Culture
Managers are stressing the significance of company culture in 2023. This statement holds true across industries.
Why? For starters, less than one-third of the entire workforce is engaged.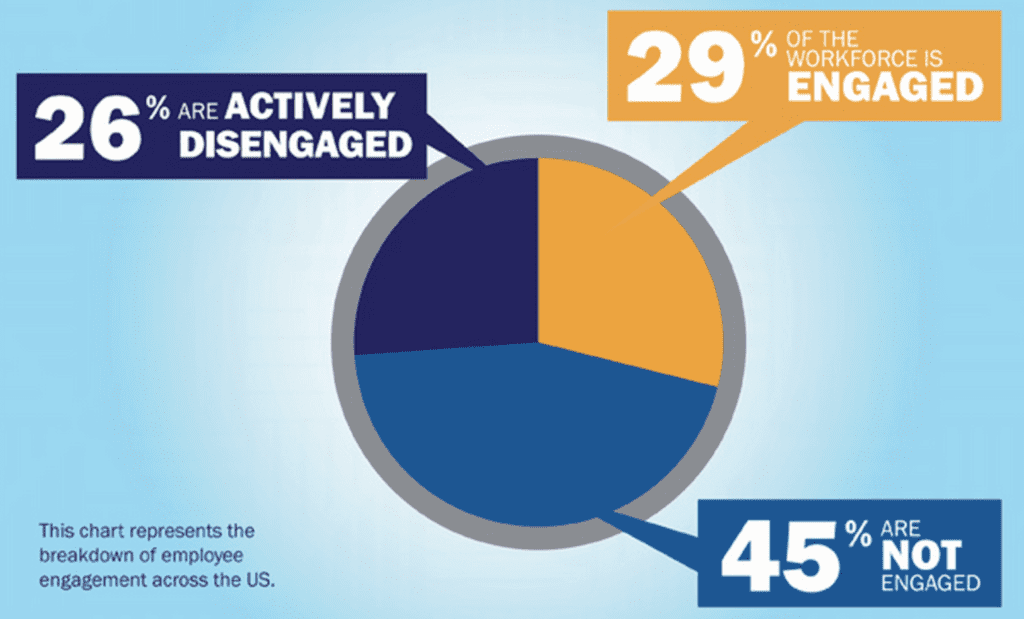 Implementing a new company culture is more than just having a professional-sounding mission statement. Actions speak much louder than words, and it starts at the top.
An astonishing 94% of managers and 88% of employees agree that having a distinct culture in the workplace leads to success. Furthermore, companies with a strong company culture are four times more likely to see revenue growth.
Factors like work environment, company values, and team collaboration all play a role in developing culture.
Company culture is intangible. It's not something that happens overnight. As a manager, it's your job to engage with the modern workforce and understand the type of culture that fits best for your organization. The core values of the company must align with the employees.
When done correctly, your staff will become your brand over time.
In a way, your staff's mentality can be compared to that of your customers. Consumers are familiar with your brand's advertising campaigns, charitable donations, and other factors that create your brand image.
Your employees have the same awareness but to a greater extent. They know what you actually do, not just what you say. Your staff understands exactly how you operate.
If you're cutting corners at the customer's expense or mistreating contractors, it will impact the perception of your brand in the eyes of your employees. As a result, it affects their performance.
Practice what you preach. Create a company culture that gets your employees excited to be part of the team.
10. Talent Acquisition and Retention
The modern workforce has a different view of employment compared to past generations. They know their worth and won't settle for positions where they aren't valued.
This is creating challenges for acquiring top-level talent.
For those of you who are lucky enough to find quality workers, it doesn't mean that they'll stick around for life. 51% of workers are actively seeking a new job.
Employee turnover is expensive. Turnover costs can range up to 200% of an employee's annual salary. That's why 87% of managers believe that improving employee retention is a top priority for their organizations.
The initial recruiting and onboarding process will have the most significant impact on how long an employee stays with a company. In fact, a recent study suggests that 69% of employees are less likely to churn if they had a great onboarding experience.
Another study shows roughly eight out of ten managers agree that internal recruiting improves employee retention.

69% of employees say that management style is a significant challenge in the workplace.
This is something that all managers need to understand. Your personality, talent management, and communication style has a direct impact on acquiring and retaining top-level talent. If your staff feels as though they are being treated unfairly, they'll simply look for another job.
Top-level talent expects technology in the workplace. From artificial intelligence tools to mobile apps and more, all of this will help you acquire and retain your staff.
11. Diversity and Equal Opportunity
The modern workforce is more diverse than ever before.
In fact, Forbes reports that women hold more jobs than men in the US, occupying 50.04% of all positions.
This diversity goes beyond just women. A recent CNBC publication states that 4.5 million of the 5.2 million new hires in the United States are considered racial minorities.
Here's another statistic to back-up this claim. Within the next five years, Millennials will make up 75% of the US workforce. More than 44% of Millennials are classified as non-caucasian.
This makes them the most diverse generation in the history of America.
Conclusion
Managers must adapt to the modern workforce trends. As you can see from this guide, things are not the same as they were in the past.
Employees have different expectations from management, and the top organizations are using technology to fill those workplace gaps.
Mobile app integration and employee management tools have been a common theme in these trends. Businesses are using new technology to improve communication and employee engagement.
This is crucial for field service worker management and organizations with remote positions.
If you can't adjust your management style to keep up with the latest workforce trends, your company will struggle in the coming years.
Subscribe to the BuildFire blog to give yourself an edge. We'll keep you up to date with the latest trends, tools, and best practices for employee workforce management.