No Code Development Platform – Tips & Best Practices For Success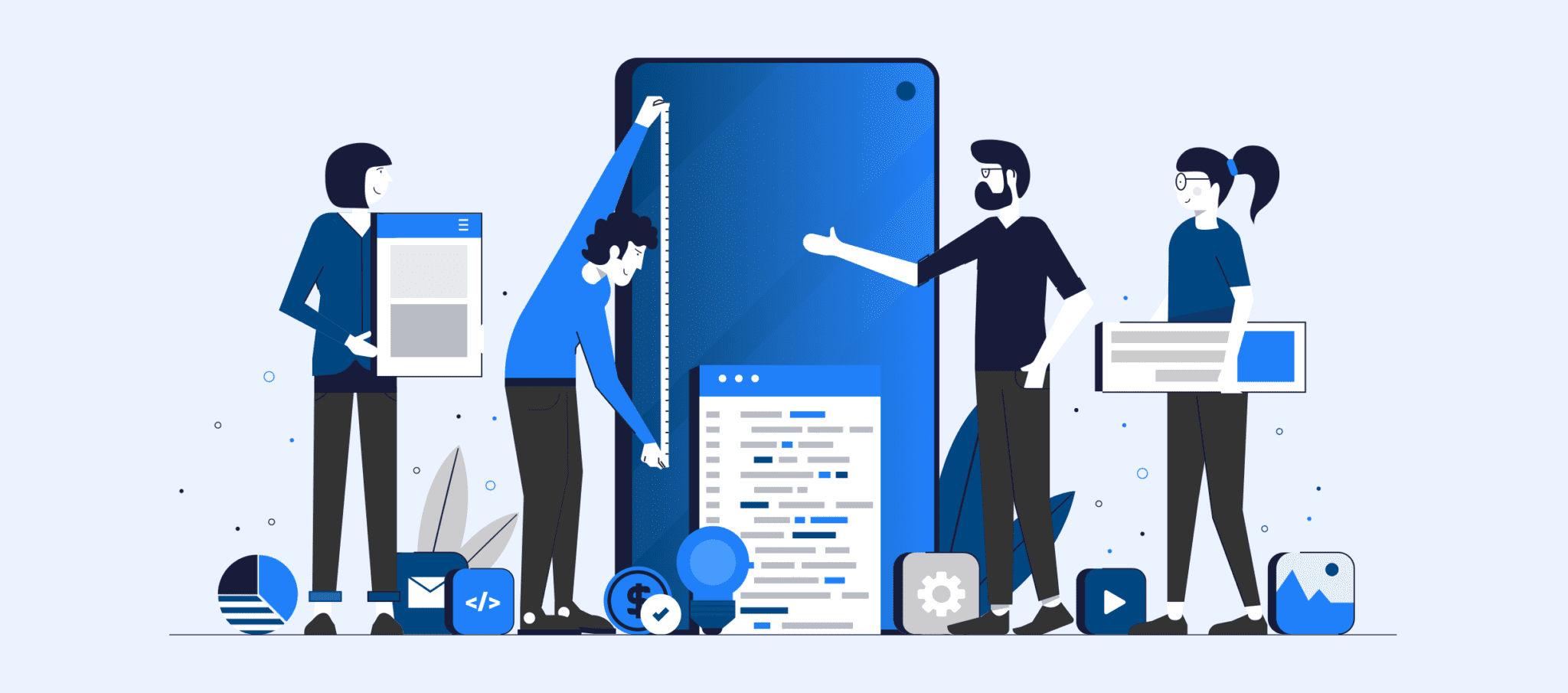 The demand for no-code development platforms has skyrocketed in recent years.
These tools enable non-technical users to build mobile apps, websites, and web apps without hiring a developer. This lowers the barrier to entry of app development for business owners and entrepreneurs, and it also allows companies to build apps without relying on internal technical resources.
Not only are no-code development platforms easy to use, but they're also really affordable. You can use no-code platforms to create an app for a fraction of the cost compared to traditional development—making it a no-brainer approach to development for nearly any use case.
With that said, using a no-code development platform doesn't automatically guarantee success. You still need to have a plan and know how to get the most out of your tool, which is why we created this guide.
Regardless of your use case or need for a no-code app development platform, you can use the proven tips and best practices below to improve your chances of success and a positive experience for your end users.
Find the Right No Code Development Platform
The first step to successful no-code mobile app development is finding the right platform.
There are tons of no-code development platforms on the market, each with its own strengths and weaknesses. To find the right platform for your needs, it's important to understand the type of app you're trying to build. Some platforms specialize in mobile app development, while others focus on web app development or website development.
Beyond the type of app you want to build, make sure you consider factors like the platform's ease of use, feature availability, integrations, and the level of customization you can achieve. You should also assess the costs associated with using each platform and the level of support offered.
One of the key benefits of no-code app development is the ability to create and launch an app quickly and cost-effectively.
However, this can only be achieved if you choose the right platform. A platform that is too complex or too limited in terms of features and customization may slow down the development process and prevent you from achieving your desired results. On the other hand, a platform that is well-suited to your needs will make the development process much smoother and more efficient.
Success with no code development starts here. So don't rush through this process. Take the time to research and compare different platforms to find the one that best fits your needs and objectives. Check out our guide on the best app building software to help you identify the right tool for you and your specific needs.
Utilize Templates For Design
The best no-code platforms offer pre-built templates and design elements that can be customized to meet your specific needs. By using these templates, you can save time and effort on the design process, allowing you to focus on the core functionality of your app.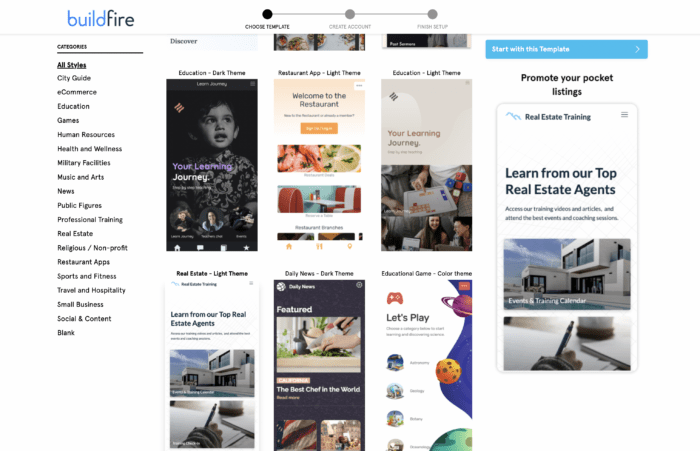 When using templates, it's important to choose one that fits the overall look and feel of your app.
Make sure that the template you choose is mobile-friendly and visually appealing, as this will help improve the user experience and increase user engagement. Consider the available customization options and make sure that you can modify the template to meet your specific design requirements.
It's also important to remember that templates are not set in stone. You can modify and tweak the templates as much as you need to achieve the desired results. For example, you can change the color scheme, add custom images, and rearrange elements to create a unique and personalized design.
In short, you don't need to be a design expert or hire a designer to succeed here. Just choose a no-code platform with a wide range of templates for your specific type of app. This will save you a ton of time and money as you're going through this process, and you can still create a visually-appealing app that's user-friendly and stands out from the crowd.
Leverage Pre-Built Functionality
Pre-built functionality is powerful in the no-code app development world. That's how no-code app builders work.
With the right platform, you'll have access to a range of features that can help streamline the development process and bring your app to life. Whether you need user authentication, data storage, push notifications, or any other functionality, it's likely that a pre-built solution exists that can be leveraged.
First, consider the available options. Different platforms offer different sets of pre-built features. So make sure to choose the one that offers the functionality you need.
You should also think about relevance, as not all pre-built features are created equal. Focus on the ones that are most relevant to your app and will be the most valuable to your users.
Just because a feature is pre-built doesn't mean it's set in stone. Most no-code platforms allow for customization and extension of their pre-built features, so don't be afraid to make changes as needed to better fit your app's needs.
Here at BuildFire, our app development platform has over 150+ pre-built functions that can be added to your app with a single click.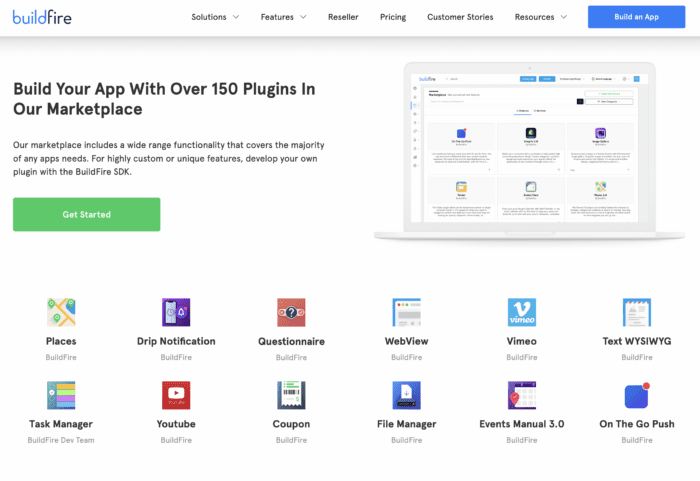 Let's say you wanted to add videos to your mobile app. You could simply add the YouTube or Vimeo plugin. Or maybe you want to extend your ecommerce shop to get more mobile conversions. In this case, you can just install our Shopify plugin to add ecommerce functionality.
Pre-built functionality can be a game changer for your no-code app development process. So take the time to understand what's available, and choose the right features for your app to succeed.
Define Your App's Core Features and Objectives
By focusing on the core features and objectives, you can prioritize development and get to market quickly. This is important because it allows you to validate your app idea, test your assumptions, and make data-driven decisions about future development.
Consider the following when defining core objectives:
Identify Your Unique Value Proposition: What sets your app apart from others in the market? What problem does it solve or what need does it fulfill?
Define Your Target Audience: Who will use your app? What are their pain points and needs? What motivates them to use your app?
Prioritize Development: Focus on the core features and objectives that will deliver the most value to your users. These are the features that will define your app and make it successful.
Once you've defined your app's core features and objectives, you can then focus on development and bring your app to market quickly.
You can always expand the functionality and add additional features as needed down the road.
Always Keep The End User In Mind
As you move through the no-code mobile app development process, you must always keep the end user in mind. From choosing features to designing the interface, everything you do should be focused on providing value to your customers and end-users.
Create a user-centered design to ensure the app experience is intuitive and easy to use.
Ask users for feedback and make changes based on their suggestions.
Conduct user testing to validate your decision decisions and identify any areas for improvement.
Make sure the user experience is seamless and consistent throughout your app.
Focus on ways to keep your users engaged and coming back to your app.
You can check out our guides on app testing and how to create user stories. Both of these will be extremely useful as you're creating an app with no-code development.
This is critical to the success of your app and the satisfaction of your customers.
Define Your Monetization Strategy
Most people create an app to make money, either directly through sales or indirectly by improving the customer experience. Regardless of your reason, the no-code platform you choose must be able to accommodate your revenue-generation method.
Some popular app monetization methods include:
Paid App: Charge users for downloading and using your app.
In-App Purchases: Offer additional features or content for a fee within the app.
Advertising: Include advertisements within your app and earn revenue based on impressions or clicks.
Subscriptions: Charge users a recurring fee for access to premium features or content.
Freemium Model: Offer a free version of your app with limited functionality and charge for premium features.
Mobile Commerce: Sell physical or digital products through your app.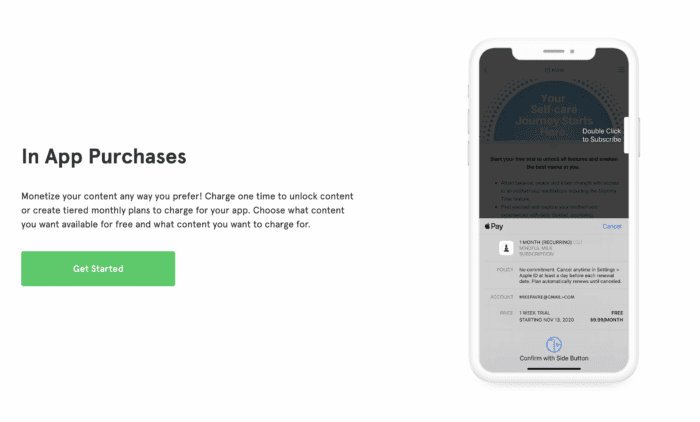 When choosing your monetization strategy, consider your target audience, the value you are providing to your users, and the competition in your app's marketplace.
It's important to note that some no-code platforms may not support all monetization strategies. Make sure to choose a platform that can accommodate your chosen method of generating revenue.
Take Advantage of Self-Help Resources
Many platforms offer self-help resources to help you get started with no-code app development and troubleshoot any issues.
Here at BuildFire, we have an extensive knowledge base with tutorials using our no-code app builder. From setting up your app to customizing its design and functionality, our tutorials can help you get the most out of our platform.
Other no-code platforms offer forums where you can connect with other app builders and receive support from the community. That's fine for some people, but it's not quite a replacement for dedicated resources directly from the platform provider. It's also not the most effective way to get support.
Speaking of support, you shouldn't be afraid to reach out to our team for assistance. A good no-code platform should have a dedicated support team that is ready to help you with any questions or issues you may have.
We definitely offer that here at BuildFire, but not every app development platform has the same level of support.
Focus on Your Launch Strategy
You should be thinking about your launch and go-to market-strategy from day one.
With two main mobile app stores—Apple App Store and Google Play Store—it's important to make sure your platform supports both and makes it easy for you to publish. Your app should be available to as many users as possible, and having it available on both major app stores is a crucial part of that strategy.
At BuildFire, we understand the importance of a smooth and hassle-free launch process. That's why we offer a one-click publishing process that makes it easy for you to publish your app to both app stores.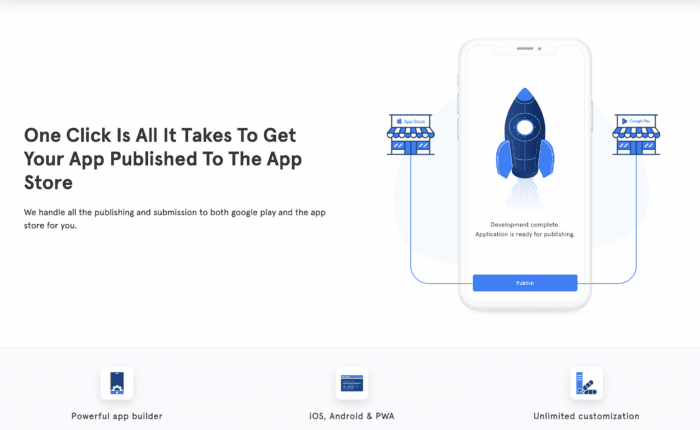 Our platform ensures that your app is compliant with the guidelines imposed by each store so that it meets the technical requirements for successful submissions.
Know Your Limitations
While no-code platforms offer a tremendous amount of power and flexibility, there may be times when you run into scenarios where you need help—and the no-code development tool alone just isn't cutting it.
That's why it's so important to use a solution that has both a no-code development platform and services.
With BuildFire, if you need help with a feature or function beyond what you've built, you can rely on our in-house developers to handle it for you.
By having access to both a no-code platform and a team of experienced developers, you can be confident that you'll be able to overcome any limitations and get the app of your dreams.
Knowing your limitations is an important aspect of using a no-code mobile app development platform. So rather than pulling your hair out over something that's beyond your capabilities, you should consider a platform that offers development services to help you succeed.
Final Thoughts
The key to success in no-code app development starts with choosing the right platform. All the tips and best practices in this guide will be irrelevant if the platform you're using doesn't meet your needs.
BuildFire is the best solution for anyone looking to create a high-quality, feature-rich app without having to write a single line of code. With our easy-to-use platform, extensive self-help resources, and in-house development team, you have everything you need to succeed.
That's why BuildFire has been used to build over 10,000+ mobile apps across every business size and industry.
So if you're ready to take your app development to the next level, sign up for your 14-day free trial today to start building the app of your dreams. With BuildFire, the possibilities are endless—and success is yours for the taking.