How Does a No Code App Builder Work?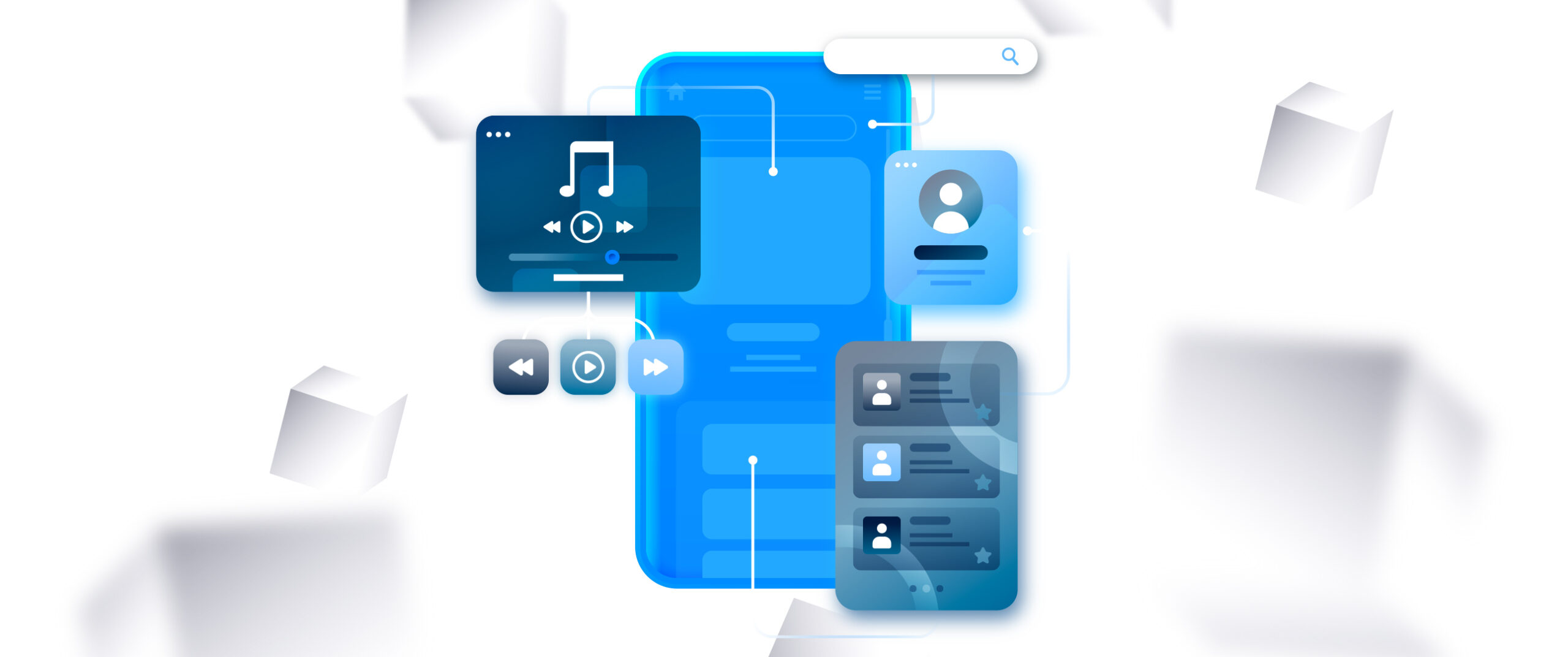 No-code development bridges the gap between non-technical users and app development. Something that historically required tech skills and programming knowledge can now be achieved with a no-code app builder.
If you want to make an app but don't know how to code, this guide is for you.
You'll learn everything there is to know about no-code development, how it works, and how to use no-code app builders for your next project.
What is a No Code App Builder?
As the name implies, a no-code app builder allows users to create applications without having to write code. If you know how to navigate the web, you can use a no-code platform to create an app from scratch.
No-code app builders rely on simple visual editors and drag-and-drop tools.
You simply tell the software what to do, where you want things, and how you want it to look. Everything else is handled for you on the backend.
In traditional software development, the code represents instructions that tell the platform how to execute various functions. But no-code development uses an app maker to define what the app should do, as opposed to how it's done.
For example, rather than having to write code for specific screens, button text, menus, and colors, you can use a no-code app builder to customize everything from a visual editor.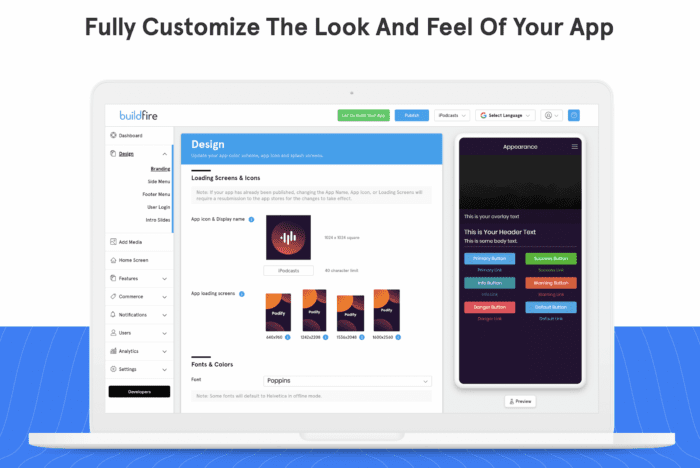 Benefits of Using a No Code Platform For Your App Idea
There are significant advantages of no-code development in creating mobile apps. In many scenarios, no-code will be the ideal method for any development project.
We'll take a closer look at the benefits of no-code below:
No Technical Knowledge Required
No-code app builders make it easy for anyone to create native apps. You don't need to have any coding skills, technical knowledge, or programming experience to bring your app idea to life.
In short, this means that the average person can develop applications with ease. There's no need to hire a developer or learn how to code. No-code tools are very straightforward and don't have much of a learning curve.
Get to Market Faster
Using traditional development to create mobile apps is time-consuming. The average project can take anywhere from six months to 18+ months between the time you start developing and the time you launch.
But no-code development can easily cut that timeline in half. In most cases, you should be able to launch your app within a few months.
This helps you stay competitive, improve the customer experience, and bring innovation to your business.
Launch on Both App Stores
There are two main app stores—the Apple App Store for iOS and Google Play Store for Android. Traditional development requires two different versions of the app—one for each store.
That's because each platform uses different programming languages.
But with no-code development solutions like BuildFire, you can create an app for iOS and Android in a single build. Just build your app using the visual editor, and let us know when you're done. BuildFire will get your app live on both stores with just a single click on your end.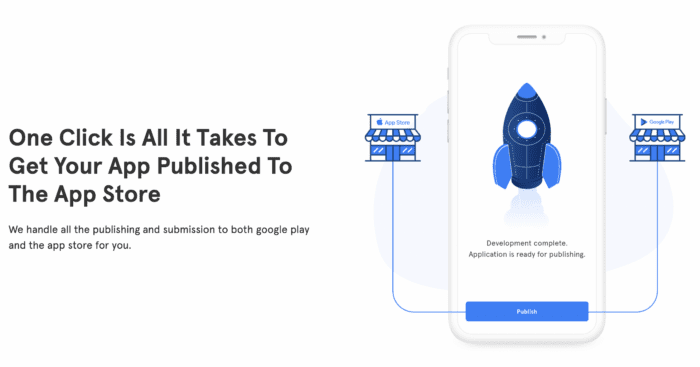 Lower Development Costs
No-code lets you create apps for a fraction of the cost compared to low-level coding.
That's because the development timeline is shortened, and you don't need to hire a team of developers. Labor alone associated with hiring an iOS developer, Android developer, web developer, project manager, and quality assurance agent is costly.
But no-code does not require a team of developers. You can build the app on your own, and your only cost is the subscription fee to use the software.
The cost of a quality app development platform typically starts around $350 to $500 per month.
Increased ROI
Lower costs and faster development timelines translate to more money in your pocket.
You have an opportunity to get your mobile app in the hands of real users quickly, making it easy to see a faster return on your investment. You can break even within months instead of years.
Check out our app monetization guide for ideas on how to make money with your app.
No Code Platforms vs. Low Code App Builders
The terms "no code" and "low code" often go hand-in-hand. But low-code options are not always synonymous with no-code development tools.
While it's true that some platforms incorporate no-code and low-code technology to create mobile and web apps, there are some important differences that you need to understand between these technologies.
No-code platforms are built for everyone, including users who don't have any prior experience with programming or app development. Low-code development does require some technical knowledge, and it typically requires trained developers to complete projects.
Low-code is still cheaper than traditional development, but it's slightly more expensive than no-code options. Low-code tends to offer a bit more flexibility and customization options than no-code tools, as developers can create custom functions outside of the platform's limitations.
BuildFire is the best of both worlds. It's a no-code app builder that anyone can use, and it's also developer-friendly.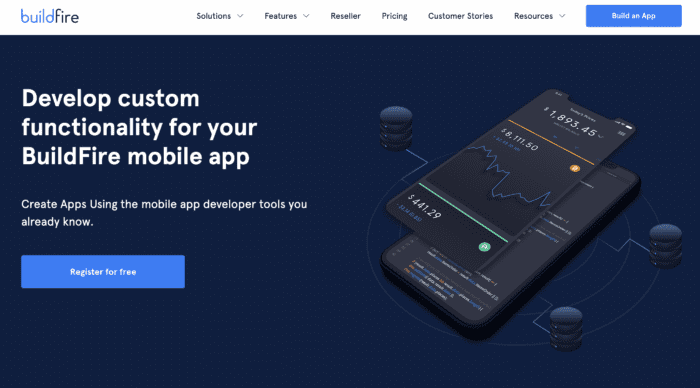 This means that anyone with technical knowledge can use BuildFire to create custom functionality for mobile apps. The no-code platform and low-code capabilities can be used jointly to create a truly customized mobile app.
You can take advantage of BuildFire's backend technology, including authentication servers, file servers, image servers, analytics servers, push notification servers, databases, CMS, and more. Everything can be built on top of our existing infrastructure.
How No Code App Builders Work
No code app builders work by giving creators the ability to control where everything goes. It's as simple as dragging and dropping images or using a visual editor to change the text or colors on a screen.
As you make changes within the editor, you'll see the changes in real-time on an emulator. This lets you see exactly how your changes are impacting the design choices and functions of your final product.
Everything is already pre-configured on the backend. So you won't have to worry about maintaining the infrastructure, paying for servers, or maintaining updates. Your no-code tool will do all of this for you.
Many of the best no-code app builders rely on integrations, data connections, and plugins to support functionality. Adding a function to your app can be as simple as installing a plugin.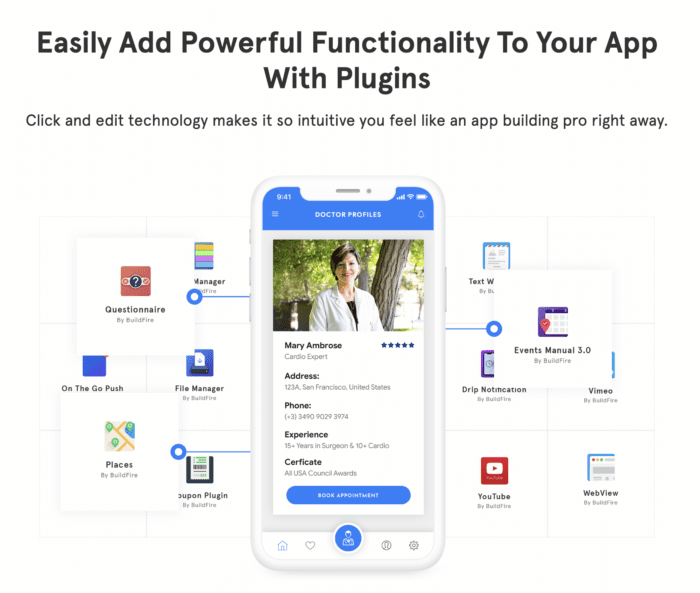 Want to add videos to your app? Simply install a YouTube or Vimeo plugin.
Do you need a way to manage bookings or events? There are plugins for that too.
The plugins can integrate with other tools like Zapier, Google Sheets, maps, and even leverage existing technology on the end-user's device, like their camera or Bluetooth.
Types of Mobile Apps You Can Build With No Code Platforms
In most cases, you won't be restricted by the type of app you can build with no code. You use this technology to create anything from a dating app to a web app and everything in between.
The only time where no-code isn't ideal for native mobile apps is when you need to create something that's highly graphics-intensive or extremely unique. For example, you probably wouldn't use a no-code solution to build a gaming app or create the next Facebook.
With that said, you can still use no-code technology to create fully functional apps across dozens of categories. We'll look at some examples below.
Ecommerce App
If you currently have an ecommerce website and want to turn it into an app, you can easily do so without any technical skills or coding knowledge.
All you need to do is find a no-code tool that you can sync with your online store. Then you can start selling immediately and increase mobile conversions with an ecommerce app.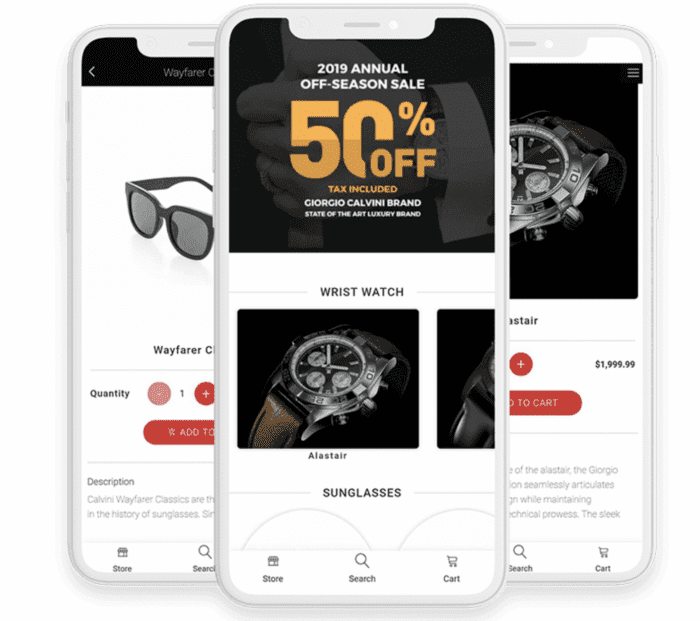 Events App
You can create an app for one-time events and recurring events as well. Event apps are great for concerts, business expos, networking events, wedding planning, and so much more.
The app can be a one-stop shop to manage attendees, showcase sponsors, highlight exhibitors, share videos, and provide more detailed information about the location.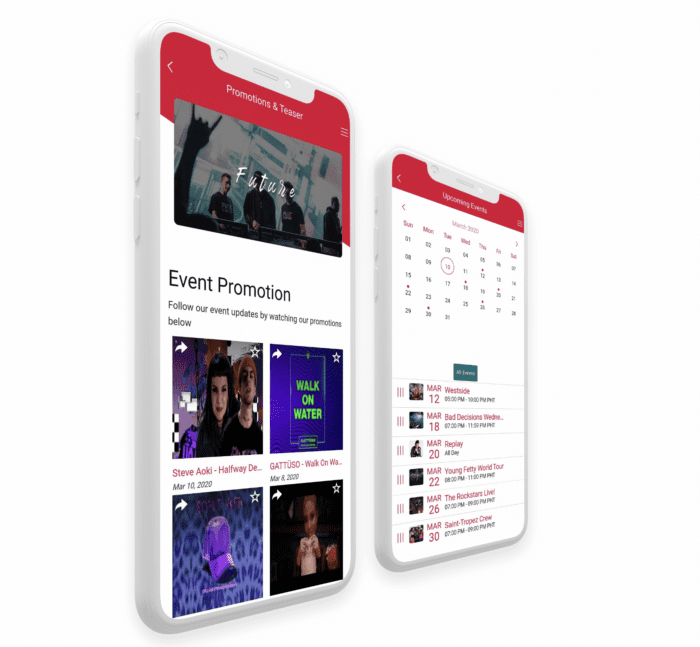 Apps For Business Processes and Employee Communication
No-code has really skyrocketed in popularity when it comes to building mobile applications for business use. Internal business solutions typically need to launch quickly, and most organizations are very cost-sensitive when they're investing in this type of venture.
Businesses rely on no-code apps for HR, employee communication, employee self-service, business workflows, company announcements, schedule changes, staff directories, and more.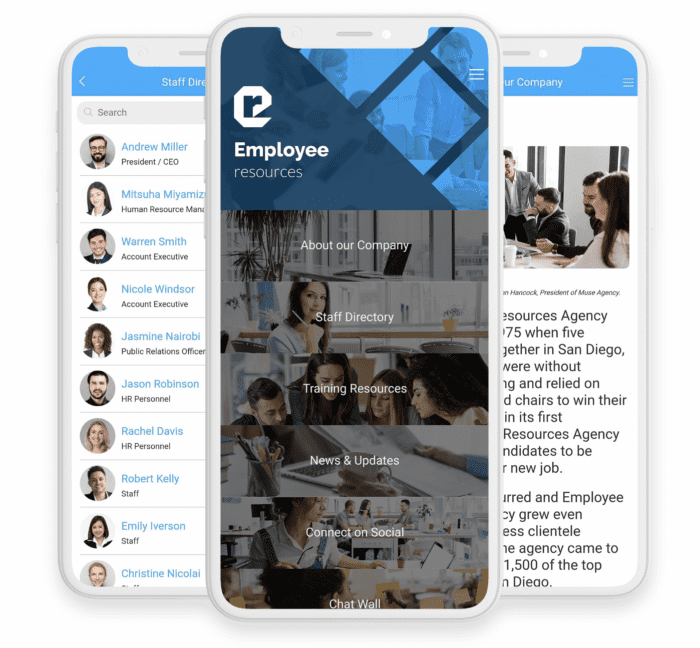 Fitness and Wellness Apps
No-code app makers allow gym owners, personal trainers, yoga instructors, dietitians, and anyone else in the fitness and wellness space to easily create an app.
This is a great way to expand your business and reach new clients. You can use the app to manage memberships, sell premium workouts, create meal plan videos, book classes at the gym, and so much more. You can even use a fitness app for virtual personal training sessions without ever having to meet clients in person.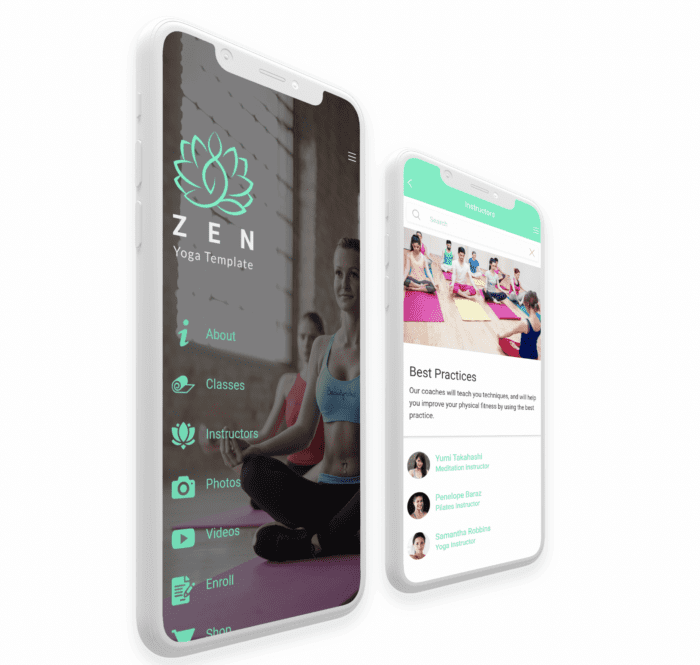 Education Apps
There are tons of use cases for education apps in today's day and age. Schools and universities are using them to share events, provide a staff directory, create a campus map, and engage with students.
These apps can also be used to facilitate quizzes, tests, surveys, polls, and more. They can be a resource for study materials, document sharing, and even showcase videos of pre-recorded classes. Check out our tips and best practices for creating educational apps to learn more.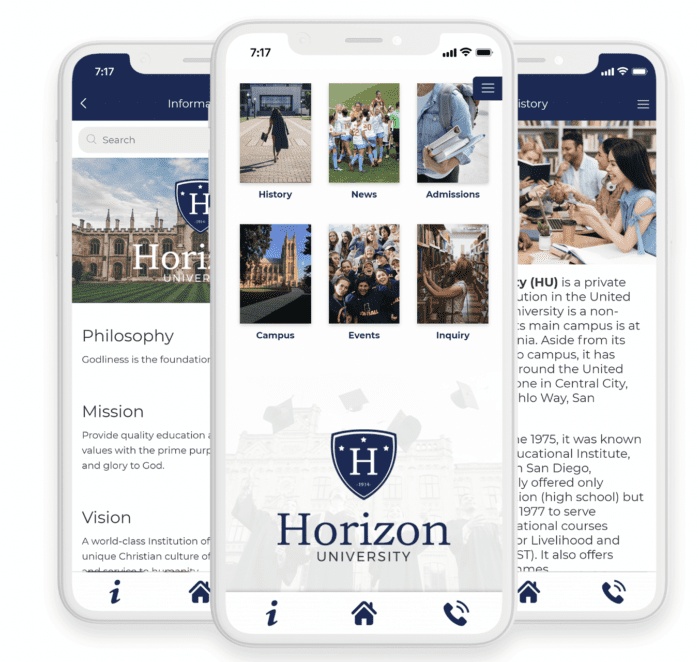 Nonprofit and Religious Organization Apps
Nonprofits and churches may not have the budget or resources to develop an app from scratch. But a no-code app builder breaks down these barriers, allowing these types of organizations to go mobile.
Religious apps are great for sharing sermons, providing a digital bible, collecting donations, and creating a sense of community. Your members can take advantage of social media-like features to connect with each other and manage upcoming events.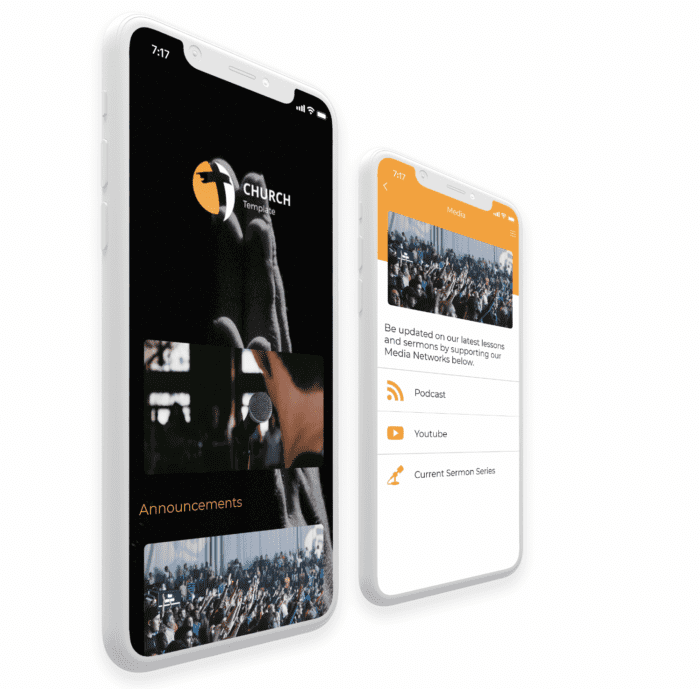 Content and Entertainment Apps
Social media influencers and people with a podcast or YouTube channel can use no-code app builders to expand their reach. It's just another channel where you can repurpose existing content or potentially create exclusive content that's just for app users.
This is a great way to make money from your content. No-code app makers allow you to lock premium content and sell subscriptions to your fans. So you can easily earn recurring revenue and drive engagement from app users.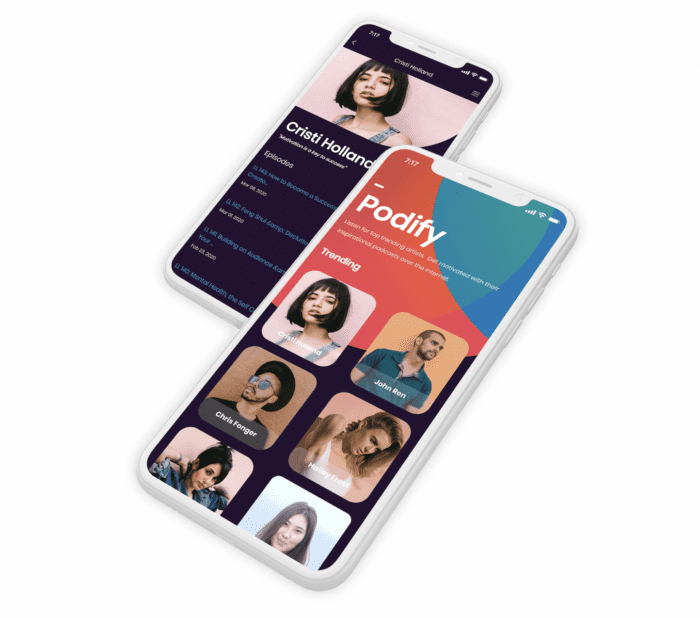 Best No Code App Builder For iOS and Android
BuildFire is the best tool on the market today for no-code development. It's a simple and powerful way to create apps for iOS and Android—all for a fraction of the cost compared to traditional development.
The software is easy to use, and you can get started building the app of your dreams in a matter of seconds.
All you need to do is sign up, select a template, and you can start customizing everything you need from our visual editor and see the changes in real-time through an interactive app emulator.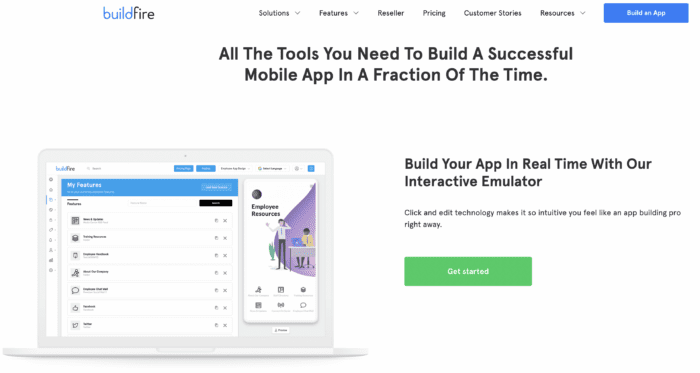 Where BuildFire really shines is its limitless functionality. There are hundreds of plugins on the BuildFire marketplace that you can use to seamlessly add features to your app in a single click.
But unlike other app builders on the market, BuildFire also supports custom development.
Let's say there's a unique feature that you want to include on your app, but you can't find it in the form of a plugin. No problem. With BuildFire, you can have your own developer create that functionality for you and add it to the app. Or reach out to our team of in-house developers to build it.
Other no-code app builders restrict functionality and limit your growth. But the opportunities are endless with BuildFire, and our platform is built to scale.
No matter what you want your app to be or how many users download the app, you'll never outgrow our platform.
You can sign up right now and try BuildFire for free with our 14-day free trial.
Final Thoughts
No-code app development is the future, and the future is now.
Gone are the days when you need to hire an entire development team and wait a year to launch your app. No-code technology lets you build apps quickly, get to market fast, and save money on development.
If you're just an average business user that doesn't have the time, patience, or resources to learn code or outsource development, no-code is the solution.
You can use a no-code app builder to expand your existing business or start a new venture from scratch. The opportunities are limitless.