7 Ways That Your Small Business Can Win on Pinterest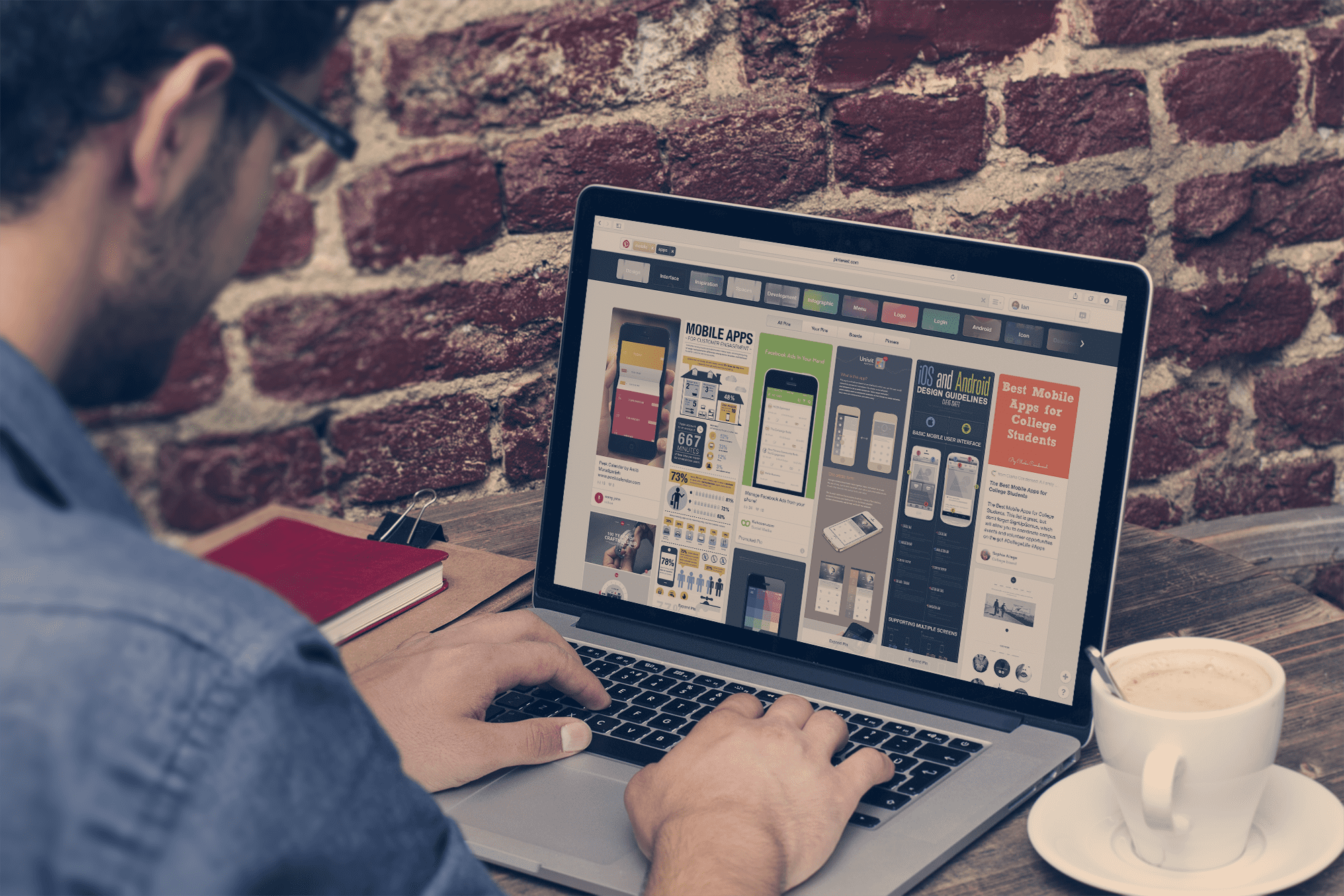 You've seen the stock images with the businessmen shaking hands or the smiling woman in her early 30s enjoying a cup of coffee, or the little bubble men with pencils and other gadgets trying to do something with other, smaller, indiscernible shapes.
Lame, right? Of course it is. Why? Because it's generic. When you slap something like that up on Pinterest, you're basically telling users that you're:
1. Not very creative with your image-posting skills and;
2. You don't really care about the image
More than that, you're killing your SEO and social impact, and Pinterest is nothing if not social. So, ditch the templates, stock images, and cheesy sales pitches. Here are 7 easy wins that actually work.
1. Scout The Competition
Find the search bar in the upper left side of the Pinterest website. Enter your competitors' website address. It will generate a list of all of that company's pins. Now, make sure that the "all pins" tab is selected. Now you can scroll through your competitors' pins and see what you're up against.
Why is this valuable? Because, in some cases, you may want to mimic your competition. In other cases, you may want to know how you must differentiate yourself. Your competition is giving you all of the information you need to know – what they're pinning, what's working, and what's not.
2. Create Brandable Images
Dig up an image file that either gives you unlimited modification rights or you snap your own photo. Alternatively, you can hire someone to snap a photo for you.
Just make sure that the person is actually snapping an original photo (as opposed to just surfing the web and downloading a copyright-protected stock image) so you don't get hit with a lawsuit 5 years from now when you have millions of dollars in your corporate bank account. When in doubt, use Google's advanced image search. If you find an image in there, and there's no copyright or licensing information, assume it's protected content.
Once you've found your image, dress it up with apps like Typic, Photogene2, Letterglow, Rhonna, Photoshop, PicMonkey, or even GIMP or Paint.net if you've got design skills.
Some apps, like Typic Photogene2, Letterglow, and Rhonna take a lot of guesswork out of the image customization process.
They use templates that you can customize, and they're really pretty neat. There are some limitations with them, but mostly, you'll find that you can create custom brandable images (like the one at the top of this post) that don't feel like they were created from a template.
With programs like Photoshop and GIMP, bring your "A" game, you'll need it. When you're done, you'll have a blog post image that, in and of itself, is sharable or, in this case, "re-pinable."
3. Send Your Images To Email Subscribers
Do you want more activity on your boards? Give people a reason to re-pin your stuff. Send your awesome branded photos out to your email list. This is a deceptively simple tactic, but it does a few things.
First, it trains your list subscribers to expect image attachments from you – images that will undoubtedly be much cooler than what they're used to seeing on the web or in email.
Secondly, the images can be hyperlinked, which will train list subscribers to follow the email back to your blog where they can read more stuff written by you (or other contributors).
Most importantly, in the context of Pinterest, it's training subscribers to pin images (from your blog or email) and then re-pin your images (natively, on Pinterest).
4. Include Prices In Your Photos
Like any respectable business, you're selling something. So why not include the prices of goods in your photos? People on Pinterest aren't necessarily in buying mode, but they may be in "window shopping" mode. So, if you sell sneakers for example, take an awesome macro shot of them, add a clever slogan to the image, and then discreetly affix the price somewhere that's somewhat conspicuous but at the same time not too distracting.
Then, link your photo back to the product page where people can buy the item.
5. Create Demo Collages
Take a tip from big brands – create an image collage that consists of a series of photos of you demonstrating what your product or service does for users. This technique is not only instructive, it's interesting to look at and it's also re-pinable.
6. Pin Your Blog Posts
All images you pin to a board can by hyperlinked back to your blog. This is an excellent strategy if you want people reading more of what you write. Again, if you're using branded images, it will be an easy win.
7. Use The Onboard Analytics
Pinterest has built in Analytics that many businesses (for some odd reason) overlook or refuse to use. But, these analytics can tell you a lot about how people view your brand on the site, what they're saving from your website, what they're re-pinning, what boards they love (and hate), even what devices people use when pinning your photos. If you're not using this feature, start.
At The End Of The Day…
At the end of the day, "winning" on Pinterest isn't just about being more clever or interesting than the next user. You have to be relevant and have a message that other users can connect to.
It's also about fulfilling a need or solving a problem. People use this site to discover new ideas, research products for projects they want to do, or purely for entertainment purposes. But, all of those purposes have a value. What about you? How will you fulfill that value? Post something in the comments below.