5 Sensational App Marketing Strategies To Use in 2016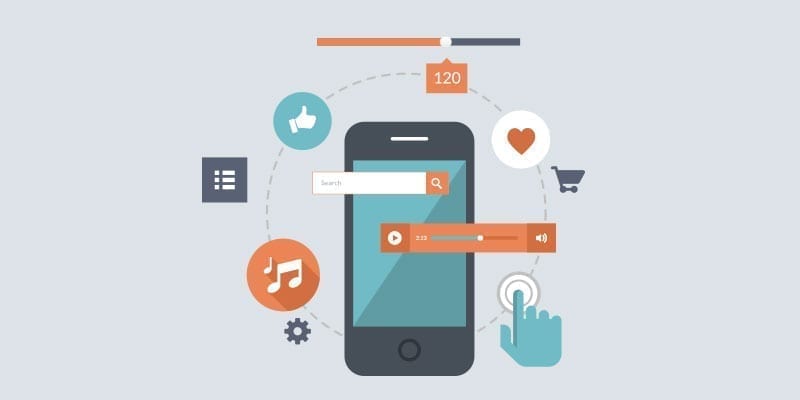 App Store Optimization is in full swing and it is getting really hard to be visible anywhere whether it's social media, blogs and even app stores. Sure, it seems like you won't be able to compete with the competition but that's not the case.
Here are some mobile marketing strategies you can implement to increase your visibility and user base:
App Store Optimization
App Store Optimization is all about improving the visibility of your app. Most of the app marketers know its importance. There are millions of apps in the app stores and more than 60% of them have never been downloaded. One of the main reasons for that is that they are not visible for users in category and keyword search. This is what app store optimization helps to avoid. These points will help you with your app store optimization:

Finding keywords that matter: Keyword research is your first task in App Store Optimization and maybe the most important one. Finding relevant keywords with high search volume and low competition is your objective. Due to the high competition in the app stores, it's very hard especially when Google and Apple doesn't provide you with data.
Tracking Competition:

There will always be competition in the app stores since there are millions of apps. ASO Tools like

App Radar Keyword Tracker

can help you finding out, how your app ranks for specific keywords in contrast to your competitors. Thus, you can evaluate, whether users will be more likely to download your app or your competitor's app by analyzing app store search rankings. In fact, higher ranked apps are considered to be more relevant to the search term and therefore nick a greater number of downloads. Having an overview of your ranking statistics, helps you finding new optimization potential.  
Creating Outstanding Assets: Create great high quality screenshots (especially the first three are the most important). When people visit your app page they should not feel disappointed by the quality of video and screenshots. Graphical elements are always helpful to convince users. Therefore, app screenshots and promo videos have a direct impact on your app's downloads. These elements thereby should give users a quick overview of your app's features and functionality. Updating them based on occasions and festivals is also extremely important.
Besides well-designed images, you should have a great description for your app. Edit it every now and then to remind Google that you are active and see improvements for your rankings with better keyword insertion. Keep it short and simple with strategic placement of keywords.
Influencer Marketing
Influencer marketing is underrated in some industries and overrated in others but if you are able to find the right influencers, it can be a game changer. Influencer Marketing, in general, perfectly matches for App Business. Marketing apps through industry experts and entertainers on Social Media and YouTube, works well for new apps. Do some targeted research on suitable influencers and pitch them your idea. If they are really interested in your app, ask them to cover it on their channels and show it to their audience.
Fortafy is a app publishing and mobile marketing agency that you can hire to promote your app. They really has a lot of different YouTubers and Facebook stars under contract promoting their game. They also published a Color Switch game that has over 100 million downloads and was at the top of app store in around 100 countries. The game was developed with no coding expertise using a tool known a buildbox.
Social Media Marketing
Social media is something that is underutilized by small and medium sized developers but can be the most effective way to get downloads and retain your customers for a longer period of time.

Enlight app is a great example for this. As a photography app, they engage with their community on Facebook, Instagram and Twitter. They regularly post great images and photography-relevant content on their social media profiles. They achieved over 134,000 page likes on Facebook, 67,7k followers on Instagram and 56,1k on Twitter over the last two years. This example shows, that you can build a great community by regularly updating content and engaging with your users.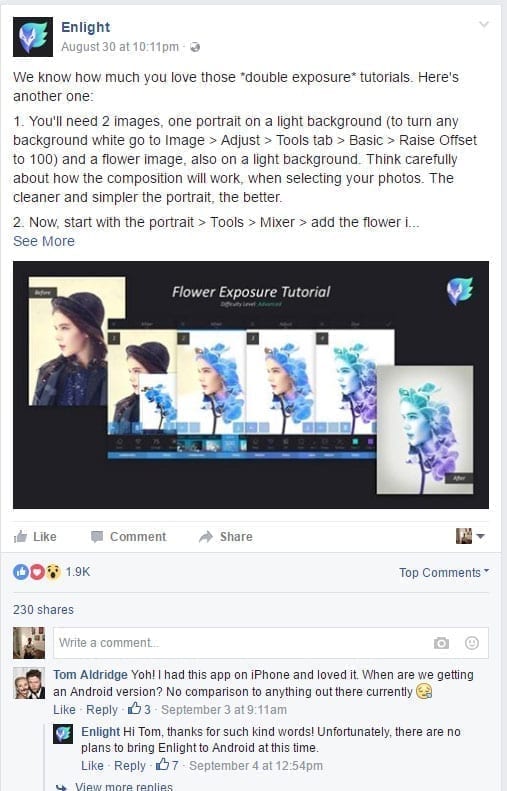 This approach allows them to easily communicate with their audience directly with minimal efforts like in the case of Email. This will also allow them to promote a new app very easily as they already have a huge user base of Facebook.
Branded Apps
Branding apps is something, many app developers utilize and have great success with. Especially, apps in gaming category use the power of branding. Sure getting license and permission to use the content of a brand is hard to get for most of developers, however, there are many of them, that afforded the cost at the beginning of a brand and made a game around it.
The best example of branded apps is Pokemon Go. Ninantic, a game development company created a game around the huge brand of Nintendo's Pokémon and it was instant success. It has over 500 million downloads and it is also the most grossing app in the world.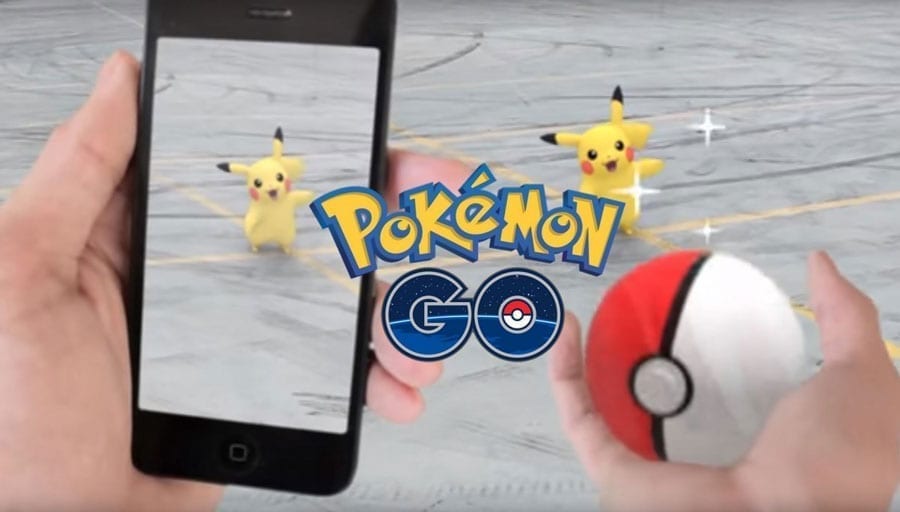 Even though the idea was different than most other games but the brand and marketing of the game really stood out. Since the story of Pokémon already was very popular years ago, the app achieved instant success. Due to the fact, that they allowed users to share content anywhere, they managed to create a great hype around the app though user generated content, mainly.
User generated content is always great and when you mix it with big brands that people love from their childhood, it is a great recipe for a successful app.
Real Life Connected Marketing

Real life connected marketing is great for online retailers with physical shops. It means rewarding people who have downloaded your app.
You can also give different offers to loyal customers. For example, Chick-Fil-A station in Jefferson station handed out free burgers worth $ 3.55 to its customers who have downloaded their app by June 11 and the offer was redeemable through June 30.
Online food order companies utilize this tactic very effectively that hand out in-app coupons only for customers to retain.
Similarly, many other companies, like Uber, handed out free rides in their taxi app. This not only helps in branding but also increase customer loyalty. However, doesn't mean giving a bad service because it's free but giving the best service so that you can retain customers for a longer period of time.
About the Author:
Silke Glauninger is a Marketing Manager at App Radar, an App Marketing software that helps  app developers and marketers all around the world growing their app business. Check out the
App Radar blog
which is focusing on the topics like App Store Optimization and App Marketing in general.