ROI of an Internal Communications App
Businesses across every industry are finding tremendous value in deploying apps in the workplace. Employee apps for internal communications are extremely versatile—from driving engagement to HR-self service and compliance, the possibilities are seemingly endless.
While the qualitative benefits of creating an employee comms app might seem obvious, the financial return on investment isn't always so clear.
Many business owners, CFOs, CTOs, and other decision-makers want to make sure the app will actually pay off before diving into development. This is a natural and logical thought process.
That's why we've created this guide. Below you'll learn how to measure the ROI of an internal communications app for your employees.
This information will help you crunch the numbers to ensure the investment pays off.
Increase Employee Engagement ROI
According to a recent study by Gallup, just 35% of the US workforce is engaged. Not only does this mean the remaining 65% is not engaged, but the study also found 18% of workers are actively disengaged—which is troubling.
Engagement in the workplace is more than just a metric related to how your employees focus or how much they care about their jobs. Employee engagement has a direct impact on your bottom line.
How much of an impact?
Additional research from Gallup shows that increasing engagement can increase profits by 22% and boost workplace productivity by 21%.
That's not all. Increasing employee engagement gives you a significant competitive advantage. A study from PostBeyond found that companies with engaged employees outperform others by 202%.
Keeping employees engaged at work has become a bigger HR challenge today than ever before. With so many deskless employees working remotely, in the field, or otherwise outside of a traditional office environment, it's easy for them to lose connection with co-workers and management.
But a mobile app keeps your staff connected and engaged regardless of location.
Companies seeking to improve employee engagement with an experience-driven approach benefit from significant results. The numbers speak for themselves.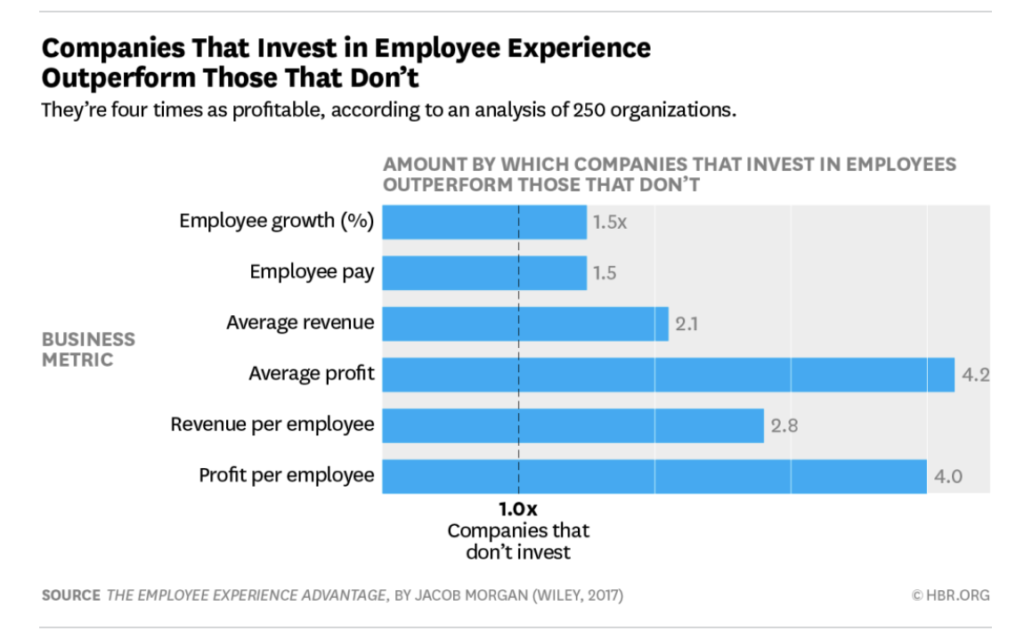 Mobile apps are all about the employee experience. Your staff is already using their smartphones and mobile devices in the workplace—why not make their experience even better by providing them with a dedicated app for internal communications?
For every 1% increase in employee engagement, expect to see sales increase by an average of 0.6%.
Reduce Employee Turnover ROI
Retaining top-level talent in the workplace is a challenge. But one simple way to reduce employee turnover is by implementing modern communication software in the workplace.
The average annual employee turnover rate is 10.9%.
Times are changing. Unlike generations of the past, the modern workforce is always looking for new opportunities. They don't get one job and plan on staying there for life. According to a recent survey, 52% of adults in the US and Canada plan to look for a new job in 2021.
Aside from compensation, recognition is a top reason why employees actively look for new career opportunities.
20% of those surveyed said they feel unappreciated at work. An additional 69% said their relationship with management would improve if they were recognized more often. 60% of employees say their employers seek feedback for ways to improve the employee experience, but just 16% of employers took action based on that feedback.
This is a big problem, and it all stems back to engagement and effective internal communication.
As a result, employees are churning, and it's costing companies a lot of money.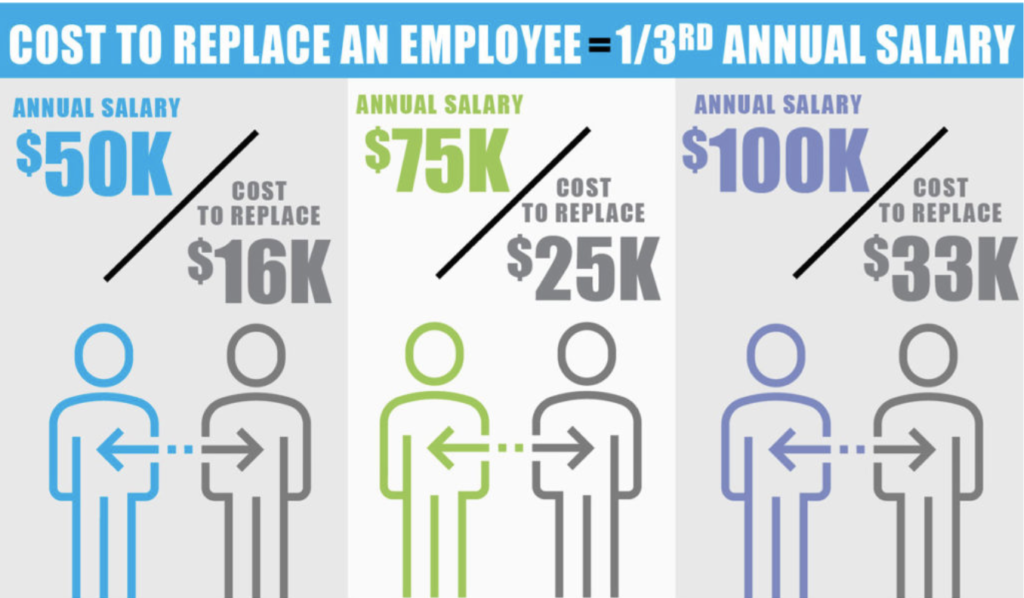 On average, it costs about one-third of an employee's salary to replace them. So businesses with a high employee turnover rate are spending hundreds of thousands of dollars annually that could easily be avoided.
In addition to the costs associated with recruiting, hiring, and training, you also need to look at these costs from an operational efficiency point of view.
How will your output and productivity change when a person leaves? Does this put a heavier burden on your existing staff? All of this adds to your total cost.
A successful employee app fills the gaps in communication lags. Even when your staff is working remotely, on-site, or otherwise out of the office, they can still communicate with co-workers and management.
You can set up an employee communication app with features for employee feedback, recognition badges, announcements, and more. Use the app to highlight an employee of the week or just spread positive news about top-performers in the workplace.
Use the app to build company culture, facilitate two-way communication between employees and management, send surveys, and collect feedback for improvements.
Internal communications tools like a mobile app ensure that your company's business goals are clearly aligned with everyone in the organization, from top to bottom.
Safety and Compliance ROI
It's tough to think of something more important than safety in the workplace. This holds true across businesses of all shapes and sizes.
In a traditional office setting, the risk of injury sitting at a desk or walking to the water cooler is fairly low. But for industries like construction, shipping, manufacturing, production, and similar industries with field service workers, the risk is much higher.
Aside from the importance of keeping your workers safe, the cost associated with injuries and non-compliance is significant. OSHA (Occupational Safety and Health Administration) penalties can range from $13,653 to $136,532 per violation.
According to a workplace safety report, employers can expect to pay an additional $4 of indirect costs associated with an accident for every $1 of direct costs.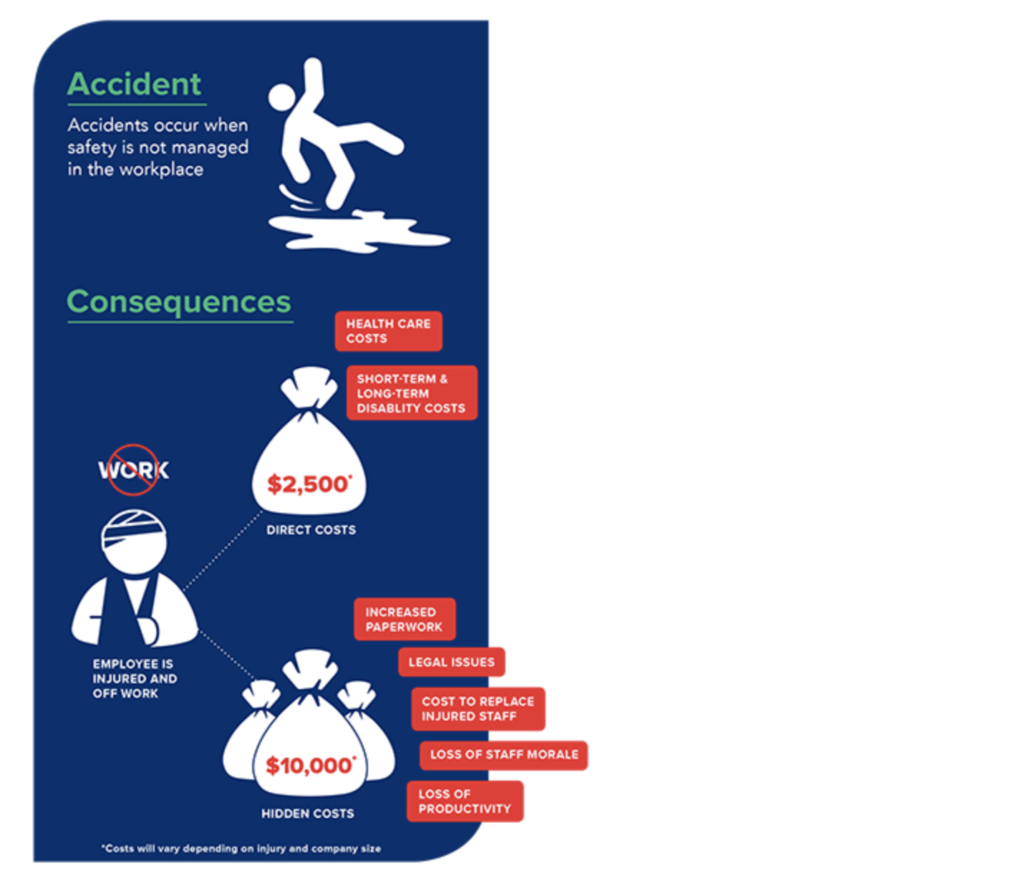 This formula adds up quickly for expensive accidents. $20,000 in direct costs becomes a $100,000 incident when you factor in the indirect costs like legal fees, productivity, morale, and more.
Can your company really afford to have these types of problems?
Mobile apps make safety, training, and compliance much easier. You can use the app to provide safety videos and onboarding lessons to ensure compliance.
Your staff will always have access to the employee handbook, company protocols, and other safety-related information from the palms of their hands on personal devices, regardless of the location.
In the event of an incident, you can also use the app to collect incident response forms to help streamline the process for a fast resolution.
Case Studies: ROI of an Employee Comms App
Here at BuildFire, we've built over 10,000+ mobile applications. Employee apps are one of our most popular solutions.
To truly show you how much money you can save by developing an internal communications app, check out these case studies:
Preferred Materials — 300% Increase in Employee Engagement
Preferred Materials has 1,875+ employees. But as a regional supplier of building materials and paving services, just 20% of the staff works in an office. The remaining 80% works on the road and in the field.
The biggest challenge faced by Preferred Materials was communicating with field service workers.
This communication problem put a tremendous strain on the HR department, as they were constantly fielding calls. Since the HR team is only available during office hours, this forced employees to call during the day, causing productivity problems on job sites.
Not only was this frustrating and causing bottlenecks both in HR and in the field, but it was also extremely costly for Preferred Materials. So they created a mobile app as a cost-effective way to reduce HR workload and improve internal employee communication.
As a result, they were able to reach 81% of the workforce, and 48 job sites were connected through a single mobile app. Preferred Materials even used the app to send push notifications to employees regarding plant closures from Hurricane Irma.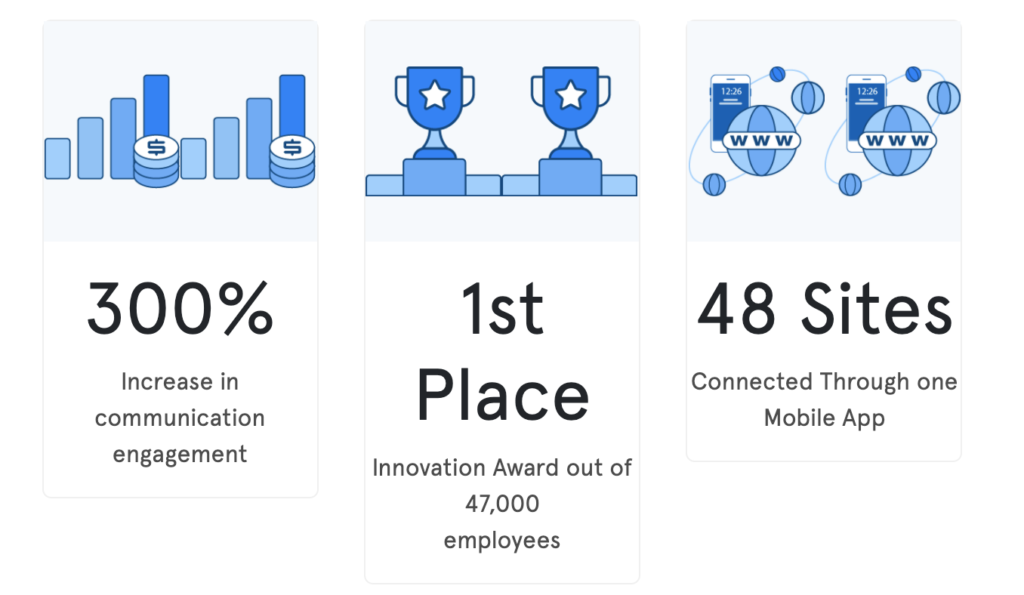 Praxair — Saved $480,000 on Training Costs
Praxair is the largest industrial gases company in North America. The organization has 50+ offices and more than 40,000+ employees across the globe.
The company's leadership team in Asia was having problems communicating across different locations. The minimal communication led to wasted resources, as many efforts were unnecessarily duplicated.
Praxair needed a way to improve internal collaboration amongst management so they could share best practices and information through a centralized interface and new communication channel.
Using BuildFire to create a mobile app was the solution to improve the company's internal communication strategy.
The app contained a wide range of features and functionality for things like leadership development, employee training, webinars, real-time company news, learning materials, and more.
As a result, Praxair saved over $480,000 in just eight months on costs associated with employee training.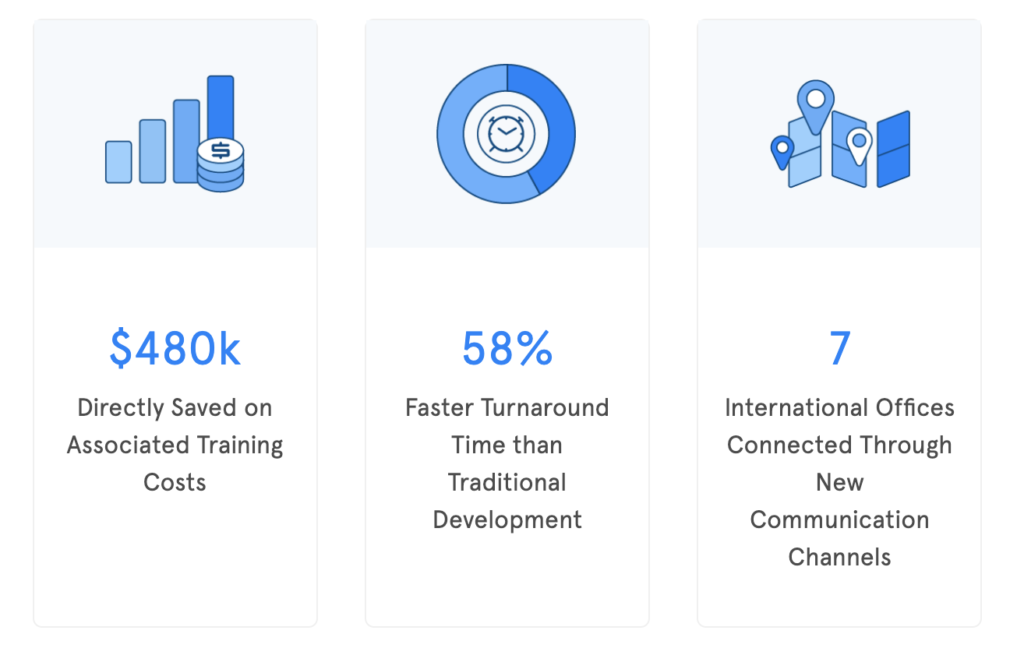 How to Increase the ROI of an Internal Employee Comms App
Now that you've had a chance to see some data-driven ROI metrics, it's time to look more specifically at your own business. Here are a handful of numbers you can crunch based on some of the glaring statistics we've seen throughout this guide:
Number of Employees x 0.65 = Percent of Disengaged Employees
Number of Employees x 0.109 = Average Employee Turnover Per Year
Average Employee Salary x 0.33 = Average Cost to Replace One Employee
Average Cost of Safety Incident x 4 = Average Indirect Cost of Safety Incident
% of Increased Employee Engagement x 0.6 = Average % Increase in Sales
These numbers are just a starting point to wrap your head around the ROI of an employee app for internal comms.
For simplicity's sake, let's narrow the focus. Employee turnover is a great example because it's something everyone can relate to, regardless of industry or business size.
Let's say your company has 50 employees, with an average annual salary of $75,000.
Based on these calculations, your average employee turnover would be 5.45, and the total annual cost to replace these employees would be $134,887 per year.
Can you really afford to spend over $100,000 per year on costs associated with employee turnover alone? For larger organizations, the cost associated with poor communication in the workplace is in the millions.
Refer back to the case studies. One company used an internal comms app to save nearly $500,000 on costs associated with training in just eight months. Long-term, the app is saving them millions of dollars.
Now consider the cost of creating an internal communications app. That number will be significantly less than the costs associated with poor communication in the workplace.
The Fastest Way to Increase ROI — BuildFire
Not every business has a big chunk of cashing sitting around for a mobile app development project. Even for those that do, it's still a significant investment.
Fortunately, BuildFire can create your app for a fraction of the time and cost compared to traditional development.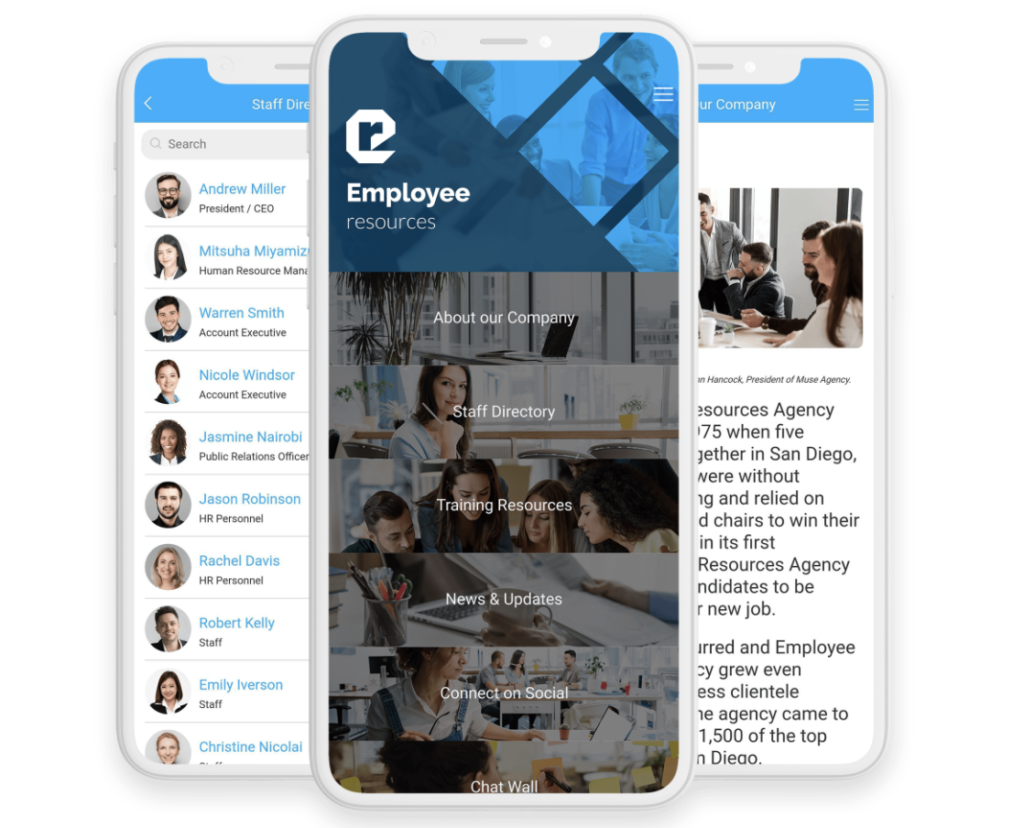 From an ROI perspective, this is a win-win scenario on multiple levels. First, it reduces your initial investment. But it also reduces your time to launch, meaning the cost savings kick-in sooner rather than later.
Your ongoing costs and maintenance fees will be lower as well, as BuildFire maintains everything for you on the backend.
How do we do it?
Our platform already has lots of pre-built functionality. So we're not building all components of the app from scratch. It's just a matter of making changes and tweaking certain elements to fit the needs of your organization.
For example, features for things like an employee directory, company announcements, co-worker community forums, social media integration, file sharing, messaging, and polling can be added to your app immediately. Want to add videos for employee training and compliance? Our platform integrates seamlessly with YouTube and Vimeo.
But what makes BuildFire so unique compared to alternative communications platforms and existing employee apps on the market is our limitless customization.
We can create any type of custom feature for an internal communications app to ensure it meets the needs of your organization. So if you have a unique request to boost your ROI, our expert development team can make that happen.
That's why BuildFire is one of the best internal communications solutions on the market today.
Conclusion
Creating a mobile app for internal business communications can benefit your business on so many levels.
In terms of ROI, you can increase employee engagement, reduce employee turnover, reduce costs associated with safety and compliance, reduce costs associated with training—the list goes on and on.
Employee comms apps even directly contribute to increased productivity, increased sales, and higher profits.
The numbers truly speak for themselves. Just look at the case studies of real businesses that saw a phenomenal return on investment from building an employee app.
To get a more accurate ROI estimate for your specific business, talk to our team about building a workforce app for your business today. We'll look at your needs in greater detail to determine how you can save as much money as possible with an employee app.