What is a White Label App Builder?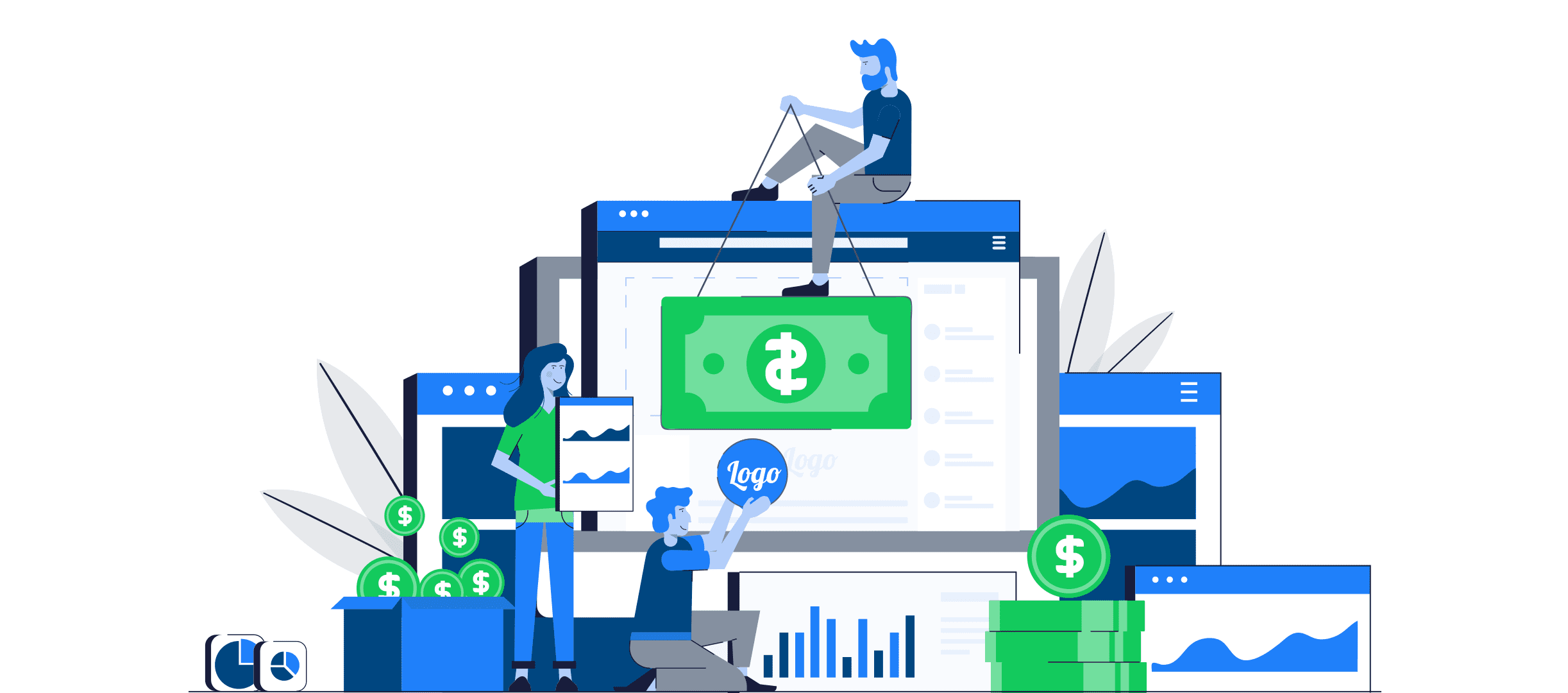 As the app industry grows in popularity, the demand for mobile app development and app-related services has never been higher.
Mobile apps dominate our day-to-day lives. With the average smartphone owner using 30 different apps per month and millions of apps available for download, the use cases for apps are constantly expanding.
With a white-label app builder, any agency or business-minded entrepreneur can offer app development services to their clients.
If you don't know how app reseller programs work or you've never used a white-label app builder, this guide is perfect for you. We'll answer all of your questions about white-labeling apps. You'll even learn more about the benefits of white-label app builders and discover the best white-label app builder for your specific needs.
What is a White Label App?
A white-label mobile app is built by one app development company or developer and then rebranded and resold to others. The app reseller has the ability to brand the white-label app as their own in a way that the final client or end-user doesn't know the app actually came from somewhere else.
For example, most restaurant apps and food delivery apps have the same core features. It's just a matter of updating small changes like the restaurant's name, menu, hours, and similar details.
Rather than creating a unique app from scratch for every restaurant, a white-label app can be used as an alternative. This is just a generic mobile app that can be completely customized and rebranded for each restaurant that wants an app.
You can think of a white-label app the same way as a blank t-shirt with a brand's logo on it.
Instead of manufacturing their own shirts from scratch, any clothing company can just print their logo on a generic shirt and then resell that shirt to customers. So three different shirts, each with three different brand logos, can all come from the same factory. It's the exact same shirt. The only difference is the branding.
White labeling, in any industry, lowers the barrier to entry for sellers. You don't actually need to have a manufacturing facility to sell shirts, nor do you need an app development company to sell apps. White labeling bridges the gap.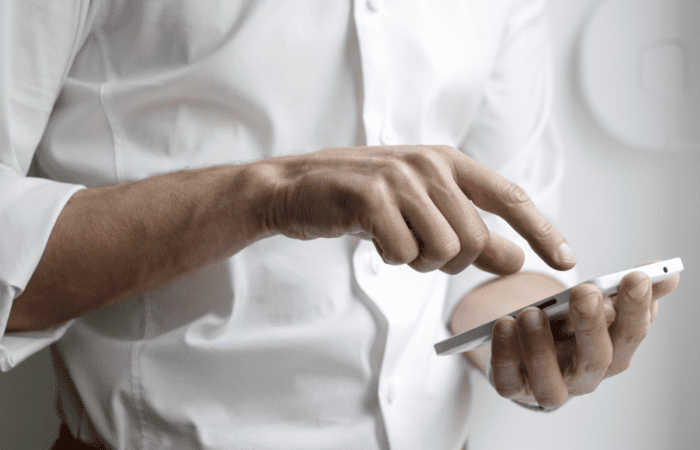 What is an App Builder?
An app builder gives anyone the ability to create their own app without any coding skills or technical knowledge. It's the fastest, easiest, and most-efficient way to build mobile apps without hiring a developer or learning to code.
App builders use intuitive editors and drag-and-drop software to customize the look and feel of an app without having to worry about the backend technology or code behind it.
All of the technical requirements are handled for you behind the scenes. You can simply use a front-end builder to customize text, add menus, add videos, change the colors, and do everything else that's required to design and build an app.
Mobile app builders are user-friendly and can be used by anyone with basic computer skills for app development. There's no specialized training or learning curve required to use an app builder.
Most of the best app builders don't require any software downloads either. They're entirely web-based, so you can create an app from scratch directly from your web browser.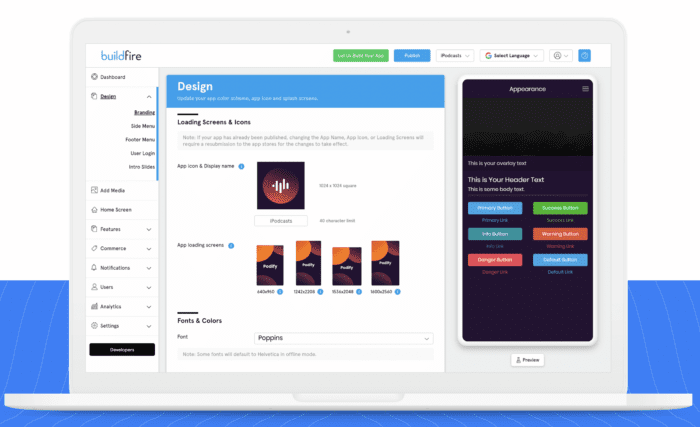 What is a White Label App Builder?
A white label app builder is app maker software that's been rebranded and resold to a third party.
A mobile app reseller can use this technology to offer application development services to clients without actually running the technology.
For example, let's say you're running a marketing agency. Your marketing clients want mobile apps, and you want to provide them with a DIY solution to develop apps on their own.
Instead of creating a new app builder from scratch, you can sign up for a white-label app builder program to rebrand existing software as your own.
So when your clients log into the app builder to create their app, they'll only see your logos and branding information. They'll never know that the software is actually being maintained by a third party.
You pay a subscription fee to join the white-label program, and your clients pay you a subscription fee to use your app builder. This gives you complete control of your profit margins, making it easy to generate a fast return on your investment.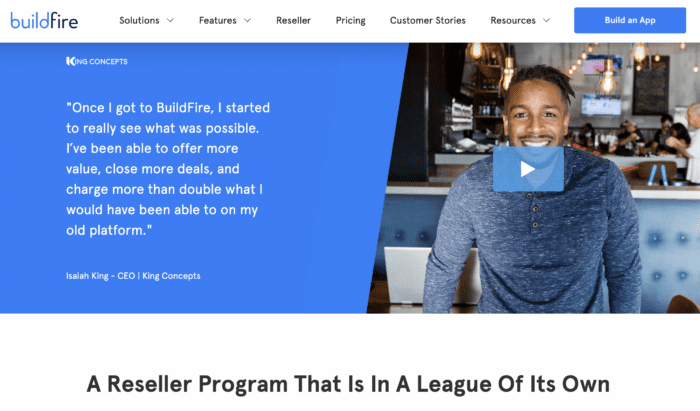 White Label App vs. White Label App Builder
White-label apps and white-label app builders might sound like interchangeable terms. But they're actually different. Let's take a moment to quickly clarify these differences to ensure you have a complete understanding of how this works.
White-label apps are the final product. They're mobile applications that can be rebranded and resold to multiple companies or users.
A white-label app builder is an actual platform. It's just used to create mobile apps, but it's not actually a mobile app.
For example, let's say you want an app for your real estate business. Rather than creating an app on your own, you can just purchase a generic real estate app and rebrand it as your own. That's a white-label app.
Now let's say that same real estate company wants to use DIY software to create an app. They do some research and find an online platform—EZ App Maker—that has an online DIY app builder. But EZ App Maker doesn't actually run or maintain the platform. They get that software from a third party, then rebrand the software as EZ App Maker. The real estate company can still sign up for EZ App Maker and use it to create an app. That's a white-label app builder.
Alternatively, we'll say the real estate company turns to an agency for app development. Rather than employing in-house developers, that agency uses an app maker to create apps for their clients. That's a white-label app created using a white-label app builder.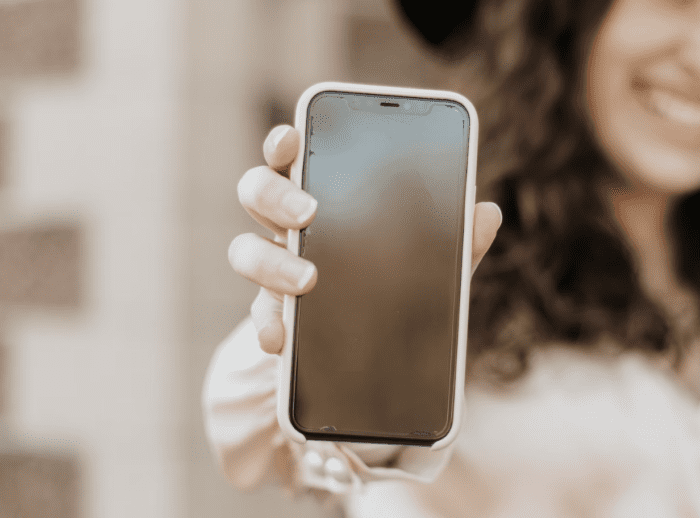 Who Are White Label App Builders For?
There are so many different use cases for white-label apps and white-label app builders. White-label app builders are trusted by agencies, entrepreneurs, high-volume business users, and more.
Below we'll take a closer look at the top scenarios that white-label app builders are used for. If you fall into one of these scenarios, there's a good chance that a white-label mobile app builder is right for you.
Scenario #1 — You have an agency and want to offer app development services to your clients
Any existing agency can expand its existing service offerings with a white-label app builder.
Maybe you're currently offering marketing consulting services, social media management, or SEO services to your clients. But your existing and prospective clients also need mobile apps.
Rather than referring them elsewhere, you can become a white-label app reseller. You'll use a third-party app builder to create apps for your clients and then deliver completed apps as a final deliverable to those businesses.
Scenario #2 — Your agency wants to sell DIY app maker subscriptions
Similar to the first scenario, any agency can use a mobile app reseller program to give their clients an app development solution.
But rather than creating those apps internally with a third-party tool, you're rebranding and reselling that third-party tool for your clients to use.
Your current and prospective clients can sign up and start using the app builder directly from your website. They'll only see your logos and pricing information. But the software is actually being maintained by a third party, and you're acting as the mobile app reseller.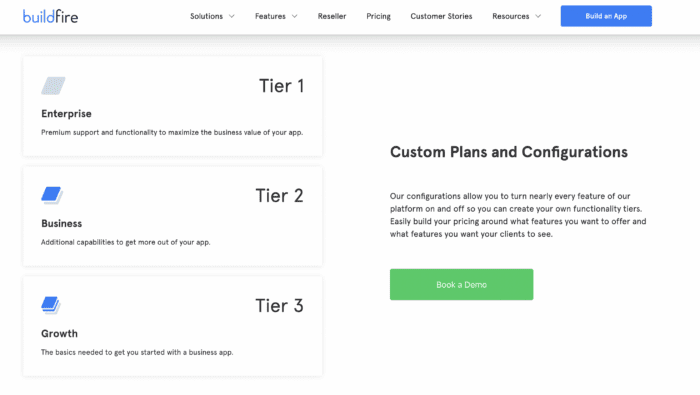 Scenario #3 — You want to start your own mobile app business
The demand for mobile apps is at an all-time high. Starting a mobile app business is an excellent way to profit in a world where so many organizations have mobile app development needs.
With a white-label app builder, you don't need any development skills to launch your company. In fact, you don't even need to hire any skilled developers.
You can simply join a white-label reseller program and use that software to create apps for your clients. This is an excellent way for any tech-savvy entrepreneur to earn money as a side hustle or full-blown business.
Scenario #4 — You need to create lots of mobile apps for your business
Historically, this scenario hasn't been too common. But there's definitely an uptick in demand for businesses in this category, especially with more and more organizations relying on citizen developers for mobile app development.
If your business needs to create multiple mobile apps, a white-label app builder will likely be cheaper than using a regular app maker.
For example, let's say your team needs to create 12 new mobile apps for different business workflows. A white-label subscription will likely be more cost-effective than 12 different app maker subscriptions. Even though you may not necessarily be rebranding or reselling the apps, you can use some white-label programs to take advantage of bulk discounts on an app maker.
This option also makes it much easier to manage all of your apps from a single dashboard.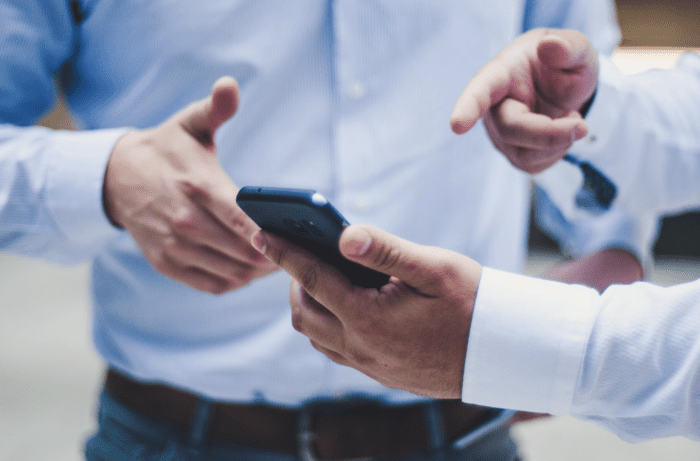 Benefits of Using a White Label App Builder
Let's take a closer look at the top advantages of white labeling an app builder platform. Regardless of your unique use case or scenario, the benefits below still apply to you.
Cost
Traditional app development has a reputation for being expensive. But app builders make it possible to create an app for a fraction of the cost.
When you white label an app builder, you're paying a low monthly fee for the rights to use and resell the service. This makes it really easy for you to offer low development costs to your customers while still turning a substantial profit.
You can usually break even on your investment in a white-label app builder by selling just one or two subscriptions to customers. Plus, offering your white-label app builder as a subscription to your clients is an excellent way to earn recurring revenue for the lifetime of the app.
Speed
White-label app builders help you and your clients get apps to market significantly faster than coding an app from scratch. Some apps can be built in just a couple of weeks as opposed to six months or even a year with traditional development.
If you're planning to use a white-label app builder to create apps for your clients, the development process is even faster if you're landing clients in the same industry.
All you need to do is create one generic app. From there, you can just copy and customize the app based on each client's branding and specific content requests. But all of the same core features will remain the same.
Value
App development is in high demand.
By offering app development services and solutions to your clients, you're providing tremendous value for real business needs.
For example, if one of your agency clients is using you for SEO services or marketing consulting, there's a good chance that app development is on their radar. Rather than having to do more research and get acquainted with a completely new agency, they can get everything they need from you under one roof.
Low Barrier to Entry to Develop Mobile Apps
White-label app builders are the easiest way for entrepreneurs and agencies to create client apps.
If you've always wanted to build apps for clients but never learned the technical requirements, a white-label app builder is the clear solution.
Once you find the right app reseller program, it's just a matter of signing up for the service. From there, all you need to do is handle the marketing side of the equation. All of the technology is handled for you. Just drive clients to your onboarding page, and they'll be able to create apps on their own using your white-label app builder. It truly doesn't get much easier.
Scale Revenue Streams
Selling apps does more than meet market demands. It also helps generate new revenue for your business.
Agencies are built on retention. So the more services that you can provide, the greater chance you have of retaining your clients.
The great part about a white-label app builder is that you can continue charging a monthly, quarterly, or annual subscription for the service even after the app launches. The app builder still maintains the app post-launch, so you can generate recurring revenue for the lifetime of your customer apps.
Best White Label App Builder
BuildFire Reseller is the best white-label app builder on the market today.
It gives you and your clients access to the exact same platform that's been used to create over 10,000+ mobile apps for the Apple App Store and Google Play Store.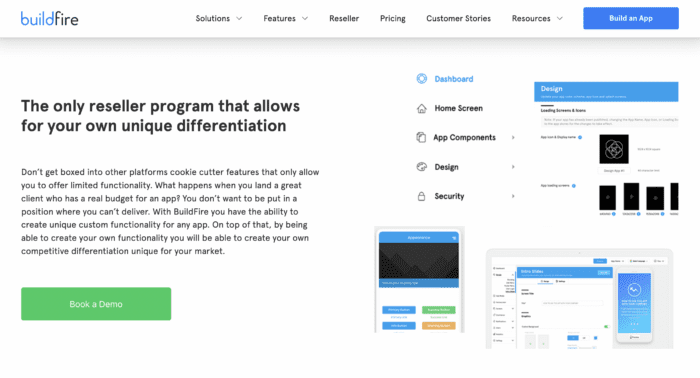 Unlike cookie-cutter app builders on the market, BuildFire's white-label app maker offers limitless functionality.
In addition to 150+ plugins in our feature marketplace, BuildFire Reseller is also developer-friendly. So if your client has a unique request that can't be accommodated with a plugin, the BuildFire SDK can be used to create custom features.
As a white-label reseller, you'll also have complete access to the BuildFire development team. We can create custom plugins and features for your clients, so you don't have to worry about the technical side of things. We even offer turnkey app build-outs, so you can focus on sales and marketing instead of building apps.
With BuildFire Reseller, you're getting a white-label app builder and white-label development service under one roof. Creating custom plans and configurations for your clients is easy, and they'll never see the BuildFire logos on anything. All they'll see is your branding, and they'll never know the platform is being managed by a third party.
BuildFire also provides training for white labelers and dedicated white label support. We'll even handle the publishing process when your client apps are complete and ready for launch.
Ready to get started? Book a reseller demo today!