It's no secret that we're living in a mobile-obsessed world. As a real estate agent, you need to understand these trends and go beyond your website to serve customers.
The best real estate apps on the market empower realtors, brokers, landlords, and other players in the real estate industry to make more money and stay relevant in such a tech-forward society.
If you're thinking about creating a real estate app but you're not quite ready to take the plunge, this guide is for you. We'll dive deep into the top reasons why a real estate app is necessary to succeed in our modern environment.
1. Real Estate Apps Enhance the User Experience
When you look at popular real estate apps like Zillow or Redfin, you'll quickly see that the user interface is far superior compared to the web versions.
Every action is just a click, swipe, or tap away. It's easy to filter listings based on different search criteria, and users can quickly scroll through photos and learn more information about a property that's for sale or for rent.
There's obviously nothing wrong with having a real estate website, and that's something you'll need as well. But the website doesn't quite serve customers as well as an app when users are navigating from smartphones and tablets.
Mobile sites just aren't as responsive and don't connect with the phone's internal components the same way as an app.
The UX from mobile devices has a direct impact on usage. Just take a look at this research comparing app usage vs. web usage.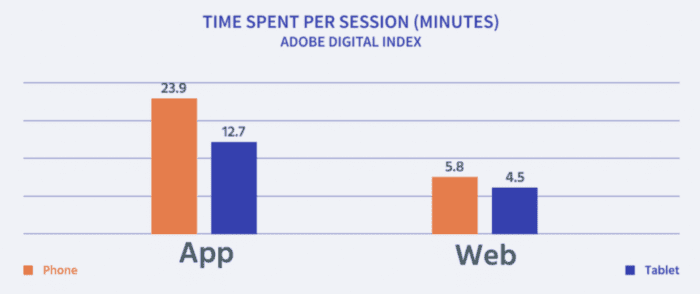 Users spend more than four times the amount of time using an app compared to a website when browsing from their smartphones. Session times are nearly triple the amount on apps vs. websites from tablets.
You can learn more about UX design principles here as you're putting together the layout of your real estate app.
2. Real Estate Mobile Apps Drive Engagement
In addition to an improved user experience, apps are significantly better for engagement compared to any other digital touchpoint.
Once downloaded, your real estate app is just a click away from being used. People can navigate to your app in seconds with a single click, which is much easier than opening a web browser and manually typing in a website—only to have an inferior experience.
From the very beginning, studies show that real estate app users are highly engaged during the first week of downloading the app.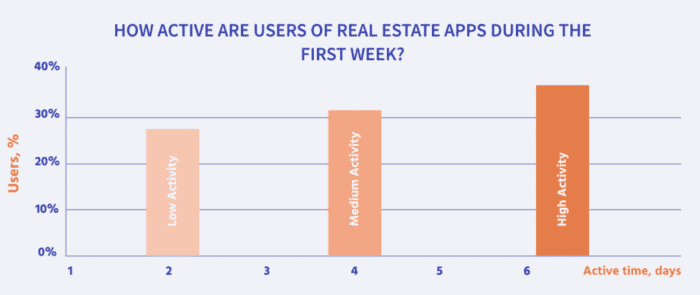 Furthermore, real estate apps are twice as likely to retain users compared to mobile websites. So if you can get someone to download your app, there's a great chance of keeping them close to your brand.
Of the 70% of people who actively use real estate apps, those people use the app at least three times per week.
Even if people aren't using your app regularly, it's much easier to drive engagement with an app compared to other digital touchpoints. You can send targeted push notifications about new listings that will encourage inactive users to open the app.
This is much more effective than email marketing, and it's not something that can be replicated with a website alone.
3. Real Estate Agents Can Build Their Personal Brands
The best real estate app for you and your business can really help take your personal brand to the next level. You can have a premier agent app even if you're operating a small brokerage or working on your own.
These apps don't need to compete with Zillow or the other players dominating the real estate app industry.
Instead, you can focus these apps on your local market and give them to prospects when you're first starting the communication process.
Put yourself in the shoes of a prospective home buyer. You're likely not the only agent they're speaking with. But if you can live in their pockets through a smartphone app, it gives you a significant advantage over the competition.
The same concept can be applied to sellers. Sellers are more inclined to give you their listing if you have a mobile app. They'll see this as a way to sell their homes faster to qualified buyers.
4. Real Estate Apps Are Versatile
There are so many different ways that you can use a real estate app to promote your business and get more sales. Here are some examples to showcase this versatility:
Promote residential property listings for sale
Showcase commercial properties for sale or for rent
Rental listings for landlords and renters
Home value estimates for prospective sellers
Commercial property listings for property managers
Open house information and in-person visit scheduling
All the tools needed to calculate mortgage payments
Property records and MLS listings for home buyers
Property tax records and sales history
Detailed floor plans for house hunters and prospective tenants
Virtual tools and professional photography
Local school ratings and other helpful information
Give users the ability to save their favorite properties
This list just barely scratches the surface of what you can do with a real estate mobile app. But it definitely shows that the potential is there if you want to do something more than just list available properties.
5. Keep Up With Real Estate Market Trends
Downloads of real estate mobile apps are up 15% in the United States. The UK experienced a 7.6% growth in real estate app downloads.
We're hitting a point where you need to have a real estate mobile app to stay relevant and keep up with the latest trends.
Buyers and sellers are already using popular real estate apps like Zillow and Redfin. This has set a precedent for how they expect a buying, selling, or renting experience to be.
If you force them to use other tools and multiple listing services beyond mobile apps, they may get frustrated. So it's in your best interest to give them tools that they're already comfortable using and mirror similar features compared to the ones that might already be installed on their phones.
It may sound like a stretch, but think of it like trying to run a real estate business without an email address. But 20 years ago, real estate transactions were definitely happening without any email exchanges.
Now we're living in the app-driven era. People are going to look back 20 years from now and say, can you believe we used to buy and sell houses without a mobile app?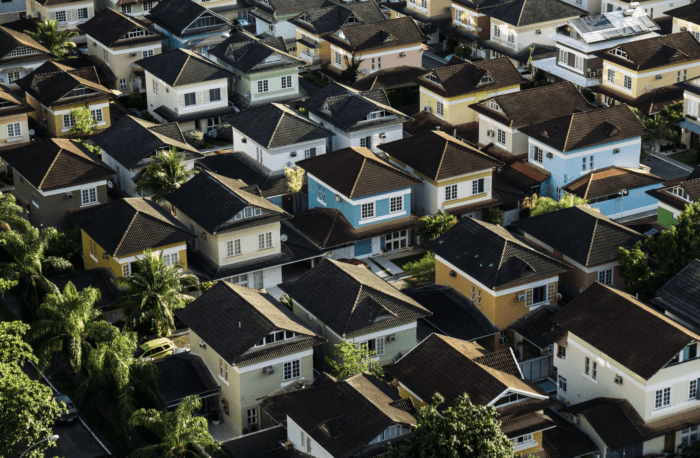 6. Expand Your Reach to a Wider Audience
An app makes it much easier to target new customers.
For example, maybe the majority of your career has been spent selling houses. But with an app, you can easily expand and highlight commercial property listings.
Or maybe you'll use the app to connect landlords and owners with property managers. You could even have specific parts of your app that target real estate investors.
Your app has the capability to do things that go above and beyond your website, email, or social media management platform. The capabilities and customization options are virtually limitless when you go mobile—empowering you to target anyone who you desire.
Anyone can download your app once it hits the Apple App Store and Google Play Store.
So you'll be exposed to even more people who would otherwise only be able to find you through search engines and social sites.
7. Improve Customer Relationship Management
Your real estate mobile app can double as a CRM platform. When customers sign up for the app, they can enter personal details about themselves, including:
Name
Phone number
Address
Email email address
What they're looking for
Location
Preferences
While this should be required to create an account, you can give users the option to provide as much information as possible to improve your CRM database.
Even without their email address and phone number, you can add a direct messaging feature in the app for two-way communication. This isn't something you'd be able to do if you simply ran into a prospect and gave them your business card. But an app gives you the ability to communicate with any user whenever you want.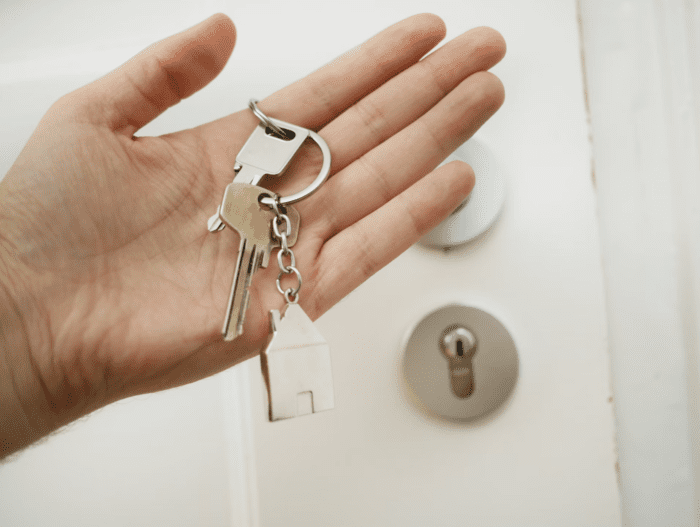 8. Simple Document Delivery
Gone are the days of in-person meetings and long fax exchanges for real estate transactions. You can send forms and collect signatures directly through the mobile app.
This makes life easier for buyers, sellers, and brokers alike.
It also encourages self-service for users during off hours. For example, if a buyer needs to complete a form on a Sunday night when the office is closed, they won't have to wait until Monday morning for directions.
They can simply go through a document checklist within the app to find forms they need to complete. Then they'll see the status of those forms in real time, and can fill out the information in the form of a mobile questionnaire directly through the app.
9. Organize and Showcase Your Team of Realtors
Real estate apps are great for agent directories. You can easily use this to connect new clients with an agent in their area who fits within the criteria you're looking for.
Let's say an app user has questions about the property details of a new listing. When they reach out for help, the app can automatically connect them with an agent.
Buyers and sellers alike can use the app to learn more about a listing agent.
Here's an example from Zillow that you can use as inspiration for your app: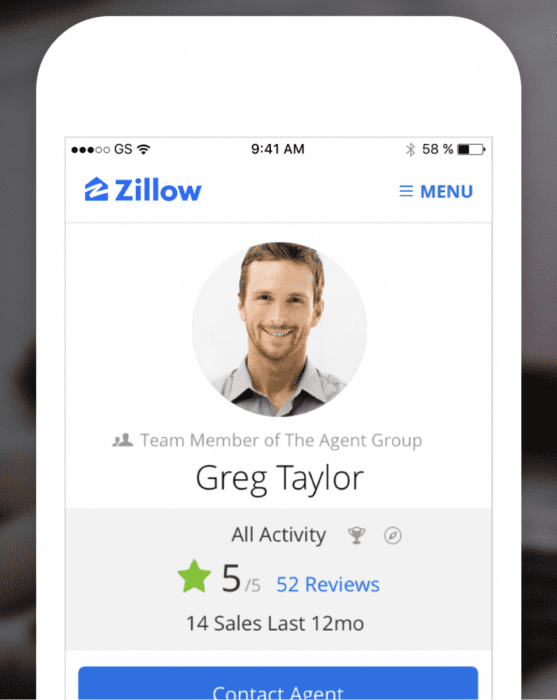 This feature also helps add a level of personalization to the user's experience. They feel like they can get to know your agents better, even before the communication begins.
10. High ROI on Property Listings
Like anything else, investing in a real estate mobile app only makes sense if you're going to get a return on your investment.
Agents love apps because it helps them sell more and deliver a better experience to customers, ultimately providing a higher ROI.
For example, with the help of virtual tours, you can offer instant access to any prospective buyer. This will save you a ton of time and eliminate the situations when you show a property in person, only for the buyer to realize it's not what they're looking for.
You can spend your time focusing on selling as opposed to dealing with minor details that can be accomplished through the app without your direct involvement.
Final Thoughts
Real estate mobile apps have become a must-have tool for modern agents, realtors, and brokers.
Mobile apps are so versatile that you can use them in a wide range of ways to better serve your customers and business.
Whether you want to offer a simple mortgage calculator or provide a full-service app to manage properties, the opportunities are endless.
So why wait? Start your 14-day free trial and create a real estate app with BuildFire today.