8 Ways to Level Up Your Small Business in 2016
Thinking of new year's resolutions that'll take your small business to new heights in 2016?
2016 is the year you say you're gonna make it big. And it's up to you to make that happen.
While we dream in abstracts, the journey begins when you take concrete steps.
This 2016, why don't you take

bold

 moves that will directly impact your success?
If your goal is as broad as improving your business this coming year, this piece will help you narrow it down to a few things you can start planning on and acting upon.
In this epic post, I put together 8 ways you can improve your small business.
The list is divided into two categories. Jump between sections by clicking these links:
As for your business, of course, you can just stay your current course. Besides, you're happy with how your business is doing. I've worked with many business owners and it's evident that those who do more than what's comfortable and convenient are those who achieve great success.
Those who commit to pushing the limit gets handsomely rewarded.
Ready for wins this new year? Let's get to the meat of it.
Get more sales
The new year is the perfect time to dream big for your business. Growing your revenue should be on top of your list. While jacking up prices is something that's not entirely wrong, look into more creative ways of getting more money in while keeping your customers pleased.
#1 Consult with your current customers
You're wondering: How does consulting with my current customers get me more sales?
Well, it's either you're kidding me or you're underestimating the power of good relationships with your customers. Contrary to what a lot of business owners think, getting feedback is not a just because. Your business is alive because of customers. The more you understand them, the better you can serve them.
Ways to consult with your current customers:
It's easy to get customer feedback especially if you have an active website your customers regularly visit. Seamlessly include your customer satisfaction or feedback survey within your site to provide an easy way for customers to give feedback on your business and practices.
SurveyMonkey is one of the easiest to use tools for gathering customer feedback. Here's a video explaining how to create a questionnaire with their tool:
How to Measure Customer Satisfaction with a SurveyMonkey Template!
Make it extra-personal and bring in your customers for a customer-only event. If you're running a local small business with a physical store, it's an excellent way to create a sense of community while having the airtime to personally get feedback from your customer base.
One of the more traditional ways of consulting with your customers is having comment cards and customer questionnaires handed directly to your customers.
It's never a bad idea to pick up the phone and call your regulars. If you can do it yourself, much better. Getting a call from the business owner makes customers feel valued—and at the same time, they'd probably be very willing to give constructive feedback you can use to improve your business further. They know your business best, and it's always good to get objective feedback from someone who's not that emotionally invested in the business.
#2 Use referral programs
It's time to empower your most loyal customers as your best ambassadors.
You get more sales, you reward your best clients and you forge a sense of community around your business.
Referrals have been a go-to technique for many businesses—if you're not using referrals to boost sales, the new year is the best time to start doing it. Smallbiztrends conducted a survey and revealed that 85 percent of small businesses get customers through word-of-mouth. Through referral programs, you can amplify the results word-of-mouth brings.
Duct Tape Marketing suggests five quick ways to get referrals:
Just ask Do the obvious—ask your current customers to tell their friends about you if they're happy with your services.
Focus on the first-timers Face it: Your new customers are more likely to talk about you than the old-timers. Blow new customers out of the park with excellent service.
Do something fantastic for the old-timers Of course, pleasing the newcomers to get the word out is awesome, but let's not forget the most loyal army. Andy Sernovitz of WordOfMouth.org suggests giving loyal customers beta access to new products, reunions and special discount codes.
Always ask for feedback This is a given, but most small businesses still hesitate to ask for feedback. The reasons are plenty: anxious about hearing the truth, neglect, or overprotectiveness of their business. Asking for feedback is an excellent intro to asking for referrals. If you're not doing this basic step,  you're losing out.
Learn to be great at saying "thank you" Saying thanks is severely underrated. You get that warm fuzzy feeling and your customers are more inclined to talk about your business. Various research studies reported in an Entrepreneur article say that the culture of gratitude help businesses grow.
You can also create an automated referral program where you can reward customers who bring in additional business. It needs quite a bit of planning, and you'd want to be very thorough when planning a referral program out.
Some questions to consider:
How do you define a referral?
What are the reasonable rewards you're going offer those who bring in referrals?
How will keep track of referrals?
How will you promote your referral program?
Are you going to use referral tools?
What is your gameplan if a referral doesn't turn out to be a good fit.
These are the questions you'd want to answer.
#3 Get your own business app
Most of your customers are on their phones every day. In fact, the average American spends more than two hours a day on their smartphones. This presents several opportunities to you as a business owner.
Since we're talking about getting more sales, here are some of the ways a business app can help you in that regard:
Your app serves as an effective marketing channel where you can constantly and consistently update your customers regarding price changes, new products, promotions, holiday offers and other information relevant to your business.
Keep your customers engaged even after they've left your store. Your app acts as an extension of your business where you can continue selling, promoting and connecting with your customers.
Use it to do traditional techniques the new way. Apps can help you implement loyalty programs and referral programs in a more modern way. Trust me, it's something that a lot of businesses have to get in on. How many loyalty cards just get lost? How many times have you lost track of referrals? Apps give you a more sleek, organized and efficient way to implement programs.
Engage with your customers better. Business apps can be seamlessly connected to social media networks, giving you the opportunity to provide more customized service and have a more personalized relationship with your customers.
Building your app

You have two options once you decide to have a business app:
Get the services of an app development agency or

consult with app developers

Easily 

create the apps yourself

or have someone in your team build it using highly customizable drag and drop app builders like BuildFire



#4 Take a step toward expansion
It's the new year and it's time to dream big.
My last point under getting more sales in 2016 begs to ask a few questions:
Have you been supplying to the same locale for years, providing excellent service to a loyal clientele?
Have you stuck to your products and services since you first started?
Have you been toying with the idea of maybe catering to a new customer segment or expanding your operation's reach?
I've worked with a lot of businesses who are afraid of attempting to grow too soon. Most of them neglected to form a more strategic plan when starting out. However, it's never too late to start planning for that expansion. And never too late to take steps toward growth, especially if by your evaluations you're ready.
Here are some options you might want to consider for the new year:
Get more orders from your loyal customers
Invest more in promotion and advertising to attract more customers
Create new points of sale, like an eCommerce site or app
Cater to new markets: enter a new location or target a new type of customer
Introduce new products and services
Bundle up existing products and services in packages
Improve your manufacturing capacity through new technology
Partner up with other businesses in small-scale ventures and promotions
Hire new people to expand your reach
Consider these and take a hard look at which one you can carry out in your business. Mitigate the risk by doing thorough market research and consulting with other business owners in your network.
Taking a stab at growth is often risky—but a calculated risk pays off big when it does.
---
Make customers happier
As long as you keep customers satisfied, you will not be out of business. In fact, some businesses that made all the wrong moves in the backend have kept their operations alive because they somehow managed to keep customers happy.
Of course, that's not really a model to follow. However, it demonstrates the power of the customer. In this section, I present to you four ways to improve the way you satisfy customers in the new year.
#5 Make and keep employees happier
Making customers happy is largely reliant on the relationships we develop with them. If you run a small business with employees, ensuring that they are happy is key to delivering stellar service to your customers.
As a small business, your operations is more akin to that of a family than an enterprise. You see your employees each day—and no matter how cheesy it sounds, you care about them.
[Tweet "Keeping employees happy w/o sacrificing profits is the dilemma of conscientious business owners. "]

It's true that better wages will always put a bigger smile on employees' faces—but as long as you're paying them right, giving employees more isn't and shouldn't be your only approach.
Here are some things to consider:
Culture
Employees thrive when they work with businesses that hold a clearly defined set of values. Hard work, loyalty, warmth. These may sound like buzzwords to you but if you live by a set of values that you strive to cascade to the employees, you will have a solid support system of workers who buy in your idea and what your business stands for.
Autonomy
It's a small operation—give your employees the ability and freedom to make decisions within their responsibilities. Micromanagement has been the bane of many small businesses. Don't let it happen to you. Don't let it dampen your workforce.
Progress
Make your employees feel valued by instilling in them a sense of achievement when they are performing well. Set clear, achievable goals—and celebrate when they are achieved. Think of it like a promotion program, only broken into smaller and more frequent chunks.
Openness
Listen to your employees. Put in place a mechanism where you sound off to each other. It can be about problems or achievements your business is facing. Make them a part of your business. Don't alienate them into feeling like they go to work only for the salary.
If you feel you can make changes in a progressive direction this new year, do so as soon as you can.
#6 Use technology to connect with your customers on a personal level

Technology can be overwhelming for small business owners. With a new tech tool seemingly released every second, it's tough to decide which new tech will make the most impact to your business.
Tools help small business owners in a lot of ways. Some tools help streamline work by allowing you to do away with cumbersome paperwork which has been the source of many inefficiencies and errors. Some allow you to connect and be available to their customers at the right time.
In sum, new tech targeted at small businesses are rolled out to enable you to provide better service to your clientele.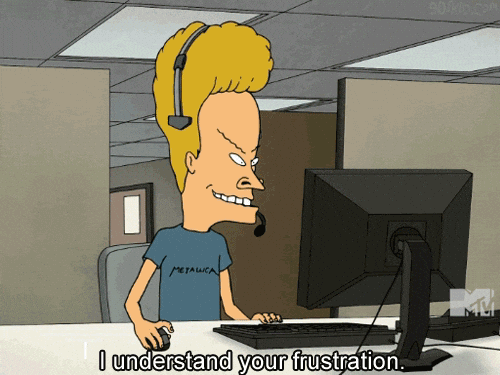 Tech needs in the small business space are largely covered by customer relationship management (CRM) software.
According to Techtarget, CRM software/systems are designed to compile information on customers across different channels — or points of contact between the customer and your business. It can take information from your website, phone calls, live chat, mail, your marketing materials and even social media.
CRM software helps your customer-facing staff better communicate with customers by making important data like personal information, purchase history, buying preferences and previous concerns easily available.
One of more popular CRM tools is Salesforce. Here's a good demo of how CRMs can help your business be on top of you customers' needs.
If you're still using paper and pen, or tediously taking down notes on Microsoft Office, you're losing a lot of time you could be using for more productive work. The inefficiencies can lead to stalled service to your customers.
The biggest gain from using CRM software is that it enables you give a highly-personalized experience to your customers each time.
#7 Use social media to provide better customer service
We've gone a long way from wondering whether or not social media is a legitimate channel for business. So far away from that point that social media networks are now arguably among the most important revenue drivers for small businesses.
Check this out: Social media is powerful especially now that your customers are on mobile. Facebook has 217 million monthly active users in the USA alone.
It's not an exagerration to say that social media can make or break a business. If you're not savvy, you can get caught up.
A lot of businesses make the mistake of thinking that posting on social media is enough.
Some are happy with getting likes on their posts. Others feel like having a profile on Facebook, having a token Twitter account just because, and having Instagram profile for pretty photos are what constitute social media strategy.
Does this sound like you?
From the word social, these networks are an avenue to reach out to your community, to your locale, to people who share the same interests and values as your business.
Unsurprisingly, your customer base is the immediate audience of your social media presence. 
How do you use social media to deliver excellent customer service?
Len Markidan from Groove has these tips for effective customer service on social media:
Pick the best social media platforms for your business
You should be present and easy to reach on the channel where your customers are. If you sell beauty products, for example, Instagram and Pinterest might be the best channels to focus your efforts on.
Monitor social media mentions
For a battalion of reasons, not all customers and targets may directly reach out to you through private messaging. Some may voice their concerns indirectly by tagging you or mentioning you on a post.
Look for mentions that might not be obvious
Social media is not necessarily an arena for impeccable spelling—so some customers might want to reach out but the message doesn't get across. Sometimes the message gets to a business with a similar name. Proactively seek out these mentions by thinking a bit creatively.
Speed matters in social support
Customers on social media are impatient. They want real-time responses and there will be some who are not beneath berating your company online if you fail to respond within their expected time frame.
Use the right tone
Put your most patient employee or your most patient self on social media duty. As there is no body language and there are very limited ways to suggest inflection, be wary of the interpretations your replies can get. Side with safet
Take things offline when necessary
Do not overlook the option of resolving things personally or getting on a phone call to address an issue. Social media, however powerful, has its limitations.
[Tweet "Your social media profile is the virtual storefront for your small business."]
A great example of the power of Facebook in particular is the recent fiasco involving a small town jeweler in Boston that received hundreds of fake negative reviews.
Long's Jewelers marketing associate Lynelle Schmidt wrote about the fiasco on the marketing community Inbound.org.
As it turned out, Long's Jewelers has been providing good customer service on and offline. This proved to be their savior when Facebook didn't swiftly address their issue.
Like an army, their customers helped them get out of the social media hole by leaving positive reviews to offset the negative ones, contacting Facebook and helping spread the word. They were able to resolve the issue successfully.

#8 Educate your audience
Are your marketing efforts focused on promoting your products?
Well, that might be the hiccup that stunts your growth.
Now more than ever, consumers are smarter and are hungrier for information.

I'm sure you can relate. Before I go to a restaurant, I google reviews. When I have a stained shirt, I google how to remove the stain. When I want a new phone, I go to Youtube for unboxings and reviews. You get what I mean. I'm sure you've done this for at least one of your purchases. And the information you found greatly influenced what you eventually bought, right?
Paid ads are not as effective either. Goo Technologies published a survey reporting that as much as 82 percent of online ads are ignored.
Spread knowledge through inbound marketing
Part marketing, part customer service, providing your targets and customers with useful information by way of videos, blog posts, photos—even ebooks and webinars (web seminars!)—does your business a lot of good. For small businesses, starting a blog is a great first step.
It's called inbound marketing and it's designed to attract your target buyers without forcing your services on their faces.
How does it help thee? Let me count the ways:
It builds your brand as an authority in your field. Hence, customers tend to come back to you when they need information within your industry, influencing their buying decisions.
Gets you qualified leads. People who are genuinely interested in your services are people you should be targeting with the content you create and publish.
Helps your website rank better in Google and other search engine results. As long as you publish quality content that helps your audience solve their problems, you'll be rewarded.
Increases your online presence and visibility. What's more, if you create digestible, shareable content, your customers will not hesitate to be your evangelists!
Not sure where to begin? Read this post about coming up with ideas for your first blog post.
#9 BONUS TIP: Take your time.
For small business owners, it's all about who's at the helm—so whatever improvements you make for yourself also makes the business better. And it works the other way too.
Don't forget to take breaks and celebrate successes as they come. Embrace technology by using tools that make your life easier. Try not to get too involved with all the minute details. Trust your team.
If you commit yourself to even just some of these improvements, your 2016 is gonna be good.
What are your big plans for 2016? We'd love to hear about them in the comments below!